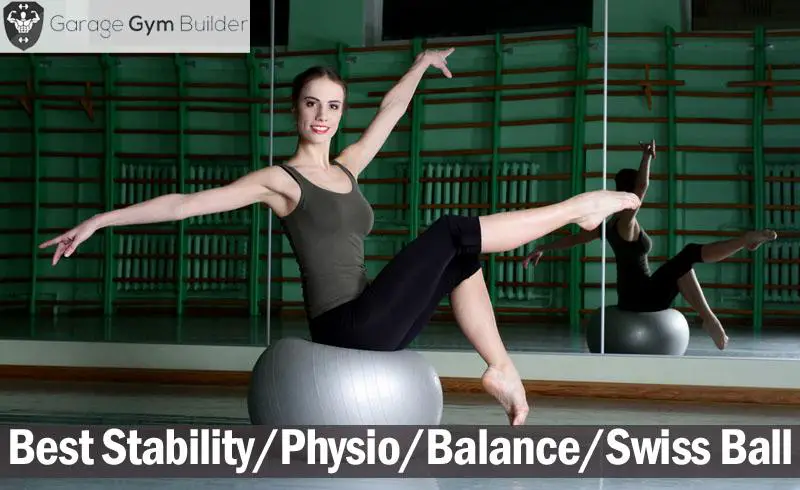 Best Stability / Physio / Balance / Swiss Ball Review
When you have a quality stability ball in your home gym, you have access to one of the finest tools to make your body more flexible and strong. In addition, you have access to a great stability and balance tool, as well as a very effective physiotherapy worker. But not all balls are good for this range of uses. In this article, we identify the 10 best balls for physio, balance and stability.
A Quick Glimpse at the Top 10
The best physio / balance ball on the market is the SPRI Ultra ball, which features a very heavy duty outer surface, great gripping ability and anti burst technology, all at a very good price point. We were also very impressed with the Tone Fitness ball, with its burst resistant shell, latex free construction and quality free pump.
Our bronze medal winner is the Superior Fitness Stability Ball with resistance bands. This unit provides you with the ability to perform over 100 resistance band exercises while you are working out on a 65cm exercise ball.
To make it easy for you compare the best physio / balance balls of 2017, we've rated the Top 10 on the basis of price and durability. We've then given each one an overall rating out of 5. In the next section, we provide an in depth review of each product.
| Product | Product Name | Price | Durability | Overall | Product Link |
| --- | --- | --- | --- | --- | --- |
| | | 4.75/5 | 4.75/5 | 4.75/5 | |
| | | 4.75/5 | 4.75/5 | 4.75/5 | |
| | | 4.75/5 | 4.5/5 | 4.5/5 | |
| | | 4.5/5 | 4.25/5 | 4.25/5 | |
| | | 4.25/5 | 4.25/5 | 4.25/5 | |
| | | 4.25/5 | 4.5/5 | 4.25/5 | |
| | | 4/5 | 4.25/5 | 4/5 | |
| | | 4.25/5 | 4/5 | 4/5 | |
| | | 4/5 | 4/5 | 4/5 | |
| | | 4/5 | 4/5 | 4/5 | |
The Best Stability / Physio / Balance Balls in Depth
The SPRI Ultra Exercise ball is made from heavy duty dura-wall materials. This provides a very thick outer to ensure that it doesn't rip or tear. It is fitted with slow deflate technology, giving you the peace of mind that you need to get an effective workout. The SPRI stability has a dimpled surface that provides a 360 degree body traction effect.
The SPRI Ultra Physio ball is completely free of any harmful phthalates. It is guaranteed to retain it's shape and it features a very good gripping surface. It comes with a very good instruction sheet along with an inflation pump. With this product, you also get a 100% money back guarantee
PROS
Heavy duty dry wall outer material
Very good gripping surface
Slow deflate
CONS
No counter weight in the base of the ball
The Tone Fitness Stability Ball features a hardy, burst resistant outer rubber material. It has a series of ridges that encircle it to help you to get a better grip on the ball. This exercise ball is made by the CAP Barbell company, who are a respected name in the fitness industry. You can have confidence that your Tone Fitness physio / balance ball will last for months without needing re-pumping.
The Tone Fitness exercise ball is available in a range of sizes to suit your height. This stabilizer ball is an ideal choice for yoga, pilates, physio and general balance ball training. It is completely latex free and will not emit the strong odor that often comes with other balls.
PROS
Strong, burst resistant shell
Latex free
Free pump
CONS
Contains pthalate chemicals
The Superior Fitness Stability Ball with Resistance Bands provides you with a 65cm exercise ball that sits inside of a plastic ring. Attached to the ring are two resistance bands. This set-up provides you with everything you need for a combination resistance / balance stability workout. The quality 65cm ball is anti burst and anti static, so it won't attract hair or stick to your body.
The inflated stability ring ensures safety and rigidity as you perform your resistance band exercises. The resistance bands provide you with the resistance of 60 pounds of weight. They are also upgradeable to 120 pounds. Cushioned handles with metal hooks provide comfort and strength. You can do more than 100 exercises with this unit.
PROS
Resistance Bands
More than 100 exercises
Anti burst / anti static ball
CONS
Inflatable ring not overly solid
The PharMeDoc Stability Ball is a heavy duty physio and recovery ball that will give you a very high quality training tool. It has a max weight rating of 2000 pounds. It has also been tested on a range of different body types and body shapes. This exercise ball features an ergonomically ideal impact free design. The ball comes in three colors and sizes - 55cm, 65cm, and 75cm diameters.
The material from which the PharMeDoc swiss ball is made is very rugged. This prevents it from becoming saggy over time or of losing its shape. The surface of the ball is very easy on the skin, and will not snag on your clothing or shoes. Your product comes with a 100% money back guarantee.
PROS
2000 pound rating
Impact free design
100% money back guarantee
In this article, you've discovered where to find the best exercise balls for physio, stability and balance. If you're looking for the best general exercise balls, check out our Best Exercise Balls Review 2017 - it's got the latest on the greatest.
The U-Turn Fitness Anti-Burst Physio ball features a 65cm gym ball which sits inside of an exercise ball stand with resistance bands attached. The stability ball base is a single piece of plastic, making it better at holding the ball than competitors who use an inflated ring. The exercise ball is very sturdy and grip friendly. This is a great ball for physiotherapy use. The heavy duty resistance bands are designed to isolate your individual muscle groups.
You also get a high quality pump with your purchase. With this very effective workout program, you are able to do hundreds of exercises. When you get stronger you can also upgrade to more heavy duty resistance bands.
PROS
Very sturdy ball ring
Grip friendly ball
High quality pump
CONS
Bottom of stand may slide
The Gaiam brand of physio exercise ball is a high quality ball with a thick outer wall and a large band of dotted projectiles. While the 65cm ball is the most popular, it is also available as a 55cm and 75cm option. The Gaiam stability ball is burst resistant and able to withstand minor obstructions such as a table corner or a staple on the floor.
Gaiam Total Body Balance Kit includes a DVD workout program, and a top quality air pump. The Gaiam 65cm exercise ball has a weight capacity of 300 pounds. The DVD that you get here is top notch, being presented by fitness personality Tanja Djelevic. You actually get three separate twenty minute workouts to cater to all needs.
PROS
Burst resistant
Top quality DVD included
Free air pump
CONS
Slight chemical smell when you first get the ball
f you don't select the proper exercise ball size, you won't get the most out of your purchase. Get it right by checking out our informative article on What Size Exercise Ball Should You Get? Getting it right can make all the difference.
The Firm Slim and Sculpt stability ball is constructed firm tough, burst resistant plastic. This physio ball is specifically designed for women, being a comparatively small ball (55cm). However, you can also get balls with 65 and 75 cm diameters. It is available in an attractive pink color. It is tear resistant. If it does happen to get a hole in it, the ball will slowly deflate, keeping you safe at all times.
With your purchase comes a 30 minute workout video, which is of very good quality. You also get an air pump which works surprisingly well. The Firm stability ball will hold it's air for months at a time before you need to re-pump it.
PROS
Burst resistant plastic construction
Slow deflation technology
30 minute workout DVD
Balance ball chairs allow you to take your balance ball training to a whole new level. Discover where to find the best chairs with our Best Exercise / Balance Ball Chairs Review 2017 - you won't regret it!
The Reehut Anti Burst Core exercise ball is a ridged exercise ball that is easy to grip and maintain control of. It features anti burst technology and has been tested to 2,200 pounds without bursting. You get a choice of colors and five different sizes, ranging from 45cm to 85cm. You also get a free exercise pump with your purchase. It is made from PVC material and is completely latex free.
The Reehut physio / balance ball is compact and portable enough for you to be able to use it anywhere. It will retain it's air, even if you haven't used it for a while. This ball inflates quickly, making it an effective rehabilitative tool that can be taken with you. Your purchase carries a 100% money back guarantee.​
PROS
Ridged outer surface
Tested to 2,200 pounds
Money back guarantee
CONS
Loses air when not in use for an extended period
The Theraband physio / balance ball is made from thick imported rubber material. It features a series of ridges to make it easier to grip the ball. If the ball is punctured, it will deflate slowly, protecting the user from any potential harm. This 65cm diameter exercise and fitness ball is designed for people who are between 5'7" and 6'1". The ball comes in a deflated state, along with two plugs and an inflation adaptor.
Along with your Theraband ball, you also get a comprehensive full color exercise guide poster, featuring 24 different moves that you can do with your new ball. You do not, however, get a complimentary pump when you buy the Theraband physio ball.
PROS
Thick imported rubber
Easy grip ridges
Full color poster
CONS
No pump with your purchase
The Master of Muscle Core Crusher Fitness Yoga ball is one of the sturdiest models we have ever come across. It has been built with a professional grade anti burst rubber outer to give it maximum protection. The 65cm diameter Core Crusher is the ideal size for most people. Along with your purchase, you get a free hand pump and a comprehensive e-book that includes 20 targeted core exercises.
The Core balance ball has been especially designed to focus on core development. Its ergonomic contouring allows your abdominal wall to hyperextend more, giving you a 180 degree range of movement. This also removes strain from the neck and lower back. You also get a 100% money back guarantee on this product.
PROS
Pro grade anti burst rubber
Free hand pump
E-book workout guide
Now that you now where to find the best exercise ball for your physio / balance needs, it's time to learn how to maximize your use. This great physio ball exerciser program will get you started . . .
Conclusion
The best balance ball for physio, balance and stability is the SPRI Ultra ball, which gives you a very hard wearing outer, is anti burst and has an excellent feel to it. Our second to top ball is the Tone Fitness model, which is solid enough to retain its shape month after month, is latex free and comes with a quality pump.
Rounding out our top 3 fitness balance balls is the Superior Fitness Stability Ball with resistance bands. With this model, you get a complete workout by way of resistance bands and a durable 65cm ball