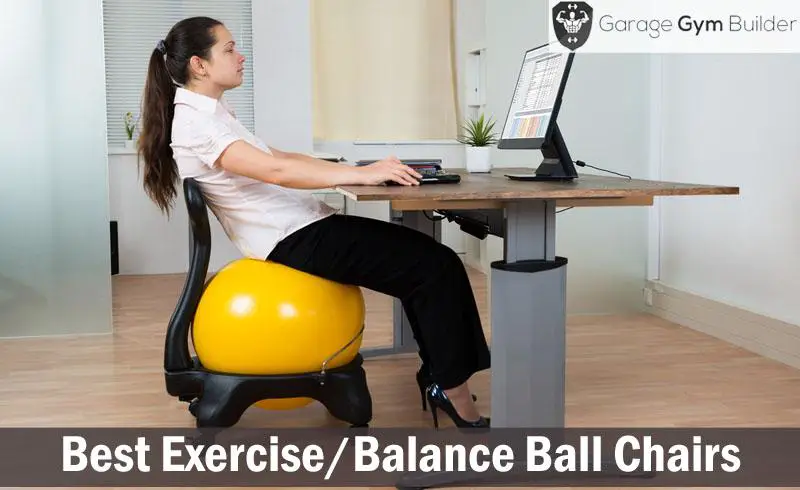 Best Exercise / Balance Ball Chairs Review 2017
Most of us spend most of our day sitting down. When you invest in a balance ball chair, you are able to make use of your sitting time to strengthen your core and align your spine - the very opposite to what most sitting does. In this article we discover the Top 10 balance ball chairs that allow you to get a great core workout in while you're sitting at your desk.
A Quick Overview of the Top 10
The best balance ball chair on the 2017 market is the Gaiam Custom Fit Balance ball chair, which provides a very stable sitting surface, has easy glide wheels and comes with a superb quality exercise ball. The second best ball chair is the LuxFit ball chair, with its large, locking wheels, heavy grade burst resistant ball and 3 year warranty.
Rounding out the top three of the best exercise ball chairs is the Isokinetic adjustable chair, which is fully adjustable to provide you with ideal body positioning, and features a padded back seat.
To help you to compare and contrast the best ball chairs, we've rated the Top 10 on the basis of price and durability. Then we've given each chair an overall rating out of 5. In the following section, we go in depth on each product.
| Product | Product Name | Price | Durability | Overall | Product Link |
| --- | --- | --- | --- | --- | --- |
| | | 4.5/5 | 4.75/5 | 4.75/5 | |
| | | 4.5/5 | 4.5/5 | 4.5/5 | |
| | | 4.25/5 | 4.75/5 | 4.5/5 | |
| | | 4.5/5 | 4.5/5 | 4.5/5 | |
| | | 4.25/5 | 4.25/5 | 4.25/5 | |
| | | 4.25/5 | 4/5 | 4/5 | |
| | | 4.25/5 | 4/5 | 4/5 | |
| | | 4/5 | 4/5 | 4/5 | |
| | | 4.25/5 | 4/5 | 4/5 | |
| | | 4/5 | 4.25/5 | 4/5 | |
The Top 10 Up Close
The Gaiam Balance Ball Chair is a fantastic support for your spinal alignment and core functionality. The yoga ball chair base of the chair is very stable, being made from heavy duty molded PVC. The chair comes with a high quality 52cm anti burst balance ball. It is designed for people who are between 5' and 5' 11".
The max user weight is 300 pounds. An adjustable support bar keeps the ball firmly in place as you sit. The Gaiam Yoga Ball Chair comes with easy glide casters and a pump to inflate the ball. The vinyl balance ball is latex free. The whole unit can be out together with a simple one tool assembly. The balance ball is removable to be used separately.
PROS
Very stable base
Easy glide casters
One tool assembly
The LuxFit Ball Chair has been specially designed by health experts to provide you with the ideal back alignment and core activation while you're sitting at your desk. Your sitting height is between 22 and 25 inches, depending on the inflation of the ball. With this chair you get a heavy grade, anti-burst latex free Swiss ball. Large wheels allow for easy movement.
The LuxFit chair features two locking back casters to ensure that the ball stays securely in position all day long. The ball can easily be removed to allow you to perform dozens of stand alone exercises. The chair is incredibly easy to put together and comes with an impressive 3 year warranty.
PROS
Large wheels
2 locking back casters
3 year warranty
CONS
Ball tends to deflate quite easily
The Isokinetics adjustable fitness chair has the unique ability of being adjustable to suit the dimensions of the user. You are able to adjust to 4 leg height positions and 4 back support positions. Adjusting the inflation level of the ball that is provided allows you to customize your sitting height also. This ball also provides especially large wheels to allow for ease of transport around your office.
IIsokinetics adjustable fitness chair provide you with a choice of frame finish on this chair. You can either have silver flakes on black or solid black. The 55cm ball that is provided is of the highest grade, durable latex free material.This chair also provides a padded back rest, which acts as a very effective lumbar support.
PROS
Fully adjustable
Large wheels
Padded back seat
The FitSpirit balance ball chair has a very high back, constructed from very durable PVC. This provides you with a superior level of support for your entire spinal region. With your purchase, you get a FitSpirit removable exercise ball, a chair with coasters for transport and a pump to inflate the ball. The ball is top quality, being both anti burst and latex free.
Assembly of this unit is easy and the ball sits very firmly in position on the chair. The weight capacity of the ball itself is 2000 pounds, while the chair / ball combination max user weight is 300 pounds. Removing the ball from the chair is very easy, allowing you to use it for dozens of other moves.
PROS
High chair back
Anti burst, latex free chair
Easy assembly
The Gaiam Backless Ball Chair is similar to Gaiam's top selling balance ball chair, except that it doesn't have a back support bar. The easy glide caster wheels are completely lockable so that you can stay in position with total stability. This chair is designed for people who are between 5, 5" and 5' 11" tall. The maximum user weight is 300 pounds.
Included in your purchase of the Gaiam stability ball chair is a quality exercise pump and a very thorough desk exercise guide to allow you to get the most from your purchase. The chair features two secure metal ball holders to keep the stability ball locked in position. The ball is latex free and burst resistant.
PROS
Lockable castor wheels
Exercise guide included
2 metal ball holders
CONS
Assembly instructions confusing
The Sierra Comfort chair provides you with an extremely durable, yet lightweight, ball support base. It features a sturdy, high back made of hardy PVC. It also has four oversized wheel casters for ease of movement. Two of these casters are lockable, allowing you to stay securely in place. The weight capacity of this chair is 300 pounds.
User sitting height on the Sierra Comfort chair is dependant on ball inflation level, but the ball is suitable for anyone between 5' 2" and 6' 2". The 17 inch rubber balance ball that comes with your purchase is burst resistant and latex free. It features ridged edges to help you get a better grip.
PROS
Lightweight yet sturdy
Oversized caster wheels
300 pound user capacity
The Isokinetic Tall Boy Chair features a sturdy PVC high back to provide you with lots of spinal support. There are 4 large, completely lockable wheels on the base. A reinforced black metal retaining bar holds the ball in place. The base of this chair is very solid. The assembly is quick and easy. This is a very good balance ball chair for tall people.
The Isokinetic Tall Boy Chair comes with a quality fitness ball. It is latex free and anti burst. The ball also has ridges that allow you to get to a better grip. Unlike many balls, this one will not deflate over time. The ball can easily be removed, allowing you to perform dozens of stand alone exercises.
PROS
Lockable wheels
Metal retaining bar
Latex free, anti burst ball
CONS
Uncomfortable on the butt
The Sivan Arm Rest chair is a unique balance ball chair in that it looks like a normal office chair, complete with arms rests and full back support. The back-rest is completely adjustable, allowing you to customize you sitting position. This chair also provides you with 5 easy roll wheels. You can lock two of these wheels to provide you with secure positioning.
Your Sivan Arm Rest rubber ball office chair with arms purchase comes complete with a black balance ball. The ball features a thick outer layer and is both latex free and burst resistant. It is easily removable yet locks firmly in place when on the chair. Assembly instructions are provided, allowing you to put the chair together quickly and easily.
PROS
Arm rests
Back support
Lockable wheels
The Bobbi Spandex Office Ball chair is a unique balance ball chair. It looks nothing like a conventional chair. Instead, it consists of a pink spandex fabric which stretches over your balance ball. The unit is supported by sturdy black iron legs. This allows you to sit securely in place, without worrying about the ball rolling away. The unit is easy to assemble and comes with a hex key tool and wrench.
The Bobbi Spandex Office Ball chair comes with its own quality ball, which is latex free and burst resistant. The fabric of the chair is very stretchy, allowing you to fit it snugly to the balance ball. This ball is great to use with kids - many schools are putting them in the classroom!
PROS
Spandex fabric
Latex free, anti-burst resistant
Great for kids
Find out where to go to get the best quality fitness ball for your chair with our Best Exercise Balls Review 2017 - it's got them all rated for your convenience.
The Gaiam Kids Balance Ball chair is specifically designed to help children develop a healthy seating posture. It is intended to be used by children aged 5-7. It comes with a very sturdy 35cm balance ball, a fully adjustable support bar to lock the ball in place and easy glide wheels (two of which are lockable). The weight limit of this device is 175 pounds.
The Gaiam Stability Ball Chair for kids comes with a solid PVC back support which protects the lumbar spine while your child is in a seated position. This is a very solid, kid friendly product that is being used right now in schools and kindergartens around the world to produce better postures and healthier children.
PROS
35cm balance ball
Back support
Lockable wheels
Now that you've found where to get the best balance ball chair, check out the best way to use it while sitting at your office chair. This video will give you the heads up . . .
To take your balance training to the next level, check out our Best Half Ball Balance Trainers 2017 review - it' got the best of the best.
Conclusion
Our favorite balance ball chair is the Gaiam balance chair, which features easy glide wheels, a very good ball and an incredibly secure seating platform. We also loved the LuxFit chair, which has locking wheels, a heavy grade ball and comes with a 3 year warranty.
Our bronze medal winning bosu ball chair is the Isokinetic, which allows you to adjust to keep just the right sitting position and comes with a padded back for comfort and lumbar support.