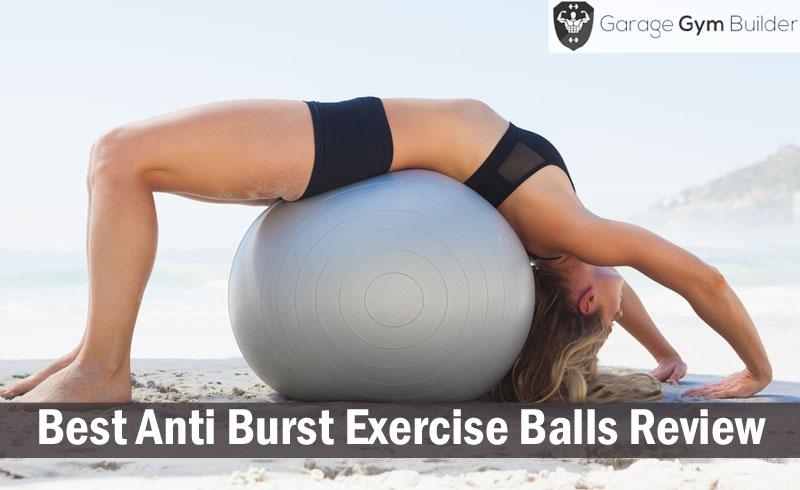 Best Anti Burst Exercise Balls Review 2018
There is nothing more frustrating than having to re-inflate your exercise ball every time you use it. It's even worse if the ball bursts half way through an exercise. That's why it is critical that you purchase a quality anti burst ball that will keep you safe even if it encounters a sharp object. In this article we identify the top anti burst exercise balls on the current market.
A Quick Glimpse at the Top 10
The best anti burst fitness ball is the BalanceFrom AntiBurst ball, which provide an amazing 3000 pounds of resistance, has a multi use anti slip surface and comes with a 2 year warranty. We also love the textured non-slip surface of the Everlast Burst Resistant ball with its 1000 pounds of resistance.
Our third favorite anti burst stability ball is the Tone Fitness which has an excellent textured grip and feel and a thick outer shell.
To make it easy for you to compare the best burst resistant exercise balls, we've rated each of the Top 10 on the basis of price and durability. We've then given each one an overall rating out of 5. In the next section, we provide an in depth review of each ball.
| Product | Product Name | Price | Durability | Overall | Product Link |
| --- | --- | --- | --- | --- | --- |
| | | 4.75/5 | 4.5/5 | 4.75/5 | |
| | | 4.5/5 | 4.5/5 | 4.5/5 | |
| | | 4.5/5 | 4.5/5 | 4.5/5 | |
| | | 4.5/5 | 4.25/5 | 4.25/5 | |
| | | 4.5/5 | 4.25/5 | 4.25/5 | |
| | | 4.25/5 | 4.25/5 | 4.25/5 | |
| | | 4.25/5 | 4/5 | 4.25/5 | |
| | | 4/5 | 4.25/5 | 4/5 | |
| | | 4.25/5 | 4/5 | 4/5 | |
| | | 4.25/5 | 4.25/5 | 4.25/5 | |
The Best Anti Burst Exercise Balls In Depth
The Balance From AntiBurst Ball is one of the most durable burst resistant balls that we have ever come across. It has an incredible resistance rating of 3000 pounds. The ball has a slip resistant surface that allows you to retain your grip throughout your entire workout. It is also sweat and moisture resistant. The ball is also very easy to clean.
There are no heavy duty metals involved in the construction of the Balance From AntiBurst trainer, and the product is completely latex free. Textured artwork adds to the slip resistance of the ball. A free foot pump and starter kit are included with your purchase. The product also carries an impressive 2 year manufacturer's warranty.
PROS
3000 pound resistance
2 year warranty
Anti slip surface
The Everlast Burst Resistant Fitness Ball is an amazingly durable ball, providing 1000 pounds of resistance. Equipped with anti burst technology, this stability ball will keep you completely safe if a sharp object pierces its outer surface. In this case, it will slowly deflate. The thick walls allow the ball to withstand most encounters with sharp objects. It retains its inflation very well and is easy to pump up.
The Everlast burst proof exercise ball is made from environmentally friendly materials that are latex and pthalate free, meaning that your children will be completely safe around it. The textured, non slip surface provides excellent grip and feel. This ball is ideal for all yoga and pilates workouts and also makes a great birthing ball.
PROS
Environmentally friendly materials
Textured non slip surface
1000 pound anti burst resistance
The Tone Fitness Stability Ball provides a thick outer shell that will not burst if struck by a sharp object. Instead, it will slowly release the air, allowing you to get out of the exercise without injuring yourself. This makes it great for all of your pilates, yoga and fusion fitness requirements. The ball has a tacky feel to it that gives you a great grip and feel.
The Tone Fitness Anti Burst Fitness Ball is manufactured by the CAP Barbell company, who are well respected in the fitness industry. Your purchase comes with a free pump so you can easily inflate your ball. This stability trainer comes in a range of sizes. You also get a 12 month no questions asked warranty.
PROS
Thick outer shell
Tacky feel for better grip
Free pump
The Reehut Anti Burst Resistance Ball has been designed for in home use as well as at the office and physiotherapy clinic. This ball is easy to inflate, is made from eco friendly materials and is very durable. It has an anti burst rating of up to 2000 pounds, making it completely safe for any application. You also get a range of colors and sizes.
The Reehut Anti Burst Swiss Ball comes with a small hand pump to allow you to immediately inflate the ball out of the box. The ergonomic design easily fits into your hand, providing a great fit to your body. It also has very good gripping ability so that you can have complete comfort when the ball is against your skin.
PROS
2000 pounds resistance
Eco friendly construction
Ergonomic design
CONS
Chemical odor out of the box
The DynaPro Anti Burst Yoga Ball is a pro grade fitness and stability trainer. It is constructed from extremely heavy duty burst proof material that causes the ball to slowly deflate if the ball is punctured. This ball is tough enough to be rated as commercial gym quality, so you can have confidence that it will be great for your home gym.
The DynaPro been tested to withstand 2000 pounds of resistance and has an anti slip surface. This allows you to get a better grip and hold, especially when holding the ball between your legs. The ball is equally suitable for men and women and comes in 55, 65 and 75cm size options. It also comes with a no questions asked, 100% money back guarantee.
PROS
2000 pounds of resistance
Very thick skin
100% money back guarantee
CONS
Needs regular reinflation
The Utopia Anti-Burst stability ball is made from very resilient PVC material that is latex free and totally environmentally friendly. It has a fine distant lining that makes it perfect for use on all manner of surfaces, including carpet. It will retain its trueness even on rough or uneven surfaces. This ball features a series of circular ridges which make it easier to grip and maintain your hold while exercising.
The Utopia Anti Burst ball is ideal for complex core exercises that require you to balance the ball with your legs. With your purchase comes a handy foot pump so that you can inflate the ball straight out of the box. It comes with a 30 day manufacturer's warranty.
PROS
Heavy duty PVC construction
Ridges add to grip ability
Foot pump included
CONS
Chemical odor out of the box
The FitPlus extra thick balance ball is a professional gym quality trainer that will give you confidence while you are working out. The increased thickness greatly enhances durability and antiburst ability. There are a series of ridged lines around the ball which enhance your grip and feel. The tactile nature of the ball provides a very comfortable sensation on your skin. It is made from latex free materials that are environmentally and child friendly.
The FitPlus antiburst trainer comes in four sizes, from 55 to 85cm. A high quality foot pump comes with your purchase. This is an easy clean ball that is also very low impact. Your purchase comes with a 2 year manufacturer' warranty.
PROS
Very durable
Ridged for better grip
2 year warranty
The Waccess ball uses science and technology to bring you the most ergonomic, light-weight trainer possible. The innovative design of the ball keep it very stable, so that it won't roll all over your home gym. The thick outer skin provides anti burst resistance to 500 pounds. This ball is great for pilates and yoga where you are constantly moving your body positioning. It provides you with a very good level of grip and feel.
The Waccess antiburst fitness ball comes with a free pump so that you can inflate it as soon a you get it. It is very compact and portable, allowing you to take it with you wherever you want to work out. This ball is also ideal as an office chair replacement.
PROS
Thick outer skin
Free pump
Very stable
The Fitness Master Anti Burst exercise ball provides you with a pro grade anti burst ball at a home gym price. It comes with a thick skinned outer that will withstand most sharp objects. If an object does pierce, the ball will slowly deflate. This allows you the time to safely extricate yourself from the exercise. It is made from pthalate free materials that are environmentally friendly and contains no latex.
The Fitness Master Anti Burst is slip resistant and able to wick away sweat and moisture. It provides a very good grip ability and is able to retain its position without roll away. This stability trainer comes with a quality foot pump. This ball is especially good for working the muscles of your core.
PROS
Thick outer skin
Slip resistant
Foot Pump included
The Bintiva anti burst exercise ball is made from professional grade, anti burst phtalate material that is good for the environment and safe for you to breathe in. The textured non slip surface provides a great gripping surface that makes this a great trainer not just for yoga and pilates, but also for use as a birthing ball and an office chair. The ball is ideal for enhancing your core stability.
The Bintiva burst resistant body ball comes with a foot pump that allows you to inflate it out of the box. It also come with a very useful user's guide. It come in six colors and a range of sizes. This product carries a 12 month manufacturer's warranty.
PROS
Pro grade construction
Textured non slip surface
Free foot pump
Discover the best stability fitness balls across all market segments with our massive Best Exercise Balls Review 2018 article - we rate and review the best of the best.
Click here to read the 10 best fitness balls for Yoga and Pilates article.
Conclusion
Our favorite burst resistant stability ball is the BalanceFrom ball, with it's amazing 3000 pound burst resistance, skin friendly anti slip surface and 2 year manufacturer's warranty. Our second favorite is the Everlast ball, which has a textured non-slip surface anti anti roll properties.
Rounding out our top 3 is the Tone Fitness anti burst ball, which features a very durable skin and grip friendly texture.