10 Best Sports Compression Socks Reviewed
last updated:
Mar 25, 2021
Compression socks have been around longer than most of us realize. There are cave paintings, from about 7,000 years ago, showing soldiers wearing pain-relieving bandages around their legs. New Stone Age warriors may not have understood the science behind blood circulation, but they figured out how to soothe their exhausted legs.
Fast forward to about 1935. Compression stockings expanded in popularity with the invention and spread of nylon. Nylon has both compressive and stretchy properties. With a bit of Spandex, it becomes easier to put on and remove.
At first, compression stockings were for nurses and other workers who worked on their feet. Standing for long periods can cause venous stasis, where blood pools in the lower legs and can cause problems.
Now, athletes everywhere use compression socks to prevent and treat soreness. We broke down 10 of the best sports compression socks.
In a Hurry? The test winner after 20 hours of research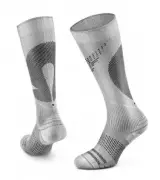 Rockay Vigor
Why is it better?
Improves blood flow, which helps with faster recovery
Reduces fatigue in the lower legs
Made from recycled materials
Consistent fit throughout
Seamless construction
30
Researched Sources
8.1k
Reviews Considered
7
Hours Researching
10
Products Evaluated
Breathability
Compression
Style
Support
Comfort
By Default
10 Best Sports Compression Socks
Improves blood flow, which helps with faster recovery
Reduces fatigue in the lower legs
Made from recycled materials
Consistent fit throughout
Seamless construction
Rockay, a comparatively young brand, has been proving its worth with each new release. Their most recent line is no different it seems. Vigor, their newest compression sock We've been told that the design and prototyping stage lasted a while to make sure they had is exactly right. We like the push for perfection, especially when the result is effective.
Read more
The overall design appearance is sleek and seems to focus more on performance rather than flashiness. We are absolutely cool with that! The whole idea behind this type of garment is to assist in improved blood flow throughout the lower legs. This helps with several issues, including reduced fatigue and faster recovery, which Vigor does beautifully.
Overall, the general durability is pretty solid. Like anything else, if you follow the laundering instructions and take care of them, they will last. The sizing seems to be spot on as well. It is worth mentioning that you need to pay close attention when choosing the correct size. The applied compression is most effective when the socks fit correctly. And, if you choose a size that is too small, well it won't be very comfortable.
Speaking of comfort, with the consistent fit throughout, midfoot arch support, and attention to detail when selecting the materials to make these with, the overall comfort will last throughout long workouts and long-distance runs.
2

. MudGear Compression Sock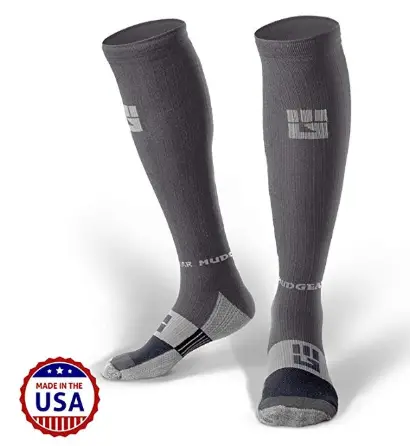 Max protection
Very breathable
Moisture wicking
Slightly thicker than other socks
The MudGear Compression Sock is an extremely hardworking sock that is designed to provide maximum performance while you are pushing it to the max. It is specifically designed for use during obstacle course racing, so you know it will stand up to any tests you place upon it.
Read more
The protective backing provides maximum durability. The consistently applied pressure provides a constant level of relief to your calves, ankles, and shins.
The MudGear Compression Sock is a very breathable, reactive sock that provides moisture-wicking ability. This prevents the sock from overheating. It will stay up while you're playing, rather than slipping down halfway through. The sock is a little thicker than others on the market.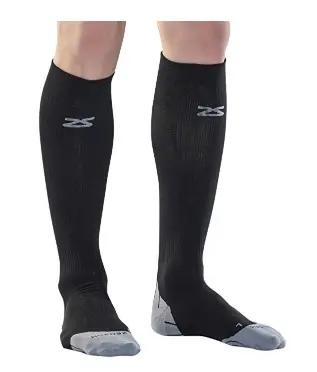 Very comfortable
High compression level
Anti odor and anti moisture
A little tight fitting at the top
The Zensah Tech+ is a high performing sports sock that is perfect for runners. They provide a high level of compression along with an exceptional level of comfort. It provides underfoot covering to help counter the dynamic effects of foot strike.
Read more
The graduated compression offers a higher level of compression around the ankle which is the most vulnerable area for sports and athletic applications. The improved circulation will facilitate faster recovery after you've finished your game.
The Zensah Tech+ is a lightweight sock that is anti-odor and anti-moisture. It prevents sweat build-up and you won't have to deal with the odor problems that are common to many competing compression socks.
4

. CEP Men's Compression sock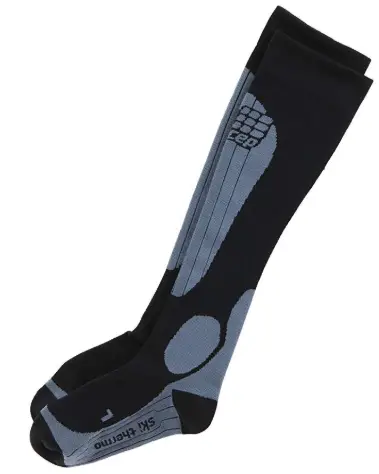 Anatomical foot design
Reflective colors
Medical grade compression
The CEP Men's Progressive 2.0 provides you with a great balance of support and range of movement. These are extremely high performing socks that have a lot of technology that has been seamlessly incorporated for results. It is made from 85% polyamide and 15% spandex.
Read more
The anatomical design of the foot dramatically lessens the level of friction produced. It also provides advanced proprioceptive support to the arch and heel.
The CEP Men's Progressive 2.0 comes in a cool range of colors and patterns, including reflective colors. This is a great sock for avoiding shin splints, soreness, and wear and tear. The compression level is not too much to restrict movement but not too little to impede blood circulation.
5

. CW-X Conditioning Wear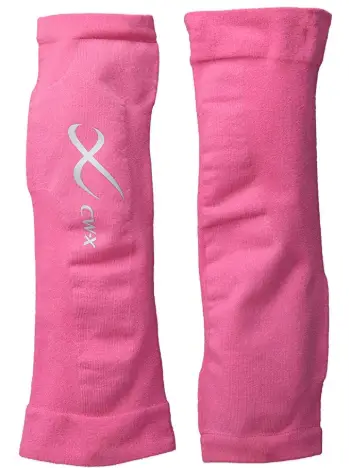 Variable 4-way compressive stretch fabric
Targeted compression
Built-in calf and arch web
Only partial leg coverage
The CW-X Conditioning Wear sports compression sleeve provides targeted compression to help sports players and athletes to direct compression to specific areas of need. This is the sock for you if you have been suffering from plantar fasciitis, ankle or Achilles pain.
Read more
It is constructed from a blend of 90% nylon, and 10% polyurethane. This makes it extremely flexible and responsive. Seamless toe-box prevents abrasion issues. A variable compression 4-way stretch factor makes this a very responsive sleeve.
The CW-X Conditioning Wear sports compression sleeve is a moisture wicking sleeve, which means that it will not over-heat, develop sweat build-up, or slip down while you're playing your game. A very unique built-in calf and provides a high level of support to these areas.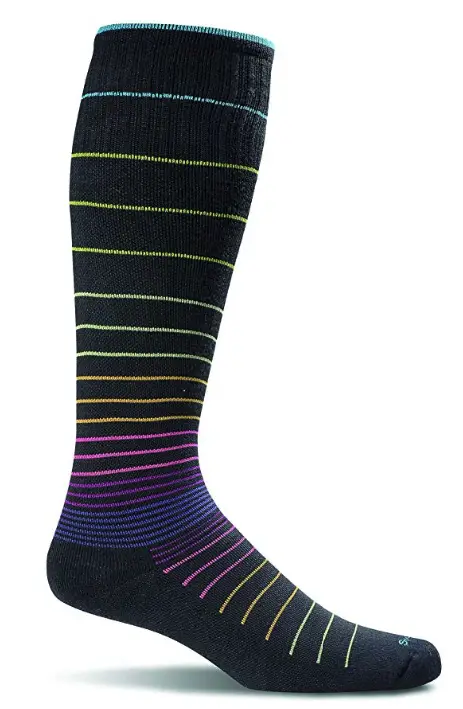 3 way graduated compression
Thermoregulation
Durable and hard wearing
The Women's Circulator from Sockwell provides 3 way graduated compression from 15-20 mmHg, with the highest compression at the ankle. This sock is constructed from a very fine grade of merino wool, which makes it amazingly comfortable while also being very strong.
Read more
It features built-in thermoregulation and anti-moisture properties. These make the sock extremely form-fitting and responsive. The seamless toe and heel are anti-abrasive and reinforced for extra support.
The Women's Circulator delivers a welt top arch support to give you an even greater level of support to the most vulnerable areas of your foot. You can select your sock from an extensive range of colors and designs. This is a very durable and hard-wearing sock that can handle any sports application.
7

. Mojo Recovery and Performance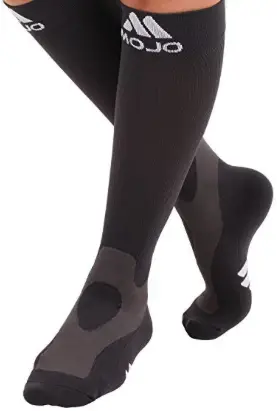 Graduated compression
Removes lactic acid
Contours to the foot
The Mojo Recovery and Performance elite sock delivers graduated compression, with a focus on the vulnerable ankle and heel. This sock has been ergonomically designed to anatomically follow the contours of your foot. That makes this an extremely comfortable sock to wear.
Read more
The balance of compression and flexibility allows for the removal of lactic acid without limiting the range of movement. Reinforcement of the toe and heel provide you with an enhanced level of protection while you're on the court.
The Mojo Recovery and Performance is a lightweight sock that is breathable and airy. It has moisture-wicking properties and will also prevent odor build-up. This sock will provide a good level of support while you're playing and will speed up your recovery afterward.
8

. Thirty48 Graduated Compression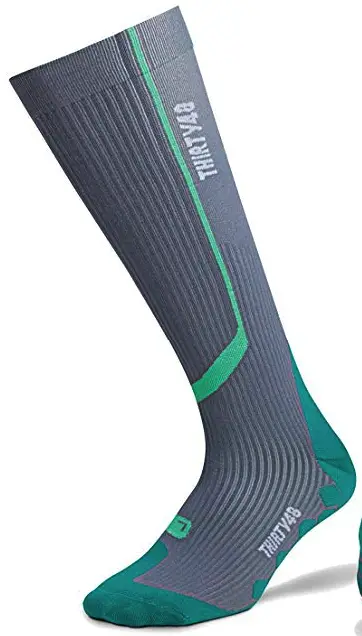 Anti bacterial nylon
Catalyst AFdesign
Minimal thickness
The Thirty48 Graduated Compression socks are made from a premium antibacterial nylon material. They deliver graduated compression to fast track oxygen and nutrients to the lower leg as lactic acid is being removed.
Read more
It features a unique CatalystAF design for enhanced performance and responsiveness. This sock is made from 70% nylon, 20% lycra spandex, and 10% anti-bacterial nylon. Socks are specifically designed for each foot, providing enhanced performance.
The Thirty48 Graduated Compression has minimal thickness but maximum protection and durability. It will stretch to absorb the unique contours of your foot and will stay tight throughout your game, without feeling uncomfortable. You get built-in moisture-wicking capability and odor resistance to prevent discomfort.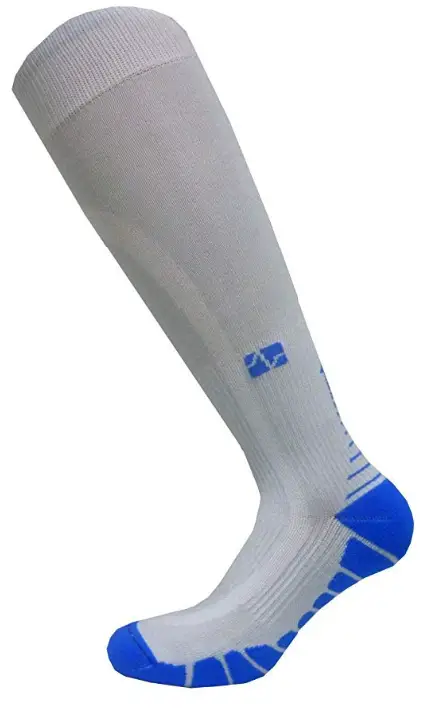 Extra arch and heel support
Made in Italy
Drysta fabric
The Vitalsox VT1211 is an Italian sock that has been used extensively by pro football players for decades. It provides a high level of arch support, along with graduated compression to fast track blood supply to the area.
Read more
This product is constructed from a patented fabric known as Drystat. This is an incredibly responsive fabric that has superior moisture-wicking properties. This ensures that your lower legs will remain dry and moisture free for the length of the game.
The Vitalsox VT1211 is lightly padded throughout to provide an even level of support. There is extra support in the arch and heel to offset the impact of heel strike. There is also built-in odor resistance.
10

. SB SOX Compression Socks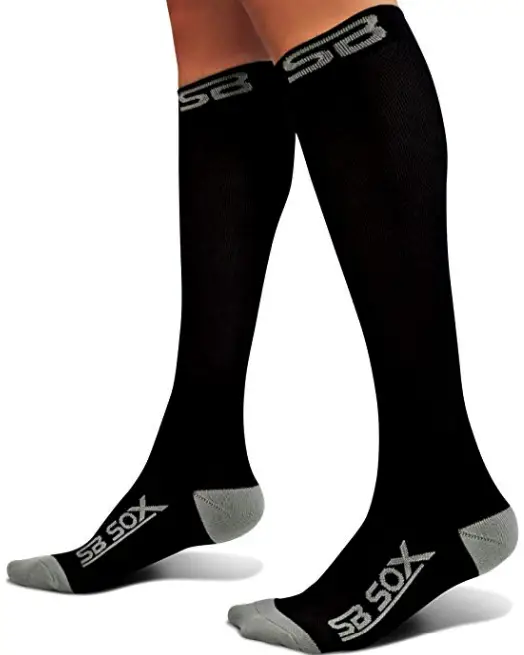 Four different sizes available
Anti-odor and anti-static fabric
Variety of patterns available
Prominent seam across the toe
Top band too tight
The SB SOX Compression Sock offers graduated compression in a variety of fun colors and patterns. These socks are ideal for athletes, travelers, and everyday wear for those who sit or stand for long hours. The form-fitting material will help you maintain joint stability and promote increased circulation in your legs.
Read more
The SB SOX Compression Socks are made from lightweight fabric designed for breathability and comfort with 20-30 mmHg compression. They are moisture-wicking and the material is designed to be anti-static and anti-odor, keeping your feet clean and dry. The socks come in four different sizes and incorporate different calf widths and shoe sizes. You are sure to find one that fits your personal style!
Criteria Used for Evaluation

Compression
Compression maximizes recovery.
Performance Compression socks are snug-fitting, stretchy socks that squeeze your leg. This encourages and improves circulation and can help fight swelling and discomfort in your feet. Sport compression socks will encourage upward blood flow from the ankles back toward the heart, making it less likely to pool in the feet. The use of compression socks may also assist in reducing the risk of DVT (deep vein thrombosis) and can help alleviate varicose veins.
In athletes, compression socks help ward off injury, speed up recovery, and improve race performance. Wearing compression socks during sports activities is believed to aid ability, increase oxygen delivery and blood flow, reduce vibration, jarring and unwanted stress to the muscles and may help prevent shin splints. Some believe the use of compression socks aids in improving balance as well.
Compression socks are not just for athletes and can be worn by anyone who spends a significant amount of time sitting, for example, someone who works in an office setting. Those who sit or stand, without moving, for more than two hours at a time are more likely to develop DVT and could benefit from compression socks. Whether used for athletic purposes or everyday activities, compression socks can provide multiple health benefits to keep your blood flowing and your legs feeling great!

Breathability
Breathability equals comfort.
The breathability of a compression sock is one of the keys to great comfort, especially in warmer weather. There are different types of fabric the socks are made from and each type has its own benefit. Cotton, a natural fiber, is good for those with sensitive skin and quickly wicks away moisture. Microfiber is a soft, stretchy, and breathable material that also wicks away moisture. Microfiber is a thinner material than cotton and may be preferred as a result. There are also compression socks infused with silver and copper, which help to eliminate foot odor by killing bacteria around the foot. Sheer compression socks are the thinnest fabric available and are also virtually invisible on the legs.
In addition to the traditional sock style, there are open-toe and sleeve variations. The open toe style allows for the ability to still enjoy those warm weather flip-flops or sandals and achieve the benefits of compression. The sleeve style allows for the option to wear an ankle sock, yet still have compression in the lower leg.
No matter which type of material you choose in your compression sock, it will wick away moisture keeping your feet and legs dry and comfortable throughout the day.

Style
Compression socks have come a long way from the traditional kinds used primarily for those recovering from surgery or with their serious medical conditions. Due to their mainstream use by athletes and office workers alike, compression socks now come in a wide variety of colors, designs, shapes, and lengths. They are ideal for various activities and people and include options such as waist-high, open toe, knee-length, mid-calf, and ankle.
The versatility of the different styles allows for comfort and support no matter what you are wearing. Sheer tights or waist-high are ideal to be worn with dresses, open toe with sandals and the traditional sock style is perfect for running a race or running to the grocery store. The sleeve style is perfect for an athlete that does not need additional support in their foot but still wants the benefit of compression.
With different styles come different types of materials to include everything from thin and sheer to nylon, cotton, and wool. There are a variety of colors and patterns available, which can be customized to match your mood, outfit, or even your profession. With the different options available, you can be confident there is a style for you and your lifestyle.

Support
Support is the whole point for a compression sock.
Compression socks are designed to provide extra support and are purposely snug fitting on your legs as a result. The length of the sock will help determine the level of compression you receive. The level of pressure on a compression sock is measured in millimeters of mercury (mmHg). The pressure levels range from very light (8-15 mmHg) to extra firm (30-40 mmHg), which is typically a level only recommended by a physician. The average user of compression socks will be somewhere in between very light (8-15 mmHg) and firm (20-30 mmHg). Some socks provide graduated compression, meaning a range that has different support levels in the foot and the leg.
Depending on what you are using the compression sock for, running, biking, or everyday wear, will determine the amount of pressure you will need as well as your tolerance level for wearing them. The goal of the compression sock is to reduce fatigue in your feet and legs, increase circulation, and improve athletic performance! The ideal sock should feel so comfortable, you do not realize you are wearing it.

Comfort
Comfort from compression socks means better performance.
While compression socks are snug-fitting, they should not be too tight or they will not give the proper amount of compression. If your socks feel very uncomfortable, cause throbbing in your legs, or leave red marks from the elastic, you may want to go up a size. It is also important that the sock is not too long in the foot or it will cause discomfort. Often times, compression socks are sized by a measurement of the calf. If you are not wearing a comfortable, well-fitting compression sock, it will likely limit your activity due to unwanted pain and discomfort. To fit properly, they should not slide down your legs and they should remain flat and taut. If they do not stop your swelling or are difficult to put on, you may need to find an alternative size. There is nothing worse than having swollen, sore feet and legs which will greatly impede your performance at work or at the gym.
While compression socks have excellent health benefits, to achieve those you must make sure they are in good condition and the proper fit.
Expert Interviews & Opinions
Most Important Criteria
(According to our experts opinion)
Experts Opinion
Editors Opinion
Users Opinion
By Default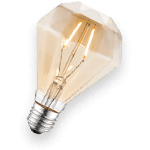 Material
When you choose a pair of socks, of course, you want a good level of compression, but, the material is equally important. There are so many socks and sleeves offered on the market. Cheap versions are cheap because they have sourced cheap material.
Does this matter if you save money? Yes, it matters. Cheap materials can feel uncomfortable and tend to lack durability, so the performance of the sock will not last long. Go online, do a little research via online review or shopping sites, so that you can find a sock which has good material through reading reviews-comments left by customers.
Brand names
Though the brand named products might cost a little more, they have a lot of experience in producing good quality products.
Brand products are tried and tested. You can research brand products online and check out customer reviews and online shop reviews to see which brand offers a product which meets your exact needs.
Other Factors to Consider

Bottom Line
The best compression sock for athletes is the MudGear Compression Sock, which is a very rugged sports performance sock with an enhanced level of protection. While it is a bit thicker than the other socks reviewed, it will hold up under any circumstance you can think of. We also loved the Zensah Tech+, an extremely comfortable sock with a high level of graduated compression. The Zensah Tech+ is lightweight and has excellent anti-odor and moisture-wicking properties, making it a top choice for those who may not need the rugged performance of the MudGear. Rounding out our top 3 is the CEP Men's Progressive 2.0, providing you with medical-grade compression and some cool reflective colors. Its anatomical foot design allows for greater support of the arch and heel while helping to prevent shin splints, making it a good choice for those looking for a more stylish sock.
Traditionally, compression socks were used by medical professionals for patients recovering from surgery or due to serious medical conditions. Currently, their versatility allows for use with many different activities including athletics, work, and everyday wear. Compression socks come in many shapes, colors, and designs allowing for style and comfort while achieving the goal they were set out for. Compression socks are made from different materials which allow for breathability and comfort both in warm and cold climates.
If used correctly, compression socks have many health benefits. They allow for proper blood circulation and encourage the flow of blood from the ankles to the heart making it less likely blood will pool in the feet. This results in the reduction of swelling, redness, and fatigue while lowering the chances of developing DVT (deep vein thrombosis). A good compression sock will assist in preventing injury, provide stability to the foot and ankle, without compromising mobility.
When choosing your compression socks, doing research online for comparison and expert opinions is the key to making the best choice. You will also want to pay close attention to the sizing of the socks, as they are all different, and choose the right amount of compression for you. Whether you are into running, biking, hiking, or using compression socks for everyday use, the perfect sock exists for you. Your feet and legs will thank you!
Frequently Asked Questions
q:

How tight is too tight for wearing?

a:

It all depends on the person wearing the compression socks. For example, people have different tolerance levels when it comes to temperature or pain. This also applies to what a person perceives as too tight and what is actually too tight from a medical standpoint with wearing compression socks. They should never be painful to wear and if they are, it is a good sign you are wearing a compression that is too strong. The sock should remain taut and smooth while worn.
q:

Which materials are best for compression socks?

a:

Compression socks are typically a blend of lycra, spandex, nylon, and cotton that are woven in different patterns and thicknesses. Many of the athletic versions offer antimicrobial properties that prohibit the growth of odor-causing bacteria and fungus.
q:

Are compression socks machine washable?

a:

Yes, they are, regardless of which materials are used, if you check out your washing machine, choose a washing cycle that matches the materials you know are used for your socks. This way you will not over wash or under wash or damage a pair of socks. It is recommended to hand wash your compression socks with a mild detergent and roll them in a towel while gently pressing down on them to remove the moisture. Air dry or tumble dry on low heat if needed.
q:

Can I wear these socks if I don't have an injury.

a:

Absolutely yes, these socks are very good for aiding to prevent an injury such as a muscle strain during running or other types of exercise. Prevention is always more desirable than actually getting an injury.
q:

Do these socks give foot arch support?

a:

Yes, the design for compression socks includes an alternating weave pattern which will target and flow support to the foot arch region. This means that the weaving in the foot arch region is often thicker and has a strategic pattern that will channel support directed toward the foot arch.
Subscribe to our newsletter