Best Wool Socks Reviewed
last updated:
May 11, 2020
Focus usually falls on shoes for athletes, but socks cannot be overlooked since they make the run comfortable and enjoyable. This supper, natural fabric is soft, prevents chaffing, and wicks moisture well. Choosing the best merino wool socks that will keep cool, dry, and warm isn't always the easiest task.
Some garments are just challenging to review. They either work or don't. That's why you find many being comfortable in brands they recognize, without giving a thought on what another has to offer; because they don't want to be disappointed again. For an athlete, reliability is scaled up even more because they need to make their run comfortable and enjoyable. With the wrong socks, you can ruin your performance, make your feet overheat or cause painful blisters.
This is the best product on our list that is currently in stock: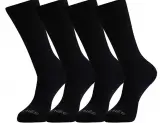 JOYNÉE Crew Socks
Why is it better?
Budget-friendly
Versatile use
Arch support
5
Researched Sources
12k
Reviews Considered
9
Hours Researching
10
Products Evaluated
Materials
Comfort
Breathability
Style
Features
By Default
10 Best Wool Socks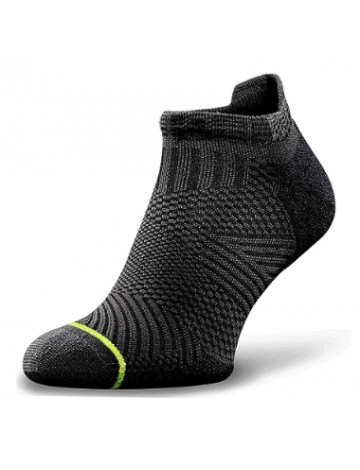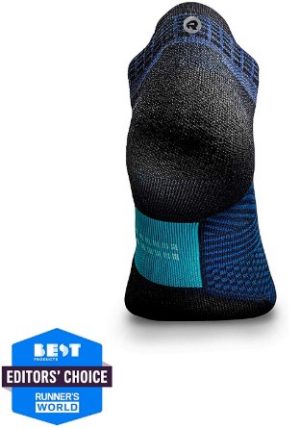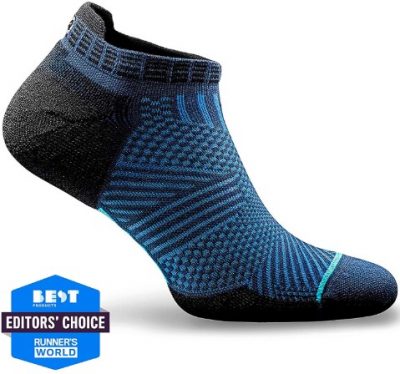 Highly durable
Has warranty
Excellent design
Premium materials
Multiple design options
Looking to achieve to your level best, then these merino wool socks will help you in doing just that. These no-show socks are filled with innovative features so that you can reach your performance targets comfortably. Many who have tried the Rockay Accelerate never look back, thanks to their excellent properties.
Read more
The material used to make them is organically sourced merino wool. The brand takes it a notch higher in the fabrics department, by sourcing the ever-excellent merino wool from South America only. The yarn is of higher quality, which in turn improves on the durability and longevity when compared to other brands. The manufacturer even provides a lifetime guarantee to back up the high-quality claim.
To ensure you run in comfortable cushioning, these socks feature superb padding in the heel and toe areas. These socks also provide splendid compression and comprehensive arch support. The thickness of the merino wool is strategically varied and ventilated to allow for breathability.
With innovative designs and materials on these socks, when the ambient temperature is hot, they keep your feet cooler, and vice versa. With the Rockay Accelerate on, moisture, which might cause painful blisters and friction, is wicked away faster than in others. Additionally, the heel tab prevents the socks from sliding, reducing the detrimental effects of bunched up material, causing friction.
These high-quality options tick all the right boxes for athletes. Additionally, you can choose a pair from the well-accentuated colors and design options. The only downside you might say to them is the high price tag they come in. However, you can overlook the initial cost when you see how long-lasting and effective they really are.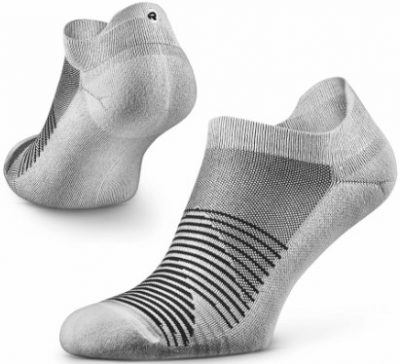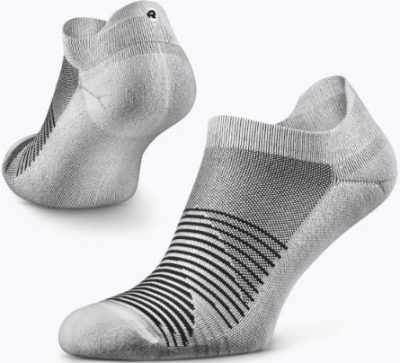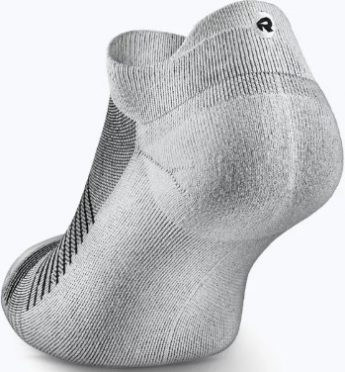 If you are looking for a sustainable wool sock, look no further! The 20four7 has tons of benefits to offer any athlete or anyone for that matter. With the added technologies, this product will go above and beyond for your feet and ensure that they are always there to protect you and your feet. Not to mention, this product is backed by a lifetime warranty, so you will never have to go on without the 20four7.
Read more
Their seamless construction provides a smooth fit without causing chafing or blisters. Additionally, they won't slip down your ankle or bunch up at the top of your shoe. You can have the confidence to run in them as they keep you cool and dry.
For cushioning, more than half of the fabric sits at the base of your foot. This feature makes them comfortable, as described by many who see them as their go-to socks. They are available in five different sizes, including 2X large.
The brand that makes them sources all the materials from America, Vermont, to be specific. With the high standards within the brand, its no wonder they have grown in stature so fast in such a short time. The fantastic support they provide and the overall experience will leave you completely satisfied.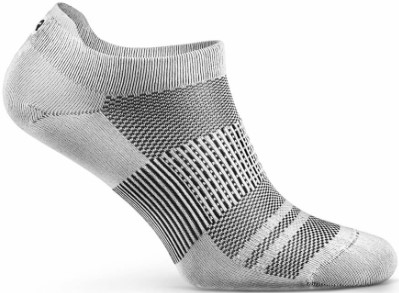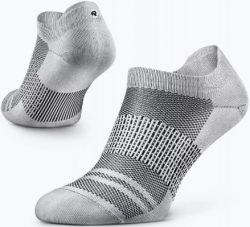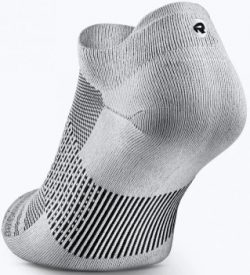 Anti Blistering
Seamless Toes
Anti-odor coating
100% Recycled Materials
Agile is from the Rockay line and combines minimalist design with compression properties. These socks are eco white and ultralight and still maintains the benefit that running compression socks provide.
Read more
Agile is great for racing or walking alike. The thin design is excellent for warm days when you want comfort and coverage. The seamless toes, non-cushion, and anti-blister construction make these socks stand out.
On the winter runs, when the feet may still sweat, odor won't be a problem because of the anti-odor coating. Like all of the Rockay product line, these socks have a lifetime guarantee.
4

. Enerwear Trail Crew Sock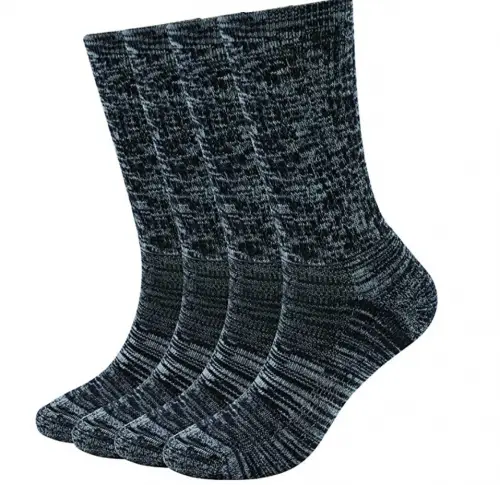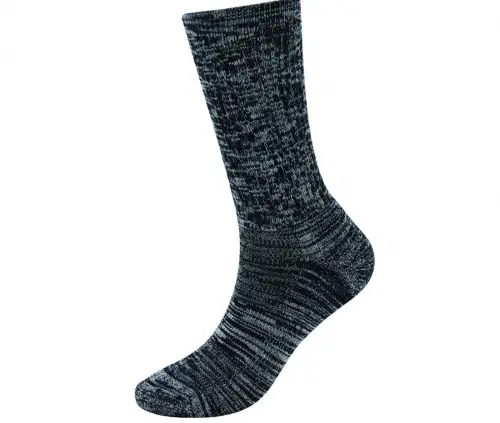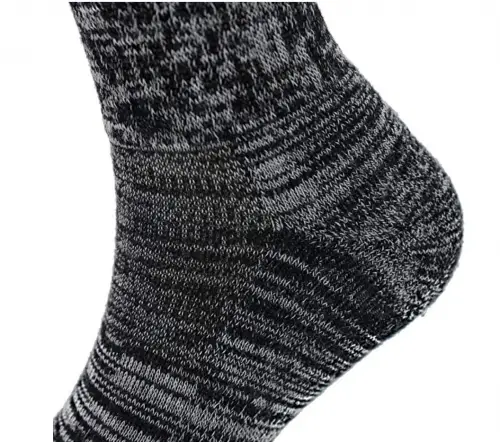 For off-road activities, you need a pair of socks that are as tough as they come. With the Enerwear Trail wool crew socks, you can comfortably engage in taking a jog in the cold winter months on treacherous trails. They have ample cushioning throughout the entire foot for unsurpassed comfort.
Read more
With their length, they are suitable to use in all manner of shoes, more so winter boots - making them one of the best wool socks for winter. Even though they are covered up most of the time, you still get to choose a pair from ten color variations. These socks will repel bad odors for up to three days.
The high stretch top is designed in a way that these socks won't fall without being tight and causing discomfort. They have ventilation zones to keep your feet dry always. The reinforced toe and heel areas add to the durability of the product.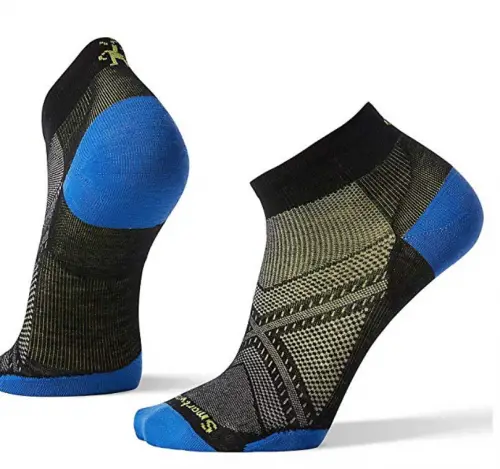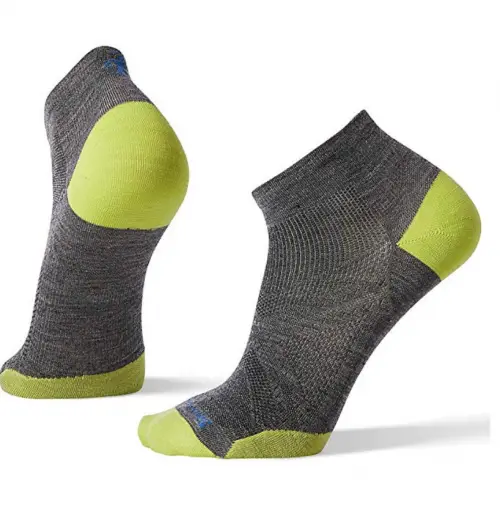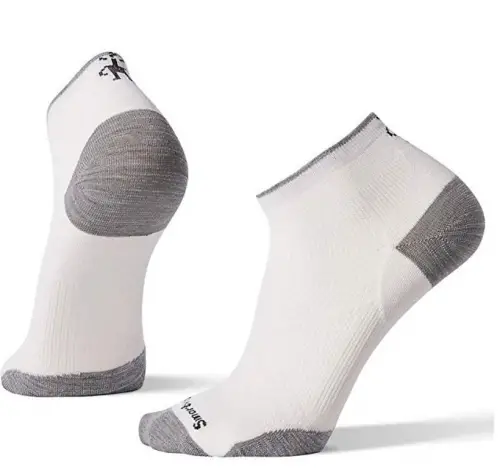 These ultra-light socks cushion your feet against impacts, without adding on unnecessary weight. The seamless construction ensures you won't feel chafing or discomfort as you run. On the back of your foot, the Achilles pad protects you from experiencing blisters over a long period of exercising.
Read more
The mesh design provides the ultimate moisture and temperature regulation, coupled with the thin construction. With the low level of cushioning, you will get to keep your feet dry and cool, but you cannot use them on longer distances. Another downside to them is that they keep sliding down because the collar is not tight enough.
Smartwool typically has incredible sporting apparel, but sad to say, their athletic socks are not the best. Nevertheless, you can take solace in the fact that they are affordable. There are two versions of the Phd Run, men's wool socks that are wider, and for women's, that are narrower.
6

. SOLAX Trail Crew Socks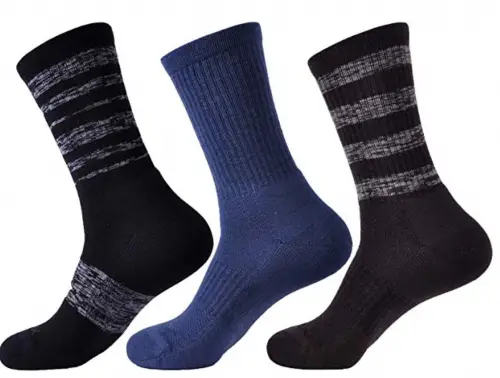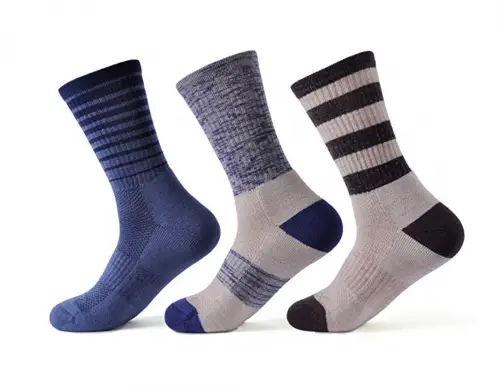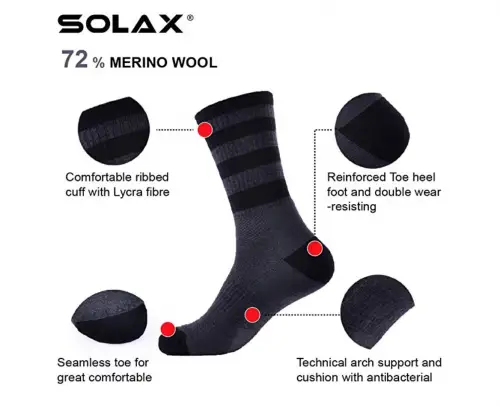 The overall design of these trail socks is meant to keep you comfortable all day on a trail. They offer ample compression, and the sole has a thick cushion for shock absorption. Trekking in them for long periods is like walking on clouds.
Read more
The flat-knit toe seams reduce the likelihood of blisters. Your feet will be warm and still breathable in winter weather. These socks have a high percentage of original merino wool, so they remain odor-free and have excellent moisture pooling capability. Many also like to wear them around the house because they are so comfortable.
The Lycra elastic weaved all over ensures the Solax socks don't slide easily or bunch up. The form-fitting design and ribbed support will ensure they stay put, no matter how the trail is. You can get a pack, which usually comes in three different colored pairs.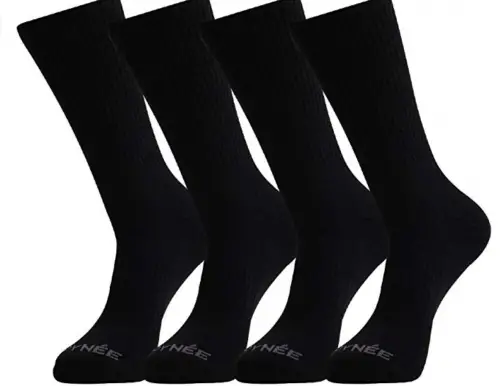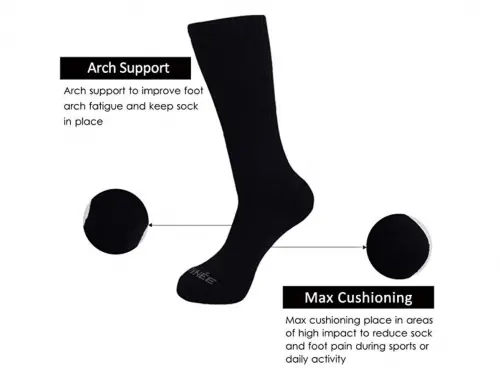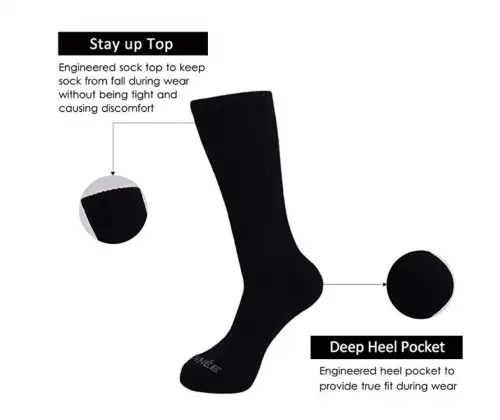 Budget-friendly
Versatile use
Arch support
These breathable, durable, and strong socks are just what you need to take you through winter. It's made from 3% spandex, 7% polyester, 30% wool, and 60% acrylic. The high percentage of wool pools sweat from your feet, where it dissipates naturally, leaving them dry and comfortable.
Read more
Thanks to the performance fit design, they won't bunch up or slide from your leg. The reinforcement on the heel and toe areas improve their durability. A combination of features makes them ideal for use in many situations like sports, hiking, outdoor, school, and even home.
These crew socks have arch support to keep them in place as well as improve your foot's ergonomics, thus reducing fatigue. Cushioning in high impact areas reduces strain on your foot and boosts the sock's durability.
8

. Zensah Wool Running Socks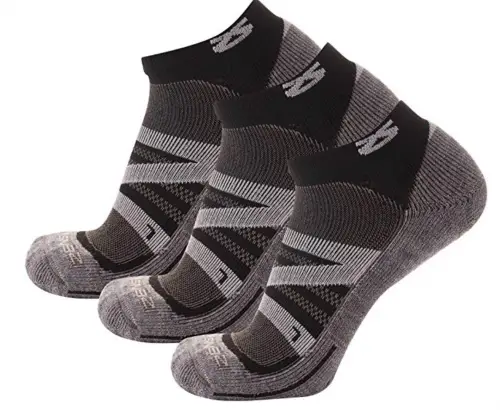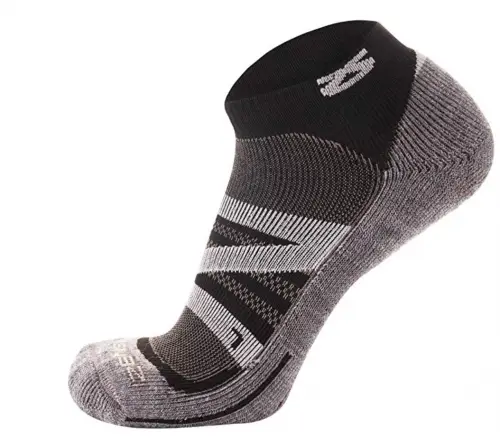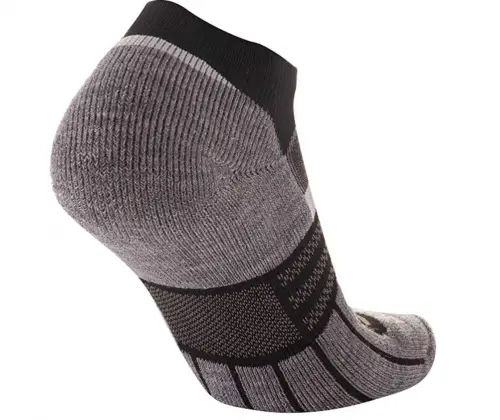 Versatile use
Value packs
Good breathability
The Zensah wool running socks are guaranteed to keep your feet comfortable and at the perfect temperatures. On the top, they feature a mesh panel, which promotes increased airflow on your feet for breathability. For added shock absorption and comfort, they feature mid-weight cushioning in the heel and toe areas.
Read more
The combination of materials makes these socks plush so that you won't experience any chaffing. You can use these socks on varied activities like cycling, trail running, soccer, basketball, and even when working out.
You can choose to get them in value packs of three or just the odd single pair. These soft and warm socks will soon enough be your favorites, regardless of the ambient weather. Your feet will feel supported, cushioned, and stable, without the socks, rubbing or sliding inside your shoes.
9

. ZEALWOOD Athletic Socks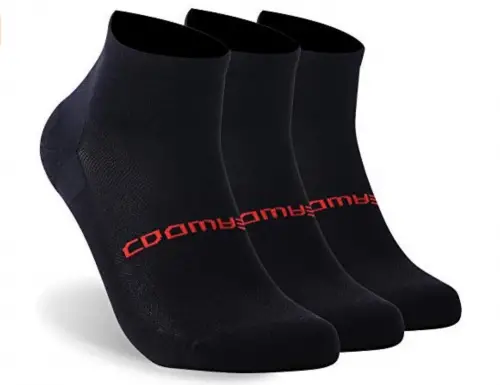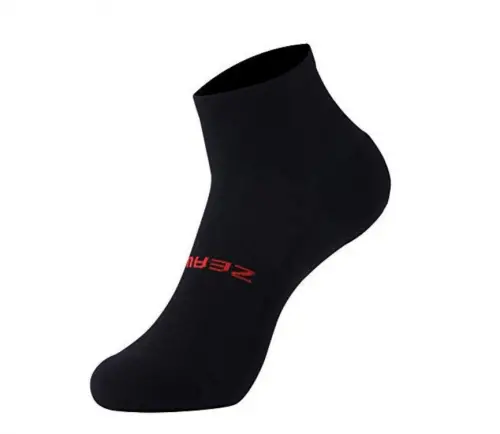 Multiple size options
Unisex design
Money-back guarantee
These high-quality merino wool running socks have a great innovative knit. Zealwood selects their fabric from the softest Australian merino wool, that's all-natural and biodegradable. Your feet will feel cooler during summer and warm in winter. They are comfortable and fit well with a deep heel cup that keeps them from sliding down when partaking in vigorous activities.
Read more
The hand-linked toe box reduces chaffing and friction to lessen the probability of chaffing. With varying stress on the fiber and knit patterns, you get to experience superb compression throughout your foot. People not only use them in a wide range of sporting activities like soccer, hiking, tennis, and the likes but for casual wear as well.
These no-show athletic socks come in singles or value packs. There are so many color variations that you can get a pair that matches your style. If you are not entirely sold on them, why not take advantage of the 90-day moneyback guarantee. For whatsoever reason you don't like them, you can return them within the stipulated time and get a full refund.
10

. CloudLine Running Socks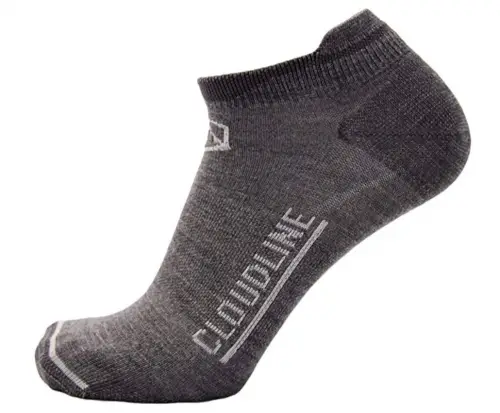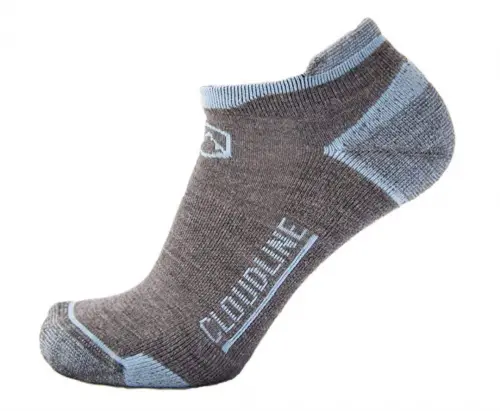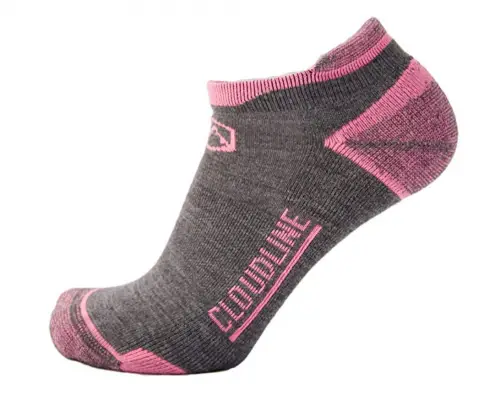 Very breathable
Lifetime guarantee
High wool quantity
These ultra-light wool socks for running focus on lightness. Therefore, they have a negligible thickness and no cushioning on the underfoot. This design increases their breathability, making them well suited for hot runs. Looking to push your limits in terms of speed and endurance? Then these are just what you need.
Read more
The toe and heel are reinforced to increase their durability and comfort, as well. These socks have over 60% merino wool, and we all know what that means and the benefits you stand to gain because of that. Not only are they dependable in running, but many other sporting and casual activities as well.
You can select a pair from four different sizes. They are of great value when looking at all they have to offer. The brand even gives you a lifetime warranty on the CloudLine sock, so you don't have to worry about finding the perfect pair again.
Criteria Used for Evaluation

Materials
Different fabrics offer diverse properties.
Fabrics are the soul of any gear, and running socks are not an exception. The right kit must ensure the athlete is as comfortable as can be, depending on the sporting activity. For most athletes, a general rule of thumb is to look for garments that are lightweight and breathable: and wool ticks both boxes.
Wool also has excellent moisture-wicking ability, compared to most other alternative fabrics. Moisture-wicking essentially means the capacity of the material to sock in sweat from your skin. Sweaty feet are a recipe for disaster, and that's why wool is highly recommended. Other than increasing the chances of injuries from blisters, wet feet breed bacteria, which cause repugnant odors.
The only two fabrics that might match up to wool in terms of moisture-wicking could be acrylic and polyester. These two fabrics are also entwined with most of the wool products in this review because they add some unique and desired properties. For example, polyester has more tensile strength than wool, which increases the durability of the fabric it's weaved into.
As an athlete, you should altogether avoid cotton because it tends to lock in moisture. The moisture locked in increases the risk of injuries: conferred earlier, and adds more bulkiness to your feet.
Many manufacturers label their sporting apparel as wool, yet they have other fabrics. Make sure you choose a pair that primarily made of wool, the same as the products in this review, to get the benefits of this natural fabric. With high wool content, you will experience many benefits, not provided by other materials.
As is with all sporting apparel, quality materials, means added durability. Quality materials mean using the same pair of socks without them wearing out quickly.
Suitable socks should provide adequate cushioning to the athlete's feet. Some athletes like more cushioning to feel like they are walking on the clouds and others would like to sense the hard ground. The two differences depend on the uniqueness of their running style and the level of support required.
Low-grade materials can cause all sorts of problems, and you won't be looking forward to using their products. With low quality and the wrong blends of fabrics, you may experience feet overheating, painful friction, or low breathability. With the wool socks in this review, you will get to feel the benefits of genuine wool socks for running.

Comfort
Many attributes combine to boost a runner's satisfaction.
Compression socks are the trending topic among athletes. With such types worn, the runner experiences an increase in blood flow thanks to the graduated compression. Consequently, issues like muscle cramps or shin splints are kept at bay. Additionally, there's an increase in recovery time.
On the other hand, if the compression is too tight, the athlete becomes uncomfortable. Therefore, it is imperative to get the right size. Do so by running in them during test runs, before completing longer jogs.
Any pain will undoubtedly curtail your performance. Even though sometimes overlooked, socks play a significant role in your feet's comfort. To an athlete, wrong socks increase any negative effects significantly, because of the constant motion during a race or run. The wool socks for running in this review will help in preventing blisters, meaningfully reduce the buildup of bacteria as well as keep your feet cool and dry.
Merino wool comes from the Jackson, or merino sheep. Merino sheep are one of the most ancient breeds, and possibly one of the toughest because of their adaptability. Because of this, some are mainly bred for meat and others for clothing. Rockay Accelerate wool comes from sheep reared explicitly for clothing, and that's why they are the best of the pack.
Merino wool is not itchy, like grandmas knitted pullover. This fabric is soft because of the smaller diameter compared to other yarns. As a result, it is more flexible and bends easier, so you won't feel the ends of the fibers pricking your skin. Rash felt in other wools is non-existent in merino types.
Seeing that wool offers many excellent features as the primary material for socks, there are some designs that we considered. As mentioned earlier, the right amount of compression or stretch is essential. Ankle support may also contribute to the positive effects of compression by making the elastic material on the socks thicker.
Some designers add more padding to select areas like the heel and the toes to reduce pressure from impacts when you run. Pros recommend more padding for long-distance running, more so on roads and hardtop. Get the best socks to improve your running performance.

Breathability
Wool has some nifty characteristics to improve breathability.
Wool can trap air, making it an excellent insulator. Even when wet, this fabric wicks moisture away from the material better than others, to maintain the pockets of air that offer insulation. As a result, by making the socks breathable, you can expect it to keep your feet cool. However, such positive effects can only be seen in moderate temperatures. It is counterintuitive to use thick wool socks in scorching temperatures.
With excellent breathability, your feet will hardly smell. The repugnant odors stem from bacteria, that need a warm and moist environment to breed. Merino wool goes a step further by having natural antimicrobial properties, as seen in the Rockay Accelerate. By making the condition non-conducive for bacteria to multiply, you will be curtailing the negative impacts they might bring.
Additionally, wool absorbs UV radiation, and the merino type has an SPF (sun protection factor) of 40+. What this figure means is that ultraviolet radiation does not penetrate through merino more than once in forty tries. However, that figure is also determinant on the weave's density, since a thicker fabric means less penetration. When placed side to side with most other fabrics, merino wool will be a clear winner in the least radiation penetration scores.
With a higher rating, manufacturers can then make thinner and more breathable fabrics with merino, if sun protection is somewhat a concern to you. What you should avoid the most when it comes to running socks are other natural fibers. At least, with synthetics, their fibers do not cling together, like how cotton would.
Another critical feature to look at is the ventilation zones design. These vents allow hot feet to expel air, allowing for cool air inside, cooling your feet as well. The brands featured here combine wool and weave some amount of synthetics, enabling them to play around with some designs and add some properties to the socks as well. With the right proportion of fabrics, you get breathability, durability, and many other benefits to your wool socks for running.

Style
A particular pair of socks might mean the world to one athlete, and nothing to another.
Style is something some people overlook but learn the hard way. For example, the length of the sock may boil down to personal preference, but to an athlete, a need might overshadow partiality. However, that does not take away the fact that many designers featured here make cool designs, everyone will yearn for, regardless.
Socks come in all manner of lengths, shapes, colors, and motifs. One all-important rule to look at when buying no-show socks is to get a pair with a band going over your running shoe. By doing so, you won't create friction from your sneaker, touching bare skin, which, more often than not, creates painful blisters.
If running on a trail with thick vegetation, then crew length or even knee-high socks would suffice in such situations. With such a long stretch in your socks, debris will find it difficult to penetrate inside, and you will reduce shrubs scratching on your leg or even insects biting. If you have a pair of sneakers that rub against your heel, then socks above your ankles in coverage can be of great help to reduce blisters. If you have any issues with blistering between your toes, the toe socks will assist in limiting such negative effects.
Preventing blisters should be your primary concern as an athlete. How your clothing looks like when you're writhing in pain does not really matter. Therefore, a stylish pair that does not put up with the essential rigors to an athlete becomes obsolete.

Features
Consider which properties your wool socks give and if they are important to you.
Surprisingly these socks also have their niches, not just for running but others particularly suited for cycling or trekking. Some are designed specifically for particular weather conditions. With so many options, it can be a little confusing. However, we cover many varieties, and some of the socks like Rockay can be fitting in many types of situations.
Ask any avid runner; your socks can make or break your running experience. Having the appropriate type of socks is just as important as the running shoes they wear. They should be carried in equal measure in terms of sizing and comfort.
Choosing the wrong pair of socks may strain your feet. The thickness of the socks is typically down to the user's preferences. Some like a little more padding, while others like a minimal sock. Some of the socks featured here are padded differently, to give off some desired properties. The filling can be thicker in the heel and toe areas, while thinner in other areas to promote breathability.
If you're a long-distance runner, you should go for a thicker pair of socks, having more padding. For a short distance runner, a pair of thin wool socks is advisable, since they're lightweight. If you're in colder climates, thicker socks will help keep your feet warm. Ensure the thickness of the socks doesn't compromise the proper fitting of your shoes, as well.
For athletes, socks are more than just something to slip on and wear a pair of shoes for comfort. The socks featured here offer even more support, provide better protection, and enhance your performance. They give better compression to areas like the foot arch. With added padding, not only will you feel more cushioning to your foot, but the socks also won't wear easily like your regular pair when used on the track.
Compression in targeted areas will promote blood circulation. Most of the pairs featured here have so-called vent zones, which promote breathability. This characteristic allows for constant airflow, preventing warm air from being trapped and overheating your feet. You can never go wrong with any of the socks featured here.
Expert Interviews & Opinions
Most Important Criteria
(According to our experts opinion)
Experts Opinion
Editors Opinion
Users Opinion
By Default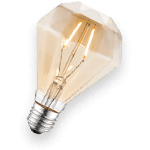 Mind The Season
Running during winter needs different apparels to summer conditions. It might seem obvious, but it's crucial to get a pair that suits the different seasons. In winter, use thicker socks to keep you warm. During summer, focus on lighter socks for more breathability. Fortunately, some options feature here work just as well for either season: so that's one less thing to worry about.
Moisture Control
Breathability works hand in hand with moisture control. Wool, especially merino wool, has excellent characteristics to pull sweat from your skin. The sweat then goes out to the outer surface where it evaporates naturally. For the evaporation to happen, you need air to pass through, meaning you will require adequate ventilation. With a buildup of moisture, you will experience friction, blisters, and discomfort.
Other Factors to Consider

Bottom Line
It can be argued that shoes are the most indispensable apparel for an athlete. However, shoes won't work in isolation, and you need the right socks to keep your feet comfortable, free from cracks, injuries, and bad odors. There's no point in having the best running shoes in the world if your first point of contact is an issue.
Wool is a supper fabric that has a lot going for it, and so makes premium apparel. The wool comes from sheep, and the animal is adapted to varying types of environment. Imagine if the wool was not shorn before the hot summer months. Would the poor animal overheat? No.
It turns out that the thick wool lets the animal breathe and evaporate its sweat. The animal does not get sunburnt because the yarn is also a natural UV filter, better than most other commonly used fabrics. During winter, sheep grow the much-needed thick woolen fleece. Even water from snow or rain finds it hard to penetrate the cloth. If this supper fabric can keep sheep warm and cool as needs be, imagine what benefits you stand to gain from it.
As pertains to wool socks for running, you essentially want your feet warm when it's cold and cool when it's sweltering. You also want your feet to be dry regardless of the ambient weather conditions. Your shoes will probably take care of water outside, so you need to be worried about your sweat inside your shoe.
Fortunately, wool has excellent moisture-wicking properties and is breathable, as well. With dry feet, painful blisters are kept at bay. Wool is also antimicrobial because it has small threads where bacteria cannot multiply. With all that's going for it, no wonder wool socks are all the rage for pro athletes.
If you're looking forward to jumping into the big leagues, then the value is of prime importance. Sure, wool socks are quite expensive when compared to other fabrics. However, consider all the benefits you stand to gain like comfort, breathability, protection, and wick-ability. With a good quality pair, you might as well have saved some money, since wool is very durable. In essence, you get what you pay for.
Frequently Asked Questions
q:

Why are other materials weaved into wool?

a:

Wool is a natural fiber that needs synthetic material to increase its durability. High-quality synthetic fibers can withstand wear and tear better than natural materials. Without the addition of such fabrics, you will see holes appear in your sock, particularly in the heel and toe area. Some brands design their socks to have thicker materials at said pressure points, which in turn increases its durability.
q:

Are wool socks good for running?

a:

One common mistake novice athletes do is to use clothing with a high percentage of cotton. It is understandable, though, since most drawers are laden with cotton clothing. However, this fabric absorbs moisture and holds onto it. The resulting wetness leads to painful blisters inside socks. Therefore, cotton is an absolute no for outdoor use, where you will likely sweat.

When choosing running socks, go for those made with synthetic materials like polyester and acrylic. However, such fabrics cannot beat the features wool has to offer. With wool, moisture is pulled away from your skin, keeping your feet dry and comfortable, just like synthetics. What wool has up its sleeve is that you can also use it in extremely cold weather conditions without it losing its functionality, has natural antimicrobial features, and offers plush softness?
q:

How do socks affect my running?

a:

Using the wrong pair of socks will be a bottleneck to your progress on the track. Ideally, you want to run and not keep thinking about how painful your feet are. With good socks, you will most certainly feel a positive impact on your regimen.

Without blisters, inadequate support, overheating, and many other unfortunate circumstances afforded by bad socks, you will make your running and exercise worthwhile. Wool socks are a pair worth investing in because you forget that you're wearing them in the first place.
q:

Which is the right thickness for sporting wool socks?

a:

The thickness of your socks usually boils down to personal preference. However, as an athlete, you should dig a little deeper and find a pair that suits the type of activity you will be partaking in. Long-distance runners like wool running socks with more thickness, while sprinters prefer lightness over comfort. Luckily, some wool socks for running featured here offer the best of both worlds, by being thicker on pressure points, while still being light in weight.

Regular socks won't provide the same level of cushioning found in the products featured here. Some are ultra-light to keep your feet cool, some have lots of cushioning for high impact zones, while others offer a blend of performance and comfort.
q:

How do I wash my wool socks?

a:

Here are two ways of cleaning this super fabric. First, turn them inside out regardless of the method. Hand washing is the most preferred way to go about it. If using your hands, soak the wool socks on medium water and mild soap. Give it a gentle rub throughout the cleaning process.

If using a washing machine, use the same mild detergents, and the cycle speed should be at medium. Never use strong detergent on wool because it will deform the material, making it less durable. Do not wash the fabric too often, as it also distorts the tissue.
Subscribe to our newsletter