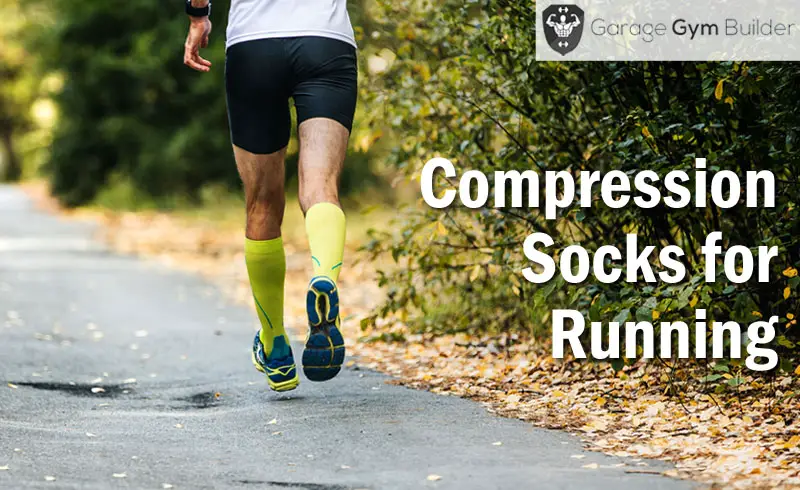 Best Compression Socks for Running Review 2019
Many runners think that soreness and aching lower leg muscles and joints are part of the price you have to pay. While such issues are very common you can find relief and comfort with the aid of compression socks. Compression socks provide relief from running related injuries, such as plantar fasciitis and shin splints. In this article we feature the best compression socks for runners on the 2019 market.
A Quick Look at the Best Running Compression Socks

The best compression socks for running are the Vitolsox Patent Performance, which provide you with enhanced arch support, a high level of compression and light padding that doesn't make the sock bulky. The second best runners compression socks are the 2XU Women's Compression, which are made from PWX compression fabric, extra padded zones and have a comfy wool design.
Rounding out our top 3 compression socks for runners are the Injini 2.0 Over the Calf Compression sock, delivering a 5 toe anatomical design, padded heel and graduated compression.
To make it easier for you to compare and contrast the top performers, we've rated each of them on the basis of price and effectiveness, and then given an overall rating out of 5. In the following section, we go in depth on each product.
The Top Running Socks In Depth

The Vitolsox graduated compression patent performance sock is extremely popular among runners, largely due to the comfort and for you get from the unique Drystat fabric. Drystat does a great job of eliminating moisture and has anti bacteria and anti static properties. They provide enhanced padding in order to protect your most vulnerable areas without adding bulk to the sock. The sock delivers a high level of protection against constant heel strike impact.
The Vitolsox Patent Performance sock provides maximum compression around the mid foot, to give a high level of support around the ankle and heel. This wicks away lactic acid and fast tracks nutrients and oxygen to your high pressure areas. This scks effectively combats shin splints and plantar fasciitis.
Lightly padded
Moisture control
Arch support
The 2XU Women's Compression sock provides you with a very flexible, responsive sock that comes in a range of cool colors, including hot pink. It has a great deal of breathability, providing enhanced airflow and moisture management. It provides consistent pressure to increase the blood circulation and bring relief to the niggles and aches that are par for the course for runners.
The PWX compression fabric that is used in this sock is extremely flexible and contours to your foot, meaning that the sock fits in with any shoe design. The linked toe cage reduces abrasiveness and increases comfort. The sustained compression brings relief both during and after your run, removing lactic acid and bringing in healing nutrients. Your purchase is covered by a money back guarantee.
PWX compression fabric
Padded zones
Wool design
May be a little too much compression for some
The Injini 2.0 Over the Calf Compression sock is a full length graduated compression sock that provides full lower body support. It features ideal individual toe alignment to increase comfort and reduce friction. This 5 toe anatomical design also gives you a more advanced grip. A padded heel provides extra support, especially when you are running downhill. It provides a lot of post workout support and relief.
The Injini 2.0 Over the Calf Compression sock provides graduated compression to speed up blood circulation and bring about pain relief. The highest level of compression is around the midfoot. It is an effective fighter against plantar fasciitis and ankle pain. You also get a good deal of compressive support for the calf muscles.
5 toe anatomical design
Padded heel
Graduated compression
The CW-X Conditioning Wear compression sock utilises a variable resistance 4 way stretch material which is very responsive and flexible. It is also extremely comfortable to wear, while providing a 360-degree range of motion. The seamless construction of the sock means that you don't get any indentations, abrasions or pain against your skin while you're wearing them. Support webs in the calf and arch provide you with boosted protection from the constant impact of foot strike.
The CW-X Conditioning Wear compression sock delivers variable compression that is centered around the ankle. This helps to eliminate the build-up of lactic acid as you're training and while you're recovering. It also helps to reduce the pain associated with plantar fasciitis and ankle pain.
Calf stability
4-way stretch
Enhanced arch support
The CEP Men's Progressive compression sock 2.0 is a full length design which provides you with the ideal balance of compression and range of motion. The compression is highest around the mid-foot, which is the largest pressure point for runners. An enhanced arch support provides extra support on every step, reducing fatigue and lactic acid build up. A remodelled dynamic footbed provides more comfort and support to make this an extremely nice sock to wear.
The CEP Men's Progressive compression sock 2.0 does a great job of stabilising and protecting ligaments and tendons, allowing you to run longer with more comfort and less pain. The sock is available in a range of vibrant colors.
Full range of movement
Arch support
Range of colors
The Zensah Tech+ Compression sock is a full length graduated compression sock that does a very effective job of relieving the pain of shin splints. It features mesh zones that have been positioned in high tension areas to provide extra support against the constant pounding of running. This feature also makes the sock far more breathable, allowing for a high level of ventilation and anti moisture ability.
The Zensah Tech+ Compression sock has a unique ribbing structure which provides extra support to the arch and ankles. The seamless technology provides a greater level of comfort, preventing any abrasive contact with the skin. This sock provides a good level of compression around the calves. A non slip cuff keeps the sock up and in place.
Mesh zones
Ankle zone ribbing
Non slip cuff
A bit large in the toe area
The Mojo Recovery and Performance sock is a graduated compression sock, with a range between 20-30 mmHg. It features a unique zone construction to provide an enhanced ergonomic fit. Extra padding is strategically positioned around the sock to provide the extra support just where you need it. A seamless toe design makes for an enhanced feel against your shoe's toe box, preventing abrasions and friction.
Mojo Recovery and Performance sock is a smart choice for exercisers, allowing for speedier recovery by quickly removing lactic acid and replacing it with nutrients and oxygen. It is a part of the Mojo Elite series, which provides enhanced support and protection for athletes and recreational sports people. It comes in a range of colors and provides a 100% money back guarantee.
Graduated compression
Removes lactic acid
Contours to the foot
The CEP Women's Progressive 2.0 Night Run sock is specifically designed for running at night. It features high glow fluorescent colors with reflective silver accents to make you highly visible. It provides a series of air channels which make this a very breathable, high ventilation sock that does a great job of wicking away of moisture and preventing bacteria build up. The sock features an extra flat toe seam, making sure that you don't have to suffer abrasive contact against the skin.
The CEP Women's Progressive 2.0 Night Run delivers targeted compression to the ankle and mid-foot. This speeds up the flow of blood to the area, which carries more oxygen and healing nutrients to provide relief. At the same time, it removes pain inducing lactic acid.
High visibility
Air channels
Extra flat toe seam
The Sockwell Men's Elevation Firm compression sock provides 20-30 mmHg compression to deliver a high level of constant tension to your running hot spots. This makes it a very effective defense against plantar fasciitis, shin splints, achilles and ankle pain. The sock is constructed from a blend of 31% merino wool, 31% bamboo rayon, 30% stretch nylon and 8% spandex. This makes it a very responsive sock that is flexible, has a good level of mobility and is extremely comfortable.
Acufit technology incorporates spandex throughout to ensure that the sock retains its fit or form throughout the entire course of the day. The sole of Sockwell Men's Elevation Firm compression sock provides you with a light layer of padding to offset the discomfort of foot strike.
20-30 mmHg compression
Merino wool
Acufit technology
Socks are a little too tall
Conclusion
Our favorite compression socks for runners are Vitolsox Patent Performance socks, bringing runners a lot of compressive support, along with extra arch support. The 2XU Women's Compression is our second favorite recovery socks for runners, with their PWX fabric construction and extra padded zones.
Our bronze medal runner's compression sock is the Injini 2.0 Over the Calf Compression sock, which provides you with a unique 5 toe anatomical design along with extra padding support and focused graduated compression.
My name is Jim Roose. I'm a former competitive power lifter and gym owner. I've bought millions of dollars of fitness equipment over the last 20 years. This site is my way of giving back to the fitness community that's done so much for me. Every article on here is carefully researched and written by me. Leave a comment if you have any questions.
---