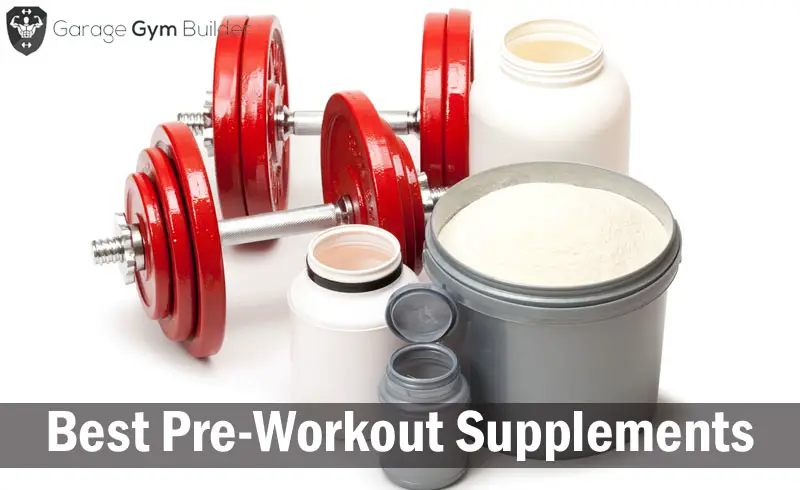 Best Pre-Workout Supplements Review 2017
When you walk into the gym, you need your body to be infused with the energy to push it to the limit. The right pre-workout supplement can provide your muscles with a strength and power boost, allowing you to get those last, vital reps. It will also give you the training energy and endurance to go hard for longer. In this article, we discover the best pre-workout supplements of the 2018 market.
The Top 10 at a Glance

The best pre workout supplement for muscle building on the 2018 market is Optimum Nutrition Gold Standard Pre Workout, which delivers just the right amounts of Creapure Creatine, Carnosyn Beta Alanine and naturally sourced caffeine to give you the power and energy surge you need. Our second favorite is Jym Supplement Sciences' pre workout formula, with its scientifically dosed ingredients, including HCL creatine, BCAAs and caffeine.
The third best pre workout on the market today is Vintage Blast, with its two stage delivery system to provide a sustained energy release throughout your workout.
To make it easier for you to compare the top pre workouts, we have compared the Top 10 on the basis of price and effectiveness, and then given each one an overall rating out of 5. In the following section, we provide an in depth review of each product.
| Product | Product Name | Price | Effectiveness | Overall | Product Link |
| --- | --- | --- | --- | --- | --- |
| | | 4.75/5 | 4.75/5 | 4.75/5 | |
| | | 4.75/5 | 4.5/5 | 4.5/5 | |
| | | 4.5/5 | 4.5/5 | 4.5/5 | |
| | | 4.5/5 | 4.25/5 | 4.5/5 | |
| | | 4.25/5 | 4.25/5 | 4.25/5 | |
| | | 4.25/5 | 4.25/5 | 4.25/5 | |
| | | 4.25/5 | 4.5/5 | 4.25/5 | |
| | | 4.25/5 | 4.0/5 | 4.0/5 | |
| | | 4.0/5 | 4.0/5 | 4.0/5 | |
| | | 4.0/5 | 4.0/5 | 4.0/5 | |
The Top 10 Up Close

Optimum Nutrition Gold Standard Pre Workout delivers outstanding energy, focus and endurance by delivering a powerful blend of clinically dosed scientific ingredients designed to power up your workouts. In this product you get 175 grams of naturally sourced caffeine, 1.5 grams of Carnosyn beta alanine, 3 grams of Creapure creatine monohydrate and 1.5 grams of citrulline malate.
The synergistic combination of the ingredients in ON Gold Standard Pre Workout provides you with an intense energy boost when you hit the gym, coupled with a laser like training focus. You'll discover a strength surge thanks to the effects of creatine. The inclusion of citrulline malate, along with astraGIN and Acetyl-L-Carnitine will give you an awesome pump effect. This product mixes well and tastes good.
PROS
Creapure Creatine
Carnosyn Beta Alanine
Naturally sourced caffeine
CONS
Takes a few days for the body to adjust to this product
Jym Supplement Science's flagship product, this pre workout delivers scientifically dosed ingredients that are guaranteed to boost your gym performance. The 13 hand picked ingredients include 6 grams of citrulline malate for more training endurance and enhanced pumps, 6 grams of branch chain amino acids, in the ideal 2:1:1 to jump-start muscle growth and 2 grams of creatine HCL to give you the extra power and energy to push out those last few, vital reps.
Jym Supplements pre workout formula includes 2 grams of Carnosyn beta alanine to induce more power in the trained muscle, while boosting endurance and strength. You also get 1.5 grams of betaine to further boost your training strength. 600 mg of cysteine is added to blunt your fatigue level.
PROS
Scientifically dosed ingredients
HCL creatine
BCAAs
Vintage Blast is the first pre workout formulation designed to deliver a two stage energy and power boost. This makes sure that you get a sustained release of energy. With Vintage Blast, you get a range of assimilation and digestive properties to infuse energy to your muscle cells. The two stage delivery system will boost your overall work capacity as well as giving you a better training pump.
Vintage Blast will also improve mental focus and training drive, as well as reducing post training soreness. Lactic acid build up will also be reduced when you take Vintage Blast. It will also deliver to your muscles key vitamins and minerals, electrolytes and other micronutrients that will improve your levels of hydration, pH levels and reduced oxidation.
PROS
2 stage energy delivery
Improves mental focus
Sustained energy release
RAD Energy Pre Workout is a completely natural pre workout supplement designed to maximize workout energy, strength, endurance and promote weight loss. You can be assured that all of the ingredients are completely natural, with no artificial sweeteners, flavorings or colorings. RAD Energy is also gluten free, soy free and contains non-GMO ingredients. This caffeine free product delivers a powerful blend of green tea extract for fat loss and B vitamins for sustained energy release.
RAD Energy Pre Workout includes organic coconut water to boost hydration. You also get a powerful blend of citrulline malate, beta alanine, and creatine to give you more training power to push out those extra reps. This product comes with a 30 day money back guarantee.
PROS
Completely natural
Caffeine free
Contains creatine
Cellucor C4 Pre Workout is the 4th generation of this explosive workout product. A special blend of patented ingredients delivers power, energy and endurance, providing super-charged workouts. It includes TeaCor for a sustained release of energy. Beta alanine is added for training endurance, while an inspired blend of creatine and nitrate provides muscular power and pump. N-Acetyl L-Tyrosine is included to provide a mental training boost, providing the drive to deliver a great workout.
Cellucor C4 Pre Workout includes caffeine to give you that stimulant effect. However, it is dosed at such a level so as not to produce an energy low post workout. You get a range of 9 flavors and this product mixes well and goes down easily.
PROS
Beta alanine
Creatine
Tyrosine for mental focus
CONS
Some flavors don't taste good
NitroSurge Nitric Oxide Booster and Pre Workout deliver a constant surge of energy, cognitive enhancement and strength gains. It is packed with scientifically based, all natural premium grade ingredients designed to provide you with an endless supply of energy. Such ingredients as citrulline, beta alanine, betaine anhydrous and theanine combine to give you a synergistic effect that will instantly boost your levels of strength and training energy.
NitroSurge Nitric Oxide Booster includes 180 mg of caffeine anhydrous to supply you with a stimulant boost at a level that will give you the energy you need without the crash that often comes with higher dosed caffeine products. It mixes easily with water and comes in a range of great tasting flavors.
PROS
180 gms caffeine
Beta alanine
Great tasting
Mr Hyde Pre Workout bills itself as the most intense and extreme pre-workout on the market. It is packed with proprietary stimulant blends designed to infuse your muscles with energy, power and a terrific muscular pump. The strength matrix contains 2.5 grams of Carnosyn Beta Alanine, along with 1 gram of NO-3 T Creatine Nitrate.
Mr Hyde contains the powerful pump inducing ingredient Agmapure Agmatine Sulfate to give you a great strength surge through enhanced blood flow. You also get a total of 419 grams of caffeine to deliver a powerful stimulant effect. The Intensity Matrix is designed to give you maximum mental focus during your workout. Mr Hyde comes in 9 appealing flavors. You get 30 servings with each container.
PROS
Creatine
Great energy booster
9 tasty flavors
Six Star Nutrition Pre Workout is a powerful pre workout strength and energy booster that is packed with such proven ingredients as carnosine, beta alanine, creatine monohydrate, arginine AKG and caffeine anhydrous. This scientific blend of ingredients will allow you to maximize the body's ability to replenish its ATP stores so that you can push your training set for longer.
The caffeine component of Six Star Nutrition Pre Workout delivers a stimulant effect without being too overpowering, so you don't suffer the jittery effects that come with other formulations. Six Star cite a study in which test subjects who took Six Star Pre workout had an increase of 18.6% compared to a placebo group after just 10 days.
Finding supplements that can help you to gain weight and lose fat at the same time can be tricky. Find the best with our Best Supplements for Weight Gain and Fat Loss Review 2017 super feature.
PROS
Creatine
Beta Alanine
Caffeine Anhydrous
Legion Pulse pre workout is one of the most popular pre workout supplements on the market. It contains citrulline, anhydrous caffeine, ornithine and beta alanine to deliver a powerful synergistic training effect. The combination of citrulline malate and theanine will deliver a great pump to engorge the muscle tissue with blood, while the beta alanine content gives you a huge endurance boost. All the ingredients are completely natural in this product.
Legion Pulse contains no harsh or over dosed ingredients so you won't have to worry about getting the jitters or having a post high energy crash. The makers of Legion Pulse are so confident of their product that they offer a 90-day money back guarantee.
Calculating your macros is a key to staying on top of your muscle nutrition. Make it easy with our Best Macro Diet Calculator for Weight Loss review feature.
PROS
Jitter free energy
Effective pump inducer
90-day money back guarantee
B.S.N N.O. Explode pre workout energy igniter delivers a potent blend of ingredients to fire up your workout and provide you with a strength surge during your sets. It contains 274 mg of caffeine, 1.8 g of beta-alanine and 3 grams of creatine. This combination delivers huge energy, muscle blasting pumps and enhanced strength at the end of each set. The 3 blends in this product are Explosive Energy, Maximum Performance and Enhanced Endurance.
BSN N.O. Explode will deliver a nitric oxide stimulating experience like no other pre workout that you've tried. The resultant pump will deliver more blood to your cells to replenish the working muscles. This product is available in 5 unique flavors. It mixes well and goes down easily.
Discover the Best workout supplements across all categories with our Effective Workout Supplements 2017 mega article.
PROS
Caffeine clinically dosed
3 g Creatine per serving
1.8 g Beta Alanine per serving
CONS
Lacks mental focus ingredients
Conclusion
Our favorite pre workout supplement is Optimum Nutrition Gold Standard Pre Workout, with its clinically dosed amounts of such key ingredients as Creapure Creatine, and Carnosyn Beta Alanine. We were also impressed with Jym Supplement Sciences' pre workout formula, which contains 13 key ingredients, such as HCL creatine, BCAAs and caffeine. Rounding out our top 3 is Vintage Blast, which provides a 2 stage energy delivery system for sustained release.
---