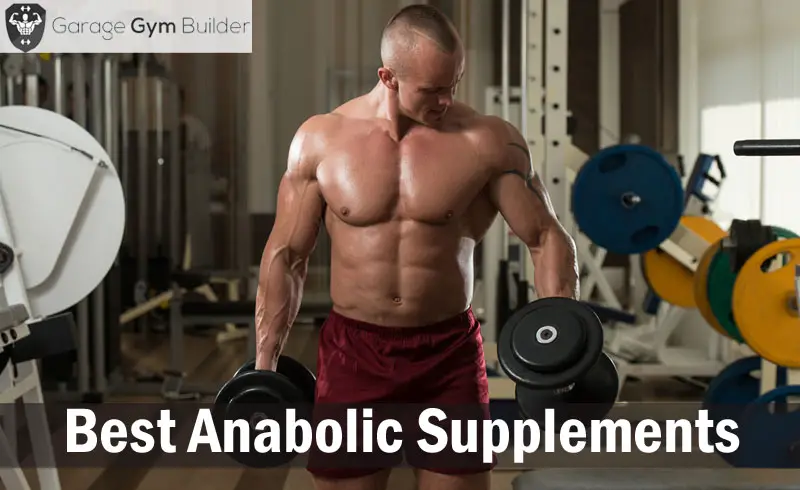 Best Anabolic Supplements Review 2018
You body is either in a catabolic or an anabolic state. When it is in a catabolic state, you are losing muscle tissue. When you're in an anabolic state, however, your body is surging with testosterone and amino acids and is primed for muscle building. Clearly, you want to be anabolic as often as possible. In this article, we discover the 10 best supplements on the 2018 market.
A Quick Glimpse at the Top 10

The best anabolic supplement in the 2018 market is KaPow Pre workout, which is a powerful "T" booster which also provides a two stage energy blast. The second best anabolic supplement in the 2018 market is MuscleTech Anabolic Halo, providing you with 40 grams of protein and 5 grams each of BCAAs and glutamine.
Our third favorite anabolic supplement is Universal Nutrition Animal M-Stack, which delivers quality branch chain amino acids, while retaining nitrogen to stimulate anabolism.
To make it easier for you compare the best anabolic supplements, we've rated the Top 10 on the basis of price and effectiveness and then added an overall rating out of 5. In the next section, we go in depth on each product.
Kapow Pre Workout is a pre workout formulation that combines energy, power, focus and pump to allow you to train with maximum intensity. It includes such power testosterone boosters as Bulbine Natalensis, as well as Tribulus Terrestris, D-Aspartic Acid, Fenugreek Root and Long Jack. A dual wave energy release system is provided with the inclusion of L-Tyrosine and Taurine along with a two stage blast of caffeine delivers a powerful energy boost.
Two stage caffeine blast
Powerful testosterone booster
Great energy boost
MuscleTech Anabolic Halo delivers a multi phase protein and carbohydrate boost to the body to create the ideal post workout anabolic environment. It features a huge 40 grams of multi-phase protein that fast tracks its way into the muscle cell for building and repair. Within that quantity are 6 grams of branch chain amino acids. You also get 5 grams of clinically dosed creatine to restock ATP supplies in the muscle cell.
Each serving of MuscleTech Anabolic Halo includes 5 grams of an advanced glutamine and glutamic acid blend to replace glutamine levels that have been used up during weight training. You also get a range of essential electrolytes.
40 grams of protein
5 grams of creatine
5 grams of glutamine
Universal Nutrition Animal M-Stack is a blend of all natural pro hormonal ingredients designed to put and keep you in an anabolic state all day long. It promotes protein synthesis by the use of a natural flavone and sterone complex. The anabolic complex includes such proven ingredients as Eleutherococcus Senticosus, Muira Puama, and isoflavones from Kudzu. This product also helps to retain nitrogen, which also promotes anabolism.
Universal Nutrition Animal M-Stack features the branch chain amino acids in the ideal 2:1:1 leucine to valine and iso-leucine ratio. This blend will stimulate muscle recovery and building in those vital minutes after your workout.
BCAAs
Retains nitrogen
Stimulates muscle recovery
Legion Athletics Recharge is a pre workout formula that is built around creatine. Creatine is the most studied workout supplement, having a proven ability to replenish ATP energy to allow you to train harder for longer. It includes carnitine to help you to receive maximum workout recovery.
Recharge comes in powder form and mixes easily in water to deliver a great tasting drink that is clump free. Corosolic acid is added to help replenish your post workout carbohydrate levels. Recharge will allow you to lift heavier, have more focus, be more energized and recover faster from your workouts.
Cell volumizer
Increases glycogen levels
60 servings per container
Z Build Overnight Anabolic Muscle Builder is an overnight anabolic enhancer designed to maximise your anabolic state during the vital night time hours when your body rebuilds and replenishes itself. It also minimizes the estrogenic effect that can put you in a state of catabolism. As a bonus, this product will ensure that you get a great night's sleep every night.
Z Build Overnight Anabolic Muscle Builder includes such scientifically proven ingredients as Tribulus Terrestris, Fenugreek Seed, Boron Citrate, Ashwagandha, Mucuna Pruriens, Stinging Nettle, DIM, and ZMA. As a result, you will increase both free and overall testosterone levels, boost energy and minimize catabolic hormones.
Provides a great night's sleep
Boosts overnight anabolism
Increases testosterone levels
May increase overnight urination
Universal Nutrition Natural Sterol Complex is an anabolic enhancer that is designed to boost lean muscle mass and density. It is composed of a synergistic blend of clinically proven ingredients, including glandular balance agents, anabolic sterols, lipotropics, and electrolytes. It also includes the natural sleep enhancer L-Tryptophan. Tribulus Terrestris and milk thistle are added in order to enhance testosterone levels.
Universal Nutrition Natural Sterol Complex includes such extra anabolic ingredients as Egg White Albumin, Biotin, Papain, Bromelain, Hesperidin, Para-aminobenzoic Acid, Pyridoxine Alpha-ketoglutarate, Vanadyl Sulfate, Coenzyme B12, L-carnosine, Magnesium Stearate, Stearic Acid, Silicon, Silver, Lithium, Strontium, Chlorine, Cobalt, Sulfur, Nickel, Titanium, and Barium.
Tryptophan to enhance sleep
Testosterone booster
Electrolytes
May cause slight stomach upset
BSN Amino X BCAA is a powdered anabolic booster that combines a powerful amino acid complex into a refreshing drink. Each serving delivers a huge 10 gram of branch chain amino acids, in the favored 2:1:1 ratio of leucine, to valine to iso-leucine. You also get such powerful anabolic aminos such as L-Alanine, L-Citrulline and Taurine. This is a caffeine free product, that comes in 5 tasty flavors, is able to be easily mixed and delivers a very smooth, pleasant taste.
Confused about which supplement will help increase your lifts? Find the best out there with our Best Supplements for Weightlifting Review 2018 article feature.
10 grams of BCAAs
Caffeine free
5 great flavors
Old School Vintage Burst is an anabolic enhancer and energy booster in one. It is built around a powerful B Complex formulation, supplemented with guarana. Additional ingredients are desiccated beef liver powder, leucine, and guarana seed extract. The product comes in capsule form, providing for a fast delivery to your muscle cells. It is non GMO and gluten free.
Old School Vintage Burst includes Argentine beef liver. It has been third party tested and is made in the USA in a cGMP authorized facility. There are no harmful ingredients in this product.
With low testosterone levels, you will never build muscle. That's why you need to check out our Best Testosterone Boosters Review 2018 feature article.
B Complex Vitamins
Boosts energy
Argentine beef liver
Muscle Pharm Z-Core PM Capsules boosts your anabolic environment by enhancing your body's natural testosterone product. Simultaneously, it delivers vital mineral support for anabolic enhancement, while also ensuring a great night's sleep. This is the time when maximum growth hormone and testosterone is released. It is also the time when your body recovers and grows.
The potent blend of fenugreek root extract and melatonin work together synergistically to promote anabolism and better sleep. It will also boost the libido, and help with erectile dysfunction. This product is completely natural and is GMO free.
To find the best supps across all categories, check out our Top Workout supplements Review 2018 mega feature.
Fenugreek Root Extract
Melatonin
Boosts testosterone
Beast Protein is a muscle building powder which delivers protein through 5 different sources: whey protein concentrate, whey protein hydrolysate, micellar casein, and egg white albumin. These are fortified with digestive enzymes to aid absorption and allow the amino acid to get into your bloodstream faster. This product mixes easily, without any clumping or gritty residue. You'll get a constant release of protein throughout the day to keep you in an anabolic state.
Beast Protein contains milk, egg and soy. It has a nitrogen sparing effect, allowing you to enhance protein synthesis for more efficient muscle building.
Blend of 5 protein types
Digestive enzymes
Retains nitrogen
Conclusion
Our favorite anabolic boosting supp of the 2018 market is KaPow Pre workout, with its testosterone boosting ingredients, along with a massive energy boosting ability. We also loved MuscleTech Anabolic Halo, which delivers 40 grams of protein and 5 grams each of BCAAs and glutamine.
Rounding out our top 3 is Universal Nutrition Animal M-Stack, with its premium branch chain amino acids, energy rush and nitrogen retaining ability.
---