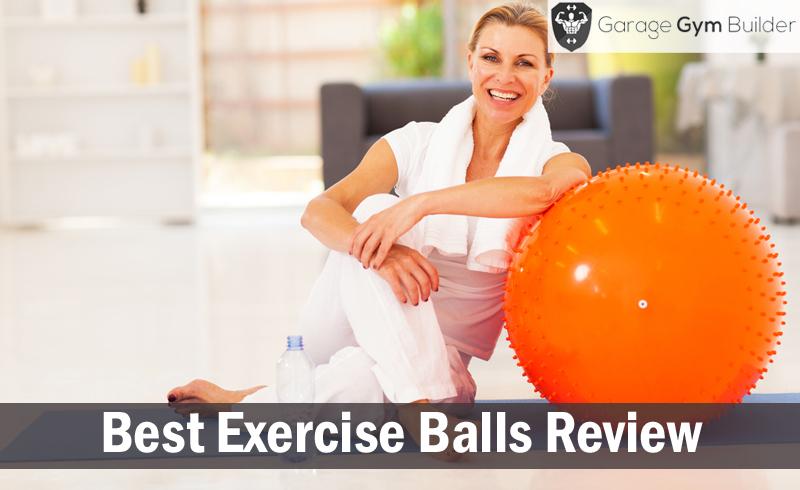 Best Exercise Balls Review 2017
updated February 2, 2017
Exercise balls come in all shapes and sizes. From Swiss balls to medicine balls, each serves a definite fitness purpose. The benefits of bouncing on an exercise ball include improved coordination, balance, core isolation and the ability to work hard to get to stabilizer muscles. Using your exercise ball as a workout bench will make every exercise you do more effective. In this article, we bring you the best exercise balls of 2017.
A Quick Glimpse at the Top 10
The best stability ball on the current market is the Gaiam Total Balance Ball Kit, which comes with an awesome training DVD, air pump and a high spec anti burst ball.
Our second favorite is the Dyna Pro, with its 2000 pound rating, thick construction and anti-burst technology.
Our bronze medal winning ball is the Body Sport Fitness Ball, which is heavy duty, latex free and has a gently ridged rubber surface.
To make is easy for you to compare the Top 10 exercise balls on the market, we've rated each one on the basis of price and durability. We've then given an overall rating out of 5. In the following section, we provide detailed reviews of each ball.
| Product | Product Name | Price | Durability | Overall | Product Link |
| --- | --- | --- | --- | --- | --- |
| | | 4.75/5 | 4.75/5 | 4.75/5 | |
| | | 4.5/5 | 4.75/5 | 4.5/5 | |
| | | 4.5/5 | 4.5/5 | 4.5/5 | |
| | | 4.5/5 | 4.5/5 | 4.5/5 | |
| | | 4.5/5 | 4.25/5 | 4.25/5 | |
| | | 4.25/5 | 4.25/5 | 4.25/5 | |
| | | 4.5/5 | 4.25/5 | 4.25/5 | |
| | | 4.75/5 | 4.5/5 | 4.5/5 | |
| | | 4.25/5 | 4.25/5 | 4.25/5 | |
| | | 4.25/5 | 4.5/5 | 4.25/5 | |
The Top 10 Exercise Balls In Depth
The Gaiam Total Balance Ball kit provides you with an air pump, training DVD and an anti burst balance ball. You can choose from either a 55cm, 65cm or a 75 cm ball to suit your circumstances. This high quality ball has a maximum resistance of 300 pounds. It is available in a range of colors. Gaiam Balance Balls will provide you with a totally impact free workout, making them ideal for people recovering from injury.
The DVD that comes with your Gaiam fitness ball is a high quality production featuring top fitness instructor Tanja Djelevic. In this 105 minute DVD you get three complete 20 minute workouts to work your entire body. The Gaiam exercise ball comes with a 100% replacement guarantee.
PROS
High quality anti-burst ball
FREE workout DVD
Air pump included
CONS
Ball requires repumping twice per month
The Dyna Pro range of exercise balls are industry leaders when it comes to thickness and durability. Their balls are 1,877 micrometers thick and have an incredible burst resistance tolerance of 2000 pounds. That provides you with the utmost confidence that this ball can handle any type of workout you throw at it. You also know that staples on the floor will be no match for this beast.
The DynaPro ball comes in three colors and three sizes; 55cm, 65cm and 75 cm. In the unlikely event that this ball does get a hole in it, it is fitted with anti burst technology. That means that it will slowly deflate, so you will be totally safe when using it.
PROS
2000 pound tolerance level
Anti burst slow deflate technology
Very durable
The effectiveness of your exercise ball will depend upon getting the correct size for your needs. Make sure you get it right by checking out our article What Exercise Ball Should You Get?
The Body Sport Fitness Ball is a heavy duty, latex free ball that comes in a striking red color. You also get an air pump and an illustrated exercise guide. The gently ridged rubber surface of this unit makes it easier to take hold. You can select between a standard version or a slow release ball, which provides you with a slower, more steady rate of deflation.
The Body Sport inflatable exercise ball has been especially designed to allow the user to combine resistance ball exercise with weight training. Unlike many other balls, you can be confident that Body Sport balls can handle any weight you care to use with it - making it ideal for yoga, pilates and strength training workouts.​
PROS
Very strong
Latex free
Ridged rubber surface
If you're looking for the very best Swiss ball for physio and balance work, be sure to check out our in-depth reviews in our Best Stability / Physio / Balance / Swiss Ball Review coverage.
The Fitter First DuraBall Pro 65cm is an extremely heavy duty, durable ball. It is more compact and portable than the larger 75cm ball. It is rated to an an amazing 1100 pounds of resistance. That means that it will stay full, round and firm even when you are using heavy weight on the ball. You will also never have to worry about staples or other sharp objects bursting this ball.
The Fitter First DuraBall Pro is available in a range of colors. It also comes with a 100% replacement guarantee. The ball is latex and phthalate free so you can have complete confidence when using it in a confined space. This is an expensive ball, but it will last and last.
PROS
1100 pound burst resistance
Latex and phthalate free
Replacement guarantee
The Theraband exercise stability ball comes in multiple sizes and colors. With your purchase comes two plugs and an inflation adaptor, along with a full color exercise ball guide poster. The Theraband ball is latex free and burst resistant.
A unique feature of Theraband exercise balls is its patented slow deflation technology. This means that if the ball does happen to strike a sharp object while you're training, deflation will be slow and controlled so that you will not suffer any injury or discomfort. The Theraband fitness ball has also been engineered to provide a higher level of comfort at key contact points with the body. Unlike some balls, it isn't too soft to lose the needed support.
PROS
Slow deflate technology
Superior contact point comfort
Inflation adaptor included
Exercise balance ball chairs work with your balance ball to give you an even more effective form of home based exercise. Find the best chair for your unique needs with our Best Exercise / Balance Ball Chairs 2017 article.
The Weider Balance ball is a half dome balance training ball. These weighted exercise balls are also known as Bosu balls. Along with your purchase comes a 30 minute balance training DVD. The ball can be used with either the flat or dome side on the ground, to provide an intermediate or advanced level of balance training challenge. The ball has a 19 inch diameter, making it ideal for home gym use.
​The Weider balance ball is made from anti burst rubber. It is also latex free, giving you confidence to use it in confined spaces. It has a ridged gripping surface with a series of dots to allow you to hold tight for longer. A hand pump is included in your purchase.
PROS
Anti burst rubber
30 minute DVD
Ridged gripping surface
CONS
Ball does not fit snugly on base
The Bosu Ball is a fantastic tool to enhance your body's balance and proprioception. Discover the best Bosu Balls on the 2018 market with our Bosu Ball Reviews / Best Half Ball Balance Trainers 2017 article.
The CAP Medicine Ball is our favorite home use ball for wall ball exercises and other heavy resistance ball moves. This ball has a tacky feel to ensure that you get a secure grip. It has also been designed for wall ball exercises, so has bounce that you don't get with many other medicine balls. It is available in a range of sizes from 2 right through to 12 pounds and comes in six colors.
CAP fitness balls have just the right level of bounce, coming to about hip height. They are very firm and you can have confidence that they will not deflate over time. This ball comes with a 30 day warranty.​
PROS
Great for wall ball exercises
Good level of bounce
Very firm
If you want your stability ball to last, you'll want it to be an anti-burst model. Find out the top models with our Best Anti-Burst Review 2017.
The Amazon Basics Balance Ball is a solid, reliable ball that sits at great price point.At little under 26 inches, this is a medium sized ball, suitable for the average user. It comes in a range of colors and is anti burst and latex free. This is a very strong, sturdy ball that will comfortably handle extra resistance such as weights if you use it as a bench press platform.
The material that the Amazon Basics exercise ball is made from is strong, durable and thick. It is able to withstand staples and other small sharp objects. The pump that the ball comes with is the best that we have seen; a welcome change to the low quality that you normally see. It even comes with an extra air plug.​
PROS
Strong and sturdy
Anti burst
Pump provided
Yoga and pilates make a great mix with a fitness ball. Unless you get the right ball, however, you'll be hampering rather than benefiting your workout. Discover where to get the perfect ball for yoga / pilates with our Best Exercise Balls for Yoga and Pilates Review 2017.
The SPRI Elite exercise balance ball is a heavy duty ball designed for all exercise applications, including yoga, pilates and resistance training. It has a slow deflate design, ensuring your safety if it happens to burst while you are using it. The ball can accommodate up to 500 pounds, making it ideal as a platform for doing such weight resistance moves as the lying dumbbell press.
The SPRI Elite exercise balance ball holds it's shape very well and will not deflate over time. The ball has a ridged surface to allow for easier gripping. Unlike many other balls, there is no unpleasant odor associated with this ball.
PROS
Heavy duty ball
Max weight 500 pounds
Holds shape well
CONS
No pump, DVD or wall chart
Medicine Balls are a great tool for working your whole body, but especially your core. Find out where to get the best medicine balls on the market with our Best Medicine Ball Review 2017.
The Black Mountain balance ball is a professional grade inflatable workout ball that is ideal for heavy duty home use. It is rated to an impressive 2000 pounds, so it will be ideal to use in conjunction with heavy weight training. Sizes range from 45 right through to 85 cm. A ball pump and starter brochure are included with your purchase.
The Black Mountain heavy duty exercise ball will retain its level of inflation and shape month after month. It has dense walls and ringed ridges to allow for a better grip. The ball is latex and BPA free and burst resistant. It also has a smooth, non stick texture and you don't get the strong rubbery smell that often comes with fitness balls.
PROS
Rated to 2000 pounds
Sizes range from 45-85cm
Non-stick texture
CONS
Elliptical rather than round shape
Once you've got your new Fitness Ball, you'll need a quality pump to go along with it. Find the best that's out there with our Best Stability Ball Pumps Review 2017.
Now that you know where to find the best exercise ball for your home gym, learn the moves that will get the most out of your investment. Check out this clip which shows you how to use your ball to chisel your abs . . .​
Conclusion
The best fitness ball brand of 2018 is the Gaiam Total balance ball kit, providing you with a complete fitness system, including a training DVD, quality pump and premium ball. We also loved the Dyna Pro, with its 2000 pound capacity and anti burst technology.
Our third favorite ball is the Body Sport Fitness Ball, providing a latex free ball with a rubber ridged outer and heavy duty construction.