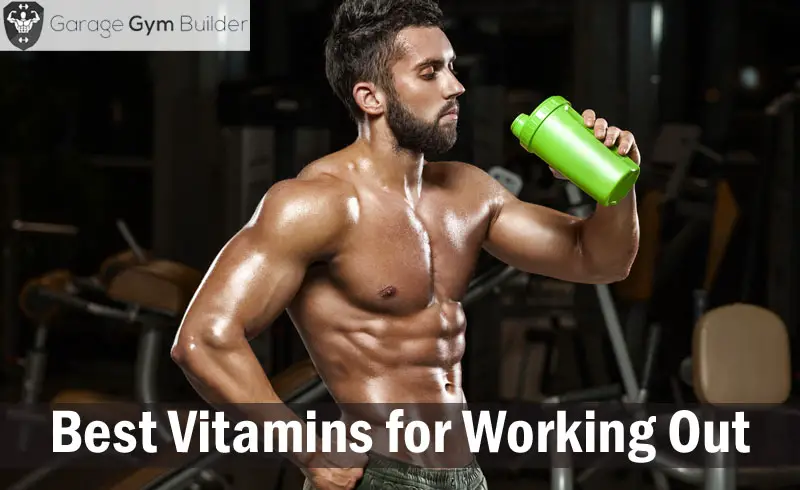 Best Vitamins for Working Out Review 2018
Updated December 13, 2018
When you think of workout supplements, multi vitamins probably don't come to mind. However, along with protein powders and branch chain amino acids, vitamins are essential for muscle growth, fat loss and peak performance. If you don't get the right ones at the right time, your metabolic pathway with be harmed, leading to impaired performance. In this article, we focus on the Top 10 vitamins for working out.
The Top 10 at a Glance

The best vitamin for muscle growth is Sheer Total, which provides 29 vitamins, boost testosterone and is sourced from real foods.The second best workout vitamin is Optimum Nutrition Opti Men, which provides essential amino acids, and digestive enzymes along with a range of marine botanicals.
Rounding out our top 3 best vitamins for muscle gain is Controlled Labs Orange Triad, which aids digestion, boosts immunity and improves joint health.
To make it easy for you to contrast the premium vitamins on the 2018 market, we've rated them on the basis of price and efficiency and then given an overall rating out of 5. In the next section, we go in depth on each product.
Sheer Total is a powerful blend of 29 vitamins, minerals and nutrients designed to supercharge your immune system, reinvigorate your metabolic pathways and boost your energy levels. With clinically dosed levels of Zinc, Vitamin A, Vitamin D and Magnesium.
This will fuel your testosterone levels and provide you with greater training intensity.
29 vitamins
Boosts testosterone
Sourced from real foods
May be broken capsules in the bottle
Opti Men from Optimum Nutrition is a high potency blend of vitamins and amino acids that will boost your training efficiency, improve digestive ability and boost testosterone levels. It includes an amino blend consisting of 8 different essential amino acids, such as arginine, glutamine and the BCAAs.
You also get a blend of exotic botanicals and marine concentrates, along with a combination of 4 key enzymes for improved absorption and digestive functioning.
Essential amino acids
Digestive enzymes
Marine botanicals
May cause slight stomach distress
Controlled Labs Orange Triad is a multivitamin, joint supplement designed for hard training athletes and gym goers. It delivers a 3 pronged mechanism to support your body as it performs and recovers. By working on the digestion, immune system and joint health simultaneously, it delivers a powerful holistic health boost.
Controlled Labs Orange Triad lubricate the joints and cartilage, while also acting as a natural anti-inflammatory, digestive enhancer and nutrient partitioner.
Aids digestion
Boosts immunity
Improves joint health
NOD Power Core is a holistic formula which combines 42 powerful fruits and vegetables, digestive enzymes and vitamins to boost your overall health levels.
You get clinical dosages of Vitamin C, Vitamin B12, Vitamin B6, Vitamin D, Biotin, along with 20 other vitamins.
25 vitamins
Antioxidants
Digestive enzymes
Little energy boosting effect
Naturelo One Daily Vitamin combines the goodness of organically grown fruits and vegetables and combines them into a powerful high quality supplement that work naturally with your body. It includes vitamins A, C, E, K and B12, along with calcium, iodine and folate. The combination supports your immunity, while also promoting vitality and wellness.
Sourced from organically grown fruits and vegetables
Contains all key vitamins and minerals
Supports immunity
Contains zinc, which may block testosterone production
Legion Triumph contains 21 vitamin and 14 phytonutrients combined in a powerful blend of herbs, vitamins and minerals designed for both men and women.
The result is an all in one supplement that relieves joint pain, reduces fatigue, boosts mental cognition and increases overall energy levels.
21 vitamins
14 phytonutrients
Relieves joint pain
GNC AMP Men's Strength includes over 50 ingredients to deliver a powerful blend of herbs, vitamins, minerals, phytonutrients and botanicals. The synergistic effect of these ingredients is a huge energy and productivity boost. You get 5 grams of creatine per serve to deliver a power surge for your training.
50+ ingredients
5 grams of creatine
Huge energy boost
Optimum Nutrition ZMA is a potent blend of three key ingredients: Zinc, Magnesium and Vitamin B6 (ascorbic acid). Scientific studies have demonstrated that the combination of these 3 ingredients can boost anabolism, to allow the body to repair and rebuild more effectively after a workout. It will also boost energy levels, and decrease fatigue.
Struggling to find all natural products to boost your training? Find what you need with our Best Natural Supplements for Working Out Review 2018.
Zinc, Magnesium and Vitamin B6
Boosts anabolic effect
Increases energy
Sheer N.O. is a nitric oxide booster that contains L-Arginine, for faster muscle activation. This is also one of the few N.O. boosters that contains L-Citrulline, which works synergistically with the other ingredients to enhance blood flow, giving you greater pumps and allowing you to fast track nutrients to your muscle cells. Combined with the extra ingredient of pine bark extract, this product is guaranteed to produce muscle growth - or your money back.
Discover the premium supps for your muscle gain arsenal with our Best Supplements for Muscle Strength Review 2018 feature article.
L-Arginine
L-Citrulline
Powerful N.O. booster
DHEA Max is an extra strength formulation designed to boost the levels of DHEA in your body. Produced by the adrenal glands, DHEA is able to be converted into testosterone in the body. Supplemental DHEA will allow you to increase your levels of muscle mass, boost your endurance and training energy and enhance your cognitive and immune functioning.
Want to find the best brands across all supplement categories? Don't miss our Sports Workout Supplements 2018 super feature.
Boosts testosterone levels
Enhances training energy
Improves cognitive functioning
Conclusion
The best vitamin for weight lifting is Sheer Total, delivering 29 vitamins to boost overall health and enhance natural testosterone production. The second premium vitamin to build muscle is Optimum Nutrition Opti Men, with its essential amino acids, along with digestive enzymes and marine botanicals.
Our bronze medal winning vitamin complex is Controlled Labs Orange Triad, with its digestion and immunity boosting ingredients.
---