Best GNC Workout Supplements Reviewed and Rated
last updated:
May 06, 2020
GNC has an 80-year history in the supplement market. Today, they are the premiere bricks and mortar retailers of supplements in the United States, as well as having a huge online presence. GNC stock a range of brands but also have their own range of products.
In this article, we highlight the best products in the GNC workout range. We also compare the top GNC workout products with the best of the best. Be sure to check out all the great information about the GNC performance supplements we have here for you!
This is the best product on our list that is currently in stock: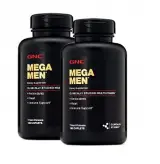 GNC Mega Men Multivitamin Capsules
Why is it better?
Key thermogenic booster
1600 IU Vitamin D
Sharpens mental focus
21
Researched Sources
4k
Reviews Considered
9
Hours Researching
7
Products Evaluated
Effectiveness
Potency
Value
By Default
5 Best GNC Workout Supplements


Amplified Creatine 189
Anabolic Primers
Anti-inflammatory support
GNC AMP Mega Men Multi Vitamins is a fat-shredding pack that contains 4 powerful blends designed to work together to provide a powerful cumulative effect. The Mega Men Sport blend is packed with critical vitamins and minerals that are often missed by athletic men.
Read more
The CLA complex includes 4000 mg of CLA, which maintains healthy body composition and supports lean muscle growth.
The GNC AMP Mega Men contains Amplified Creatine 189, which absorbs better and requires less. The anabolic primer and anti-inflammatory support feature high-quality anabolic primers to help pack on mass combined with anti-inflammatory support.
This product is the highest-rated GNC Supplement for a workout on our list.
2

. GNC Pro Performance 100 Whey Protein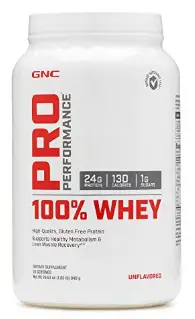 24 grams of protein
6 grams fiber
3 grams BCAAs
GNC Pro Performance 100 Whey Protein is a unique GNC muscle builder - a blend of muscle-building protein and thermogenic fat burning agents. Each serving delivers 24 grams of whey protein, 6 grams of fiber, and 3 grams of BCAAs.
The protein blend is a mixture of whey concentrate and whey isolate. GNC sources its protein from Glanbia, which is the same place as Optimum Nutrition and Isopure, so you can be assured that the quality is on par with those brands.
Read more
There are artificial sweeteners in this product.
It also has quite a high carb count. Finally, there are no digestive enzymes in this blend. As a result, those who are lactose intolerant may have problems with this GNC workout product.
This GNC product has been around for the right amount of time and is known to be popular. Therefore it earns a place in our selection as a product which has been tried by many and proven its worth.
This product is one of the best GNC products that you should definitely consider including in your daily routine.
3

. GNC Mega Men Multivitamin Capsules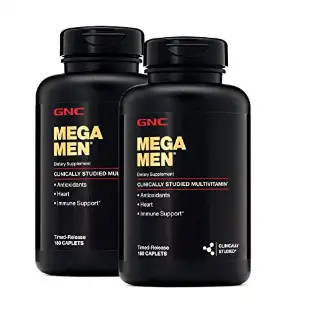 Key thermogenic booster
1600 IU Vitamin D
Sharpens mental focus
GNC Mega Men Multivitamin Capsules are a calorie-burning multivitamin pack designed to get your ripped while it supports super health.
The blend includes a men's multivitamin formula with proven ingredients to help support colon and prostate health.
Read more
A full range of B vitamins is included for energy production. Essential thermogenic boosters are designed to boost the metabolism so you can burn more calories all day long.
Nootropic ingredients are included in GNC Mega Men Multivitamin Capsules to sharpen mental focus. This GNC performance product is also packed with antioxidants to ward off the free radicals that are produced through exercise. Each serving also contains 1600 IU of Vitamin D.
This is best GNC products to get ripped that also contains fat burning supplements which will boost your metabolism.
4

. GNC Total Lean Lean Bar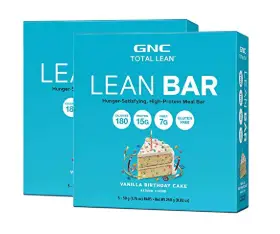 15 grams of protein
180 calories per bar
19b grams of fiber
GNC Total Lean Lean Bar is a hunger-satisfying high protein meal bar. Each bar contains 15 grams of protein, 180 calories and 19 grams of fiber. There are 21 grams of net carbs in this bar. 9 grams of that are sugar. This bar has a great taste and feels very satisfying.
Read more
This is so convenient, easy to carry for when you need it, not only easy to consume but also tastes good.
With this bar, you are carrying and have easy access to a power-packed meal.
This is what you get.
15 grams of protein
180 calories
19 grams of fiber
21 grams of net carbs
9 grams of sugar
From our list of Best GNC Workout Supplements, this product is one of the cheapest.
5

. GNC Mega Men Prostate and Virility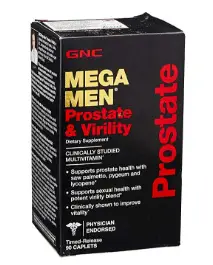 1600 IU of Vitamin D
L-Arginine
Timed release caplets
GNC Mega Men Prostate and Virility is a booster of testosterone, prostate health, and sexual function. It includes several blends that work together to boost overall virility and energy.
It provides 1600 IU of Vitamin D for colon health and immune support.
Read more
Key ingredients such as saw palmetto and lycopene boost prostate health and normal urinary flow.
GNC Mega Men Prostate and Virility is fortified with L-Arginine to boost nitric oxide production, allowing for the opening of the blood vessels. This promotes sexual virility and performance. The timed release caplets in which the ingredients come ensures a sustained release of multivitamins and minerals throughout the day.
From our list of Best GNC Workout Supplements, this product is one of the lowest rated.
Criteria Used for Evaluation

Effectiveness
Effectiveness gives desired results.
While GNC carries a wide range of supplementary products across all GNC workout applications, some people consider it to be a generic brand.
It leaves you two options, go with this tried and proven brand, and you won't be disappointed, or explore other options.
During our comparative review we did take into account other choices and here is a quick rundown on those options.
If you prefer products that are produced by higher-profile specialized supplement manufacturers. Here are three alternatives to GNC products that you might consider.
MuscleTech Hydroxycut SX 7
It provides nootropic benefits. The ingredients are dosed clinically and intended to work synergistically to deliver a powerful cumulative effect. It includes such proven fat burners as satsuma orange and thiamine, along with coleus to enhance your mental focus.
MuscleTech Hydroxycut SX7, Black Onyx also includes green coffee to provide a stimulant-free energy boost that won't give you the jitters or leave you with a headache.
Optimum Nutrition 100% Whey
Optimum Nutrition's 100% Whey contains 24 grams of pure whey protein powder per serving. That protein has minuscule levels of lactose, fat, and cholesterol. With each service, you get 5.5 Grams of the branch chain amino acids (BCAAs) leucine, isoleucine, and valine. You also get 4 grams of glutamine.
Optimum Nutrition's 100% Whey has been instantized to make it a great mixing product. You can put it together with nothing but a glass and a spoon. It won't produce any clumpiness or leave a powdery residue in your cup. You can choose from more than 20 delicious flavors. It is a very active post-workout muscle builder and energy replenisher.
TwinLab Ripped Fuel 5X
TwinLab Ripped Fuel 5X is a powerful metabolic accelerator which is designed to boost the metabolism 24/7 for advanced fat burn. It makes use of 5 advanced mechanisms to super-charge the thermogenic effect. This product is ephedra-free and contains less caffeine than a cup of coffee. Provides effective fat burning and a special effect without any side effects such as jitteriness, nausea, and feelings of anxiety.
Whereas many products, including those from the GNC performance list of products, require taking multiple tablets per day, with TwinLab Ripped Fuel 5X you only have to take two small, easy to digest tablets each day. All of the ingredients in this product are clinically proven and dosed to provide the best results.

Potency
Potency has a direct impact on actual effectiveness.
When you look at a high-quality product and consider potency, you are looking at how effective the product can be.
GNC supplements for the workout are a specialist brand with a long history of quality, and we looked closely at the potency quality.
As a tried, regularly used and trusted supplement brand, the potency levels in the differing range of GNC supplements are very balanced and take into account the various levels of potency which consumers/users will want.
if you are looking for low or moderate potency, then there are choices available, and if you want high or max power, this brand has taken this into customer considered needs and produced a good selection of options.
The potency performance in each of these GNC performance products are very relevant to the actual aims or needs of the users; the results they require will happen. The doses offered are a result of extensive research so that users know they need to stay on track to get a feel of the desired results.

Value
Value is the price but it also reflects the results.
We looked at the value factor for money spent and desired results.
It is not a low-cost brand, and there are good reasons for this. These GNC performance supplements products are very well researched before they are put onto the market. The brand has a high-quality reputation to maintain, and that means they source quality and ingredients which are among the best and known to be effective.
Through our comparative research showed that this is not a budget product, we also noted that the GNC workout products are not overly expensive, especially when factoring in quality, performance, and effectiveness.
If you are looking for GNC supplements that are known to be effective and are available at just above a moderate price, this selection will give the potency, effectiveness, and value that you want.
Expert Interviews & Opinions
Most Important Criteria
(According to our experts opinion)
Experts Opinion
Editors Opinion
Users Opinion
By Default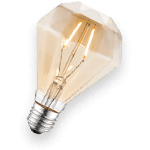 Taste
We all at some point have an interest in using a supplement which will give our bodies physical benefits.
It is often the case with supplements, that though they are suitable for the body, the actual taste may be disappointing or at times bland and unappealing.
This brand has factored in taste choices for many of their products, so you should do a little "taste research" and find out which flavors are available for you.
You can do this through visiting the brand's website or other online stores where you will be able to check out the taste/flavor options and also be able to read real-time reviews by customers to see what they have to say.
Potency
Consider carefully the level of potency which you either want or need.
It means doing some research, preferably online via stores which will give detailed guides and reviews on potency levels and effectiveness. This way, you will avoid choosing a potency level, which is too low and does not produce the desired results.
If you choose a potency level which is lower than your needs and aims, you will not achieve your target and will very likely end up spending more money as you will have to buy again at a potency level which will get you to your target.
Frequently Asked Questions
q:

Is potentcy Important?

a:

Yes, potency levels are significant.

When people use GNC workout supplements, it is very much the case that different people have different desired aims or outcomes. These aims are measured through effectiveness and value in terms of cost and performance, and these aims can range from low, moderate, and up to high.

Therefore, you must consider the potency level, do some research, and ensure you choose a potency that will bring you to your desired aims.
q:

GNC workout Supplements generally taste awful, what are my option?

a:

In past years, it is true that supplements tended to be either tasteless or even at times a bit unpleasant. Makers of supplements have moved forward past this problem, they understand the importance of taste, and this means that nowadays you will find supplements that have been blended with a range of tasty flavors such as orange, strawberry, vanilla and many more.

To get the taste you prefer, decide on a brand, go online, and read guides, you are sure to find a range of flavors from which you can choose.
q:

GNC workout Supplements are offered in different forms, which is best?

a:

There is probably no best or worse form for taking GNC workout supplements.

It does seem to be down to individual personal preference, effectiveness, and ease of consumption. Therefore whichever supplement you are considering, if you do some research, you will find it is most likely offered as a powder, a gel, a capsule, a tablet or in a liquid form.
q:

Does the cost of a supplement matter?

a:

Generally, the cost does matter.

If you go for a budget cost, you need to factor in the reasons for the low price; it might be because the ingredients sourced for the supplement are low-quality and this will impact on the effectiveness of the supplement. Therefore to get results, you would possibly need to purchase more and use it for a longer time and eventually end up paying more.

Take a look at our list of the best workout supplements from other manufacturers of nutrition and health related products.
q:

Higher price, better results?

a:

Yes, if you go with a trusted brand with a proven reputation.

The higher price will reflect that the ingredients are of high quality and used in combinations which will give a highly effective performance, this means you will feel the results more effectively. Sourcing the best quality ingredients does have cost implications on the price of a supplement, but the consumer can feel confident that it is money spent correctly and that they are very likely to get beneficial results.
q:

Can GNC workout supplements cause harm?

a:

Anything in moderation will not harm you, almost anything in excess will eventually cause complications.

The potency level of a supplement should be closely looked at by a user, underuse will be pointless and overuse can have negative effects.

Always stay with the recommended daily dose levels, a lot of research has been done to ensure the dose amounts are safe and effective.
Subscribe to our newsletter