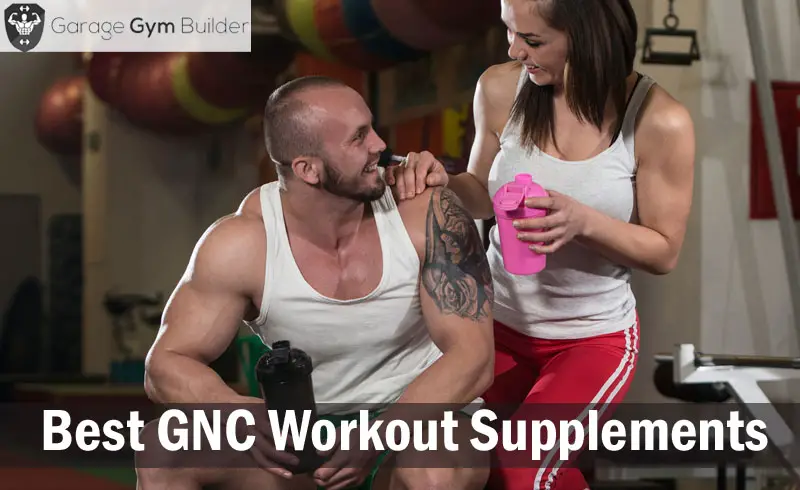 Best GNC Workout Supplements Review 2018
GNC has an 80 year history in the supplement market. Today, they are the premiere bricks and mortar retailer of supplements in the United States, as well as having a huge online presence. GNC stock a range of brands but also have their own range of products. In this article we highlight the best products in the GNC range. We also compare the top GNC products with the best of the rest.
GNC Amp Men's Ripped VP Multi Vitamins is a fat shredding pack that contains 4 powerful blends designed to work together to provide a powerful cumulative effect. The Mega Men Sport blend is packed with critical vitamins and minerals that are often missed by athletic men. The CLA complex includes 4000 mg of CLA, which maintains healthy body composition and supports lean muscle growth.
The Thermo Ignited 12X blend is a powerful thermogenic aid that contains ingredients that have been clinically shown to burn 12 times more calories while boosting the metabolism. The Water blend is a herb based formula to help flush excess water out of your system. Included in your GNC Amp Men's Ripped VP Multi Vitamins purchase is a 30-day supply of daily packs. Each pack contains 7 capsules to give you a complete daily profile.
400 mg of CLA
12x calorie burn
Flushes out excess water
Requires taking 7 capsules together
GNC Pro Performance AMP Amplified WheyBolic Extreme 60 Ripped is a unique blend of muscle building protein and thermogenic fat burning agents. Each serving delivers 60 grams of whey protein and 6.2 grams of leucine. This is the only protein powder isolates on the market that has combined the whey and leucine. This has been clinically shown to produce a 30% increase in strength and muscle size, along with a 100% increase in exercise efficiency.
The muscle building protein mix in this product is complemented by a Shredded Complex and a Metabolic Matrix to help get you shredded as it gets you huge. The ingredients in these blends are all clinically proven and dosed. They include green coffee bean extract, key amino acids, such as alanine, tyrosine, methionine and 1 gram per serving of L-Carnitine. This will transform fatty acids into energy to boost the body's energy levels.
The huge 60 grams of protein is made from two of the highest grades of protein available - whey and leucine. This blend delivers both arginine and glutamine to boost anabolic results.
60 grams of protein
Leucine
L-Carnitine
Slightly bitter after taste
GNC Mega Men Energy and Metabolism capsules are a calorie burning multi vitamin pack designed to get your ripped while it supports super health. The blend includes a men's multivitamin formula with proven ingredients to help support colon and prostate health. A full range of B vitamins are included for energy production. Key thermogenic boosters are designed to boost the metabolism so you can burn more calories all day long.
Nootropic ingredients are included in GNC Mega Men Energy and Metabolism capsules to sharpen mental focus. The product is also packed with antioxidants to ward off the free radicals that are produced through exercise. Each serving also contains 1600 IU of Vitamin D.
Key thermogenic booster
1600 IU Vitamin D
Sharpens mental focus
GNC Total Lean Burn 60 is a cinnamon flavored tablet that includes clinically proven ingredients designed to boost metabolic rate. The thermogenic effect of this product can increase calorie burning by up to 60%.
The ingredients in this blend include guarana seed extract, black tea leaves extract, grape skin and seed extract, ginger root extract and dill weed extract. It also includes cinnamon bark extract, natural mineral whitener, dextrose and cellulose. GNC Total Lean Burn 60 will boost cellular energy utilization that will promote increased cellular metabolic activity.
Boosts calorie burn up to 60%
Guarana seed extract
Cellular energy utilization
GNC Mega Men Prostate and Virility is a booster of prostate health, testosterone and sexual function. It includes several blends that work together to boost overall virility and energy. It provides 1600 IU of Vitamin D for colon health and immune support. Key ingredients such as saw palmetto and lypocine boost prostate health and normal urinary flow.
GNC Mega Men Prostate and Virility is fortified with L-Arginine to boost nitric oxide production, allowing for the opening of the blood vessels. This promotes sexual virility and performance. The timed release caplets in which the ingredients come ensures a sustained release of multivitamins and minerals through the day.
1600 IU of Vitamin D
L-Arginine
Timed release caplets
GNC Alternatives
While GNC carry a wide range of supplementary products across all workout applications, some people consider it to be a generic brand. They prefer products that are produced by higher profile specialised supplement manufacturers. Here are three alternatives to GNC that you might consider.​
MuscleTech Hydroxcut Hardcore is a thermogenic boosting fat loss formulation that also provides nootropic benefits. The ingredients are dosed clinically and intended to work synergistically to provide a powerful cumulative effect. It includes such proven fat burners as scutellaria and guayusa, along with coleus to enhance your mental focus.
Hydroxcut Hardcore also includes green coffee to provide a stimulant free energy boost that won't give you the jitters or leave you with a headache. The MuscleTech website cites a study where test subject who took Hydroxycut Hardcore lost an average of 10.95 pounds over 60 days, compared to 5.4 pounds for a placebo group.
Find the best products to fuel your muscles with our Best Amino Acid Supplements for Working out Review 2018 feature.
Green coffee
Thermogenic boost
Extreme energy booster
Optimum Nutrition's 100% Whey contains 24 grams of pure whey protein powder per serving. That protein has miniscule levels of lactose, fat and cholesterol. With each serve, you get 5.5. grams of the branch chain amino acids (BCAAs) leucine, iso-leucine and valine. You also get 4 grams of glutamine.
Optimum Nutrition's 100% Whey has been instantized to make it a great mixing product. You can put it together with nothing but a glass and a spoon. It won't produce any clumpiness or leave a gritty residue in your cup. You can choose from more than 20 delicious flavors. This is a very effective post workout muscle builder and energy replenisher.
Ready to get peeled? Don't miss our Best Cutting Supplements to Get Ripped Fast Review 2018 article feature.
20 flavors
5.5 grams of BCAAs
Great mixability
TwinLab Ripped Fuel 5X is a powerful metabolic accelerator which is designed to boost the metabolism 24/7 for advanced fat burn. It makes use of 5 advanced mechanisms to super-charge the thermogenic effect. This product is ephedra free and contains less caffeine than a cup of coffee. That means that it is able to provide a huge energy and fat burning effect without such side effects as jitteriness, nausea and feelings of anxiety.
Whereas many products, including those from GNC, require taking multiple tablets per day, with TwinLab Ripped Fuel 5X you only have to take two small, easy to digest tablets each day. All of the ingredients in this product are clinically proven and dosed to provide the best results.
For a complete breakdown of the top supps across all categories, check out our Top Gym Supplements 2018 Review super feature.
Powerful metabolic accelerator
No jittery side effects
Only requires taking 2 tablets per day
---