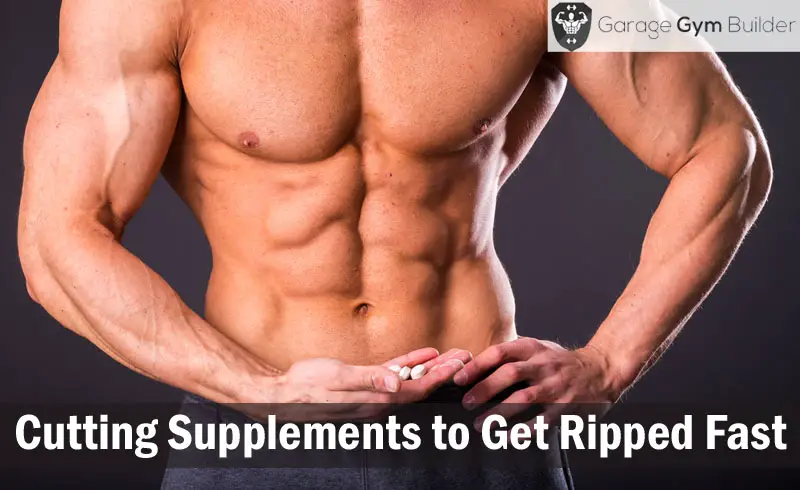 Best Cutting Supplements to Get Ripped Fast 2018
To achieve a shredded, ripped physique, you need to do more than train and diet. Supplementation is the added ingredient that will allow you to strip off those last vestiges of body fat so that you can get peeled. In this article, we identify the 10 best products to allow you to get ripped fast.
The Top 10 at a Glance

The best supplement for cutting is Universal Nutrition Animal Cuts, which provides you with 8 fat burning mechanisms, including a thyroid and water shedding complex. The second best get ripped fast supplement is ENGN by Evlution, which delivers a powerful NO booster, and speeds up the metabolism for 24 hour fat burning.
The third best supplement to get ripped and build muscle is BSN NO Xplode Pre Workout Igniter, which provides 275 mg of caffeine and 1.8 grams of beta alanine.
To make it easier for you to compare the best get ripped supplements, we've rated each of them on the basis of price and effectives. Then we've given each one an overall rating out of 5. In the next section, we provide an in depth review of each supplement.
Universal Nutrition Animal Cuts is a powerful thermogenic fat burner that includes 8 different mechanisms to get you shredded. It includes a potent nootropic blend to give you the focus and concentration to have great workouts. All of the fat burning ingredients have been scientifically tested and provided at clinical dosages. The unique water shedding complex allows you get rid of the film of water that is hiding you muscle definition.
Universal Nutrition Animal Cuts includes an appetite suppression complex, allowing you to reduce your daily caloric content to shed body fat. A thyroid complex allows you to get control of the key fat burning hormones that will get you shredded. Green tea extract and oolong tea will provide you with a huge metabolic boost.
8 fat burning mechanisms
Thyroid complex
Water shedding complex
ENGN by Evlution is a pre workout nitric oxide booster that will allow you to get a great workout in order to burn maximum body fat. It includes a synergistic blend of agmatine sulfate and betaine anhydrous to release nitric oxide within the body. This boosts blood flow in order to produce a pump effect in the trained muscle.
When you take ENGN by Evlution, your body will speed up its metabolism and burn off more energy, allowing you to get shredded faster. This pre workout powder will give you a smooth energy rush that is free of any jitters or other negative reactions. You will have enhanced focus, more energy, greater pumps and a faster metabolism to fast track you to your goal.
NO Booster
Speeds up metabolism
Jitter free
BSN NO Xplode Pre Workout Igniter is a powerful fat burning pre workout that delivers 275 mg of caffeine, and 1.8 grams of beta alanine to deliver a huge energy rush to power you through your fat burning workouts. This product also includes 3 grams of creatine to deliver a strength surge while working out that will allow you to push through your barriers.
BSN NO Xplode Pre Workout Igniter is made up of a number of specialized blends designed to work together to provide a synergistic fat burning effect. The Endura Shot blend provides a powerful energy rush, while the Myogenic Matrix gives you a strength, power and endurance boost.
275mg of caffeine
1.8 grams of beta alanine
Endura Shot
Pure CLA by Advanta is designed to put your body into fat burning mode fast. It contains conjugated linoleic acid which has been clinically shown to increase the metabolism, bring down unhealthy cholesterol levels, boost endocrine function and improve overall health.
Pure CLA contains 100% pure fatty acids that are non GMO and free of any additives. It has been enhanced with Vitamin E for even faster absorption into the bloodstream. This product is manufactured in USA based FDA approved facility. Each capsule contains 1000mg of active CLA. Your purchase comes with a 60 day money back guarantee.
1000mg of CLA
Fortified with Vitamin E
Manufactured in USA
Legion Forge Belly Fat Formula is a caffeine free thermogenic fat booster that allows you to target your stubborn belly fat. It includes a synergistic blend of such scientifically dosed ingredients as yohimbe, which blocks the activities of alpha receptors. HMB is included to stimulate protein synthesis. Citicoline, which is a vital brain booster. This product is designed to work with caffeine, which you can get from a cup of coffee.
Legion Forge Belly Fat Formula comes in the form of an easy to swallow capsule. It is made in the USA in a GMP authorized facility.
Trying to pack on some muscle? Don't miss our Best Supplements for Weight Gain Review 2018 super feature.
Caffeine free
Made in the USA
Contains HMB
MELT fat burner is a popular thermogenic booster which comes in capsule form. This is a jitter free formulation that combines a range of scientifically proven ingredients to boost your energy and sped up your metabolism. This is a diet pill that has been specially designed for women. It acts in a number of ways to get you fat free, including a power appetite suppressant.
MELT fat burner is a thermogenic agent which will speed up your metabolism all day long. This product is made in the USA in a GMP compliant facility.
GNC are a huge player in the supplement market. Discover the best of their range with our Best GNC Workout Supplements Review 2018 feature article.
Jitter free
Designed for women
60 day money back guarantee
CUTZ-NS is a completely natural, non stimulant fat burner. It contains 9 key ingredients designed to bring on a powerful thermogenic effect, allowing you to burn more calories all day long. It features clinically dosed amounts of garcinia cambogia and raspberry ketones. It is also an appetite suppressant that allows you to strip fat while preserving muscle tissue and boosting energy levels.
CUTZ-NS is made in the USA in facilities that are fully compliant with FDA regulations. It comes with a full 60 day guarantee.
Twinlab Ripped Fuel Extreme is an advanced dietary supplement that comes in capsule form. The ingredients include complexes designed to do three things - build muscle, lose fat and boost energy. The thermogenic blend will boost the metabolism so that you can burn more fat all day long. It also prevents fat from sticking to your body and encouraging fat burning as a source of energy.
Twinlab Ripped Fuel Extreme includes a powerful patent pending herbal blend that includes green tea extract, caffeine and cocoa. It is completely ephedra free. It will target the stubborn and dangerous fat deposits around your mid section.
Patent pending herbal bend
Green tea extract
Targets mid section fat
Primal Ripped 10X is a very potent thermogenic burner that contains a high level of caffeine. This provides you with a strong energy surge to fuel you through your workouts. It also acts as a metabolic booster to boost your working caloric expenditure. The formulation is designed to target the stubborn love handle fat around the mid section.
In addition to caffeine, Primal Ripped 10X contains green tea, lipogenics and a host of other potent herbal remedies that have been clinically shown to accelerate fat loss. This product will give you increased energy and mental focus for your workout, so you'll be able to train harder for longer.
Discover the best supplements against all workout categories across all categories with our Top 10 Workout Supplements mega article.
Potent thermogenic
Boosts training energy
Improved mental focus
May produce stimulant side effects
Carruluma Fimbriata Appetite Suppressant brings the power of a potent appetite suppressant herb that has been used to control weight in India for centuries to market. This herbal product will help both men and women to control their appetite, enhance their metabolism and lose body fat fast. It is derived from a succulent cactus plant and also provides you with a similar energy boosting and fatigue fighting effect as caffeine, but without the stimulant side effects.
Carruluma Fimbriata Appetite Suppressant is a completely natural formula with no binders, fillers or artificial ingredients. It is made in the USA and complies with all FDA guidelines. Each bottle contains 120 capsules, which is a 60-day supply.
Power appetite suppressant
60 day supply
Boosts energy naturally
May cause digestive problems
Conclusion
The best workout supplement to get ripped on the 2018 market is Universal Nutrition Animal Cuts, which combines 8 fat stripping mechanisms, which include thyroid and water complexes. The second best supplement to get ripped is ENGN by Evlution, featuring a nitric oxide enhancer and metabolism boosting ingredients for all day fat burning. Our third favorite muscle cutting supplement is BSN NO Xplode Pre Workout Igniter, which delivers 275 mg of caffeine and 1.8 grams of beta alanine.
---