Best Jump Rope in 2023
last updated:
Jan 07, 2021
When it comes to getting in shape fast, nothing beats jump ropes. Jumping rope to lose weight, burn calories and improve your cardiovascular fitness will get you to your goals faster than any exercise type. Jump ropes are the most convenient and cheapest exercise options. All you need is the best skipping rope you've found for your needs, and a couple of square feet of space and you're good to go. In this article, we review the best jump ropes of 2019.
This is the best product on our list that is currently in stock: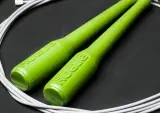 Rogue Bearing Speed Rope
Why is it better?
Tapered Six-Inch Handle
Solid, Sweat-Free Grip
Bright Red
Fixed Tapered Handles
13
Researched Sources
16k
Reviews Considered
14
Hours Researching
14
Products Evaluated
Use
Effectiveness
Weight
Portability
Durability
By Default
10 Best Jump Ropes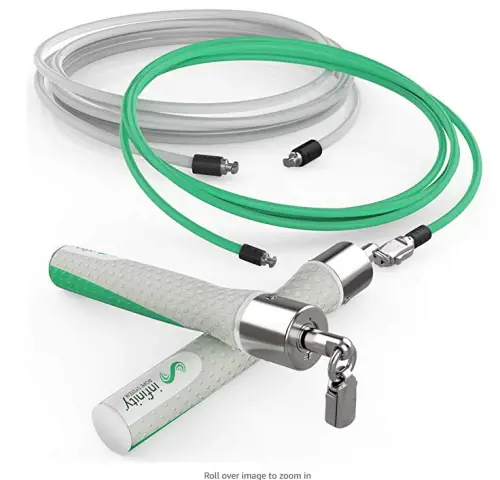 Two Jump Ropes In One
Patented Clip-on System
Ceramic Ball Bearings
Weighted
High-performance ergonomic handles
The Cross Rope Jump Rope is a durable wire speed rope that is covered with PVC. You actually get two jump ropes with your purchase which can be adjusted using the patented clip-on adjustment system. If you are after a rope that will provide speed and intensity training, use the ¼ pound Infinity jump rope.
Read more
Then when you are after strength and endurance, go for the ½ pound Infinity jump rope. High ceramic ball bearings offer the smoothest, fastest spin that you are likely to come across.
The grips on the Cross Rope are ergonomically designed for the most natural wrist action. Overall this is the best jump rope and it is an extremely durable unit that will easily handle the demands of working out on concrete or any other superhard surface. This is a great jump rope for weight loss.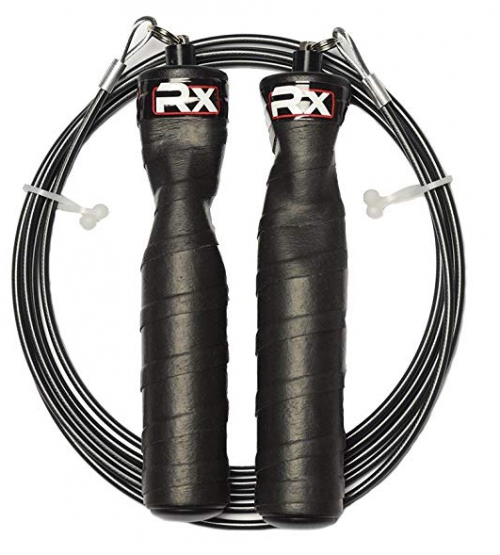 Multi-direction Swivel
Friction-free Rotation
Controlling Tempo Is Easy
Contoured absorbent tape grip handles
The cross rope created by RX is a heavy-duty jump rope that is constructed with industrial-strength axel bearing swivels that can twist and turn in any direction. This results in a very friction-free rotation that is instantly noticeable. It features a swivel attachment, which is soon to be patented, that allows you to manipulate the speed of the cable's rotation of this speed jump rope. Keep reading and see what makes RX Jumprope the second-best jump rope on our list.
Read more
The RX is available in two cable weights. The Buff is 3.4 and the Ultra is 1.8 ounces. The Buff is perfect for beginners and intermediate jumpers. The Ultra is the ideal choice for advanced jumpers. With this jump rope, you will be able to use a great variety of tempos, from slow to super fast. This unit is known as a hybrid speed cable. This is a seriously high-quality jump rope and one of the best jump ropes on our list.
3

. Rogue Bearing Speed Rope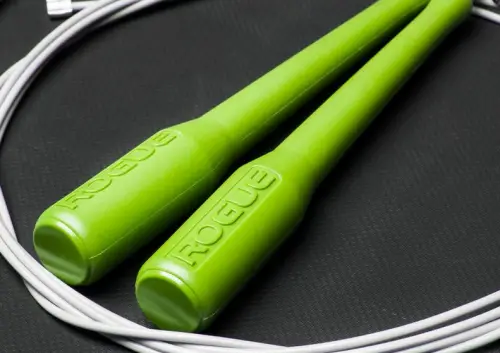 Tapered Six-Inch Handle
Solid, Sweat-Free Grip
Bright Red
Fixed Tapered Handles
Not For Abrasive Surfaces
The Rogue SR-1 Bearing speed jump rope provides a tapered six-inch swivel ball bearing handle. This provides you with an extremely comfortable, solid and sweat-free grip. The 3/32 inch red-coated speed cable provides you with maximum speed while being extremely durable.
Read more
The fixed swaged handle on this jumping rope ends allows for quick and easy adjustment to the length of the cable. The handles are made from glass-filled nylon resin, making them incredibly hard-wearing.
The Rogue speed cable is one of the best jump ropes on our list to transition your skill level from beginner/intermediate to advanced, as it allows you to safely perform such advanced moves as double under and triples. The longer than usual handle allows you to concentrate on the wrist rather than bicep when rotating.
4

. King Athletic Jump Rope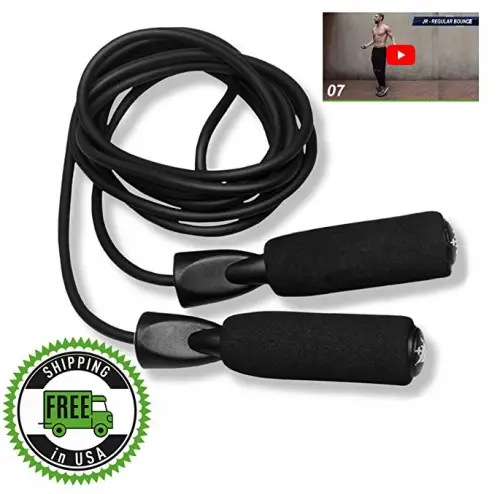 Comfortable Foam Handles
Fully Adjustable
Sealed Ball Bearings
Two eBooks
The King Athletic Jump Rope is one of the most comfortable jump ropes that we have come across. The ergonomically contoured handles give you a good amount of padding to protect your hands while skipping. This is a fully adjustable jump rope with a standard length of 9'4", but can be easily adjusted to any length that you desire.
Read more
The King Athletic jump rope has sealed ball bearings in the handles to provide for a very smooth, friction-free rotation. The rotation of the cable is even.
Your purchase of the King Athletic jump rope comes complete with two e-books that provide in-depth information on training and nutrition.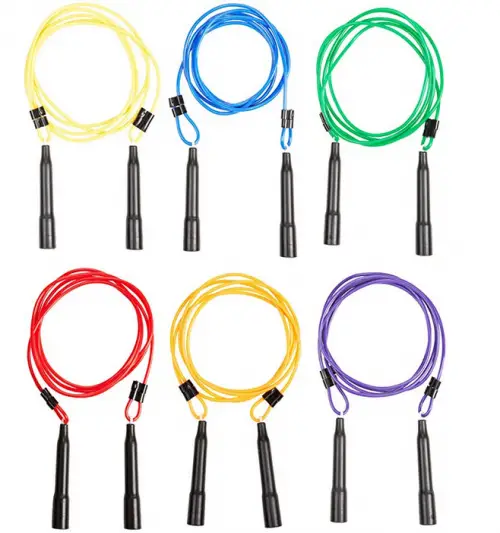 Great Value
Fast Rotation
Easily Adjustable
Bright Colors
Durable plastic Handles
The Sportime Jump Rope set is a set of six jump ropes that are high quality, fast and reliable. These are absolutely the best jump ropes that you are likely to find and are great for CrossFit gyms, Summer Camps and anywhere else where you need to buy multiple jump ropes.
Read more
Each jump rope is made from extruded PVC and has extruded handles that you allow you to house and extended skipping rope. This allows you to adjust the length of the jump rope to fit your requirements. However, this jump rope is not suited for tall people so those who are over six feet tall may want to look elsewhere.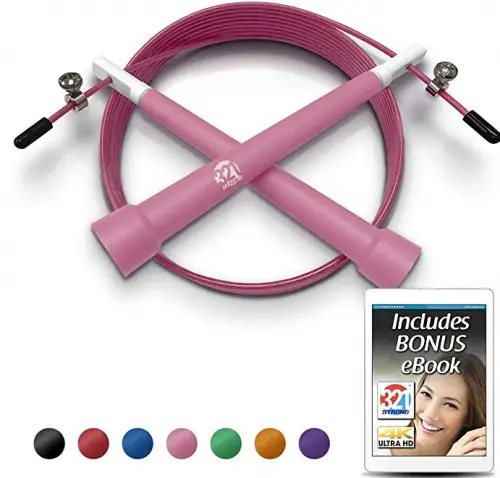 Tangle Free
Long and strong nylon handles
Very Fast
EBook Included
The 321 Strong Jump Rope provides you with tapered long handles that have been ergonomically designed for both comfort and speed. This is a spindled jump rope design that ensures that your jump rope is tangle free and is ideal for double unders. The braided steel wire is covered with PVC and is durable and provides a smooth workout.
Read more
The eleven-foot long jump rope is suitable for people up to seven feet tall. However, if you want to shorten the jump rope, you need to trim the wire.
Your purchase of the 321 Strong jump rope comes with a replacement cable. The best jumping rope is aerodynamically designed for maximum speed, which is the case with this product too. Along with the ball bearing in the handles, the cord is completely replaceable. You also get a bonus training ebook and a black carry bag when you purchase this jump rope.
7

. Fitness Master Jump Rope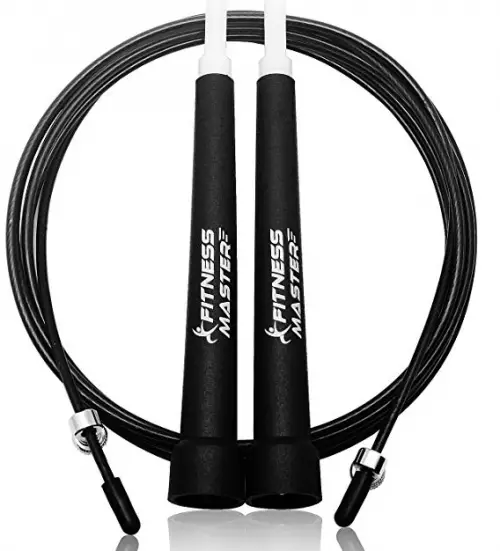 Smooth Bearing System
Tangle-free
Carry-case
Instruction Manual
Smooth and lightweight plastic handles
The Fitness Master athletic jump rope is a 9-foot skipping rope that you can easily adjust to suit your height. The ball bearing system has a smooth handle bearing arrangement which provides a friction-free, fast-spinning workout. This is a tangle-free unit that is very lightweight. You get a free carry case and a comprehensive instructional training manual with this product.
Read more
The Fitness Master jump rope is portable and small, making it the ideal choice for taking on the road with you. The wire cable has a thermoplastic black urethane coating to provide ultimate protection when the cable whacks the floor. The cable length is easily adjustable.
8

. Rage Fitness R1 Speed Rope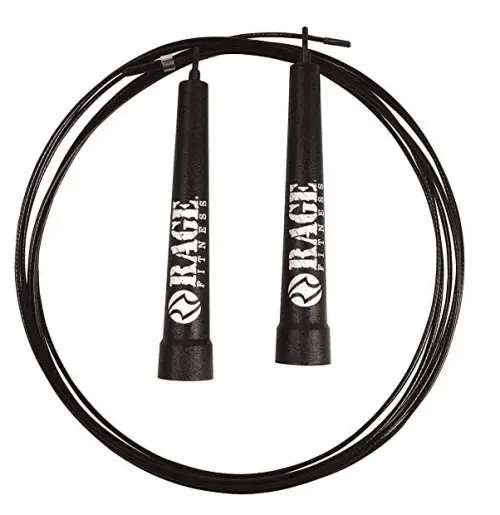 Long, Tapered Plastic Handles
Speed Ball Bearing system
Easily Adjustable Cord
11 Feet Long
The Rage Fitness R1 training speed jump rope is probably the fastest jump rope that you are likely to come across. The long, tapered handles are ergonomically designed to reduce friction and increase the speed of your wrist action. The speedball bearing inside the handle allows for the quickest revolution action and the lightweight jump rope kicks in to produce a lightning speed movement during your workout.
Read more
There is absolutely no friction to slow you down when you train with the Rage Fitness R1 jump ropes. It features an easily adjustable cord to allow you to quickly and efficiently change the length to suit the user. The cord comes with a vinyl coating that protects as well as enhancing the speed of movement. This is the best jump rope for double unders.
9

. Survival and Cross Jump Rope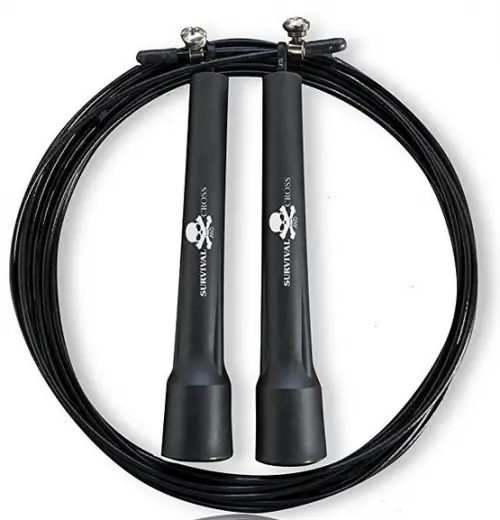 Tangle Free
Easy Length Adjustment
Lifetime Guarantee
Travel Ready
Screw Pin Too Big
Plastic handles prone to braking
The Survival and Crosswire Jump Rope is among the best jump ropes for CrossFit and MMA style jump rope workouts. It is extremely lightweight and is guaranteed not to tangle. The tapered handles are designed to enhance your natural wrist action, working in harmony with the swivel ball bearing system to produce a super-fast rotation action.
Read more
A simple screw adjustment system allows for easy length adjustment. Survival and Cross Jump Rope is a right angle cable unit, making it the perfect design to enhance speed. There is no kinking or binding in the cable, meaning that you can safely perform such advanced moves as double unders and triples. Survival and Cross Jump Rope is also a very good value unit. Plus, it comes with a lifetime guarantee!
10

. WOD Nation Attack Speed Jump Rope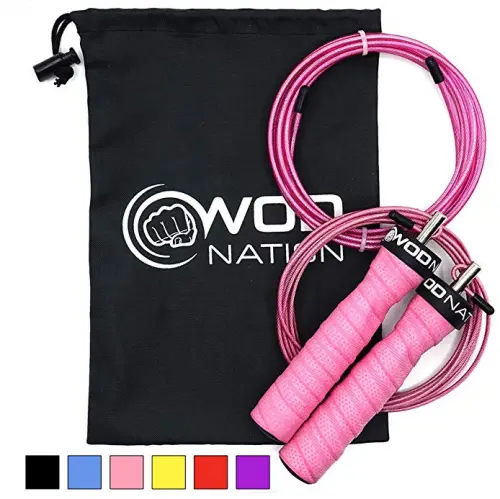 Tangle-free
Easy Length Adjustment
Two Cable Options
Carry Bag
Nice foam handles
The WOD Nation Speed Jump Rope is among the best jump ropes for CrossFit and MMA style workouts. It is extremely lightweight and is guaranteed not to tangle. The tapered handles are designed to enhance your natural wrist action, working in harmony with the swivel ball bearing system to produce a super-fast rotation action.
Read more
The WOD Nation Speed Jump Rope is a right angle cable unit, making it the perfect design to enhance speed. There is no kinking or binding in the cable, meaning that you can safely perform such advanced moves as double unders and triples. It is also a very good value unit. In fact, you get two cables for one here - a heavy cable and a light cable. Your purchase comes with a black carry bag.
Criteria Used for Evaluation

Use
We all know how to use a jump rope. Ever since we were kids, we used it to express our vigor and joy and play simple childish games. But not every person knows how to use it to become more fit, and if you're one of those people, then this section is just for you.
Before you start to jump around, there are a few things you should check out. First, you must choose the right kind of jump rope. If you're just starting out, the simplest jump rope, either a beaded one or even a licorice jump rope is what you're going to need. These skipping ropes are simple, budget-friendly, and are a great way to kick-start your jumping rope cardio workout journey. These jump ropes are also slow, so they're great for learning how to pace yourself before going for speed jump ropes. After you've chosen your jump rope, you need to size it. Your objective right now is not speeding, but technique, so a rope that is on the longer side is what you're going to need. To do this correctly, put your foot on the middle of the jump rope, and then pull it and adjust it until the bottom of the handles reaches your pits. And of course, choose the right kind of surface to jump on. Jump ropes shouldn't hurt your joints that much, and to make sure they stay that way, you should find a solid mat or a soft enough surface outdoors. Do not choose concrete, or carpet - carpet is bouncy and it will make your jump rope fly higher, forcing you to jump more to skip over it.
Now it's time to learn the most basic moves. Before everything else, you must master doing the simple jump. Once you do this, you will be able to start using the jump ropes in different ways without hurting yourself in the process. First, grab the handles of your jump rope, and place them in the beginning position. Grab the handles loosely with your fingers, not your whole palms. Do not give them a death grip! A loose grip will allow you to turn and twist the jump rope more efficiently, and you will be able to spin it faster. The skipping rope should be in front of you, while your elbows and hands stay glued to your body.
Then place the jump rope behind you and try to bring it over your head. Then catch the jump rope with your feet when it reaches them, and let it slowly escape underneath your heels. Do this until you feel confident enough with flipping it over your head and catching it underneath you. Just like with everything else, the key is repetition, until your muscles remember the correct motion. Mastering the jump rope workout requires a lot of practice, so make sure you do so. Then, it's time to play pretend. Learning how to jump over the jump rope is based on timing the turn with your jumping. Pretend you have the jump rope in your hands, and then turn it over your head and jump over it. You will most definitely look silly, but you will not look silly when you know how to use it correctly without tripping over it! The next step is taking the jump rope in one of your hands and flipping it next to you, making sure to time your jump when it reaches the ground. You could also ask someone to watch whether you've got the timing right. And now, the grand finale! Grab the jump rope with both of your hands, and try to jump over it. Do not be afraid to go slow and make mistakes. Do one jump the right way. Then do two, then three, and soon enough you will be the champion of jumping rope. Always strive to better yourself!
There are also some common mistakes you must make sure to never do. Do not use your arms to swing the jump rope! Your wrists are the ones that should be doing this. Your hands should stay glued to your hips, while your wrists do all of the work. The elbows should make little pumping motions, enough to propel the jump rope. The only time you should use your whole arms is for the first swing, so you generate enough movement for the upcoming twists. Do not pull the arms away from your body! It will shorten the jump rope and it might hit you in the head. This won't hurt (that much), but it will ruin your routine. Do not hunch over when doing your jumps. Jump straight as an arrow, and allow your buttocks and hams to absorb the shock. The proper form requires an arched back while your shoulders are slightly pushed back. Do not bend forward, as this can create the chance for the rope to hit you. This should only be done if you're attempting to speed jump because the position makes the rope do smaller rotations. Make sure that you're not jumping too high, or kicking your heels around like a horse. Jump just a few inches off the ground, since the jump rope is thin enough to pass under your feet easily even if you lift yourself only a little bit. And last but not least, do not jump twice between the rotation of the rope! This is a bad habit that will be hard to defeat once you've formed it. Make the speed rope spin faster, and really force yourself to jump only once. You can then try to do the jog jump. This motion imitates simple jogging while the jump rope passes underneath you. It might seem complicated, but if you start slowly and gradually increase your speed you will see that it's really not all that difficult, and it will add some spice and variety to your home workouts.
And that's it! Once you've learned how to do this confidently, you're set on the right path and will be a pro speed rope jumper in no time.

Effectiveness
You probably think of the jump rope as a tool for getting better at doing a cardio workout. While this is very true, there are more benefits than that one a jump rope can actually bring to the table, so read on to discover what the rope is effective at and what kind of benefits it will give you!
First, the number of calories burned every minute you jump can be very impressive. There aren't a lot of exercises that can compete with it! The rowing machine and the treadmill at an incline can probably beat it, but that's about it. Even jumping at a moderate pace will burn about 15 calories per minute! If you use the best jump rope for 10 minutes and repeat that three times, you will burn around 500 calories, which is more than enough. Some scientists claim that skipping rope for 10 minutes can be compared with running eight miles per minute!
The jump rope will improve your haste and agility as well. You will get lighter on your feet the more you jump, as your brain will create new pathways with your muscles to make you more balanced and stable. This works because you force your mind to stay focused on your legs and feet, and as a result of that, even your coordination will get better.
Jump ropes are much gentler towards your joints and muscles when compared to running because you absorb the impact as you land with both of your feet. This will also increase your bone density! And last but not least, your brain will be happier after your exercise, and your wallet will not complain either since jump ropes are quite affordable!

Weight
Choosing the proper jump rope weight can mean a world of difference for your exercising experience. Every jump rope weight is a good weight, but if you're a bit more advanced, you can really benefit from trying out weighted jump ropes. But even if you are a beginner, you can still give the weighted rope a try and see if it works well for you.
If you experienced tripping over your rope, made many mistakes and simply didn't have luck with it, it could actually be because your jump rope was too light! A lighter skipping rope can ruin your coordination, while a jump rope that is even slightly heavier can slow it down and give you the chance to control it better. You will be able to time your jumping just right, so you will have a much better time working out with them. And of course, the more weight you swing around your body, the more benefits you will experience. You will trigger more muscle groups , and they will work harder and better too. And you will burn off some serious calories! So give weighted ropes a try, and you'll see that you will love using them.

Portability
Jump ropes are small and lightweight enough for you to carry them around with you wherever you are. This is excellent because you can have an impromptu exercise session whenever you feel like it, and you can take it with you even when you're not able to go to the gym to stay fit and active.
Jump ropes are long, really long sometimes, but luckily they are bendy enough and can be folded multiple times over to fit in the smallest of bags. They do not have any fancy attachments, and they do not require any electricity to work, so you can really use them just about anywhere you go. Some manufacturers even include free carry cases, to keep the skipping rope from tangling with your other stuff in the bag you carry. Choose to exercise with the jump rope, and you will have the chance to workout no matter where you go!

Durability
Jump ropes are really inexpensive. Some can be pricey though, but they still won't be a very big investment that can cause you to have a meltdown if it breaks. Still, buying something new and then having it break down only after a few rounds can be really depressing, so it's vital that you choose a jump rope that is durable and made out of the right materials.
The durability of jumping ropes is affected by many things, namely, the materials they are made out of and how much you use it, twist it around. A good, sturdy rope must be able to withstand a lot of abuse. Rubber, licorice, beaded ropes, and everything else in between is a really solid choice of material for a jumping rope. There really is no rope that can't withstand a lot of tugging and pulling, but some simply do it better than others. The handles also have to keep their shape, because you need to have a comfy place to grab onto when you spin the rope around your body. The handles usually have some sort of pads to make the whole jumping experience much comfier, and those pads have to withstand a lot of pressure too in order to keep their shape well. The bearings and twisting balls also have to be hardy. You will wiggle and twist your rope almost all the time, and the bearing must not fly off in the middle of this! A sturdy jump rope is a safety rope, so make sure that you've made the right choice before buying one.
Expert Interviews & Opinions
Most Important Criteria
(According to our experts opinion)
Experts Opinion
Editors Opinion
Users Opinion
By Default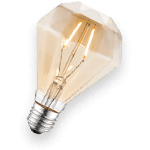 Brief History
Ever since we existed, we had the need to jump over objects, either to get from spot A to spot B, or just for fun. This makes jumping one of the most natural movements you can do. Early Egyptians and the Aborigines used vines and even bendy bamboo as some sort of jumping ropes, not for any survival purpose, but just for plain fun. Eventually, this turned into the rope jumping we all know and love/hate today. There are some medieval paintings that depict children jumping over ropes on the broken cobblestones of that time, and this is widely regarded as the first recorded evidence of rope jumping. The Dutch were the very first jumpers in America, hence the name "Double Dutch" for one of the more popular jumping rope game. It was in the 1970s that rope jumping seriously gained some traction, and was then used as a tool for improving fitness. This birthed the best jump rope design we all use today, and it's only helped firm our belief that the rope is a truly great form of exercising!
Size
The size of both your body and the rope is something to think about before buying the best jump rope for your needs. After all, no one was born the same way, and we all vary in shape and size. A taller person will need a longer rope, while shorter will logically need a shorter rope. There are some great jumping ropes out there that allow you to adjust their length whenever you feel like it, just by sliding the handles around and tucking away the extra rope. Some ropes can also be cut away to leave you with the length you desire. The proper length is important if you want to give your rope the momentum it needs to swing without hitting you in the head!
Other Factors to Consider

Safety Hazards
Of course, every form of exercising brings its own unique set of safety hazards and potential injuries, and the same thing is true for jumping ropes. The very first thing that could happen to you is the jump rope simply slamming into your head or limb as it twists around you, either due to poor technique or the wrong length. But there are some slightly more serious ways you can injure yourself when jumping over the rope, and it's not limited to falling down! One thing to look out for is the shin splints. Runners should be very familiar with this blinding pain that can stop you in your tracks and keep you from working out a few days, so make sure you listen to the signals your body sends you and try not to push yourself too hard. There is such a thing as too much pain! Master the proper jump rope workout technique, wear the right kind of clothes and footwear and choose a good surface to jump on and you will be safe and sound.
Frequently Asked Questions
q:

How do I know which jump rope size is good for me?

a:

Choosing the right jump rope size for your body is vital. The right size will keep you safe and injury-free throughout the whole exercise. It's important to note that some jump ropes can be adjusted to fit you, while others do not have this feature, so make sure to either buy an adjustable rope or select the size that is right for your height. The length and size of your jump rope will dictate how fast the speed rope will spin, and nothing more. So if you want to give speed rope a try, go for a short rope, but if you're just starting out with rope jumping, go for a longer jump rope to get used to the motion, and then you can transition to shorter ones!
q:

Can I lose weight by only jumping rope?

a:

Rope jumping is an excellent way to stay fit and lose a lot of weight. Truth be told, you could probably lose a lot of weight by just jumping rope. This form of exercise burns a big number of calories per minute, and it also builds muscle strength and endurance. But if you only did rope jumps and nothing more, chances are that you will soon be bored with the routine, and will probably start to avoid working out completely. So make sure to incorporate a lot of different machines and routines, or at least do different jumping and skipping styles to keep your mind and body enriched!
q:

How often should I use the jumping rope?

a:

If you're fit and experienced enough, you can use the jump rope whenever you lie, for 30 minutes or so. But how often you actually end up using the jump ropes will depend on many things. If you are just starting out, do not push yourself too much, because you can hurt yourself and create more problems than you started with, so this kind of cardio workout three to four times a week for 10 to 20 minutes is just good enough for you. Your current and past injuries and diseases are also something to keep in mind when gauging how often you should jump. Poor joint health and injured bones and muscles do not need to be exerted all that much to hurt, so make sure to spare them and give them some time to rest. These are just some things to look out for when jumping rope, but you will realize by yourself in time what works the best for you.
q:

How much space do I need to practice rope jumping safely?

a:

Luckily, jump ropes are really quite small and do not require a lot of space to be used. To use your speed rope safely, you do need a small amount of space though, around two feet around you on each side, and a bit more above you since the rope will swing over your head. A good way to know just how much space you need is to look at how long your arms are, and take that as a measurement, just to be on the safe side. If you're just starting out, you might need a bit more space to figure things out, and then find your little piece of peace and quiet and jump until you can't jump anymore!
q:

How should I store my jump ropes?

a:

Storing your jump ropes the right way will give them long life, and will save you some energy and time since ropes like to tangle if not kept properly. Do not stuff your jump ropes in your gym bag and keep them there until you use them, again! This can make them bend and curve where they are not supposed to, and they can get tangled so bad that you just don't know how to untangle them without cutting them and ruining them completely. The best approach here is to find some space where you can hang your jump rope, but again make sure not to hang them over a single point, since they can again get bent and develop kinks they didn't have beforehand!
Subscribe to our newsletter