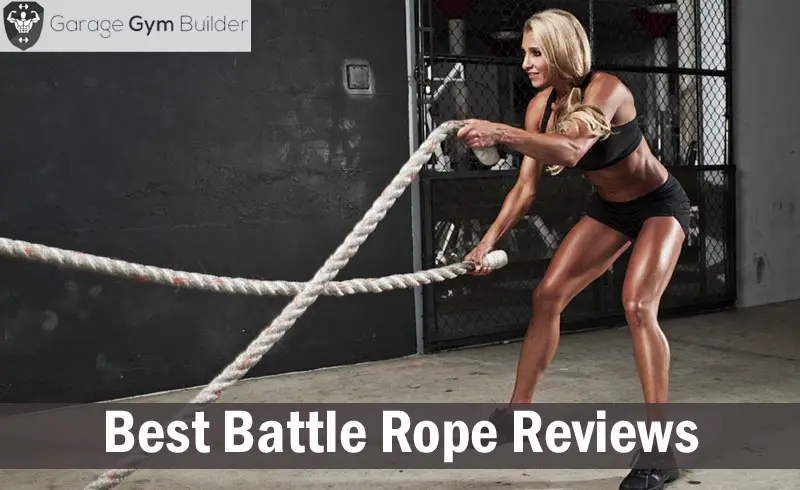 Best Battle Rope Review 2018
Battle Ropes have made their way into the mainstream of fitness over the last few years. First introduced by John Brookfield, they have proven to be one of the best ways to get strong, fit and powerful. The secret of weighted ropes is the ability to create dual force dynamic effects, combining the force of gravity with the rope to maximize results. In this article we review the Top 10 Battle Ropes of 2018.
A Quick Snapshot of the Best Battle Ropes
The best overall battle rope that we found was the BullDog from Rogue Fitness. Made in the USA, it features a nylon protection jacket, a bulldog collar and secure adonized aluminum hand grips. We also really liked the Outlaw 120, also by Rogue. This is a combination jump / battle rope. It features the same specs as the BullDog, but has a length of just 10 feet.
The best value battle-rope we reviewed was the Fitness Solutions black polydac. These power ropes are fray resistant, sturdy and resilient, yet provide the flexibility you need to get in a great workout. They come in at half the price of the market leaders.
To make it easier for you to compare the top battle workout ropes, we've rated the Top 10 on the basis of price and durability. Then we've provided an overall rating out of 5. In the following section, we'll go in depth on each product.​
The Top 10 In Depth
The BullDog battle rope from Rogue Fitness is an incredibly tough, American made rope for both indoor and outdoor use. The rope is made from polyethylene and wrapped in a nylon jacket to protect it from fraying. A bulldog collar adds further protection against deterioration of the rope. The handles of the BullDog are constructed from adonized aluminum, providing a secure, sweat free grip.
The BullDog provides a high level of workmanship using high spec materials that you don't see in most battle ropes. This rope is 45 feet in length and provides you with a heavy, solid workout. Using this rope, you'll develop every muscle group while boosting your metabolic endurance. Rogue provide a 90 day warranty on this product.
Protective nylon jacket
Adonized aluminum grip
Bulldog clip
45 feet long
90 day warranty
The Outlaw 120 rope by Rogue Fitness is a combination jump rope and battle rope. These heavy workout ropes are 10 feet long and is covered with a protective nylon jacket. A sturdy bulldog collar clip adds extra strength at the point central ground friction. In contrast to lower quality competitors, the handles on the Outlaw 120 do not spin, being made from high quality adonized aluminum.
In seconds you are able to transfer the Outlaw 120 from a jump rope to a battle rope. It weighs 5 pounds and has a maximum diameter of 1.5 inches. When you've completed your skip workout, simply loop the rope through a kettlebell handle and you are ready to go.
Combo jump / battle rope

Adonized aluminum handle

Bulldog collar clip

90 day warranty
The Fitness Solutions Black Polydac comes in a range of lengths from a 30 to a 50 foot battle rope. Constructed from heavy duty synthetic material, they will not fray, unlike manila ropes. The ropes are thick and heavy without being stiff. This allows you to work easily with them to create waves and other formations to intensify your workout. All Fitness Solutions products are made in the USA.
Fitness Solutions Black Polydac offer a very well priced alternative to the top end brands. It provides you with all the strength, flexibility and ruggedness of Rogue and OneFit Wonder ropes at about half the price. This is the best priced high quality battlerope that we have found.
Heavy duty synthetic construction

Thick but flexible

Made in USA

Best price for quality
The OneFit Wonder comes in either 1.5 inch or 2 inch battle rope diameter. Made from the highest quality polypropylene, these heavy duty metabolic trainers are 50 feet long. The synthetic fiber construction provides a long lasting, sturdy material that you can rely on to power through the toughest training session. Unlike manila natural fiber versions, you won't get any fraying with the OneFit Wonder.
The 1.5 inch version weighs in at 28 pounds, with the more heavy duty 2 inch version tipping the scales at 53 pounds. Beginners should opt for the lighter version, with the 53 pounder providing a challenging workout for event the most experienced trainer. The battleropes are available in a range of appealing colors.
High quality polyprop construction

Attractive color range

Sturdy yet flexible
The NexPro strength training ropes are made from 100% polypropylene and polyester, providing tough, resilient material that will not split. These ropes come in a standard diameter of 1.5 inches, and give you the choice of 30, 40 or 50 feet in length. The cord is comprised of three woven strands. An extra level of protection is provided by way of an Oxford waterproof battlerope sleeve, making this an ideal indoor and outdoor trainer.
The ends of this undulation rope are covered in heat shrink caps. This rope is perfect for boxers and cross fitters. In comes in a black color, making it dirt resistant. The weight of the ropes varies from 12 to 20 pounds. It is a well priced, quality rope.
Oxford waterproof sleeve

Heat shrink end caps

100% polyprop and polyester construction
Some fraying may occur over time
The Amazon Basics Fitness battle rope is a quality training rpe that comes in at a great price. It features three thick strands made from a durable polyester blend. This provides a great deal of sturdiness and longevity while also allowing for flexibility. This is a portable and durable rope that you can use anywhere. You can choose from either a 1.5 or a 2-inch width and various lengths, including 30, 40 and 50 feet. The high tensile strength of the strands that make up this rpe will prevent fraying and breakage. The ends of the rope are heat shrunk to keep the strands tightly compacted.

Your purchase of the Amazon Basics Fitness Training Battle Rope is covered by Amazon's limited one year warranty.
Great value

Durable

Range of thicknesses and lengths

Unreliable delivery times
The Super Deal black thick workout rope is constructed from 100% poly Dacron and is three twist stranded. It is water resistant, making it an ideal indoor outdoor trainer. They are very durable yet offer a great deal of flexibility. The polydacron cord is covered in an Oxford waterproof sleeve. This provides protection from wear and tear, including fraying and splitting.
The ends of the Super Deal black have heat shrink ends to keep the strands of the unit tightly packed together. The handles provide a very secure, sweat resistant grip, allowing you hang on as your forearms begin to ache. The battlerope comes in a variety of lengths. This is a good value rope.
100% poly dacron construction

Water resistant

Durable and flexible
May be too light for experienced users
The Yaheetech 15 inch polydacron battlerope is 1.5 inches diameter and 50 feet long. It has heat shrink caps on the ends of the cord which are appressed to maintain compactness and rigidity. The rope is a little bit stiff on first use, but quickly loosens up to provide the flexibility needed to get in a great metabolic, strength and cardio workout. It has sturdy, comfortable handles, allowing you to maintain your grip longer.
The Yaheetech battle-rope comes in at a competitive price point, providing quality and durability on a budget. It may not provide the level of challenge demanded by advanced trainers, but we think that Yaheteech is ideal for beginner and intermediate ropers.
Heat shrink cap ends

Sturdy, comfortable handles

Competitively priced
A little stiff at first use
The Giantex 1.5 inch undulation poly battle-rope is constructed from 100 polydacron in 3 tightly woven strands. This means that the cord will be less likely to splinter than you get with most natural manila ropes. It features a 600D Oxford waterproof sleeve to protect the cord, making it great for outdoor training. This 1.5 inch diameter rope comes in a choice of 30, 40 or 50 foot lengths.
Giantex 1.5 battle-rope is perfect for constricted spaces. It offers you a nice mixture of strength, rigidity and flexibility to allow you to perform wave notions and other challenging moves. It comes in at a competitive price and (and maybe free shipping).
100% polydacron

600D Oxford waterproofing

Great for small spaces
The Comie poly dacron battle-rope is made from 100% poly dacron. The 3 strand twist cord is more durable and fray resistant than natural fiber options. A 600D Oxford waterproof sleeve ensures the cord stays in pristine condition, even when left outdoors. The ends of the rope have heat shrink caps to keep the strands tightly compacted. A yellow tracking line along the length of this black rope adds style and aids in maintenance.
The Comie battle-rope is available in a range of weights and lengths starting at 1.5 inches in diameter and 30 feet long (16.47 pounds). The heavy duty model is 2 inches in diameter, 50 feet long and 47.4 pounds. The Comie is a well priced, high quality battle-rope.
100% poly dacron construction

600D Oxford waterproofing

Well priced
A bit stiff when you first use it
Now that you know which are the best , it's time to learn how to use your battle ropes. Check out this clip which takes you through the basics of great technique . . .
Conclusion
Our favorite battlerope is the BullDog from Rogue Fitness, which provides a very thick, durable polypropylene cord that is also very flexible. We were also extremely impressed with the Outlaw 120 rope also by Rogue, which doubles as a jump rope. It has adonized aluminum handles and a sturdy bulldog collar clip to enhance strength.
The best value battle-rope that we could find was the Fitness Solutions black polydac rope. This model provides a great blend of firmness and flexibility, is fray resistant and comes in a range of colors.