Top 10 Battle Ropes Reviewed and Rated
last updated:
Feb 11, 2020
Battle Ropes have made their way into the mainstream of fitness over the last few years. First introduced by John Brookfield, they have proven to be one of the best ways to get strong, fit and powerful. The secret of weighted ropes is the ability to create dual force dynamic effects, combining the force of gravity with the rope to maximize results.
With so many battle ropes out there, it's tough to decide which one is the best. This is especially true if you are a beginner - the ropes all look the same, so what's the difference? In this article, we review the 10 best battle ropes of 2019 to help you understand them better and to help you make an easier choice.
In a Hurry? The test winner after 5 hrs of research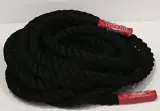 RopeFit Premium
Why is it better?
Super Long
Industrial Strength Handles
Rot Proof
Does Not Shed
4
Researched Sources
4326
Reviews Considered
5
Hours Researching
10
Products Evaluated
Use
Effectiveness
Materials
Size
Flexibility
By Default
10 Best Battle Ropes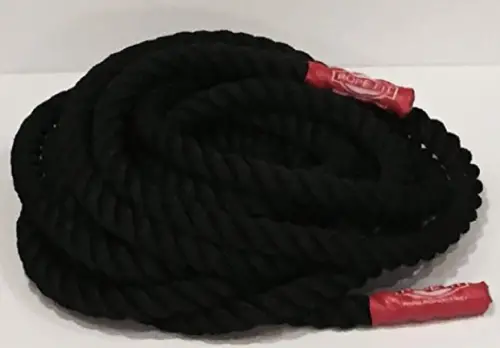 Super Long
Industrial Strength Handles
Rot Proof
Does Not Shed
The premium battle ropes from RopeFit can be used for just about any activity you can think of. You can use them to pull sleds, for tug-of-war, for battling and many more. These ropes come in the standard 30,40 and 50 feet length, but super long varieties are available too, measuring up to 100 feet. If you need a specific length, you can even do that too as they allow for custom lengths.
Read more
RopeFit recommends that you get a super long battle rope, and then wrap it around your anchor a few times to shorten it according to your fitness levels. As you get better and better at handling the rope, you can make it longer and longer until you reached the maximum length. All of their ropes have ends sealed with industrial-strength heat shrink handles for a better grip. These ropes can be used both outside and inside since they are water-resistant, won't rot, shed or fray as easily as many inferior ropes would.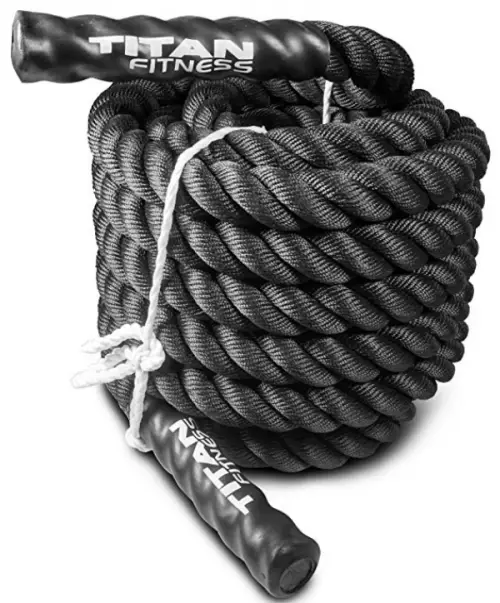 Heavy Duty Construction
Can Also Be Climbing Rope
Easy To Tie Up
Long And Comfy Handles
The battle rope from Titan Fitness was designed using heavy-duty poly dacron material, making it wear-resistant and super durable. The heavy rope will sculpt your body in just a few not-so-easy steps, improving your strength, grip, and power.
Read more
This rope is even more versatile than the others since it can be tied onto a mount and be used as a climbing rope. This serves as a testament to how tightly the rope was constructed, and to how durable the threads actually are. This battle rope is easy to tie up, and easy to put away. The handles are very long and comfortable, and your hands will not cramp us as you use it. The ropes have standard lengths and thicknesses. They are water-resistant, will not fray and leave tiny hairs all around your floor. Be mindful about leaving it outdoors, as it can cause excessive wear!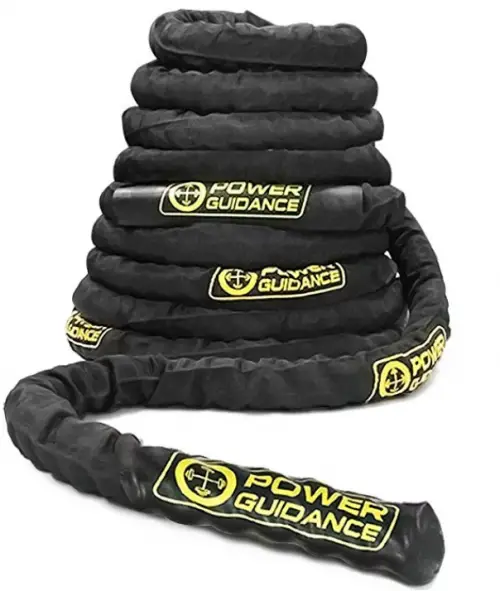 Free Anchor
Nylon Sleeve
100% Dacron
Super Sturdy
This battle rope from power guidance is equipped with the standard length and thickness to give you a proper workout session. This battle rope is made using only dacron, and nothing else! This makes it even heavier than the standard polydac blend, and sturdier too.
Read more
If you've got no place to anchor your rope to, do not worry, you will get a free anchor with this purchase. A nylon sleeve protects the whole length of the battle rope, making it even more durable, to begin with. The sleeve won't protect it from breaking or snapping, it will only make it less likely that the rope will fray or snag. The handles are heat shrunk and feature a big flashing yellow logo.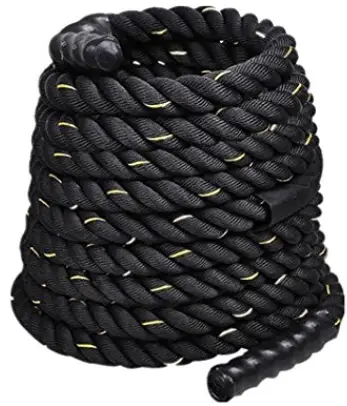 100% Poly Dacron Construction
600D Oxford Waterproofing
Easy Grip
Easy Maintenance
Heat Shrink Caps
The Comie poly dacron battle rope is made from 100% poly dacron. The 3 strand twist cord is more durable and fray resistant than natural fiber options. A 600D Oxford waterproof sleeve ensures the cord stays in pristine condition, even when left outdoors.
Read more
The ends of this battle rope have heat shrink caps to keep the strands tightly compacted. A yellow tracking line along the length of this black rope adds style and aids in maintenance. The Comie battle-rope is available in a range of weights and lengths starting at 1.5 inches in diameter and 30 feet long (16.47 pounds). The heavy-duty model is 2 inches in diameter, 50 feet long and 47.4 pounds. The Comie is a well priced, high-quality battle-rope.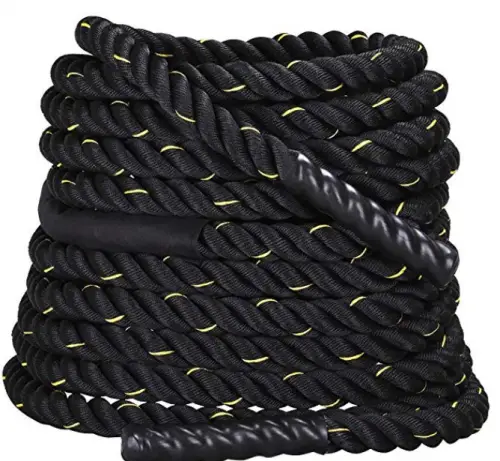 Three Twisted Strands
Sturdy, Comfortable Handles
Competitively Priced
Widely Applicable
The Yaheetech 15 inch poly dacron battle rope is 1.5 inches diameter and 50 feet long. It has heat shrink caps on the ends of the cord which are appressed to maintain compactness and rigidity.
Read more
This battle rope is a little bit stiff on first use but quickly loosens up to provide the flexibility needed to get in a great metabolic, strength and cardio workout. It has sturdy, comfortable handles, allowing you to maintain your grip longer. The Yaheetech battle-rope comes in at a competitive price point, providing quality and durability on a budget. It may not provide the level of challenge demanded by advanced trainers, but we think that Yaheetech is ideal for beginner and intermediate ropers.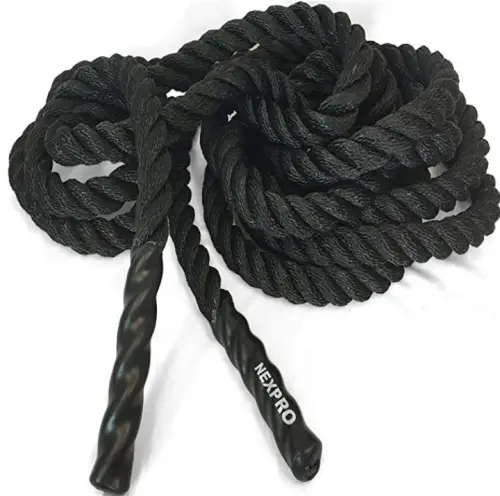 Polypropylene And Polyester Blend
Hard-wearing
Dirt Resistant
Heavy And Appressed
The NexPro strength training ropes are made from 100% polypropylene and polyester, providing tough, resilient material that will not split. These ropes come in a standard diameter of 1.5 inches and give you the choice of 30, 40 or 50 feet in length.
Read more
The cord is comprised of three woven strands. An extra level of protection is provided by way of an Oxford waterproof battle rope sleeve, making this an ideal indoor and outdoor trainer. The ends of this undulation rope are covered in heat shrink caps. This battle rope is perfect for boxers and CrossFitters. It comes in black color, making it dirt resistant. The weight of the ropes varies from 12 to 20 pounds. It is a well priced, quality rope.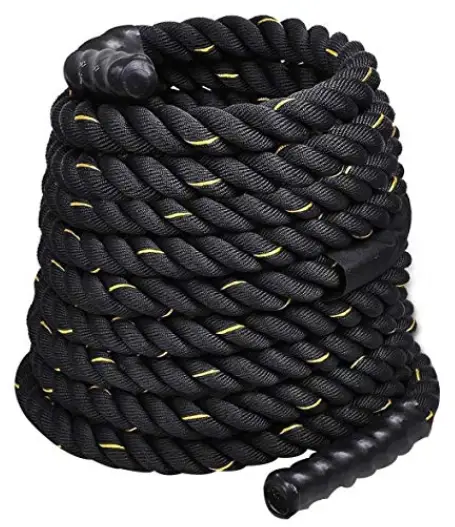 Wear Resistant
High Tensile Strength
Yellow Tracking Line
Easy Transportation
The Giantex 1.5 inch undulation poly battle rope is constructed from 100 poly dacron in 3 tightly woven strands. This means that the cord will be less likely to splinter than you get with most natural manila ropes.
Read more
It features a 600D Oxford waterproof sleeve to protect the cord, making it great for outdoor training. This 1.5-inch diameter battle rope comes in a choice of 30, 40 or 50-foot lengths. Giantex 1.5 battle-rope is perfect for constricted spaces. It offers you a nice mixture of strength, rigidity, and flexibility to allow you to perform wave notions and other challenging moves. It comes in at a competitive price and (and maybe free shipping).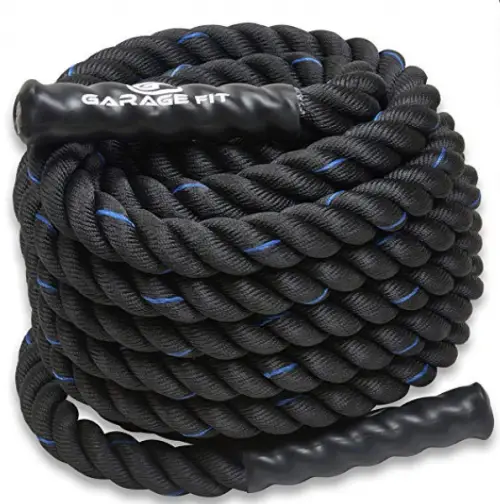 Variety Of Colors
Comes With A Sleeve
Polyester Blend
Waterproof Sleeves
This is the very first battle rope that comes with a splash of colors. The colors you can get this rope in are the standard black with a few blue specks, light blue, yellow and red. If you feel like you want to protect your precious battle rope, you can do so by ordering a Garage Fit battle rope that comes shielded by a sleeve.
Read more
This battle rope is made using three strands of a highly durable polyester blend. This blend prevents fraying even when you use the rope outdoors. The tensile strength is high to prevent early breakage. The heat shrink caps prevent the rope from fraying and give you a stable point to grip the rope at. The sleeves wrapped around the rope are waterproof, just like the rope is, and make it last even longer.
9

. Super Deal Poly Dacron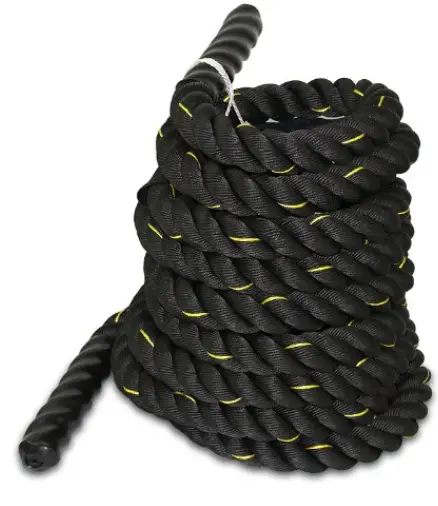 Various Length And Thickness
Has A Warranty
Upgraded Design
Flexible And Light
The Super Deal black thick battle rope is constructed from 100% poly Dacron and has three twisted strands. It is water-resistant, making it an ideal indoor-outdoor trainer. They are very durable yet offer a great deal of flexibility.
Read more
The poly dacron cord is covered in an Oxford waterproof sleeve. This provides protection from wear and tear, including fraying and splitting. The ends of the Super Deal black have heat shrink ends to keep the strands of the unit tightly packed together. The handles provide a very secure, sweat-resistant grip, allowing you to hang on as your forearms begin to ache. The battle rope comes in a variety of lengths. This is a good value rope.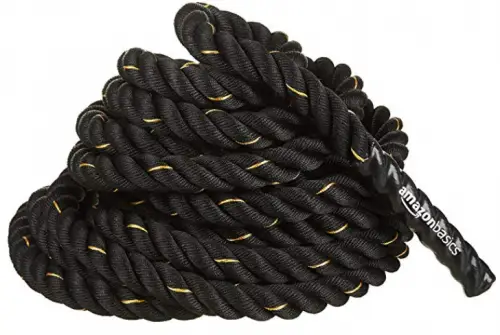 Durable Polyester Blend
High Tensile Strength
Increases Reaction Time
Not Pricey
Unreliable Delivery Times
The Amazon Basics Fitness battle rope is a quality training rope that comes in at a great price. It features three thick strands made from a durable polyester blend. This provides a great deal of sturdiness and longevity while also allowing for flexibility. This is a portable and durable rope that you can use anywhere.
Read more
You can choose from either a 1.5 or a 2-inch width and various lengths, including 30, 40 and 50 feet. The high tensile strength of the strands that make up this rope will prevent fraying and breakage. The ends of this battle rope are heat shrunk to keep the strands tightly compacted. Your purchase of the Amazon Basics Fitness Training Battle Rope is covered by Amazon's limited one year warranty.
Criteria Used for Evaluation

Use
One thing you will certainly wonder about when you first see a battle rope is how exactly are you supposed to be using it. If you want to gain some lean mass, then you've made the right choice! Depending on your routine, you will be working on your individual arms, back, core and even legs, combined with a killer cardio workout. You can even train for power if you slam them on the ground!
Although it might seem easy to just move the ropes up and down, you should try doing other motions as well. Moving them side to side will work your hips and core, giving your body stability. Moving the battle rope in circles will work on your shoulder mobility and range of motion, reducing the risk of injury. When you switch up the motions you will sculpt your whole body, and build functional strength.
Also, you could try using the ropes during your whole session. People usually use it as a finishing exercise, or as a part of a large circuit. But you could try doing every rope motion for 10 minutes or so, or you could even try doing waves for 20 minutes and see where that gets you. Focusing on one exercise for a long time sharpens your brain and helps you flush out lactic acid. Of course, it also extends the time you put your muscles under strain, which in turn builds strength and sheds fat.
In order to have an effective workout, you have to adjust the resistance properly. The distance from the anchor determines the amount of slack the battle rope has, which in turn determines the load. If you are standing closer to the anchor point, it will be much harder to perform the exercises. The further away you are, the easier it will get, so if you are just starting out try standing far away. As you progress, a step closer and closer to the anchor until you are juggling the full weight of the ropes. If you are doing a full set on the rope, alternate from standing closer to standing further away to give your muscles a small break.
Now let's actually mention some useful exercises you could try doing - namely two of them we feel like you should master. The first one is battle rope waves, something that you probably thought of doing by yourself. This is a classic exercise, and it works both of your arms independently while keeping the muscles tense for extended periods. All you have to do is hold the ends of the ropes at arm's length, and then place your arms in front of your hips, shoulder-width apart. Brace your core, and then raise your hands alternatively. Do so with explosive strength, and alternate your arms for three to four sets, which lasts from 1 to 2 minutes.
The other exercise we feel we should mention is the crossover. This is where you will slam the battle rope on the ground as hard as you can! This will work on your core and give you more power. You must keep your feet flat on the ground, and then begin moving your arms above your head in an arc.
Lift them to your left, and then slam them as hard as you can to the right. Do the same motion in the opposite direction, and alternate the same way you would with the first exercise. These are your two basic exercises, and once you master them you can give the more complicated moves a go!

Effectiveness
Battle ropes, even though it seems like they are a recent trend, have been used for a long time by football players, mixed martial artists and other sports enthusiasts. This is because the battle rope is quite an effective way to give your muscles a good run, while also proving to be a very good cardio exercise.
Battle ropes are usually used to work on the upper body, and they do that brilliantly. But they can also be effectively used to work on the core and lower body as well! If you work in lunges, jumping, squatting and other exercises that work on your legs you will get a full-body workout. Just 10 minutes of doing this will pump your heart up greatly, which will bring you into the HIIT area! HIIT (high-intensity interval training) is a super effective way to burn fat and build muscle as well. HIIT is a unique form of exercising, differing from regular aerobics in many ways. It will boost your human growth hormone, also known as the "fitness" hormone. The best part is that you can only do minutes of HIIT and achieve the same thing as you would be doing one hour of aerobics! If you push through and continue doing this for four weeks or more, your VO2 max will increase. This is the maximum amount of oxygen you can take in while working out and is often used to determine how healthy your heart is.
Both the alternative wave and double wave are simple, beginner exercises that push you into this zone. So not only are ropes an effective way to stay fit, but they are also a very effective way to stay healthy, or become even healthier than you already are!

Materials
The material your battle rope is made out of is probably the most important factor. Technically, you have three options when buying good battle ropes, and those are good poly dacron, cheap poly dacron, and manila.
Your best bet is probably poly Dacron. Poly Dacron ropes are made out of polypropylene and Dacron plastic threads. Then these strands are twisted into threads, with the Dacron acting as protection and a source of strength in the outer braid. The polypropylene acts as a light core and adds more strength. This makes the rope cheaper and lighter.
The best part about Dacron ropes is that they do not shed. Manila ropes are great, but only if you use them outdoors. They are quite sturdy, but are pricey too and shed like crazy, and cleaning up after them every time can be boring. Manila is great if you want a rope made out of natural materials since the threads come from hemp, or if you want to buy a rope that you will use outside - trust us, they do shed a lot.
You also need to be able to differentiate between good poly Dacron ropes and cheap battle ropes. Truth be told, a lot of manufacturers today have started using the term "polydac" without actually elaborating on what goes into the rope, and what the material proportion is. You won't be able to tell the difference if you just look at them - you need to actually hold the rope. Cheap polydac ropes feel more fibrous and are not as fluid. Fluidity is very important for battle ropes since this is what your exercise depends on most.
The easiest way to tell if you do not have the chance to hold the rope is the price. This is because manufacturers do not want to tell you what goes in their blend, and you have no way to see what is in there anyway. The optimum blend should be around 20% polyester and 80% Dacron. Anything that has more than 30% polypropylene in it will feel fibrous and stiff. But, a good polydac rope will also feel stiff when you first take it out of the box. You have to spend a session or two loosenings the battle rope up, after that, it will be flexible.

Size
The size of your battle rope, namely the length and thickness, will determine the difficulty of your exercises. Battle ropes come in three lengths, ranging from 30 feet to 50 feet, and two thickness levels, 1.5 inches, and 2 inches. The size of the rope you will be getting depends on your general fitness level, and on the amount of space, there is for you to work with the rope.
Thicker ropes will logically be heavier. This means that you will need to be stronger to work with them, so if you are a beginner it's better to take a thinner rope. Thicker ropes also require you to have a better grip and bigger hands. If you want to focus on your strength, it's better to go for a thicker rope, but if you want to give HIIT a go, go for the thinner rope.
You will be able to move it faster and harder, which will, in turn, raise your heart rate and pump you up. Thicker ropes will feel more like bench pressing, and they will require more control on your behalf, so you will need to engage more muscles into working with them.
Shorter ropes won't be so fluid. But this can be forgiven if you do not have enough room for a long rope, since you do need plenty of room to work with a rope, even with the shortest one. The rope will be folded in half since you need to anchor it, so you need enough room to fit half the length of your rope. This means that the longest rope requires 25 feet of room for you to maneuver it.
But the length of the rope will also determine the weight, so a longer rope will tire you out faster than a shorter one! If you are a beginner and have enough space to work with, your best bet is buying a 1.5-inch rope that is 50 feet long, since this will make it very fluid and easy to hold.

Flexibility
A good battle rope needs to be flexible. Most of the exercises performed with battle ropes require it to be fluid. A stiff battle rope will hinder your progress and might be even prone to snapping or fraying sooner than later.
Every battle rope will be stiff once you first buy it. Just like a good pair of shoes, a rope needs to be used first for it to start being flexible and fluid. But if your rope does not feel fluid even after the first few session, it could be that you've just bought a poorly constructed rope, and you can kiss the flexibility goodbye! This is why you need to pay attention to the materials a battle rope is made out of.
Cheap polydac ropes will never be so fluid, and they will always have a certain degree of stiffness to them, which will make working out with them harder than it's supposed to be. A good battle rope shouldn't be overly flimsy either. This is because you won't get a good workout with a wiggly rope, no matter how hard you trash it around. So, you have to hit that sweet spot between a stiff and a fluid rope in order to have a proper session!
Expert Interviews & Opinions
Most Important Criteria
(According to our experts opinion)
Experts Opinion
Editors Opinion
Users Opinion
By Default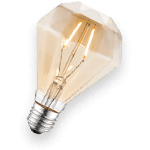 Make Your Own Battle Rope
A lower-cost battle rope alternative is actually making one from scratch! Truth be told, you probably already have what you need laying around your house. If you have a yard, chances are that you have a garden hose. Even if you don't have a garden hose, getting one will still be cheaper than buying a rope.
The garden hose is heavy enough for most users and will prove to be a good partner. If you feel like you need more challenge, you can always buy some sand and pour it into the hose, which will make it even heavier. Make sure that the sand is dry, and then seal off the holes with duct tape. All you need to do is wrap the hose around a fence, tree or post to create an anchor, and you're good to go!
Other Factors to Consider

Durability
One thing that all ropes tend to do is shed and fray. A battle rope that sheds will still be usable, but it will be horribly annoying, plus you will have a lot of loose threads to clean after you are finished with your strenuous routine, which is the last thing you will want to do when being so tired! You can prevent this by getting a rope that is made out of quality materials.
Also, manila tends to shed a lot because it is made out of hemp fibers. If you like manila ropes due to their quality and because they are natural, try using it outdoors - you won't have to clean up after it then. A poorly constructed rope will fray.
You can avoid fraying ropes by buying ones made out of a good blend of materials. Also, every rope will start to fray once you use it for a few years - after all, nothing lasts forever. You will still be able to use the rope once it does start to fray, and there are many ways you can stop the ropes from fraying any further. You can buy a sleeve that goes over the part that started to the fray to keep it tight and secure. If the rope is good, you will get a good few years out of it, no doubt about that!

Bottom Line
Do not be fooled by people saying that battle ropes are only for elite athletes. They are a great tool for everyone to start getting into shape, to maintain their level of fitness or to increase it even more! They are easy to wrap your head around, the exercises are straightforward, and there aren't many ways you could injure yourself by doing exercises with them.
Just make sure you've got a proper rope, and you are ready to take on the challenge. We hope that our guide has helped you understand battle ropes better and that you have found one worthy of your home gym.
Frequently Asked Questions
q:

How many ropes do I need?

a:

Believe it or not, you only need one rope! Although it does look like you need two ropes, this is actually one rope attached to an anchor. All the ropes will be long enough to be divided in half and still give you sufficient length to work with. Working with more than one rope makes no sense. After all, you only have two arms, where would the rest of the ropes fit? If you are looking for more weight to keep you going, you can just buy a thicker rope since this will be enough to challenge you once more. Or you could switch up your routine!
q:

What size battle rope should i get?

a:

The longer a rope is, the better it will be! A long rope will be fluid and flexible, and you will be able to use it with ease. 50-foot ropes are the best because you get 25 feet of rope in each hand to work with, which is quite a lot! If you do not have enough room, you can always go for a shorter rope. This just means that your rope might be stiffer and lighter. If you feel like a long rope is too heavy for you, you can always find one that has the same length but is thinner, or a lighter variety of material is used, making them easier to handle.
q:

Does the rope need to be thick?

a:

It does need to be at least 1.5-inches thick since you can't find a rope thinner than this unless you make one yourself. Most of the ropes sold today are 1.5-inches thick in the first place. This is because the people buying them are looking for a good cardio session, which is exactly what the thinner rope will give you. The thicker rope will be something like a weight, and it will be harder to wave it all around yourself. This means that thicker ropes are better if you want pure muscle gains, while the thinner ropes work great if you want a HIIT session and lean gains.
q:

How do I anchor the battle rope?

a:

There are many ways for you to anchor your rope. Usually, the place you bought your rope at will offer you an actual anchor. If you do not want to buy the anchor, it's quite simple to improvise. If you have any type of pole, column, fence, or even a tree, all you have to do is wrap the rope around it evenly and you're good to go. If you do not have any of these things, then you can use dumbbells, weight benches or any of the gym machinery you already have available. Just make sure that you are not moving the anchor around when you get to business because you won't be working on your body equally that way, and you could even hurt yourself!
q:

How many calories do battle rope exercises burn?

a:

This will all depend on the type of exercise you will be performing, to how long and how hard you are doing them. Battle ropes have the potential to be a HIIT type of routine, which really burns a lot of calories and fat making you learn faster. Your muscles will also be worked on at the same time, making battle ropes a great all-around tool for working out. It's almost impossible to work with battle rope for a longer period of time; instead of short but intense bursts lasting up to two minutes are performed, with a period of rest in between. In just four minutes, you will burn 45-82 calories. Ropes are a guarantee for burning a lot of calories for a short period of time!
Subscribe to our newsletter