Top 10 Aerobic Steppers 2023
last updated:
Feb 18, 2021
Aerobic steppers are a great tool to have in your home gym for a variety of reasons. If your cardio workout days consist of aerobic videos, including a stepper in your routine can bump up the challenge and tone muscles in your legs.
It is also a great way to work those tiny stabilization muscles in your legs that will benefit your heavy lifts (such as deadlifts for squats) or help you on your daily runs. They aren't just for aerobic activities, though.
Grab a pair of dumbbells and add a new layer of difficulty to your basic lifts, and some can even be used as a modest weight bench.
In this guide, we have selected some of our favorite aerobic steppers so that your workouts never become too easy or stale.
In a Hurry? The test winner after 17 hrs of research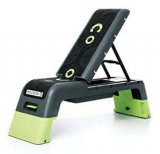 Escape Fitness Deck
Why is it better?
16 position configurations
Can be used as a weight bench, stepper, plyometric box and ramp
Solid, durable construction
3 position incline
44
Researched Sources
8k
Reviews Considered
17
Hours Researching
14
Products Evaluated
Features
Adjustability
Portability
Ease of Use
Effectiveness
By Default
10 Best Aerobic Steppers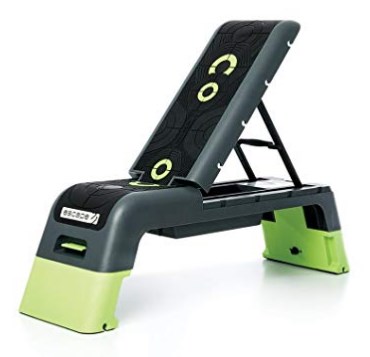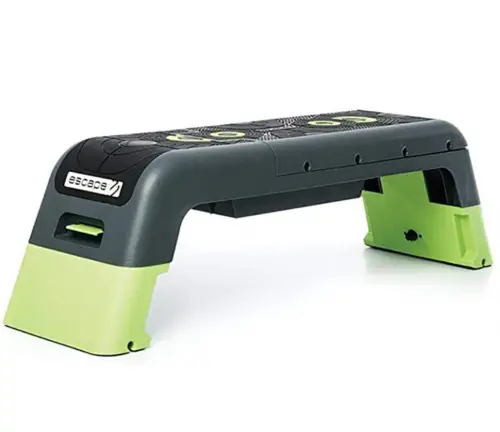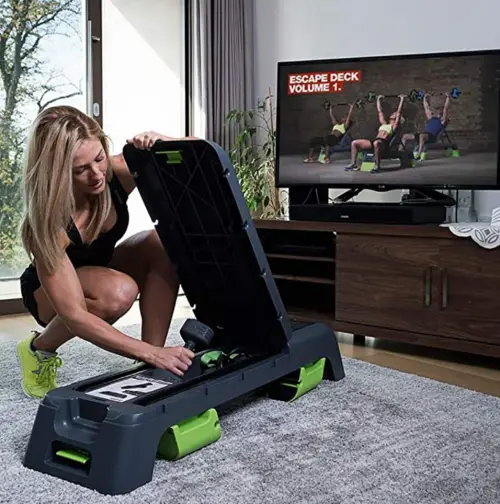 16 position configurations
Can be used as a weight bench, stepper, plyometric box and ramp
Solid, durable construction
3 position incline
Uncomfortable when you use the bench feature
The Escape fitness deck is easily our top choice for the best aerobic stepper on the market. It is so multi-functional, full of many different options to enhance your workout. The aerobic stepper includes resistance tubes and a handy storage area under the bench to store dumbells.
This stepper provides a superior level of strength, stability, and rigidity. It looks great, performs well, and is easy to store at the end of your exercise. This is definitely a pro-quality setup.
Read more
This is an extremely versatile aerobic stepper ready to provide you with a complete cardio workout. It offers 16 different configurations and positions which allow you to train from a range of heights and angles.
You can put it on the lowest level as a beginner and then make it higher for more of a challenge. One leg up and one down makes it a sit-up bench or the back goes up to make it a workout bench.
The top of the bench is an anti-slip surface with anatomic foot designs to let you know the best place to target your steps. There are resistance tubes included which will allow you to add more options to your workout.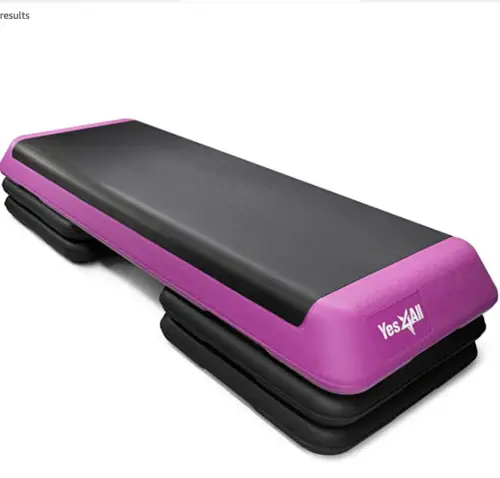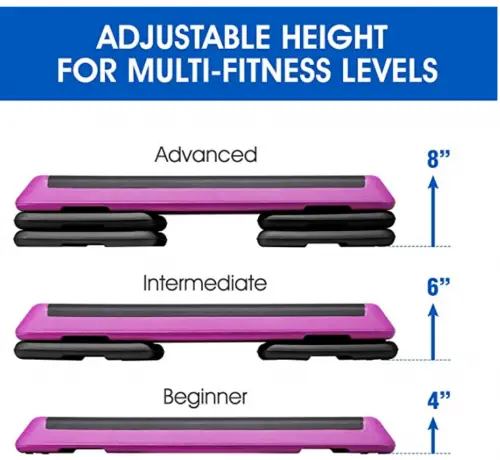 Very solid and durable
Strong polyethylene construction
Wider than usual platform
3 level height adjustment for various fitness levels
Non-slip shock-absorbing surface
Does not have an incline provision
The Yes4All aerobic stepper is a basic reliable design that comes in a choice of two different colors. This is a basic platform with a number of risers you can use to adjust the height to your level of exercise. It does not provide the extra features that you get with the Escape Fitness Deck, but it will provide a solid workout, time after time. The wide surface and the shock absorption ability of this aerobic stepper machine can easily support up to 300 pounds.
Read more
It is extremely sturdy. Made from very strong polyethylene materials, it features an extra-wide stepping platform to work on (14 x 40 inches). The height is adjustable at three levels, to a maximum of 8 inches, which will allow you to make it taller as your fitness level grows. Challenge yourself, raise your cardio, and burn more calories.
The aerobic stepper has a textured non-slip surface and removable risers which will not skid while you are using it. The surface is easy on your hands, feet, or back. You can use this aerobic stepper for multiple exercises including stepping, pushups, split squats, and decline mountain climbing.
It is perfect for indoor or outdoor use, and when you use it indoors you will not have to worry about any slipping or scratching the floor.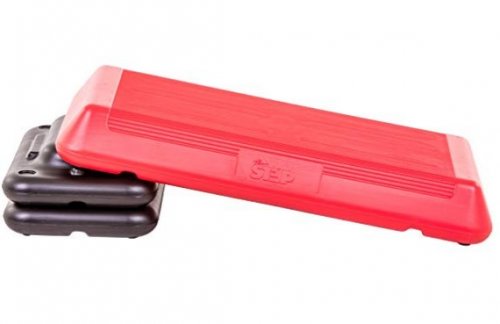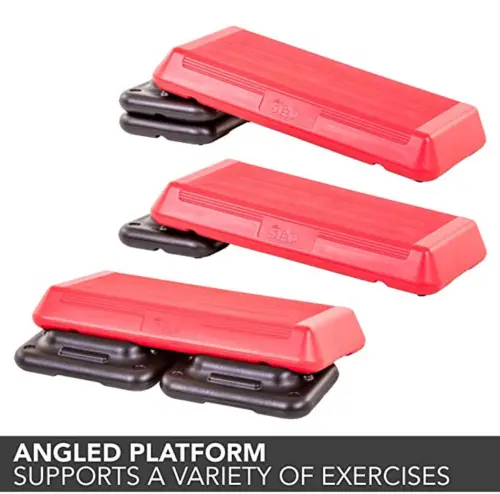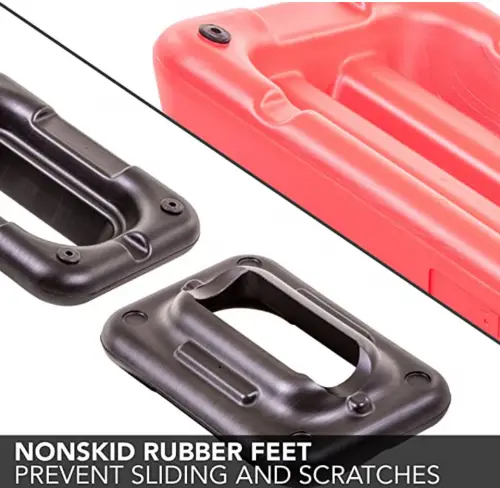 Solid construction
Large 40x14 inch stepping surface
3 adjustable heights between 4 and 8 inches
Grooved, non-slip surface
The grooved surface is uncomfortable for hand body weights
The Freestyle Step aerobic stepper will provide you with a good, solid workout. It doesn't have any fancy extras, but what it does do it does well. The construction is solid, made from durable high-density polyethylene. The height adjustments are what you need at four and six inches. The platform comes with two risers which raise it to six inches. It will also sit on the risers at different angles so you can vary your workout. The finished design looks simple and appealing. Overall, this is an aerobic stepper that delivers.
Read more
The Freestyle Step is a simple unit, made by The Step, the original aerobic training step. It is an attractive bright red with black "feet" risers. The surface is grooved for non-slip safety. The risers keep the platform from sliding or scratching the floor. It supports 275 pounds or up to 400 pounds with the risers.
This platform is circuit-sized, making it perfect for residential use. It can be used on any type of flooring without scratching or scuffing the surface. The patented risers add variety to your workout with different slanted positions you can use to add intensity to your workout.
This aerobic stepper also comes with instructional streaming videos< so you can get the most out of your fitness program.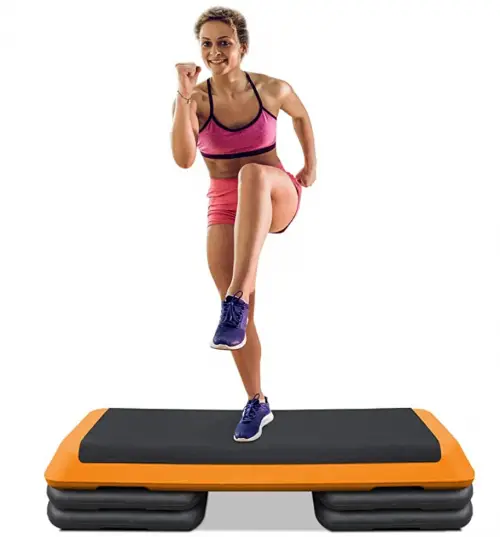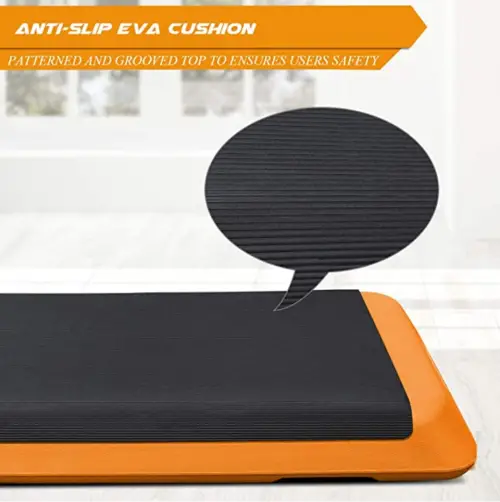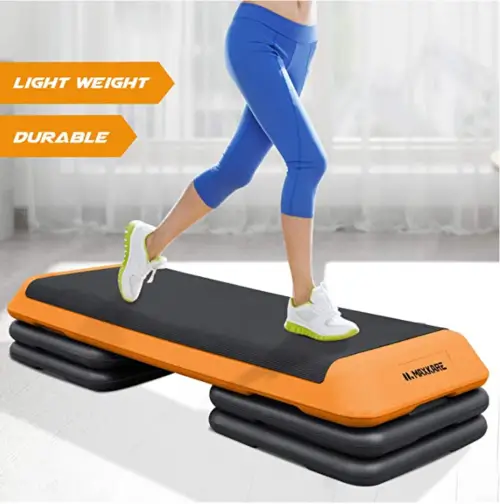 High weight capacity
Easy to adjust
EVA foam surface
What makes this design from MaxKare stand out from the pack is its overall size and adjustable features. If you find that the small and narrow designs make it difficult to really dig into the movements, this design is much wider and longer than some of the designs we have seen. It isn't exactly a space-saver, but it is a great design for a wide variety of workouts.
Read more
The very first thing that we noticed about this design is that it allows users to adjust the height of the platform. There are three sectionalized legs that can easily be popped out to make the platform higher or lower as needed.
The base is also composed of grippy material that ensures that you will always keep your footing, even as you start to fatigue. It is composed of EVA buffer foam with grooved edges that help you keep your footing as well as provide a softer landing area for a little bit of extra support where you need it.
Like we mentioned easily, this design is slightly bigger than many of the other models that we have seen. It measures to be about 42 inches long and 16 inches wide. It is also able to accommodate up to 550 pounds, making it a great choice for jumping and even dumbbell work.
5

. ProsourceFit Deck Stepper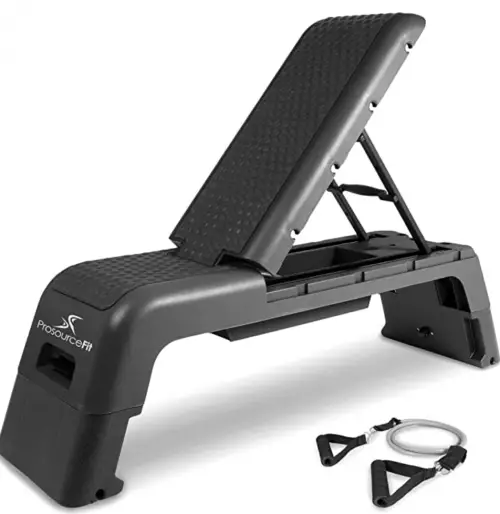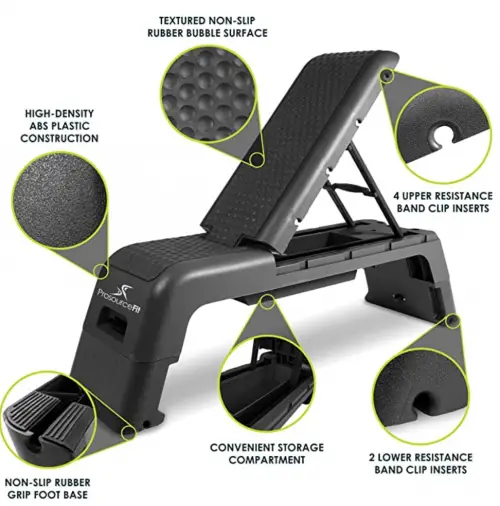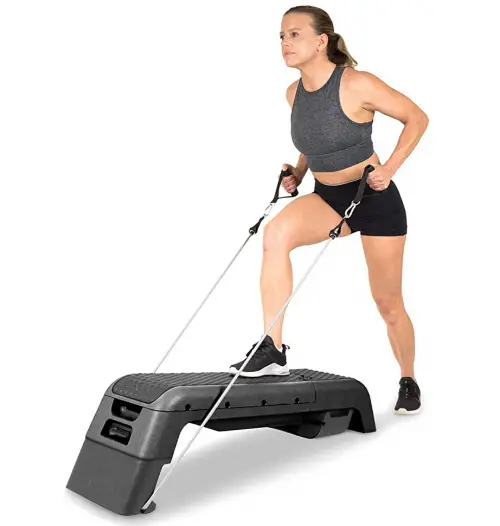 Transforms into bench
Easy to adjust
Resistance band included
This design from ProsourceFit expertly fits a wide variety of workout stations into the sleek and compact stepper. At first glance, it looks like your basic step platform, but it actually is able to be adjusted in a variety of ways to target a wide variety of muscle groups and serve more functions than basic stepping.
Read more
The frame of this design is super strong and secure, and incredibly easy to adjust. To make the platform higher or lower, simply fold the base layer legs down and inside. This style of adjusting not only changes the height of the platform but also provides a reinforced layer that makes this design more strong and stable.
The best part about this design is that it allows users to transform the platform into a makeshift weight bench. The platform can be raised and one end and secured in place in three different positions from fully upright to a slight decline. It also comes with a set of resistance bands that affix to the side for excellent resistance work.
It's important to note that the price tag of this design is higher than many of the other options on our list. However, we feel that this design is an excellent value given its versatility, construction, and ease of use. If your home gym is lacking proper machines that help you dig into your workouts, this design from ProsourceFit is worth checking out.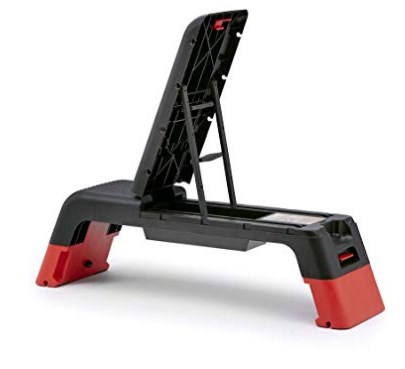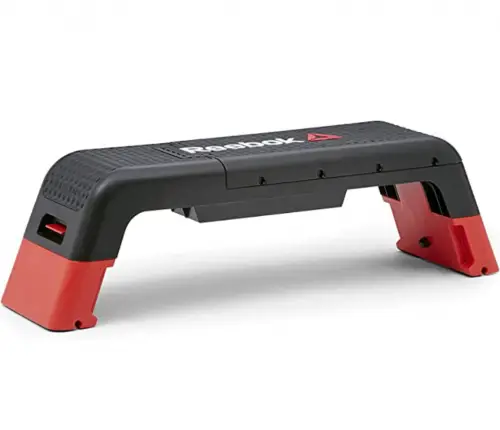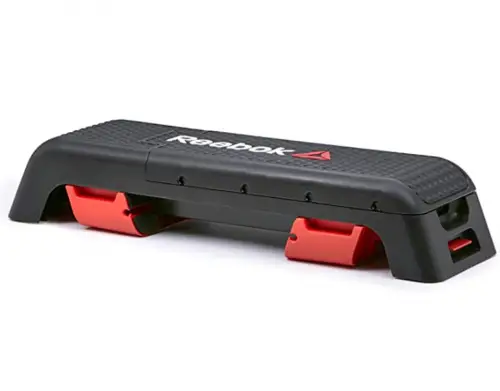 Adjusts to two different heights
Non-slip surface
Handy storage compartment
Is good for multiple types of workouts
Does not come with instruction manual or workout ideas
Reebok creates this deck to be in a class of its own. This sturdy stepper comes in two different colors to match your gym equipment. The deck can be used at two different heights and will accommodate weight up to about 330 pounds. It also includes three different incline angles so you can use a variety of different workout exercises and styles to switch up your exercise regime.
Read more
This is a versatile aerobic deck you can use in so many different ways. It moves into three different positions to enhance any workout. In the flat position, you have two different heights to work with. Use this position to step, jump, lunge, or just do flat bench strength exercises.
Lift the "lid" to create an incline workout bench you can use for exercises that build up your upper chest. If you fold down and lock one of the deck's feet you can focus on decline exercises like crunches. You can also use resistance bands to help with arm strength.
This aerobic stepper is covered with a textured, non-slip rubber surface. It has clips to attach the resistance tubes to vary your workout. This Deck also has a handy internal storage department to keep your hand weights, resistance tubes, and other small accessories into de-clutter your workout space.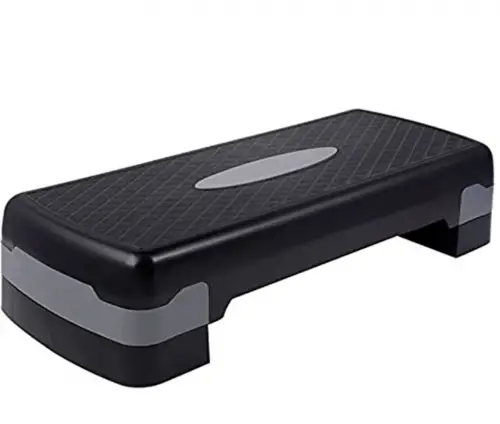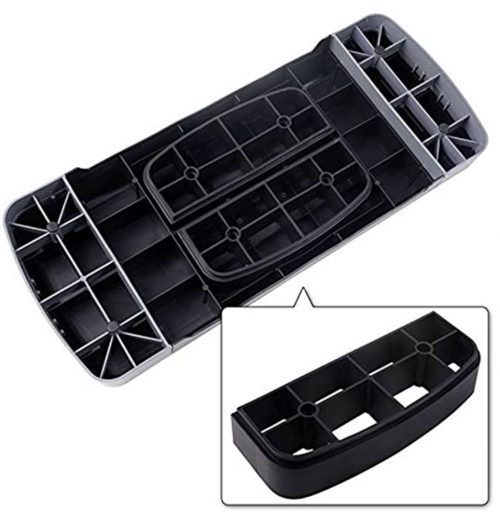 Handy and portable
Sturdy and durable, great for plus-sized people
Shock absorbing so easier on your ankles
3 adjustable heights
You cannot buy additional risers
The KLB Sport adjustable stepper is a sturdy fitness companion that will be perfect for workout classes or exercising at home or in the office. It provides a shock-absorbing, textured surface to ensure you exercise safely and easily. This aerobic stepper is 31 inches long, 11 inches wide, and adjusts to 4 inches, 6 inches, or 8 inches tall. It is durable and made of strong plastic.
Read more
KLB Sport was established in 1988 with the goal of manufacturing the most innovative, creative and high-quality products and provide clients with the most satisfactory service. They created this basic aerobic stepper that will support your workout.
It has a weight limit of 550 pounds so it is very sturdy. This aerobic stepper is not fancy. It is a basic unit that will get the job done.
You can use this stepper to help with cardiovascular exercise with steps, pushups, or even dance exercise. Use it to strengthen your lower body and stretch out your hamstrings. Using the support blocks you can raise the height and thereby intensify your workout.
8

. Escape Fitness USA Step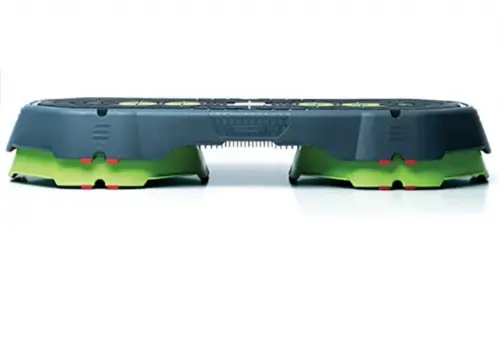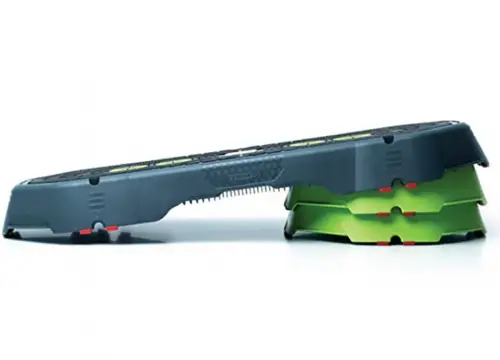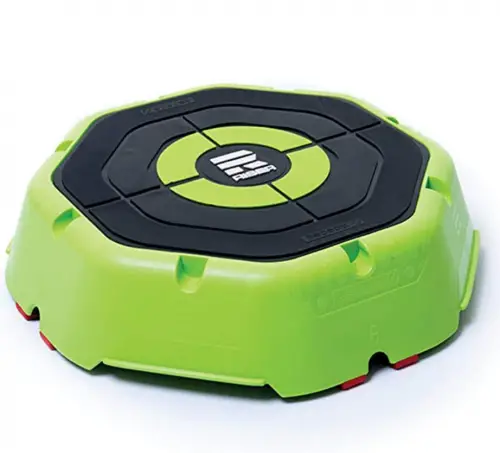 Small footprint
Easy to adjust
Rubber stability feet
Looking for something that is a little bit different? This design from Escape Fitness USA is a great choice for those super high-energy workouts. It boasts a more rounded shape that makes it ideal to be used at all angles and comes with quite a few platforms to quickly amp up the intensity as needed.
Read more
What makes this design stand out from all of the other designs on our list is its innovative shape. It boasts a hexagonal design that makes it easy to step up during those fast-paced workouts where you are jumping and zig-zagging around the gym. It even boasts shock-absorbing rubber feet that stay firmly in place and provide a little extra support.
We also like that this design is super easy to adjust as needed. This platform comes with 5 different booster plates that stack in a place like a set of dishes. Users love that you can hear an audible click when the riser is locked in place to ensure you are ready to go. It is also super simple to pop off platforms when you need to lower your platform.
If you are in the market for something that is a little bit different that is able to keep up with your high-intensity and fast-paced movements, this design from Escape Fitness USA is a great choice. We love that it comes in at a super affordable price point and boasts a smaller footprint that doesn't take up that much room in your home gym.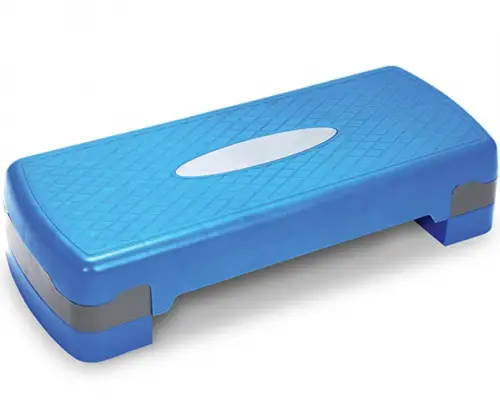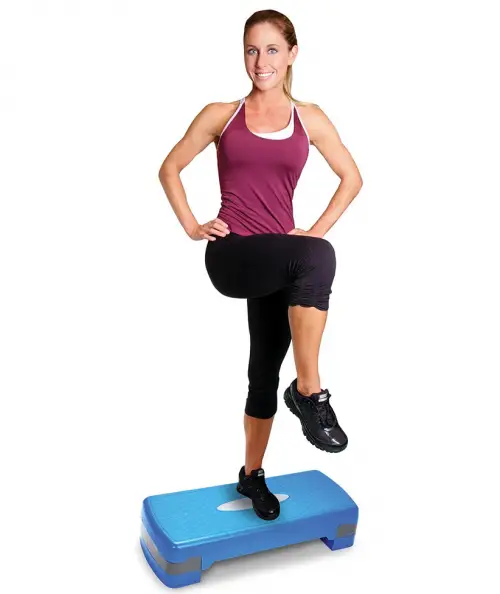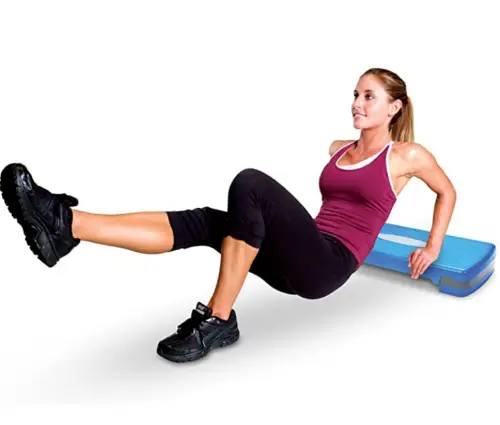 Versatile
Durable
Extra risers fit under the base
Comes in fun colors
The Tone Fitness comes in a cheery blue color and is a nice basic stepper which will be great for your exercise routine. Step up on it for your steps and kicks or you can use it to elevate your arms during leg lifts. This is an affordable piece of equipment you can set up and use easily, and then conveniently store it when you are done.
Read more
Tone Fitness is dedicated to your health and fitness goals. The company designed this economical little stepper as a perfect tool for your fitness needs. It only weighs a little over five pounds so it is lightweight and easy to carry.
The platform has a non-slip surface and feet which will not slide around on the floor to provide stability and also protect your floor. This aerobic stepper is adjustable to two height levels and comes with a workout chart to give you additional instruction and exercises.
This little bench comes in a choice of blue/grey or black/pink options. It is perfect for working out whether you are at a beginner, intermediate or expert level. This aerobic stepper is adjustable and when the risers are not in use, they fit under the base of the bench.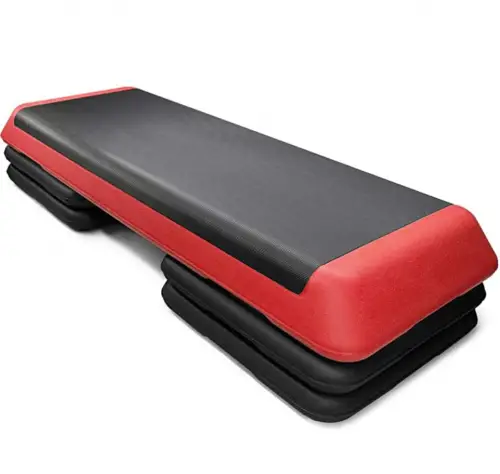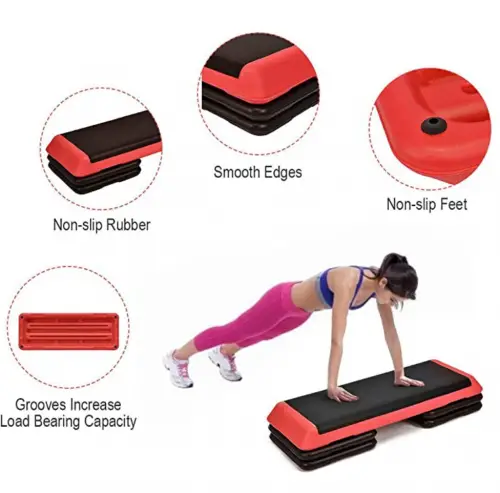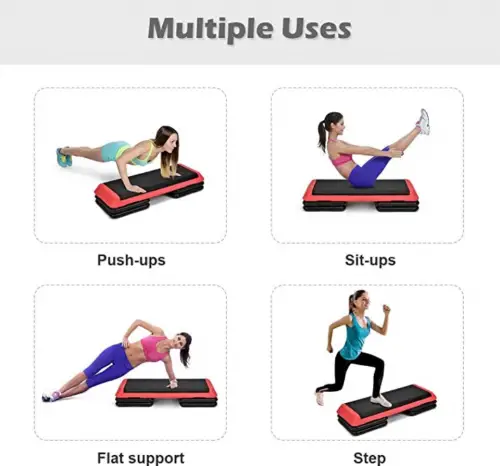 Smooth edges
Durable non-slip rubber surface
Grooves increase load-bearing capacity
Has non-slip feet
Gets slippery if it gets a little damp
The Goplus step platform is basic fitness equipment that can provide easy help in your workout. It comes in your choice of black with trim in green, yellow, or pink. You can use it as a stepper, flat support, pushups or situps enhanced by the three available heights at 4 inches, 6 inches or 8 inches. This platform is durable and comes with a 100% satisfaction guarantee to get the job done.
Read more
The Goplus supports up to 500 pounds. It is heavy-duty, made of high-density polyethylene. The three height levels are very convenient to meet your various fitness needs.
The Goplus is lightweight with a shock-absorbing design and a textured surface so you will not slip while working out. Extra grooves in the design help to hold the extra weight. This is definitely a fun way to get a good cardiovascular workout.
This aerobic stepper is designed with rounded edges to protect busy shins. It will stay put while you are working out while at the same time saving your floor from scratches.
Criteria Used for Evaluation

Features
Smart features allow for quick adjustments and a strong and stable base to help shape and tone muscle.
When shopping for an aerobic stepper, the first thing you will consider is the product's features. Working out is an activity you will be doing a few times so you want a stepper that has all the features that you need.
Keep an eye out for little perks like a storage area to keep small equipment or hooks which will hold resistance tubes if that is an exercise you are interested in.
Most of the products we found come in basic black or grays, but there are a couple on the list that come in brighter, colorful combinations.
Consider the motif of the room you will be keeping the aerobic stepper in at home. If you are planning to take it to the gym or office, you may want something more stylish or colorful.

Adjustability
Easy to use adjustable features allow you to raise or lower the difficulty as needed.
You are looking for an aerobic stepper that will help your workout. You need one that is sturdy and can handle you stepping, jumping, or leaning against it. Give some thought to the fitness routine you plan to follow and what exercises you plan to do. You will want a platform that will match your goals.
It is helpful to have an aerobic stepper that will adjust to different heights. If you are a beginner in aerobics, you can start at the lowest level and work your way higher as your fitness level progresses.
Also, you may want to do different exercises which require you to be a certain distance from the floor. It is additionally helpful if you have a stepper that will bring one side higher than the other so you can do exercises that are enhanced by an incline like sit-ups.
Some of these aerobic steppers have the option of a deck that folds up into an incline so it can be used as a weight bench.
If you are interested in using dumbbells or resistance tubes in your workout, this will be something you might want to look for.

Portability
It's important that you are easily able to move these designs to where the workout is happening.
We made sure to select designs that are compact and easy to take with you on the go. Often, cardio workouts happen in the living room in front of the television and not in your home gym in the garage or basement. Selecting a design that is small, compact, and lightweight makes it easy to transport your platform from room to room.
We also wanted to make sure that we selected designs that are small and compact for easy storage. The good news is that most of the options that we selected are able to be adjusted to lie completely flat, which makes it easy to pop into the closet or slide under the sofa to clear up from floor space.
Be sure to take into consideration your available floor space and storage options. If you don't have a lot of room to work with, larger designs like what we saw with MaxKare may not be ideal for smaller spaces. If you are really low on space, the Escape Fitness USA option is one of the smaller designs on our list, and it is also the most portable when needed!

Ease of Use
For fast-paced cardio routines, you need a design that is quick and easy to adjust.
Changing the height of these units needs to happen quickly and effectively to keep your workout light and snappy. We made sure that we selected designs that allow users to raise and lower the legs on the unit with ease. Many designs utilize interlocking pieces like Lego bricks that snap in place and can be removed simply by pulling a lag off of the base.
While the grippy rubber surface is essential to keep your footing while you workout, also pay close attention to the base of the unit. To be effective and safe, the base of the unit needs to also be composed of grippy rubber materials that will not shift around on your while you step and jump.
We prefer designs that utilize rubber grips on the base. These rubber legs not only lock the platform to the floor but also provide mild impact absorption to help protect your knees and joints as you train.
It's also important to take into consideration the size of the platform. Wide platforms are easier to use because they offer a wide surface area that is stable and secure. While they may take up a lot more space and smaller designs, they are easier to use and also a lot more versatile. Be sure to consider what is more important to you: ease of use or portability?

Effectiveness
At the end of the day, you want to select a design that is effective at building strength and toning.
In order for an aerobic stepper to be effective, it needs to be easy to use and able to be used for a variety of exercises so you will stay interested in working out with it. It should have the ability to adjust and help vary your routine. Having good shock absorption helps as well, especially if you enjoy working with leg weights.
Some of the fancier steppers are set up so you can do many different exercises. Some incline so you can sit on it like a weight bench and use dumbbells. If you enjoy using resistance bands, some of these benches have clip areas on the sides so you can attach them.
Expert Interviews & Opinions
Most Important Criteria
(According to our experts opinion)
Experts Opinion
Editors Opinion
Users Opinion
By Default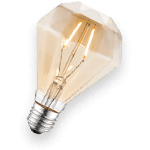 Choose within your aims
When choosing a system, look for a product that is within your aims. There are many good brand products on the market, they offer variations on how much of a workout you will do. With this thought in mind, go for a trusted brand and a design that sits comfortably within your training aims.
You don't want something that falls short and you don't want a product/features and design which does not fit in with your own aspirations. Shop around and see what is available. If you are buying online, browse customer reviews, these are a goldmine of helpful information and can steer you towards making a good investment for your training.
Materials
Don't be fooled by the appearance. An unknown brand product sitting on the shelf for an amazingly low price, may well look good but you need to ask yourself how was it made? What standard are the materials/how good is the actual construction? Will it break within a short period of time and then you have to go out and buy again?
Keep these questions in your mind when you are choosing a product; go for a trusted brand.
Frequently Asked Questions
q:

How often should I do step aerobics?

a:

Whether you do longer sessions every few days or short little sessions throughout each day, any exercise is good exercise. It is so important to get your body active.

The Department of Health and Human Services recommends around two and a half hours of moderate exercise or a little over an hour of vigorous exercise every week, spread over the ten days.

A good general rule of thumb would be to plan at least 30 minutes of moderate activity every day.
q:

What muscles does an aerobic step work most on?

a:

That is a big question since the step can be used in so many different ways. There are long lists of exercises you can do or even make up a few of your own. You can shape and tone all types of muscles.

The exercises can strengthen your calves and stretch your hamstrings. Aerobic stepper helps to make your quadriceps stronger. You will also tighten up your glutes and strengthen your hip flexors as well.
q:

How does step aerobics help my health?

a:

Aerobic stepper provides low-impact workouts which will help you burn calories and, combined with a good diet, also help you lose weight. The activity can help boost your heart rate and blood circulation. It is also easy to learn and not too expensive.
q:

Is step aerobics okay if I have osteoporosis?

a:

Osteoporosis is a bone condition associated with growing older when the bones become weaker and more likely to break. If you have been diagnosed with this, you may need to avoid exercises like golf, extreme sports or weight machines.

Exercises you do on your aerobic stepper though may be a different matter. Aerobic dance, Zumba, or step exercises are all considered "osteoporosis friendly".
q:

Is using an aerobic step recommended if I have not exercised in years?

a:

An aerobic stepper is a great low-impact option for exercising. If you have not exercised in years, it would be a smart idea to slowly build up your strength and endurance. Consulting your physician is probably a good idea too.

This is especially true if you are an older adult, someone with a neuromuscular condition, or someone with a history of injuries. Always start slow, build up gradually, and listen to your doctor's advice.
Subscribe to our newsletter