Top 5 Glute Ham Developers for Your Home
last updated:
Dec 26, 2019
Glute-Ham Developers, otherwise known as GHD machines or Roman Chairs, are finally gaining the respect they deserve as an indispensable piece of training equipment. For decades, the glutes and lower back have been neglected in favor of the more showy muscle groups, like the chest and biceps. The Glute Ham Developer has been developed for both commercial and home gym use. The models on offer for use in the home gym setting range from mediocre to outstanding. We have sifted through what is available to bring you the best of the best. In this review roundup, we'll cover the 5 best glute ham developers on the market today.
In a Hurry? The test winner after 25 hrs of research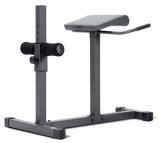 Marcy Roman Chair
Why is it better?
Solid construction with 2-inch square, 14 gauge steel framing
High-density padding
Side grip handles
Easy to assemble
Adjustable ankle pads
42
Researched Sources
12k
Reviews Considered
25
Hours Researching
14
Products Evaluated
Features
Ease of Use
Durability
Adjustability
Effectiveness
By Default
5 Best Glute Ham Developers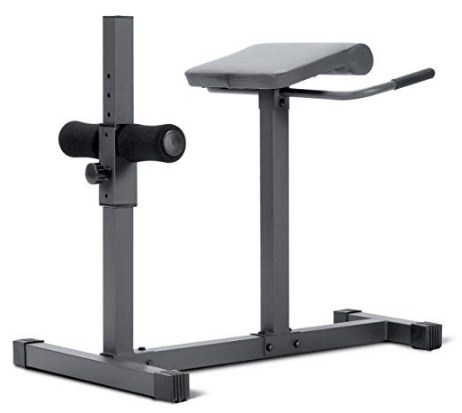 Solid construction with 2-inch square, 14 gauge steel framing
High-density padding
Side grip handles
Easy to assemble
Adjustable ankle pads
Torso support pad should be thicker
The Marcy Roman Chair is a versatile piece of equipment which can be used for a wide range of abdominal equipment. It will work on your glutes and hamstring muscles while strengthening your lower back at the same time. Use this equipment to get get the rock hard abs you are working towards.
Read more
At the other end of the price spectrum to the Rogue Monster sits the Marcy Roman Chair. This is a no-frills unit that is designed to effectively work your glutes, hamstrings, and core - and that is precisely what it does.
Marcy Roman Chair is constructed of 2-inch by 2-inch heavy duty 14 gauge framing. The padding is high density, Dulux boxed upholstery. The machine is finished in a stylish gray powder coating. The unit is easy to assemble and comes with full assembly instructions.
The Marcy GHD features adjustable height ankle pads to allow you to adjust the unit to your bodily dimensions. Padded assist handles support when you are in position on the machine.
The Marcy Roman Chair is manufactured by Impex Fitness who have been key players in the home fitness industry since 1980. They offer a 2-year guarantee on the Marcy Roman Chair.
2

. CFF Glute Ham Developer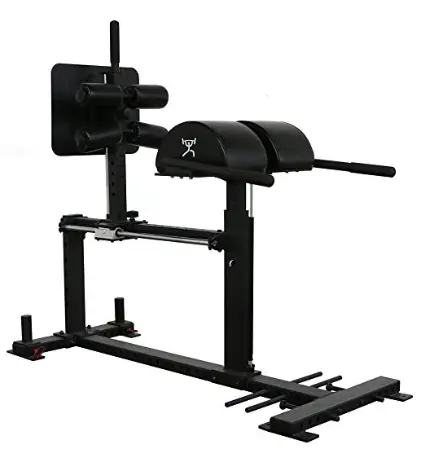 Solid construction
Easy to assemble
Wheels for easy transport
Handles above foot rollers
Extra long support handles
Band Pegs
Weight horns for enhanced rigidity
Extra thick ankle and torso pads
The 72 inch by 29-inch footprint takes up a decent amount of space
The CFF Glute Ham Developer will help you improve your squat and deadlift by helping you build up a stronger back. It will also help you with lower back pain. You will get help developing your legs and hamstrings. This is great equipment to help you build your washboard abs. It is the right height and shape to let you get a full extension on a sit up. It is made of strong steel construction with a black powder coated frame.
Read more
The CFF Glute Ham Developer is a mid-range product between the two extremes of the Rogue Monster and the Marcy Roman Chair. This GHD machine was specifically designed for cross-training. With the feedback received from their original glute ham developer, CFF has added some very helpful features to this unit.
CFF Glute Ham Developer is constructed of durable to 2.5-inch x 2.5-inch 9 gauge steel. The padding is larger than the original model with both ankle and torso pads coming in at 330 PSI. See if you have added band pegs and plate horns to provide extra stability for the machine.
The CFF Glute Ham Developer now features wheels for ease of transport.
The 18 & a half inch handles are slightly angled to make it easier for you to get into position on the machine. There is also a handle above the foot roller to assist you in getting into position for sit-up movements.
3

. Powerline Roman Chair/Hyperextension Machine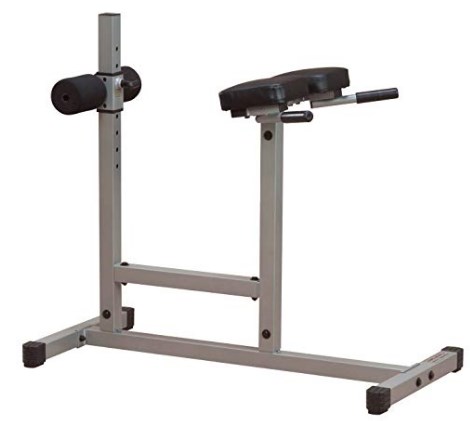 Very rigid base
Heavy duty steel construction
Adjustable ankle pads
Short support handles
Large footprint
Pads are not very thick.
The Powerline Roman Chair has hyperextension to support abdominal, gluteus, hamstring and lower back training. It is made of 2-inch by 2-inch steel construction which is heavy duty with a wide base to keep it from rocking. It also has a durable powder-coated finish.
Read more
The Powerline Roman Chair is a solidly constructed unit made from 2-inch by 2-inch square steel framing. It features a wider than usual solid base to provide rigidity when exercising.
Powerline Roman Chair comes in an electrostatically applied powder coated finish. Ankle pads are fully adjustable. This unit will support anyone up to 250 pounds in weight.
4

. Titan Fitness Glute Hamstring Developer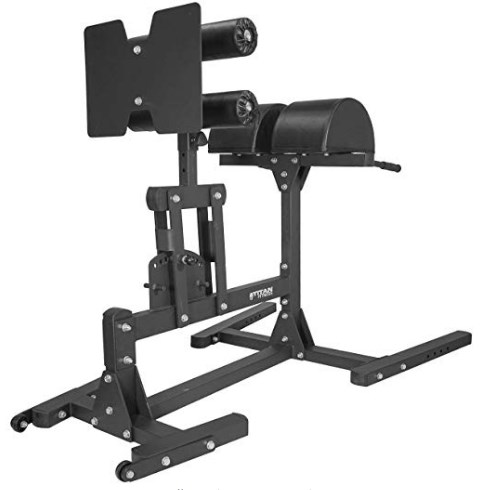 Great for cross training
10 adjustment settings
Heavy-duty steel construction
Maybe too short for taller guys
Titan Fitness is dedicated to helping customers reach and surpass their fitness goals. This is revolutionary equipment which will help you isolate the muscle areas in your lower body. Use it for situps, knee curls, raises and so much more. The cushioned padding will protect your ankles and the extra large roller will help with stability during your workout.
Read more
The Titan Fitness is the perfect piece of equipment to help you tone your glutes and hamstrings. This bench helps you work isolated muscle groups for the ultimate workout. You can do a wide variety of exercises on this machine, which is an additional reason to have a Glute Ham raise at home. It is good for cross-training and helps you to increase your range of motion.
This machine is similar to the Roman chair, but it provides more support and stability while you are doing sit-ups and back extensions. The roller has nice padding that holds your feet in place while you work on your lower body muscles. It is easily adjustable and will work for people of any size. It has 10 adjustment settings so this machine will match your needs.
5

. Cap Strength Roman Chair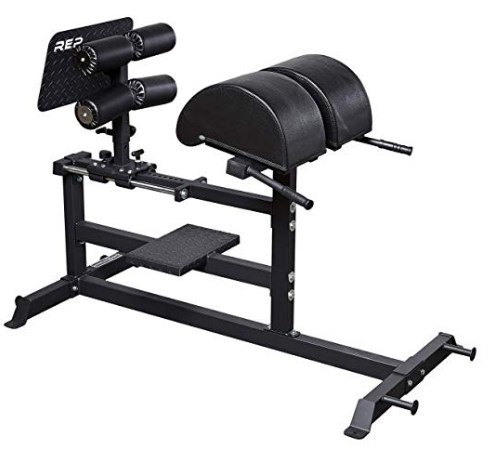 Features oversized footplate
Adjustable and easy to use
Made of heavy gauge steel
Does not arrive with very good instructions
Cap Strength Roman Chair will help you build stronger posterior muscles and functional strength. This chair will help you work on your hamstrings, glutes and your lower back. When you develop these muscles you can reduce injuries. It has a step up footplate and is built sturdy to last. This machine comes partly assembled.
Read more
The Cap Strength Roman Chair will help you to develop hip flexors and posterior muscles. This machine will help you get stronger lower body muscles. This machine has many advanced features and adjustments, band pegs and a step up footplate.
You can adjust the footpad horizontally with one hand, move it up and down and lock it into place. It has added stability. This machine is made of heavy powder coated steel and the base is nice and stable. High-density foam padding and durable vinyl add to the quality of this unit.
Criteria Used for Evaluation

Features
Features are important to research when you are getting ready to purchase a new piece of equipment. Make sure the chair you are looking at is able to help you with all of the exercises you are ready to focus on. Make sure it is made of good materials. Take a look at the size to be sure it will work with your body frame and with the space you plan to put it in.

Ease of Use
When looking for a machine which is easy to use, make note how easy it will be to get on and off of. Check to make sure the cushioning is comfortable to protect your feet or ankles. It should also be easy to adjust so you can easily get the resistance you need.

Durability
You want a machine which is sturdy and durable. It is nice to be able to feel stable and secure when you are doing your exercises up on the machine. Look for equipment made of solid steel with powder coating finish and padding which is thick and will stay in place.

Adjustability
It is nice to find a machine which is easily adjustable so you can set it up to fit your stature perfectly. It is also nice to have adjustable resistance so you can give yourself more of a challenge as your muscle tone improves.

Effectiveness
For your equipment to be effective, it needs to fit your needs. You should be able to use it for the exercises which are going to help you reach your goals. Hopefully, it is adjustable so it works with you and maybe even comes with instructions and exercise suggestions.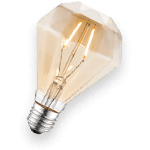 Learn how before you jump on
You may think the machine is a no brainer, but if you do not use the machine correctly it can actually lead to injury. If you take the time to learn how to use it correctly though, you will be able to take advantage of all the exercises it can offer.
Learn how to do a GHD raise
We see most athletes using this machine for situps and back extensions but that is actually not the exercises it was designed for. It was designed for raises. If you learn how to do those, it will help develop your Olympic lift, dead lifts or squats.
Frequently Asked Questions
q:

What muscles does the glute ham raise work?

a:

The GHR is stellar for your lower body. It works glutes, hamstrings, and calves as well as strengthening your lower back.
q:

What exactly is a Glute Ham Developer?

a:

The GHD is an effective tool for doing various bodybuilding exercises which are hard to find anywhere else. It builds strong lower body muscles and promotes core to extremity power, and is excellent for owning a Glute Ham raise at home.
q:

What exercises can you do on the GHD?

a:

It is great for many exercises including hip and back extensions, raises, situps, and Russian twists. That is only a few of many.
q:

Is the GHD good for my back?

a:

This machine can help strengthen your lower back but if you have back problems you probably should not use it at all. The Glute Ham Developer will put a lot of strain on your back and on your spinal cord.
q:

What about the quadratus lumborum?

a:

The quadratus lumborum goes from your pelvis up into your 12th rib. When you are using this muscle there is a risk that you can cramp it up. This is because it does not perform well in that position.
Subscribe to our newsletter