Best Smith Machines For Your Home or Garage Gym in 2021!
last updated:
Jan 07, 2021
The Smith Machine was actually invented by a man who is known as the father of American Fitness, Jack LaLanne. But it was gym executive Rudy Smith who developed it and had it manufactured for commercial gym use in the mid-1950s.
The Smith Machine looks like a modified power rack. It consists of a barbell that is fixed inside of steel rails. Vertical posts feature a series of hooks onto which the barbell is placed. During the workout these act as a self spotter, allowing you to bail out of the exercise by simply flicking your wrists.
The Smith Machine is a controversial piece of equipment. It has a lot of haters who claim that it should never be used. Then there are those who swear by it as a powerful and effective muscle builder. First, though, let's identify the best Smith Machine for your home gym.
In a Hurry? The test winner after 10 hours of research: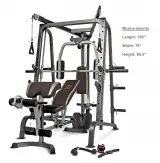 Marcy Diamond Elite
Why is it better?
Glides Freely
Very Sturdy
High And Low Pulleys
Olympic Plate Storage Pegs
Padded Bench
In a
Hurry? Editors choice: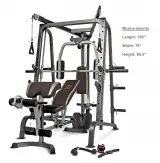 Test Winner: Marcy Diamond Elite

16
Researched Sources
13k
Reviews Considered
10
Hours Researching
12
Products Evaluated
Use
Effectiveness
Features
Durability
Stability
By Default
Criteria Used for Evaluation

Use
The Smith Machine has received plenty of hate over the years. Naysayers will tell you that it's not functional, it relies on a fixed plane of motion, it doesn't require stabilizer muscles and that you can hurt yourself while using it. But, if you are interested in hypertrophy - muscle growth - the Smith Machine is a smart training choice. However, beginners should not use the Smith machine. They need to build a foundation that integrates their neural motor pattern with the natural movement pattern of the exercise. They can only get this from free weights.
For intermediate and advanced trainees, however, the Smith Machine is beneficial. They have already learned the proper movement patterns of the muscle and know-how to make the target muscle fire. Most modern Smith Machines have a pulley system set up to the barbell. This, in effect, reduces the weight of the barbell. However, the old fashioned barbells that do not have a pulley system, are actually heavier than a barbell. With these machines, you also have the weight of the hooks as well as the weight of the barbell.
A typical Smith Machine barbell is around 15 pounds of weight when the pulley set up is factored in. However, a free weight barbell is a deadweight of 45 pounds. In effect, this means that when you put a 45-pound plate on each side of the bar, with a Smith Machine you're lifting 105 pounds, compared to 135 pounds with free weights.​ Many people claim that using free weights is far superior to using a Smith Machine. They generally cite the following reasons:
1. Free weights force you to balance and support the weight;
2. Free weights engage more stabilizer muscles;
3. Free weights put you in a real 3-dimensional training environment.
However, using a Smith Machine will still build muscle. Former Mr. Olympia Dorian Yates did his squats and bench presses exclusively on a Smith Machine. And a lot of modern pro bodybuilders use the Smith Machine and achieve phenomenal results. The Smith Machine allows you to more specifically target the working muscle group. For example, when doing the squat, the Smith Machine takes the load away from the accessory muscles so you can focus on the quadriceps. Another huge benefit of using the Smith Machine is that they provide a safety factor that you cannot get with free weights. The Smith Machine has a built-in spotter that allows you to bail out if you get in trouble. One more plus with the Smith Machine is that it allows you to perform partial reps by locking out halfway through a repetition. This is great for building up your strength during the weakest part of the movement.
While you would never want to exclusively train on a Smith Machine, it provides a valuable adjunct to free weight training that every serious trainer needs. The Smith Machine is especially good for front squats, incline bench presses, bent-over rowing, decline press, and barbell lunges, so you'll have more than enough choices to keep your muscles busy!

Effectiveness
One of the best benefits of working out with a Smith machine is the peace of mind you will achieve, which will, in turn, help you focus better. The reason why is very simple - the Smith machine acts as a spotter, so you don't actually need a person to help you, you can just rely on the Smith machine to keep you safe. You don't need to worry about barbells or weights dropping down on you and pinning you underneath them! Just knowing that it's almost impossible to hurt yourself while using the Smith machine is enough to calm down most people, and make them more confident as well.
One more great thing about the Smith machine is that it's basically a super-versatile piece of equipment, combining many different machines in one package. This means that you will be able to work on your whole body using just one machine. This makes the Smith machine the perfect addition to both commercial gyms and home gyms.
Smith machines were made to balance out the weight you lift, as opposed your muscles having to do it by themselves. This is a very controversial feature though because many people argue that you need to work on those stabilizing muscles as well if you want every benefit possible. But when you're not using them, you conserve energy, and you will have more strength to lift heavier weights, or to do more reps, resulting in muscle growth.
The Smith machine is also an excellent tool for squatting. The squat is definitely one of the most popular exercises out there, and it's as brutal as it is popular! The biggest problem with squatting is the pressure it puts on your knees, and if you're not squatting properly, you can hurt your lower back as well. If you have knee issues, or back issues, or your mobility is impaired for any reason, the Smith machine is just what you need to start squatting properly. The machine simply does not allow you to do the squat the wrong way, thanks to its construction. The barbell alone can wobble, you can lose your grip, you can sway, lose your balance and much more, which simply can not happen if you're working out using the Smith machine, and the only way you can go is up or down!
And most importantly, the Smith machine is easy to use. There are no pulley cables, weight stacks, high-tech consoles or anything else that can confuse you. On the Smith machine, you have the bar where you add plates, a simple bench, and the cage which keeps you balanced, and that's it, nothing to lose time over! Once you're done, you just remove the plates, put them in their place and that's it, hassle-free exercising!

Features
One very important feature every Smith machine needs to have is a precision bearing system, also known as a guided track. The guided track is a combo of free weights and guided weight stacks. You are still going to have to add or remove the weight, but the bar itself sits on the guided track and there's no room for mistakes. Most Smith machines have a vertical track. The vertical track creates a smooth feeling when you lift, and leaves you worry-free about not being in the right form. This does limit your movements, but it keeps you safe at the same time. Some Smith machines have a horizontal guiding track as well. This track makes lateral movements a possibility. Some Smith machines have breaks at the bottom to stop the weight from hitting the floor if you drop it, or some springs that do the same thing.
One more great feature to look out for is the onboard storage a Smith machine has. The machine itself might be a bit chunky, but it makes up for it by giving you a neat place to stack your weights on. There will be no need to buy an extra rack or to put the weights on the floor, which is even worse. Most Smith machines do have the extra room for weights, so you won't have to worry about allocating even more space to put them in. Also, the Smith machine usually has many safety pins and other safety features that act just like a spotter would, allowing you to exercise by yourself.
Some Smith machines even come with a pull up bar, giving you one more option to think about. This makes the Smith machine even more versatile, yet again adding one more tool that gives you the chance to further strengthen yourself!

Durability
The durability of the Smith machine is one thing to seriously consider before buying your machine. If the machine is not durable, it won't be safe or stable either, so not only will you lose money but you also endanger yourself! Look at how the machine was constructed, and which materials were chosen to make it.
The Smith machine absolutely must support a lot of weight when you go on it. This is described by the weight capacity of the machine. How much weight your machine must withstand depends largely on your fitness level and how often you plan on using it. If you're a beginner, you don't need a machine that can withstand more than 300 pounds or so. If you're an advanced lifter and want to challenge yourself, you will need a machine that can withstand 1000 pounds or more! Anything less is a recipe for disaster. Remember that the bigger the weight capacity is, the bigger and heavier the machine will be, and the price tag will also be big. Look at how the machine was made, and what materials were used to build its frame. The more metal the machine has, the better it will be! So look for Smith machines made out of high-grade steel, with a good coating that protects it from rusting and damage. The screws, bolts, pins and everything else in between that may hold the machine together also must be very sturdy and built well.

Stability
This is a crucial feature that must be in absolute order! The machine has to have a wide base and long legs to support the whole construction. The wider the base is and the more of its surface touches the floor, the more stability the machine will have.
If the Smith machine lacks stability and you're lifting heavy, as soon as you let go of the bar or make any mistake the machine will wobble, move around, or maybe even fall, creating potential risks for injury! You can bolt some Smith machines to the floor, but then if you need to move them you will need to undo everything, plus you're going to be left with unsightly huge holes on the floor. No matter what, the machine must be stable and solid as a rock if you want to exercise safely!
Expert Interviews & Opinions
Most Important Criteria
(According to our experts opinion)
Experts Opinion
Editors Opinion
Users Opinion
By Default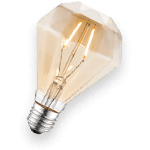 Size
Let's face the facts here - Smith machines are huge. They are one of the biggest pieces of equipment you can fit into your gym! They can also be quite heavy, especially if they were meant to withstand a lot of weight. Smith machines are almost never portable, so where you set it down is where it will be. You can probably take it apart to store it away, but it can be quite a hassle and it's not worth losing time over. If you have a little home gym, or if you do not have a ceiling high enough (about seven feet or more, if your Smith machine has a pull-up bar), you might have issues with fitting your Smith machine into your home! There are smaller machines out there, but then you will need to sacrifice durability and weight capacity for size. All in all, measure everything twice before deciding to buy the Smith machine!
Maintenance
You must take good care of your Smith machine if you want it to function well for a long time. Make sure to wipe down and clean the machine diligently after every use. A cleaning rag will be your new best friend, as you will use it to wipe down your sweat, blood, and tears! No moisture can be left on the coated metal if you do not want to risk corrosion. The moisture also leaves unsightly stains and ruins the shine of the machines. You need to use a high-quality metal cleaning solution to prevent rusting. You should also wipe down any other gear you used with a Smith machine. Do not spray any solution directly on the surface of the Smith machine! Spray it on your rag or towel first and then wipe down the surfaces. Inspect every bit that has screws in every week, or even more often, to see if everything is where it needs to be. If you find any loose screws, tighten them with a screwdriver or a power tool, but don't overdo it and make it impossible to unscrew them if need be!
Other Factors to Consider

Bottom Line
A Smith Machine is an excellent adjunct to any home gym. Once you're already set with a power rack, a quality Smith Machine will allow you to take your training up a notch. The best home gym Smith Machine we came across was the Marcy Diamond Elite, which gives you so much more than simply a Smith Machine. For the budget-conscious, you can't look past the Powerline PSM 144X by Body-Solid.
Frequently Asked Questions
q:

How much does the barbell on Smith machines weigh?

a:

The standard Olympic barbell usually weighs about 45 pounds, and that is something most of us are used to. But with Smith machines, these barbells can be a little lighter. This is because the Smith machine was made to help the bar glide up and down alongside the tracks. Many manufacturers make their barbells 10 pounds lighter, although there are barbells that weigh 20 pounds less! This may sound concerning, but the safety and coordination the Smith machine offers easily make up for that difference because you will be able to handle more weight! Just remember that the bar weighs less and account that into your total weight lifted and everything should be in order.
q:

Are the muscle gropus activated when using a bench press different than the ones activated by using a Smith machine?

a:

The bench press and Smith machine both activate the biceps, triceps, pecs, and deltoids the same way and with as much intensity. This is what you can expect out of each model, but the Smith machine does have more ways to activate even more muscle groups, making your whole body work for the goal, instead of just your upper body feeling the challenge. Also, you will be able to lift more when using the Smith machine thanks to the extra stabilization and balance it provides, making the results you seek appear faster!
q:

What are the cons of using a Smith machine?

a:

Every machine has its own set of pros and cons, and the same is true for Smith machines. The very first thing you need to be aware of is the path of the barbell. It will stay in it's fixed path and will not wiggle or move no matter how you try, so you won't be able to do anything else but lift it up and down, which can be a drawback to some people. Some people also may find the fixed bar movements to be uncomfortable. Although the Smith machine is safe, some exercises cannot be done safely here, so it's not such a versatile tool after all. And lastly, the barbell is difficult to remove. With that being said, the Smith machine does have plenty of benefits which make it a worthwhile machine!
q:

Can beginners use Smith machines?

a:

Yes, they can, and they can do it with a lot of confidence! The Smith machine was simply made for people who are just learning proper form and may not do the exercises safely without the Smith machine. The machine also allows you to work with the minimum amount of weight, so you won't feel overloaded when you begin using it. Both beginners and serious users can use the Smith machine equally, the only difference is the weight capacity of the machine - beginners need a machine that can withstand up to 300 pounds, while serious lifters need a machine that can handle 1000 pounds or even more!
q:

Are Smith machine squats bad?

a:

Squatting is a very difficult exercise by itself, as it puts a lot of strain on your knees and back. Some people simply cannot do free-weight squats because of this, and the Smith machine does wonders for them, allowing them to finally squat. So, it is much easier to squat using the Smith machine. You won't work on your accessory muscles though, so you will need to do some extra work to develop them, but the Smith machine is not detrimental to your progress or your health!
Subscribe to our newsletter