Best Commercial Gym Equipment Manufacturers and Brands
last updated:
Apr 29, 2020
The commercial gym equipment market today is more cluttered than ever before. Unfortunately, there are still plenty of sub-par manufacturers out there who are filling our gyms with shoddy gear. That's why we set out to wade through what's out there and come up with a list of the best commercial gym equipment on the market today.
Our goal is to help you avoid some of the problems people face in equipping their home gyms as beginners. No matter what, we don't want you getting stuck expensive gear that just can't handle the daily grind.
We've identified an array of brands that combine to create an ideal gym.
In a Hurry? The test winner after 20 hours of research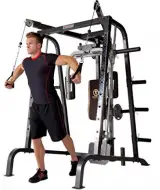 Marcy Smith Workout Cage
Why is it better?
Fully adjustable
Marcy has great reputation
Free weights and Smith style exercises
Cable crossover allows for almost infinite variations
30
Researched Sources
8k
Reviews Considered
14
Hours Researching
10
Products Evaluated
Adjustability
Durability
Features
Motion Control
Versatility
By Default
10 Best Commercial Gym Equipment Pieces
1

. Marcy Smith Workout Cage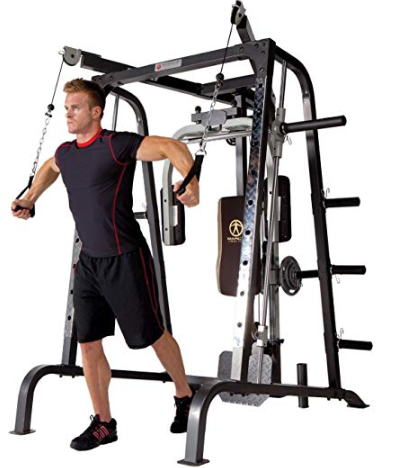 Fully adjustable
Marcy has great reputation
Free weights and Smith style exercises
Cable crossover allows for almost infinite variations
Does not come with weight plates
This affordable--not cheap--multi function machine has more than enough features to keep you interested while developing every muscle group in your body.
Read more
We have reviewed Marcy products elsewhere. We are always impressed with Marcy's attention to detail, level of customer service, and consistently affordable and reliable products.
This all in one workout cage embodies those values, and so it made our number one slot. You get a leg station, a bar for all manner of presses, a pec deck, cable crossover, and a squat rack for your barbells and weight plates. If you could only own one piece of gym equipment, and you were after all over functional fitness with the capacity for serious strength training, you could do a lot worse than the cage.
The unit takes Olympic weight plates and comes with a separate traditional bench for bench presses, dumbbell flies, and other free weight exercises. Everything on the machine, from the foot plate to the tracked seat, is customizable to give you a tailored workout experience in comfort. Safety stops are included, acting as spotters if you get in trouble completing a range of motion during lifting.
2

. Body Solid Powerline PFT100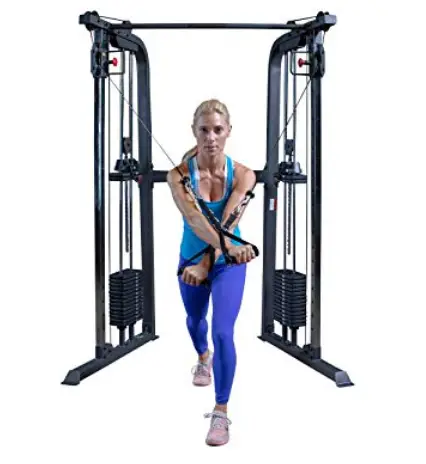 Protective finish
Uses weight stacks, no free weights to worry about
Simple grippy chin up bar
Offers 25 different exercises
Comes with no accessories
This is a companion product to Body Solid's GDCC210, but with smaller frame design and a straight chin-up bar instead of the curved one featured on the GDCC.
Read more
The simplified frame makes for a smaller, more compact unit that may be better suited to a home gym. The unit is 42 inches long, 62 inches wide, and 83 inches (almost seven feet) tall. It isn't portable, but since most residential ceilings are eight feet, you will be able to make room for the PFT100. The assembled weight is 476 pounds, so, definitely, a two or three-person lift once you get it to your home.
The unit is supported by two parallel steel beams with rubberized feet to protect your floor. The flat weight plates are made of cast iron, with resistance adjustment via a pin. There are 25 possible exercises you can do. Maximum resistance caps out at 320 pounds, more than enough for the average fitness enthusiast. Chrome and corrosion resisting paint throughout the frame will keep the steel strong and attractive for years.
The center pull-up bar has a knurled center to give you a better grip. The user weight capacity is around 300 pounds. You cannot do weight assisted pull-ups with this unit. The adjustable, 180-degree pulleys are nylon with fiberglass reinforcement.
The two side handles, which secure the cable pull to the frame, are the only accessories that come with the frame. You can always add benches, ankle cuffs, and other accessories from Body-Solid as the need for each one arises.
3

. Fitness Reality X Class Power Cage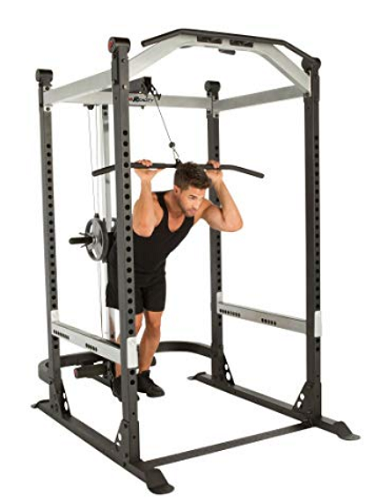 Features a multi position lat pull down bar
Relatively lightweight
Roomy cage frame
Multi use dip bars
Free weight compatible, but does not come with any
We'll go ahead and say it: any product with the words Power Cage in the name has got to be a serious fitness machine. With its mighty 1500 pound weight capacity, Fitness Reality's unit lives up to that promise.
Read more
The unit we reviewed has a lat pull down attachment as well as an attachment for doing low rows. You can also get a model without these features, for about 150 dollars less, on the Fitness Reality website.
Besides the lat pulldowns, you can do 23 other all body exercises with the X Class. The fixed dip handles can take up to 600 pounds of user weight with their easy-grip rubber handles and ergonomic design. Extra-long safety bars can also be used with seven-foot Olympic barbells. For extra stability, you can mount this behemoth to your floor with holes drilled in the feet for you.
The cage is roomy enough for doing wide squats, exploring different positions, and using a spotter if you want to lift free weights. The rowing attachments will let you build your back, arms, and shoulders, all from different positions that you can easily switch between.
When you order this unit, it comes in four different cartons. Fitness Reality advises the boxes may not all arrive at the same time. Although roomy and sturdy, the unit weighs relatively little at 300 pounds. You get an extra pair of J Hooks with purchase, as well as a generous warranty for both the frame and parts.
4

. Valor Fitness BD-61 Cable Station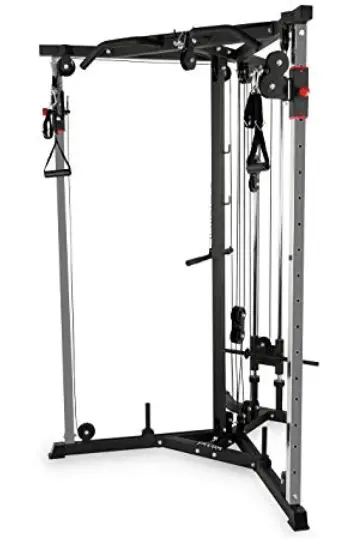 Uses free weights, standard or Olympic
Stable tripod base
Light commercial construction, quality
Double bar track for consistent motion, safety
Pulleys are not nylon, no reinforcement
This multiple exercise lat, pull up, and general cable frame costs significantly less than comparable products, but still packs a punch with its great features and durability.
Read more
The base of this steel-framed unit is a tripod design with rubber caps for the floor. The feet ensure a safe, stable unit that will not damage your floor. You get high and low pulleys for cable reps, a multi-use pull up bar, additional lat and row bars, and two strap handles. Built-in pegs will keep your weight plates organized and ready for use with your bench or Olympic bar.
You can start in any of 17 different positions, and the frame does come with instructional materials so you can work out safely and effectively. The pulley assembly is expansive and will work with you, not pull against you, as you go from one exercise to the next. The unit is for home and light commercial use, so you get the same reliable service you'd expect when paying for a gym membership. This includes a warranty as well as Valor's top-notch customer service and support.
Resistance is through old school plates, not a weight stack. The maximum weight load is 400 pounds, and the DB-61 is practically a featherweight at just 165 pounds when fully assembled.
5

. Body Solid Functional Trainer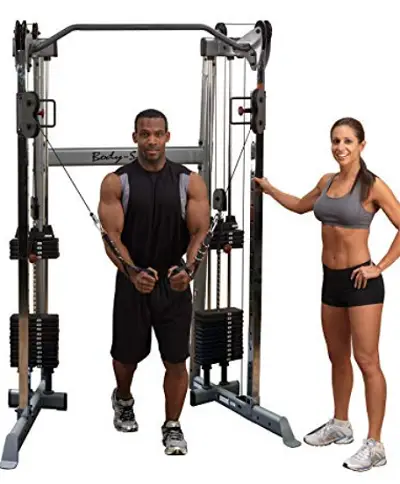 Nearly limitless exercise possibilities
Careful craftsmanship
Lifetime warranty
Double weight stacks of 120 pounds each
This is a top tier weight stack, with a laser focus on functional training, that would be right at home in a corner of your local gym.
Read more
That level of performance comes at a cost, though, and the price tag may not be appealing to many of our readers. Still, if you have a champagne budget, this can be your one machine to rule them all.
As you'd expect from a high-end product, you get a lifetime warranty with this trainer. Frame parts are fitted with precision and care, leaving no room for weak spots. The powder-coated finish gives the unit a professional sheen while protecting from corrosion and surface damage. Spun steel cables are aviation grade, each one rated to at least one and a half tons. You can adjust the height of the cables in 20 different ways, pulling to your heart's content with no friction at any angle of attack.
Two independent weight stacks provide 160 pounds of rectangular plate resistance. As far as moves you can do, the sky is the limit once you get the hang of operating the cables. There isn't a part of your body that you can't make stronger with this weight stack. Since you can move in virtually any plane of action, this is a genuine functional trainer that will improve your quality of life with consistent use.
6

. XMark Fitness Dip Station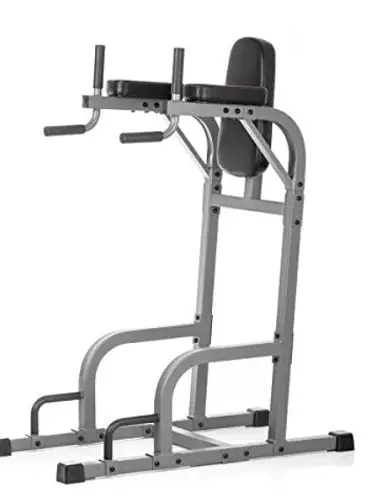 Comfort padding in back and handles
Multi position rubberized grips
Push up station on bottom
Solid base
After five cage style functional trainers, we are down to smaller, specialized, indispensable smaller pieces of equipment for your consideration.
Read more
This is a tower style stationary unit that lets you do knee raises, dips, and even pushups to work your core muscles along with your back and arms. The tower is designed to for you to push up against a wall and keep out of the way until you want to use it, either alone or as a circuit station.
Comfort and ease of use features include a padded backrest, rubberized multi use grips, and step up units to help people of any height climb onto the machine for their workout. Both the backrest and armrests are made of vinyl material and are double stitched.
Heavy duty steel construction is topped off with gray powder coating to prevent scratches and signs of age. The feet are slip resistant and durable, so the unit will not scrape around on your floor even when you do an intense workout.
7

. Valor Fitness Adjustable Utility Bench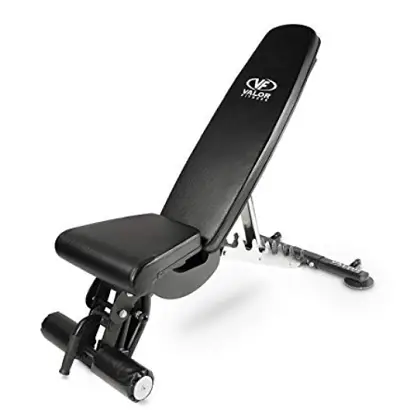 Easy to move if needed
Seven angles for lifting or core work
Padded ankle holders for stability
Stationary base with metal feet
No leg curls or extensions
This sturdy, rock-solid bench will let you do bench presses and dumbbell flies, from three different angles, and it has a stationary footpad for modified sit-ups and other core training.
Read more
The bench weighs 93 pounds when assembled. You can move it if you need to, but once in place, it is not going anywhere and you will not get any wobbliness or floor damage. The foot piece has extra thick padding to prevent ankle soreness or discomfort. Versatility comes from the seven-position adjustable backrest, which uses a sawtooth style rod and track.
You can also adjust the seat/bench surface vertically to accommodate your height comfortably. When the back pad is all the way down, it meets with two back wheels to make transport easier should you need to move the bench. There is also a handle below the seat with a nonslip grip, again for easy transport. The protective steel feet are mounted on the bottom of this handle.
Built for light commercial use, this bench is durable and will give you years of trouble-free service with proper care.
8

. Supermats Ultimat Rubber Flooring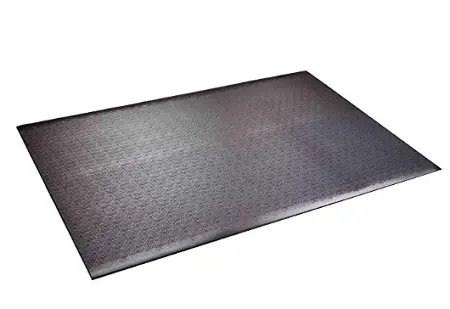 Heavy, will stay in place
Protection and noise dampening in one
Cost effective
No special installation requirements
Not designed to be cut down for less coverage
Manufacturers often promise that their equipment won't damage your floor, but we understand that many homeowners would rather be safe than sorry. Supermats can handle whatever you throw at it, saving your floor from scrapes and scratches.
Read more
If you're going all out on your home gym, we say don't forget the details. So far in this review, we have focused on fitness equipment, but protecting your space is just as important as outfitting it. Not to mention, shock absorbent flooring will help if you decide to take up yoga or meditation. And who hasn't dropped a dumbbell at least once? One time is all it takes to damage a residential floor.
Supermats offers one of the more convenient and cost effective ways to both protect your home and give it that professional gym feel. The mats are thick, not cushioned, and will stay in place once you install them. Installation is a snap-- you just unroll the mat and put it in place. The mat is half an inch thick, 48 inches long, and 72 inches wide. That's six by eight feet, small enough to fit within a room but big enough to rest your heaviest items and do your free weight workouts without fear.
If you only have one piece of equipment, like a treadmill, it is possible to cut the mats with a razor; they are not designed for this, though. The mats are made to withstand abuse and won't cut easily. You don't need any adhesive, as the weight of the mat will keep it in place for as long as you need it. Placing a noisy treadmill or other machine on the mat will also make it quieter as the mat absorbs sound.
9

. Valor Fitness Leg Extension/Curl Machine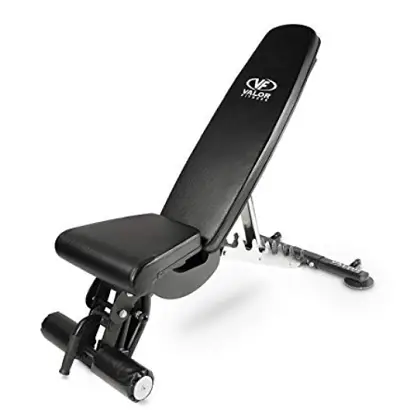 Easy transition between exercises
Durable padded vinyl backrest
Can take standard and Olympic plates
Stable base construction
Machine may be hard to use for taller people
It's almost never not a good time to work your core, but your lower body needs some sweat and shock, too. Valor combines leg curls and extensions into this tough, compact, easy to use machine.
Read more
Attractive powder coated solid steel tubing makes up the frame of the CC-4, with thickly layered vinyl padding for comfort. Both the backrest and thigh piece are fully adjustable for user preference. You can get as much range of motion as you'd like, with either exercise.
Transition from curls to extensions is easy, with a pull pin on the side. The ankle rollers are more than sufficient for comfort and stability, but there are permanently installed seat handles you can grab for those last couple of hard reps. The machine does a great job of isolating your leg muscles, so you won't be tempted to put your back into a lift and risk injury.
The machine can use either standard or Olympic plates. The sleeve adapter for Olympic plates is sold separately. The machine weighs 98 pounds when fully assembled. The maximum you can lift is 200 pounds, plenty of load to satisfy most home gym enthusiasts.
10

. TRX All In One Suspension System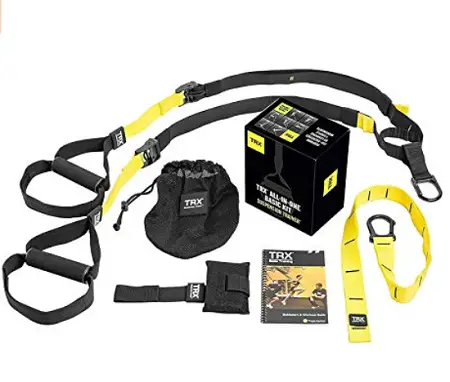 Comes with mobile app and training booklet
Wide range of exercises, so you won't get bored
No bulky equipment
Will hit every single muscle group
Learning curve when you start
Rounding out our top ten, the quint essential suspension system from TRX is a device that takes some getting used to but can offer a surprisingly intense and effective full-body workout.
Read more
For many users, the ability to take the system anywhere, set it up quickly, and get an intense full-body workout will be the biggest draw. In addition to the straps, handles, and carrying bag, you get a 35-page color book with all the exercise directions. TRX has a mobile app as well. It is free with purchase but includes optional paid features. With the app, you get real-time audio coaching, tutorials, a video library, workouts on-demand, personalized programs and more.
Those tutorials are a great thing because just looking at a TRX system can be overwhelming if you don't know where to start. At its foundation, TRX is a strength-building tool that uses straps and your body weight for resistance. Most of the moves will pull your core muscles in because you will need them for stability. The building blocks of all TRX exercises will be familiar to any gym user--they include squats, planks, lunges, and push/pull arm movements. From these starter moves, you can progress to a nearly unending collection of exercises.
TRX tests all its suspension systems and guarantees safety, providing you with up to 350 pounds of resistance. The best thing about the TRX, perhaps, is its simplicity. There are no weight plates, barbell collars, bars, pivot points or other moving parts to set up, tear down, and maintain when not in use. You can install the TRX in your workout room and leave it there forever, or you can tear it down, pack it in the carrying bag, and keep yourself in shape anywhere on the planet.
Criteria Used for Evaluation

Adjustability
There isn't a single piece of fixed equipment on this list, aside from the Supermats flooring.
By "fixed equipment," we don't mean equipment that you can't move easily, like the cages and weight stacks. Fixed equipment would be something like a single piece dumbbell or a stationary bike with no gears or resistance. The options are set in place before you even get the equipment, so there's no room for it to grow with you.
Naturally, then, we feel the best gym equipment has to include some flexibility and room to grow. As you get stronger, lighter, faster, more flexible, or what have you, you shouldn't need to keep upgrading and spending more money. While every piece of equipment isn't for every fitness buff, we are confident that every one of our top ten products will be as dynamic and adaptable as you are.

Durability
If you want long term results and consistency, the upfront investment will be worth it.
There isn't any poorly made, disposable, or shoddy equipment on this list. Such equipment does exist, and we do our best to warn you about it with all of our reviews and buying guides.
The Smith machines, benches, press machines, resistance systems, and even static rubber flooring that you see here are all tools that will hold up, year after year, even under regular heavy use and even if you overdo it sometimes (we know you'd never overdo it, but, still). Durability starts with manufacturing processes, of course. Anything you see here that's made of steel will have a powder coating or other protective finish. Bearings, for pulley units, will be sealed and virtually maintenance free. Cables will be industrial quality, unless noted by the manufacturer. We've taken a lot of the guesswork out of what will probably be a major purchase, and we hope you will take advantage of the resources we offer.

Features
Can you think of a product, any product, that doesn't have at least one feature?
Maybe you can. We can't, and we tried. The closest we got was tracing paper. It is literally just thin paper of uniform size. But even tracing paper can have different thicknesses, weights, and translucency. No matter how simple or cheap a product seems, it always pays to do some comparison shopping and make sure your needs will be met.
Home gym products are typically anything but simple and cheap. So, in the interest of education, we have highlighted the features of each product and rated them according to how useful and applicable those features are--for the purpose at hand. After all, stability handles on a floor mat wouldn't do anybody any good.

Motion Control
A consistent plane and range of motion are essential, no matter what muscle groups you're working on.
Have you ever used a Hammer Strength machine? You see them at gyms sometimes. They are specially designed benches or racks that attach the barbell and weight to a frame, so it is impossible to drop the weight or depart from optimal form and range of motion. Many athletes say this type of machine actually limits performance by not recruiting enough muscle groups, but for many of us safety is more important than athletic performance.
This is why we featured a variety of machine. Some will keep you to a rigid plane of motion, while others will free you to check and double check your own form. The TRX system is the best example of a fitness tool that gives you freedom. Unlike a squat rack, the TRX is designed to cause some instability so you will engage your core more often. The TRX can get away with this, because it uses the straps and bodyweight rather than harder to control free weights. Still, though, you will get the best results and stay injury free if you use the TRX as directed every time.

Versatility
You probably noticed most of our picks can take the place of several other machines.
That's because, as expensive as some of these units are (we're looking at you, Body Solid Functional Trainer), they can still be more cost effective than buying separate gear for each different muscle group or desired outcome. Even the benches we reviewed here help you do ab work as well as lifting barbells or dumbbells. When equipping your gym, it pays to take into account how much space you have and how much convenience you want, as well as how much everything costs. You'll be glad you did, and with a decent functional trainer, you'll be able to focus on pushing the weight, not setting stations up and tearing them down.
Expert Interviews & Opinions
Most Important Criteria
(According to our experts opinion)
Experts Opinion
Editors Opinion
Users Opinion
By Default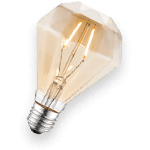 Clearing Out The Clutter
You have surely heard this before, but it will never not be relevant: having more choices does not equal having better choices.
Think about it. How many ab rollers have most of us looked at online? If you are like us, you have looked at enough to know that you can never, ever find one with all the features anyone could ever imagine. The problem is, most of those features are cool ones! They can make your workout less stressful, help you avoid soreness, get you fit faster, play video on demand, or whatever. There seems to be no end to what the public can ask for, or what fitness companies can imagine and create.
So, with all this information and all these potentially great products competing for your attention, where do you start? You know you can't do a deep dive with every Smith machine, so which ones do you examine?
The answer, of course, lies with you. You can take back the power by simply sitting down and deciding what you want. If you have ever bought a house, you almost certainly followed this same procedure. There will always be a house that is bigger, newer, has tough siding, is in a different school district, or is closer to work...we could go on, but you get the picture.
Decide what fitness means for you, where you want to go, and what you are able to do to get there. We guarantee you will be happy with whatever you decide if you do this work on the front end.
Towards A Cushier Floor
We only included one flooring product, the Supermats product, because this buying guide is primarily for training equipment. When it comes to the world of gym flooring, we have barely scratched the surface.
Different flooring products will have different applications. This means different thicknesses, textures, sizes, shapes, and installation techniques. Foam interlocking pads, like large puzzle pieces, might be great for a kids' fitness area. The locking pieces are fun, and can protect little ones who are prone to falling down.
If you have a yoga practice, though, and want to set aside space for your own studio, the foam blocks will not work. Yoga is largely about grounding, so ideally you want a surface without a lot of give. A hardwood floor, covered in a temporary or permanent thin, sticky, grippy mat, would get you the best results.
Then there's plyometrics. Box jumps and other explosive moves are wildly popular right now. You need shock absorption, both on takeoff and on dismount (if you jump onto a box), or landing if you leap in the air. So a thicker, spongier mat might work better.
Of course, with the plyometrics moves, you also want something a bit firm to give you more power for the takeoff. There are almost always competing and interlocking needs to consider. For this reason, the way you cover your gym floor is every bit as important as what you work out with on that floor.
Other Factors to Consider

Comfort
Weightlifting and other pursuits can be difficult, challenging, maybe even a little painful-in terms of post workout soreness and fatigue--but they should never be uncomfortable. Little touches, like seat padding, height and angle adjustments, and knurled chin up bars can all make a big difference in your willingness to use the equipment. This is equipment you will plan to use for many years, so it makes sense that you'd want something you can live with and even enjoy.
To that end, we looked for brands and companies that prioritized your comfort experience. We have highlighted the main comfort features of each cage, bench, and other assorted fitness tool. You can make an informed decision about which machine will be the best and most cozy for you--your body shape, height, level of fitness, favorite activities, and long term goals.

Use
Use refers to the equipment's purpose, what the designers had in mind when they made it as well as what you are confident you can accomplish with it. This buying guide covers a lot of ground; there are multigym type machines as well as benches and smaller equipment. It all has the same purpose, to help you set up your home gym for success. But it was important for us to identify a use for each piece of equipment. The ones with the most uses, obviously, are the cages and Smith style units. So we included several of those, right at the top, and narrowed down from there. Any of these frames will give you the ability to do multiple exercises, including some with twenty or more possibilities. Each and every move described by the manufacturer is one more use you can get out of your investment.
Frequently Asked Questions
q:

Why aren't all the cages here called Smith machines?

a:

Smith machines have a very narrow application, although you can perform several strength exercises within that application. A Smith machine is a frame that allows an affixed barbell to move up and down. This means you can use the machine for squats without risking a dropped weight and injury. You can also do bench presses by placing a separate bench under the barbell tracks. You can also perform several rowing exercises, because the barbell can start and finish as low as you want it to on the rack.

With the addition of things like chin up bars, cables, optional weight stacks, and permanently installed benches, the unit really can't be called a Smith machine anymore.
q:

Will I always need a spotter when I lift weights?

a:

Yes and no. If you lift dumbbells at a comfortable weight, then you will not need a spotter. You don't need a spotter for most leg exercises, like leg extensions or presses. And with a Smith machine, or a multigym unit that has a Smith style weight racking system, you still won't need a spotter. This is actually the main selling point of the Smith.

Any time you use a weighted barbell, and it puts you in a position where you could drop the weight, you need a spotter. Squats and bench presses are the biggest examples. If you are benching more weight than usual, or pushing yourself to exhaustion through increased reps, you absolutely must have a spotter.
q:

The multigyms are huge, and tough, but won't they need cleaning?

a:

The most a steel frame would need is light dusting once a week or so, as they have a lot of surfaces that can gather dust. If the machine has any padded components, where your body touches the pads, you should wipe down the pads after use like you would at a commercial gym. You can always ask the manufacturer, but typically we don't recommend wiping the frame steel with chemicals or polish. This can damage the protective coating, leaving your equipment vulnerable to corrosion and scratching.
q:

If weight stacks are safer and easier, why do so many people use free weights?

a:

This is a long standing topic of debate in the fitness community. Many trainers swear that machines will not increase your muscle memory or functional fitness as well as free weights will. The idea is that you aren't limited to a rigid plane of motion in your daily life, the way you are with some machines.

But you can also find videos of professional bodybuilders explaining how to use a Smith machine properly, or something similar.

We don't know the answer. We do know that machines can help prevent injury, especially for beginners. We also like the happy medium of cable machines and pinned weight stacks. You get the resistance you need for progressive overload, but you also get to move in a way that's closer to how you move in daily life. That's what functional fitness is all about.
q:

Does the U.S. military endorse the TRX system?

a:

No. This is a common misconception, but TRX has never claimed to be the official workout gear of the Navy or any other military branch. It is true that a former Navy Seal, Randy Hetrick, created the TRX system. But he did so independently of his employers. We can't guarantee a Navy Seal body with the TRX, but we are sure many military servicemen and women use the TRX either at home or in training facilities. It is just that versatile and effective, and it can be as tough as any barbell workout when used properly.
Subscribe to our newsletter