Top Rated Suspension Trainers for Intense Home Workouts
last updated:
Feb 11, 2020
Suspension training has come a long way in a relatively short period of time. The invention came from a former Navy Seal just over a decade ago, and now you will find suspension trainers in most commercial gyms and training studios. More and more home gym enthusiasts are also switching to enjoying the benefits of suspension training. They are discovering that there is nothing better to activate the core on every movement, provide a great pulling motion and allow for unilateral training. When you invest in a suspension trainer, you get all of this, plus more than 300 bodyweight exercises, without any bulky pieces of equipment or weights. In this article, we have searched out the eight best suspension trainers on the market today.
In a Hurry? The test winner after 25 hrs of research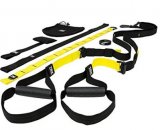 TRX Suspension Trainer System
Why is it better?
It is easy to set up
Comes with a DVD guide
Handles are soft webbing
Comes with carrying bag
21
Researched Sources
11k
Reviews Considered
25
Hours Researching
14
Products Evaluated
Features
Ease of Use
Effectiveness
Versatility
Portability
By Default
8 Best Suspension Trainers
1

. TRX Suspension Trainer System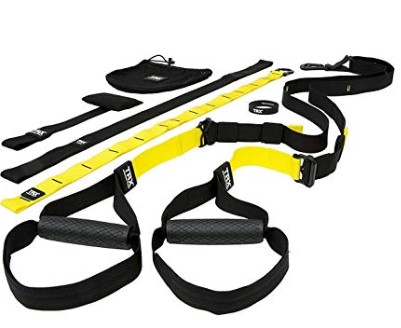 It is easy to set up
Comes with a DVD guide
Handles are soft webbing
Comes with carrying bag
Straps have no provision for adding extra pieces
The TRX Suspension Trainer works the entire body using variable-resistance training and instability with movement. This suspension trainer is strong and secure with durable, easy to clean rubber handles. It has a locking carabineer to discourage theft and three types of anchors to give you maximum versatility.
This set weighs less than 2 pounds and requires very little storage space and can be set up anywhere. You can challenge yourself and others with the eight-weed workout developed by our pro trainer. It has five digital workouts that are designed for specific parts of the body, one total body digital workout which is 30 minutes long, and two bonus workout videos.
Read more
The TRX Suspension Training System is the original suspension training system, created by former Navy Seal Randy Hetrick. The system comes with the TRX extension strap, which the rest of the system hooks into. The TRX straps themselves come with two handles and two cradles for your feet. The system also comes with a door anchor for people with no cross beam or bar to hang the straps from. A TRX DVD also comes with the system. The DVD guide not only shows how to set the system up, but it also takes you through every single exercise. It also gives you two live workouts with the TRX master trainers. A comprehensive book contains the same information as the DVD. The whole thing comes in a convenient carry bag.
The TRX system features a very user-friendly strap adjustment system. With a suspension trainer, you will be changing strap positions quite a lot. The TRX equipment allows you to do so without eating into your valuable training time. You simply grab the buckle and pull up and down on the strap.
Rearranging the straps for single-handle mode simply requires looping one handle into the other. The TRX allows you to do this in a matter of seconds.
A great feature of the TRX is its versatility. The whole thing weighs only two pounds and the pull-string carry bag allows you to take it anywhere. Now you'll never be without your training gear.
2

. Ultimate Body Press Resistance Trainer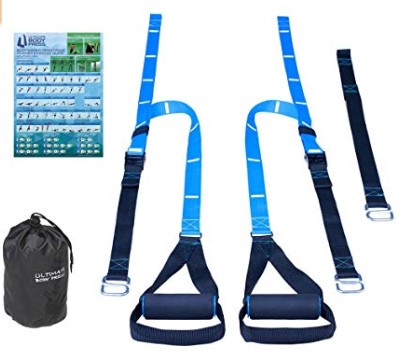 Lay flat handles
Straps work for one-arm moves
Can be used anywhere
Military-grade hardware
The Ultimate Body Press system gives you a premium experience with Lay-Flat Handles, straps that are indexed and non-interference hardware layout. The compound exercises you can do will engage your core and help you build lean muscle fast. This is a set up you can use anywhere. It is easy to mount in a doorway or use trees and park structures. The straps also mount to pull up bars.
Read more
The Ultimate Body Press trainer is new to the market that has gained immediate popularity due to some innovative features. One of these is it lay flat handles that are more comfortable than you will find with mosts competitors. This also allows for a more secure grip.
The two suspension straps are independent and made of quality military webbing. The unique system allows for fast adjustment. It features a no-rub buckle placement system to keep them comfortable. The big difference with this system is that it is designed to follow the contours of your body and it works with your body weight.
The strap anchors at a single point so it works with also any anchor point including pull up bars, doorways, rafters, outdoor park structures, and even tree limbs. The 'S' hook lets you perform an extremely fast adjustment.
You get helpful support material along with this trainer, including an exercise guide that includes 26 fully illustrated movements and three sample workouts.
The Ultimate Body Press trainer has entered the market at an extremely competitive price point. This combined with the innovative features mentioned above and its overall performance quality was enough to propel it to the top of our list.
3

. TRX Basic Suspension Trainer Kit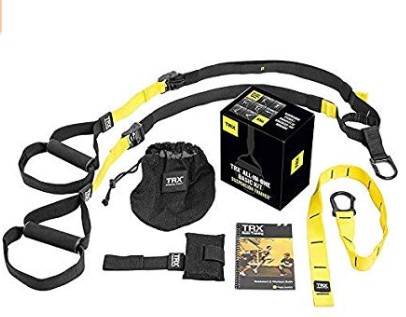 Mounts in any doorway
Easy to adjust
Comes with instruction book and DVD
Mesh Travel Bag
The TRX Basic will help you work out anywhere anytime. It includes a suspension training strap, anchors that can be used indoors or outdoors, a workout guide and two extra workouts. You also get a free 30 day trial on the new TRX app. This set is for all levels of fitness and all goals. You can build muscle, strengthen your core and burn fat.
Read more
The TRX Basic is the doorway mounted version of the previous TRX trainer that allows you to train the suspension way even if you do not have an overhead mounting position available. The system is safe and secure and is easy to set up. It won't leave any marks on your doorway surrounds and can be taken down in seconds.
The strap system is patented and adjustable, made of high-quality webbing. Your purchase includes two handles and two training straps. The foam handles provide a secure, comfortable, sweat-resistant hold. The weight capacity of this system is 350 pounds. The set includes a full-color exercise guide and a mesh travel bag
4

. Bodyweight Fitness Trainer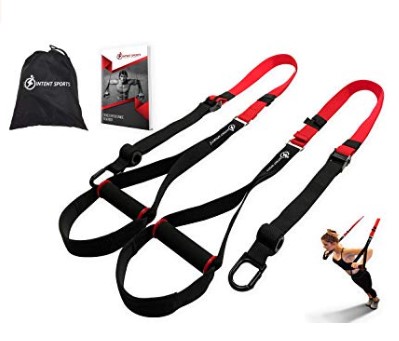 Great price
High-grade carabiners
High tensile webbing
Comes with carrying bag
Tricky to use foot straps
The Bodyweight Resistance Trainer will let you work out with your body's weight and the natural force of gravity. You get a great workout to develop a much stronger core. It will also help you build endurance and improve your flexibility to keep you strong and young.
Read more
The Bodyweight Fitness trainer system is an economical version of the gravity-based training system that delivers a reliable workout with durable equipment. It uses two adjustable bands to give you a versatile workout. High-grade carabiner hooks make it fast and easy to move between exercises while also giving you a sense of security when working against gravity. The webbing is high tensile and 1.5 inches in width.
The Bodyweight Fitness Bodyweight Trainer system includes an integrated door anchor to allow you to easily attach the unit to any door. The portable bag makes it easy to bring your trainer around with you. The kit includes a guide to help you set up.
5

. NOSSK Suspension Fitness Trainer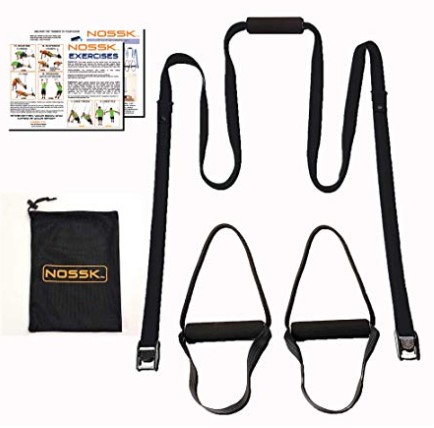 Straps made of thick webbing
Handles made of durable nylon
Full-color exercise guide
Sets up in seconds
The NOSSK suspension trainer is very portable and specifically designed to be used indoors with its padded door anchor. You can have a full-body home gym without needing tools and when you travel, you can take it with you. It is compact and only weighs a little over a pound.
Read more
The NOSSK Suspension Fitness Trainer is a versatile bodyweight training system that can be secured to an overhead mount, a doorway or a pull-up bar. The straps on this unit are made from 1st-grade military webbing. The thick straps are up to eight feet in length. This unit is mainly designed for use with a doorway, with the doorway attachment being supplemented with extra padding to protect your doorframe. The double strap attachment allows you to perform such body-weight moves as push-ups without the hassle of the straps getting in the way of your shoulder movement.
The carabiners on the NOSSK Suspension Fitness Trainer have been tested to over 1,000 pounds. The weight capacity of this home gym is 300 pounds. This product comes with full-color installation instructions and a full-color double-sided 18 exercises full body quick start guide.
6

. Vulken Suspension Trainer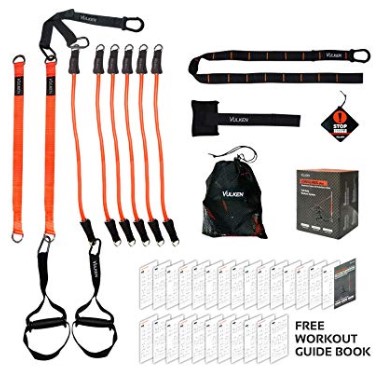 Huge range of training exercises
Able to do 3 training modes
Made of high-quality nylon
Wall mount anchor is sold separately
The Vulken CoreSling includes a suspension trainer, three pairs of resistance tubes, an extension anchor strap, and a door anchor. The kit also contains a "Workout In Progress" warning card and a mesh carrying bag. It also has an extensive guide book. It supports 3 types of training including suspension, resistance, and the combo mode which is a mix of suspension and resistance modes.
Read more
The Vulken Suspension Trainer lets you complete suspension, resistance, and combination training exercises. This is helped by using a suspension trainer, a set of resistance bands or speed and agility resistance bands. The handles are adjustable and suitable to use as handholds, foot cradles, and shoulder cradles. They let you complete a huge range of training exercises.
The set is easy to set up quickly and switch between the training modes with the getting started guide. There is a workout guidebook with a collection of workout exercises for you to try. There are over 100 exercises.
With all these exercises you will be able to train muscles that lots of other activities cannot. You will be able to get better results, improving your power and strength. You can also improve your speed and agility which makes this a perfect tool for athletes from runners to boxers.
The Coreslings is constructed of high-quality nylon and has comfortable non-slip handles. They are made with upgraded webbing materials and strongly sewn seams. The natural latex resistance bands are strong and durable.
7

. ELA Design Suspension Trainer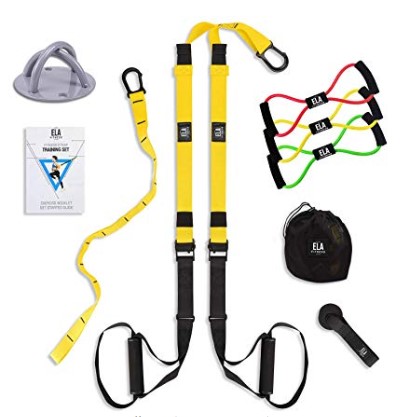 Includes a sturdy wall mount and door mount
3 loop bands for stretching
Comes with mesh carry bag
Needs a better user's manual
The ELA Design has a single anchor design for its straps. The resistance strap which holds your body weight is not two separate straps like a lot of the others. This is an all in one kit which a guide book. It includes an adjustable suspension trainer, the extender strap, a sturdy wall mount bracket, a handy door anchor, the travel bag for portability, and three resistance loop bands.
This set is made of durable, high-quality webbing which has a weight capacity of up to 550 pounds. It has comfortable barrel lock adjusters made of stainless steel. The X-Mount is also made with stainless steel. The handles are non-slip and made with the softest rubber covered with quality sponges for your comfort.
Read more
The ELA Trainer is designed with a single anchor which offers plenty of flexibility in your workout routine. This set is compact, lightweight, and durable training system. It comes with eight shaped resistance bands in three different colors.
This set is very portable and can be used anywhere and anytime. It is easy to store and perfect for travel. It also comes with a sturdy wall bracket you can install wherever you want to work out. The set comes with a mesh travel bag so you can conveniently take it anywhere.
You can also use this set outside. Anchor it to a beam, pull up bar, the rafters, a park structures, or even a tree limb. There is a door anchor included so you can use your door to work out at home.
8

. HYMNL Resistance Straps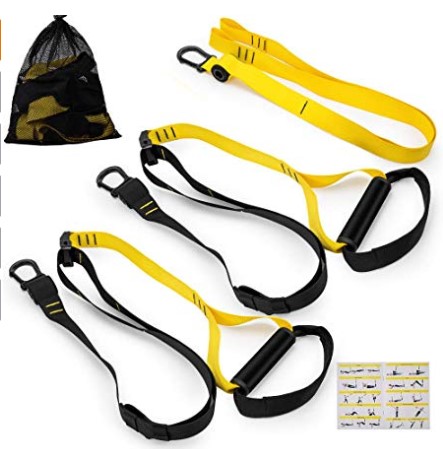 Has adjustable length
Non-slip rubber grip handles
900-pound weight capacity
The HYMNL Resistance Training has commercial-grade components. There are two independent straps which are indexed so you can make fast even adjustments, There is also an exclusive carabiner anchoring strap. It is built for rigorous workouts. You can make easy
transitions between exercises. They are great for beginners as well as professional athletes. Burn calories and build up your muscles. If you are struggling with that, make sure to read our article where we covered all the reasons you aren't gaining muscles.
These straps are easy to install and use in a doorway, pull up bar, in the rafters, and even tree limbs.
For doorway mounting, the webbing has a foam ring that will not damage the door.
Read more
This suspension training kit uses the weight of your body and a little gravity to help you build your core strength, burn fat, and tone your body. It will also improve your yoga stretching for a good warm-up.
You can make the exercise more or less difficult by changing your body's position. They are professional quality, made from high-density polyester with non-slip rubber grip handles and strong seams. It is made to stand up to rigorous workouts with a weight capacity of 900 pounds.
They are suitable especially for beginners who can learn quickly and learn to adapt without being hurt. You use your own bodyweight to get all the exercise you would in an expensive gym. This set up is easy to take on the go since it fits into the drawstring bag included.
Criteria Used for Evaluation

Features
These suspension trainers are designed to give you a convenient, effective way to work out. They feature durable straps made out of high-quality military webbing and durable nylon. The straps are adjustable and usually indexed so you can adjust them easily and accurately.
There are anchor staps and extender straps.
The straps have handles on them, often lay flat ones. The handles need to be usable by your hands, feet or shoulders. They should have a secure grip and be non-slip. There is also quality hardware like buckles and mounts so you can use it indoors or outdoors.
These suspension trainers often come with DVD instructions and exercises. They are easy to set up but these instructions help with lots of workout and exercise ideas. They also come in a mesh carrying bag so you can take them anywhere and do your workout.

Ease of Use
Once you learn the setup, the suspension trainers are easy to set up and use. Most of these sets come with complimentary DVDs. Suspension training is still a fairly new type of training for many people. So you want to make sure your choice comes with a quality DVD that clearly shows how to set up the gear and to do the exercises. That is an important part of a complete suspension training package.
The straps need to be easy to maneuver. You should be able to use the buckles to just grab and pull to make adjustments between exercises. It is handy to have the straps indexed so you can adjust them accurately but also quickly. Extenders should be easy to attach and use as well so you can have a smooth workout.
The handles need to be non slip for comfort and for safety. Since you are using your bodyweight having handles you can consistently hold on to is vital. They should also be comfortable on your skin so they are easy to work with. The handles also need to be good-sized because you will be using them with your hands, feet, and maybe even your shoulders.
Another aspect of being easy to use is having the right mounts. These sets come with wall mounts so you can install in a convenient area of your home and have a handy work out which gives you the exercise level of a gym. Then they also come with door mounts and other mounts so you can take the set to work out anywhere.
Speaking of portability, one of the easiest things about these sets is that when you are ready to go you can just take the whole unit and put it into the carrying bag. That is extremely handy.

Effectiveness
The suspension trainers are effective because they work all your muscles. You can do three kinds of exercises including resistance, suspension and a combination of the two. The sets come with a DVD that has a wide variety of exercises you can do to work most of your major muscle groups.
You are also going to have an effective work out because you can do it anywhere. If you have a busy lifestyle it will be easy to fit this workout in. You can easily set it up at home, at the office, in a motel, indoors or outdoors. You will not have to break out of your workout routine no matter what the day brings.
The suspension trainers are effective at giving you a good workout program using your own body weight as resistance to work on your muscles. You will build muscle tone and strength, as well as flexibility.
When you train with suspension you get both a muscular and a cardio workout. As you train faster, the exercise becomes more aerobic. Because it is not a real stable exercise, every move you perform on the suspension trainer strengthens your core. That makes the suspension trainer an effective exercise when you are working towards 6-pack abs. The suspension system also makes it easy and safe to work a single side of your body in isolation.

Versatility
This is a versatile piece of equipment because it can be used in so many different ways, by so many different levels of people, and in so many different places.
There are hundreds of different exercises you can do with a suspension trainer. You can do resistance training, suspension training, or exercises that combine both types. They come with charts and DVDs that show you a lot of the exercises you can do.
Anyone can use these trainers. They work for any age or body size. It does not matter how tall you are, how heavy, or whether you are male or female. They also work for any fitness level, whether you are a beginner or a seasoned athlete. To make the system harder, you simply change the level of your body position. The lower you go, the more difficult the exercise.
It is also versatile because you can use this tool anywhere. They come with wall mounts that you can put in a convenient area of your house, whether you have your own home gym or just a convenient corner of the living room. If you are in a rental and cannot put those types of holes in the wall, you can use the door anchor option. Be sure you use a model that has foam paddings and will not leave marks on the door. This option also lets you take the system anywhere will you so you can easily and quickly set it up and use it in places like the office, a gym, or even while on vacation in a motel room.
They also have utility strap anchors that help you attach to a pull-up bar at home or go outside and attach it to the rafters, outdoor park structures or even a tree limb. This is exercise equipment you can literally use anywhere.

Portability
A huge benefit of the suspension trainers is their portability. It is extremely easy to pack it up and take it with you. The sets come with an easy drawstring mesh carrying bag. Everything you need fits inside quickly and is easy to set up once you get there. They take very little storage space so you can tuck it into your luggage and bring it with you. Even if weight is a factor, it only weighs a couple of pounds.
Expert Interviews & Opinions
Most Important Criteria
(According to our experts opinion)
Experts Opinion
Editors Opinion
Users Opinion
By Default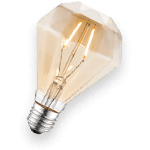 How To Change Intensity
There are a few ways to maximize the intensity of your workout. You can change the angle of your workout to make the exercise harder. You can also change your balance. If you put your feet further apart, it will make the exercise a little easier. Another way to make the exercise a little more difficult and challenging is to step further away from the anchor point.
Start Correctly
If you start a movement with your body in the wrong position you may end up with an awkward use of the suspension trainer. Starting a move too far from the end may make it easy to lose the strap tension and even end up with an injury. Start at the end range to find out the tension you will need. Then you can keep full tension throughout the whole movement.
Other Factors to Consider

Durability
It is absolutely vital that your suspension trainer is durable, not only so you can get a good workout but also to avoid injury. The set should be made of durable materials like nylon and thick webbing. The hardware should be tough, made of a strong material like stainless steel. Be sure to invest in good quality and check your equipment for any fraying before you get started with a workout.
Frequently Asked Questions
q:

Is suspension training good for strength or cardio?

a:

It is great for balance, flexibility, and coordination. Although it is a strength training workout, you will probably find your heart pounding after a workout as well.
q:

Does it help you build your core?

a:

The suspension trainers are fantastic for core strength training. The exercises require that you brace and stabilize with your core, obliques, and lower back so you can use your own body weight for resistance.
q:

Can seniors do these exercises?

a:

Yes, these are great for seniors. You adjust the position of your body to adjust the resistance, so you can control how much you challenge yourself. This makes it perfect for anyone to use. It is also a low impact so it will not irritate injured joints.
q:

Can I use this if I am out of shape?

a:

This will be great for you because you control the amount of resistance and the angle you place your body. Because of this, you can determine your needs and abilities and then build from there.
q:

How is this different from other resistance training?

a:

Often times traditional weight training will work one muscle at a time. That can lead to overuse muscle injuries, as well as maybe limiting strength and movement gains. Suspension training lets you use multiple motion planes and work multiple muscles and joints together.
Subscribe to our newsletter