1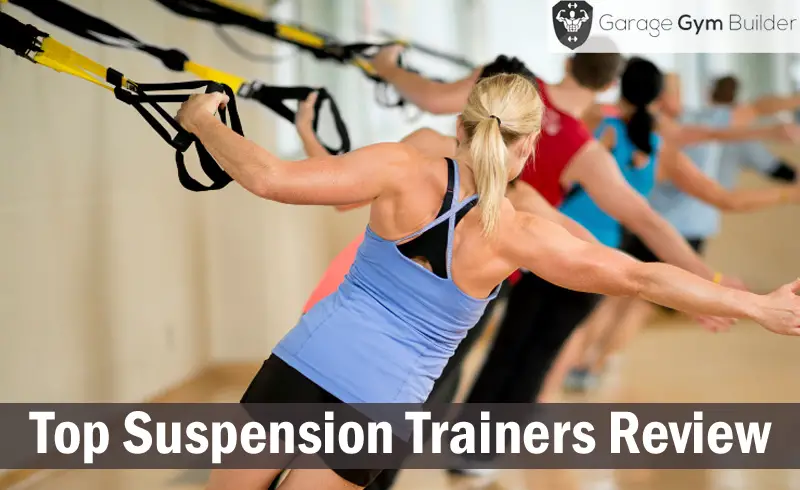 Top Rated Suspension Trainers for 2018 – An In Depth Review
Suspension training has come a long way in a relatively short period of time. The invention of a former Navy Seal just over a decade ago, you'll find suspension trainers in most commercial gyms and training studios nowadays. More and more home gym enthusiasts are also switching on to the many benefits of suspension training. They are discovering that there is nothing better to activate the core on every movement, provide a great pulling motion and allow for unilateral training. When you invest in a suspension trainer, you get all of this, plus more than 300 bodyweight exercises, without any bulky equipments or weights.
In this guide we'll break down the things that you need to be searching for when buying a suspension trainer for your home gym. We'll find out just what makes suspension training a superior form of exercise and we'll give you the insider tips to get the max benefit from your suspension trainer investment.
We've waded through the marketplace to bring you the best suspension trainers on the planet. Our review section will detail what's on offer, take a look at the pros and cons of each and bring you our recommendations on where you should be spend your money.
Our top rated suspension trainer is the Ultimate Body Press Resistance Trainer which features a host of innovative features including lay flat handles, a 'no rub' cam buckle placement, single multi-point anchoring straps, and an extra wide six inch strap, but at a reasonable price and they are our hands down winner. Our second favorite is the original player on the market, the TRX Suspension Training system. Despite being considerably more expensive than the competition, this is the original upon which all others are based. Its overall quality, in terms of webbing, construction, buckling and handles, is second to none. The back up support in terms of training DVD and after sales service from TRX is also superb.
The TRX Basic Suspension Trainer Kit provides all of the benefits of the TRX system for people who are unable to use a ceiling mount. This system makes use of a doorway attachment to provide the same workout experience.

Rounding out our top suspension trainers were the Bodyweight Fitness Bodyweight Trainer system and a solid, basic performer in the NOSSK Suspension Fitness Trainer. Use the table of contents below to skip to specific parts of the article:
Use the table of contents below to skip to specific parts of the article:
The Ultimate Body Press Resistance Trainer is a new player on the market that has gained immediate popularity due to some innovative features. One of these is it lay flat handles that are more comfortable than you will find with mosts competitors. This also allows for a more secure grip.
The two independent suspension straps are made of high grade military webbing. The unique system allows for fast, eve adjustment. The 'no rub;' buckle placement system means that you won't get the discomfort that many are used to any lesser systems. The big difference with this system is that it is designed to follow the contours of your body, to synergistically work with your bodyweight as you exercise.
The single point utility strap anchor allows you to work with virtually any anchor point including tree limbs, doorways, pull up bars, rafters, and outdoor park structures. The quick connect 'S' hook allows for extremely quick adjustment whether working both away from and toward the bodyline.
You get good support material with the Ultimate Body Press Resistance Trainer, including a comprehensive exercise guide that includes 26 fully illustrated movements and three sample workouts.
The Ultimate Body Press Resistance Trainer has entered the market at an extremely competitive price point. This combined with the innovative features mentioned above and it overall performance quality was enough to propel it to the top of our list.
Summary
​The Ultimate Body Press Resistance Trainer provides you with a great alternative to the more expensive training systems on the market. It provides you with some great features that you won' find anywhere else. These innovations allow the system to follow the contours of your body for a more effective, comfortable workout.
The TRX Suspension Training System is the original suspension training system, created by former Navy Seal Randy Hetrick. The system comes with the TRX extension strap, which the rest of the system hooks into. The TRX straps themselves come with two handles and two foot cradles.The system also comes with a door anchor for people with no cross beam or bar to hang the straps from. A TRX dvd also comes with the system. The DVD guide not only shows how to set the system up, it also takes you through every single exercise - and it gives you two live workouts with the TRX master trainers. A comprehensive book contains the same information as the DVD. The whole thing comes in a convenient carry bag.
The TRX system features a very user friendly strap adjustment system. With a suspension trainer, you'll be changing strap positions quite a lot. The TRX equipment allows you to do so without eating into your valuable training time. You simply grab the buckle and pull up and down on the strap.
Rearranging the straps for single handle mode simply requires looping one handle into the other. The TRX allows you to do this in a matter of seconds.
A great feature of the TRX is its versatility. The whole thing weighs only two pounds and the pull-string carry bag allows you take it anywhere. Now you'll never be without your training gear.
The TRX users quick snap carabiners and one pull strap adjustment that allow you set the system up in seconds
The TRX DVD guide is a comprehensive, professionally presented production that provides tons of added value.
The TRX handles are of a soft webbing, allowing for a comfortable gripping position for both hands and feet.
The TRX can be packed into the tiniest of spaces thanks to its handy pull-string carry bag, making it the ultimate portable workout device.
CONS
The straps on the TRX have no provision for adding extra pieces of equipment to them.
The TRX is a lot more expensive than many of its competitors.
Summary
As the original suspension trainer the TRX sets the standard for the industry. We loved it's portability, it's ease of set-up and the fantastic DVD guide that comes with it. We weren't impressed with the price. If brand recognition is important, then this is the one for you. The TRX PRO Suspension Training Kit is quite expensive, for a cheaper option, you can consider the TRX Suspension Training Home Gym. But if you're simply after a piece of equipment that will do the business without breaking the bank, you may be better off with the Emerge EX2 or WOSS Attack system.
The TRX Basic Suspension Trainer Kit is the doorway mounted version of the TRX suspension trainer that allows you to train the suspension way even if your don't have an overhead mounting position available. The system is safe and secure and is easy to set up. It won't leave any marks on your doorway surrounds and can be taken down in seconds.
The fully patented, adjustable strap system on the TRX system is made of high quality webbing. Your purchase includes two handles and two training straps. The comfort grip foam handles provide a secure, comfortable, sweat resistant hold. The maximum user weight on the TRX system is an impressive 350 pounds. You purchase also comes with a full color 35 page exercise guide and a mesh travel bag
The TRX Basic system will mount in any standard doorway, locking i place for a rock solid workout every time.
You can set up the TRX in less than 60 seconds.
Quality Instruction Book and DVD -
Several online reviewers commented on how impressed they were with the quality of the instruction manual.
Summary
If you're after a doorway suspension trainer, then this is the best that we found. It's solid, versatile and easy to adjust.
The Bodyweight Fitness Bodyweight Trainer system is a budget version of the gravity based training system that delivers a reliable workout with durable equipment. It makes use of two adjustable bands to provide you with a completely versatile workout. High grade carabiner hooks make it fast and easy to move between exercises while also giving you a sense of security when working against gravity. The webbing is high tensile and 1.5 inches in width.
The Bodyweight Fitness Bodyweight Trainer system includes integrated door anchor to allow you to easily attach the unit to any door. A portable carry bag makes it easy to carry your trainer round with you. You also get a set up guide and a lifetime full replacement warranty.
Great price

High grade carabiners

High tensile webbing

CONS
Tricky to use foot straps

Summary
If cost is not an issue for you then the Bodyweight Fitness Bodyweight Trainer system has a lot going for it. It offers a greater level of intensity that will translate to quicker results. We really liked that it quickly converts back to a normal suspension trainer with the simple insertion of a pin.
The NOSSK Suspension Fitness Trainer is a versatile bodyweight training system which can be secured to an overhead mount, a doorway
or a pull up bar. The straps on this unit are made from 1st grade military webbing. The thick straps are up to eight feet in length. This unit is mainly designed for use with a doorway, with the doorway attachment being supplemented with extra padding to protect your doorframe. The double strap attachment allows you to perform such body-weight moves as push ups without the hassle of the straps getting in the way of your shoulder movement.
The carabiners on the NOSSK Suspension Fitness Trainer have been tested to over 1,000 pounds. The max user weight on this home gym is 300 pounds. This product comes with full color installation instructions and a full color double sided 18 exercise full body quick start guide.
The straps are made of thick webbing, the buckles are reliable and the handles are made of durable nylon
Full Color Exercise Guide

The system sets up in seconds, with an easy button controlled change of strap length arrangement.
Summary
The NOSSK Suspension Fitness Trainer is a well priced, high quality suspension trainer that can attach to a door, pull up bar or overhead mount. It delivers a high quality bodyweight workout thanks to its lay fat grip straps, EPDM rotating grips, and double strap attachments.
Buyers Guide
When you're shopping for a suspension system, you need to be able to wade through the straps and buckles which, let's face it, all essentially look alike, in order to hone in on the important features. Here's what you need to be looking out for:
DVD

- Suspension training is a new type of training for many people. A quality DVD that clearly shows how to set up the gear and to do the exercises is an important part of a complete suspension training package.

Strap Quality

- The straps are what suspend your bodyweight. Make sure that they are constructed of quality material and that the buckles are reliable. Carbon fiber buckling is the ideal.

Handles

- You'll want a comfortable gripping surface for both hands and feet. In addition the handles need to be as slip resistant as possible.

Anchor Points -

Not only must be the anchor points be sturdy, but you don't want them to leave any marks on the door or ceiling. This is especially the case when it comes to doorway systems.

Portability -

One of the great features about the suspension concept is that it can be taken anywhere. Your system should come with a carry case and should all pack up to just a couple of pounds.
What's So Great about Suspension Training, Anyway?
Suspension training has become the most popular training variant of the last few years for good reason. The portability and variability of the system are huge factors. Here are five more reasons why suspension training rocks:
Suitable for all levels

- To make the system harder, you simply change the level of your body position. The lower you go, the more difficult the exercise.

Hits both aerobic and an anaerobic systems

- When training on a suspension trainer, you are getting both a muscular and a cardiovascular workout. The faster you train, the more aerobic the exercise becomes.

Low impact

- Suspension training is extremely low impact, making it very user friendly on your joints.

Core centric

- Due to the instability factor, every single exercise you do on the suspension trainer is a core exercise. That makes the suspension trainer a superior alternative when 6-pack abs are your goal.

Unilateral training

- the suspension system makes it easy and safe to work a single side of your body in isolation.
Conclusion
The best suspension training system for home use that we could find was the Ultimate Body Press Resistance Trainer. It is versatile, durable and incorporates features such as lay flat handles, 'no rub' cam buckle placement and single multi-point anchoring straps, integrated foot loops. All of this comes together at a cost that is significantly cheaper than most of their competitors, which, makes them a wise choice.
On the other hand, the TRX Training System is the original suspension trainer and features the highest grade webbing, carabiners, slip resistant grip and sturdy buckling, that provides the strength and resilience that your body demands.