Top 10 Grip Socks for Yoga and Pilates
last updated:
Mar 25, 2021
Exercises that rely on your sense of balance should ideally be done barefoot. You can't exactly go barefoot in the gym where millions of others walked in shoes or in dirty socks, plus it can be painful for your feet. Then again, performing yoga in shoes can be detrimental too, as you really need to feel the ground under your feet when you move.
Stepping on a yoga mat in sneakers is not really considered acceptable unless they are very clean. So, you're left with socks. However, you need special socks that can provide you with enough traction to stop you from falling down or slipping around the gym. That's where grip socks come in! They have special patterns on their soles that create a grippy surface, designed to give traction to keep you balanced. Read on to discover the top 10 choices we researched for you!
In a hurry? The test winner after 10 hours of research: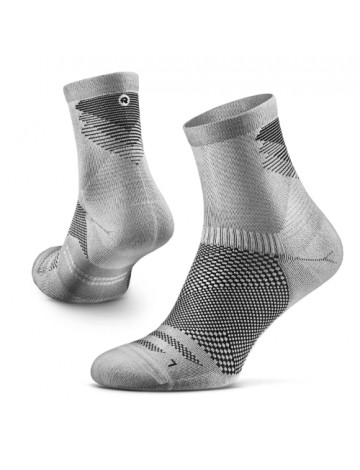 Razer Trail
Why is it better?
Seamless Toes
Anti-blister
Breathable Mesh Zones
Anti-odor
Reflective Logo
13
Researched Sources
14k
Reviews Considered
10
Hours Researching
12
Products Evaluated
Traction
Comfort
Fit
Materials
Features
By Default
Top 10 Picks
Seamless Toes
Anti-blister
Breathable Mesh Zones
Anti-odor
Reflective Logo
The Razer Trail is an excellent athletic sock that comes from a brand known as Rockay. Rockay is Europe based, and they create socks with the help of athletes, so their products are engineered to improve every aspect of working out. They know what an athlete needs, so they focus on features that are sure to help you. They use high-quality materials for their socks, but they also recycle, so do not be surprised if you notice that the socks are 100% recycled materials! That doesn't make them worse than regular socks, in fact, they are better, because of the recycled materials that have excellent features. making the socks worth their while!
Read more
The Razer Trail is a crew length sock. You might think that this will constrict your movement, but the socks are stretchy enough to give you freedom while keeping your calves warm and your ankles stabilized. The tight top band keeps the socks in place, never letting them slip down your calves.
There is a little reflective logo underneath the top band that keeps you safe in the dark. The toes of the Razer are completely seamless, minimizing friction while protecting you from blisters and hot spots. They are made out of recycled materials, saving the planet while bringing you great performance.
The Razer is white, with black patterns that stick out against the white backdrop. There is an arch band that gives a lot of support, saving you from pain and fatigue. The performance cushioning sits under the toes and heels, protecting your soles from impact and pain.
The breathable mesh zones keep you cool, while the moisture-wicking fabrics keep you dry. The Razer Trail comes with a lifetime guarantee, so if you're not satisfied with the socks, or they lack basic functioning, you can always replace them!
2

. Vigor Compression Running Socks
Seamless Toes
Graduated Compression
Anti-odor
Breathable Mesh Zones
Arch Support
The Vigor is also a pair that comes from Rockay. We decided to give these socks the first two spots because of their excellent engineering and the well-rounded features which are perfect for any kind of athlete! The Vigor is a long sock, going almost up to the knees.
This way, they function both as socks and as calf sleeves, preventing fatigue and swelling while improving circulation. The compression is graduated, promoting blood flow without restricting your movement. The compression ranges from 16 to 23 mmHg, reducing recovery times and helping you have a better experience when you exercise!
Read more
The Vigor does not have a tight top band like the Trail does, but thanks to the compression, the socks stay in place without the help of top bands. The reflective logo is present in the shape of a little circle, sitting on the Achilles tendon. The logo will shine in the dark in case you want to take them for a spin outdoors, keeping you safe.
The Vigor is made out of 52% Econyl Regenerated Nylon, 41% Recycled Polyamide, and 7% Recycled Elastane. These materials are very durable and comfortable. The toes of the Vigor are seamless, removing friction points to keep blisters away.
The cushioning is present around the toes and underneath the arches, giving you support and protection. Breathable mesh zones on the top of the foot keep you ventilated and sweat-free. The socks have been treated with Polygiene, a technology that makes washing obsolete.
The socks are anti-odor, and anti-bacteria, so sweat and dirt are not likely to build up as fast. You just need to air dry them after you're done using them and they'll be as good as new! Rockjay also offers a lifetime guarantee for the Vigor. If anything goes wrong with the socks, or if they do not do what is promised, Rockay is ready to send a replacement pair!
3

. Pembrook Non Skid/Slip Socks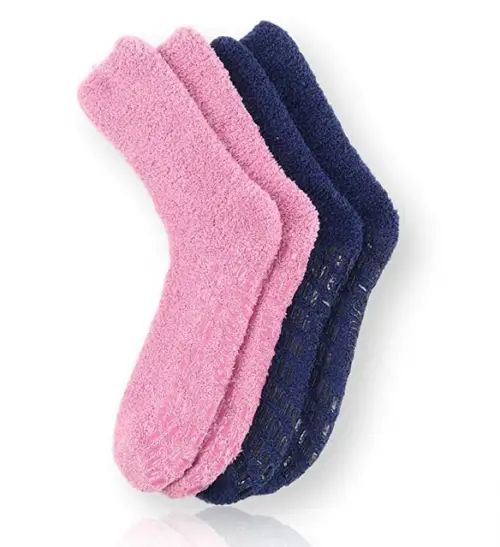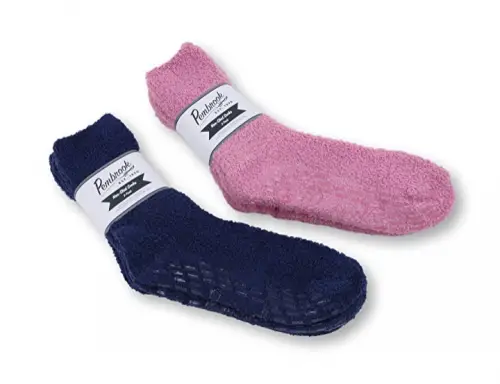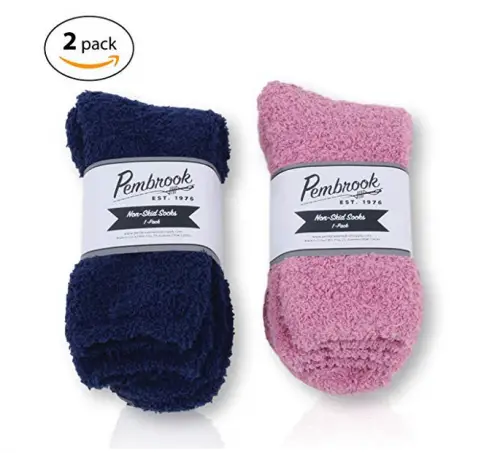 High-Quality Yarn
Proprietary Grip Threads
Budget-friendly
Lovely Colors
Soft And Comfortable
The Pembrook non-slip socks were made for hospitals, but that doesn't mean that you can't use them for your yoga or pilates class! They are warm and fuzzy, perfect when you have cold feet. The socks come in six different colors, enough to satisfy your personal needs. The socks are made out of high-quality chenille yarn, which is a blend of polyester, cotton, and spandex.
Read more
Although the socks are thick and warm, they are lightweight and breathable enough to let your skin breathe and to let sweat evaporate freely. The gripping rubber threads will not fall off or leave unsightly marks on your yoga mat. This proprietary tread design creates a lot of traction on any kind of surface the socks find themselves.
The color of the grippy treads is matched to the color of the socks so it won't stick out like a sore thumb. The socks come in either two, four, or six-packs, making them very budget-friendly. The socks are very stretchy and they can comfortably fit most adult feet.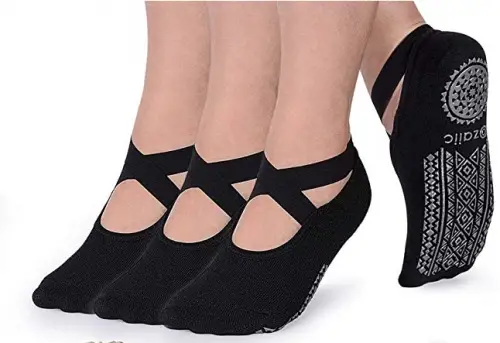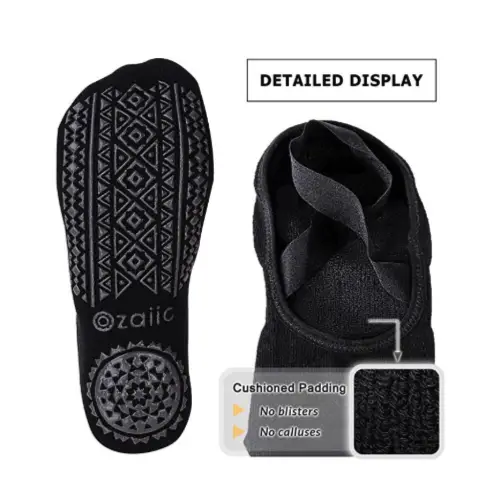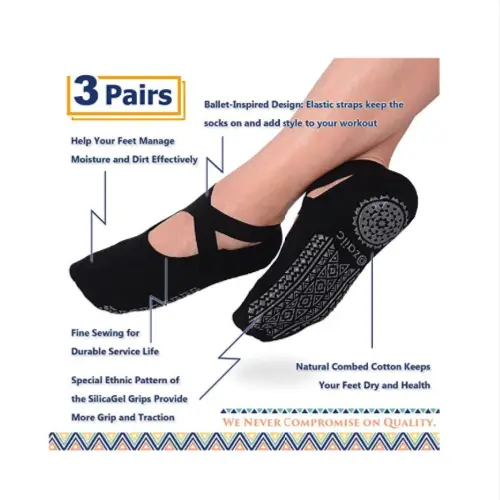 Premium Combed Cotton
Breathable
Silicone Grip Patterns
Elastic Crisscross Straps
Low-cut And Feminine
The Ozaiic Yoga socks are just what any enthusiastic yogi needs to improve their experience. They are made out of natural organic brushed cotton. This makes the socks very soft and breathable, lightweight and flexible. They also absorb sweat very well and let it evaporate freely, leaving you dry.
Read more
The non-slip silicone grips are what give the socks their traction. The silicone is extracted from natural rubber, using the newest technologies. The patterns are beautiful and intricately designed, and most importantly, they do not fall off!
The patterns cover the whole soles, making the socks completely non-slip. The socks are hand-stitched, leaving no room for error. This also makes the socks unique and durable. You can safely wash the socks in a machine or by hand, whatever suits you more.
The criss-cross elastic straps keep the socks firmly in place and give your ankles support. They also make the socks look rather cute! The socks come in a cute package, making them a great idea for a gift. The socks are one size fits all.
5

. Gaiam Grippy Yoga Socks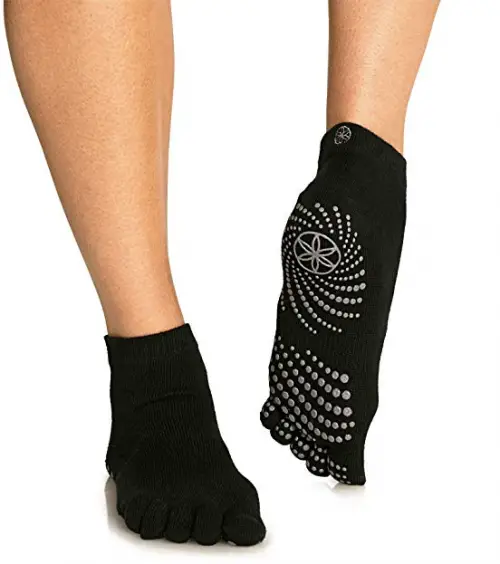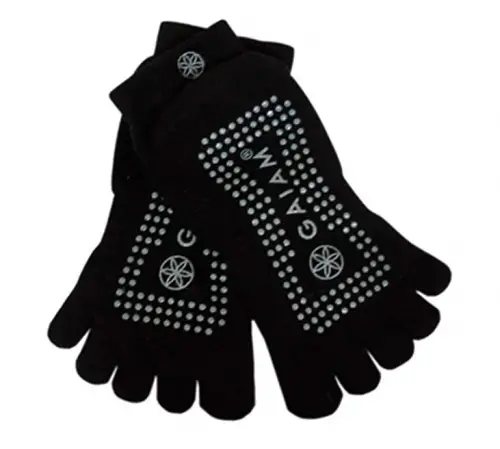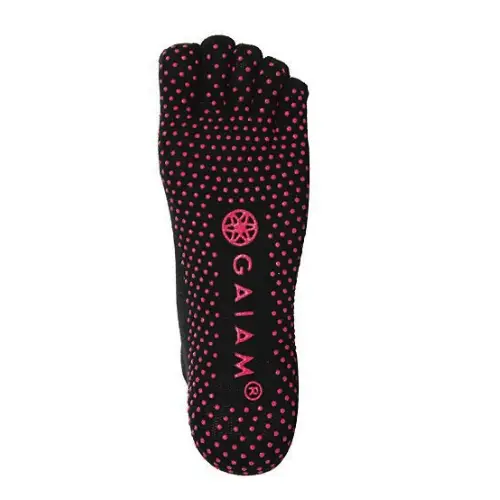 Five Toe Traction
Made For Yoga
Hygienic
Soft And Flexible
One Size Fits Most
The Gaiam socks were specifically created with yoga and pilates in mind. They have all the right features to make working out an exciting, safe, and pleasurable experience! With these socks on, you can safely practice yoga and pilates even without a yoga mat underneath you. They come in two different sizes and a lot of different colors to suit everyone's individual style.
Read more
The Gaiam socks have a unique design. They have toe socks, which wrap around each of your individual toes to give you unparalleled comfort and freedom of movement. They will feel like you're barefoot without the danger of slipping or germs. The grip patterns are concentrated around the heels and toes, creating traction where you need it the most. They are moisture-wicking and anti-fungus, keeping your feet healthy and dry at all times.
6

. Muezna Men's Non-Slip Yoga Socks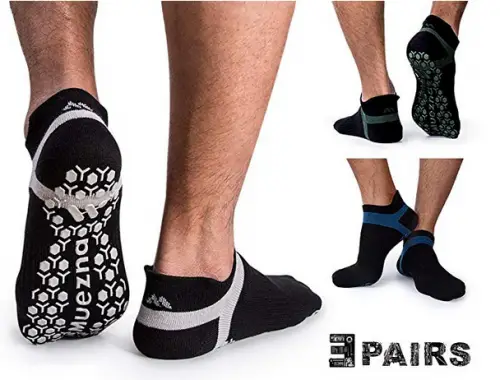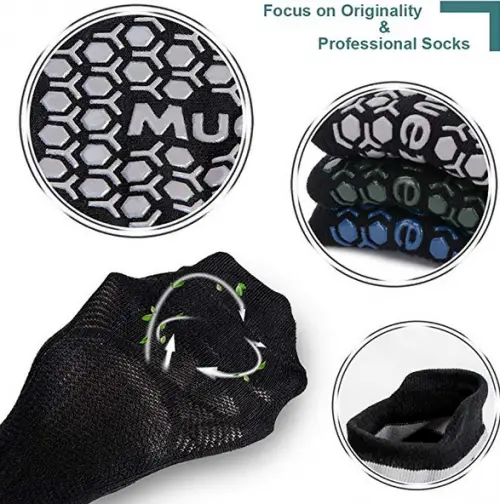 Anti-Skid Pattern
Combed Cotton
Natural Silica Gel
Breathable And Moisture-wicking
Ergonomical
The Muezna Men's yoga socks focus on creating socks that can fit both men and women equally, offering larger sizes and designs that fit both genders. The socks are made out of pure cotton, engineered to wick away moisture while keeping the socks breathable. They are not too thick, but not thin either, sitting right in the middle, making them ideal for all seasons.
Read more
Their unique design makes them very breathable, with ventilation areas placed where feet are most likely to sweat. The anti-grip patterns are made out of natural silica. They are made for working out, but they can be comfortably worn inside your home or in hospitals as well. They come in a cute, free gift-bag that makes carrying them around simple and enjoyable!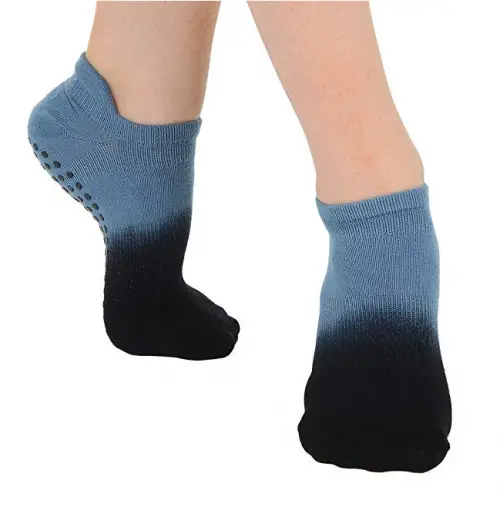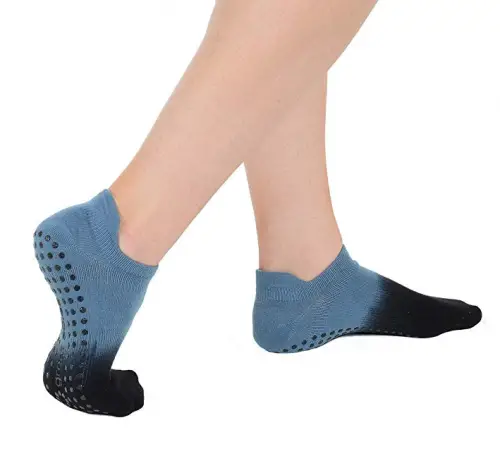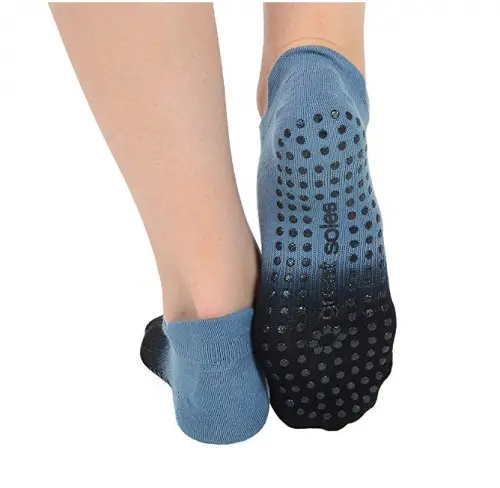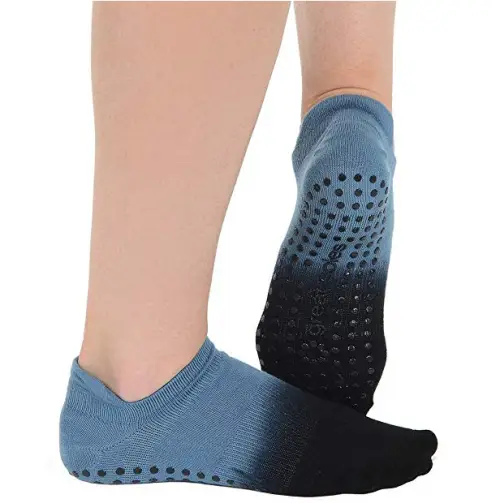 Beautiful Design
Eco-friendly Dyes
Precision Silicone Dots
Y-contoured Heel
Non-slip
These gorgeous ombre yoga socks will show off your style while keeping you safe! Great Soles was founded by two sisters who were enthusiastic about pilates with the goal to support Melanoma research. This America-based company creates non-skid socks that are great for the gym, for the hospital, and for your home.
Read more
The socks have a contoured y-heel to improve comfort and fit. The non-slip patterns go from the heels to toes to create traction no matter what your position is. The socks are hand-dipped in eco-friendly dyes to create their beautiful color transition.
They should be washed inside out to preserve the color and the grippy patterns, and they should be line dried. They are low-cut, giving you freedom of movement. The never-slip heel strip keeps the socks firmly in place.
8

. ToeSox Grip Barre Socks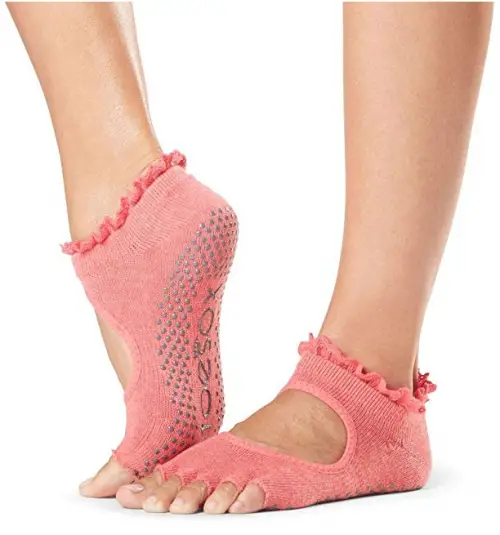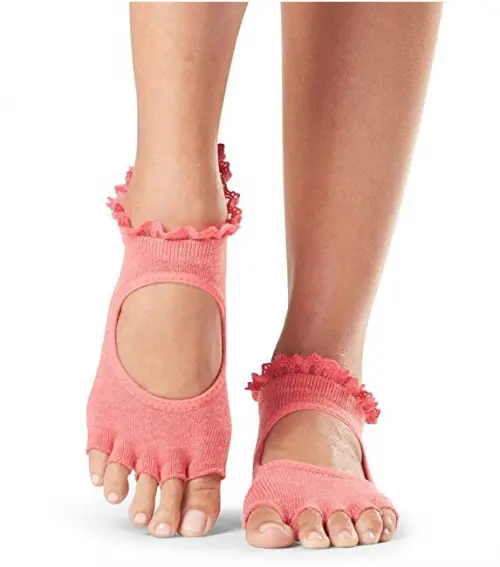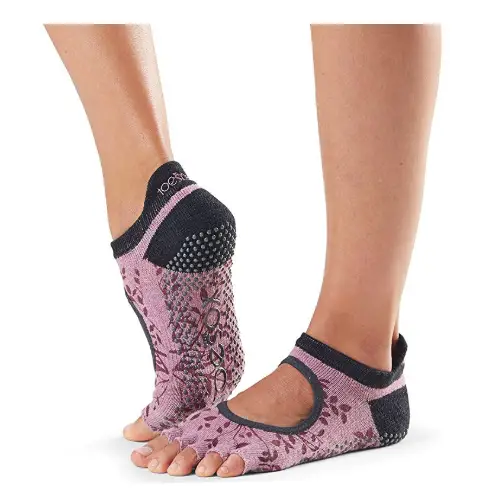 Low Profile Design
Fitted Heel
Five Toe Design
Cute And ELegant
Breathable
These barre socks are different from the rest of the socks we described in many ways. Their material blend differs as well, with polyester and elastane working together with cotton to create the perfect athletic sock. Their low profile design fits below the ankles. The cute little ruffles around the edges give the socks a ballerina look.
Read more
The fitted heels keep the socks in place while you twirl and dance, eliminating bunching and twisting. The non-slip grip sole secures your feet and allows you to move without worries. The five-toe design keeps the toes free to splay and wiggle, and the skin to ground contact also improves the grip. The socks will keep you comfy and warm throughout the exercise. The arches are left open too, improving breathability and mobility.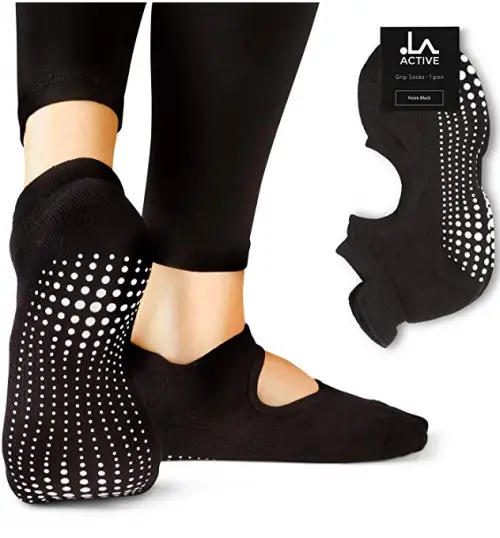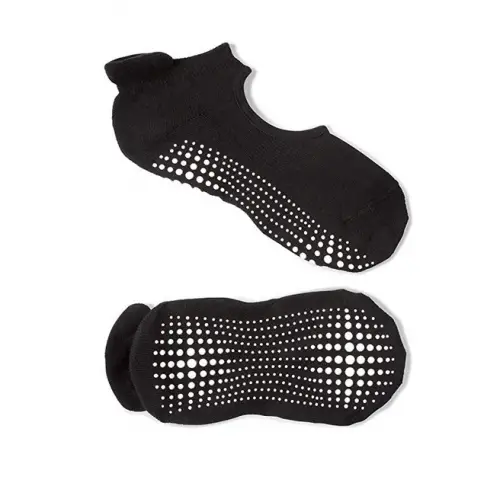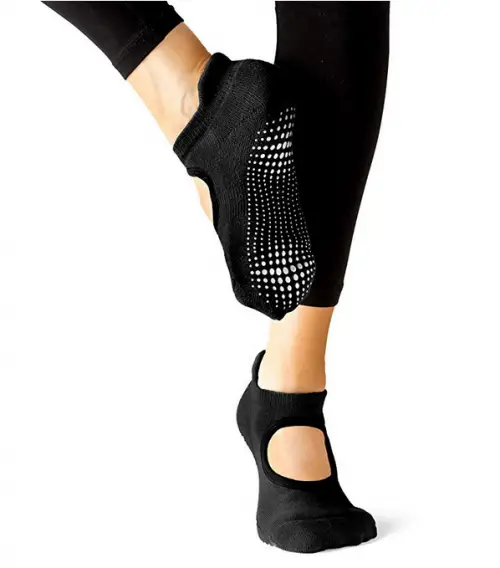 Low-profile
Hygienic
Unisex Sizing
Padded Heel Tab
The LA active socks are low profile, covering your entire foot. They do not leave the toes open, providing you with warmth and support. There is a hole around the arches though, for improved breathability and flexibility. The extra strong, environmentally friendly PVC patterns providing excellent grip while you're standing on your toes or dancing around.
Read more
The socks are designed to stay in place, no matter how complicated the movements are. The thick and flexible fibers create a comfortable yet breathable sock that supports you no matter what. The padded tabs above the heels allow for a quick on and off. The closed-toe design protects the feet from dirt and germs. The four-yarn terry loops create a super comfy and supportive sock.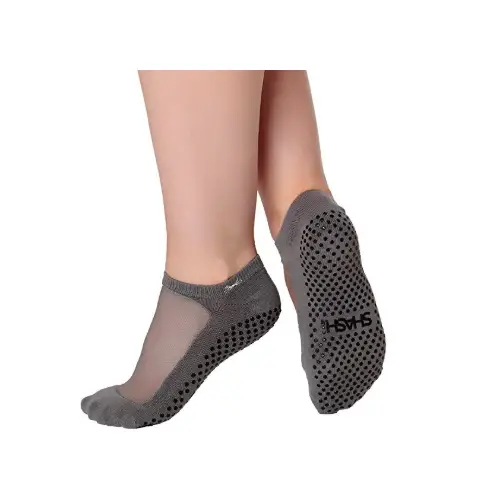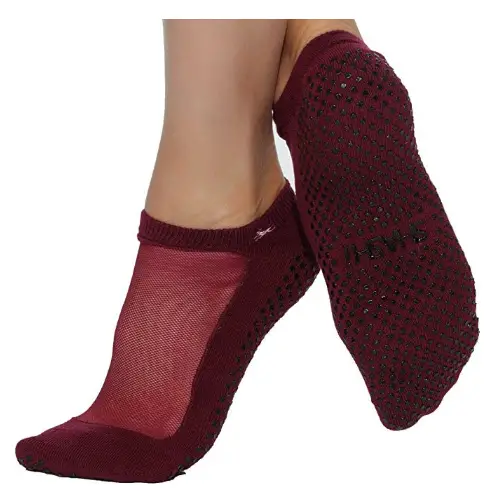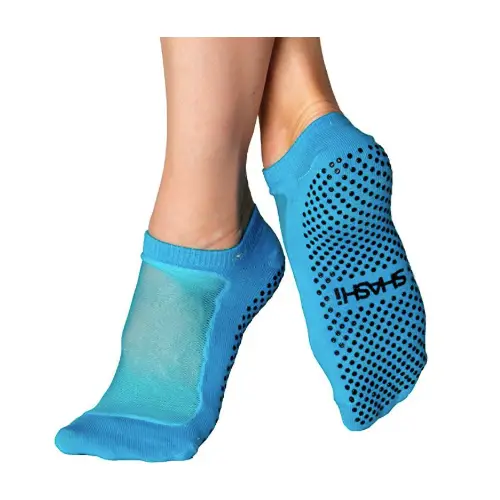 Elegant Design
Mesh Layer
Very Grippy
Low-cut Design
Anatomical Fit
The Coolmax wicking fibers of these elegant socks will keep you dry no matter how intense your exercises become. The mesh is located just above the arches. This way, they remain breathable and sexy, and you can show them off in sandals and in the gym!
Read more
The fit is comfortable and ergonomic, designed for the left and right foot. The grip patterns cover the entire bottom of the socks, providing you with excellent traction and stability. They will not slide around or bulk-up, keeping you safe from irritation and blisters!
Criteria Used for Evaluation

Traction
Of course, the most important feature of grip socks is traction. The traction is created thanks to the various patterns found on the bottom of these socks. The grippy circles, flowers, and letters are usually made out of silica gel.
Silicone is durable and very sticky, and if you ever had the chance to use anything which had a silicone grip tape, you know how good it works. It might not stick to the skin so well, but it does stick to yoga mats and gym floors, helping you stay upright. The silica grips work similarly to the outsoles of running and training sneakers.
The different shapes create raised surfaces that can easily grip the floors. Some socks have these patterns all around the soles, while others place the silica on key areas, like the toes and heels. Every sock manufacturer places the grips differently, affecting the type and the amount of traction the socks create.
This is why you need to consider what you need the socks for - do you need tons of traction to completely prevent you from slipping, or do you just need a little bit of help while you dance? The best thing you can do is buying several pairs of socks with different patterns, and then slowly wean out the ones that do not fit you until you are left with the best pair!

Comfort
You will use these socks when you work out, so their comfort matters a lot. You probably don't think about the comfort of your socks all that much, mostly concentrating on the shoes. However, yoga, pilates, and dancing are best done without shoes, and you can't exactly go barefoot in the gym!
So, think about how the socks are constructed, and whether they will work for you when you go exercise. After all, you can't use just any kind of athletic socks you find - they have to be specific, made out of non-slippery materials, or with grippy patterns as we mentioned above.
The very first thing to look out for is the length. Dancing, pilates, and yoga rely on the movement on the ankles as knees. Your best bet is either ankle or no-show socks.
You could go with quarter or crew socks too, but they might feel too restricting. Ankle socks are not the best fit for running or very intense exercises because they tend to slip into shoes. You won't be wearing shoes here so this is not something to worry about!
Then look at how tight the top band is. The top band will keep the socks in place, and there's no need to constantly stop and adjust your shoes when the band keeps them in place.
There are more ways to keep the socks in place though. Some grip socks have bands that extended around the ankles, helping stabilize them while gluing the socks to your feet. Arch support is very important for any kind of sport you're into, so some have compression bands around them for support.
When you need to stand on your toes often, that band might affect your performance. Some manufacturers choose to leave that part open to give your feet improved mobility. Some of these socks will be lightly padded. These pads help absorb the shock when you dance and move, saving your arches and ankles.
It's important to look at the amount of padding the socks have. You might think that the more cushioning the sock has the better, but that isn't true. You shouldn't have too much padding on the socks, as that could throw off your form and balance. Thick pads don't let your feet feel the ground beneath them. So go for lightly padded socks.
And finally, some socks have toe socks. You've probably seen them before - they look like little socks that wrap around the toes. Although this will feel uncomfortable at first, you will realize that when your toes are separated, they do a better job of keeping you balanced, as the foot can move completely naturally.
Some manufacturers choose to leave the toes free, completely bare. This way, the toes also create traction, and you become even more stable when working out!

Fit
You have to consider how the socks fit you, as that can directly affect the comfort and mobility. First, look at the size of the socks. Some socks are one size fits all, but usually, there are multiple sizes to choose from.
Do not go for one size fits all socks, as they probably won't fit right. Sock sizes are similar to shoe sizes, and if you know what your shoe size is, you will choose the right sock for you with ease.
The fit can also be affected by how the sock is constructed. Socks that fit the best are usually the ones that are completely closed off, but grip socks come in all shapes and sizes. When you buy socks that have an open-toe design, or socks with elastics that go around ankles, there are more factors you have to consider.
How tight is the elastic? Will the seams where the materials stop dig into your skin and create blisters and irritation? We sifted through a lot of user reviews to find you the best fitting socks out there, so there's no need to waste time worrying about this!

Materials
Grip socks can be made out of plenty of different materials. The best material choice depends on what you need the socks for, and what your personal preferences are. You might like warm, fuzzy socks, or you might prefer thin, athletic socks for your workouts.
If you tend to become cold fast, you might do best with wool, fuzzy socks. As you can probably notice, most yoga socks are made out of organic, brushed cotton. Cotton is very lightweight and breathable.
You won't even notice you have a pair of socks on! Cotton is also very stretchy, adjusting to the shape of your feet easily. It's also easy to color and style, so you will see cotton socks in every color imaginable. Some socks have polyester or spandex fibers in them.
Cotton is breathable, but it cannot wick away moisture, so you might end up sweaty. That doesn't matter as much when you wear just the socks, but it's still nice to remain dry. So polyester is used, as it does wick away moisture rather well.
Spandex is there to make the socks flexible and bendy, as it can stretch over 500 times its original length, bouncing back to its original shape in mere seconds. Nylon can be used to, woven into a mesh that makes the socks super breathable.

Features
Of course, the most important feature is traction, but we already discussed that. You need to look for breathability and moisture-wicking features too. A good, breathable sock will prevent you from sweating too much, while the moisture-wicking fibers will help the sweat evaporate fast, leaving you dry.
Some socks are treated with anti-odor and anti-bacteria technologies, leaving you smelling fresh even after intense sessions. Look for anti-blister properties too. Anti-blister socks usually have seamless toes, and proper stitches that don't dig into your skin as you move. Toesocks splay your toes, and they can also help reduce bunions, keeping the foot properly aligned.
Expert Interviews & Opinions
Most Important Criteria
(According to our experts opinion)
Experts Opinion
Editors Opinion
Users Opinion
By Default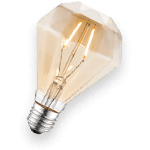 Versatility
Grip socks can be used for a lot of activities. You might not believe this (unless you had the experience to see it), but grip socks are commonly used in hospitals. In some places, shoes are not practical, but it's not good to walk barefoot either, thanks to germs. Therefore, grip socks tend to be a favorite.
You can also wear the grip socks in your home instead of slippers or shoes, as they are very comfy and warm, and they stop you from slipping around. They are also good for pilates, yoga, dancing, tai-chi, and other sports where it's a good idea to go barefoot.
Durability
A good pair of socks has to be durable. After all, these specialty socks are pricier than regular pairs, and they have to survive long enough to show they were worth the money. Some manufacturers reinforce the heels and toes, the areas most likely to wear down first.
Double-stitching and reinforced seams are also a good idea, but they are not often seen in socks as they can create unnecessary friction. The right material choice can also affect durability. You can never be sure whether your pair is durable or not until you give it a try. That is why we looked through a lot of user reviews to find the really durable socks which will survive constant abuse and wash cycles!
Other Factors to Consider

Portability
Socks are very portable products. They are small and lightweight, and they can easily fit in any kind of bag you have. This way, you can always have a back-up!
You never know when the rain can surprise you, or when the socks may tear while you're working out. It's always a good idea to bring an extra pair, and since most of the socks we described are value packs, you already have extra pairs to bring with you to the studio or to the gym!

Value
Grip socks are usually not very pricey. They shouldn't be any pricier than an athletic sock - in fact, athletic socks can cost as much as 30 dollars, while grip socks cost about five dollars, and manufacturers often offer value packs, which are budget-friendly and convenient!
A pair of socks should never be super-pricey unless they have some very unique features and unique materials that set them off from the rest, as Rockay socks do. Still, your feet have to be protected, and you have to be safe while you work out, so you must stay protected at all times!

Style
As you probably noticed, grip socks are also very stylish. They come in a lot of different colors, with designs that make them worthy of a night out! Show off their elegant ruffles or beautiful mesh layers in sandals or in slippers, while the grippy layer keeps them in place. They can also be neutral, with a regular design and calm colors that can match any style. this way, they are both compatible with home life and with active, social butterflies!

Bottom Line
The market is filled with a myriad of different grip socks today, and it's hard to make the right choice. You will need to consider what you like and which sport you need the socks for before you buy a pair. You can't make a wrong choice if you consult our list, but there's always a better option for your needs! We hope our guide has helped you find what you were looking for, and that you understand why grip socks are so popular!
Frequently Asked Questions
q:

Can I wear grip socks on carpets or tiles?

a:

There's no reason to avoid wearing these socks on surfaces that already provide traction. The socks won't stop you from moving normally, and they won't wear down faster either. Some cheap socks may leave marks on the floors, or they might do that if you wash them the wrong way.

Be sure to check whether the color comes off before you run across carpets in them! Grippy socks were made for slippery surfaces though, and their features are best shown when you wear them in yoga studios or at the gym.
q:

How do I wash grip socks?

a:

Grip socks have special little rubber or silica patterns, so caring for them is a bit different. The washing and care are also affected by what the socks are made out of. Many socks can be washed in the machine in cold water, but avoid putting them in dryers to avoid shrinking and melting.

The best way to wash them is by hand though, so you can see whether you're affecting the socks and that way you prevent shrinkage the most. It's always smart to check out the washing instructions before you decide to clean them, as the manufacturer will tell you which way is the best.
q:

Can't I just wear regular socks when working out?

a:

When you have a pair of shoes on, you can wear any kind of athletic sock underneath, yet it's still not recommended you wear regular socks underneath. When you go barefoot on slippery surfaces, your feet will create enough traction. Wearing normal, slippery socks on already slippery surfaces is a recipe for disaster, so you really need socks that can create a good amount of traction to keep you safe!

Regular socks can't keep up with our athletic lifestyles. They will fall apart quickly, and they tend to slip around and bunch up, creating blisters. Regular socks also do not wick away moisture, so you will be sweaty and smelly before you know it!
q:

Do I need to wear an extra pair of socks underneath grip socks?

a:

There's no need to wear two pairs of socks. These socks already act just like any other sock does, and by wearing two pairs you will stretch them out and affect the fit. This will prevent you from moving around normally, and you might feel cramped up. Just wear the grip socks alone and it should be fine! It's never a good idea to wear two pairs of socks at the same time.
q:

Can I wear shoes with grip socks?

a:

Plenty of these socks are thin, lightweight, and breathable, so you can easily wear them inside shoes. They can even fit in booties and sandals, although their grippy patterns might be too thick for some shoes. Test them out with your shoes before you set off to avoid unnecessary issues! Some grip socks have mesh and ruffles which just make them irresistible, so you will probably want to wear them even when you go out, to show off your beautiful feet!
Subscribe to our newsletter