Top 10 Crew Socks Reviewed & Rated
last updated:
Feb 12, 2020
Choosing a good pair of socks is a difficult task. With so many options and brands to choose from, how can you know that you made the right choice? Crew socks seem to be the most popular style, thanks to their universal length and excellent features. We described what we believe are the 10 best crew socks on the market today, and your only job is to make the choice! Scroll down to see our top picks!
This is the best product on our list that is currently in stock: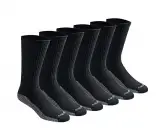 Dickies Moisture Control
Why is it better?
Moisture-control Fibers
Arch Compression Support
Ventilation Channels
Reinforced Heels And Toes
Padded
13
Researched Sources
15.5k
Reviews Considered
10
Hours Researching
11
Products Evaluated
Comfort
Fit
Materials
Features
Value
By Default
10 Best Crew Socks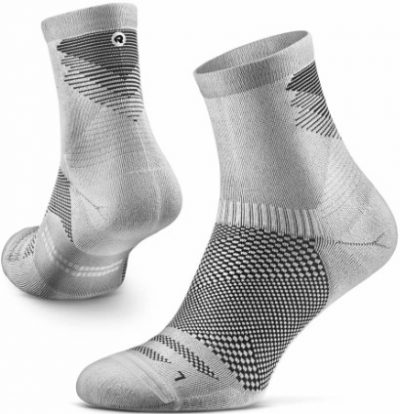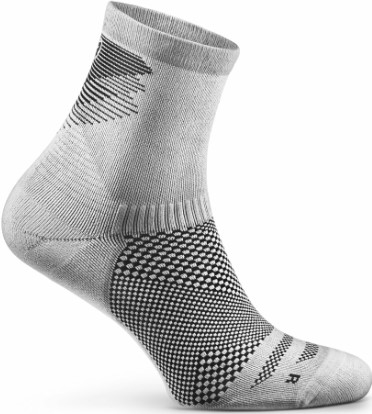 100% Recycled Materials
Seamless Toes
Reflective Logo
Breathable Mesh Zones
Arch Support
The Razer Trail comes from a company known as Rockay. This European-based brand creates high-quality athletic socks that are more than worth the money. Made out of recycled materials, these socks will last forever. Rockay cares about the environment as much as they care about your feet, and they have taken many steps to ensure they do their part for keeping the Earth green. All of their products are treated with Polygiene, which makes the socks resistant to sweat, dirt, bacteria, and bad odors, so you don't need to wash them as often as you normally would. Just air drying them will do their trick, saving your wallet and the environment!
Read more
As we mentioned above, the Razer Trail is made out of recycled materials. 51% Econyl Regenerated Nylon, 45% Recycled Polyamide, and 4% Recycled Elastane make up this sock, giving it all the right features for running. One common problem many athletes face are blisters, usually caused by poorly constructed socks. The Trail has seamless toes, removing the points of the sock that irritate and create friction, so you are essentially safe from blisters! The top band hugs your calves firmly, but it still stretches enough to give you freedom of movement. The top band prevents the socks from sliding around your legs. A small reflective logo sits just under the top band, shining like a beacon in the dark. The toes and heels of the Trail are padded to absorb shock and evenly distribute the pressure around the feet, preventing pain and fatigue. Breathable mesh zones on op of the sock cool you down and minimize sweating. An arch band supports your feet, saving you from plantar fasciitis and pain! Rockay offers a lifetime guarantee for these socks, so even if something goes wrong with the, you always have a backup pair.
2

. Dickies Moisture Control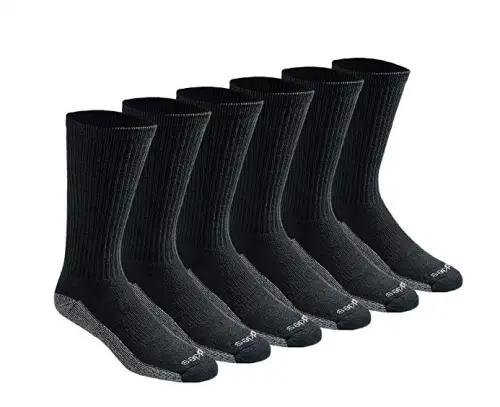 Moisture-control Fibers
Arch Compression Support
Ventilation Channels
Reinforced Heels And Toes
Padded
The Dickies men's moisture control crew socks are a great option for everyday wear. Made mostly out of cotton, they are lightweight and breathable. But 19% of the sock is made out of polyester, which comes in the form of Dri-tech fibers. Used by many brands worldwide, these fibers are excellent at moisture-wicking, removing the last drop of sweat from your socks to keep you dry. So even though cotton might not do such a good job at keeping you dry, the polyester makes up for it!
Read more
These socks were specially made for the working population. Their hard0duty construction will survive all conditions, no matter how much you use your feet. If you look at the sock closely, you will notice that it has a ribbed appearance. These ribs keep the socks in place, but they have one more very important job. The channels between the ribs are actually a mesh that ventilates your legs and keeps them dry and cool throughout the day. The socks have a band around the arches that applies compression, supporting your feet and promoting blood flow. The arch band also prevents fatigue and swelling, making feet happy all day long. The soles of the socks are cushioned, absorbing shock and distributing the pressure around the feet evenly. The heels and toes of the socks are reinforced to improve durability.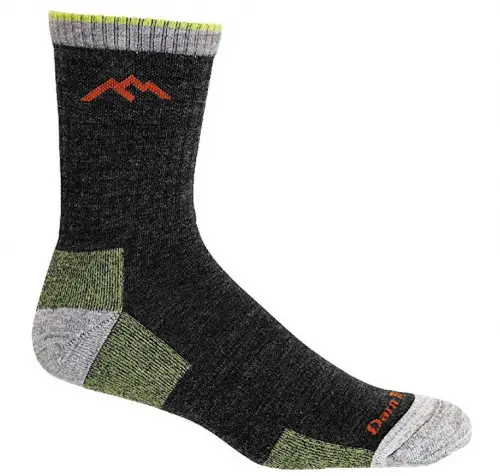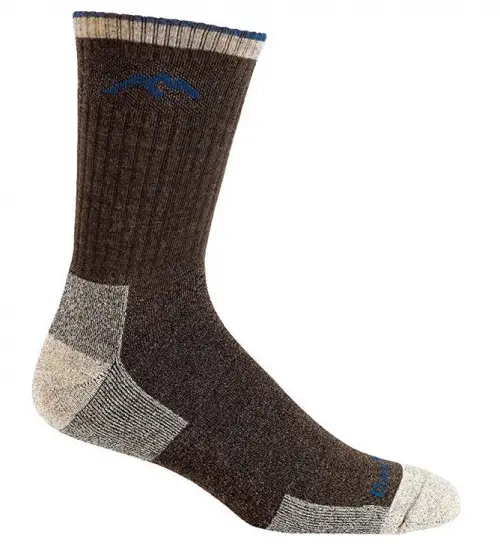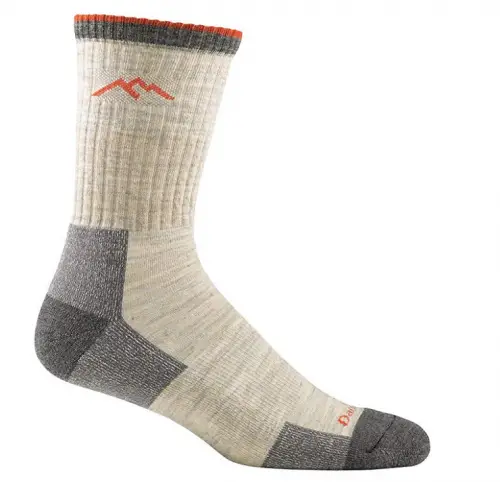 High-Density Knit
Super Durable
Mid-level Cushion Density
True Seamless Toe
Ribbed Support
Darn Tough is a company that specializes in creating gear made for hiking. Their products are tough, comfortable, and built from years and years of experience. This rugged sock has been chosen by hikers many times over as their favorite pair that gets them through all the perils hiking can cause. This Vermont-based company is a family-owned business that has been knitting socks for over 40 years, delivering top-quality socks that will never fail to amaze!
Read more
The Hiker has a high density knit. This means that there are more stitches per inch, and these stitches create a comfortable, super durable sock. The socks are thicker, but instead of having more bulk, the dense stitches warm you up without cramping up your feet. The stitches also reinforce common wear zones, like the heels and toes. If you look at the underfoot, you will notice slightly raised areas. These are the mid-level cushions, just enough to protect you without affecting the fit of your shoes. Darn Tough uses the newest sewing machines from Italy, used to make a truly seamless sock. The undetectable seams save you from unnecessary friction. The socks are ribbed, supporting your feet and hugging you gently, yet firmly.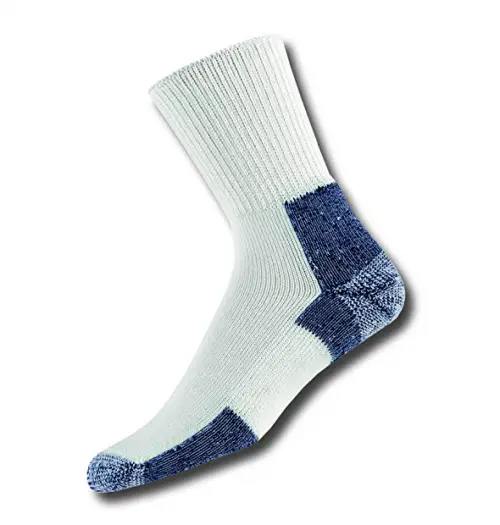 Thorlo Legendary Padding
Thor-Lon Fibers Wick Away Moisture
Anatomical Design
Low Profile Toe Seams
Arch Support
Thorlos is a well-known brand that creates amazing, high-quality socks. The socks are mostly made out of acrylic fibers, with nylon and elastane there to increase breathability and improve the fit. The socks are proudly made in the USA! You can safely wash these socks in a washing machine, but you do have to flip them inside out, and you should use a liquid fabric softener.
Read more
Thorlos socks have a generous amount of padding, providing comfort for every strenuous exercise. These socks are the original Thorlos activity sock, the pair that made them so recognized today. The heel and forefoot have legendary Thorlos padding, dense and supportive, but not bulky at all. The acrylic fibers are what make up the Thor-Lon fibers, which wick away moisture like champs, keeping you dry and fresh. The fibers are strong, resulting in a very durable sock. The socks follow the natural contours of the foot, providing you with an anatomical fit that keeps your feet moving naturally. There is a toe seam, but it's low profile so it won't rub your toes raw. The flat knit instep and the cushioning in the arches give them much needed support that prevents fatigue and pain!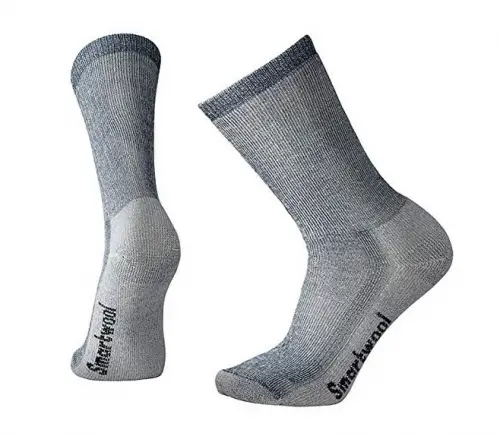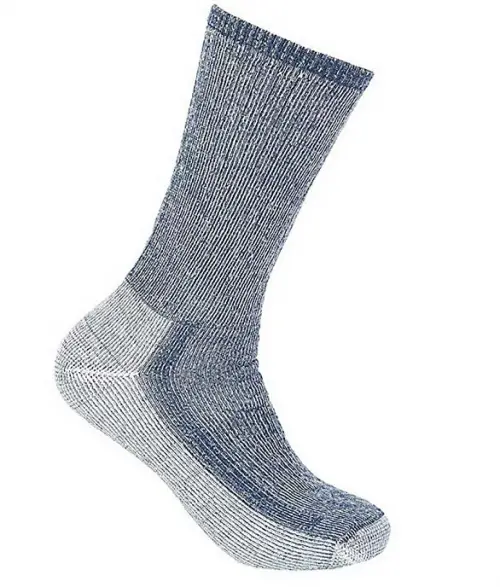 4 Degree Elite Fit System
Flex Zones Around Ankles
Indestructawool Technology
Body-mapped Mesh Zones
Lightly Cushioned
Smartwool is a company that has been around since 1994. Their founders wanted a sock that can warm up their toes during winter's coldest days, and they couldn't find one, so they decided to start creating some themselves. Their breakthrough happened when they discovered Merino Wool and all the benefits it gives. They specialize in creating high-performance ski socks, and if you're looking for a pair to keep you warm when the temperature drops down below zero, you've come to the right spot!
Read more
These lightweight socks have a 4 Degree elite fit system that wraps around your feet like a layer of second, warmer skin. There are flex zones around the ankles that allow you to move unhindered by the thick construction of the socks. The toes are virtually seamless, protecting you from hot spots and blisters. Every pair from Smartwool is designed with Indestructawool fibers. These fibers are super soft but very durable, promising a cushy fit for years to come. Body-mapped mesh zones sit in all the places where hot air is likeliest to gather, forcing it out and leaving room for cool, fresh air to enter. The bottom of the socks is lightly padded, just enough to offer protection without affecting the fit of your boots. Remember to wash the socks inside out! The high wool content can cause fluff to gather on the surface, and by turning the socks inside out, you avoid this issue.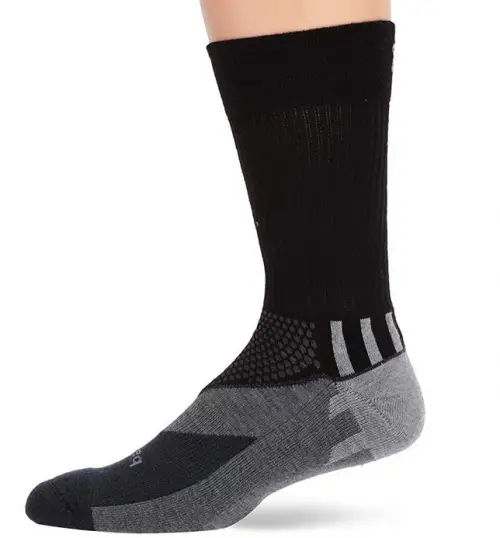 Drynamix Polyester
Non-constricting Compression Bands
Sensitive Rib Top
Mesh Panels
V-tech Arch Support System
Balega is known for creating amazing athletic ankle socks, but they can create a mean crew sock too! The socks are made out of polyester, polyamide, and elastane. Most of the construction is reserved for polyester, but it's not your regular, run-of-the-mill polyester. Instead, these fibers are Balega's proprietary drynamix polyester, and the moisture management system these fibers create will keep you dry no matter how intense your day becomes.
Read more
If you take a closer look at the socks, you will notice a triangle pattern at the top, over the arches. This is the mesh panel zone, added there to improve breathability and to cool you down. Just underneath the mesh panels lay the v-tech arch compression band. This support system adds structure, and the unique shape supports the arches without cutting off circulation. A sensitive rib top is gentle towards the skin, holding the socks in place without compromising comfort. The non-constricting compression pads on the bottom help guide blood to your feet, reducing fatigue and swelling. The mid-weight cushioning keeps you moving forward and doesn't create unnecessary bulk. The toe seams are hand-linked, leaving no room for error that can potentially create blisters!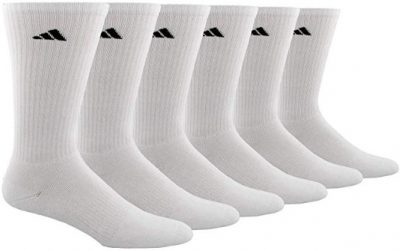 Cushioned Foot
Moisture-Wicking Fibers
Pack of Six
Arch Compression Band
We've all heard of Adidas before, and although their shoes are their most famous products, they do create other sports apparel, and socks are one of them. Most of the sock is made out of polyester, with only 3% made out of spandex. The polyester-dominated construction will wick away moisture very well, but it might leave your feet feeling suffocated.
Read more
The socks have a cushioned bottom, improving comfort and durability. The polyester is actually the moisture-wicking fibers that keep you dry all day long, preventing dirt buildup and bad odors. The socks have a tight arch compression band that keeps your blood moving, reducing swelling and fatigue. The socks can be washed in a machine, but the water must be cold, and you must wash them with similar colors as their color tends to bleed.
8

. Timberland Men's 4 Pack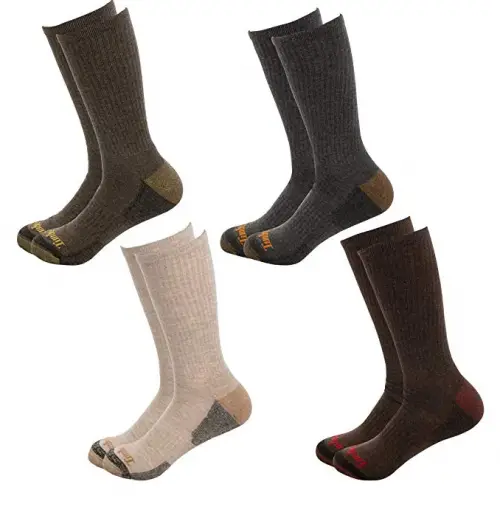 Four-pack
Budget-friendly
Great Everyday Sock
Knit-in Arch Support
Timberland is a brand that creates excellent winter booties, but you can rely on them to supply you with excellent socks too for all-around protection! The assorted colors of this four-pack go just right with the color of their shoes, and with mostly warm colors, making them ideal for autumn. These socks are budget-friendly too, as these four-pack costs as much as one pair of athletic socks do!
Read more
The socks are ribbed, the ribs meant to keep the socks in place. The cuff is welted too, cushy and soft, so don't worry about being itchy all day. The knit-in arch support comfortably envelops the arches, giving them gentle support throughout the day. The brand name is printed across the toes.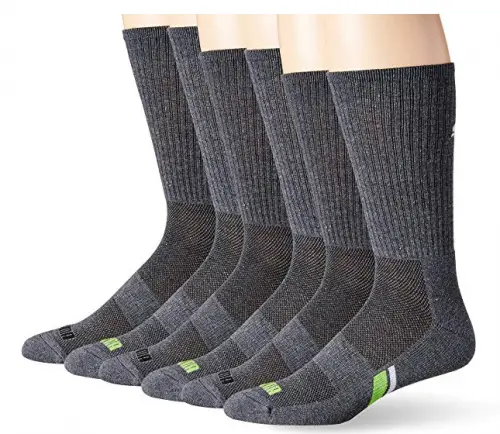 Pack of Six
Moisture-wicking
Arch Support
Ribbed Design
Puma creates footwear and other sports gear made for athletes, and with so much experience under their hats, they do an excellent job at it! These socks are mostly made out of polyester, with just a little bit of spandex to help the socks fit around your feet. The polyester changes its construction throughout the socks though, moisture-wicking in some places and breathable in others.
Read more
This six-pack will have you covered for years to come, and you can easily switch the pairs for every day of the week, enjoying comfort and support all the time. The shaft of the socks is ribbed, keeping them in place. There are breathable mesh panels on the top of the foot, intersected with built-in arch support. This way, you stay cool and fresh while your feet enjoy all the support they need!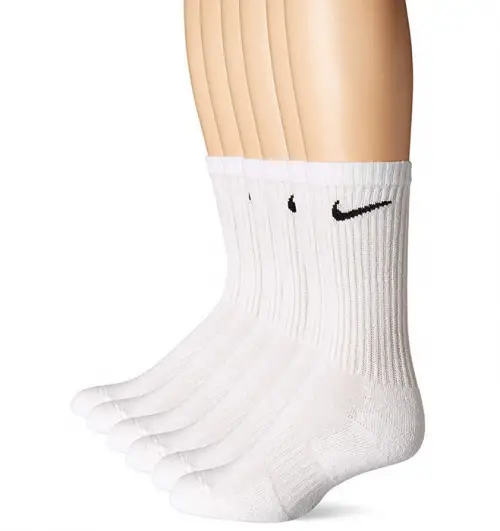 Versatile Socks
Sweat-wicking
Terry Soles
High-friction Yarns
These everyday socks from Nike are very versatile, working both as an everyday sock and as an exercising partner. The fibers woven throughout the sock wick away sweat, keeping you dry and odor-free.
Read more
The terry soles create a very comfortable environment, absorbing impact and saving your feet when you exercise. The footbed has high-friction yarn that sticks to your feet, preventing the socks from moving around. The top band is tight yet comfy, gluing the socks to your calves and reducing bunching. a compression band around the arches supports your feet, allowing you to power through your exercises without feeling pain!
Criteria Used for Evaluation

Comfort
We spend most of our lives on our feet, and we tend to think about the comfort of our shoes before we consider the one thing that stands between our feet and the shoes - our socks. A comfortable sock matters just as much as a comfortable shoe does! If you truly want to enjoy a cozy foot environment, you have to choose the right pair of socks. The comfort of the sock is decided by many factors, but mostly the construction, the materials, and the features the sock has.
You have to consider the way your socks are made before everything else. You probably noticed that plenty of athletic socks have seamless construction and very precise stitching. The reason why is very simple. Seams that are thick and bumpy rub against your feet when you walk, creating friction. That friction then creates hot spots or blisters, and they are the complete opposite of comfort. Socks that slide around our footwear spell disaster too, which is why a high-quality sock has to be non-slip. No show socks and ankle socks are the ones who most often slide into your shoes, but crew socks can be guilty of this too. They might not slither all the way into the sneakers, but they can bunch up and create friction. The best measure to prevent this from happening is a tight top band. The top band should hold the sock in place without cutting off your circulation. If the sock has compressive elements, they will help the socks stay in place as well. A tight top band will also keep dirt outside of the socks, so there won't be anything in the socks left to irritate you.
The padding can also affect the level of comfort. Some socks are fully padded, while other socks have strategically placed cushions meant for specific socks. Some socks have no padding at all, and those are best for everyday wear, or for shoes that are already generously padded. The amount of padding you need will depend on the purpose of the sock. If you want to run, the toes and heels are the areas that should have cushions, because they suffer the most from the impact when your foot makes contact with the ground. Hiking socks should be padded even more, and the padding can even extend above the heels to guard your Achilles tendon. If you just want a crew sock to wear indoors, the padding doesn't matter, and you can choose whatever you like. Finally, if you need a pair of crew socks for the gym, try to get socks with little to no padding. When you lift, you need to have a stable, firm surface to support your feet as you drive your heels into the ground, and cushions can disrupt that, resulting in poor form and injuries.
And last but not least, the compression also affects comfort. Compression socks are a very popular clothing item, and they are used by athletes, nurses, pregnant women, and people who suffer from circulation issues. The compression found in socks is usually graduated, meaning that the intensity of the squeezing changes throughout the sock. It's usually the tightest around your arches, offering them support, and it gradually weakens as it nears the toes and the heels. It's also relatively weak around the calves, while the top band remains firm to keep the socks in place. Compression can reduce swelling, fatigue, and muscle vibrations, increasing comfort as a result. It also improves circulation and aids recovery and healing!

Fit
Although you don't often think about the way the sock fits, because it's stretchy and flexible, it is something that you need to consider before buying it, especially if the socks are for athletic or medical purposes. Regular socks are usually one size fits all. Although this is very convenient, it's not accurate and it doesn't take different foot shapes into account. A person with average foot size and width can do well with a universal sock, but as soon as you fall out of the average range, and many of us do, this won't work for you. And that's when you need to look into socks of different sizes. Usually, sock manufacturers follow the same chart shoe sizes do, and your shoe size should be equal to your sock size. If you don't know what your shoe size is, there's an easy way to find out. You need to step barefoot on a piece of paper and trace the outline of your feet. Measure the longest and widest points, write down the numbers and compare them to an online size guide. Crew socks go over your ankles and reach your calves, so sometimes you will need to measure your ankle and calf circumference to get the best fit. If you fall between sizes, some brands will tell you to go for the larger size, while others recommend going for the smaller one. This depends on how flexible the socks are, and how much they stretch out when you wear them. The fit is also affected by what the socks are made out of, whether they have compression or not, and by the features, they are adorned with.

Materials
Socks can be made out of any material you can think of. The very first socks were actually made out of leather or matter animal fur, and we can hardly imagine wearing leather socks today! Socks are either made out of natural or synthetic materials. The two most popular natural materials are cotton and wool, while polyester, nylon, and elastane are common synthetic options.
Cotton is used to create everyday socks. It comes from the cotton plant, and it's relatively cheap and easy to find. Cotton socks are usually very colorful, as the material absorbs colors very well. Cotton is lightweight and very breathable, making cotton socks excellent for warm weather. But cotton is not very durable, and it cannot wick away moisture, so it's not a good choice for athletic socks. Wool is an excellent choice though. Your first association for wool would probably be warmth. Although wool socks do keep us warm, they can also cool us down. Wool is a miraculous material, with thick strands of hair that trap air pockets. These air pockets either cool you down or warm you up, adapting to the weather and your temperature effectively. Wool can also absorb plenty of moisture, but it beats cotton because it transports that moisture to the upper layers where it can freely evaporate, leaving you dry. Wool is very tough, and it's unlikely a pair of wool socks will tear. But wool is very pricey, especially Merino wool, so don't be surprised when you see socks with wool strands adorned a hefty price tag!
Polyester, elastane, and nylon are all synthetic fibers. They are derived from the same ancestor - plastic. Polyester is a hardy material that is very capable of wicking away moisture, leaving you dry and bacteria-free. Nylon is usually transformed into a mesh, creating breathable layers that let air circulate. And elastane, or spandex, is a super stretchy material that allows your feet to move naturally. Many manufacturers use these materials, but they transform them into highly specialized weaves that create excellent socks. Some brands are eco-friendly, like Rockay, and they use recycled materials, saving the planet from excess plastic. A sock that is made out of a blend of all the materials we mentioned above should be the best choice.

Features
Some socks have some extra features that make them a perfect choice for sports and other activities that do not work well with everyday socks. The most important features of any sock should be moisture-wicking and breathability. Moisture-wicking fibers will keep you dry, while a breathable layer will let the fresh air cool you down, minimizing sweating. Some brands treat their socks to prevent bacteria and sweat buildup, meaning you won't even need to wash the socks so often. Some socks are anti-blister, saving you from the most annoying foot problem. Padding and special top bands are also excellent features, as we discussed in the Comfort section.

Value
Socks are usually very cheap, and you won't have to spend a fortune on a pair. But specialized socks, especially athletic socks, can be expensive. They generally have features that are unique to their construction, and they last much longer than a regular does. All of these aspects rack up their price, but you shouldn't worry about spending too much on them, because their value makes up for their price! Your feet will feel better, and you will have a robust pair that will save you money in the long run.
Expert Interviews & Opinions
Most Important Criteria
(According to our experts opinion)
Experts Opinion
Editors Opinion
Users Opinion
By Default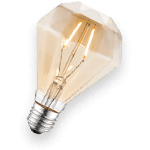 Durability
As we mentioned, these socks tend to be pricier than regular pairs, so it's important that they last a long time. We use socks every moment of our day, some even choosing to sleep in socks, and they must be able to withstand all of that pressure. You also have to know when it's time to say goodbye to your socks! Most of the products we described here are super durable, thanks to their construction and the materials used to create them.
Style
Not a lot of people think about the way they look when they exercise, but for the folks that do, the style of their socks matters. That's why the creators of the socks we talked about created pairs that come in a myriad of colors and patterns that can suit a lot of different styles. Some manufacturers created purely white or black socks, so you can easily combine them with anything you wish. No matter what your style is, we are sure that you can find a sock that fits you in this guide!
Other Factors to Consider

Portability
Socks are very small and squishy, making them portable. It's good to always have an extra pair of socks with you when you exercise, so you can change into a clean, fresh pair. When you're outside and it's raining, a dry pair of socks can save you from a lot of trouble. Socks can fit in most bags, and carrying an extra pair with you is a wise choice!

Versatility
Socks are one of the most versatile pieces of clothing you can own. Since they are practically invisible, you can wear them with anything you want. But that's not the only reason why they are so versatile, although some socks are more versatile than others. Take the Nike everyday socks as an example - they are ideal for everyday use, as the name suggests, but their extra features make them a good fit for working out as well. Darn tough hiking socks are super warm and comfy, but they should not be used as everyday socks. They will feel too warm, maybe even too tight,m and you will wear them down fast enough to regret buying them in the first place! The color of the sock also dictates its versatility. Calm, neutral hues like nudes and whites will be a good fit for most clothing combinations, while bright, vivid colors can't be a good match for every garment you have in the closet. Consider what you need the socks for, and choose according to that, and you'll find other uses for the socks along the way!

Flexibility
A good pair of socks has to be flexible. A flexible sock has to have at least one percent of spandex in it. Spandex is super flexible, stretching to over 500 percent of its original length, only to bounce back to its original length as soon as you stop stretching them out. But spandex is not the only thing that makes a pair of socks flexible. If your socks are too thick, chances are that they will constrict your movement, no matter what the spandex percentage is. Some features, like compression, also reduce the flexibility of a sock, which is why athletic socks usually don't have compression. But having a pair that is too flexible is not so good either. Socks do provide you with a little bit of support, especially in the arch area, and that helps your feet fight off fatigue and swelling, giving you the strength to last throughout the day.
Frequently Asked Questions
q:

How should I wash my socks?

a:

This all depends on what the sock is made out of, and what the features are. Usually, the sock manufacturer includes a care guide with their socks, showing you exactly what you need to do to keep them clean. Some socks can be safely washed in a machine, while others have to be flipped inside out, or washed by hand. Some socks don't even have to be washed every day, saving both the socks and your wallet!
q:

Can I wear crew socks everywhere?

a:

Crew socks are the most versatile sock style, and they are appropriate for all kinds of weather. They are also the most popular style, and you'll always have options. Crew socks can become warm during summer, and that's the only time when ankle or no-show socks are a better choice!
q:

Are crew socks better than no show socks?

a:

There's no winner here, as that depends on what you need the socks for. Ankle socks are better for running and for hot weather, while crew socks keep you warm and stabilize your ankles, making them better for hiking and walking.
q:

How often should I buy a new pair of socks?

a:

You should always have a few extra pairs of socks, of varying length, laying around. You never know when your machine may decide to eat one of your socks, or when your pair will begin sprouting holes. As soon as you notice that the socks have stretched beyond recognition when pills start to form on the surface, or when they have way too many holes, it's time to change the pair!
q:

Are crew socks pricier than ankle socks?

a:

More material has to be used to create a pair of crew socks, so they are slightly pricier. But some ankle socks can beat crew socks simply because they have more features, or they were created using unique materials. Socks are not pricey generally speaking, and the priciest pair can cost only about 40 dollars or so!
Subscribe to our newsletter