The 10 Socks for Sweaty Feet Reviewed and Rated
last updated:
May 20, 2020
Those sweaty feet can be frustrating and a little embarrassing. You might change your socks regularly, wash your feet frequently, and take your shoes off when you can, and still, they are damp from overly sweaty feet. To tell you the truth, the main problem is probably in your socks. If you can find the right socks it could help a bunch in keeping your feet comfortable and dry. Many are designed to absorb, so you want to pay attention to the material they are made of. In this article, we are taking a look at the best socks for sweaty feet that are on the market to help people who deal with the frustration of sweaty feet.
In a Hurry? The test winner after 22 hrs of research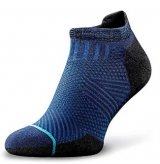 Rockay Accelerate Running Socks
Why is it better?
Made with organic merino wool
Secure elastic top
Reflective logo on the back of sock for safety
20
Researched Sources
11k
Reviews Considered
22
Hours Researching
14
Products Evaluated
Features
Materials
Breathability
Durability
Comfort
By Default
10 Best Socks For Sweaty Feet
1

. Rockay Accelerate Running Socks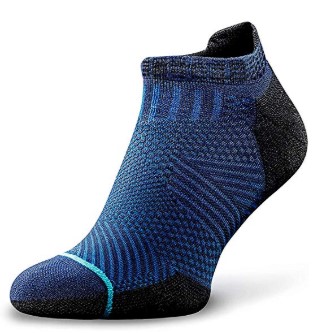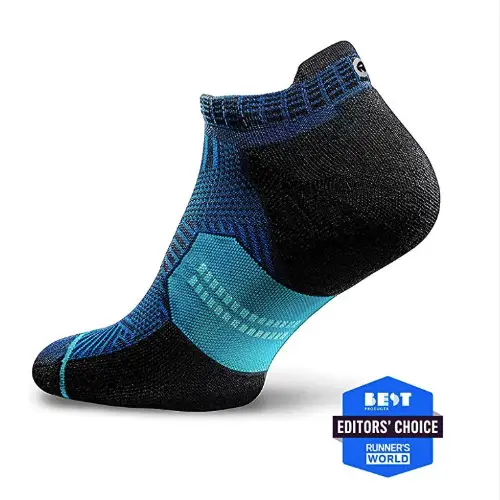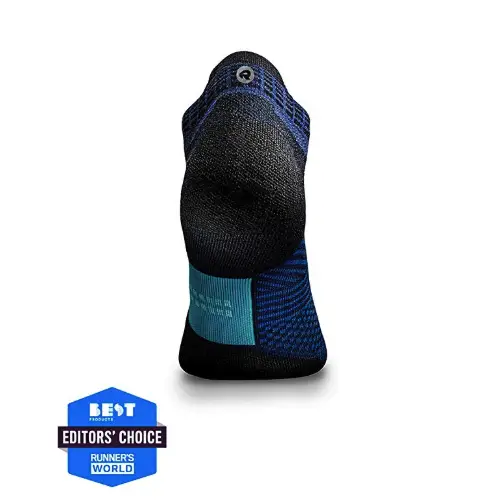 Made with organic merino wool
Secure elastic top
Reflective logo on the back of sock for safety
Rockay Accelerate socks are a great choice to take care of your sweaty feet. They feature a secure elastic top which prevents them from slipping into your shoe and helps keep dirt out. There is also a reflective logo on the back of each sock to keep you safe during night runs.
These socks are built for comfort with a padded forefoot and extra breathability with a light mesh in ventilated areas. There is a seamless construction that is also designed to keep your feet comfortable and avoid blisters or irritation. There is also extra padding around the toes.
Read more
Rockay socks are known for their premium quality. They won the Runners World Editor's Choice award as well as being named a top sock by Business Insider, Runnerclick, Forbes, and many others. These socks are guaranteed to be durable even in extreme conditions. They are padded in the heel and toes so you will not have to worry about blisters or chafing. They are tested to protect your feet in all walking, running, and hiking activities.
These socks also have sturdy compression around the arch of your foot and tight elastic top band which protect your foot. They are made of organic merino wood with ventilation zones. These features help the socks wick away sweat and give you a breathable sock that will last whether you are walking, running, or hiking. These socks work hard to keep your feet dry and blister-free no matter what type of intense workout you are doing.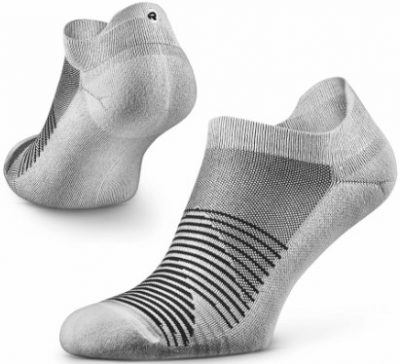 Moisture-wicking
Breathable mesh zones
100% recycled material
Performance cushioning
Lifetime guarantee
If you are on the market for an athletic sock that not only works to keep your feet dry and odor-free but also offers an amazing level of comfort, then look no further that the 20four7 athletic sock. This sock was designed to work as hard as you do, but will leave your feet feeling so comfortable, you might never want to take them off! Keep reading to learn more about this amazing sock and its features.
Read more
The 20four7 athletic sock was designed for anyone who likes to wear a comfortable sock that has added benefits. With comfort and effectiveness in mind, this sock can offer the best of both worlds. This sock has breathable mesh zones throughout the sock, allowing your feet to breathe. It has amazing moisture-wicking qualities that work hard at keeping your feet dry and odor-free.
It also offers performance cushioning in all the right areas, your heels, and your toes. This added cushioning provides just the right amount of comfort without being too bulky. A sock that is too bulky can prevent your feet from being able to breathe, causing odor to build up. This sock also comes with a seamless toe, which only adds to the comfort level.
Made from a combination of Econyl regenerated nylon, recycled polyamide, and recycled elastane, these socks are made from 100% recycled materials, so they are not only amazing for your feet, but they are amazing for the environment as well. Backed by a lifetime guarantee, it's about time that you take a step in the right direction and try a pair of these socks today. Your feet will thank you!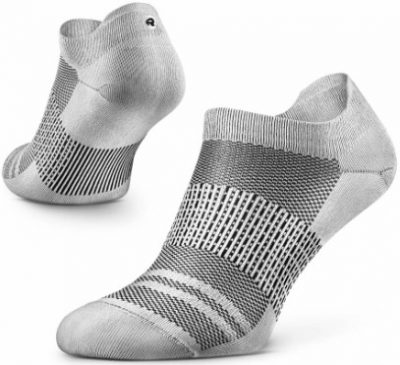 Thin and lightweight
Arch support
Moisture-wicking
Seamless toes
Lifetime Guarantee
Rockay is a company that is becoming quite popular in the running world. Their athletic socks are being sold all around the world, and are known for their high-quality material. The Rockay Agile running sock is no different. Made from 100% recycled materials, these socks are not only great for wicking away moisture, but they are safe for the environment as well.
Read more
The Agile socks offer multiple breathable mesh zones that will keep your feet feeling dry, fresh, and comfortable during your run or workout. They work hard at wicking away moisture, which means that you won't have to worry about your feet sweating or your socks trapping in those embarrassing odors.
Sweat and odor aren't only things these socks tackle. They are also designed with comfort in mind. These ultra-light, thin socks offer the perfect amount of arch support, leaving your feet feeling amazing, no matter how intense of a workout you have had. The seamless toe only adds to the level of comfort, preventing your socks from pinching your toes or having to stop mid-run or workout to adjust your socks.
Made from a combination of Econyl regenerated nylon, recycled polyamide, and recycled elastane, you will not only be helping your feet, but you will be helping the environment as well. These thin running socks are backed by a lifetime guarantee, so you really can't go wrong with this choice! You won't be disappointed.
4

. Dickies Moisture Control Crew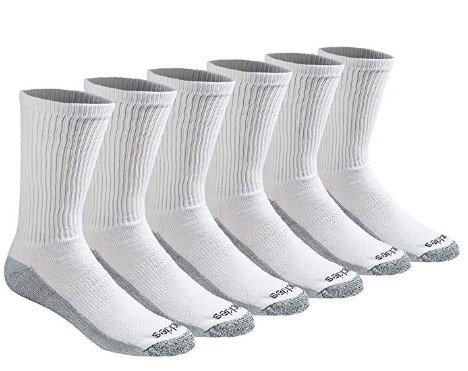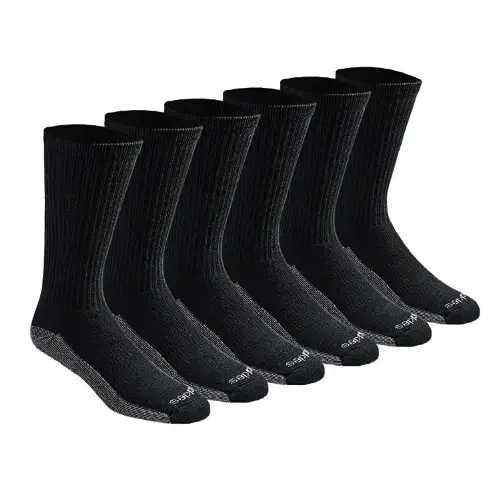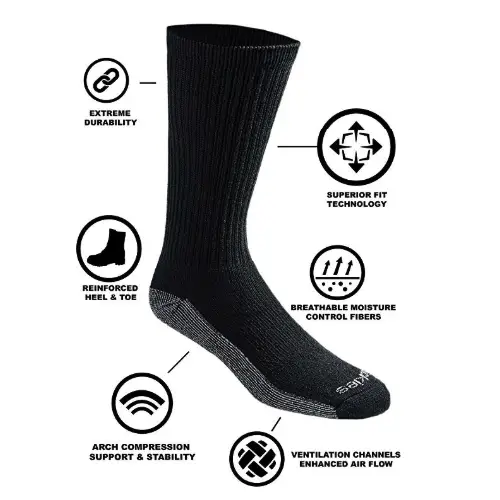 76 percent cotton
Dri-Tech technology
Has good arch compression
Dickies socks feature Dri-tech comfort which has fibers with moisture management to help keep your feet dry. They are also designed with ventilation channels to give your feet good air circulation and help control moisture. Their arch compression snugs against your feet and keeps the socks in place and also give you in-step support.
There is a reciprocated toe and heel that give your feet a good fit and cushioned support. Also, these socks are 76 percent cotton with some polyester, spandex, and nylon. They have a No Closure closure and are machine washable.
Read more
Dickies socks are made for work. They are ready for any training or competition you wish to wear them through. These socks feature the Dri-Tech technology which offers effective moisture control with moisture management. That sweat on your feet is handled so they stay cool and dry and you can focus on your workout. These socks work for men or women and give you a complete solution based sock.
Dickies are designed to be a work sock so they are durable and ready to be put to the test. You will enjoy that Dickie stay-dry comfort when you can stop worrying about your feet smelling or slipping. They will stay cool and dry. The ventilation is taken care of with mesh channels which help to improve the airflow for your feet and the breathability. There is fit arch compression that will give you stability and support for a great fit.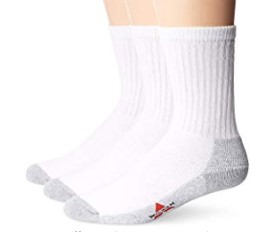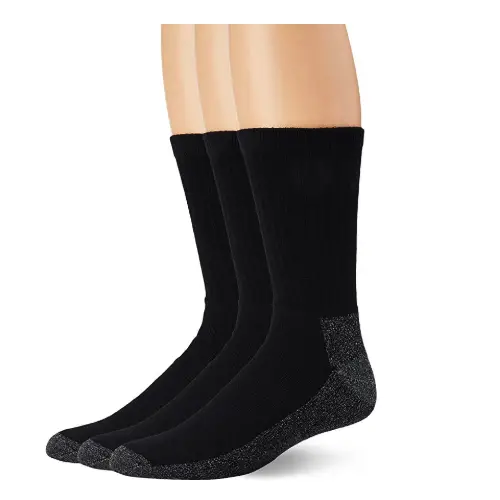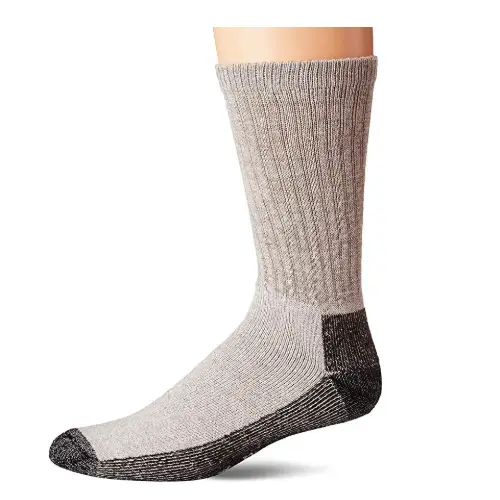 Cushioning on bottom of the sock
Have antimicrobial protection
Medium weight socks
Cushioning flattens some after several washes
These Wigwam Crew Socks are a high-quality foot covering treated with odor guard to kill bacteria. They have a long-wearing cushioned sole as well as a stay-put leg and toe closure which is low profile. These socks are 67 percent cotton with acrylic, stretch nylon, and elastic. The socks are ribbed and feature a contrasting footbed and a toe seam which is smooth. These socks are treated with odor guard to help with odor and athlete's foot.
Read more
Wigwam socks are hard working. They keep your sweaty feet comfortable and protected. They have the added benefit of antimicrobial protection. These are midweight socks with cushioning under the foot to give you better comfort. The bottom of the foot is reinforced with synthetic fibers to make them last longer. The instep is lightweight so your feet have better airflow and breathability. The cotton is naturally comfortable and soft. They are made with 86 percent cotton.
You will find these socks have long-wearing durability. You do not want to endure an intense workout with a hole in the toe or heel of your sock. These socks are reinforced with special synthetic fibers at the bottom of the foot sock bed. This gives you a durable long-wearing product. There is comfort from cushioning right where you need it to be. It is cushioned on the bottom so your feet are comfortable and protected.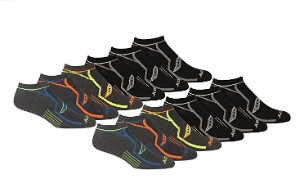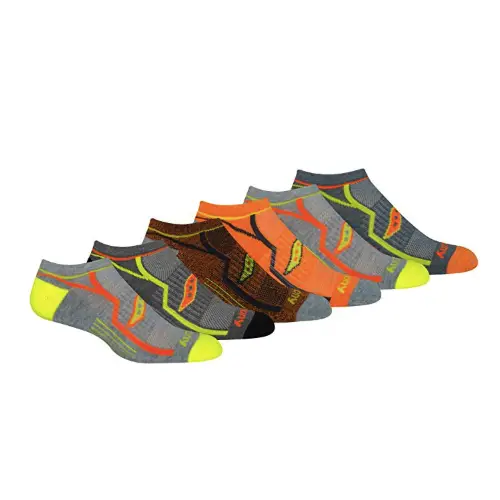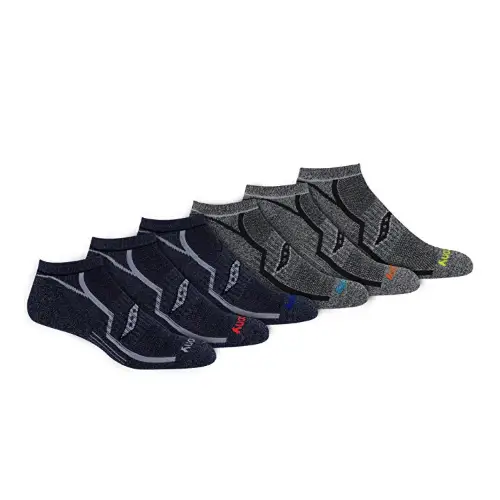 Airmesh ventilation
95 percent polyester
Targeted arch compression
Saucony no show socks are the perfect combination of support and comfort. This sock will protect your feet during the toughest training sessions. The Saucony sock features air mesh venting, arch support, and moisture management which will give your feet lasting comfort. The no show tab comes with RunDry Pro which is good for moisture control. They also have seamless construction and are designed with arch stability to give you the best performance, comfort, and fit.
Read more
Saucony is a well-known name in the footwear industry with its lines of socks and running shoes. These socks highlight their RunDry Pro which is a yarn that is super soft on your feet while keeping away moisture, even on those sweaty feet. The arch is engineered to create an arch support system that is unique in giving you a stable and secure fit. They are made with Airmesh venting which has mesh panels for good breathable airflow. They also have seamless toes to prevent irritation.
They are made with 95 percent polyester mixed with rubber and spandex with a Pull On closure. They are machine washable. The moisture management system has ultra-wicking fibers that transport moisture so even if your feet are extra sweaty they will stay fresh.
The mesh ventilation creates a fantastic airflow with the air mesh venting to keep your feet dry and cool. The arch compression is targeted with just the right compression to keep your arch secure and stable during your workout. The support system keeps it from bunching or slipping into your shoe. There is light cushioning on the sole to give you good impact protection while not taking up a lot of space in your shoes.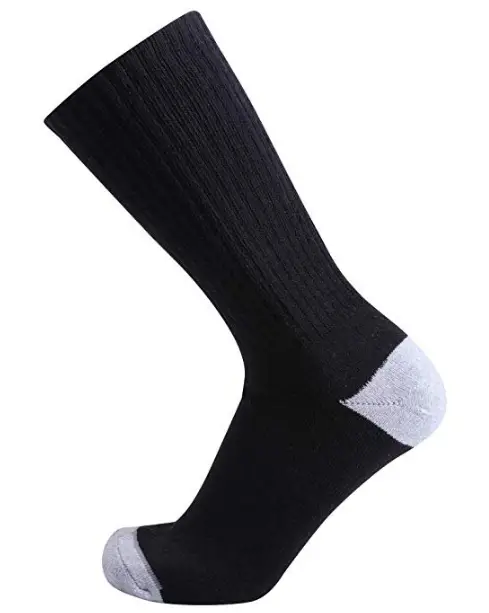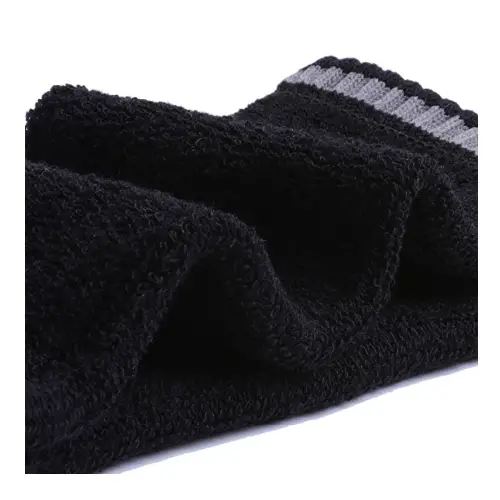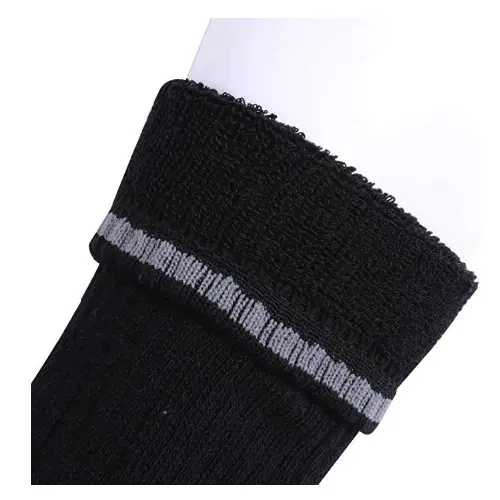 80 percent cotton
Have a good cushioning
Have a ventilation panel
Enerwear socks are 80 percent cotton and 15 percent polyester with some nylon and spandex. They are designed to take care of your feet no matter how sweaty they get. The cotton is soft against your skin. The socks have heavy cushioning which also helps to keep your feet comfortable. When you sweat a lot you will need to wash your socks on a regular basis so the reinforced toe and heel are perfect durability for regular washings. These crew socks are cushioned with a ribbed leg.
Read more
Enerwear socks are a pleasure for your feet. They feature cushioning on the bottom of the feet and are made with spandex which gives them a better fit. They are made of a soft cotton blend with a comfortable toe seam and durable construction.
They are designed to stay up during your workout so you will not be distracted. There are ventilation zones that work to improve air circulation and breathability to keep your feet cool and dry. The heel and toe of the socks are reinforced to give your socks more durability in the areas which are susceptible to more wear faster. Cushioning in high impact areas help reduce foot pain as well.
These socks are perfect for sweaty and will protect them during the most intense workouts. They feel good in athletic shoes, casual shoes, or just around the house. They hold up like new wash after wash. These socks are comfortable and fit great.
They are not too thick or thin and feel plush. They will work perfectly for any weather. You will also enjoy the elastic tops that hold their shape after being washed over and over. They stand up in the laundry.
8

. FUN TOES Men's Merino Wool Socks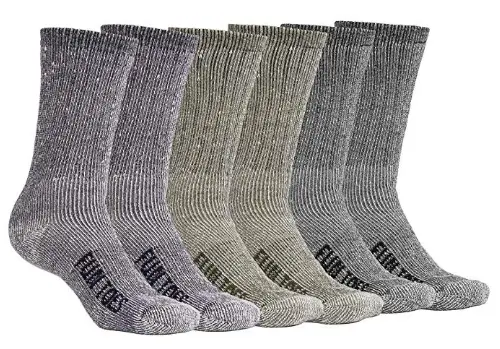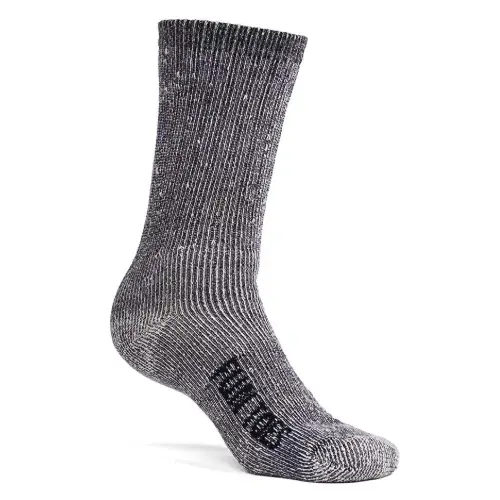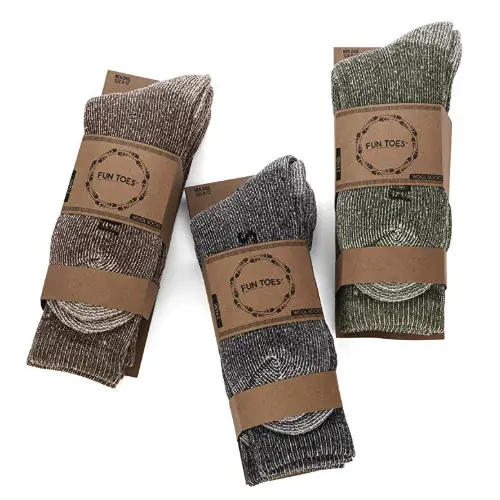 Easy to wash
50 percent Merino wool
Come in 4 colors
Reports of them starting to wear out within about 6 months
The Fun Toes socks give you socks that will keep your feet warm without having to wear something stiff and heavy. They are made from a blend of merino wool, polyester, nylon, and spandex to provide a wide variety of benefits. They are warm without being bulky and are soft on your skin instead of being itchy like most wool. No matter how much you sweat, the merino wool naturally fights odors to keep your feet fresh. These socks are stronger with reinforced soles.
Read more
These socks are the perfect way to fight sweaty feet while still keep them warm. The Merino wool is a perfect material being soft against your skin and a natural odor fighter. They have reinforced soles so they are durable enough for any use. They also offer nice arch support to keep your feet comfortable. These socks can be used for outdoor workouts in rough weather, hiking, work socks, or just every day casual socks.
These socks are perfect for winter wear made of 50 percent Merino wool. They will keep your feet warm while still being stretchy and lightweight. You do not have to worry about your feet getting sweaty and itchy, and these socks have odor-fighting properties as well. They are also easy to wash. You just turn them inside out, wash them in cold water, and then lay them out to air dry.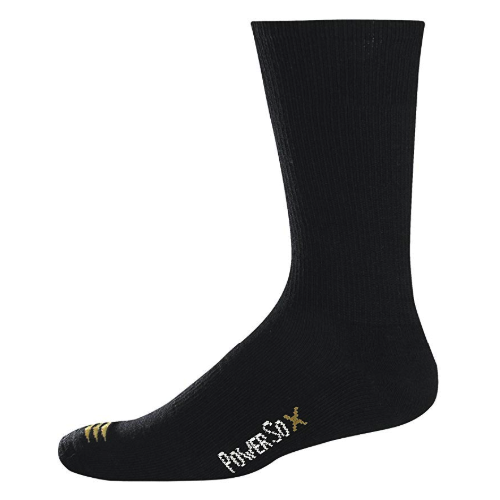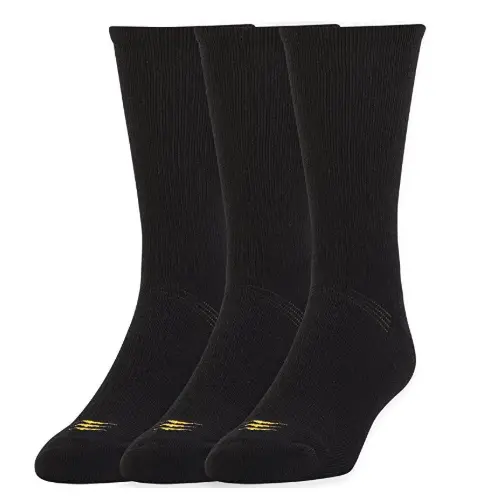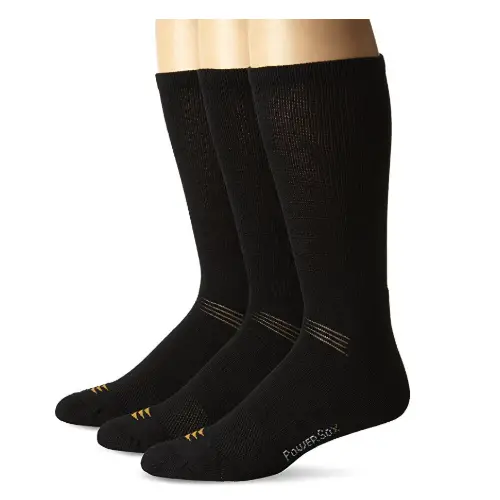 Comfortable toe seams
Made with Coolmax material
Y heel
The PowerSox is made with Coolmax fabric technology. This material is designed specifically to help transport the sweat away from your feet. It keeps them comfortable and dry. Coolmax is a polyester fabric that wicks moisture and is breathable. Since it is made from polyester it is fairly hydrophobic so it does not absorb a lot of fluid and it dries pretty quickly.
Read more
These PowerSox are excellent for sweaty feet since they are made with 43 percent Coolmax. This material keeps moisture away from your feet, is breathable, and dries fairly quickly. The fabric also includes cotton, regular polyester, nylon, and lycra spandex. They come in medium and large sizes and can be worn by men or women to give your feet lightweight comfort.
These socks feature a Y heel which enhances the fit to make sure your shoes stay in place. They also have nice ventilation on the top which gives you good airflow and helps your feet to breathe. There is a good arch brace for added support and toe seams that are designed to be comfortable and durable, keeping your socks together while at the same time staying out of the way so there is no chance of irritation or blisters.
10

. Alvada Merino Wool Socks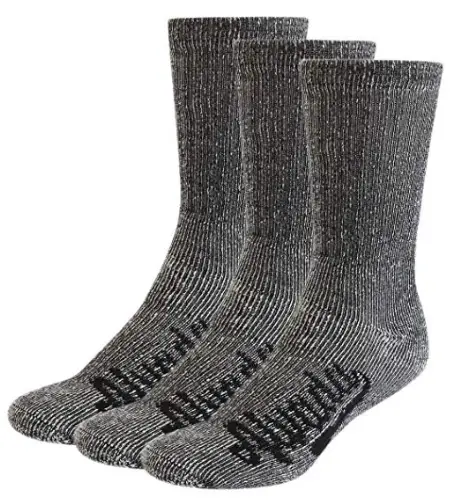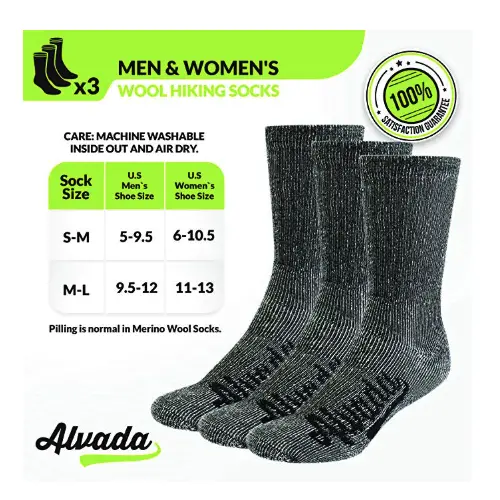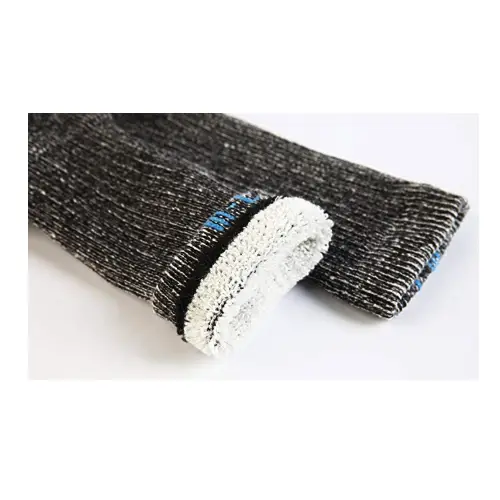 A cushioned footbed
Made of luxurious Merino wool
Will not fall down
The Alvada socks are perfect for hiking and outdoor sports or workouts. They will keep the cold off your feet and the warmth in and are huge in keeping your feet comfortable. These socks have a unique composition which makes them warm and breathable. They are made of 80 percent Merino wool mixed with polyester, nylon, and spandex which gives you genuine Merino wool for luxurious warmth, polyester and nylon for durability, and spandex for a little bit of stretch which keeps your socks shaped right to your foot.
Read more
Alvada created the perfect sock for hiking and outdoor sports. These socks are made comfortable with a cushioned footbed which gives you the right amount of padding for each step. With these wool socks, you are not pounding down hard onto the soles of your shoes.
These socks will help you enjoy comfort in an itch-free sock so you will not have to deal with foot irritation during your exercises. Wear these socks with boots and they will sit at your calf height without falling down.
These socks are made with soft, luxurious Merino wool. They are built to give you total comfort and support during your hike no matter what the weather holds and are ideal to keep you going in the rugged terrain. This material is blended with nylon and give you an itch-free experience. They are comfortable and will not distract you by having to stop and scratch or having socks that fall down.
When you are hiking in cold weather, you will be able to keep your feet warm. You will enjoy the warmth and comfort of cozy socks that keep out the moisture and cold that wintertime affords. They have a shaped footbed cushioning which helps with comfort. Your feet will be less fatigued and you will have less pain in your feet after a long day. These socks are easy to wash, just put them in a cold water load and they are good to go.
Criteria Used for Evaluation

Features
The socks on this list are specifically designed to help you combat sweaty feet. They do this with different kinds of fabric technology that keep the moisture away from your skin and allow it to dry quickly. They also work to keep away odor and bacteria. They also keep moisture at bay with special ventilation systems that help improve the airflow in the socks to keep your feet dry and comfortable. Many are made with mesh panels to help as well.
These socks have other helpful features as well. Some come with reflective logos so you can be seen easier by cars if you are running at night. They come in different colors to match your taste and your outfit. The socks also come in different lengths from crew to ankle to no show, any size to match your preference.
Comfort and durability are also important with these socks as well as any sock for that matter. These socks have support around your arch and good padding on the bottom of your feet, especially at the heel and toe area so they will stay comfortable and durable. They have elastic tops or tabs to help keep your socks in place so you can focus on getting some good exercise. There is also special attention taken around the toe seams to make sure they not irritate your feet and cause discomfort or blisters. Some of the socks have padding around the toes as well.

Materials
These socks are composed of many different kinds of materials that are designed to keep your feet comfortable, protected, and free of sweat. Wool is a great choice because of its soft texture on your skin. It is great insulation, keeping your feet warm in the winter weather and cooler in the summer. Wool works well with sweaty feet since it is more absorbent than a lot of other fabrics. It is also great at staying dry. The fibers in the wool trap moisture inside the fiber. It will not get waterlogged. Merino wool is especially effective.
Merino wool is one of the most effective varieties, a fiber that is grown from merino sheep. It can absorb about 35 percent of their weight in moisture before they get damp. They also have antimicrobial properties so they will deter the growth of bacteria and help prevent odor. This wool is soft and fine so it is not irritating or scratchy on your skin.
Some of the socks are made with Coolmax fibers. It is a synthetic fabric that is polyester-based. It is found in a lot of major brand socks. These fibers are usually mixed with nylon, wool, cotton, or sometimes spandex. It is engineered to take the sweat off of your feet. Each fiber has four to six channels to wick away the moisture. Then it is transferred to the surrounding fabric to be absorbed. It dries quickly and is very durable. It discourages bacteria.
Some socks for sweaty feet are actually made with bamboo fiber. As strange as it sounds, the bamboo fiber is some of the best material to take care of sweaty feet. Even though bamboo is rigid, the fibers are soft and flexible.
They are great for sweaty feet because they are extremely absorbent, even more so than cotton. They can take a lot of moisture without getting overly damp. They also have thermal regulation properties to control the temperature of your feet when they need it.
Bamboo fibers are also great for discouraging bacteria or fungus to get on your feet so they stay smelling fresh. They are gentle and soft on your skin. Thanks to modern technology, we can now spin metal into the fibers of the material.
They are durable yet soft. The main advantage of this is the amazing antimicrobial properties of metals. They have strong agents to fight bacteria and cut down on the odor normally associated with sweaty feet. Metal ions are also good at wicking away water from your feet by attracting polar water molecules. Copper, silver, and titanium have all been used in socks. Metal fibers in socks, especially copper, can be good for the skin because they help your collagen levels.

Breathability
Maybe the biggest requirement of socks designed for sweaty feet is that they be breathable. A lot of the different materials are made to be breathable and work to keep moisture away from your skin. Cotton is very breathable and bamboo is even more so.
A lot of these socks also have mesh areas which are extra light to let your skin stay dry. There are also ventilation channels that keep the airflow going through the material and help keep your feet cool and comfortable.

Durability
When you are working out, it is your feet that take the biggest beating. Your socks need to be designed to take it, and to protect your feet from the impact. We want socks that have a reinforced bottom especially in the heel area where most of the impact happens.
You need socks that are not going to break out in holes after a long walk, an intense workout, or some frequent washes after a sweaty day. The material needs to be a blend that is not going to shred easily or pill after being washed. It needs to not be susceptible to odor, bacteria, or anything else which is going to tear your socks down.
The seams need to be sturdy enough to stay together easily without being too bulky where they are going to stand out and irritate your toes. The elasticity needs to be secure and strong enough to keep your socks in place no matter what kind of workout you are doing. They should be able to hold their shape wash after wash.

Comfort
If you are going to talk yourself into wearing a certain pair of socks and using them on a regular basis, they have to be comfortable. They need to be made out of a quality material that is soft and not itchy on your feet, something which is breathable enough to keep your sweaty feet dry and free from odor or bacteria. Merino wool or cotton are especially good for this.
You want socks that are well padded. There should be some cushioning on the bottom which will help absorb some of the constant impact of your feet against your shoes and the ground. You want to have padding on the forefoot of the sock as well to keep your feet protected and around the toes to keep them comfortable. Also, make sure the seams are not bulky and irritating to your toes.
You also want socks that are going to take care of your arches and fit anatomically around your foot. They need a little compression support and be kept protected and secure. You want socks that will spoil your feet, not in a sweaty smelly way, but in a cushioned and protected way.
Expert Interviews & Opinions
Most Important Criteria
(According to our experts opinion)
Experts Opinion
Editors Opinion
Users Opinion
By Default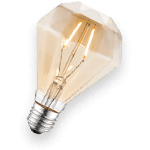 Other Ways To Avoid Sweaty Feet
It is important to find good sweat-wicking socks to tame smelly stinky feet, there are other ways you can help your feet as well. Wear fresh socks every day. Sweat which is held in yesterday's socks can be a breeding ground for all kinds of bacteria. You might even think about keeping an extra pair of socks with you at work or school so you can freshen up your feet if you need to. There are also several foot powders you can use to help with sweat and odor. Be sure to wash your socks in hot water to clear and sterilize the fibers and then let them air dry.
Avoid Cotton
Cotton is material and breathable which is definitely beneficial. They are lightweight and comfortable, but if you have a problem with foot sweat there may be an issue. Cotton does not wick away moisture. It absorbs it, so if you have overactive sweat glands in your feet this may be an issue. Cotton tends to retain heat, so you do not want a lot in your socks. Bacteria also loves moisture and warmth. The bacteria, sweat, and odor are absorbed into cotton until they are washed so that is something you want to consider when choosing your socks.
Other Factors to Consider

Effectiveness
Keep in mind you are looking for socks that are going to take care of your sweaty feet, so you want socks that have moisture-wicking material. They should be made of a material that is going to keep sweat and odor away from your skin. They should also be designed with air mesh and ventilation channels, features like that which are going to keep the air flowing and keep your feet dry and comfortable.
Frequently Asked Questions
q:

Do synthetic socks make your feet sweat?

a:

The quick answer is YES. Synthetic socks are not going to do your already sweaty feet any favors. Nylon, plastic, polyester, or other synthetic linings will not let your sweat evaporate. It will not absorb it either so your sweaty feet tend to stay wet. If the socks are tight this can even worsen this effect. Athletes often prefer polyester because it keeps the sweat away from your skin so blisters are prevented.
q:

What are the benefits of Merino wool socks?

a:

Merino wool socks are perhaps the very best socks to help with sweaty feet. They absorb plenty of moisture while still feeling dry against your skin. The moisture is trapped inside the fiber so microbes are blocked from feeding on sweat. It also helps to evaporate sweat. It takes much longer before this material begins to feel damp.

These socks stay warm when they are wet and they dry quickly. You can also take your shoes off to let your socks dry. You do not have to worry about odor. This type of wool is anti-bacterial by nature.
q:

What are liner socks?

a:

Liner socks are worn inside your regular socks and are made from special materials. They are designed to give you better comfort as well as other benefits. Polyester sock liner keeps sweat away from your skin and locked in the sock. Thin liners worn with a wool outer sock are popular with people who have sweaty feet. They give your feet comfort and keep them dry, as well as reducing odor and preventing skin maceration.
q:

What are covert thread socks?

a:

Covert thread socks are military socks that are designed for harsh conditions and climates. They are good for sweaty feet. These socks are sculpted and well-cushioned, designed specifically to take care of your feet in extremely cold or hot climates. The acrylic and wool blends will help to keep your feet dry and prevent them from blistering when you sweat a lot and spend a lot of time on your feet.
q:

How can I stop sweating so much?

a:

There are a few lifestyle changes you can make which might help. You can stay away from triggers like alcohol, caffeine, and spicy foods. Wear more loose-fitting clothing and avoid wearing synthetics when you can. Wear socks and shoes made with natural fabrics that keep the moisture away from your skin like linen, cotton, or bamboo. Make sure you regularly change your clothes and launder them properly to avoid any sweat patches or body odor.
Subscribe to our newsletter