Best Wide-Calf Compression Socks Reviewed
last updated:
Mar 25, 2021
If you've got muscular calves, you've probably already discovered that compression socks are generally not made with you in mind. The extra bulk of your calf can make a tight sock unbearably constrictive to wear. That's why we've gone in search of the best socks that will work with your larger calves. In this article, we rate and review the 9 best wide calf compression socks on the 2019 market.
In a Hurry? The test winner after 24 hrs of research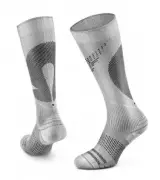 Rockay Vigor
Why is it better?
Constructed from recycled material
Improved blood flow reduces recovery time
Midfoot arch support
25
Researched Sources
12k
Total Readers
11k
Reviews Considered
24
Hours Researching
14
Products Evaluated
Comfort
Materials
Features
Ease of Use
Durability
By Default
10 Best Wide-Calf Compression Socks
Constructed from recycled material
Improved blood flow reduces recovery time
Midfoot arch support
Rockay, A fairly young but hard-charging company, recently released this one with their new sock lines. The Vigor, initially intended for distance running, really does fill all the checkboxes for anything other reasons you might need or want compression socks for. The well designed graduated compression throughout the sock is super effective and will definitely help keep that precious blood flowing better.
Read more
One of the big issues we often find with compression products, especially socks, is that the fit tends to not be perfect for everyone. While there is no exact blueprint to go by when trying to make clothing 100% universal, as all bodies are not the same, some brands get it done better than others for sure. Rockay's Vigor did better than most over the wider calves, giving a pretty consistent fit all around.
This is super important when it comes to this type of product, since the main point is to have it provide compression consistently applied throughout. These do just that. The midfoot area also has a little more support from the compression arch support designed into the socks. In all, these get it done well, which is why we popped them into the top of our list.
2

. Advanced Orthopedics Mens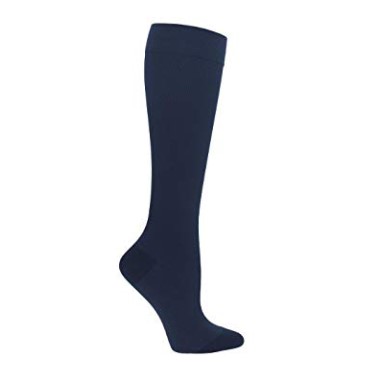 30-40 mmHg graduated compression
Generous toe space
Responsive and flexible fabric
Sizing chart is inaccurate
This Advanced Orthopedics sock is a convenient dress style sock you can wear anytime. It has a comfortable balloon pocket at the heel and toe. It is made of a nylon/spandex blend which is thin and lightweight. This sock also has a comfort top band which will not bind up on your leg while still keeping a good compression level.
Read more
The Advanced Orthopedics Men's compression sock provides you with a huge 30-40 mmHg of graduated compression. This delivers a very high level of medical grade compression to speedily remove lactic acid and water build up. It will also provide ongoing massage to the lower limbs while bringing in more oxygen and nutrients. The responsive, flexible construction fabric means that it will accommodate larger calf muscles.
The Advanced Orthopedics Men's compression sock provides you with a good level of space in the toe area, despite the advanced level of graduated compression. A non-binding top band keeps the sock in place all day long. This is a very well priced sock that delivers superior compression at a fit that will accommodate almost anybody. It has an attractive dress style that makes it suitable for all situations.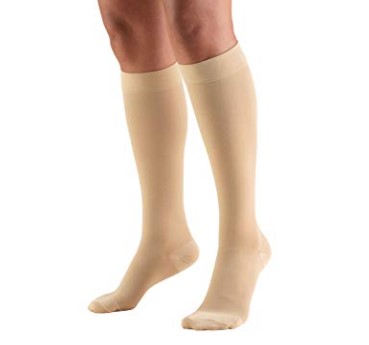 Soft top band
Closed toe design
20-30 mmHg graduated compression
The TruForm 8865 is a medical support hose which works for men or women. It is made of a durable knit material with 20-30 mmHg of graduated compression. The soft top of this sock will not constrict your leg while you are wearing it. The defined heel helps the sock fit better and the roomy comfort in the toe is the perfect relief for sensitive feet. This sock is perfect for people who have to sit or stand a lot, pregnancy or recovery after surgery. This sock will improve your circulation.
Read more
The 3XL TruForm compression sock is a firm 20-30 mmHg graduated compression sock that is highly flexible and form-fitting. It is made from a lightweight, nylon material that is highly responsive and flexible. This makes it ideal for people with large calves. This is a closed-toe design that provides a generous amount of room for the toes to move with the danger of suffering abrasion against the skin.
The 3XL TruForm compression sock is made for men and women. It delivers a high level of graduated compression, with the highest grade around the mid-foot and ankle. This makes it a great sock to help to treat plantar fasciitis pain and ongoing ankle ailments. A soft-top band makes sure that it stays in place all day long.
4

. Copperjoint Performance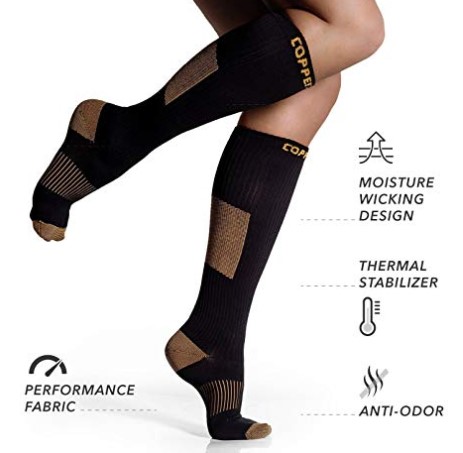 Lightweight, responsive fabric
Moisture wicking
Anti-bacterial
The Copperjoint Performance Compression Sock is a copper infused and comfortable. These socks have a light compression ideal for people who are always on their feet or who have to sit down all day. They will keep your legs refreshed throughout the day with a gentle squeezing action which keeps your circulation moving. The unique fabric also keeps your feet moisture free which stays warm in cold temperatures and cooler when the temperature rises.
Read more
The Copperjoint Performance Compression sock is built tough to accommodate athletes, sportspeople, and people who are on their feet all day long. It is made from a lightweight, responsive fabric that is flexible and form-fitting. It will accommodate and fit around larger calf muscles. It has 15-20 mmHg of graduated compression to remove lactic acid and bring in more oxygen. This is a durable sock that is comfortable to wear all day long.
The Copperjoint Performance Compression sock is made from 100% latex free material. It is a very moisture wicking sock that does a great job of keeping your lower legs well ventilated and cool. It has the anti-wicking ability as well as built-in anti-static and anti-bacterial ability.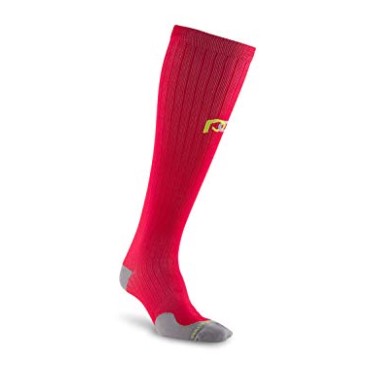 20-30 mmHg
High level of moisture wicking ability
Made in the USA
These Pro Compression Marathon Socks give you a healthy blood flow which will help with fatigue and speed up your recovery. These socks give your muscles and tendons the support they need to help you get rid of soreness and inflammation. The moisture control will keep your feet nice and dry during every activity. It offers graduated compression at the perfect level to keep your feet comfortable.
Read more
The Pro Compression Socks are made for long-distance runners who have much larger calves than most people. That makes it highly responsive and flexible, being made from a blend of 92% nylon and 8% spandex. It provides you with 20-30 mmHg of graduated compression to bring immediate relief to your painful plantar fasciitis and ankle pain. It is made in the USA under highly regulated conditions, this is a top-quality sock.
The Pro Compression: Marathon sock is extremely well ventilated and breathable. It does a good job of getting rid of sweat and overheating. The built-in anti-bacterial and antistatic properties greatly enhance the comfort level of the sock.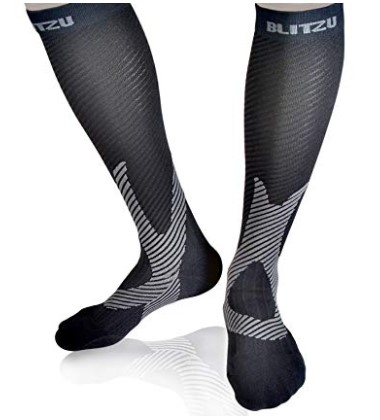 Kinesiology tape design
Extremely comfortable
360-degree range of motion
The Blitzu Compression Socks give you true graduated compression. It will promote your blood circulation and prevent cramping, fatigue, or swelling. These socks will help with muscle recovery and varicose veins.
Read more
The Blitzu compression sock makes use of a unique kinesiology tape design that provides enhanced compression and tension At the same time it has the flexibility to allow for larger sized calf muscles. At the same time, it provides you with graduated compression to bring immediate relief to your aching lower leg muscles and joints. You get a great range of motion with this sock, which is a 360-degree mobile.
The Blitzu compression sock is extremely breathable and lightweight. It is made from a Power and Premium Performance fabric which provides a good mix of flexibility, durability, and strength. It has a moisture-wicking ability, as well as antistatic properties. This is a great sock for somebody who spends all day on their feet as well as for athletes with larger than normal calves.
7

. Mojo Recovery and Performance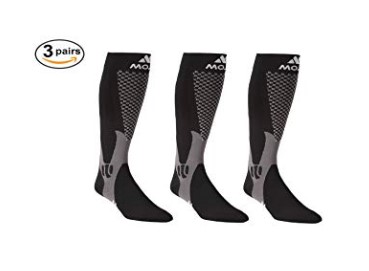 Graduated compression
Removes lactic acid
Contours to the foot
The top band is too tight
The Mojo Recovery and Performance sock is definitely a best seller. They keep you stylish whether you are at the gym or just living your everyday life. These socks have a true graduated compression technology which is effectively put into an athletic-looking sock, They will improve the circulation in your legs while you are performing any sport.
Read more
The Mojo Recovery and Performance compression sock provide you with 20-30 mmHg of graduated compression, to provide you with instant relief to plantar fasciitis and ankle, shin and Achilles pain. It will remove lactic acid while speeding up blood supply to bring in oxygen and nutrients. Supportive padding around the midfoot, ankles and heel give you a greater level of support and comfort.
The Mojo sock is very flexible, being able to stretch to fit larger calves. It has a lightweight fabric design, making for excellent ventilation and temperature control. The seamless design of the toe gives you a very comfortable fit that won't cause any friction or abrasion. This is a well-contoured sock that form fits and works with any shoe style.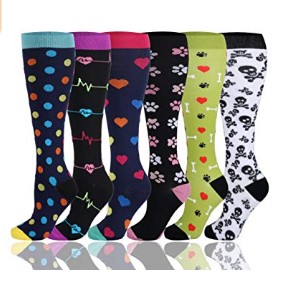 Comes in lots of bright fun colors
Compression starts in the ankle
Made of 80 percent nylon
The HLTPRO Compression Socks will not only help your calves, but they will also heat up your style. They are different than any other compression sock and are perfect for athletes, nurses (see more choices of the compression socks for nurses), or anyone who needs extra support. The compression is maxed at the ankle and then gradually decreases as it goes up the leg. These socks will soothe and energize your legs.
Read more
The HLTPRO Compression Sock is 80 percent nylon and 20 percent spandex. These socks are great quality and there is a style for everyone from athletes to nurses, office workers, or anyone who spends a long time on their feet.
These socks are designed to be used in everyday life, They have two stabilization zones which keep them snug on your foot and they will not budge while you are moving around throughout the day.
Compression socks are helpful with varicose veins, edema, deep vein thrombosis (DVT), or even just general discomfort in your legs. These socks fit the tightest around the ankles and then decreases as it goes up to your calves. They will keep your legs comfortable all day.
9

. Plain Jane Calf Compression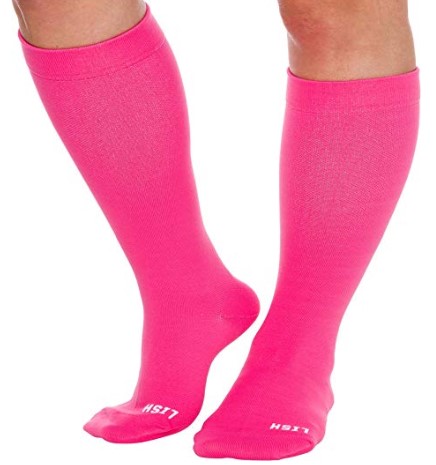 Comes in four colors
Knee length socks for everyday
Reduces swelling and soreness
They tend to be a little big
If your lifestyle includes a lot of walking or standing, sports, or a lot of sitting then you will appreciate the Plain Jane Calf Compression Socks. They have low compression and are exclusively designed to fit larger calves. These socks are crafted of ultra-stretchy fabrics and they are easy to put on and take off.
Read more
These socks are specially designed to fit a larger calf size and will comfortably fit your whole leg. These are knee-length socks with a light compression which are designed for every day use. You can wear them at home or at work to stay comfortable.
These socks help with leg soreness or swelling. They compress your leg starting at the ankle and going upward. You will have better blood flow and get rid of swollen feet and leg cramps. These socks give you good stability and the top keeps them in place while not being restrictive.
10

. Yomandamor Non-binding Socks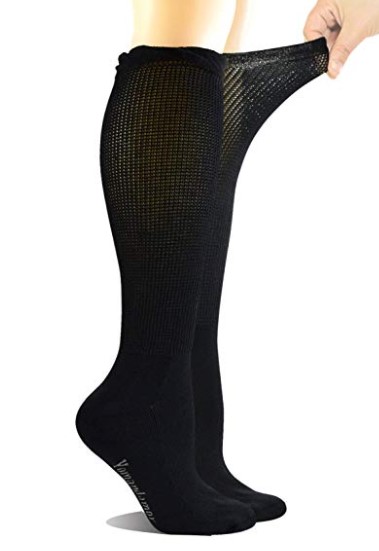 A bamboo blend of soft cotton
Moisture-wicking material
Cushioned sole
The Yomandamor socks are made of an 80 percent bamboo blend and combed cotton so they are extremely soft. They feature a feminine lace design which is elegant and eye-catching. They come as a knee-high design in a package of four pairs and are machine washable. They are made of bamboo fiber which has fantastic air circulation and absorbs moisture away from your skin. They also have a cushioned sole and reinforce heel and toe.
Read more
These socks are the only ones on the list made of extremely soft bamboo fiber. They are comfortable in every type of temperature, keeping your feet warm in winter and cool in the summer. They also have excellent air circulation and absorb the moisture away from your feet so you reduce the risk of bacteria or infections.
These socks have a seamless toe so you do not have that bulky toe seam which eliminates foot pressure or blistering. The top is also non-binding but will still keep your sock in place. It is perfect for people who have sensitive feet and need total comfort, These socks will keep your feet dry all day.
They have a cushioned sole with a reinforced heel so they provide arch support and help to absorb shock, reduce impact during sports and help your performance.
Criteria Used for Evaluation

Comfort
If you want to take care of your feet and legs, one of the first things you need is a good comfort sock. We found some designs for our list which will match your needs perfectly. The socks come in different sizes and lengths so the first thing you will need to consider is the design which will fit your lifestyle the best. Your feet hold up your whole body so you need socks which will take care of them.
There are a few things which make these socks comfortable. First is the compression which is the main feature we are looking at in this article. You want a good compression which is going to support your lower leg without being too constricting. Most of these socks have graduated compression which is tight at the ankle and then decreases as it moves up the calf.
Compression keeps your legs comforting by providing a massaging sensation as you go throughout your day whether you are always on your feet or always sitting down. They keep your blood flowing and keep your legs feeling refreshed and energized while helping take away soreness and fatigue.
If you want to help with comfort, even more, be sure the socks you choose have a moisture wicking ability and are breathable. You want socks which keep the sweat off your skin to help you avoid odor or bacteria on your skin. There are also a couple of socks on our list which has nice cushioned soles to support your arches and tops which are non-constricting while still holding up your socks.

Materials
It is important to have socks which are made of quality, durable materials. Most of the socks on our list are made of lightweight nylon which is a good choice because it is durable and also breathable. They also combine spandex which is lightweight and stretchable. There is also air covered spandex yarn which adds to the durability.
At least one of the socks on the list is made with copper infused material. Copper-infused material has been said to give your legs energy and also has antimicrobial properties which will help you avoid foot fungus or odor.
At least one of the socks on the list is made with combed cotton. The benefit of this is a comfortable fit. Combed cotton is extremely soft which your feet will love you for. There is a word of warning though. Combed cotton will shrink if it is exposed to high heat so you definitely will not want to throw them into the regular laundry. The best option is to handwash but if that is not convenient, at least still to cold water.
The last sock design on our list is made with a bamboo blend of fabric which is an organic fabric. It is combined with cotton to make a soft and durable fabric which is comfortable and cuts down exposure to toxic chemicals.

Features
Compression socks are pretty basic but there are a few features you can keep an eye out for. For example one of the socks on our list features a 3D knit structure. This may sound a little confusing but a 3D knit is actually a good benefit. It adds to impact absorption so it is the perfect fit for sportswear.
Since these are compression socks they all have that feature but you probably want a brand which has graduated compression. That means they are tightest around the ankle area and then it gets gradually weaker as you get closer to the knee. This compression is comfortable, energizing and does a lot to improve your blood circulation.
At the same time, you also want to find a sock which is not going to scrunch your toes and make them uncomfortable. Some of the brands have extra toe room while others do not have toes at all. Taking a look at what kind of heel the sock has is a good idea too. The heel should be form fitting so it does not wander up to your ankle when you put shoes on. And of course, between the two it is important to make sure the sole of your sock fits your foot size.
You also want to look for a non-binding top band. This is the band of elastic material which holds your sock up to just under your knee and does not let it fall back down into your shoe. The binding should be strong enough to make sure your socks stay in place and do not get in your way, but it also needs to be non-constricting.
The other most popular feature would be the colors and patterns these socks come in. Some people prefer more subtle colors like grays or dark blues, especially if you are wearing them to work or in a more formal situation. There are also a bunch which comes in right fun colors. It is easy to find a color which will match with your favorite workout outfit or even just be a fun fashion statement to show off your personality. It is nice to have choices.

Ease of Use
It is important to find a pair of compression socks which are easy to use. These socks are very snug and are hard to put on but there are a few tricks. Try putting powder on your skin, and make sure to get your toes situated and then slowly pull the socks up your knees unrolling them as you go. Some of the socks on our list have open toes which makes it a little easier yet.
It is easy to wear compression socks if you can find ones with color that matches your style. If you need to wear them to the office, you want subtle colors. If you have favorite workout outfit you want some which will match.
Compression socks are easy to wear because they give your legs an ongoing muscle massage. They also help remove excess water and lactic acid from your legs and keep them comfortable. They are easier to wear if they are breathable and comfortable.

Durability
You will probably be wearing these socks for hours at a time so you definitely want a pair which are sturdy and durable. They need to be made with quality material which will stand up to a lot of use.
It is also important to have compression which stands up to washings and time. Spandex and elastane are both very good materials for this purpose. You want a compression which does not get weaker. The top band also needs to be sturdy and able to hold up your socks without constricting your leg.
You want a reinforced heel and toe so the sock will last but hopefully without seams to irritate your toes. Having copper infused material is good or any breathable material which will help you keep away bacteria or fungus.
Expert Interviews & Opinions
Most Important Criteria
(According to our experts opinion)
Experts Opinion
Editors Opinion
Users Opinion
By Default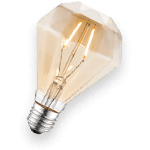 Get Out The Gloves
It can be difficult to get your compression socks on snugly without wrinkles and without damaging them. One easy way might be to use a pair of textured rubber gloves like the kind you get for duty cleaning or dishwashing. The textured fingertips help you get a grip on the sock material so it does the work for you. Using these gloves will also keep you from snagging or tearing the socks with your fingernails or rings.
Practice Makes Perfect
If you take the time to learn how to correctly put on your compression socks it will make a difference, a good investment in your health.
If they still seem awful tight or if you feel numbness or tingling in your feet, you may want to contact your doctor or physical therapist and make sure the fit is right.
Other Factors to Consider

Compression
Compression socks are made of different grades. The most common categories are mild compression which is 8-15 mmHg, moderate compression which is 15-20 mmHg, and firm which is 20-30 mmHg. Anything over 20 is considered a medical grade compression.
Frequently Asked Questions
q:

Why should I wear compression socks?

a:

Compression socks, calf compression sleeves, and compression clothing, in general, are good for so many reasons. They bring circulation to your legs. They are good if you sit a lot or stand a lot. They help varicose veins. You should definitely wear compression socks if you have had surgery and are going to be spending a lot of time in bed so you do not get a DVT. If you are going on a long flight they are a good idea to help with DVT or swelling. Or if you have a clotting disorder.
q:

When should you not wear them?

a:

Do not wear compression socks if you have leg nerve damage or other skin sensation issues. Avoid them if you have peripheral arterial disease or if you have a history of anything related. You should also avoid them if you have an infection, dermatitis, or fragile skin. You should also avoid them if you have pulmonary edema caused by congestive heart failure.
q:

Can I wear compression socks to bed?

a:

If you are healthy there is not really any reason to sleep with compression socks on. You should put them on first thing in the morning and take them off at bedtime. A big reason for compression socks is to help your blood circulation when you are working against gravity so when you are laying down that kind of defeats the purpose.
q:

How do I wash compression socks?

a:

First off, if you plan to wear compression socks every day you need at least two pair. Then you can wear the second pair while the first pair is drying. To wash them, it is best if you can wash them by hand. If not, you can wash them in the machine using cold water and then let them air dry or hang dry.
q:

Are compression socks good for pregnancy?

a:

They prevent blood from pooling in your veins and can slow down an elevated heart rate for mother and child. They also help fight against thrombosis, phlebitis and varicose veins.
Subscribe to our newsletter