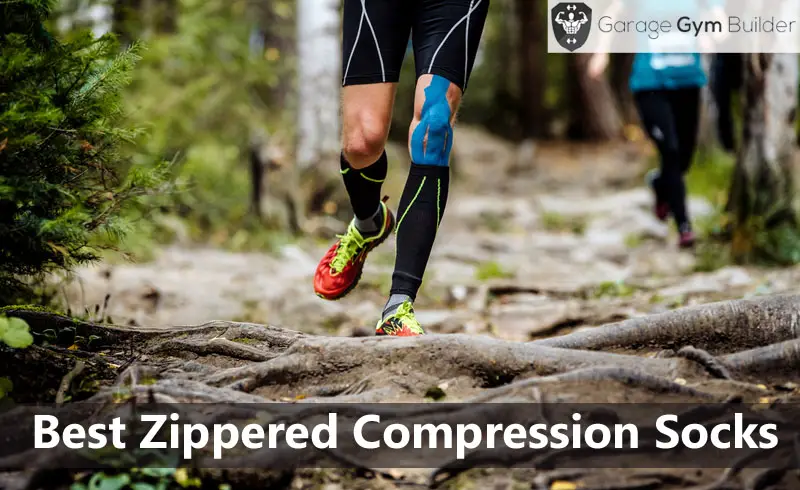 Best Zippered Compression Socks 2018
Compression socks that feature a zipper can make life a lot easier for people who have severe pain in the legs. They are also a great option for people with weak hands or arthritis, making it far easier to get the sock on and off. People with sensitive skin will also find zippered socks much easier to apply. In this article, we take a look at the best zippered compression socks on the 2018 market.
A Quick Look at the Best Zip Compression Socks

The best zippered compression socks on the 2018 market are Firm Embrace Zippered Compression stockings, which provide you with 20-30 mmHG of compression, graduated up the length of the stocking. The next best zip compression socks are Lemon Hero Compression Socks, which provide 15-20 mmHg graduated compression and are made from a nylon, lycra, spandex blend.
Completing our top 3 compression zipper socks is the Presadee Big & Tall 3XL Open Toe Knee Length, which delivers 15-20 mmHg graduated compression and features a handy inner zip lining.
To make it easy for you to compare the top zip compression socks, we have rated each of them on the basis of price and effectiveness, and then provided an overall rating out of 5. In the next section, we provide an in-depth review of each product.
The Firm Embrace Zippered Compression stocking provides you with 20-30 mmHg of graduated compression, with the greatest compression centered around the ankle and heel. This will move the excess fluid away from your areas of pain and back to the rest of your body. It will also dramatically improve your circulation, which will vastly reduce varicose vein pain. These stockings make use of top quality YKK side zippers for an easy on / off function.
The Firm Embrace Zippered Compression stocking has an open toe design, making it extremely comfortable and airy. The light fabric makes it very breathable and is augmented with anti moisture and anti odor treatments. The result is a very flexible, responsive support that provides you with the comfort you want and the pain relief you need.
20-30 mmHg graduated compression
YKK side zippers
Open toe design
The Zip Compression socks from Lemon Hero provide you with 15-20 mmHg of graduated compression designed to bring relief to aching pain through the feet and legs. This makes this a good choice for people who are new to compression socks, as it will gradually get them used to compressive technique, while still supplying an adequate compression level to bring results. It is made from a nylon lycra, spandex blend which is very responsive and flexible.
The Lemon Hero Zippered compression sock will not lose either its compression ability or its body hugging form over time. Neither will it slip down or bunch up with use. There are also no snags for the zip to get caught up in. The open toe design makes this a very light and breathable sock.
15-20 mmHg graduated compression
Nylon, lycra, spandex blend
Open toe design
Zipper may dig into skin on calf
The Presadee 3XL delivers 15-20 mmHg of graduated compression, with the focus being around the often problematic ankles or heels. This is an open toe design, making it very lightweight and breathable. Unlike many competitors, this sock features an inner protective lining to stop the zipper from digging into your skin. This sock is made from a combination of nylon (75%) and spandex (25%), making for a very reflexive, stretchable and lightweight support.
The Presadee 3XL Big & Tall sock gives you very effective and immediate relief from such conditions as varicose veins, edema, plantar fasciitis, and shin splints. It will also help with post exercise recovery and generally bring relief if you've been on your feet a long time.
15-20 mmHg graduated compression
Inner zip lining
Nylon, spandex combination
---