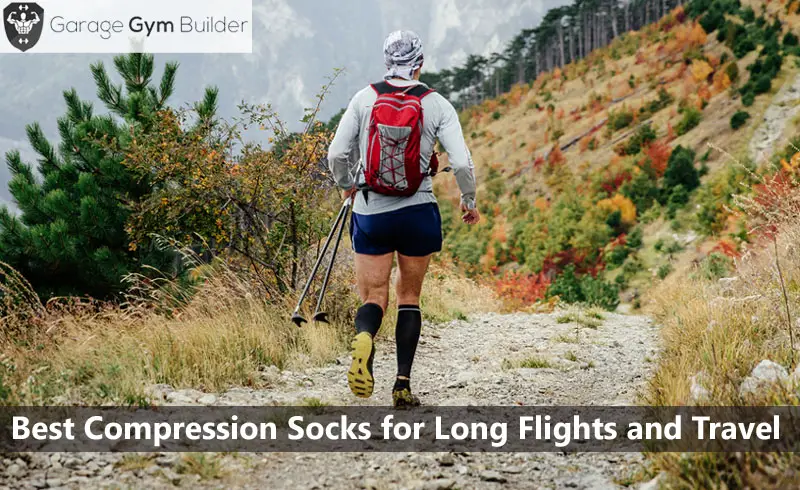 Best Compression Socks for Long Flights and Travel Review 2018
The biggest challenge to your health when flying is not the plane crashing. It is the development of deep vein thrombosis (DVT). DVT is a condition where the blood in your deep veins clots. It can occur anywhere in the body, but is most common in the legs. Wearing long flight compression socks is the recommended way to avoid DVT issues. In this article we rate and review the top performing compression socks for long flight travel.
A Quick Glimpse at the Top Socks

The best compression socks for travel are Wanderlust Air Travel Socks, which provide you with 10-30 mmHg of graduated compression, along with a contoured form fit and extreme breathability. Our next favorite compression socks for long flights are Travelsox TSS6000, which has excellent ventilation and graduated compression, while conforming to the lower leg.
Rounding out our top 3 best compression socks for flying are Travelon Compression Travel Socks, with their flexible, durable elastane material, unisex design and moisture wicking ability.
To make is easy to compare and contrast the top performing compression socks for traveling, we have rated each sock on the basis of price and effectiveness and then given an overall rating out of 5. In the following section, we provide an in-depth review of each product.
Wanderlust Air Travel Socks are an extremely comfortable wearing medical grade compression sock. It delivers 25-30 mmHg of compression around the ankle, which is a DVT hot spot. Through the mid leg, it provides 15-20 mmHG of compression and 10-15 mmHg just below the knee. This graduated compression will increase blood flow to bring nutrients and oxygen to the lower leg, thus warding off the DVT risk. These are extremely form fitting compression socks.
The Wanderlust Air Travel compression sock has been specifically created to prevent long flight discomfort. It is a very lightweight, breathable sock that is comfortable to wear. A top band makes sure that it will not slip down and bunch up. This sock has excellent moisture wicking and anti static properties.
Graduated Compression 10-30 mmHg
Form fitting
Extremely breathable
May not be tight enough for some people
The Travelsox TSS6000 is a very lightweight, responsive sock that provides you with an effective counter to DVT and other discomfort on your long haul flight. Graduated compression provides you with increased blood flow to counter deep vein thrombosis. The sock conforms to your leg well without restricting your range of motion. It will not slip down or bunch up over the course of your flight, providing you with a very comfortable experience.
The Travelsox TSS6000 is a well ventilated, breathable compression aid. It has excellent moisture wicking properties, so as to prevent sweat build-up and overheating. It also has anti odor and anti static properties to further enhance your wearing experience. The toe section is padded for extra comfort.
Graduated compression
Conforms to the leg
Well ventilated
Sizing chart is incorrect
Travelsox Compression Travel socks are a highly regarded brand that are among the most comfort wearing and affordable socks in the compression travel socks market. These socks are designed for both men and women to wear. They are made from an elastane material which is very durable and reflexive. The graduated compression brings gentle relief to your feet, ankles and lower legs to prevent deep vein thrombosis. There are no harmful dyes used in this product.
Travelsox Compression Travel socks are very comfortable to wear, being lightweight and breathable. They are flexible enough to be used when playing sport as well as on long haul flights. High moisture wicking properties and anti odor treatment provide enhanced comfort levels.
Unisex
Flexible, durable elastane material
Moisture wicking
Not suitable for people with large calves
The Vitalsox VT1211 is a high quality Italian made compression sock that is a great choice for long haul travel. It is constructed from Drystat fabric, a highly flexible, form fitting material that is also very lightweight and responsive. The compression is greatest around the ankle but travels all the way up the leg. This provides an effective defense against deep vein thrombosis. The sock features enhanced padding through the arch and heel to provide extra support.
The Vitalsox VT1211 is an amazingly light sock. It provides an effective level of ventilation to keep the entire lower leg feeling light and breezy throughout your flight. It has a very good moisture wicking ability to prevent overheating and sweat build up.
Extra arch and heel support
Made in Italy
Drystat fabric
The Fytto Style 1020 Women's Comfy compression socks are specifically designed to help women counter the effects of long haul flights on the legs. Women are more prone to deep vein thrombosis and the graduated compression of this sock does an effective job of negating the effects of DVT. The compression level is 15-20 mmHG, which is the level that is recommended for long haul flights by medical professionals.
The Fytto Style 1020 Women's Comfy compression sock is thicker than many competing socks on the market. This ensures that you get more support and comfort for your long haul flight. Non binding leg openings and a generous toe area further enhance the comfort level. This sock is also moisture wicking, and anti static.
Specifically for women
15-20 mmHg graduated compression
Generous toe area
Too thick for some people
The 2XU Men's Elite compression sock is a very comfortable form fitting sock that features an anatomically engineered footbed to alleviate pain on the base of the foot and around the ankle and heel. Graduated compression delivers a great deal of relief all the way up the lower leg in order to counter deep vein thrombosis. It has a vented toe panel which keep the entire foot area cool and breathable.
The 2XU Men's Elite compression sock provides a full range of motion as it protects and supports your lower leg. This makes it a good multi purpose sock, suitable for such activities as basketball, soccer and running in addition to use on long haul flights. This is a well ventilated sock which wicks away moisture and sweat.
Extra compression panels
Anatomically engineered footbed
Vented toe panel
The CEP Women's Progressive+ compression sock delivers 20-30 mmHg of graduated compression to bring high level protection against deep vein thrombosis on long haul flights. The enhanced blood circulation and ensuing nutrient and oxygen uptake will bring immediate relief to lower leg discomfort. This sock is constructed from 85% polyamide and 15% spandex, to deliver a very responsive sock that is also flexible and light. It will eliminate calf vibration while still providing full range of motion.
The CEP Women's Progressive+ features enhanced padding zones which provide extra support around the hot spot areas such as the ankle and heel. It is anti odor and anti anti static along while providing effective moisture wicking properties. Your purchase comes with a money back guarantee.
Graduated compression
Reduces vibration
Padded zones
The Sockwell Men's Elevation Form compression sock is a great choice for your long haul flight. It will deliver 20-30 mmHG of graduated compression, with the highest range around the ankle area. The compression level then lessens all the way up the lower leg. Sockwell's Acufit technology sees spandex inserts strategically placed around the sock to enhance the flexibility and responsiveness of the sock. It also makes the sock very durable, ensuring that its maintains its form all day long.
The Sockwell Men's Elevation Form compression sock gives you extra padding in the sole and heel areas to deliver extra support to these high profile areas. The overall feel is extremely comfortable and reflexive. The sock is breathable and well ventilated.
Acufit technology
Light compression sole
Enhanced heel box
Socks are a little too high
For people with swollen legs, severe pain and sensitive skin, getting compression socks on and off can be a real challenge. For them, zippered socks are a must. Check out the best with our Best Zippered Compression Socks Review 2018 feature article.
The Physix Gear Compression Socks is a unisex compression sock for long haul travel that provides you with 20-30 mmHG of graduated compression. This high compression level ensures that your lower leg blood circulation is boosted when you're traveling. The effect will be that more oxygen and nutrients will be transported to your lower legs. This will effectively counter deep vein thrombosis.

The Physix Gear Compression Sock comes in a one size fits all design making it easy to get a snug comfortable fit. There is a padded foot bed to give you a super comfy respite to the soles of your feet as you are traveling. These socks are also effective for the treatment of such conditions as shin splints, varicose veins and Type 1 diabetes. Socks are double stitched in anti-bacterial fabric.
20-30 mmHg graduated compression
One size fits all
Padded foot bed
Discover the top compression socks specifically for ladies with our Best Compression Socks for Women Review 2018 feature, which reviews and rates the top performers.
Conclusion
Our top rated compression socks for long haul flights are the Wanderlust Air Travel Socks, which give you a high level of graduated compression to bring an immediate counter to deep vein thrombosis. Just behind it is the Travelsox TSS6000, a very comfy sock that also provides an excellent level of graduated compression. Finally, the Travelon Compression Travel Sock is made from a very responsive elastane material and comes in a unisex design.
---