Best Leg Curl Machine Reviewed
last updated
Sep 29, 2019
Even the most dedicated trainers and fitness buffs are known at times to neglect the hamstrings in strength-building routines. A leg curl machine, in your home gym, is a decent solution to this problem. Using one will isolate the hamstrings while also providing benefits for your most of the muscles in your legs. Leg curl can work your quads and calves in addition to the hamstrings. Of course, the leg curl machine is a mixed bag. Sure, you can almost always rely on the commercial models at the gym, but here at Garage Gym Builder, we're committed to helping you build your home gym. So we are empowering you to make your own informed decision with our top ten leg curl machines and their relevant specs.
In a Hurry? The test winner after 20 hours of research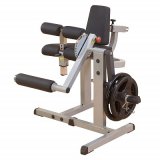 Body Solid GCEC340
Why is it better?
No change in position between curls and extensions
7 gauge steel cam
One inch weight post
Optional sleeves for Olympic plates
Generous warranty
In a
Hurry? Editors choice: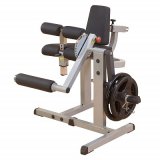 Test Winner: Body Solid GCEC340

42
Researched Sources
5k
Reviews Considered
20
Hours Researching
14
Products Evaluated
Adjustability
Durability
Support
Features
Motion Control
By Default
Top 10 Picks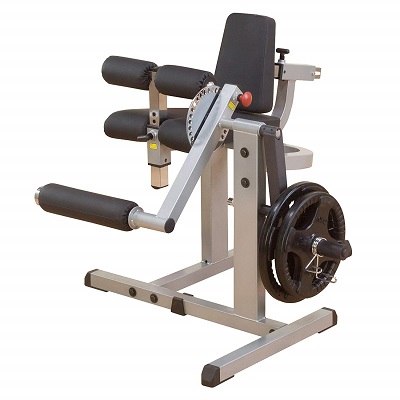 No change in position between curls and extensions
7 gauge steel cam
One inch weight post
Optional sleeves for Olympic plates
Generous warranty
Some users say the leg curl machine is hard to assemble
The rugged seven gauge steel cam at the heart of the Body Solid means the machine can adjust to suit any user, while also letting you perform both leg curls and leg extensions.
Read more
The Body Solid GCEC340 allows you to perform seated hamstring curls without having to adjust your leg extension position. It offers both exercises, making it an ideal machine for super-setting your workout. Simply pull the jumbo pop pin, raise the lifting arm, and you're all set.
The GCEC340 has a one-inch weight post and features a sturdy heavy gauge steel frame. This free weight machine has oversized rollers and padding for extra comfort.
The adjustable came allows for a complete contraction, unlike many curl machines which stop short of the full range of motion. The hamstring extension movement is smooth and natural. Body Solid offer a lifetime frame warranty with one year on cables and parts. The company also sells adapter sleeves on its website to let the one inch post accommodate 2 inch Olympic plates. The sleeves come in several different lengths.
2

. XMark Rotary Leg Curl XM-7615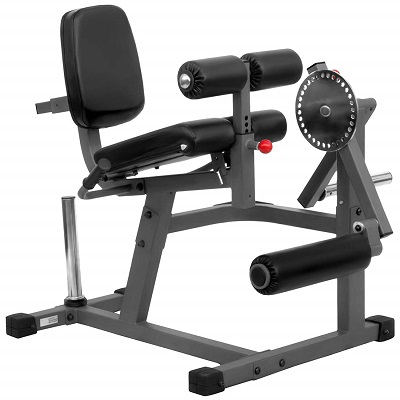 20 position adjustment press arm
14-inch Olympic sleeve adapter
Oversized chrome cam
Tear/sweat resistant cushions
Difficult to get in and out due to design
The XMark Rotary Prone Hamstring Curl allows you to totally isolate the quads and hamstrings while providing a full range of motion on both curls and extensions.
Read more
You will not have to change position to move from one exercise to the other. You are able to change by simply adjusting the thigh pad. With a 12 position adjustment pad and 20 positions adjustable press arm, the XMark machine can adapt itself to any user.
The XMark Rotary thigh workout leg curl machine also comes with a 14-inch chrome Olympic sleeve adapter to let you use 2-inch weight plates. Extra thick Duracraft cushions are covered in tear and sweat resistant Duraguard vinyl.
The larger than average chrome cam ensures a fluid motion on all exercises. The XMark is built to last with tough 11 gauge solid steel construction and a scratch-resistant finish. It can stand up to even the toughest of workouts. At the same time, the generous foam leg pads ensure you will be comfortable as you perform your reps.
The unit weighs 136 pounds when fully assembled. There is a weight post in the back which makes the XMarkmore stable, and skid resistant feet to ensure the machine stays in one spot and does not damage your flooring.
3

. TDS Fitness Biometric Leg Curl



Solid steel frame
600 pounds weight capacity
Well priced
Design helps prevent injuries
No leg extension capability-leg curls only
The TDS Fitness biometric leg curl machine is a light commercial model, with solid steel construction, that can handle up to 600 pounds combined resistance and user weight.
Read more
The leg holder and weight arm rotate on precision needle bearings to provide an almost miraculously smooth motion arc. They also allow you to get a complete contraction at the top of the leg curl exercise.
The bench padding is 3 inches thick, adding to the overall comfort level this machine offers. There are also cushioned hand grips, and the backrest is both padded and adjustable. The ankle catch is adjustable, which is a nice detail and shows that TDS thought of everything in engineering this machine.
The machine weighs 160 pounds when shipped, 135 pounds assembled. It is 44 inches wide, which we found is about average for machines; be prepared to clear a dedicated space if you purchase the TDS Fitness biometric machine. Once assembled and installed, it will provide years of trouble-free service and leg strength results.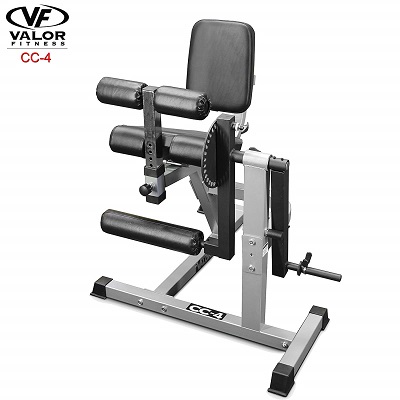 Sundial adjuster
Compact
Adjustable backrest
Side handles
Limit of 150-pound weight capacity
The Valor Fitness CC-4 adjustable seated leg curl machine is a stand-alone unit that allows you to do both leg curls and leg extensions. all without changing your seating position.
Read more
The sundial seat adjuster, similar to what you would see in a commercial gym, lets you change the range of motion until you are satisfied with the right level of extension for your body type and level of flexibility. You can also custom adjust the backrest and thigh support.
The Valor Fitness CC-4 is a compact unit, with a footprint of just 35 by 35 inches and a 40-inch maximum height. The plate loading capacity is 200 pounds. Heavy duty framing and construction give you a solid and secure base. An included adapter lets you load either one inch or two-inch weight plates. There are handles, on the side, that you can grasp for even more stability. The generously padded rollers will keep your ankles and knees in place to practice good form and avoid injury.
At around $250 retail, the Valor CC-4 is a good bang for your buck. Valor offers three warranties-- three years on the frame, two years for the padding, and one year on hardware. When you order, the leg curl machine comes in three separate boxes. Reviewers indicate the machine is easy to assemble.
5

. Body Solid Lying Leg Curl Machine



Center drive cam
Elliptical cams
Extra thick padding
Ergonomic positioning
No leg extension capability
The Body-Solid SLC400G is a commercially rated lying leg curl that brings pro gym quality into your home gym.
Read more
The innovative center drive cam that drives this unit provides an incredibly smooth movement through a full range of motion while doing lying hamstring curls. This eliminates the lateral torque which plagues many inferior machines. Pivot points are biomechanically designed to put your body in the ideal place to get the most benefit from the exercise.
The elliptical cams on the SLC400G provide variable resistance, ensuring a nice fluid movement. The foot pads are fully adjustable using a simple pop-pin arrangement. Extra thick bench and roller padding and a stylish powder coated finish add to the appeal of this unit.
If you are not used to doing prone leg curls, the machine may take some getting used to. Some users with back pain will appreciate the chance to lie down instead of sitting up. You cannot do leg extensions on this machine.
The machine weighs over 300 pounds, so you will need help getting it inside and setting it up. It is on the pricey side, but the investment may be worth it to own such a durable leg curl machine.
6

. Body Solid LVLC Leverage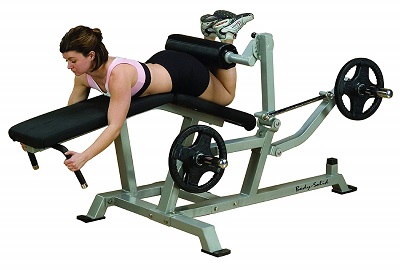 Direct link movement arms
Sealed bearing pivot points
V bench design
Generous warranty
Decent price point
Some welding work may be low quality
The Leverage weighs 145 and comes with a limited lifetime warranty from Body Solid.
Read more
The "V" design of the bench does a great job of isolating your hamstrings to do leg curls. The prone position means less strain on your back and legs. You can adjust the foot rollers to the position that gives you the most comfort and range of motion. The upholstery is double stitched for durability and long life. At 74 inches long and 46 inches wide, the machine will take up some space in your home gym.
Currently, the only color choice is black. Solid steel construction suits the Body Solid Leverage to commercial or residential use, though at 182 pounds it is significantly lighter than many commercial units. There is built-in storage for the separately sold weight plates.
Body Solid offers a lifetime warranty for both home and gym use, as it does for many of its products.
7

. Inflight Fitness Leg Curl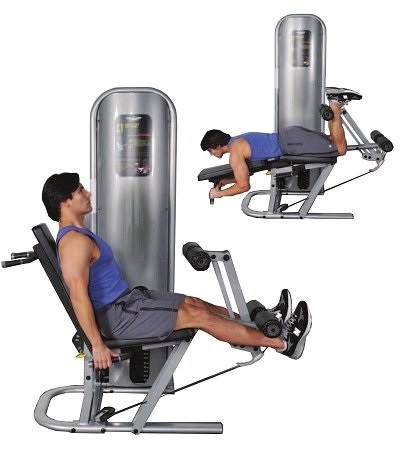 Lying leg curl plus seated leg extension
4000 pound cabling
Shrouded powder coat finish
Lifetime frame/plates warranty, 1 year for cables
The Inflight Fitness is a lying hamstring curl machine and leg extension combination that allows you to do both movements without changing your seating position.
Read more
Unlike most combination machines, this one provides a prone curl position to take the stress off your lumbar region. The framing of the machine is ultra sturdy, with 2 inches by 4-inch flat oval tubing. Quarter inch 4000-pound cabling gives you total confidence in its durability.
The Inflight hamstring machine is finished in a shrouded powder coating and is clear coated for a mar resistant lustrous finish. The 200-pound tiered weight stack can be bulked up to 300 pounds as an optional extra. The rollers on this machine automatically adjust to provide ankle support when exercising. The backrest is manually adjustable.
At 413 pounds, this machine is a heavyweight. It is 42 inches wide and 65 inches long, and substantially higher than a prone machine at 78 inches tall. You can sit up and do leg extensions with this versatile machine.
8

. Deltech Fitness Leg Curl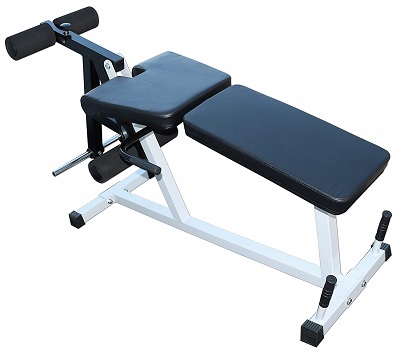 650-pound weight capacity
14 gauge steel tubing
Decline V bench
Bot leg curls and extensions
Olympic plate adapters are sold separately
14 gauge steel tubing and high-density foam make this an exceptionally strong and comfortable leg curl experience.
Read more
The vinyl coverings are tear resistant and moisture free. The leg assembly mounting matches your leg position for a full pain-free range of motion. Oil covered steel inner bushings provide a fluid motion as you exercise. The Deltech Fitness leg curl machine takes standard one-inch weight plates.
The weight capacity is 650 pounds, which is outstanding for a machine in this price range. The V bench angle positions your body for optimal performance while isolating your glutes and hamstrings. Under the vinyl, the foam padding is high density.
A white finish with powder coating gives the machine a nice clean look. There are a knob and lock for adjusting the leg pads. You can use either standard or Olympic plates, using a separately sold adapter for the 2 inch Olympic plate.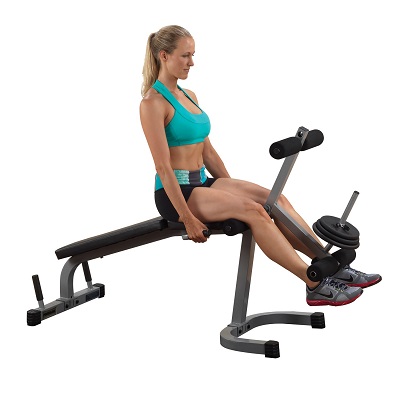 Well priced
Smooth motion
Well constructed
Lightweight and small footprint
The Powerline PLCE 165X is a great choice for budget wary fitness buffs who still need a few key features to provide a great workout.
Read more
A lack of back support makes this a poor choice for someone with back issues or back pain. You can get both a leg curl and an extension with this plate loading machine. The seat is adjustable for either a prone leg curl or a leg extension, with maximum comfort in both positions. The leg curl machine is made by Body Solid, using its budget imprint, PowerLine.
The wide base provides stability for this lightweight unit weighing in at just 44 pounds. At 62 inches long, 25 inches wide, and 27 inches tall, the machine will save you space as well as money. You can get an adapter kit to use 2-inch Olympic plates instead of the standard 1-inch plates, and you can also get a set of spring clip collars to secure the plates to the bar.
Leg curls and leg extensions are both possible, and there are hand grips for each to keep you in an ergonomic position. Double stitched padding adds to the durability of this unit. A powder coated finish also makes the machine resistant to scratches and external damage. We think you will appreciate the value and convenience of the PowerLine PLCE165X and will get many years of use out of it.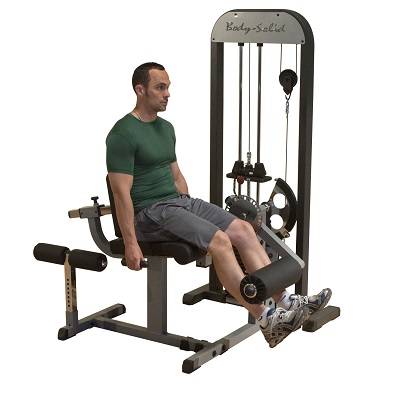 310-pound weight stack
Rotary range of motion adjustment
7 position seat and leg pad adjustment
Can be extended with optional features
The Body-Solid GCECSTK provides an impressive 310 pounds of plate loaded weight that goes up in 15-pound increments, and the rotary range of motion adjustment on this commercially-rated unit allows for variation in your starting positions.
Read more
The rotary range of motion adjustment on this commercially-rated unit allows for variation in your starting positions. The seat angle on this machine is biomechanically designed to allow for complete isolation of the working muscle group. The easy pull pin design means that you can transition from curls to extensions without moving.
With the GCECSTK, you get 7 position adjustments on the back seat and the leg hold down bar so that all users can customize their experience. The oversized 8-inch foam rollers will keep you securely in place with no irritation to your lower legs.
Unique options include an adapter that lets you use weights in 2.5 or 5-pound increments. Protective rubber flooring, to save wear and tear on your gym floor, is also available. The back pad has seven positions, and you can go between leg curls and extensions in one step with the pull pin.
Criteria Used for Evaluation


Adjustability
A non-adjustable leg curl machine would probably cause joint injuries and back pain.
Adjustable points in leg curl machines include the backrest, bench, ankle pads, weight capacities, and range of motion via sundial constructions with a pin. On some machines, you can also use a large pin to convert from a leg curl to a leg extension machine so you can work out your entire lower body.
This is a large array of options, and not every leg curl machine will have every adjustment feature. Many times, you will have to compromise with a lower priced model that still has features you need. We have tried to highlight all the different adjustable options for each machine we reviewed. You can make a decision based on which features you will need, rather than paying extra for features you may never use.


Durability
You need leg curl equipment hat can keep up with you as you grow stronger.
A machine that is not durably constructed will leave you disappointed quickly, as you have to take advantage of the manufacturer warranty or fend for yourself if there is no warranty.
There are certain features to look for when it comes to how durable a machine will be. Double stitching in the padding is a plus. Another thing to look for is the quality of the vinyl covering. Also, more moving parts can mean more chances for the machine to break down. The finish of the machine is a good indicator. The best leg curl machines will be powder coated, perhaps even electrostatically powder coated, to help prevent scratches and other superficial damage.
Even the way the machine sits on the floor will help you determine how durable it is. A wide base with some sort of leveling or gripping mechanism shows the care the manufacturer took in making the product. Also, look for a product that offers optional rubber flooring. Or you can look for rubber flooring from a different maker. Either way, the extra layer of rubber will both protect your floor and keep the legs or feet of the machine from excess wear and tear.


Support
You need support whether you are sitting, standing, or lying prone.
Support takes many forms when discussing or reviewing these machines.
Your body weight has to be supported. The bench accomplishes this, both in prone and seated positions. Some machines will have back support, while others will not. Obviously, if you have lower or upper back pain, you will want back support. The best machines have adjustable back support, too, so you can dial in the exact amount of help you need.
Ankle rollers may seem basic, but they ensure you get a full range of motion without putting too much stress or weight on your ankles. So the ankle rollers are part of a machine's support system. You can go for extra padded rollers if you need to. Always make sure the rollers are covered in vinyl or another strong material, and that padding is present.
A heavier machine will provide optimal support, but it will also cost more and will be difficult to move. In selecting a machine, always look for the tradeoff between price and support. Make sure you are not setting yourself up for injury later by trying to save money and get a bargain with your initial purchase. Bargains and value prices are great, but they should not be the only consideration.


Features
The features of a machine help determine performance, effectiveness, and longevity.
Leg curls machines may not have as many features as, for example, an exercise bike. There are typically no cup holders, media shelves, or Bluetooth capabilities. Still, there are certain features and perks you can look out for. Selecting a machine with the right features may keep you from having to spend money on an upgrade later.
How does the weight load? Do you need spring clip collars, or can the weight just sit on the bar with no danger of falling off? These are questions you can ask yourself. You may also want to look at whether you can switch from one-inch weight plates to 2-inch Olympic plates, and how easily you can do this should you choose.
If the machine converts from a leg curl to a leg extension machine, how does it do that? Do you get a good V-shaped bench when you lie prone? Sizes and qualities of pins and moving joints can vary from manufacturer to manufacturer.
The sundial backrest adjustment is another feature that not every leg curl machine has. Some users find the sundial mechanism easy and convenient. If you have never used one, you will want to try out a machine at the gym or a fitness outlet to see if the sundial adjustment is right for you.


Motion Control
Motion control prevents injury and ultimately gives you a more effective workout.
Motion control refers to a consistent movement when you do each rep of an exercise set. It also determines whether you can get a full range of movement. Carefully designed motion control features, too, will prevent you from hyperextending your leg and getting an injury that could sideline you for a while.
Motion control, in these machines, is often a function of bearing type, pivot points, ankle roller adjustability, and backrest adjustability. The overall quality of the machine will make a difference as well. As with any piece of fitness equipment, look for a reputable brand that stands by its products and offers warranties. If you are buying used, come prepared with questions for the seller and do your research on the machine before making any purchase.
Expert Interviews & Opinions
Most Important Criteria
(According to our experts opinion)
Experts Opinion
Editors Opinion
Users Opinion
By Default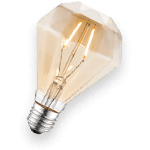 Staying Safe on the Leg Machine
Even the simplest pieces of fitness equipment can cause pain and sprains when used improperly. A leg machine is fairly simple, but it still has moving parts and things to look out for if you want to keep yourself safe and get the most out of your workouts.
Adjust the back pad so that your knees line up perfectly with the pivot point. The pivot point is located at the end of the seat. This is probably the primary consideration when it comes to leg machine safety, as misaligned knees will cause joint pain quickly and will sabotage your results.
Make sure the ankle support is on your ankles, touching the tops of your shoes. The ankle support should never be on your shins, as this will restrict your range of movement and also distribute the weight unevenly.
When you get to the top of the motion, when your leg muscles are contracted all the way without being hyperextended, hold the curl for a few seconds. This helps ensure that your leg muscles are doing the work of lifting, and you are not relying on momentum. Letting momentum do the work will shortchange you and take away from the effectiveness of your workout.
Leg Curls vs. Leg Extensions
Leg curls and leg extensions are similar, and even work out similar muscle groups. But there are some important differences to keep in mind as you move from one exercise to the other.
The leg curl machine will target your hamstrings. These are the muscles running down the backs of your legs. The hamstrings are responsible for bending your knees. Strong hamstrings will help you with running and other outdoor activities.
The leg curl will also work out your calves, specifically the gastrocnemius muscle. This muscle goes over the back of your knee and helps the hamstrings do their work. Leg extensions will also help strengthen your gastrocnemius muscles.
The leg extensions will target your quadriceps more than any other muscle group. The quads are a large muscle group responsible for movement and flexion over most of the front part of your legs. Working the quadriceps is important, as these muscles support you when you stand and have a big responsibility when you walk or run.
Other Factors to Consider


Accessories
There are not many accessories that can go with a leg curl machine. But the ones that are available are important and can be a key part of your level of satisfaction with your purchase.
Rubber protective flooring is one accessory to think about. It will protect your floor from scratches and other damage, while also making the leg curl machine more stable.
Weight plate adapters are another feature. Some machines come with the sleeves you will need to convert from standard weight plates to Olympic plates, which have a bigger orifice for the bar to go through. However, unless you are competing, lifting significant amounts of weight, or changing and moving your weight plates often, you may not even need Olympic plates. Olympic plates are easier to move and load on the machine because they have rubberized grips.
Another accessory to think about is one that does not go with a leg curl machine at all. XMark and other manufacturers offer an extension that can mount on any weight bench and give it leg extension and curl capability. This may be a good option for you if space is at a premium in your home gym. However, you will not get a backrest or many other features unless the weight bench came with them.


Capacity
Capacity refers to how much weight your leg curl machine can handle.
This is an important feature if you are training to lift a lot of weight, or looking to become a serious weightlifter. You do not want to be limited by a machine that maxes out at 200 or 250 pounds. This may mean paying more money for a reinforced machine that will let you safely load up the weight plates to gain mass and strength.
On the other hand, if you are more of a fitness lifter or using the leg curl machine as cross-training for sports like soccer, you may be fine with a 200-pound machine. The capacity you select will depend on your goals with the machine and how much weight you think you will need to lift as an upper limit.
Frequently Asked Questions
q:

How will stronger hamstrings help me?

a:

Stronger hamstrings will help you in nearly every area of your life. If you run, walk, or hike often, or if you run indoors on a treadmill, the hamstring muscles will keep you standing and moving longer. You can hike, run, and walk faster and farther if your hamstrings are conditioned.

The hamstring muscles will also help you in daily life, as they are a functional muscle group. Doing chores, lifting groceries or children, yard work, and anything involving twisting, turning, or stooping motions will put your hamstrings to work. Lifting an appropriate amount of weight at the leg curl machine will make all these motions safer and less painful.
q:

Are leg curl machines safe?

a:

Leg curl machines are very safe if used according to manufacturers guidelines. The most important consideration is to align your knees with the pivot point. You should check this every time you get on the machine. Misalignment will restrict your range of motion and can cause joint and knee pain over time.

You should also properly position your ankles on the ankle roller. The best padding and covering cannot prevent an injury if you are placing the roller near your knees instead of directly on the ankle.
q:

What is a sundial adjustment?

a:

A sundial adjustment is simply a plate with holes cut in it at carefully spaced intervals. The plate is shaped more like an oval than a circle. By taking a pin out of the plate and moving the backrest up and down, you can move the pin to different holes all the way up or down the sundial. When you get close to a hole, the pin will pop into place. This is how you select the backrest angle that gives you the most comfort and the best results. A sundial is more convenient, and faster than a system where you have to take a pin out and move it by hand.
q:

How much weight can I lift with a leg curl machine?

a:

If you train slowly and take rest days, you can lift as much weight as you like. However, the more weight you put on the bar, the more strain you are putting on your knees. There is no give to a leg curl machine; it is made of metal, unlike your body. To avoid strain on your knees, keep the weight within a reasonable range. For lifting heavy weight, or competitive weightlifting, most athletes opt for barbell exercises like squats rather than loading down a leg curl machine. Heavyweight will also put a lot of strain on the machine.
q:

Why do some machines have a prone position?

a:

Being in prone position means you are laying down with your back in the air, facing forward.

Many leg curl machines offer the prone position as an option to reduce strain on your back. Additionally, many machines have the added feature of side handles you can grasp while working out in the prone position. This stabilizes you and helps make sure your hamstring muscles are doing all the work on the leg curl machine, as they should be.