Top 10 Sports Fitness Watches Reviewed and Rated
last updated:
Feb 12, 2020
The general market for fitness trackers and watches has exploded in recent years. As a result, you can find dozens of devices that will record your steps, calories, and heart rate.
That's great for general fitness enthusiasts. But in recent years, devices are being upgraded with more intricate features to meet the needs of the serious athlete or sportsperson. In this article, we'll uncover the findings of our in-depth market research and review the 10 best fitness watches out there.
In a Hurry? The test winner after 17 hrs of research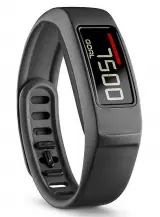 Garmin Vivofit
Why is it better?
Audible inactivity alert
Has a backlit display
The battery lasts over a year
44
Researched Sources
9k
Reviews Considered
17
Hours Researching
14
Products Evaluated
Battery Life
Comfort
Ease of Use
Features
Value
By Default
10 Best Fitness Tracker Watches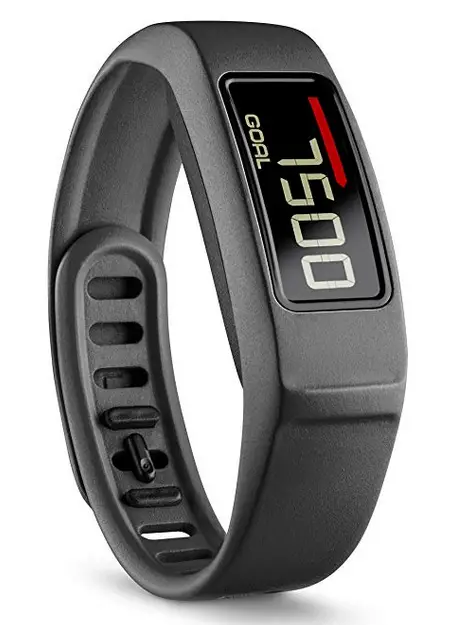 Audible inactivity alert
Has a backlit display
The battery lasts over a year
The step counter is too sensitive
The VivoFit 2 has an alert which reminds you to stay during the day every hour you haven't been moving around. The display stays on you can read it anytime. You can record your activity with or without monitoring your heart.
Read more
The Vivofit offers an amazing display and feature package at a reasonable price point. The following information is displayed on the band: Steps taken,
your remaining goal, distance traveled, calories burned, time & date, and heart rate.
The VivoFit 2 builds on the technology of Garmin's first version by adding wireless syncing, a back-lit display and audio cues for being idle for too long. This activity tracker offers so much more than other models at this price point, including a watch style wrist strap that displays the time 24/7. The battery will last up to an entire 12 months, compared to 5-10 days for other bands.
The Garmin VivoFit 2 is completely water-proof. It is also compatible with Garmin's chest strap if needed. The move bar is also a great feature.
The Garmin app has been revamped, offering an easier platform from which to view your data. The app works on both Apple and Android devices. You can also view your information without a phone on the Garmin Connect website.
The Garmin Fit 2 is a perfect step up if you want the time to be displayed on your wrist and have a great introduction to general all-day tracking.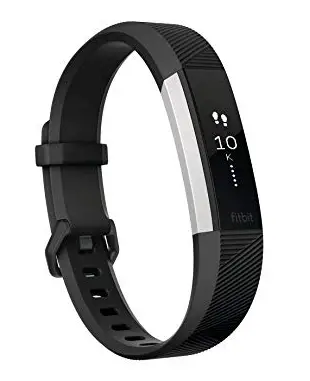 Tracks sleep quality
Has message notifications
Comes in 6 different colored bands
Gauges workout intensity
The Fitbit Alta HR tracks calories burned, workout intensity and heart rate. It also monitors your sleep quality and has a silent alarm so you will wake up easily. You also have instant access to your health stats, phone notifications, and the time.
Read more
Alta HR is FitBit's top-end model. It features a slim, stylish design with an impressive 7 days of battery and all-day monitoring of your heart rate and fitness parameters. It has the same features as the original Fitbit Alta with the addition of heart rate tracking. With this device, you are able to track your steps, calories, distance, active minutes and sleep. To view your stats, you simply tap the screen. The monochrome LED on the Alta HR will also display notifications for incoming calls, texts and calendar alerts. However, the display is rather narrow, so messages can be difficult to read.
The heart rate sensor on the Alta HR measures your pulse at five-second intervals all day long. The Fitbit app will then transfer this information into graph form and produces a personalized Cardio Fitness Score for you. There are a number of swappable bands that can be used with the Alta HR.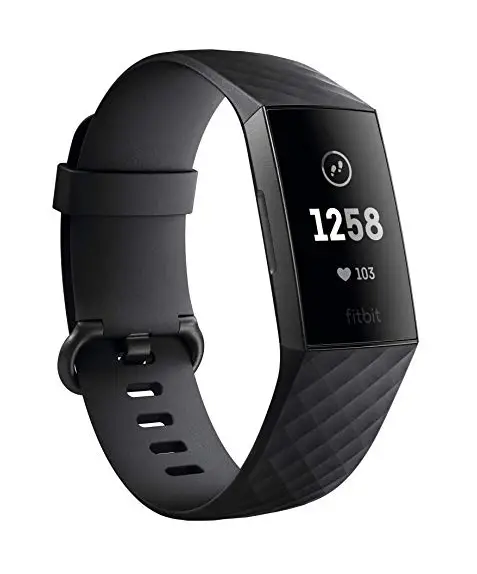 Easy to read display
Tracks the quality of your sleep
Vibration notification of incoming messages
The Fitbit Charge 3 fitness monitor features the PurePulse which gives you continuous heart rate tracking all day and night. It is splash-proof though it should not be submerged in water. This fitness monitor also shows you incoming messages and calendar events. It also gives you activity reminders and tracks your sleep quality.
Read more
The Fitbit Charge 3 has been out for a while. Yet, it still provides one of the best overall experiences for the average fitness consumer. The band is very easy to wear, with a thin enough profile for most people to appreciate. It is neither too big nor too wide. It doesn't provide full email reading capabilities or give you a weather report, but the Fitbit makes up for it by offering one of the best apps available.
The data collected is only as good as how the end-user interprets it and how they can adjust their lifestyle accordingly. In addition to the usual data display of steps taken, time of activity, heart rate, estimated distance and calories burned, it also records flights of stairs climbed. This is measured right on the wrist.
With the Fitbit Charge 3, you can also see a chart of your heart rate throughout the day and night. It also provides for food logging and water intake recording. If you want the overall package of all-day tracking, Charge 3 is a sure bet.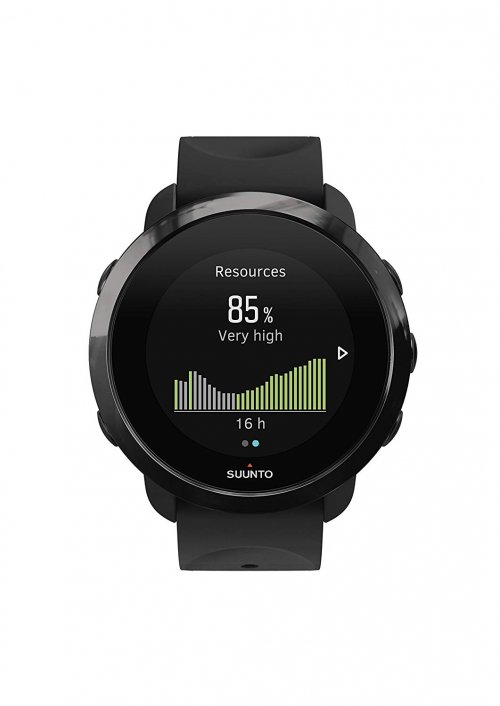 7-day Personal Training feature
Training Guidance in real-time
5-day battery life
Water Proof up to 30 meters
Sleep tracking
Some find it too big
GPS only through the mobile connection
The Suunto 3 Fitness watch delivers the same beautiful aesthetic the brand is known for. It's a robust watch with a good selection of features, designed for people who lead active lifestyles.
Read more
Here is the first watch on the list that has a personal training feature, allowing you to create up to a 7-day plan that adjusts to your individual fitness and exercising needs. It even offers guidance in real-time during your workout to keep you motivated.
It is also the first watch on this list that is really waterproof, not just water-resistant. It can maintain function up to 30 meters in depth.
It does all of the fitness tracker things, like count calories and steps, monitor heart rate, track sleep, but it also measures stress recovery. It includes guides to follow to balance out your exertion through activity and rest.
The Suunto 3 Fitness is suitable for a wide range of sports; swimming, hiking, running, gym workouts, cycling, and several more.
The battery life can last up to 5 days at full activity use. And it is available to use across all Suunto apps.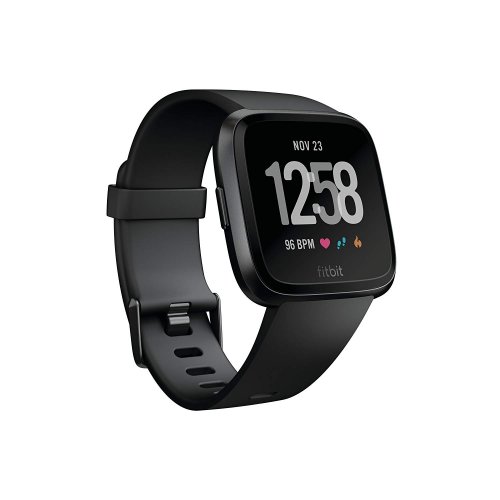 4-day battery life
Basic Fitness Functions
50-meter water resistance
Onboard Music Storage
The Fitbit Versa is a sleek and lightweight fitness watch that includes all the basic fitness features. It is available in a wide array of colors and band styles to match your personal taste.
Read more
In addition to hitting all the marks for basic fitness needs, like tracking heart, calories, and steps, the Versa also offers onboard storage for up to 300 of your favorite songs to fuel your workouts.
It features 15 different sports modes like running or swimming and has an impressive water-resistant rating of up to 30 meters.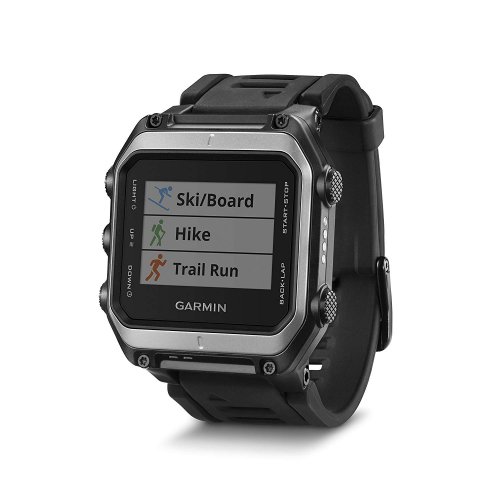 8gb internal storage
Barometer
Altimeter
GPS
Compass
Fitness Activity tracking
Poor battery life
Expensive
The Garmin Epix is a step up from basic fitness watches. It features the detailed mapping technology and GPS technology the Garmin brand is known worldwide, all on a 1.4" LCD high-resolution watch screen. It can take you wherever you need to go.
Read more
The Epix is meant to be more of a specific use watch rather than an everyday wearer. It is equipped with all the basic fitness tools. It also has built-in advanced features like an altimeter, barometer, and compass. This allows for accurate elevation data, weather predictions based on the air pressure readings, and ease with navigation should GPS not be working. And that makes it a great option for those who prefer to get outside for their movement activities. Especially those living in higher alpine environments or who do a lot of backcountry exploration.
It also has 8gb of internal storage so you can stock up on those trail maps.
It has a waterproof rating of 50 meters.
Because of the workload of all the features, the Epix falls short on battery life, with only 24 hrs of maximum battery life with full use. So be sure to grab a rechargeable battery pack with you to keep this watch running throughout your entire adventure.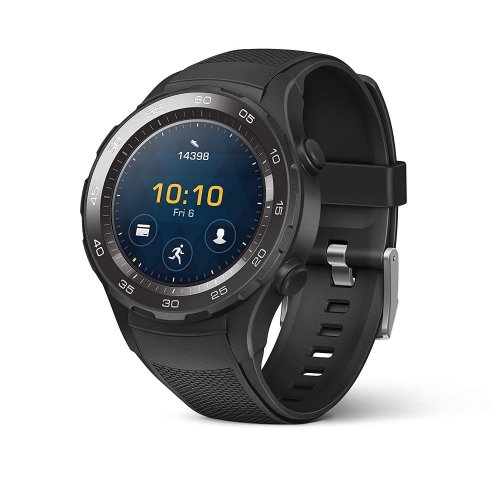 Workout Coach
Fitness tracking
Advanced Sleep Tracking
Water-resistant 1.5 meter
Inconsistent battery life
The Huawei Watch 2 delivers the style of a classic sports watch but with modern technology to keep up with your busy lifestyle. It can work on its own or pair with your smartphone.
Read more
A watch that features heart rate monitoring, advanced sleep-tracking, built-in GPS, and workout tracking. One of its special additions is the workout coach, a feature that provides guidance in real-time during your workouts to keep you on track.
The battery life has received mixed reports. With constant use or GPS activity, the battery may last as little as 7 hours. But on just watch mode, it can last up to a couple of days. And it's important to note that watch mode still allows you to keep track of your steps.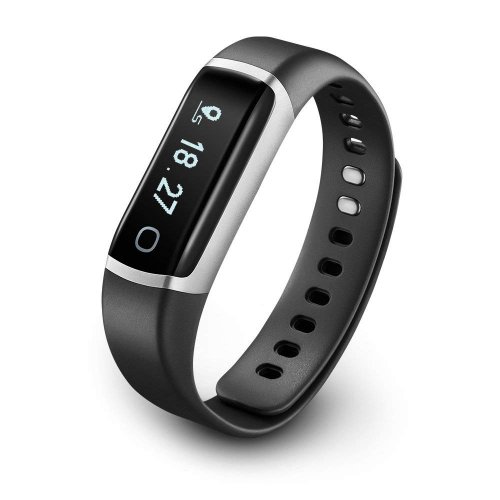 24/7 heart rate monitoring
Personal cardio score
Sleep monitoring
Long battery life
Potential battery charging issues overtime
The TicBand Fitness Tracker is easy to use a tracker that counts your daily steps, minutes of activity, calories, and even your time spent stationary.
Read more
It also provides you with a personal cardio score to allow you to better understand your fitness level and set goals for improvement. You also get continuous automatic, wrist-based heart rate and simplified heart rate zones.
You can track the quality of your sleep and enjoy peaceful vibrating alarms. You can also view your smart notifications with a glance. An interactive display allows for easy visibility of all your statistics. In order to get the information you need, a simple touch of the screen will provide under your fingertips.
The battery for this device gives you up to 5 days of solid use even when the 24/7 heart rate monitor is on. When the monitor is switched off, you get up to 30 days of battery life. The TicBand has an amazingly light, ergonomic design that makes it comfortable enough to wear all day and all night.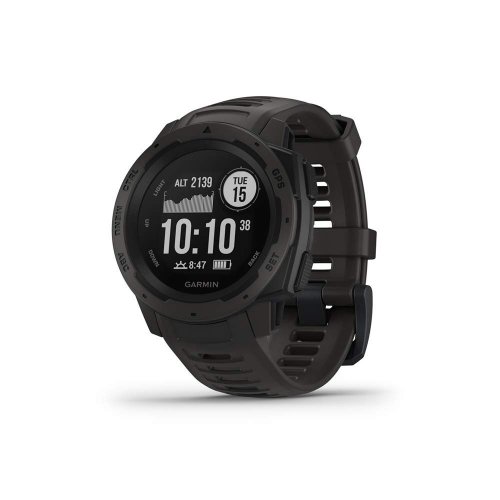 Water-resistant up to 100 meters
Multiple types of GPS
Fitness tracking
Altimeter
Barometer
Compass
Bulky fit
Expensive price tag
The Garmin Instinct is the most durable watch on our list, constructed to meet military standards for shock, thermal, and water resistance. This isn't just a fitness watch, it's also an adventure watch.
Read more
The Instinct accurately monitors heart rate, fitness activity, and stress. It also comes with preloaded exercise and activity profiles for ease of training. You can stay connected with this watch through smartphone compatibility.
In addition to those basic fitness watch needs, the Instinct also provides extra features of 3-axis compass, altimeter, barometer, and multiple GPS systems to support navigation in challenging and isolated environments. And it has a nifty feature called TracBack that allows you to quickly find your route back to your starting point. It also has a nice battery life of up to 14 days.
For those extra reasons, this would be the best watch on the list for outdoor fitness enthusiasts who often spends extended amounts of time exploring the far reaches of wildlands. But with all those additions, comes a heftier price tag as well.
The battery life depends on how active the watch is. For watch mode, it can last up to 14 days. But only 16-40hrs in GPS mode.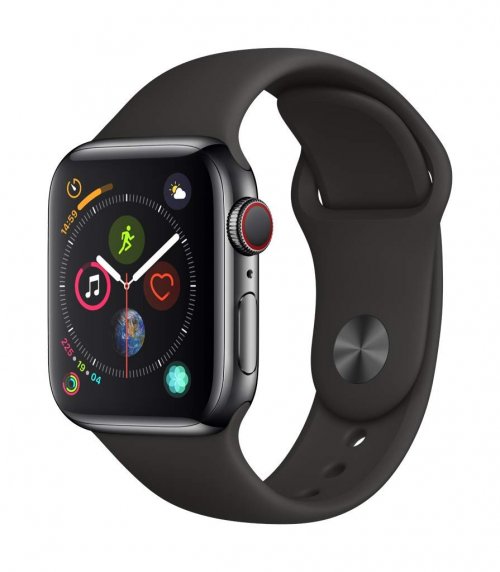 Comprehensive Activity Tracking
Workout Partner
Large Easy to read display
Onboard GPS
Fall detection and SOS call ability
Proactive health monitoring
The Apple Watch 4 the newest watch model from Apple, that was brought to market as a holistic fitness and health watch.
Read more
It has a slimmer design, sleek and stylish look, louder speaker, and more advanced sensors, compared to their previous fitness watch models.
Series 4 makes a great fitness watch. It monitors heart rate and ECG, tracks activities, and even features new movement practices such as meditation, yoga, and hiking. It also features helpful technology that senses when a user has taken a fall by sensing sudden impact and movement forward or backward and will give the user the option to call for help.
The battery life is one of the worst on the list, at about 24hrs of moderate use. For everyday use, as it is intended, wearers will definitely need to make daily charging a habit.
The Apple 4 is also the most expensive on the list, making it quite inaccessible to many.
While it has some great cutting edge new features that we believe are truly going to revolutionize the future watch market, with such poor battery life, little water resistance, and high price tag, it made its way to our number ten spot.
Criteria Used for Evaluation

Battery Life
With the rise in the advancements of technology, the battery life of devices just seems to keep getting better and better. And it's no surprise, as a long battery life increases usability and convenience for consumers.
Whether engaging in outdoor sports off the grid for extended periods of time, running marathons, ultras, or other long-distance sport, having a fitness watch with a battery that can last is important to track your progress and keep you on track with performance. So we graded products based on how quickly a battery recharges and how long each charge lasts.

Comfort
Comfort avoids distraction
Comfort is important when it comes to something you are going to wear all day and probably all night as well. The band should be soft and fit comfortably on your wrist without irritating. The clasp should be big enough to do its job but small enough not to catch on things, and the display should be comfortable for your eyes to read.
It is crucial for a fitness watch to be comfortable. Not just when wearing for everyday casual use, but when working out, training, and engaging in all the various movement practices we love so much. When doing our research to find the best fitness watch currently available, we took into consideration the comfort of and adjustability of the band, how well it stayed in place while being active, and the weight and bulk of the watch face.

Ease of Use
Ease of Use aids performance
We not only wanted to find the best fitness watch on the market, but we also wanted to find the best ones that were also simple to use. We took ease of use into consideration in a number of different ways. We looked at a product's ease of use right out of the box, meaning how quick and painless setup is for the user. We looked at how user-friendly each feature is to locate and use within the interface. And we also considered how easy it was to access information within the device quickly, like workout history.
Your fitness tracker is something you will be working with throughout your day, so preferably you want something which is going to be simple to operate. The controls should be easy to understand and operate. The display should be easy to read even in bright sunlight. The app should also be easy to understand, and the battery should be easy to recharge.

Features
Choose features which you need
Features are an essential appeal for fitness trackers and watches. With a wide range of features, users experience more options for their training and enhanced functionality. During our in-depth research of a wide range of products, we favored products with the following features:
steps
calories
heart rate
GPS
stopwatch
thermometer
easy to read display
And from there we looked for products that had more features and investigated what they were, and how much it added value to the fitness watch. Just because fitness has fifty features, doesn't mean it scored well here. The features needed to be practical and user-friendly.

Water Resistance
Water resistance preserves the life-span of the watch
In order to get the most out of a fitness tracker and watch, it needs to be some degree of water-resistant to increase its usability. If your watch is not water-resistant, you are very limited to when you can wear it. Even just doing daily activities like showering, doing the dishes, washing your car, etc would not be possible with your watch on.
For the best water protection, you want a device that is waterproof to at least 50 meters. If you are going to be swimming, surfing or boating, you will need this level of water protection. For those who are going to be confined to land-based activities, a good level of water resistance is all you need. How water-resistant it needs to be is dependent on the intended use of the product. If you're going to be training for triathlons and actively swimming for fitness, the sports watch has to be able to withstand that constant submersion in the water without falling. If on the other hand, you'll just be using it indoors for gym workouts, it doesn't have to be able to go 50 meters underwater. If you're trail runner who lives in the pacific northwest, you'll need a fitness watch that is water-resistant enough to withstand all the rainfall you'll experience training outside in that climate.
So while being fully waterproof is a major perk for a fitness watch, basic water resistance is enough if your activities don't involve being exposed to the water element. For this category, we scored each product based on its level of water resistance.
Expert Interviews & Opinions
Most Important Criteria
(According to our experts opinion)
Experts Opinion
Editors Opinion
Users Opinion
By Default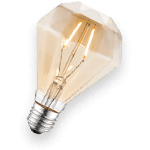 Features
Features are important but you only want the features which will match your needs.
Fitness watches are impressive and they all offer various features that are specific to the needs of the user. Of course, the more features on offer, the higher the cost, so be very selective, think about what you want for your own specific needs. Choose a watch which offers only the features which you need. Extra features can mean distraction, especially when you do not need them. If you choose a watch with extra features that you do not need, this will impact on the ease of use and battery performance.
Comfort
Imagine wearing a watch that does not feel comfortable, it's either too tight, too heavy or loose enough to be constantly distracting.
The watch you choose will be with you regularly for a good number of years, try on different models, gauge how comfortable it feels to wear the watch. If you be selective and try on a few options, you will know when you have found the watch which genuinely feels comfortable for you to wear. Put some time into this, shop around. If you buy a watch online, read the user reviews, if it is a comfortable watch, you are sure to see comments supporting this.
Other Factors to Consider

Watch Face
The watch face is important. It should be attractive enough to fit in with your daily life, but also be easy to read when you need information. The display should be readable even in bright sunlight and provide the information you need. If it is colorful that is nicer and having something which is easy to switch screens to the information you need at the moment.

Durability
You want a tracker that is going to stand up to your lifestyle, made of quality materials that will not break or fray. It is nice if the battery is durable and easy to charge or replace when needed. It is also convenient to have a tracker with is at least partially water-resistant so it will stand up to sweat or splashing, even better if you can wear it swimming or at least into the shower.

Advanced Features
Features are essential with fitness trackers. You need to have in mind what goals you have and what you want to monitor on a daily basis. Does it track the sport you do the most? Do you want to wear it while you swim? Do you need a message notification or an alarm clock or a heart monitor? Give some thought about what is most important to you when making the fitness trackers comparison.
Frequently Asked Questions
q:

Whats the difference between a fitness tracker and fitness watch?

a:

Fitness trackers are simple watch-style bands that don't usually have a full display. They are more basic and geared towards being used just when working out, that include features like counting steps, calories, and heart rate.
Sports watches combine the features of a fitness tracker with the features of a smartwatch. As well as tracking the basics, they are also usually more waterproof and usually feature GPS, mapping, and a wider range of features specific to certain sports.
Simply put, a fitness tracker is a basic device for the simplicity of keeping up with your workouts and daily movement. And a fitness watch is a more advanced device for more intricately following your workouts.
q:

How do fitness watches monitor heart rate?

a:

Fitness watches use an advanced technology called photoplethysmography (PPG) to measure heart rate. It is a type of sensor that uses light to detect heart rate. The sensor needs to be close to the skin in order to increase accuracy, so this sensor is usually placed on the bottom or underside of the watch face.
q:

Can watch bands be replaced?

a:

The answer to this question depends on each brand's design. Usually, bands are designed for durability to decrease the likelihood of needing a replacement. But in the event that a band needs to be replaced contact the watch manufacturer for directions. Sometimes a simple google search will bring up replacement watch band tutorials or direct you to accurate information or available products for your specific watch.
Subscribe to our newsletter