Best Fitness Tracker with GPS
last updated:
May 19, 2020
The days of running with a simple stopwatch are over. Today's wearable tech is made of powerful CPUs that can measure precise distance and help you find your way home if you roam far from it. These powerful, portable GPS units can also keep track of your heart rate and calories burned, while gently nudging you to step up your game or take it easy as needed.
Serious runners, cyclists, hikers, walkers, and even skaters can see an improved cardiovascular performance in a short amount of time with a fitness tracker with GPS. In this article, we break down the features and performance figures you need to find the device that will fit you like a digitally enhanced glove.
This is the best product on our list that is currently in stock: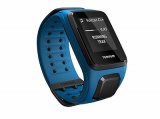 TomTom Spark Cardio + Music
Why is it better?
Music storage and playback
Sleep analytics
Decent battery life
Multisport tracking
42
Researched Sources
8k
Reviews Considered
16
Hours Researching
14
Products Evaluated
Versatility
Weather Resistance
Visibility
Features
Ease of Use
By Default
10 Best GPS Fitness Trackers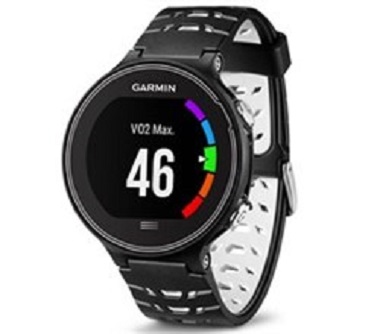 Back to start navigation
Advanced features for technical runners
Water and weather resistant
Responsive touchscreen
Need extra accessory for heart rate
The best GPS fitness tracker of 2020, and the ultimate device for every serious runner, is the Garmin ForeRunner 630.
Read more
The vibrant full-color touchscreen contains every running or cycling metric anyone could want. The watch is an upgrade of the earlier 620 Forerunner, adding stride length, ground contact time balance, and vertical ratio to the watch's advanced running dynamics.
Speaking of advanced dynamics, it is easy to get overwhelmed with the sheer number of metrics this GPS fitness tracker can give you. But users report that the design is intuitive and easy to use. If you are interested in more basic metrics, like distance and calories, you only have to look at those. The more advanced metrics, though, will definitely improve your running form and efficiency. This could be an indispensable tool in training for a marathon or other extended distance run.
To track and record heart rate, you need the heart rate strap that can pair with the Forerunner 630. With that in place, the watch will give accurate real-time heart rate information and also analyze heart rate trends over time.
This fitness tracker with GPS is compatible with your Smartphone. It is lightweight, at just 44 grams. Battery life is 16 hours in GPS mode, or four weeks if you are using it only as a smartwatch. The battery is rechargeable. Display resolution, in pixels, is 215 X 180; the screen is easy to read and visible even in direct sunlight.
These are a couple of reasons why this is the best fitness watch with GPS on the market today.
NOTE: Garmin has discontinued the Forerunner 630. It is still easy to find on Amazon and other online retailers, but you will not be able to purchase this watch directly from Garmin.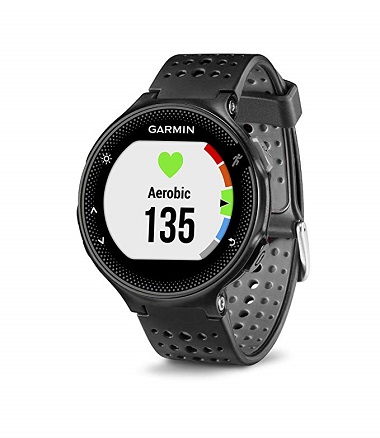 Onboard heart rate monitor
Some advanced features at a lower price
Backlit screen for nighttime use
Can track other activities besides run/cycle
Heart rate sensor drains battery
This GPS fitness tracker is great for runners who are not interested in a marathon or ultra-distance running or the endless advanced metrics that come with those pursuits.
Read more
You can get your running cadence and VO2 max from the Forerunner 235. You can also track your cycling workouts and, unlike a dedicated runner's watch, any other sport you program into it. No strap needed for heart rate with this watch--the sensor stays on and can even monitor your sleeping heart rate to help you get more efficient sleep.
The sensor is located on the bottom of the watch, so it records heart rate data as long as you wear the watch. Garmin is honest about the watch's lowered accuracy with sports like weight training; you can remedy this by pairing the watch with a chest monitor for those activities.
The watch is light, with a comfortable strap, large display screen, and full-color high-resolution imaging with backlight. These features mean this fitness tracker with GPS is useful in both dark and bright conditions. The Forerunner 235 is water-resistant to fifty meters, and the plastic housing is shockproof. The battery life is rated at seven days, but if you are wearing the watch constantly, the heart rate monitor will drain the battery much faster.
This fitness tracker with GPS is a great lower-priced alternative if you do not need all the advanced features and running metrics of Garmin's Forerunner 630. We can recommend it for newbie runners, as well as more seasoned hobbyist runners and even those of you who do not run at all.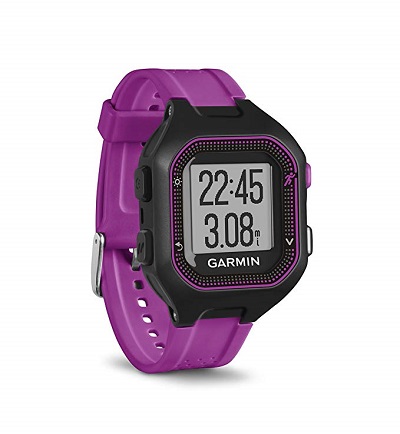 Real time tracking for safety
Slimline design
Can relay your phone notifications
Doubles as an activity tracker
Requires specific kind of heart rate strap
The sleek and stylish Garmin ForeRunner 25 is the most useful and full-featured budget fitness tracker with GPS that we were able to find in today's market.
Read more
This fitness tracker with GPS is good for both indoor and outdoor running. It gives you time, distance, calories burned, pace and distance, and lap information. You can also get heart rate information if you buy a separate chest strap monitor that uses ANT+ wireless technology. The watch comes in two sizes, and you can choose from several cool colors.
This GPS fitness tracker also functions as a pedometer, if pedometers had touchscreens and could talk to your phone. It will measure your steps for the whole day, let you set a step goal, and allow you to see calories burned as well as how consistently you are meeting your step goals.
The built-in accelerometer is a nice touch. It will estimate your speed and distance if you are on a treadmill, or if you lose GPS signal outside. You can activate live tracking to let your friends see where you are if you wish. This is a great safety feature, especially if you go for solo runs in isolated areas.
4

. TomTom Spark Cardio + Music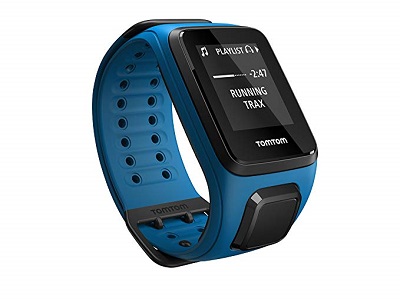 Music storage and playback
Sleep analytics
Decent battery life
Multisport tracking
The TomTom Spark Cardio + Music is a fitness tracker with GPS and so much more--it doubles as music storage and playback device along the lines of an iPod.
Read more
To hear your music during a run, you just need a pair of Bluetooth headphones. While you rock out, this fitness tracker with GPS will track your run, walk, or other calorie-torching exercises. The onboard activity tracker, too, will count your steps and provide sleep tracking. The watch has a stiff band and large screen, making it secure and tough when it goes on your wrist. The special three-pin clasp may take some getting used to, but it will practically immobilize the watch while you wear it.
The heart rate sensor is built-in and stays activated as long as you wear the watch. You can pair it with a chest strap for the most accurate data possible, but you do not have to. Battery life is adequate, anywhere from four to seven days. There is a control pad attached to the bottom of the screen; some users said the pad added unnecessary bulk and wondered why this fitness tracker with GPS did not use a touch screen.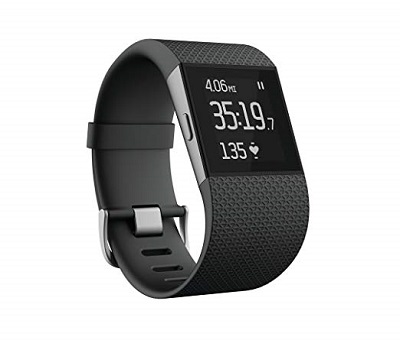 Durable
Slim, form fitting design
FitPit Pure Pulse technology
Decent battery life
The plastic, synthetic, and rubber construction of the Fitbit Surge make for one tough, durable fitness tracker with GPS that can go the distance.
Read more
The multisport watch has a built-in heart rate sensor. It has a scratch-resistant glass screen that you will be able to read in all different light conditions.
This fitness tracker with GPS uses FitBit's proprietary Pure Pulse technology. The technology uses green LEDs adjacent to the wrist skin, and the sensor reads changes in the light patterns to detect capillary movement. Pure Pulse gives an accurate reading, as long as you position the watch according to the directions FitBit provides.
You can track different workouts with this watch. When you select one, the screen will reconfigure for that specific sport. When you are not working out, the Surge will track your steps, calories burned, distance traveled, and uniquely, how many floors you climbed based on the equivalent steps you took.
This fitness tracker with GPS comes in small, large, and extra-large band sizes. If ordering online, you will want to measure your wrist for an accurate fit. The Surge holds 7 days of exercise data. The battery will last about seven days or ten hours of constant GPS use.
6

. Huawei Band 2 Pro All-in-One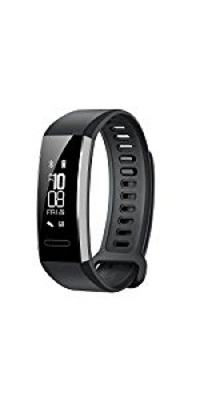 Deep sleep tracking
Reasonable price point
Long lasting battery
Streamlined design for comfort
Narrow display hard to read
This fitness tracker with GPS, which features a minimalist design and narrow but secure band, can track your sleep stages from REM to deep sleep and give you an idea of when lights out should be.
Read more
This fitness tracker with GPS is water-resistant to 5ATM. Sweat from the intense activity will not hurt it, and neither will a dip in the pool. You can get recovery time and VO2 max, in addition to standard data like run distance, time, and calories burned. The battery lasts 21 days on a single charge or 4-5 hours of workout mode time.
You have the ability to share your running victories with your friends on social media directly from this fitness tracker with GPS. You do not need to use your phone to share. You can also sync with your Android or iOs device, to view notifications on the watch.
The band is silicone. It uses a peg and hole closure. There are no metal parts to poke into your skin, and some wearers will find the silicone more bearable, in hot weather, than plastic or other synthetics. The minimalist design means a stripped-down display. It is narrow and streamlined, which is great for comfort but can make the screen hard to read at times.
7

. Microtella Fitness Tracker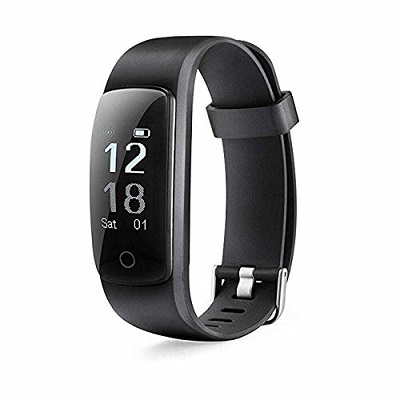 Low price point
Simple operation
Adjustable band
Decent battery life
Watch does not work without a connected phone
This fitness tracker with GPS, from a lesser-known manufacturer, offers a chance for you to get a comfortable GPS band with essential features at significant savings.
Read more
Those features include heart rate, calorie, and distance tracking. You can use the watch for workouts and as an all-day activity tracker to help you meet your step goals. This fitness tracker with GPS will also track and analyze your sleep patterns. You can use it as a GPS unit, but only by syncing it to your phone.
This fitness tracker with GPS offers 14 modes, including modes for tracking weightlifting and an array of outdoor sports. This is not a bad idea, since soccer, for example, will burn more calories than walking. Notifications for phone calls, messages, and most social media will show up on the watch, although you need your phone to reply.
With the VeryFitPro mobile app, you can operate your phone's camera, control music, and other media, find a lost phone, and even check the weather. The band is not very useful at all without a phone and the integrated app, though.
There is no warranty for the Microtella. The band is one size fits all, with the same holes and metal peg you find on wristwatches. This means a metal bit that could poke and annoy you during heavy sweat sessions. Still, this fitness tracker with GPS is not a bad deal.
8

. Polar M400 GPS Smart Sports Watch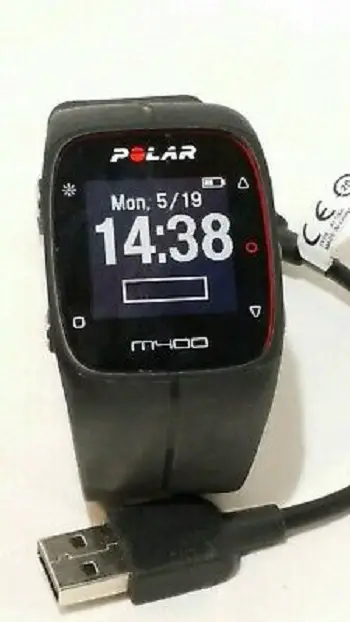 Large screen
Built in heart rate monitor (optional)
Free PolarFlow app enhances fitness
Can make your own programs
The Polar M400 GPS Smart Sports Watch is a real gem. This fitness tracker with GPS comes in four colors and features a large, easy to read display.
Read more
You can buy the Polar M400 with or without Polar's chest strap heart rate monitor. You won't be able to track your heart rate data without it, and the watch is only compatible with Polar's H7 strap monitor.
Your third option from Polar is to buy the watch with the onboard heart rate monitor but no strap. Without the strap, heart rate data will not be pinpoint accurate; this is fine for most fitness enthusiasts, as they are not competitive athletes.
Aside from the standard speed, distance, steps, calories burned, and sleep analysis, the Polar M400 also offers the Polar Flow app. With this app on your mobile device, you can track your activity there and transmit it to your Polar unit so you do not have to wear the watch all the time. Polar Flow offers analytical tools to help you view your progress and set new goals.
This fitness tracker with GPS is a great all-around option for a GPS and activity tracking watch. Although there are price options--the watch costs less without the strap--the price tag of this unit is still enough to deter many fitness buffs who do not need all the advanced features.
9

. Lukawit GPS Running Watch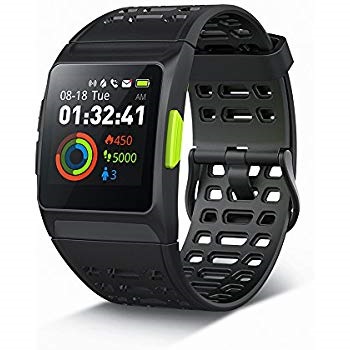 Seven running modes
Seventeen multisport modes
Light in weight
30 day money back guarantee
Optional fitness reminders
Brand is not well known--no reputation
This economical and sturdy fitness tracker with GPS lets you set target heart rate goals then sends you reminders when you are lagging or exceeding them, so you can get your heart rate back on track.
Read more
Of course, you can turn the reminders off if you'd rather not have your watch talk to you. Lukawit offers a full-featured product with customizable settings. You get dynamic heart rate monitoring, seven running modes, and an astounding 17 multisport modes. Running modes include distance, duration, freestyle, and others. This fitness tracker with GPS seems to be ideal for runners. Multisport modes cover basketball, cycling, and swimming, just to name a few.
You can also have phone notifications sent to the watch, after installing Lukawit's Zeroner Health Pro app.
The full-color high-resolution touch screen is a generous 1.3 inches, visible in all light conditions. 240 X 240-pixel resolution. The Lukawit Fitness Tracker weighs 3.2 ounces. Lukawit offers a 30-day money-back guarantee. Battery life is up to seven days, or 8 hours using GPS. You also get a timer, stopwatch, reminder to move, and flashlight with this fitness tracker with GPS.
10

. MoreFit Fitness Tracker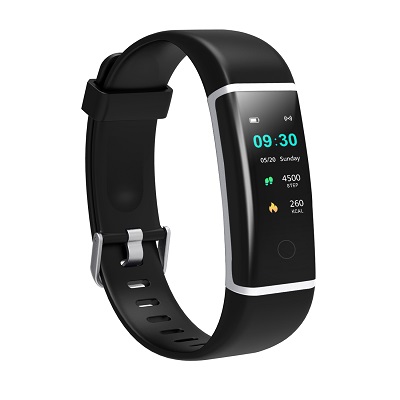 Can pair with your phone
Stylish minimalist look
12 month warranty
Has a built in USB plug
Manufacturer does not specify what the different modes are
This narrow, bracelet-style fitness tracker with GPS has an elongated display and a universal fit band, with a wristwatch-style closure.
Read more
The .96 inch display leaves a small footprint but is still readable under most conditions. The tall, skinny shape means numbers will sometimes be stacked on top of each other. The screen uses LED technology, giving off plenty of brightness.
This fitness tracker with GPS can track your sleep, daily steps, distance during workouts, and calorie burn. There are options for activity modes, and you can send phone notifications to the MoreFit.
MoreFit's proprietary mobile app is called Everyfit. Once you install it on your phone, you can sync and share data between the two devices. A two-hour charge will last for 7 days, and the unit charges with a USB connection.
MoreFit is a startup company. They do not have the history to have either a positive or negative reputation yet. But the company seems sincere in wanting to connect people with tools to get themselves healthy.
MoreFit makes yoga equipment in addition to the fitness trackers. There are eight to choose from on Morefit's website, and an entire page of replacement bands that are more like cases. Perhaps that dedication and focus will pay off with superior performance.
Criteria Used for Evaluation

Versatility
Having one machine that does the job of two is always good.
A GPS fitness watch, for the most part, exists to record your workout data and, sometimes, get you back home from an extended outing.
Where is the versatility in such a single-minded device?
The answer is that fitness trackers can have almost infinite variations in appearance, wear, comfort, user input, display function, size, data points, and at least a dozen other areas. We want to help you find the best fitness tracker watch that will do the things you need the most. That might just be running. Or it might be cycling and outdoor sports. Maybe you want a step tracker and sleep monitor.
Whatever the case, meeting your goals will usually mean combining two or more features and functions. A versatile tracker will be able to do that for you.

Weather Resistance
You need a fitness tracker that will perform through anything nature has to offer.
Weather resistance is a pretty fundamental quality for fitness trackers. Users will take them outside, even if it's just to wear from the house to the gym. And if you use yours as a step tracker, you typically have to keep it on your person the whole time you are awake.
So, in our reviews, we looked for manufacturers who made the weather-resistant specs prominent. We looked for watches with easy to find water resistance ratings. Rain can be just as damaging to electronics as a dip in the pool.
Weather resistance is part of being able to read the screen, too. If you are outside and the wind picks up, will it blow grit on the face of your fitness watch? It could happen, and if you don't have a scratchproof screen, it's not grit proof either. We even looked at what manufacturers did to let you read your fitness watch in the dark or in direct sunlight. All of these factors went into our scores for weather resistance.

Visibility
The data does not do any good if you cannot see it.
Visibility includes screen brightness, extra lighting, size of the display and digits, and sometimes the color of the band.
Band color can be important if you know you lose things. Some of us have that tendency. You can be proactive with a brightly colored band that will be easier to spot. Or you may prefer a dark band that will blend in with your clothing, like a regular watch.
Backlit displays are a miraculous thing. Imagine if your phone were only legible during the day. Your fitness tracker should be just as easy to use, in darkness, as your phone is. We looked for fitness watches that included extra lighting.
The resolution, in pixels, is important too. Low-resolution screens will be harder to read. Some screens are narrow enough that numbers will be stacked on top of each other. If you are farsighted or use corrective lenses, you may want a bigger display with numbers that are easier to track.

Features
Features are almost a given with today's fitness equipment. Even basic things, like footballs, have points of difference that can affect the price and, in turn, your buying decision.
With technology growing at a mad pace, GPS fitness trackers have almost endless options for features. Part of our mission with these reviews is to show you these features, across different units, so you can decide which features are important to you. You do not need to pay extra for something you will never use.
For example, there are GPS fitness watches that can tell you how many seconds your feet spent off the ground during a run. This is something a marathoner would need, but a 5K or treadmill runner would not. There is no reason to spend extra money on something you cannot use, or increase the complexity of going for a simple workout.
Expert Interviews & Opinions
Most Important Criteria
(According to our experts opinion)
Experts Opinion
Editors Opinion
Users Opinion
By Default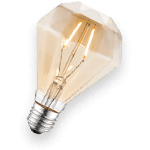 Clean That Screen
Just because the screen on a GPS fitness watch is scratchproof doesn't mean it can never be damaged. It still needs your care and attention.
For most fitness tracker screens, all you need is a clean lint-free cloth. Make sure the cloth is only ever used for cleaning the screen, and that it stays in a drawer where dust won't have a chance to reach it when you are not using it. Simply rub the cloth over your screen, briefly, in a circular motion. Be gentle. You don't want grit or particles on the screen gouging into its surface.
A microfiber cloth is the best thing for this purpose.
If there are stubborn smudges or dark spots on the phone, you can wet the corner of the cloth with a tiny bit of freshwater and rub that over the spot a few times. Use the dry part of the cloth to thoroughly dry the screen when you are done. If you are ever unsure of how to clean your fitness tracker screen, call the manufacturer.
Don't Forget Your Fitness Tracker
Fitness trackers give their most effective data when they are worn. If you invest the money in one, do yourself a favor and wear it all the time, day in and day out. Do this at least at first, so the tracker can give you accurate calorie, step, and sleep information. Knowing these numbers is the key to developing healthier habits.
You might go so far as to motivate yourself with a bracelet or other piece of jewelry that matches or compliments your fitness tracker. If you make the device part of your look, you will be more likely to wear it consistently.
If your device has a heart rate sensor, pay attention to what it says, too. Your heart rate is one of the most important pieces of overall fitness. If you are pushing yourself too hard, risking exhaustion, or worse, the fitness tracker will show you that sooner, rather than later, so you can make adjustments before any damage sets in.
Other Factors to Consider

Capacity
Capacity here simply means how many hours or days worth of data a fitness tracker can hold. Some of the less expensive ones can hold two weeks of data. Others can hold more. Regardless of how much memory your fitness tracker has, you should be downloading your data to another device, one with more memory. You can use it to analyze long term trends or to celebrate accomplishments by seeing how much slower you ran a year ago.

Apps
Many fitness trackers can pair with mobile apps, and we think this is fine. The two devices can sync, and your phone can act as a backup to the tracker. Also, sometimes these mobile apps have a social component or can enable you to program routines into the fitness tracker. Then you can go on an adventure later.
Some fitness trackers will not do much of anything without a proprietary app. The apps are free, so it isn't that big of a deal, but we also think you should have options. You may not want another app on your phone. So we have been careful to say, in our reviews, when a watch needs an app and when the apps are optional enhancements.
Frequently Asked Questions
q:

Why would I need a fitness tracker?

a:

Fitness trackers, used properly, are an effective way to break stubborn bad habits, like procrastinating on your workouts or skimping on sleep. They provide the numbers, so the facts are unavoidable. Also, by having a record of your progress in your favorite activity over time, you can decide what to tweak and adjust to your fitness goals.
q:

Can't I use a free app on my phone?

a:

Of course, you can. But there may be times when you want to be away from the phone to work out. At the gym, you may want to put the phone in a locker. Outside, on the trail, you may not want to be interrupted by calls or messages as you enjoy nature. For these occasions, you will still have a record of your movement because the watch will be on your body.

Another disadvantage, with the mobile app, is that even the best free mobile app will not measure heart rate. Heart rate is one of the most important metrics of overall health and wellness because your heart has such an important job. To make sure you are working out effectively, in or around your target heart rate zone, a fitness tracker becomes necessary.
q:

Do I need GPS?

a:

We think you do, for accuracy and safety. It will cost more money, but it can also help you get back home if you go on a long run or walk. Also, some GPS watches will let your friends or loved ones track you in real-time (with your consent). If anything happens, they will be able to respond faster.

Of course, if all of your outside jaunts are local, with familiar trails or parks, you really may not need GPS. The accelerometer in the device will give you fairly accurate information all by itself.
q:

Can I change my own battery in a fitness tracker?

a:

Probably not. Typically the tiny batteries are not in a place accessible to the user. When the battery goes dead and won't charge, you will need to take the whole watch to an authorized dealer or send it back to the manufacturer for battery replacement.

The good news is that the battery in your fitness watch will last a year or longer. Check the owner's manual for your specific battery life.
q:

Isn't a fitness tracker the same thing as a smart watch?

a:

This is a confusing topic. There is a lot of overlap between what the smartwatch does and what your fitness tracker does. But it all comes down to one key difference: you cannot communicate with others on a fitness tracker with GPS. You can see notifications for messages and calls, but you cannot respond. With a smartwatch, you can.
Subscribe to our newsletter