Best Yoga Balls in 2021 Reviewed and Rated
last updated:
Jan 07, 2021
Yoga and Pilates are two of the most popular and successful methods of exercise that you can do at home. An exercise ball can take your yoga and pilates workouts to the next level by improving your balance, core activation, and stability on every move. Choosing the right ball is a key part of getting the most from your sessions. In this article, we present the 10 best fitness balls for yoga and pilates. Be sure to check out all the great information about the best yoga and pilates balls we have here for you!
In a Hurry? The test winner after 10 hours of research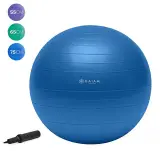 Gaiam
Why is it better?
Anti-burst
Free Pump
Training DVD
75 cm
In a
Hurry? Editors choice: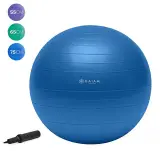 Test Winner: Gaiam

36
Researched Sources
12.5k
Reviews Considered
10
Hours Researching
12
Products Evaluated
Use
Effectiveness
Size
Durability
Features
By Default
Criteria Used for Evaluation

Use
We've all played with balls when we were kids, so how hard can using these balls be? Well, if you're a beginner, it can be challenging, especially when you use it for yoga or Pilates. We will describe some basic ways you can use these balls for yoga and Pilates!
If you're tired of your plain old yoga or Pilates routine, adding a ball can spice things up, but it's essential you know what you're doing before you attempt to use one. By using these balls, you will challenge your body once more to find a different way to utilize the muscles that work to balance and stabilize you - your core. If your balance is not so good, believe us when we say that this ball will be very challenging! One thing you can try doing is rolling squats with a ball. Stand with your feet the same distance as your hips are. Place the ball in front of you. Do a regular squat, but place your hands on the ball. Now as you keep your back straight and your knees behind your toes, roll the ball out as far away as you can, and stretch those muscles out! When you start to roll the ball back, inhale and remember to keep your knees straight.
You can also try doing upward and downward facing dog with the help of a Swiss ball. Place the ball on your exercise mat, and fall down to your knees and palms. Place your torso on the ball, and roll forward until your hips are on it. Keep your legs straight behind you. Push the ball in with your hands, and extend your chest up as you inhale, stretching out. Exhale and now roll the ball back until your body stands in an inverted V pose. Keep your arms and legs straight! You can try positioning the ball so that it supports your chest and thighs. If it can't, you might benefit from a larger ball. Inhale and roll back into an upward facing dog, and do this about 10 times. These are just some basic exercises you can try, but we are sure that you will find many more ways to use the pilates & yoga ball!

Effectiveness
Yoga and pilates are quite effective ways to exercise on their own, so can adding a ball into your routine actually be effective? Just one silly ball can greatly challenge your core and supporting muscles. The ball will allow you to stretch out your spine in ways you never knew were possible, and it will make it even stronger than it was before. This is the very reason why these balls are used commonly for physiotherapy and rehabilitation. A lot of people complain of back pain, and the ball gives them an easy way to stretch out and relieve that pain.
The yoga ball will make your core even stronger and more supportive as we mentioned before. It's very important that your core remains strong - after all, you use your core every day when you walk, run, lift objects, or simply move in more challenging ways. A weak core is a recipe for an aching back and injuries, so make sure to keep your core strong, and a pilates and yoga ball is just the way to do that. Also, a stronger core means better posture, and we all like having good posture! Good posture then invites a great sense of balance, while your pelvic floor muscles also get stronger. Yoga and Pilates tone your whole body, but the balls will mostly focus on your core and back muscles, and it will keep you well balanced. Add the ball to your routine to experience maximum core and back strength!

Size
Size really does matter here, and if you go for a ball that is not the right size for your height, you might end up in more pain than you started with. The taller you are, the bigger the ball needs to be, and if you're on the shorter side you will need a smaller ball. The mini pilates balls are also great, but you won't be able to sit on them, and they work better when you need to lift the ball around and use your hands to control it. A ball that is off will not allow you to practice proper posture, which is very important for both yoga and Pilates.
If your height doesn't go over five feet, you are going to be needing an extra small ball, one that does not exceed 45 cm when fully inflated. If you have children who want to try what you're doing, a ball this size is also what will suit them well. If your height does not go over 5'8", a small ball will work wonders for you. A ball bigger than that won't allow you to keep your knees at a 90-degree angle, nor will you be able to comfortably use it. If you are not taller than 6'2", go for a medium ball. A ball slightly bigger than this might be a good choice for you if your legs are really long, or if you have some back issues. If you are taller than 6'3". go for a super big ball, one that has a diameter of 75cm or more! And if you feel like you need the biggest ball you can get, aim for the ones that have an 85 cm diameter.

Durability
Yoga and Pilates balls are going to be squeezed, thrown, sat on and much more, so they need to be able to withstand a lot of abuse. How long your ball will last can be affected by many things, namely the materials they are made out of, your weight, and its anti-burst rating.
The anti-burst rating of the ball is what matters the most when it comes to the durability of it. Anti-burst material keeps your ball safe from popping like a balloon if the weight limit is reached. If it instead just exploded, you might fall off from it and hurt yourself, and it may even scare you! The best option you can aim for is a ball that has an anti-burst rating of 1000 pounds or more. This rating ensures that you can safely use some weights while working with it. Some balls have both static and dynamic anti-burst ratings. These ratings tell you how much weight a ball can support when you're just sitting on it, as opposed to when you're loaded up with weights and moving around and bouncing. But even the balls with the highest anti-burst rating can deflate if you do not care for them well, so make sure to do so properly!

Features
And last but not least, the features of your Yoga & Pilates ball. Believe it or not, a simple ball can have many features that come along with it, and you will actually benefit more if it has plenty of them!
The very first difference from ball to the ball is the texture of them Some balls are smooth and shiny. These balls are great to look at and are easy to clean, but they can be very slippery if your hands and other body parts get sweaty, so make sure that you are dry before you go to use them. Other balls can have a matte surface, with dimples or ridges. This makes them anti-slip and very grippy, so you can safely grab them and sit on them without them rolling and running away from you. The first feature to look out for is the texture of the ball. The texture of the ball combined with the texture of your floor is also something to be wary of. Some balls come with exercise charts and handy DVDs that tell you how to begin using them, which is actually quite handy if you're just starting out with using them. Sometimes, resistance balls and inflatable rings come as a whole package with the ball. These rings keep the ball from rolling away when you sit on them or place your feet and torso on them. The resistance bands can be attached to the balls, usually with carabiners, and then you can add a whole new dimension of working our with these balls! Some balls also come with freehand or foot pumps. Do not worry if your ball didn't come with one - you can simply inflate it with a regular air pump, but it's very convenient when you already have the pump there!
Expert Interviews & Opinions
Most Important Criteria
(According to our experts opinion)
Experts Opinion
Editors Opinion
Users Opinion
By Default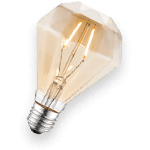 Brief History
The very first appearance of these balls was in Italy, and they were invented by an Italian plastic manufacturer. Pilates balls were first known as Pezzi balls, and one swiss doctor recognized their potential for rehabbing infants and babies, hence the name swiss ball we're all familiar with. Later on, they started using this ball as a tool for physiotherapy and neuro-development, and once people recognized their potential for fitness, their popularity steadily grew and now we can't see a gym without one!
Safety Hazards
You must know how to use the stability ball properly because otherwise, you can actually hurt yourself quite a bit, either by falling down or by puncturing the ball. Make sure that your ball is not overly inflated because this can make it even harder to use. A ball that is not inflated enough can also be problematic, so pay attention to both of these issues. Do not use particularly heavyweights or kettlebells when sitting on these balls, because the extra pressure concentrated on only one point can make the balls burst quite quickly, even if the anti-burst rating is high! Keep the floor you workout on clean and free of any sharp objects, because you don't want to puncture your ball before you even get to use it.
Other Factors to Consider

Bottom Line
Our favorite yoga and pilates ball is the Gaiam Yoga ball, with its strong construction, excellent grip ability and training DVD. We also loved the Stott Pilates Mini Ball, which is just the right size for pilates and yoga applications.
Our third best pilates ball is the Everlast pilates ball, which provides a strong outer wall, is able to retain its inflation and comes with a 12-month warranty. Read our review of the best medicine balls on the 2019 market. We hope our guide has been helpful to you, and that you have found what you were looking for!
Frequently Asked Questions
q:

Do I need a ball to practioce yoga or pilates?

a:

Well, not really. But the same routine over and over again can become very bland, and you might want to add some spice into your fitness life. This is where the Yoga & Pilates balls can be very helpful. Plus, they will challenge you on more levels than you ever knew, believe it or not. Your core will end up even stronger, you will be more balanced, and of course, you will have even more fun when you work out, and keeping the mind engaged is just as important as staying fit!
q:

How big should my stability ball be?

a:

The size of your yoga ball varies, just like the height of people varies. The taller a person is, the bigger the ball needs to be, and vice versa. If you have no idea how to choose the right size of ball, all you need to do is figure out how tall you are, and then choose the right size according to that. A ball that is not big or small enough for you can be very problematic, because you won't be able to9 maintain proper form when working out, which is a surefire way to get injured!
q:

Do I need to care for my yoga ball?

a:

Of course, you do, just like you need to care for every other piece of equipment out there! Sweat can cause a lot of issues - it can eat your ball, it can cause bacteria to grow on the surface, and it can just smell really bad. Wipe down the ball after every use to avoid these issues. Make sure to keep sharp objects away from your ball as well! You don't want to send it to an early death because you weren't paying attention. And if you have any pets, keep them away.
q:

Is there a correct way to inflate the ball?

a:

Every ball mentioned here, well, almost every ball, will come with a free air pump. Do not worry if you do not get one though, because you can use literally any air pump to blow up the ball. The ball must be inflated in a room that is not colder than 20 degrees Celsius - this is the first rule you have to follow. And when you first inflate the ball, inflate it 80% of its potential. Then you must wait about 24 hours before you fill-up the rest with air. Do not over-inflate! Make sure that the diameter is the one listed on the package. You don't want to underinflate your ball either.
q:

Is there a right way to sit on the Pilates ball?

a:

If the Pilates & Yoga ball is big enough to sit on it, you then may do this to improve your balance, but there are some,e rules you must adhere to. Sit on the center of the ball, avoid sitting on the edges. It will be hard to maintain balance this way, but you must do it. Sit with your back straight, and keep your knees at a 90-degree angle, while keeping your ankles in line with them. Do not lean in any direction, and if you find any of these things hard to do, the ball size might be the problem here, and you should change it immediately!
Subscribe to our newsletter