Best Pilates Videos Reviewed and Rated
last updated:
May 19, 2020
Pilates is much more than a passing fad designed to make money. It is actually an excellent way to stay in shape and it is an exercise that will definitely make you sweat. This is a workout which is good for anybody whether man or woman, young or old. If you have never tried this type of exercise, it might be a great time to start. This is a great way to improve your strength, flexibility, and mobility. You can also increase your skill at concentration while decreasing your body fat. In this article, we are taking a look at some of the best Pilates videos on the market which is the perfect tool to get you started.
In a Hurry? The test winner after 36 hrs of research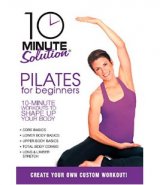 Minute Solution
Why is it better?
10-minute segments for any schedule
5 different programs
Perfect for beginners
18
Researched Sources
14k
Reviews Considered
36
Hours Researching
24
Products Evaluated
Features
Ease of Use
Size
Effectiveness
Release Date
By Default
10 Best Pilates Videos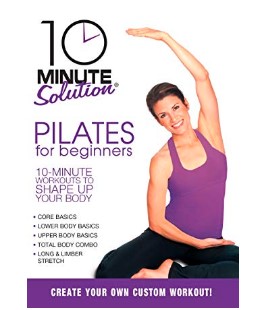 10-minute segments for any schedule
5 different programs
Perfect for beginners
Some say it moves a little fast
If you only have quick moments for your workout, this is the perfect video for you! It has taken all of the basic movements and broken them down into ten-minute increments so you can get a great exercise in a short amount of time. These movements are perfect for beginners as well as experts. The video includes five different programs to target different muscle groups. Each program has two 10 minute videos. They are perfect to do one a day or you can mix it up for a long workout.
Read more
This video is designed with efficiency in mind. They develop five different Pilates workouts and broken them down to ten minutes each so you can squeeze in the workout during a busy day. The segments teach fundamental techniques and the form that is required for the results you want from your workout. You can fit a 10-minute session into your busy schedule anywhere or you can mix and match your favorites. You can also do them together in a 50-minute body sculpting workout. The five different workouts are core basics, lower body basics, upper body basics, total body combo, and long & limber stretch.
In the Core Basics segment, you learn the positioning designed to strengthen your abs to give you a max benefit. This core workout helps you tighten your waistline. The Lower Body Basics segment teaches you how to stabilize your torso and sculpt your glutes, hips, and thighs. This workout is going to help you get long, lean legs. The Upper Body Basics helps you trim and tone your arms and as an added benefit you will develop a nice definition across your shoulders and back. The Total Body Combo works on your spine, hips, and shoulders to help tone from head to toe. This is going to give you a nice, lean look. Finally, the Long & Limber Stretch is a relaxing workout that helps to improve your overall posture.
2

. Winsor 3 DVD Workout Set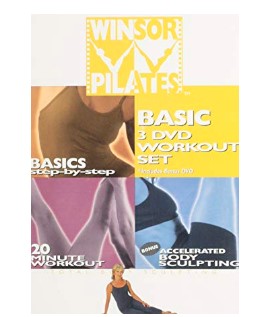 Target specific muscles
Grows as their skills do
Comes with three discs
Explanations are sometimes repetitive
The Winsor Workout set comes as three separate workouts that are designed to work for beginners or experts. The workouts target specific muscles so you can work on one area you feel needs it or you can put some together and get a complete body workout. The skilled instructor goes through all the movements clearly and easily so you can follow along. If you are looking for a class that will grow along with you as you develop your skills, this is a good choice for you to consider.
Read more
This workout set helps you to target specific muscles to get a complete body workout. It comes in a three-disc set. The first disc has seven exercises that make up the foundation of all Pilates, no matter what fitness level you are from beginner to advance. The instructor carefully breaks down each exercise so you can understand your powerhouse, how important your body frame is, explaining the body alignment importance, and how your breathing is going to affect your performance. This video also gives you 3-D training about proper form and position.
The second disc is a fun, fast 20-minute workout that is a no-nonsense program made to help you slim your body in only 20 minutes a day. You will be able to tone and tighten your thighs and buttocks while you are working your core muscles and powerhouse which will give you a lean, flat stomach. You can improve your coordination, strength, and posture. The third disc is an Accelerated Body Sculpting program. It is designed to work every part of your body. You can tighten up your thighs, hips, and buns as well as flattening your tummy by exercising your center. They can help you increase your flexibility and energy as well as helping you improve your health overall.
3

. Pilates For Beginners & Beyond Boxed Set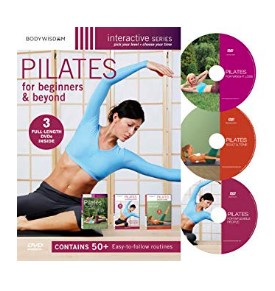 Over 20 routines to choose from
There are 3 DVDs included
Taught by a skilled instructor
You need to have extra workout accessories
This workout set is perfect if you really want a strong core but you do not have the range of motion to pull off some of the moves. It begins slowly with just some basic movements that let you workout without twisting yourself up. The teacher is a certified Pilates instructor. She also has a master's in education. It offers over 20 routines to choose from so you are much less likely to get bored while you are exercising.
Read more
This DVD set has three videos which include everything you need to learn these unique movements and exercises following your own timeline. This video is for users who are inflexible. Joseph Pilates created this method to help people who are inflexible or injured to work towards being strong, healthy, and more flexible. The first video is called Pilates Complete for Inflexible People™ and is perfect for anyone working towards increased vitality and health. This video teaches a range of poses that are modified to help students who are just starting out or more experienced ones. The customized workouts help you work at your own place.
The second video is Sculpt and Tone. This video includes all the exercises you need for getting into the best shape possible. It includes a wide range of routines that will help you get a lean physique. The video includes menus which are easy to use to pick a workout to fit your physical needs as well as your schedule. You can pick your workout either by the part of the body you want to work on, like your abs or legs or by the routine type, like mat work or balance ball. These routines are customizable to work with you.
The third video is for weight loss. The exercises are perfect for burning fat, building muscle, and maintaining a weight that is ideal. They are designed to improve how your body feels, looks, and performs. It is perfect to go with any weight loss program. There are more than 15 Pilates workouts which are customized workouts to match with your scheduling and physical needs.
4

. Denise Austin: Shrink Your Fat Zones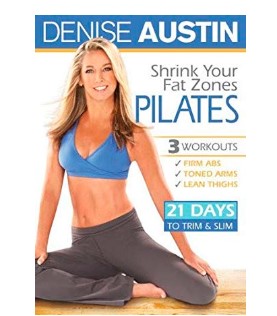 3 zones targeting different body areas
Can trim your body in 21 days
Easy to follow workouts
Some exercises require accessories
Denise Austin's DVD is specially designed to help you slim, raising the intensity to really help you burn calories. Even though it is a little more intense, beginners can still keep up as well. The workouts come in three zones, each one of which is 15 minutes long. They each target a particular muscle group. Many of the workouts require additional tools like hand weights but you can always improvise. These videos are interesting, well organized, and easy to follow.
Read more
This DVD will help you stay focused and is an excellent way to slim down and reshape your body. You can target the stubborn areas of your body using the three workouts which are tailored to use special techniques to sculpt your upper body, cinch your waist, and tone your thighs and buns. You can trim your entire body in as few as 21 days. There are three zones that work to target different major muscle areas in your body. The first zone covers your abs and core. You will learn which exercises help to flatten your stomach and cinch your waist. The exercises will chisel your core from every angle.
The second zone covers the upper body with a 15-minute workout. You can use small hand weights to tone your chest, arms, and shoulders with moves that sculpt your muscles and that will help you get toned. The third zone is designed to work on your buns and thighs. It contains techniques that help you lose inches from your thighs and lift your buns. These are techniques are proven to define your lines and help make you trim.
5

. Element: Targeted Toning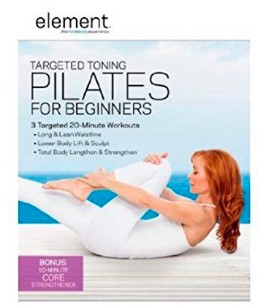 Instructed by Elizabeth Ordway
Easy to follow instructions
Filmed at a beach location near LA
She moves through the poses so quickly
If you are completely new to Pilates, then the Element DVD is going to be the perfect one for you. It goes through all the movements slowly so you really get the chance to understand and learn them. It is filmed in a peaceful location overlooking the Pacific Ocean. The instructor is one of the most respected instructors in Los Angeles. Students like her calm, soothing voice. Her instructions are very easy to follow. The DVD is divided down into three 30 minute classes. The parts are labeled as to what part of the body they target.
Read more
The Element Target Toning DVD is filmed in a beautiful garden overlooking the Pacific Ocean. These three programs are made to reach the muscles which are hardest to access. It is the key to a balanced, slim body and achieves great results. The first one is The Waistline program which works at stretching and toning the muscles in your core simultaneously so you get firm abs and a thinner waistline. The Lower Body program includes a dynamic leg series and seat lifters that are designed to firm and shape the lower half of your body. The Total Body program is efficient at toning and defining the major muscle groups. The workouts also contain a bonus of a ten-minute core strengthener with signature moves that will tighten your waist and create nice curves on your waistline.
The DVD is done by Elizabeth Ordway who is an expert in this line of exercises who is popular and a popular private trainer in California. She has over 10 years of experience. Her clientele includes people like Hollywood executives, professional dancers, famed actors, new moms, brides to be, and teens. Her method is progressive with a classical perspective. Her work is subtle and intricate but the results are dramatic.
6

. Pop Pilates Total Body Workout with Cassey Ho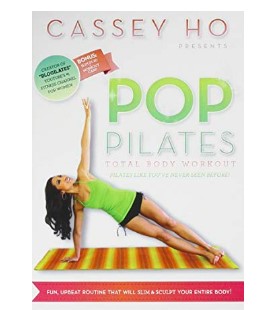 Music motivates your workout
Easy to use at home
Designed to tone your whole body
Takes a whole hour to complete the workout
The Pop Pilates DVD wants you to have fun while exercising. It is an upbeat way to sculpt your booty, flatten your abs, tone your thighs, and chisel some sleek arms. The 60-minute routine is instructed by Cassey Ho, who is a YouTube star in fitness and a certified instructor. She takes you through a mat workout that will be invigorating and maybe a little sore. This is a fun DVD because it is just like being in class. She motivates you through every move and pushes you to your best potential.
Read more
This is the perfect DVD if you want to explore POP Pilates or you want new ways to become healthy and fit. The usual routine could be boring and repetitive, so having an alternative can help you keep things interesting. You probably know that this type of exercise regimen combines martial arts and yoga to improve flexibility and strength, increase coordination, and help with posture and stamina. All you need is a good exercise mat and a positive outlook.
This type of workout is fast becoming a very popular type of Pilates. This practice is like a regular class, but with music loudly playing while you are doing your routine. It does not have to be a specific type of music. That mostly depends on the preferences of the instructor and students. It could be any upbeat music. This DVD is an excellent way to check out this new type of workout and it will be a nice change of pace to ones you already have.
This DVD is developed to work out your whole body to keep you toned and lean. It is an hour routine you can do anywhere in your home where there is a DVD player or a computer. It is an intense session that will tone, chisel, build, and give you washboard abs. This DVD is designed for you to have fun while exercising because that is what will keep you motivated. The instructor is Cassey Ho who is fun, energetic, and approaches the workout with pure joy.
7

. Yoga Strong: Power Yoga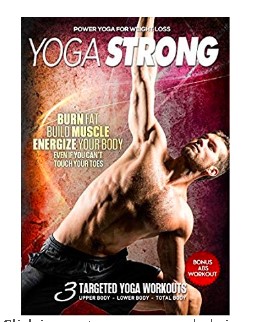 Incorporates into your regular program
Develops lean muscle
20-41 minute workouts
A lot of repetitive moves
The Yoga Strong DVD will help you with weight loss. It also helps to improve your mobility and range of motion. These exercises help to improve your concentration and also help you develop lean muscle. You will have renewed energy and confidence with a complete body transformation. This is a complete program with separate workouts for your upper, lower, and total body.
Read more
The Yoga Strong program will show you that you can get stronger than you ever imagined would be possible with yoga. This is a complete program for power conditioning, not what you would find in a typical studio. This program is designed to help build up lean muscle, burn body fat, and get your body in the best shape it has ever been in. This is an approach that is based on anatomy and science. It will help you improve your energy, strength, athletic performance, balance, and mobility. It is a great way to tone your muscles, help with pain and recovery time, as well as protecting your joints. This workout is low impact and safe for your body.
Using this unique slow burn workout, you will get a body you can show off what at the same time getting the strength you need to be functional and healthy. You can work on your body in ways you will not experience with conventional exercises to get the results you want with none of the achy muscles afterward. You can use this as your complete workout or use it to supplement the exercise routine you have now. Either way, it is going to help you build muscle in your chest, back, shoulders, core, thighs, and glutes. This workout will turn your body into an efficient, injury resistant machine so it is ready for whatever you throw at it.
It is convenient to have separate, very efficient workouts for your lower, upper, and total body which range in length from 20 to 41 minutes. It is so easy to incorporate these workouts into your existing program. You can pick the difficulty level you need and grow using these programs to get stronger.
8

. Classical Pilates Technique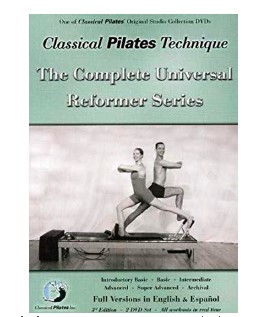 DVD made by professionals
Demonstrates a wide range of exercises and movements
Follows traditional style
The moves are quite advanced
The Classical Pilates video features the best-known certified instructors in the exercise world, Alycea Ungaro and Bob Liekens. They follow the high ideals and traditions of the original Pilates studio which opened in the 1920s. This DVD demonstrates the whole array of different workout levels, beyond intermediate or even advanced. It also shows you a workout that is at the super-advanced level and you will agree it is a workout for the record books. It is an inspiration.
Read more
These videos feature Bob Liekens who is a master instructor and Alycea Ungaro. They feature the original design of this type of workout and strive for the high quality of Pilates Studio in New York City that started in the 1920s. Bob Liekens is originally from Belgium and traveled to New York City in 1983 to further his dance career. He started doing his training at the original studio. He studied at the Graham Center for Contemporary Dance where he was one of the original techniques teachers in 1991. He taught there for two years.
Romana Kryzanowska asked Bob Liekens to be an instructor of the Pilates method in 1986. He has been inspired by her since that time. He helped in building the Teacher Trainer Certification Program as well as helping to create the manual for training and the current system for exams. He is recognized internationally as a renowned leader in the profession. He teaches instructor training classes.
Alycea Ungaro is a physical therapist and the founder of Real Pilates at Tribeca Bodyworks which is New York's largest Pilate center. She studied this type of workout routine at 14 years old during her time with the School of American Ballet. She became an instructor and certified under Romana Kryzanowska. After that, in 1995, she established Tribeca Bodyworks which is a studio for teaching the classic techniques created by Joseph Pilates.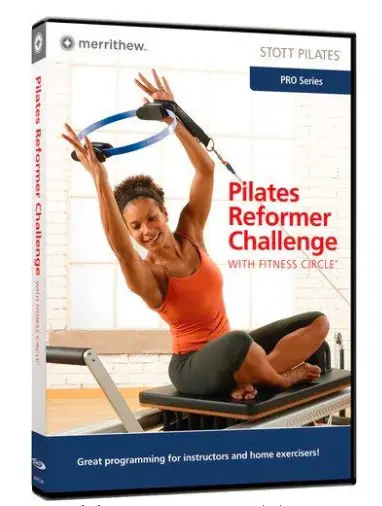 For advanced and expert levels
Contains 57 exercises
Follows biomechanical principles
Need a variety of equipment for the workouts
The Stott Pilates shows you how adding the resistance ring to your workout can help target the core and periphery muscles. This DVD teaches you how to add some variety and challenge to your Reformer exercises. It has more than 34 exercises and helps you learn how to activate your body while activating the right muscles to get the best positioning. It is for intermediate to advanced students and requires a reformer and fitness circle.
Read more
This DVD is focused on Pilates training with a reformer and fitness circle. This is an advanced program with a total of 57 exercises. For those who are not familiar with Stott Pilates, this is a version of the Pilates workout which has an emphasis on using different types of equipment with your workout. They are called biomechanical principles. Stott Pilates has exercises that will challenge you to more strength, coordination, and balance. This DVD is designed for more advanced and expert levels of Pilates.
In order to work through this program, you will need a few extra pieces of equipment. These are advanced and expert levels of Pilates. You will need a Reformer Box with strong cords. You will also need a Platform Extender so you have plenty of room for your exercises. You will also need a maple pole. Toning balls are required the 3-pound size. You will also want to get a sturdy exercise mat and a gripper mat. With all of this, you will be ready for an ultimate fitness challenge to really get a good workout.
10

. AeroPilates by Stamina Strength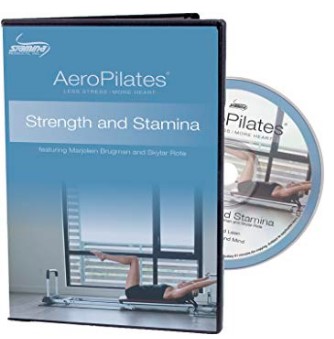 Focuses on strength, cardio, and flexibility
2 strength and stamina workout DVD's
Builds endurance while burning fat
The Aeropilates exercises mix parts of cardio, strength training, and flexibility to help you develop your levels of stamina. There are two Strength and Stamina workouts included in this set which will help you build and tone muscle. It will also help you burn off fat and build your cardiovascular endurance. The other workout is Strong and Lean, designed to build strength while using a cardio exercise to help you get a nice lean look. The Body, Heart, and Mind exercises will work on muscle tone while you are developing your cardio endurance.
Read more
AeroPilates uses some elements of cardio, strength training, and flexibility to help you develop more stamina. There are two Strength and Stamina workouts to help with building and toning your muscles. They also help build your cardio endurance and encourage your body to burn fat. The Strong and Lean workout is for building strength in your whole body. The Body, Heart, and Mind workout included is designed to challenge muscles into toning
This set is designed to help you find a stronger side of yourself. The workouts are designed to be done with other exercise equipment which is not included with the videos. This DVD is going to guide you in attaining your ultimate dream body. It comes with two of the workouts on one DVD. The Stamina Total Body Tone and Lengthen Workout DVD tells you how to use the aero pilates reformer more effectively in order to get you the improvements you are looking for.
The Strong and Lean workout helps you build up the strength in your body by doing a cardio workout to burn fat. The Body, Heart, and Mind exercise works on toning your muscles while kicking up your endurance with high-intensity exercises. The Strong and Lean workout is about 43 minutes long. The Body, Heart, and Mind workout is close to 38 minutes long.
Criteria Used for Evaluation

Features
When it comes to Pilates, you are looking for a DVD that is going to have everything you need to reach your fitness goals without having to load up a bunch of gear and leave your house. When you go to a gym and sign up for a class it usually lasts 45 minutes to an hour. You want a workout that is going to cater to the level you are at. If you are a beginner, you need to start with fewer moves and plenty of time until you get familiar with the movements you are doing. The exercises should focus on your core as well as tone and strengthen your legs and arms.
Once you start working through the movements and positions, you can get your core activated and start learning to do through precise movements. These workouts are not designed for weight loss necessarily though you will do some sweating and probably lose a few pounds. They are actually designed to help you gain stamina and strength, become much more flexible, and get some sculpted muscles.
You want to find a fitness video that is easy to follow and understand. The instructor should know not only what they are doing but how to explain the movements simply and clearly, so you can follow along. You want a quality video with good picture and sound. Having a good video you can use at home is an excellent way to get a good workout if you do not have a fixed schedule or have time to go to the gym.

Ease of Use
Usually, you are looking for your workout on DVD because you are a busy person who is still serious about getting your workout in and taking care of your health. The goal of finding an excellent video is in making this process as easy as possible. We like to find videos that are structured so that you can set up your workout customized to your fitness level and to how much time you have to work with. They also allow you to target whichever muscle group needs the most work at the time. The ones which are broken down into 10-minute increments are probably the handiest. You can take care of a problem area in 10 minutes or if you have longer you can string a few of the workouts together. They are very flexible to work with.
The other thing you want to take a look at is making sure you can just pop the DVD into your machine and start your workout. There are some videos out there that spend way too much time talking. Talking about the benefits of these exercises and about the overall history. It is all interesting stuff, but not when you have limited time to workout. You want to be able to pop it into the machine, get on your mat, and go to work. It may be much a much better idea to put that kind of additional information in a separate chapter at the end of the recording so you do not have to go through it every time you use the DVD.

Size
Okay, all of the DVDs are probably exactly the same size but what we are talking about is the length of the workout. The longest ones are not necessarily the best. You will probably want to get your money's worth, but one long video may not be the answer. The best format is more like a collection of smaller videos broken down into chapters. This design will make it much easier to customize your workout so it will match your time restraints and also let you work on the targeted area of your body in the time you have.
The other benefit of having a format you can customize is to make your workout varied so you do not have to deal with boredom. If your workout is not interesting and fun, there is a good chance you will procrastinate doing it. There are other people who welcome the comfort of a workout that does not change or offer any surprises. If you know what is going to be expected of you and feel better doing your workouts this way, the half-hour workouts are a good option. Most of the longer singular courses are going to offer just a general workout and not target specific muscle groups, but they are good at promoting weight loss.

Effectiveness
If you want a workout video that is effective, you want one which makes you feel like you just left the gym. To be effective, your workout needs to be easy to understand and follow. It should work on the muscle groups you need to help you develop strength, cardio, and flexibility. If you are a beginner, the instructor should explain the movements clearly so you can easily learn them at a pace that is easy to follow.
The responses from users vary and depend a lot on your level. When you are just starting out, it is nice to have a video that moves slowly as the instructor explains the movements and does them slow enough that you can follow along. The only drawback is that you are not going to get as long of a workout, so once you get the hang of it, you may want to get an intermediate video that moves a little faster and allows you to get more of a workout. For the intermediate and advanced videos, we took a look at how long the customers used them and benefitted from them. We also took note of complaints about sore muscles because after all if your muscles are sore that means you are getting in a good workout.

Release Date
The release date may be something you did not think about considering. You may think that the very latest release dates would be the very best, but that is not necessarily true. Sometimes the videos that stand the test of time are the ones to consider. This type of workout was developed by Joseph Pilates in the 1920s, so the workout itself has already proved to be effective no matter how you learn it. This is obviously not just a passing fad. Some instructors have added some intensity to some of the exercises but the basic movements are still around, the core exercises are the same.
Overall the content of all these videos is very similar. Sometimes the quality of the video is not as good in the older versions because of the newer technology used but the quality of the routines and workouts is still excellent. The quality of the exercises is not particularly improved by newer release dates because the workouts have changed very little through the years and they will probably be just as good in years to come.
Expert Interviews & Opinions
Most Important Criteria
(According to our experts opinion)
Experts Opinion
Editors Opinion
Users Opinion
By Default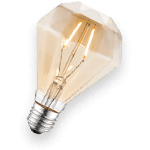 Develop Your Core Strength
The core muscles in your body are the muscles that are deep in your abdomen, back, and pelvic floor. They work to support a strong back, keep your posture aligned, and give you efficient movement patterns. Your body frame is well supported when your core is strong so your neck and shoulders can relax. A nice side effect is that when you are training your core you will end up with flat abs as well.
Create Strength Without Bulking Up
Pilates will help you build long, lean muscle mass. You will not be building muscles to show off. This workout is designed to build up your toned muscles so they work within the context of your body as a whole and its functional fitness needs. One way pilates does this is by using something called eccentric contraction which is the motion your muscle makes when it is lengthening under a load.
Other Factors to Consider

Advanced Features
There are a few things you can do which will help you build the intensity in your workout. Some of the videos feature extra equipment like reformers. They add some resistance to your workout which will help with muscle fatigue. It will also help you dig into the smaller muscle groups. It keeps you off the ground when you work out so your joints will have an easier time as well.
Frequently Asked Questions
q:

What exactly is Pilates?

a:

The type of exercise called Pilates is a method using low-impact to build flexibility as well as your muscular strength and endurance. It works with proper alignment of your posture, developing core strength, and working on muscle balance. It gets its name from Joseph Pilates who created and developed them in the 1920s.
q:

What is the difference between Pilates and yoga?

a:

There are a few differences between Yoga and Pilates. Yoga is used to improve your flexibility. It also gradually increases the flexibility of your joints. Pilates tends to focus more on relaxing your muscles that are tense and also strengthens a number of muscles in your body. Yoga brings your mind and body together. It is built on breathing, exercise, and meditation. Both Pilates and yoga help you improve postural and muscular.
q:

Can I do these exercises with a bad back?

a:

Actually, if you do Pilates daily it has been shown to help with relieving back pain. They stabilize the lower part of your back and eliminate the back stress to improve your mobility. In fact, if you have chronic back pain try committing to four weeks of Pilates. It can help get rid of your pain better than any doctor or medication. Not only will the pain leave but it will stay away.
q:

Can you lose weight doing these exercises?

a:

You will burn plenty of calories doing Pilates and will definitely work up a sweat. If you combine these exercises with a cardio workout and some strength training, plus eat a healthy diet. All of this together is an effective way to build and tone your muscles as well as achieving your goals with weight loss.
q:

What do these type of exercises do for your body?

a:

Pilates is designed to provide plenty of benefits for your body. You will experience more flexibility. Your muscles will develop stronger and better toned, especially the core muscles of your body include your abs, lower back, hips, and buns. You will also have better muscle control in your limbs and back.
q:

How many days a week should I do Pilates?

a:

The ideal schedule for your workout is similar to other fitness systems. You should practice your exercise at least three times a week. This schedule will help you build up your flexibility, strength, and endurance. This should be the minimum of your workout. Doing your exercises every day would be even better.
Subscribe to our newsletter