Top 10 Pec Deck Machines for Your Home Gym
last updated
Oct 23, 2019
This buying guide is focused on the best pec deck machines. Also called chest machines, pec stations, chest presses, or chest developers, these are machines that will let you perform seated chest presses and machine flys from the same seat.
Typically you have to change the direction you are facing and make pin adjustments to go from one exercise to another. The machines use weight stacks and cables, but we found one that takes Olympic weight plates.
We also reviewed an unconventional chest exerciser that represents the ultimate portable power. It isn't a pec station, but will definitely work out your chest, arm, and core muscles.
Finally, many of these units will have additional stations-leg curls, preacher curls, high and low pulley stations. These are great, but they also drive up the cost. We have tried to provide a variety of straight pec machines and multigyms with pec decks.
In a Hurry? The test winner after 20 hours of research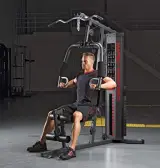 Marcy MWM-990
Why is it better?
Variety of exercises
Easy resistance adjustment
Decent safety features
Padded seats
Preacher curl attachment
In a
Hurry? Editors choice: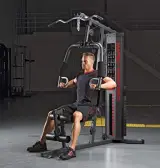 Test Winner: Marcy MWM-990

30
Researched Sources
97825
Reviews Considered
20
Hours Researching
10
Products Evaluated
Adjustability
Application
Capacity
Effectiveness
Motion Control
By Default
Best 10 Pec Decks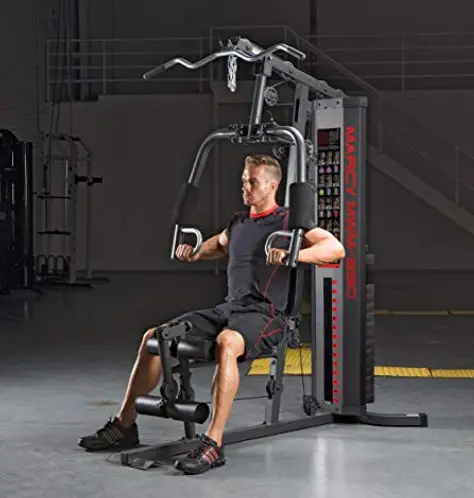 Variety of exercises
Easy resistance adjustment
Decent safety features
Padded seats
Preacher curl attachment
Resistance tops out at 150 pounds
Our top pick, from reliable brand Marcy, is built from reinforced steel tubing to keep the weight stack ultra-stable for a safe and effective lifting session every time.
Read more
The weight stack has a specialized lock that lets you easily adjust resistance. The lock has the added bonus of immobilizing the stack when not in use. It's a good safety backup if you have young children in the home.
The press arms are dual-action. This means you can do anything you want with your chest--presses, pec flys, and back exercises all by changing the position of a pin. A removable pad lets you isolate your biceps with preacher curls.
Like all our favorite home gyms, this one gives you an all-body workout even though it falls under the pec deck category. The machine is functional, versatile, and safe. The 150-pound weight stack is more than enough for most home gym enthusiasts. This multigym trainer is just what you would expect from Marcy.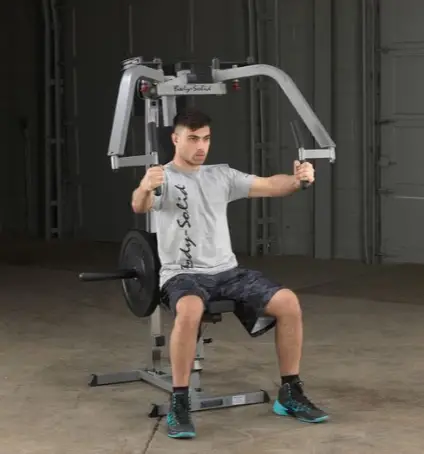 Easy assembly
Small footprint/relatively lightweight
Bilateral or unilateral exercises
Comes with a limited lifetime warranty
Resistance only 105 pounds
This is a pec machine that uses traditional weight discs mounted on pegs, instead of the pin adjusted weight stacks you usually find on home multigyms.
Read more
The focus is on your chest, shoulders, and back. You can do bilateral movements with both arms, or go unilateral and work out one arm/side at a time. Both have their benefits and are useful at different times during your fitness journey. If you know one side is stronger than the other, you can focus on strengthening the less developed side, without the stronger side missing out on intensity.
Standard issue DuraFirm padding keeps you comfortable, no matter how hard you work, and the seat is also tough and durable. No leg exercises, though, so no rollers or ankle pads. This is an upper-body blaster. The steel frame will last forever, and the unit has a relatively small footprint at just 32 inches long, 28 inches wide, and 65 inches or just under five and a half feet tall.
The machine weighs 91 pounds fully assembled. Body Solid offers a lifetime warranty. Reviewers mostly say assembly is easy, with the directions provided. The machine cannot be customized, and Body Solid offers no attachments or upgrades currently.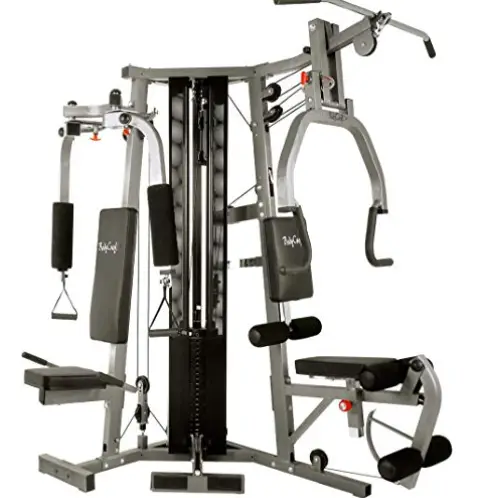 Can take the place of a room full of equipment
All lat exercise with pulldown bar
Optional leg press
Low cables for free form pulling exercises
Weight stack needs additional upgrades for max weight
This machine, which we can only describe as a gym in a box, will take your body just about as far as you want it to go. It comes at a price, though, making it ideal as the main ingredient to base the rest of your home gym around.
Read more
For starters, the machine offers so many workouts and hits so many muscle groups that we're at a loss trying to list them all. You can develop anything that you'd develop with a paid gym membership, without having to walk around or wait for different stations to free up. Major moves, according to the Bodycraft website, include the pec dec, chest press, ab crunch, all the lat pulls or rows you could want, and leg press/leg extension. Multiple optional attachments can upgrade your experience with even more versatility.
Max resistance, from the gargantuan center weight stack, varies depending on the muscle group. Leg presses can go up to 300 pounds if you get the 50-pound upgrade. Everything else is 150 pounds out of the box, 200 with the upgrade. The leg press is also an add on and will run up the price. The weight stack can be shrouded, if you like, for extra safety.
In addition to all the seated resistance moves-you don't get a horizontal bench option- you can use the pulleys for kicks, curls, deltoid strengtheners and more. The unit is extremely heavy, will not be portable, and definitely requires a buddy or two to get installed. You may want to splurge and get a professional assembly with this one.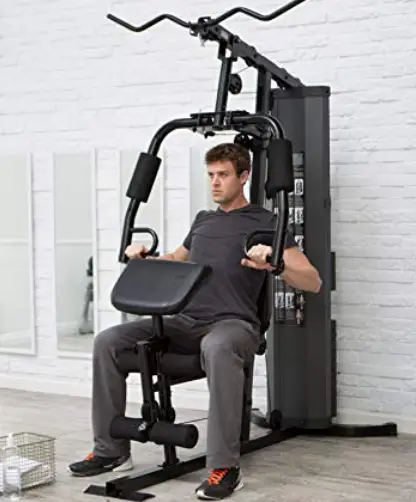 Small footprint
Chest and leg stations
Standard issue preacher curl bench
Pulley stations
Weight stack cannot upgrade--tops out at 150
This compact and effective unit is the smaller sibling of Marcy's enormous full featured Smith machines and other heavy equipment. It caters to smaller spaces, while still packing a wallop to help you with your strength development.
Read more
The frame of the machine is 14 gauge tubular steel, giving you stability and a durable tool. The base has three points, two in the back and one up front, with rubberized feet to prevent damage to your floor. The weight stack goes up to 150 pounds. And yes, since it wouldn't be a pec deck machine otherwise, you can do both chest presses and fly with an easy adjustment of the central padded arm units.
You also get pulley stations, high and low for different muscle groups, all attached to 2,000 pounds tested and rated steel cables. The machine comes standard with a leg unit, for doing presses and extensions. Foam rollers protect your ankles, while a pivot point allows you to align your knees just right, avoiding hyperextension or ligament injury.
You also get an overhead lat station with a variety of back and shoulder developers, all from the same contoured handle for comfort and a secure grip. The finish is powder for scratch resistance and long-lasting performance. A preacher curl pad comes standard, no extra expense necessary, and you can adjust it to your ideal angle for working your biceps.
5

. Body Solid EXM3000 LPS Selectorized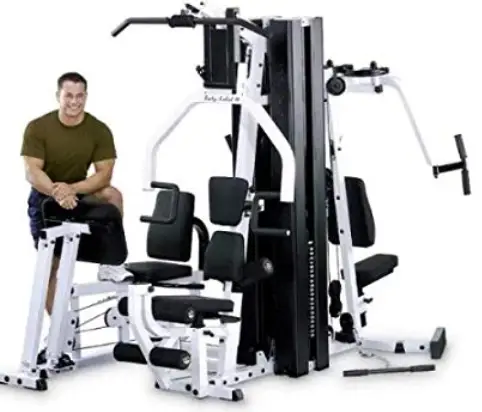 Can be used by up to three people
Targets every muscle group at different stations
Can combine weight stacks for leg development
Surprisingly compact
No sliding rower, which many comparable units have
By far the most expensive item on our list, this multi gym unit lets you and a partner work out at the same time, even following each other's routines if you desire.
Read more
For the money, you do get access to nearly any strength training exercise you could think of, all powered by twin 210-pound weight stacks with pinned plate adjustments. A leg press on the side lets you do calf raises as well as donkey kickbacks and standard leg presses. A built-in adjustment can bring resistance for your legs up to 420 pounds.
The pec station offers flys, with chest presses on the other side. You can also do shoulder exercises and ab crunches using the pec station. You access the rowing station by getting on the floor and pulling; low, upright, and bent over rowing are all possible. There is no sliding rower like you see on some home gyms.
Finally, on the side opposite the pec station, you get a chest press main area that lets you perform chest and shoulder presses, lat pulldowns, and leg curls/extensions. With an option called VKR30, three people can use the gym at once, rotating out positions as you each finish sets.
The Selectorized weighs 947 pounds when assembled. Seat pads are adjustable for all body shapes and sizes. The unit has a surprisingly small footprint at just 91 inches long, 73 inches wide, and 83 inches tall. If you were only going to get one piece of equipment for your solo or shared gym, you could do a lot worse.
6

. Weider Home Gym 214 Pound Stack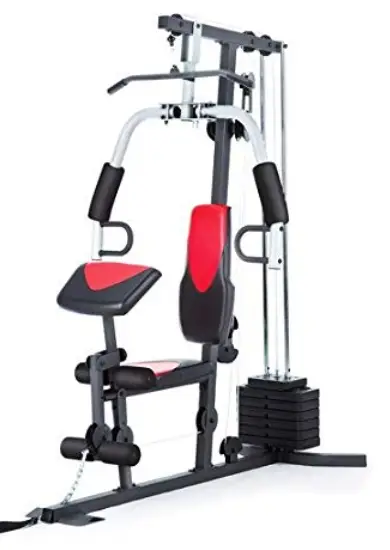 214 pounds of resistance
Cable friction and a weight stack
Does not take up much room
Durable comfy padding
Assembly is detailed, time-consuming
Here is another seated chest exerciser that will fit in a corner of your home gym and won't break the bank.
Read more
You get six workout stations, including high and low pulleys, chest flys and presses, a preacher bar, and a leg station. The friction resistance, from cables, gives you up to 214 pounds of resistance. There is also a weight stack with 81 pounds of vinyl weight plates. You are not able to combine the resistances, so your max lifting weight at one time is 214 pounds.
The overhead lat pulldown station lets you target any of the muscles in your back and shoulders, all without changing position from the chest station seat. Seats and leg rollers are padded, giving the comfort and durability Weider has always been known for. The weight stack is not upgradeable.
Though not as versatile as many of the models we found, the Weider home gym is durable and represents a good general use station at a value price. Reviewers and Amazon stated the machine comes in two separate boxes which may not arrive on the same day. Assembly is not too difficult but may take up to six hours. The fully assembled unit is fairly compact and will definitely be a two-person lift, should you ever decide to move it.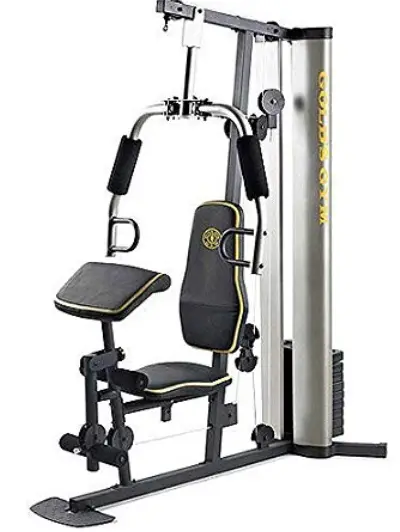 330 pounds of resistance
Cable resistance
Easy assembly
The machine fits most home gym spaces
The seat is uncomfortable for larger bodies
This attractive unit offers a good bit more resistance than some of the others on our list, and it squeezes both a high and low pulley option into its neat frame.
Read more
Max resistance is 330 pounds, more than enough for most fitness buffs to get strong and avoid injury. The leg attachment lets you do your curls and extensions with the comfort of padded rollers and the ease of cable resistance. The gym is made for you to train your entire body efficiently and effectively.
Chest press and fly station lets you target your chest muscles with careful motion control and adjustable arms. You get a full range of motion without any risk of hyperextension. An overhead lat pull bar lets you switch from the core to back muscles on a dime, and the resistance is easy to adjust with a solid weight stack pin.
Reviewers indicate the machine assembles easily and is quite durable for long term use. Seats are padded and vinyl covered, simple to wipe down and keep looking new. The Gold's Gym XR 55 is about six and a half feet tall, an easy fit for most residential ceilings.
This is designed for home use, not commercial use, and the price reflects that. You do still get a 90-day warranty and full-color workout poster, created by a trainer.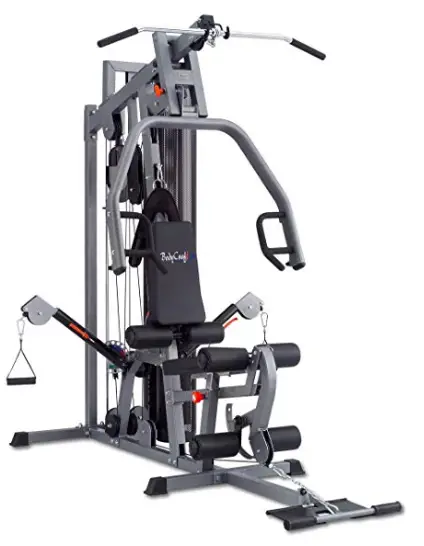 Excellent motion control, safety
Horizontal, vertical, and incline bench presses
Cable and pulleys give great natural motion
Aviation cable, fiberglass and nylon pulleys, sealed bearings
This high-end single stack gym got excellent reviews. It will let you switch up your routine and target different muscle groups often, to keep your routine from getting stale.
Read more
The bench press seat has vertical and horizontal press ability, and you can do incline presses. You can customize your starting point on all the different muscle group stations, including the cable arms. Seat and back are designed for any user to feel comfortable and stable.
Perhaps best of all, Bodycraft put a lot of work into the cable system. You get smooth, jerk-free pulls every time. The movement is natural, so much so that Bodycraft calls them biomechanically accurate. The company says you can improve your golf swing, thanks to the fluid motion and back/arm strengtheners. We are inclined to believe Bodycraft on this, so golfers, take notice.
You get a lifetime warranty, as this is a commercial-grade unit that would be at home in any Planet Fitness or other gyms you could join. It is quite heavy, so you may need professional help getting it set up. A thick protective floor pad is a must, too, although the unit has six rubberized contact points on its finished steel frame.
Body Craft says the XPress was a Consumer Guide Best Buy. We found this claim on several review and retail sites but were unable to verify it on the Consumer Guide website. The claim was not repeated on the actual Body Craft site. We don't think this should be a deal-breaker, but we also found that the leg press station and an extra fifty pounds of resistance also cost extra. You can also get a rope attachment for triceps. This is definitely a machine you can use and count on, but the extra add ons, in addition to the high base price, will put off a lot of home gym enthusiasts.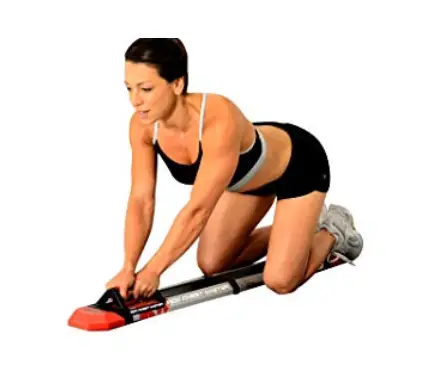 Recruits more muscle fibers than a regular pushup
Super efficient but still quick
Can set up and use anywhere
No weight plates or stacks to adjust
Many of us just really enjoy bench presses; this is not the same experience
We always like to give you as many options as possible, so we have included this machine which can target your chest muscles without even using a seat or weight stack.
Read more
The tool is made from six resistance bands, which the maker calls "power contractor bands". They look like steel rods, similar to cables on a conventional chest machine, and provide you with extra resistance when you use the bar-shaped machine as a base for doing pushups. This way you get benefits in your chest, arms, and abs, all to a greater degree than you would with unaugmented pushups.
Iron Chest says their gear recruits 58% more muscle fibers than a barbell bench press would. It sounds feasible, although you won't feel the same exhaustion you might with a traditional press. You won't need a spotter, you can take this tool anywhere, and no weight adjustment in between sets is necessary.
The main point of difference, between this and a traditional fixed push-up assistant, is that your body moves in and out at an enhanced arc to make the reps harder and push your muscles harder. Whether this is your main upper body device or just an auxiliary tool for when you need convenience, we are confident you will get years of use and results from the Iron Chest Master.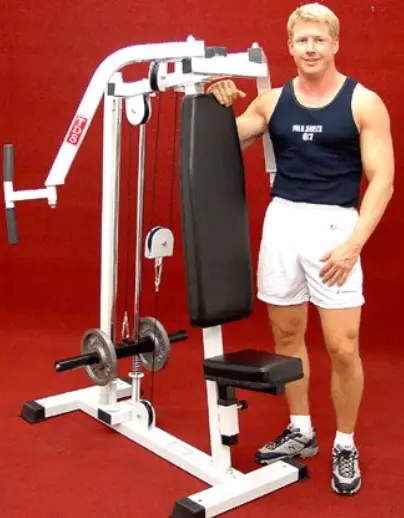 Can add a lot of resistance using plates
Sturdy construction
No weight stack to deal with
Stable four-point base
The machine only does chest presses/flys
Rounding out our list of chest machines, we found this moderately priced single-piece unit that lets you use vinyl, rubber, or iron weight plates with no need for a barbell or a spotter when you do bench presses.
Read more
We were not able to find a website or much information about TDS Fitness Products and Equipment, the company that produces this machine. They have a warehouse in New York, which appears to be where they fabricate these machines along with power racks, calf and squat units, sleds, free weights and much more. New York Barbell is the main distributor for TDS, and you can always find TDS products on Amazon.
This one has pulleys driven by ball bearings for smooth and easy operation. The stable base has four points of contact. The plain color scheme, with a black seat and white, finished steel frame, gives the TDS Deluxe an institutional look. It is very plain and means business, as its designers meant it to.
This is a well-built machine, but it is only for chest presses and flys. There are no leg, lat, rowing or other attachments. If you are looking for something to be the center of your chest routine and will last forever, we believe this is it.
Criteria Used for Evaluation


Adjustability
The machine should always fit its user, not the other way around.
We gave priority and higher ratings to machines with adjustable ranges of motion. Not everybody has the same arm length, height, or level of flexibility. With a good pec machine, you can easily spread your arms up to your comfort level, lock the unit arms in, put your forearms up to the padding, and go. You should not have to worry about whether you can complete a full rep or not.


Application
Technically, a machine only has to do two exercises to be called a pec station.
Those two exercises are:
Chest press, which recruits roughly the same muscles as a typical bench press from a seated position
Chest flys, which take the place of dumbbell flys. The motion of pushing the resistance to and away from your chest is similar to a butterfly wing pattern.
If you could only use one machine, then, to do all your chest exercises, a good pec deck could do that for you. Usually, you can switch between the two exercises by pulling and replacing a pin. In our reviews, we looked for the machines whose design centered around this simple requirement. Other accessories and attachments are fine, in fact, more is often better, but we did not want designs where the make had clearly lost track of why people buy chest machines.


Capacity
The machine user is one kind of capacity, and the weight stack's potential is another.
A good rule of thumb is that you can always lift more with a bench and barbell than you can with a machine. Meaning, the capacity or potential of the equipment takes longer for you to outgrow. It is not uncommon for long term lifters to e able to bench their own body weight or more.
That is because, steel frame or not, weight stacks, cables, and pulleys are not designed to lift massive amounts of weight and still be on a stable platform. Many of the machines on our list topped out at 200 pounds. So, in fairness to chest machines, we did not give low ratings based solely on low resistance. We did give you a heads up that some of the machines don't go up very high, and another heads-up when you have to pay extra to upgrade a machine to its full potential.


Effectiveness
Too many features can cause a machine to lose focus.
In other words, a chest machine that is worth your time and money will give you a chest workout that delivers results. We weren't able to test every machine, of course, so we relied on customer reviews and industry write-ups. We are also able to evaluate based on the manufacturer's specs. If something is poorly designed or has less than the best parts, we know it will not give you in need. Keeping our knowledge and our sources in mind, we are confident that each of the machines we looked at will be effective over time with consistent use.


Motion Control
The motion control enforced by a machine is what can keep you from getting injured.
Most accidents with gym machines are not from equipment failure, or from falling weight stacks or anything similar. Accidents happen through improper use. For example, doing leg curls without aligning your knees to the pivot point will leave you unable to curl anything after a while. The best way for manufacturers to encourage proper use is to enforce it. So our top-rated equipment has plenty of features to keep you moving within the limits of your particular situation. You can and should push yourself, but with the right equipment, you will not hurt yourself through improper motion.
Expert Interviews & Opinions
Most Important Criteria
(According to our experts opinion)
Experts Opinion
Editors Opinion
Users Opinion
By Default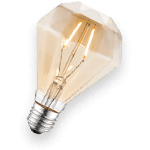 Aircraft Grade Cables
If you have spent much time shopping around for home fitness equipment, you have certainly encountered the words "aircraft cables," "aircraft grade cables," or perhaps "aviation cables." They sound strong, after all, airplanes weigh more than any of us can bench press, but what do these phrases really mean?
Aircraft cable, according to several cable manufacturer sites we visited, is wire rope made from strands of either stainless steel or galvanized steel. It comes in diameters from .047" to .375". It is, of course, use to secure almost any heavy part on an airplane, but this cable is also used in bike locks, dog runs, tow ropes for ships, and, as we already know, fitness equipment.
Aircraft cable is called aircraft cable because of its use in the aviation field. It mostly secures control surfaces. But it is a bit misleading to say that the cables in your pec deck machine are the same as the ones used on planes. The grade and strength of steel stranding for the planes are much higher and held to exacting federal standards. The cables on your equipment are tested for tensile strength and safety, but they would be dangerous if used on an actual airliner. The thing that the two have in common is being made of braided steel strands. The joining process makes the steel very strong and durable.
Keeping Your Bearing
In any machine with rotating parts, the bearings are the objects that absorb the friction between the moving part (cable) and the piece that holds the moving part in place (pulley). Because of the bearings, you get the fluid, easy motion you expect when you pull a cable under resistance.
Bearings in modern fitness equipment can be either steel or nylon. Nylon, shaped and hardened into round plastic, can also be used. Let's take a look at some of the differences. It's important because so many manufacturers tout their products as having nylon bearings.
Metal bearings are higher maintenance than nylon. Usually, metal bearings have to be lubricated regularly. If the bearings are sealed, this can get labor-intensive. But nylon bearings have treatments to help them self-lubricate, and the plastic is more durable under the constant movement conditions of frequent use.
For these reasons, the nylon bearings will last longer than the steel ones. This is true even for thin-walled nylon bearings. They will last longer and need less service than even thick metal bearings.
Because of their longevity and low maintenance, nylon bearings have become the preferred standard for fitness equipment in recent years.
Other Factors to Consider


Accessories
Going back to our foundation, a pec deck machine really only has to let you do chest presses and flys in order to be effective and valuable. But we know that many of our readers expect more. Several of the machines on our list can actually replace half a room full of equipment. They cost more money upfront but once installed, you do not have to worry about needing another station down the road. And some of these units will even let more than one person use them at once.


Weight
The bigger you go with home gyms, the less portable they get and the less flexibility you have. We think it is important to examine just how much these units weigh because often home gym owners will need to clear a room that doubles as a guest room, or something similar. As a general rule, pec deck machines that only offer flys and presses will weight the least. Of course, many basic machines offer optional attachments and upgrades. This could lead to a situation where you have to partially disassemble the unit before you can tuck it away somewhere.
Frequently Asked Questions
q:

What muscles does a chest press target?

a:

The chest presses you can perform on most of our machines will target your upper and lower pectorals, triceps, and shoulders. This is beneficial because you do not need to do long sets of dumbbell curls or other moves that target the only triceps, for example.
q:

What about flys?

a:

Flys also target your pectoralis minor and major, but from slightly different angles to recruit muscles that can be left out when you do a press. Your biceps, including the large muscles between your shoulder and elbow, the elbow joint flexor, and the muscles that rotate your arms, will also get a strength benefit.
q:

Is the lat pull down just for my back?

a:

Not at all! Once you get the hang of it, there is almost nothing you can't do with that bar, for your upper body. It all depends on how you grip the bar and whether you bring it in front of your chest or behind your head. You can hit each muscle group in your arms just by widening and closing the distance between your hands. We encourage you to get a machine that has several interchangeable handles, for the lat bar, as well as a booklet or poster with some of the different exercises on it.
q:

Is there an advantage to having an adjustable bench press?

a:

Yes. You can target different muscle groups and get more intensity by going flat, incline, or upright on a bench. Most of the machines on this list are just for seated presses, but some of the more expensive ones will let you do presses either horizontally or at an angle. Just like moving your hands closer together or farther apart, on a barbell press, can target different muscle groups, so can any change to the angle of a bench or seat.
q:

Are gadgets like the Iron Chest Master really effective?

a:

It depends on the gadget. We tend not to trust those that market themselves on late-night television infomercials. We'd rather look at professional and user reviews, from writers who have nothing to gain by giving a good review. Manufacturer's websites are useful, too, because they will give you specs that you can compare to other similar products.

Finally, sometimes this kind of tool is designed for a specific type of user. For example, NASA has endorsed a few portable gyms for use in space. We can't think of a greater endorsement than that, really.