10 Best Leg Press Hack Squat Machines Reviewed
last updated
Aug 06, 2019
The back squat may be the best overall thigh developer, but it is also the toughest on your spine and knees. Having a hack machine in your home gym allows you to squat without the pain. The benefits of these machines are that they will relieve pressure on your lumbar region while allowing you to target specific areas of the thigh. In this article, we will review the 10 best home hack squat machines.
In a Hurry? The test winner after 16 hours of research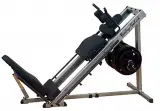 Body Solid Hack Squat
Why is it better?
Three Safety Lock-out Positions
Ergonomic Design
Quad Track Roller
Easy-Access Plate Load System
In a
Hurry? Editors choice: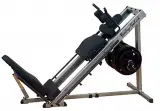 Test Winner: Body Solid Hack Squat

36
Researched Sources
7k
Reviews Considered
16
Hours Researching
12
Products Evaluated
Use
Effectiveness
Safety Hazards
Adjustability
Durability
Features
By Default
Top 10 Hack Machines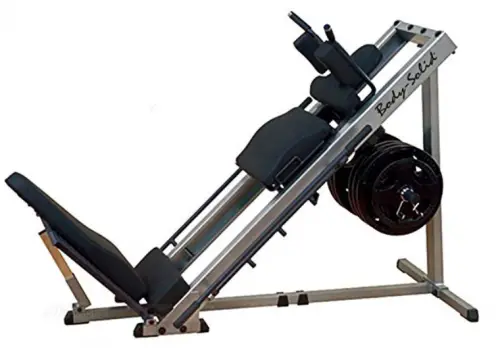 Three Safety Lock-out Positions
Ergonomic Design
Quad Track Roller
Easy-Access Plate Load System
The Body-Solid Hack Squat/Leg Press squat machine is ergonomically designed to put you in the ideal position to target your quadriceps without putting pressure on your lower back. This squat machine has a designed in track-roller to ensure smooth running for weight support without disruption.
Read more
Unlike many home hack squat machine, you are able to get a full range of motion here, allowing you to completely bottom out in the 'pit'.
Safety is critical when squatting, and the Body Solid leg press and hack squat GLPH 1100 provides you with three safety lockout positions so you never get stuck. The transition between front hack squat and leg curl is very quick and easy. Body Solid Hack  machine is designed to take Olympic plates and has a max capacity of 1000 pounds.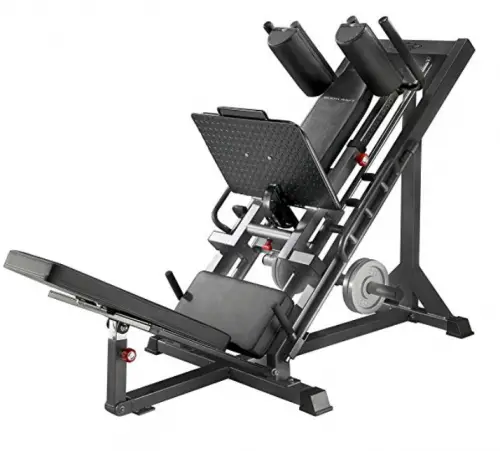 Smooth Glide Track
Removable Shoulder Pads
Lifetime Guarantee
Small And Portable
The Body Craft F660 hack squat machine and leg press combination machine is a solidly constructed unit, with heavy gauge steel framing and a thickly padded seat and back support. It features a very smooth glide track which prevents jarring while still providing you with a true level of resistance.
Read more
You have the option of doing hack squats with the shoulder pads or with the lumbar supports. You can also do calf raises on this squat machine.
The Body Craft F660 leg press hack squat machine shoulder pads are removable so that you can perform exercises such as donkey squats and donkey calf raises. The leg press foot plate conveniently folds away while you are performing the hack squat. This unit comes with a lifetime guarantee.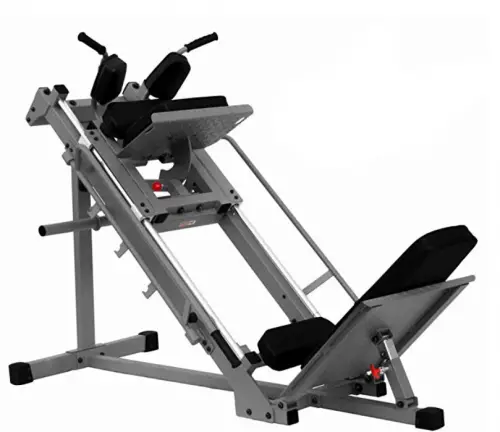 Large Backrest
Smooth Track Action
1000 Pounds Weight Capacity
Ultrathick Cushions
Inadequate Assembly Instructions
The XMark hack squat combination leg press allows you to completely customize your positioning with four settings on both the backrest and footplate. A simple pull pin allows you to instantly transform the machine fro a leg press to a hack squat.
Read more
The construction of this machine enables you to focus on your lower-quadriceps and prevents pressure on the knees. You are also able to get a full extension on the hack movement.
The back pad on the XMark hack squat machine provides you with full back support. It has three-inch foam padding, covered with tear and sweat resistant Duraguard vinyl. The foot plate is large enough to allow you to vary your foot positioning for variations of the squat machine.
4

. York ST Power Front Squat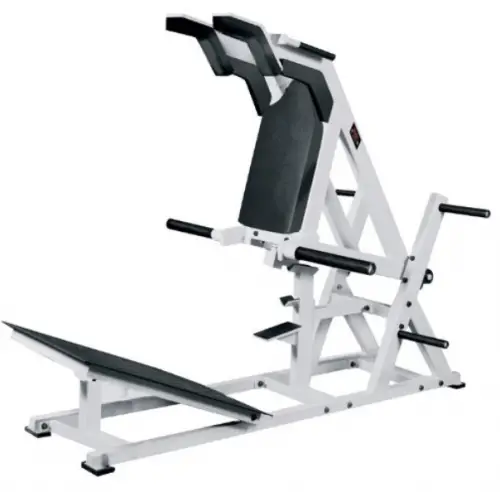 Large Non-Skid Footplate
Built-in Weight Storage
Two-tier Safety Catch
Hack And Front Squat
Poor Assembly Instructions
The York ST is a combination hack squat and front squat machine. It has a large skid prevention footplate so you can vary your foot position during squat training. The frame is constructed from 11 gauge 2 inches by 3-inch square steel tubing. Built-in weight storage and a two-tier safety catch provide convenience and safety.
Read more
This offers a comfortable smooth glide to allow for a smooth function, while not impairing the level of resistance. It features thick, two-inch high-density foam padding, covered in your choice of eight different color options of stain and abrasion-resistant upholstery. This is a very sturdy hack squat machine that will give you a reliable and durable platform from which to safely target your quadriceps muscles.
5

. FORCE USA Monster Ultimate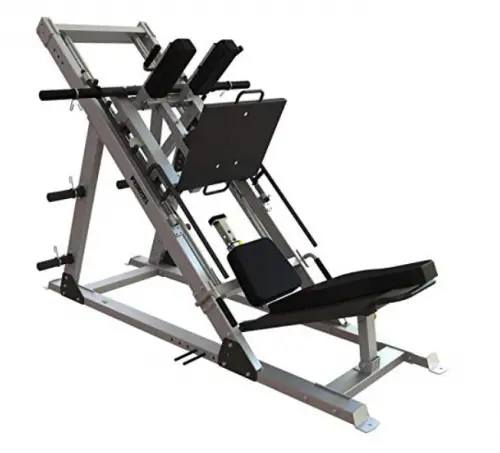 Converts Easily
Five Safety Lockout Positions
For Users Up To 7' Tall
Includes Calf Block
4 Band Pegs
This great combination machine is used by athletes, fitness elites, fitness lovers and personal trainers all over the world. This Leg Press and Hack Squat combo machine is a compact and versatile tool that converts from one mode to the other in just mere seconds!
Read more
The Monster Ultimate squat machine can withstand up to 1000 pounds of user weight, so you can weight as much as humanly possible, add on plates and weights, and you still wouldn't break the limit, making this machine a very safe one. It can accommodate users up to seven feet tall, thanks to the superior range of motion. You won't have to search for a rack or leave the plates scattered all around the floor - there are four plate storage sleeves that make searching for the weights and fixing them up fast and convenient. The adjustable safety catch is also something a good hack squat machine can't go without, while five safety lockout positions add on to the security even more. The adjustable calf block is also something worth mentioning, as it adds even more to the user-height friendliness. The footplates are oversized, and they can be moved around to create the best possible exercise environment.
The squat machine glide system is ultra-smooth, so you won't even feel the machine moving up and down. The commercial-grade seating and upholstery are padded and support your back, slimming the chances of pain occurring. The handles and paddling are extended, so you can grab onto them comfortably without twisting around to reach them. A simple pop-pin is all that stands between you and the perfectly adjusted leg press hack squat machine! The steel construction is laser-cut and powder coated for extreme durability and scratch-free surfaces.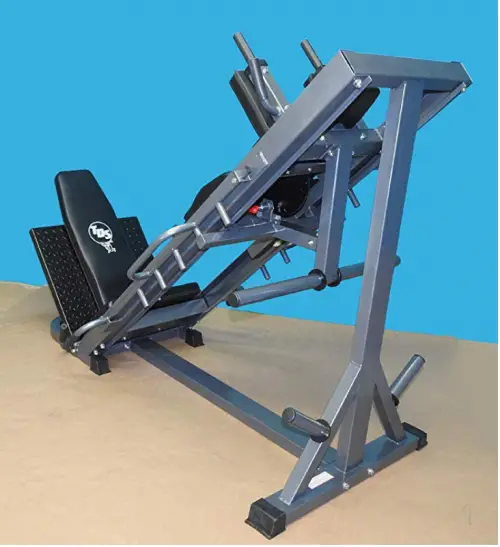 Super Versatile
Thrust Wheels For Stability
Steel Tube Construction
Deluxe Stitched Contoured Padding
Heavy Duty Side Frames
This four-way hip sled was designed to be used as one supremely powerful leg squat machine that will build you the muscles of your dreams. It can work as a hack squat, leg press, forward thrust, and calf raise machine all at once!
Read more
Do not be worried about the massive size and the big number on the scale of this hack squat machine - it has four wheels, each rated at 750 pounds, that keep the construction solid and safe. Additional four side thrust wheels give this squat machine even more stability, so don't worry about it toppling over you. The specially designed heavy-duty frames on the sides will last long and won't bend no matter how much weight you push up against them. The construction of this machine is secured by 2" Sq. steel tubes, making the squat machine, when combined with everything else, super durable and hardy. The shoulder pads have thick stitches, and the padding is contoured with deluxe stitching, so you can enjoy super cushy back and shoulder support for a long time.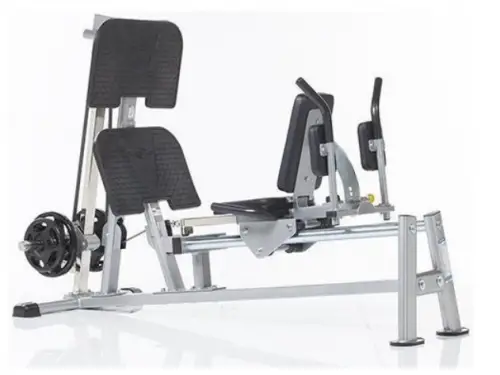 Direct Drive Design
2-in-1 Design
Dual Foot Plates
Seat Carriage
Commercial Grade Linear Wheels
The TuffStuff CLH-300 is also a combination machine. Truth be told, it's quite rare to see a hack squat machine doing just that, usually it's one machine that combines different motions, and this one is no stranger to that. Which is great for us, since you get extra things for the price of one!
Read more
The unique 2-in-1 design allows you to perform both seated leg presses and hack squats. The seat carriage has commercial grade wheels, propped up on 2" nickel plated rails used as support. Both high and low plates present on this squat machine allow you to perform a huge variety of exercises all used to give your muscles plenty of development and power. The maximum user weight supported by this squat machine is 800 pounds, so you can enjoy it safely no matter how much weights you choose to work with!
8

. Legend Leg Press/Hack Squat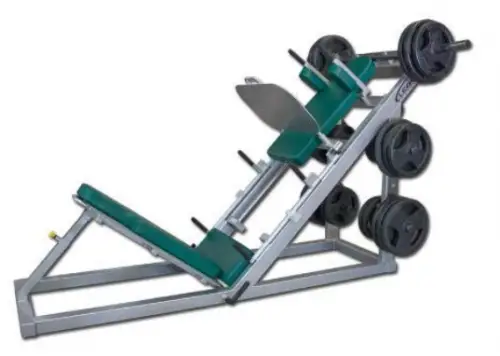 Combo Machine
Lightweight
Adjustable Footplate And Seatback
Fully Welded Frame
Olympic Plate Storage
The footplate and seat back are both removable, so you can switch between exercises easily and conveniently. The linear bearings of the Legend Leg Press/Hack Squat machine rest on solid steel shafts, at a 45-degree angle, giving you security and versatility (thanks to the angle).
Read more
The frame is fully welded, giving this squat machine strength and durability. The Olympic plate storage is conveniently attached to this machine, so you can easily switch up your regime. It's also chrome plated, making it scratch and abrasion-proof, while also looking nice and clean. It's actually quite a lightweight machine, compared with others on our list, starting at only 105 pounds (unloaded), so you won't struggle so much to move it around.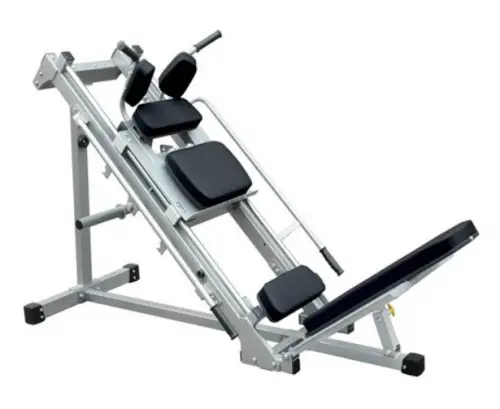 Three-way Ram Sled
4 Start-Stop Positions
Carriage Glides Smoothly
Black Marine Grade Vinyl
Adjustable Backrest/Footrest
No Defined Max User Weight
This is a three-way sled, again showing us why convenient options such as these are definitely the best options. It will develop your thighs, hips and back, all in one.
Read more
No one was born the same way, and the creators of this hack squat machine know this, so they included 4 tart-stop locations that can fit users of various height and size. The carriage glides smoothly as you press, made possible by the 4 precision linear bearings, so nothing will hold you back from doing the exercises like a champ. The frame is made out of x heavy steel tubing, making this power ram super hardy. The pads are filled with high-density foam that is 2.5-inches thick, so just enough to comfort you, but not enough to throw you off. The black marine grade upholstery is made out of vinyl, that will definitely stand the test of time. The backrest and footrest are both adjustable. The safety catches can be engaged at any point during your exercise, for maximum security and no safety hazards!
10

. Fitking 45 Degree Leg Press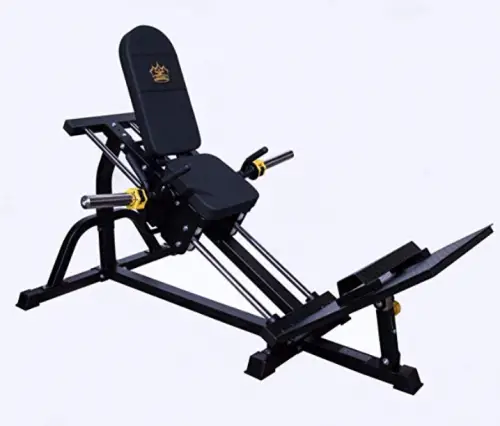 Nylon Bearing Wheels
Ultra Smooth And Quiet
Adjustable Hand Grips
Compact Design
Foot Tube For Calf Raises
The Fitking 45 Degree Leg Press squat machine is all you need to develop serious lower body strength, and much more! This sled is propelled by nylon bearing wheels, that make the press glide smoothly and quietly.
Read more
The carriage has eight wheels scattered all around it, which envelop the solid steel rods, where your seat does the sliding on. These wheels prevent the machine from moving laterally while making the top-to-bottom motions precise. The seat and adjustable back pad are combined with adjustable angle foot plates and hand grips, making this machine extremely adjustable and inviting to users of all shapes and sizes. This is a very compact squat machine, so it can fit easily into most homes and garages. A foot tube is there to help you do calf raises. The frame has a three-year warranty, while everything else has a one year warranty, so you can rest easy knowing that this squat machine will definitely last long!
Criteria Used for Evaluation


Use
Before you actually get to use the hack squat machine, you need to adjust it properly. You should do this by first positioning yourself on the seat, and placing your feet on the platform. Both the backrest (together with the seat) and the footpads will be sitting at a 45-degree angle, so if you're not used to this it will take some time until you are comfortable with it. Before you attempt to use the squat machine, check that the weight selected is right for your fitness level. Make sure that you are comfy taking the full weight of the shoulder pads while your knees are slightly bent. If the shoulder pads are too high, now is the time to adjust them. Once you've adjusted the sled position and the weight of the shoulder pads, it's time to flick the safety stopper to release the safety locks. If you don't know what they look like, they are the things sticking out of the middle of the squat machine. Double check if the sled's position works for you!
Now it's time to start using the machine. First, you must load both of the bars on either side of the machines' sled with the proper weight. The sled is the moving part that slides around as you use it, and simply because of the sled moves and nothing else, you don't need to put the collars on the weights. Again, place your feet flat on the platform, with your back straight against the pad, and your shoulders nestled between the shoulders pads. Make sure that you're feet are adjusted to keep your knees from bending more than they're supposed to when you squat, which is in front of your toes. Flick the safety stoppers, and let go of the stopper handles. The only part of your body that should move when you use the squat machine is your knees since you will need to squat down to a 90-degree angle. If this does not feel comfortable, go as far as you can without feeling pain! Then straighten your knees and press the sled back into the starting position. Go for a set of 12 or so reps, and make sure that they are slow and controlled. Once you're comfortable with doing 12 reps, increase the weight by 5 or 10 percent. Once you're ready to step off, engage the safety stoppers when the sled is as high as it can be. Lower the sled until you feel the stoppers lockdown, and then you're safe to get off!


Effectiveness
Now you know how to use the squat machine; but how effective is the machine, is it worth learning how to do it?
Hack squats target the same muscles as regular squats, which is your quadriceps muscles, but more to the front of your thigh. There are four quadriceps muscles that work when you perform these squats, and they attach to your thigh bone and the front part of your pelvis and are connected with your knee through a common tendon, which is then attached to your shins through one more tendon. The quads are the muscles which are responsible for straightening your knee. If you place your feet towards the back of the footplate, your quadriceps will contract, even more, making the exercise super effective. Hack squats also strengthen your gluteus maximus. This muscle is responsible for flexing your hips, and if you want to work on your gluteus you should place your feet closer to the front of the footplates.
Besides all of this, hack squats are just as effective as regular squats are, and have the very same benefits. Squats obviously build the muscles of your lower body, but that's not all that they can do. Squats will work on body-wide muscle building because they create something known as an anabolic environment. When you do squats with the proper form, their intensity can release testosterone and the growth hormone, and both of them are necessary for muscle growth.
Squats are functional exercises. These exercises are the ones that can be helpful for you even outside of the gym, in real life. Squats are definitely one of the most helpful functional exercises out there since you will have many chances in your life to use the strength and range of motion squats have generated for you.
Of course, the more you do squats, the more fat you will burn. The more muscles you have, the more calories you will burn, so get squatting and you will burn that stubborn fat once and for all! Also, your balance and mobility will improve, while your leg stabilizer muscles strengthen, prevent injuries and joint aches. All in all, you will give both yourself and your body a great favor if you start using the hack machine!


Safety Hazards
One raging problem with hack squats, and leg presses generally, is the belief that these machines hurt our knees. Some people are so afraid of this that they skip the squat all together. But will squat inevitably hurt your knees, or is that caused only by bad form and overachieving?
The hack squat is definitely more convenient than the barbell squat, simply because it requires no spotter. This can be problematic though if you do not know what you're doing and are using the squat machine the wrong way. Yet, the hack squat is generally safer than the barbell squat, since it's gentler for the knees and it offers better control. The proper stance, which we described in our Use section, is vital if you want to keep your knees, and the rest of your body, safe and sound. Remember to keep your toes slightly bent outwards! Keeping them pointing forward will overload your knees. You can change your stance throughout the exercise, either going for a wider or a narrower stance, but if you have knee issues go for a wider stance.
One more way to ensure that your knees stay safe is to wear the proper gear. Shoes that have flat soles are a recommendation, since you keep your feet in close contact with the machine, making your knees more stable as a result. Knee wraps are also one way you can reduce the risk of injury. Knee wraps are absolutely necessary when you lift heavy! This is because a wrap can reduce the pulling forces on the ligaments of your knees, so use the wraps if you're going to attempt to lift more than 80% of your max!
If you follow everything we pointed out here, your knees will not suffer, and you will be able to workout safely. But before you actually attempt to use the machine, you also have to make sure that it's working properly, and that all parts are connected the way they are supposed to because this can also be a big safety hazard. Imagine getting under the leg press with a substantial amount of weight attached, only to have it malfunction and the full amount of the weight you attached slamming down on you full speed! So always check that all of the parts are working properly, that they are attached together correctly, and that there are no malfunctions present. Do not ignore even the smallest malfunction, as it can lead to a greater one, and you can be injured as a result!


Adjustability
Something every company that created hack squat machines is proud of is the adjustability of their machines. This is because every good hack machine needs to have the option to be adjusted to fit users of all shapes and sizes. A person that is six feet tall won't be able to fit into a squat machine set for a person that is five-foot-eight! Also, the weight needs to be adjustable as well, since no one has the same fitness level.
There are many parts of the hack machine that can be adjusted. Most importantly, the weight you bear with your legs can be easily manipulated with. This allows you to set your own pace, and to progress steadily and carefully. usually, the hack squat machines come with several weight plates that can be easily added to them, so you lose virtually no time setting the machines up. Then you go onto the shoulder pads and the backrest, which can also be adjusted. This is important because they need to be able to accommodate both short and tall people. Most of the hack machines we wrote about in this guide are not just hack machines - instead, they are a combination machine, usually paired up with a leg press, but they can have parts for calf raises and much more. All of these parts are movable, and they can be moved very quickly thanks to safety pins and stoppers, so all you gotta do is move a few parts and in mere seconds you're ready to try on a new machine!


Durability
Let's face it - hack squat machines are not cheap. In fact, they are one of the priciest pieces of gym equipment you can buy! This is why it's vital that the squat machine you buy actually lasts you a long time. Most of the hack machines we mentioned here, if not all of them, are extremely durable, thanks to their masterfully crafted components.
Firstly, we've got the frame. The frames of these machines are either heavy duty steel or nickel, and are powder coated or covered with chrome to make the frames scratch and abrasion-resistant. This makes the machines able to withstand a lot of weight and movements. Then, the seats and pads. These are usually padded with high-density foam, while vinyl makes up the upholstery. Both of these materials tend to last a long time, and even if the vinyl or foam breaks down, replacing it is simple enough and you can continue on using the machine. The screws, nuts, and bolts all have to be super strong to hold everything in place, and that they are! Just make sure that they are neatly placed into the squat machine, no loose areas, and you're good to go!
Expert Interviews & Opinions
Most Important Criteria
(According to our experts opinion)
Experts Opinion
Editors Opinion
Users Opinion
By Default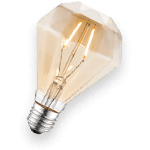 Therapy
Believe it or not, squatting, and every machine associated with it, including the hack squat machine, have been used as tools in physical therapy, especially for the knees. It might seem a little bit odd, considering the fact that squatting tends to be risky for knees, but if the environment is controlled squatting can allow the knees to bend more than they originally could, either due to injury or illness. Squats also work on improving our stability, without putting pressure on joints that might be injured, so as a result you have improved balance and pain-free joints. Of course, you won't go deeper than 50 degrees (some even say that 16 is enough)!
Leg Press or Hack Squat?
To the untrained eye, there's not much difference between the hack squat machine and the leg press. Some leg press machines can even turn into hack squat machines with a few simple adjustments. So where does the difference lie? The only difference here is the angle at which the press sits. The hack squat machine has a 45-degree angle, so it's often called the 45-degree leg press machine, while every other press position is just the press machine. This angle works on your hamstrings a bit differently than other angles do, which is why it was thought of in the first place. You won't go wrong in choosing any of these machines, and it would be best if you used all of them!
Other Factors to Consider


Portability
This is a site about garage gyms, so one thing that might affect your choice of machine is its portability. Hack squat machines tend to be huge, and very heavy! So they are definitely not the most portable machines in the world, but they won't come fully assembled, and some parts can be easily removed to be stored away, so the hack machine takes up much less room. Some machines are smaller and don't weight more than 110 pounds (without weights), so you can easily move them around. But there are no transportation wheels, and if you're not so strong you will probably have trouble moving it around, so it might be better to just set it up in one part of your room and leave it be! Assemble it where you want it to be - the assembly process is never that hard, and there are instructions that are easy to follow most of the times. If you assemble the machine by yourself, you will be able to disassemble it to store it away if need be.


Bottom Line
Our top-rated home hack squat machine is the Body Solid, which can change insanely fast between the hack and leg press, equipped with a super smooth quad glide tracking system and comfy padding. We were also impressed with the Body Craft 660, which is extremely versatile, giving you the chance to try out hack squats, calf raises, donkey squats and of course, leg presses.
Our third favorite squat machine is the XMark hack squat, again combined with a leg press, which has a very comfortable seat, footplates that are extra wide, while both of these are very adjustable and can accommodate people of all shapes and sizes.
Frequently Asked Questions
q:

What are hack squats good for?

a:

Hack squats, just like the leg press, barbell squats and everything else related to squatting, are good for your lower body, and for developing your legs. But this is not the only thing they are good for! Hack squat machine, and squatting in general, can make you more fit for everyday tasks as well since you will be using your legs every day. They also improve our stability and balance. And best of all, the hack squat machine helps you burn that unsightly fat, so you should head onto the machines as soon as you can!
q:

Can I use a leg press instead of a hack squat machine?

a:

When you first step into the gym, it really is hard to decide which machine to use, unless you've got a route that is already established. So choosing between the options of the squat press machine can truly be a hard choice, especially when you're not really sure where the difference lies. If you don't know where the difference is and are wondering whether you truly need to use the hack squat machine, the truth is that they are essentially the same, but the angle at which the press sits at is different, so the muscles will be worked on in a different way, and they will develop very well if you decide to use both of them!
q:

Can I hurt myself doing hack squats?

a:

You can hurt yourself walking, sleeping, eating, and even breathing, so the answer is yes, you can hurt yourself. Your knees are the ones you should worry about here, but if you know the proper form and stance for this, there's essentially nothing to worry about. The amount of weight you choose should also be appropriate for your fitness level - it shouldn't be something that you can't handle comfortably! Make sure that someone is there to tell you just how to use the leg press hack squat machine properly, that you maintain good form, and that you have the right shoe style, and you will be injury free.
q:

Is it better to just simply do barbell squats?

a:

The barbell squat and the hack squat essentially work on the same muscle group, but the way they work on them will vary. With the barbell squat, you will need to maintain different form. Your grip will need to be mighty good, and you will need to engage your arms as well, to physically hold the weight above you. With the hack squat machine, you give your shoulders and your arms a rest, while your thighs and legs, in general, do all the work. Hack squats are gentler towards your knees and joints, but if you feel like you don't want to mess around with a big complicated machine, you can just do barbell squats.
q:

With how much weight should I begin with?

a:

If you're a beginner, you will be happy to know that you can easily use the hack squat machine, as long as you know how to maintain the proper form. But the trouble is that we often don't know just how strong we are, and with how much weight to begin with. If you truly are a complete beginner, it would be good to try working with 12 to 15 pounds, and then see if you can comfortably repeat 12 presses that way. If it's more than comfortable, you can gradually increase the weight until you feel your muscles burn, without feeling like you will drop the whole thing on your head. It all boils down to trial and error, so give the squat machine a try and we're sure that you will figure out just how much weight you need to use!