Top 10 Leg Press Machine Reviews and Comparisons
last updated:
Feb 11, 2020
Leg presses are simple. You lay or sit down with the weights above you and press your legs against a metal plate to push the weight up and then down again. This simple movement recruits your quadriceps, calf muscles, glutes, hamstrings, and hip adductors. It is a way to make faster progress by cutting out several machines in favor of a single one.
The leg press machine is safer than a lot of other machines, too, as there is no way to drop the weights on yourself and muscle strain is less likely; the leg press puts no strain on your back. You can also switch up your workout and focus on different muscle groups just by moving your feet to different spots on the plate.
Read on to find the best leg press machine to add to your home gym.
In a Hurry? The test winner after 23 hours of research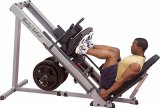 Body Solid
Why is it better?
Lets you do hack squats, too
Advanced roller construction
Some of the thickest padding we found
You can lockout/start your reps in different positions
In a
Hurry? Editors choice: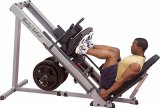 Test Winner: Body Solid

3
Researched Sources
12389
Reviews Considered
23
Hours Researching
10
Products Evaluated
Ease of Use
Effectiveness
Value
Capacity
Support
By Default
10 Best Leg Press Machines
Criteria Used for Evaluation

Ease of Use
A leg press machine can give you an intense workout, but still, be easy to use.
Some of the features that make leg press machines easy to use include padding, weight loading and storage, welding, rollers and bearings, padding covers, and even access, meaning how easily you can get into and out of the machine.
Padding should be thick, covered in vinyl or Durafilm, and should not have too much given in it. The coverings will be double stitched for the longest life. This includes back, shoulder, and head or neck pads if they are present.
Weights should be easy to load. Nearly all leg press machines use plates, so there will be some picking up and putting the plates on the horns. Some machines will have bottom storage for the plates when they are not in use.
Units that are bolted together instead of having solid welding may seem less stable than welded units.
Rollers and bearings should be sealed. Nylon bearings are good quality, and the bearings, rollers, and carriage should all work together for consistent motion.
Machines that allow you to sit, rather than laying on a flat surface, will have the easiest access. However, some of the more affordable units will be vertical and will have flat portions for you to lie on.

Effectiveness
If you invest in a leg press machine, you deserve to see results.
Effectiveness is one of the hardest things to measure or describe in reviews. We can tell how durable or adaptable a machine is by reading reviews and manufacturer specs. But since results rarely appear overnight, and are the result of sustained long term effort, we don't always feel qualified to make a prediction.
Instead, we examine reviews and ratings, construction, weight capacity, comfort level, and manufacturer warranties. If someone is willing to provide a long term or lifetime warranty for their product, we can be assured it is something that will grant results.
Comfort level is important because, as we have always said, an uncomfortable or awkward machine is a machine you will not use consistently. Most people will avoid discomfort, and certainly, nobody wants to be injured. So when we consider these factors, we are confident in stating you will get results from each of these units, if you use them consistently over time and follow the manufacturer's directions.

Value
The value of a product isn't just about how much money you spend.
Some of the units in this review can cost up to 2,000 dollars when you factor in shipping and optional weight plates or Olympic sleeve adapters.
Is such a machine still a good value? We think so. The high end, costly machines are that way because they are commercial gym quality. When used in your home, they almost always have a lifetime warranty. These units are all used by trainers to get pain free results for their clients. If you are able to make a large upfront investment, you can replicate these results without having to join a gym.

Capacity
You don't need to go overboard lifting weights, but you do need room to grow.
The capacity of a leg press machine includes the weight it can handle and, sometimes, the user's weight.
How much weight capacity you need will depend on how much you want to pay, as well as your fitness goals. If you are not a powerlifter, you will not need the capability to press 1000 pounds or more.
When you first bring home a leg press machine, make sure you have allowed room for strength increases. 400 pounds may be plenty when you start. But as you grow stronger with leg presses, as part of an overall organized program, you may find yourself surpassing the limits of your machine if you have not allowed for extra weight.

Support
The machine should do the work of supporting you, while you do the work of lifting the weights.
No matter how much you pay for a leg press machine, whether it is a bargaining unit or a commercial-grade behemoth, it needs to provide support in order to keep you safe.
Support includes padding, but it can also mean safety lockouts that support the weight and prevent you from being injured.
The footplate should be big and have non-slip coatings, and you should be able to target different muscle groups by moving your feet, knowing you will be supported and stabilized anywhere on the plate.
While the work of pushing and pulling the resistance is up to you, a good leg press machine will act as an assistant, taking care of stability needs so you can focus on the movements that will get you to the finish line you set for yourself.
Expert Interviews & Opinions
Most Important Criteria
(According to our experts opinion)
Experts Opinion
Editors Opinion
Users Opinion
By Default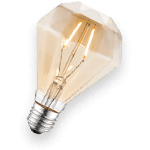 Leg Press Safety
Leg presses are great because they build large muscle groups quickly, including your quadriceps and calves. Done properly and consistently, the leg press can help condition you for just about any sport while contributing to your overall daily strength and energy level. But as with any exercise, there are some precautions you must follow to prevent injury.
Positioning is vital, both for injury prevention and to make sure you get the most out of each repetition. Your back and head need to be immobilized against the backrest piece. To start, put your feet about hip-width apart from each other. Your heels will remain flat. This gives you the stable base you need, just like you would need if you were doing squats. The movement is reversed, but the same principles apply when dealing with heavy weights.
Your legs should be about 90 degrees when you start. At the top of the motion, your legs will be almost straight. Keep your ab muscles pulled in tight, and grasp the side handles (if provided) to keep your head and neck from trying to help with the exertion.
Don't forget to pause at the apex of each rep, and start out with lightweight when you first start using the leg press machine.
The Leg Press as Squat Support
The leg press and barbell squat go together because they are both exercises that recruit the large muscle groups in your legs. Squats have more of an all-body benefit because you use your back and core muscles. But both the squat and leg press are functional exercises that will help you in your regular life outside the gym.
The leg press, though, is not a secret formula for squat success. You should look at it as something that will supplement your squats, not take the place of them. When you are starting out, or if you have an injury that prevents you from doing barbell squats, the leg press is a fantastic substitute that places no pressure on your neck, spine, or arms. Many squat machines will let you do standing calf raises or donkey squats, too, with special attachments. Any machine that gives you that much versatility is a good thing.
One word of caution: if you are doing squats and leg presses on the same day, within the same routine, do not max out on each machine. Doing so is a fast track too injury, including spine and joint damage. If you want to see how much you can squat--and you have a friend who is willing to act as a spotter--do that on a dedicated day, where you will be leaving your leg and back muscles alone otherwise.
Other Factors to Consider

Advanced Features
There really aren't many features you can add to a leg press machine. A cup holder would just get in the way. You can listen to your music or podcasts, but the media shelf will most likely be your pocket or the floor next to you.
But features don't always include things you can see. Many leg presses will cost more because of the bearing and roller type. Nylon bearings are durable and smooth. Many companies have proprietary rollers which will also increase ride and glide quality. A pivoting footplate, which low-end machines do not have, lets you target different muscle groups more effectively.
The best way to learn about unseen or advanced features is to read the manufacturer's specifications. Often these same specs will appear on Amazon, but not always. Many companies will even let you read the owner's manuals and look at photo galleries or diagrams before you buy them. The features you need and want should definitely be part of your comparison shopping and ultimate purchase decision.

Fit
What determines fit on a leg press machine? For us, it consists of padding, footplate size, backrest type, and range of motion control. These are all things you can learn online, and we provide these reviews as one of those resources.
Frequently Asked Questions
q:

Isn't it uncomfortable to lay all the way down on the floor?

a:

It can be for some users. As we've learned, many less expensive machines will not have inclined rests that lift you off the ground. Sometimes this style of the backrest can put you at an awkward or unnatural angle. We have tried to be honest about this in our reviews.

If you have a history of back problems or a previous spine injury, these budget machines may not be for you. It may be worth saving money or finding alternative exercises until you can afford a commercial quality leg press machine. There are plenty of exercises you can do that will strengthen the same muscles as a leg press does, even if it means combining different exercises to crosshatch your own routine.
q:

How can I avoid injury when I am pressing such a heavy weight?

a:

The best way to avoid injury is to use the machine as directed. If you have access to a trainer, you can ask them to help you with form. Use light or no weight at first, and always warm up before you lift.

Never use your toes to lift the weight. Always press your feet in all the way, and keep your feet apart at hip-width. Always use both feet, as one leg will not be enough to press the weight and will lead to overexertion. Keep your range of motion within your limits, but make sure you are not shortchanging yourself into a reduced range of motion.

Many machines also come with safety lockouts. These are mechanical devices designed to immobilize the weight in an emergency situation. If your leg press machine has lockouts, be sure to read all the documentation and make sure you know how to use the lockouts and what they can and cannot do for you.
q:

What are the benefits of the leg press machine?

a:

The leg press can help strengthen your quad, glute, and calf muscle groups. It also provides some benefit to your feet and knees, giving you better balance and endurance while helping you avoid injuries to these sensitive areas. By removing your spine from the squat equation, too, the leg press can emulate many of the benefits you get from squats while reducing the risk of injury. The leg press, especially on gym quality machines, will also help you stay injury-free by locking you into proper form with its various features.

The leg press will also keep your workout from getting stale since there are so many variations in how to place your feet on an oversized plate. Keeping your workouts fresh is something many of us don't think about, but that can keep you going; doing the same exercises over and over can stifle progress and also set you up for repetitive motion injuries.
q:

What do lifetime warranties cover?

a:

This is a tricky question. Sometimes a lifetime warranty will only cover the frame of a leg press machine. Often, manufacturers will provide limited lifetime warranties. It pays to read the fine print and ask questions of the manufacturer or dealer before you make a purchase.

The best lifetime warranties, in every sense of the term, will always come from expensive, high-end machines that are commercially rated for gym use. If you can afford one of these for your home gym, you can be assured that you will always be covered no matter what.
q:

What's a hack squat?

a:

A hack squat is a squat form that lets you rest at 45 degrees on a body length sled that moves on rollers so you can move the resistance from that angle. You would not be able to hold still at a 45-degree angle without a sled to support your body weight.

Not every leg press machine features a sled, so you may not be able to do hack squats depending on which model you purchase.

The benefits of hack squats include complete leg muscle isolation. the ability to squat larger amounts of weight without spinal overload, the option of single-leg training, and extra stability, which can be especially useful if you are rehabbing from an injury.

Although a machine will always provide greater support, comfort, and muscle group isolation, you can do hack squats with a barbell. There are many professional bodybuilding sites that will help you with this. Here is a video we found that can better explain the barbell hack squat.
Subscribe to our newsletter