Top 10 Gifts for Runners Reviewed
last updated:
Dec 08, 2021
So, a friend or a family member of yours has a special day coming up, and they are an avid runner, so you decided to surprise them with a gift that celebrates their passion. But as you actually start to look for something good, you notice that the options are neverending, and if you are not a runner yourself, you are not sure what a runner could even consider useful! Lucky for you, we assembled a list of the best gifts for runners to make the shopping process easier for you, and we carefully inspected each item and rated it so you can see what a runner truly needs. Read on to find the perfect present for your giftee!
This is the best product on our list that is currently in stock: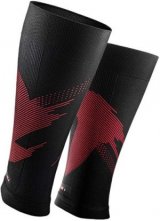 Blaze Calf Compression Sleeves
Why is it better?
Documented Graduated Compression
Seamless Construction
Breathable Mesh Zones
Polygiene Anti-odor Technology
Lifetime Guarantee
10 Best Gifts for Runners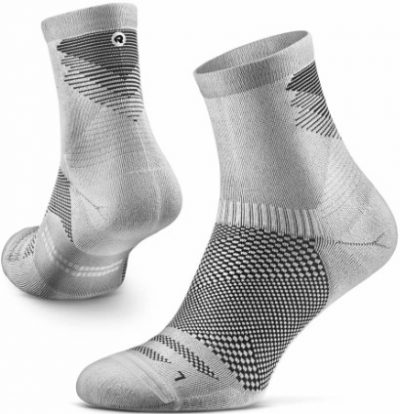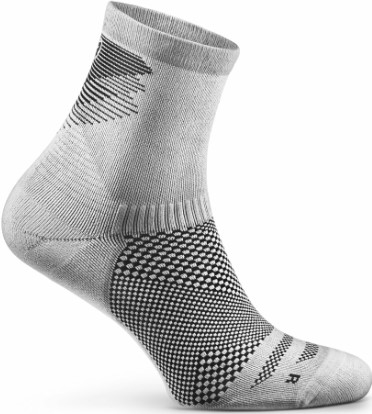 100% Recycled Materials
Seamless Toes
Performance Cushioning
Reflective Logo
Breathable Mesh Zones
The very first thing your giftee needs is a good pair of socks. Socks come on your feet before shoes do, and although we often spend our time thinking about the comfort of our shoes, we don't spend nearly enough time thinking about the one thing that protects our feet the most. A good, high-quality pair of socks should be very important, and if you know your giftee doesn't have a good pair of socks, then this is a perfect choice. Truth be told, no one can have too many socks, to begin with!
Read more
The Razer Trail is one of the best running socks out there. It comes from a brand known as Rockay, a Europe-based company that makes high-quality sports apparel specialized for athletes, especially runners. The company was born out of one man's desire to create running apparel that is both performance-oriented and eco-friendly. And they succeeded, and now you have their socks as proof!
The Razer Trail is crew length, just enough to keep the calves warm and the ankles stabilized. As we said above, Rockay really cares about the environment, and to show you how much they care, they create each and every pair of socks out of recycled materials. You will see that the Trail is made out of 51% Econyl Regenerated Nylon, 45% Recycled Polyamide, and 4% Recycled Elastane. These materials are extremely durable, very comfortable, and compressive, just what a runner needs. And they are eco-friendly! The top band of the Trail hugs the middle of the calves, preventing the socks from sliding around. A little reflective logo sits just underneath the band, and if your giftee likes running outside, then the logo will keep them safe in the dark, no matter how small it is! One common problem many runners face is blisters. And although we are all quick to blame our shoes for these uncomfortable sacks filled with fluid, we often forget to look at how our socks are constructed. The sock should be completely seamless. Seams usually rub against the inner layer of the shoes when we run, and that friction is the cause of blisters. By having no seams at all, the Trail will prevent blisters from popping, and your friend will enjoy a comfortable ride. The top of the sock has breathable mesh zones, and they kick out the hot, stale air, leaving room for cool air to freshen things up. The socks are generously padded around the heels and toes, the two areas that suffer the most stress when we run. Arch support is very important for runners, and Rockay is very aware of that, so they fitted their socks with compression arch bands that promote blood flow and reduce fatigue. And finally, if your giftee is not satisfied with the socks, they are covered with a lifetime guarantee - you can always order a second pair to test it out!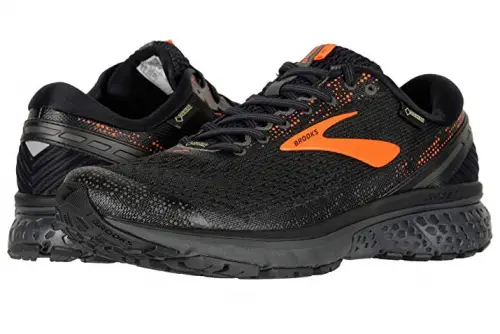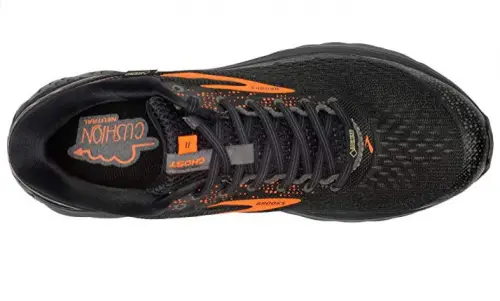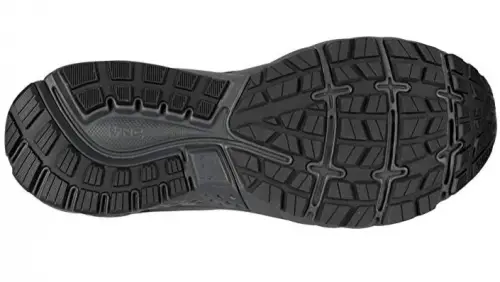 Engineered Mesh Upper
Waterproof Membrane
BioMoGo DNA
Full-length Segmented Crash Pad
Omega Flex Grooves
Now that we got the feet covered, it's time to think about the shoes. If your friend or family member does not have a proper pair, or if you've heard them complain that their favorite running sneakers are falling apart, you could get them a new pair of sneakers. But buying sneakers is a very risky business, especially if you don't know what their size is. If you're really set on buying them running shoes, the Brooks Ghost 11 is a perfect choice. Just make sure you really, really know their size, and if you don't, check whether they will be able to change the shoes for their size if you make a mistake!
Read more
The Brooks Ghost 11 is an all-around shoe that is ideal for all kinds of weather. The support type this pair has is neutral, so if you don't know what type of arches your giftee has, this is the choice you should make. Neutral support is usually good for both over and under-pronation, and you can't make a mistake here. The engineered mesh upper is stretchy and very breathable, accommodating all shapes and sizes, giving them a breath of fresh air whenever they move. The GTX waterproof membrane keeps the rain and snow out of the shoes, providing a drier and safer environment. Pair that with moisture-wicking socks, and your giftee will never suffer from wet feet again! The lightweight synthetic overlays strengthen the construction and create an urban look. The traditional lace-up closure is easy to master and adjust.
The plush tongue and collar gently hug the ankles, stabilizing them without rubbing them raw. A soft sock liner doesn't cause friction or irritation, creating a very comfy fit. The insoles are removable, in case your giftee has orthotics. BioMoGo DNA combines environmentally-friendly BioMoGo with the responsive DNA of Brooks footwear, creating padding that supports feet of all shapes and sizes. The full-lengths segmented crash pad absorbs impact and dissipates the shock and pressure in the feet while running, saving them from pain. The Omega flex grooves stretch as the foot moves, creating a more natural transition from one position to another.
3

. Flare Quarter Running Socks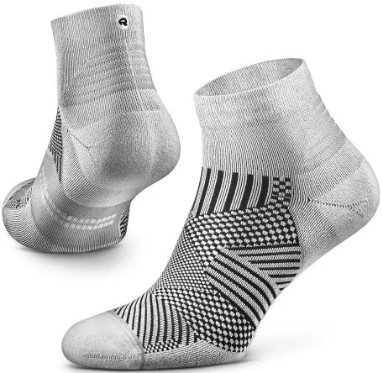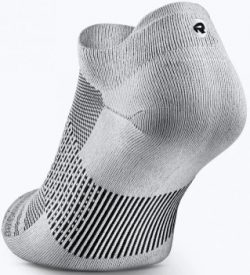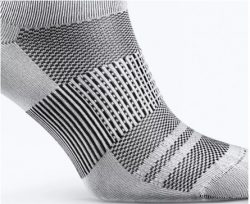 100% Recycled Materials
Non-slip Fit
Performance Cushioning
Breathable Mesh
Lifetime Guarantee
As we said, one can never have too many socks, so we decided to include one more pair from the amazing Rockay. The Flare is a quarter running sock, as the name suggests, making it ideal for warmer weather. Just like the Razer, the Flare is made out of recycled materials. These materials are very sturdy, sporting features their previous versions could only dream of having! The Flare comes in four different sizes, accommodating a range of shoe sizes, so it's less likely that you will make a mistake here. The Flare is white with black patterns, just like the Razer, so it will be easier to combine them with a number of different clothes.
Read more
The Flare is a quarter sock, and their shorter stature makes them more susceptible to slithering inside the shoes. This is one of the worst things that can happen during a run, as you would need to stop and take off your sneakers to readjust the socks, losing valuable time. In order to avoid all of that, Rockay adorned the Flare with a top band that is equally tight and gentle, keeping the socks in place without bothering sensitive skin. A small reflective logo is positioned underneath the band, shining like a beacon in the night, alerting people there's someone present! The toes are completely seamless, preventing blisters from showing their ugly heads. Lightweight cushioning under the heels and toes protect the areas most susceptible to damage and stress by absorbing shock and dispersing the impact when the foot makes contact with the ground. Breathable mesh zones sit across the top of the foot, inviting cool air in to create a fresh, dry environment. The arch support band gently rises the arches, reducing fatigue and pain. And of course, this product also has a lifetime guarantee that protects your giftee in case something goes wrong.
4

. Blaze Calf Compression Sleeves
Documented Graduated Compression
Seamless Construction
Breathable Mesh Zones
Polygiene Anti-odor Technology
Lifetime Guarantee
Next to feet, calves and knees are the areas that suffer the most stress when we run. Our calves keep us going, propelling the feet to move forward. And you can always give your chosen person a calf sleeve, as it will reduce the problems related to overworked calves, saving them from fatigue and pain. Rockay has created one more marvel fit for the running world, so we decided to include it in our guide as well.
Read more
The Blaze is a compression calf sleeve fit for kings. It comes in different colors, so you can find what the favorite color of your giftee is and surprise them with the perfect gift. Rockay has worked for years to discover the best material blend for a compression sleeve, and it really shows. The Blaze is a highly durable and very effective sleeve, offering its valued customers improved stability and comfort. The sleeve has been repeatedly tested by athletes, and every little design flaw was fixed to fit the runner's agenda. Although the sleeves are made for runners, they are a versatile tool, and they can work well for Crossfit, Basketball, Volleyball, and any kind of sport that takes a toll on your calves.
The Blaze has graduated compression, ranging from 16 to 23 mmHg. This level of compression works best for people who do not suffer from any circulation issues. The documented graduated compression helps fight away fatigue and swelling. It also wicks away moisture and reduces the vibrations felt in the calves when they are overworked. Fewer vibrations mean more energy to complete the run! The Blaze is made out of partially recycled materials. There are no seams present on the sleeve, creating a comfy fit that will not rub or chafe the skin. They have been treated with Polygiene, an anti-odor and anti-bacteria technology that makes washing the garment after each use obsolete. All your giftee has to do is hang the sleeve up to dry once they are done using it, and it will be as good as new! The Blaze has the signature Rockay lifetime guarantee, so even if something does go wrong, you can always get a new pair to try it out.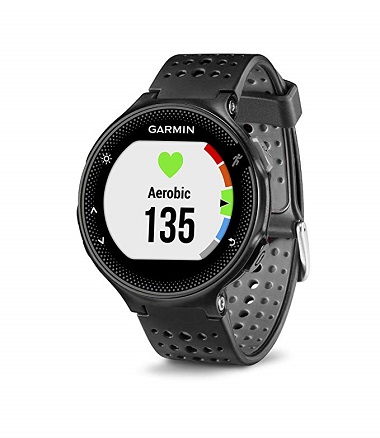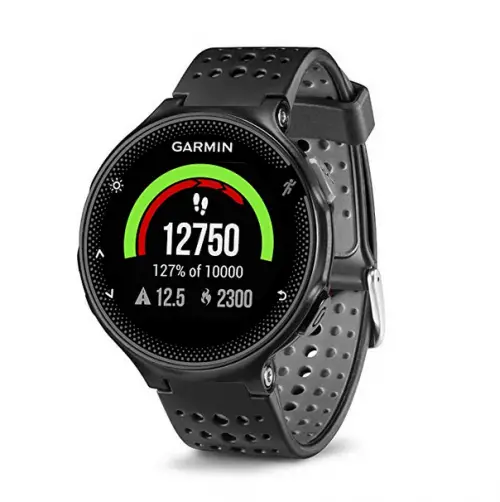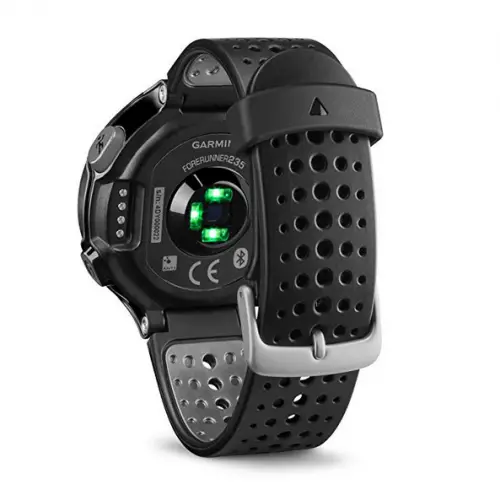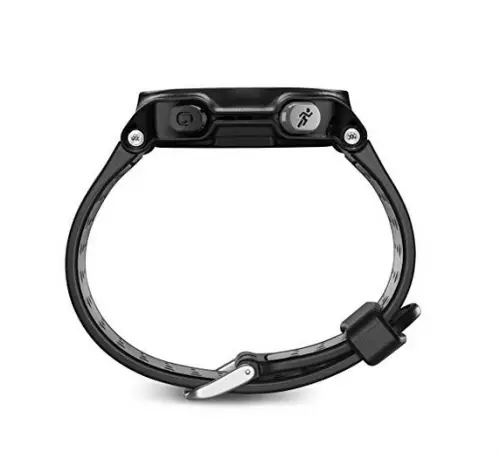 Built-in GPS
Elevate Real-time Heart Rate Measuring
Very Customizable
Audio Prompts
Smart Notifications
You can never go wrong with a fitness tracker. This universal gift is good for any athlete in your life, as it helps them track their success effectively and conveniently, and it's thanks to the little marvel that goes around their wrists. Garmin is a brand that creates amazing fitness trackers, on par with Fitbit, and it's tough to decide which brand creates a better tracker. We decided to go with the Garmin, simply because it was specifically designed for runners.
Read more
The Forerunner 235 has built-in GPS. If your giftee is someone who loves running outdoors, the GPS function is great because it will keep track of where they ran, showing them the distance and their pace. It will also inform them of their location, making it impossible to get lost in the great wilderness. Many fitness trackers lack GPS, and they rely on a connection with a phone to show a precise location. Built-in GPS is much more convenient and safer, as it saves the battery and makes the watch usable for a longer period of time. The Elevate wrist heart rate technology accurately measures changes in the heartbeat, sending information when it starts to rise. A rising heartbeat indicates a spike in stress levels, and the watch will gently remind you to take a break to unwind. The bright, colorful gauge will display in which zone the heart rate lies, and what the beats per minute are in real-time. This helps your giftee reach their goals faster! The Forerunner will also track the distance they crossed and the time it took them to do it, and it will also show how many steps they took to cross it.
The watch face of the Garmin Forerunner is completely customizable. They will be able to adjust the tracker to their liking and enjoy every app the tracker has with updated looks and colors. Speaking of apps, the fitness tracker has preloaded sports apps, but they can always find more in the Connect IQ. The data related to their exercises will be automatically uploaded to Garmin Connect, their app that shows the data in colorful and fun graphs, and allows them to share their success with an ever-growing fitness community. Once connected with a device, the Forerunner will display text messages and missed calls, and replying to the text messages is also a possibility. The weather widget will let your giftee know whether it's a good idea to go running outside, or if it is better to stick indoors and turn on the treadmill. The battery lasts up to 11 hours if the watch is constantly being used, but if it has regular breaks, it can last up to 9 days.
6

. AfterShokz Air Open-Ear Headphones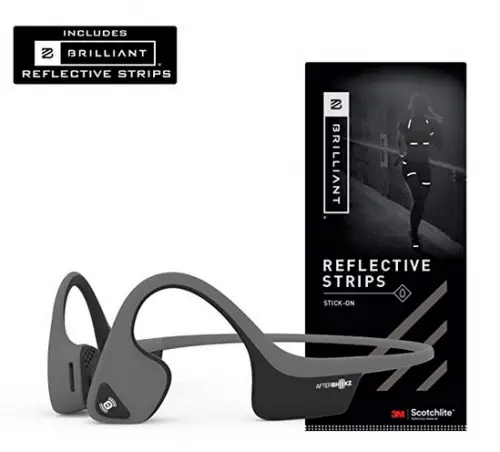 Reflective Strips
Six Hour Battery Life
Weatherproof
Lightweight and Comfy
Premium Audio
We all know how empowering our favorite music can be, and listening to it when we run can give us that extra boost we need to finish the race. But headphones with wires become tangled up, and they can quickly stop working or get tangled with our clothes, making us stop to fix the situation. This is why your loved one needs a pair of Bluetooth headphones that are tangle-free and easy to use!
Read more
These headphones come equipped with brilliant strips that shine in the dark, providing your giftee with safety. The strips can also be attached to clothing, bikes, and other gear. The open fit design is sweat proof and comfortable, allowing them to wear the headphones all day. The wraparound design is very lightweight and cozy, and the six-hour battery life is enough to satisfy the marathoner in your life. The headphones are compatible with most Bluetooth devices. Aftershock headphones combined with Premium Pitch technology and Leaks layers deliver rich tones and vibrations that stau directed towards the ears.
7

. TriggerPoint GRID Foam Roller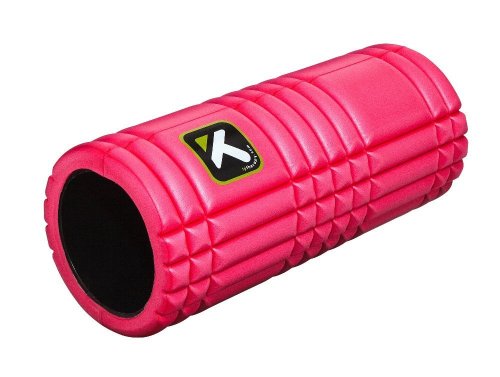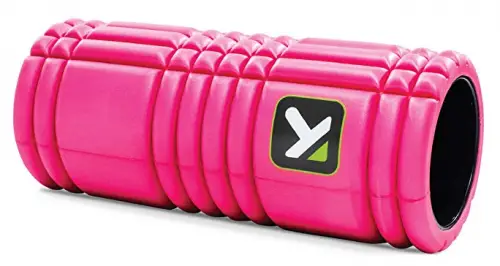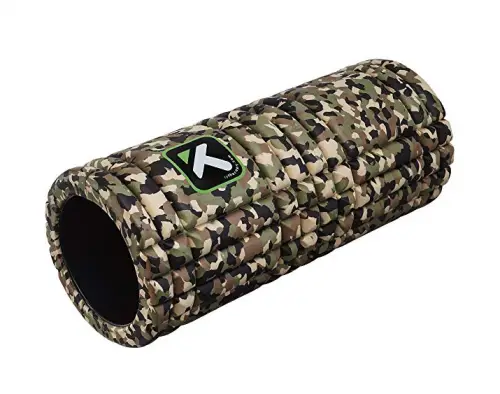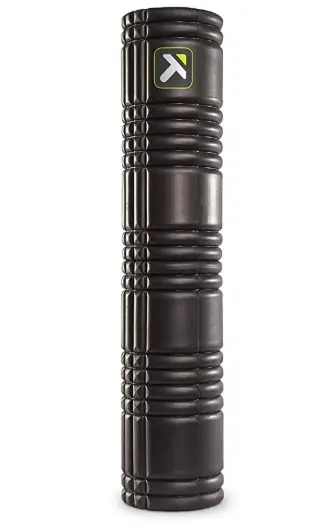 High-Density Foam
Hollow Core
GRID Design
Up To 500 Pounds
Colorful Designs
There's nothing better than a good, intense massage to relax those sore muscles after a long day of running. If your giftee does not have the time to go to a therapist, a foam roller might be an ideal gift for them! This GRID roller is made out of, obviously, foam. The multi-density exterior provides an experience similar to the one you would find at an actual massage parlor, while the different ridges and textures mimic human knuckles.
Read more
The patented roller design features a high-density foam constructed over a hollow core to deliver the best massages. In case your loved one doesn't know how to use a foam roller, they can access their site with a free instructional video that will help them get started. The foam roller is 13 inches long, and it can support up to 500 pounds, which makes it super sturdy and reliable. Just make sure that they don't use the roller too much, or too hard, as they can injure themselves!
8

. TRIBE Water Resistant Armband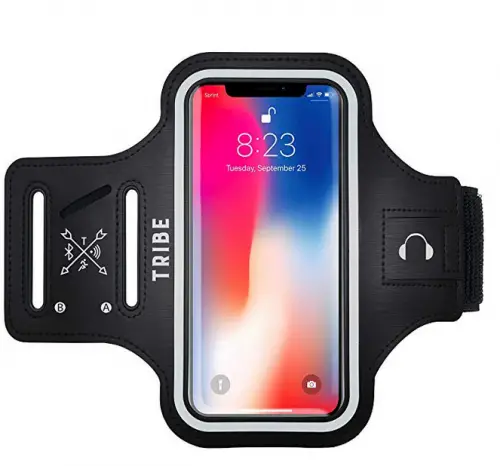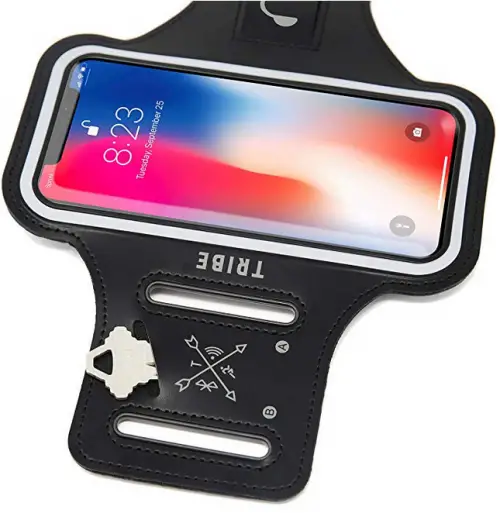 Water-resistant TPU Screen
Durable High Tensile PU
Elastic Wide Straps
Hidden Key Pocket
Lifetime Guarantee
A backpack can be too heavy for running, while a belt can slide around too much and fall down from the hips, creating discomfort and stress. This is where armbands come in. They are like little pockets you can strap to your arms where you can store your most needed valuables. The Tribe armband is made for most phone models, but it might not be able to fit the newest Samsung and iPhone models, so check which phone your giftee uses!
Read more
The TPU screen that protects your phone is water-resistant and clear, and they will always know what the time is and whether they have a missed call. The TPU cover is touchscreen compatible, so there will be no need to stop and take out the phone to use it. The straps are made out of high tensile brushed PU that can last for a very long time. The extra-wide elastic bands are comfortable to wear and they can fit most shapes and sizes. A headphone cord holder keeps the wires from tangling and creating a mess. The armband even has an extra-thick reflective strip for improved safety! A wide built-in pocket stays hidden out of view, just big enough to store keys.
9

. Rocktape Kinesiology Tape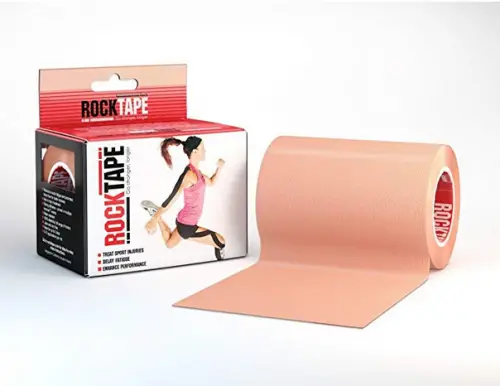 Super Wide
Detailed Instruction Sheet
Moisture Repelling
Strong Adhesive
Good For Sensitive Skin
It's always good to have a roll of kinesiology tape nearby. The tape offers unwavering support that does not interfere with natural movements, and if your giftee doesn't have a roll standing by, it's a good idea to get them one in case they start feeling pain! The Rocktape kinesiology tape is four inches wide, designed to fit even the largest of muscles.
Read more
If your loved one doesn't know how to use the tape, and you're not so sure yourself, don't worry - an instructional booklet will arrive with the tape, and you can always access their instructional videos showing you just how to use the tape right. The high-grade adhesive and unique fabric blend give the tape strength and durability. It repels moisture and moves together with the skin, preventing irritation. The tape is latex and zinc-free, so it's safe for all skin types.
10

. U Women's Elite MCS Compression Tights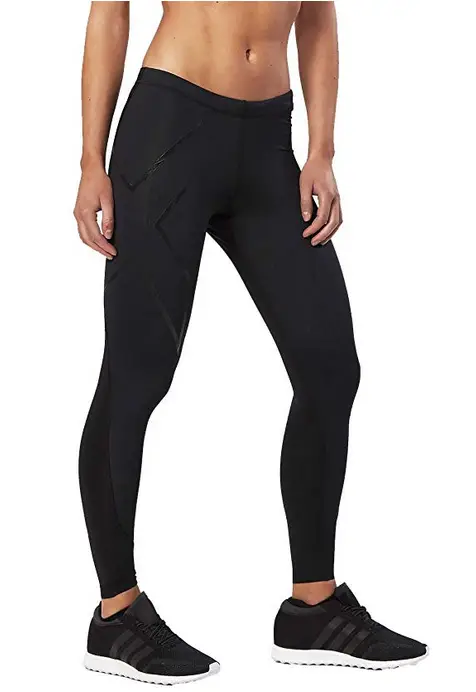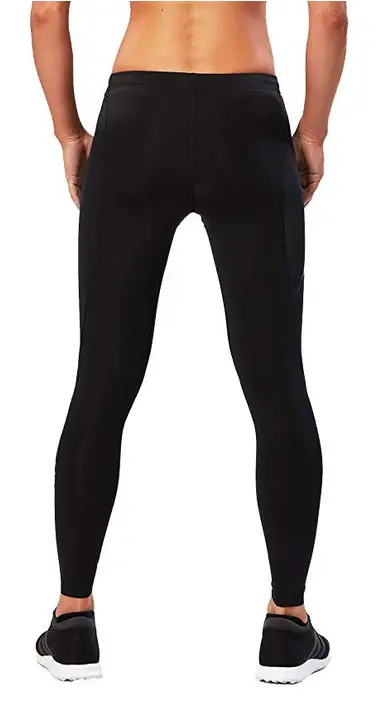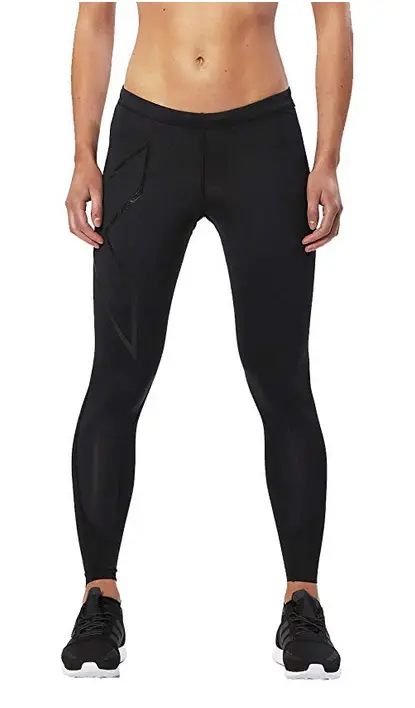 Muscle Containment Stamping
Powerful Graduated Compression
Maximum Flexibility
Durable and Lightweight
Flatlock Seams
A good pair of tights will allow the user to move freely, while the compression will keep the blood moving, reducing fatigue and swelling. These tights are made out of lycra, elastane, and nylon, delivering optimal stretch and comfort. They are machine washable, so your giftee won't need to waste time hand washing them!
Read more
The muscle-containment stamping applies targeted compression to the calves and quads, greatly reducing muscle fatigue while improving stability. The tights are made out of a special fabric mix called power-weight-flex, which creates powerful compression while being lightweight and super durable. A drawstring elastic waistband allows your loved one to adjust the fit to their likings. The moisture-wicking fabric will keep them dry, while the flatlock seams remove any chance of chafing or irritation. The tights are antibacterial, and they deliver UPF 50= sun protection, so your giftee will be safe from all kinds of ailments!
Criteria Used For Evaluation
Use
Before everything else, you have to buy a gift that your giftee will actually be motivated to use. What's the point in giving someone a present they will leave in the corner to collect dust, never to be looked at again? That's why you need to think whether your loved one will really use the gift you're set on buying them. Do they really need a pair of compression leggings? Do they already have a pair of Bluetooth headphones? Think about what type of runner they are. Runners who prefer to run in nature have different interests and needs than runners who conquer city blocks. As an example, wireless headphones may be a better fit for an urban runner, while an outdoor runner may like water-resistant sneakers more. Take every aspect into account before you make your final choice!
Style
Do not buy gifts that suit your style or preferences. Never get them a gift that you adore. Think about what their favorite color is, and what their needs reflect. If you buy someone a gift based on your likes and dislikes, chances are that they will not be happy about it, as the possibility of you two having similar taste is slim, especially if you're not into running yourself. The style of your gift matters if you're buying them a wearable present. You can't obviously choose the style of headphones or massage rollers, but the style of shoes, socks, and leggings can all be different. Look at how they dress outside of their running life to find some hints. Do they prefer vibrant hues or calmer colors? Will they be able to combine your gift with their everyday outfits as well? Try buying them a gift that is versatile and fun to use even when they are not working out!
Value
We've come to the one thing we are all afraid of when buying presents - the price tag. No one likes to spend a fortune on buying gifts for other people. You will be spending tons of money on something you're not even going to use yourself! We're not saying that giving a gift is meaningless. There's a lot of happiness and joy to be felt when you see the ecstatic faces of the people you love receiving your though-out gifts, but if you're having budget issues, you can end up feeling anxious and stressed when you spend a lot on the gift. Some gifts we wrote about here are really pricey. Take the Garmin Forerunner, or the Brooks shoes as an example. They both cost more than a hundred dollars, and that can be a bit too much to spend for a gift for plenty of people. The armband and the socks are more approachable, and they shouldn't chip your budget down significantly. If you're having some budget issues, or if you don't want to spend tons of money on something you're not even sure will fit your giftee, go for the safer options and we're sure that both of you will end up happy!
Adjustability
A good gift is an adjustable gift. As we can never be sure whether the gift we got our loved ones will truly fit them, it's always best when you get a present that can be adjusted. Be it a fitness tracker with a fully adjustable band, or super-stretchy socks that can fit two or more different shoe sizes. Remember that shoes are the least adjustable gift you can get, and unless you're absolutely certain you know their size, do not go for shoes! Armbands and massage rollers are very adjustable as well, and headphones can never be the wrong size. Kinesiology tape is very easy to adjust, and all you need is a pair of scissors. Gifts that are not meant to be worn are usually the better choice, but if you're really bent on getting them that pair of leggings, make sure you really know what their size is!
Durability
And finally, you need to make sure that your gift is a durable one. Imagine how sad your loved ones will feel if your gift disintegrates after a few uses! Not only will they lose the help of your gift, but they also won't have anything from you to remind them of their special day. So, check how the item was constructed - what the materials used to create it are, how good the battery life is, can the clothing handle the stress of constant running, and much more. To save you some valuable time, we went over thousands of user reviews to find out whether these products are truly durable or not. Although some of them last longer than the others, none of the products we listed here should immediately fall apart, leaving your giftee sad and disappointed. If it does malfunction, chances are that you received a faulty product, and you could try convincing your loved one to go for a replacement!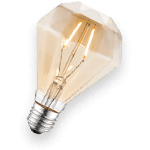 Visibility
There's a lot of runners out there who love to run in the dark. The night is calming and serene, and there's not a lot of people outside to silently judge you for being active. This is why some people prefer the moon instead of the sun, and if your giftee is like that, you need to think about their safety. Having gear with reflective materials can be a lifesaver, especially if the clothes they like to wear are dark. No car or bicycle will notice them before it's too late if they don't have any visible fabric to reflect back the light! You can also try giving them a headlamp. A headlamp will make them visible, and it will make the road they are running on visible too, saving them from harm.
Size
Some gifts do not require you to think about the shape and size of your loved one, but some gifts need careful planning. Shoes and socks need to be the right size if you want to truly help them, and buying leggings that are too small or too big can even insult them, so you really got to know their size before you decide to go for a gift like this. If you're not sure, do not buy a gift like this. There are ways you can find out though - you can secretly look at their clothing or shoes, or you can just ask them, plain and simple!
Other Factors To Consider
Bottom Line
Anyone who has a hobby they truly love will tell you that a gift related to their hobby is always better than a random cute gift. Maybe there are some items on your loved one's bucket list that they just can't seem to remember to buy, and you really want to help them fulfill their running dreams. Maybe they already have everything a runner needs, and you need to think outside of the box. No matter what it is, we provided you with enough options to surprise everyone, and we hope you managed to find the perfect gift for your giftee!
Frequently Asked Questions
q:

Is replacing the gifts a possibility?

a:

Replacing the gift you bought could be a necessity if you went for the wrong size, and your loved one cannot wear it. So before you actually buy the gift, you have to check whether the gift can be returned or exchanged for a different size. Some brands do offer this possibility, while others leave you stuck with what you bought. If you're buying them a shoe or socks, or any piece of clothing, read carefully to figure out whether you can return the product or not!
q:

How can I be sure my giftee will like the present?

a:

Well, you can never be really sure whether they will like the gift or not. You can spend your time spying them, trying to figure out what their favorite color is our which movie is their favorite, but even if you do get everything right, chances are that they already have the gift, or that they won't find it particularly useful. There's no shame in getting them a gift they're not enthusiastic about, but if your loved one is truly an avid runner, no product from this list should make them feel disappointed!
q:

Is gifting shoes or clothes a good idea?

a:

We all know that gifting clothing and gear is a bad idea. And it is a bad idea unless you really know what size your loved one wears. In other words, giving garments is a good idea only if you know their exact clothing size!
q:

Do I have to spend a lot of money on this gift?

a:

Well, that depends on what you want to buy them. A good pair of shoes or a fitness tracker can cost you a fortune, while an armband or kinesiology tape won't cost that much, but they are still very useful to have around. If you want to save up on cash and surp[rise your giftee at the same time, go for the more affordable products we described!
q:

What else could be useful for a runner?

a:

Although we did list plenty of items a runner can find very useful, the list is much bigger than that. An enthusiastic runner can also find different books about marathons and running fun. Clothing with silly quotes about running is always fun, and cups and mugs related to the sport are a good idea too. A headlamp can help them see in the dark, while a calendar or daily planner can help them see their progress better. The choices are endless, and you need to figure out what they need the most!
Subscribe to our newsletter