Top 10 Fitness Trackers Under $100 Reviewed
last updated:
Feb 12, 2020
Many fitness enthusiasts buy fitness trackers to support their lifestyle of action. Because there are so many fantastic versatile fitness trackers in the market nowadays, and because they can get so expensive, knowing which one to buy can be challenging.
After comprehensive research on a wide range of products, we compiled a list of the ten best fitness trackers under $100 on the market for those looking for a quality budget-friendly device. Choosing the right one comes down to your own lifestyle needs. We compared these based on ease of use, battery life, comfort, features, and value.
In a Hurry? The test winner after 18 hrs of research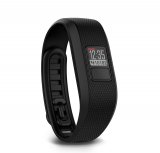 Garmin Vivofit 3
Why is it better?
One Year Battery Life
Waterproof up to 50 meters
Easy to Use
Sleep Tracking
Automatic Activity Tracking
33
Researched Sources
9000
Reviews Considered
18
Hours Researching
15
Products Evaluated
Battery Life
Comfort
Ease of Use
Features
Value
By Default
Best 10 Fitness Trackers Under $100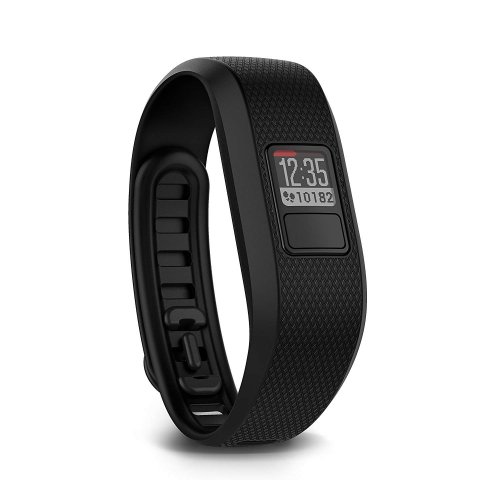 One Year Battery Life
Waterproof up to 50 meters
Easy to Use
Sleep Tracking
Automatic Activity Tracking
Difficult to put on and take off
The Garmin VivoFit 3 made it to the top of the list as the overall best budget-friendly fitness tracker. It is comfortable, provides long-lasting use, and is waterproof.
Read more
The Vivofit 3 by Garmin boasts the best battery on the market for fitness trackers. It provides wearers with full-on 24/7 tracking for a full year before it needs to be replaced. It uses a regular battery, as opposed to needing to be charged, which eliminates the hassle of daily or weekly charging and needing to carry a cord and charger with you.
It also provides smart sensing technology that is based on your current fitness level to provide accessible goals. As those goals are met, they increase with intensity to maintain a steady stream of progress.
It is waterproof, making it a great choice for swimmers or those wanting to wear it all day, even in the shower. It automatically detects activity and gives you an alert after periods of inactivity to keep you motivated to keep moving. It also automatically monitors sleep.
And simply connect to the free and user-friendly Garmin app for full accessibility.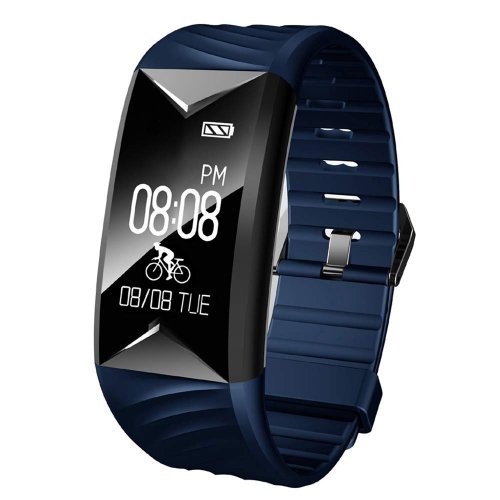 Heart Rate sensor
14 sports tracking
Water Resistant up to 5 meters
7 day Battery Life
The Willful Fitness Tracker is a great addition to the fitness tracker market, and for good reason. It provides constant heart rate and pulse readings with new improved sensor technology and accurate activity performance.
Read more
This fitness tracking device keeps up with all your steps, your traveled distances, accumulated burned calories, and activity as well as supporting 14 different sports and activities. It also allows the user to keep up with their data in real-time, for up to seven days on one full charge. And with smartphone synching, it's easy to get a visual on progress through easy to read charts and graphs.
Willful sleep tracking is automatic and records several different aspects of sleep. It then combines the data from your sleep cycles to analyze sleep patterns. Thanks to a silent vibrating option for the alarm, users can wake up gently.
The user-friendly app that accompanies this device provides in-depth analysis as well as social media and SMS notifications.
And it has a decent waterproof rating of 5 meters, making it friendly for swimmers and showering.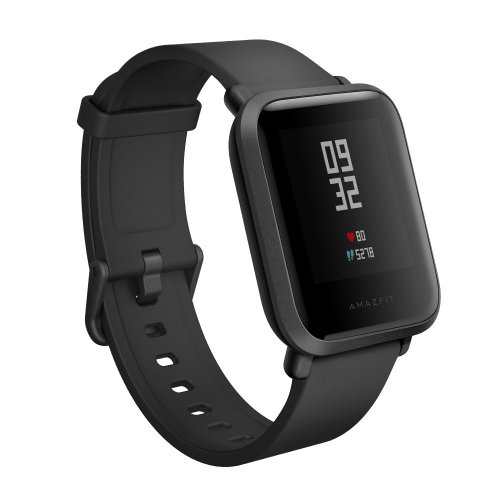 30 Day Battery Life
Water Resistance up to 1.5 meters
Smartwatch capabilities
Onboard GPS
The AmazFit Bip is a great option for those looking for a little more in a fitness tracker, without paying too much. It acts more like a fitness watch, combining features of a fitness tracker and a basic smartwatch.
Read more
The AmazFit Bip is an extremely lightweight device, at an impressive 1.1oz. This gives it incredible comfort for all-day wear. And don't let the small package fool you, it packs a powerful 30-day battery life.
It features onboard GPS, optical sensors for more accurate readings, and four different fitness activities. As expected with a fitness tracker, it keeps up with your sleep quality, calories, and steps.
The AmazFit doubles as a basic smartwatch and will easily sync up to cell phones for on-screen email, phone, and SMS, and social media notifications. It doesn't allow the user to interact with the notifications though, the user must respond on their actual smartphone.
The AmazFit comes in several different colorways to compliment any style and features a great 30-day refund policy so customers can feel confident in their purchase. It also includes a warranty for one year.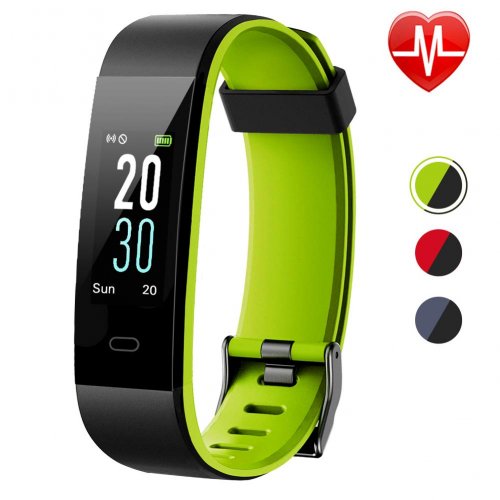 Connected GPS
14 Sports Modes
5-7 day Battery Life
Water Proof up to 1 meter
Does not work with tablets
The Lintelek Fitness Tracker is a basic user friendly device to follow your everyday movement and record data from daily activities.
Read more
It monitors steps, very basic sleep analysis, calories, and even provides users with goals based on daily levels of fitness. It features inactivity alerts to offer encouragement to stay motivated during periods of inaction.
The sensors for this tracker monitor heart rate, footstep speed, and distance traveled. It also has the ability to connect via hotspot to your phones GPS. And it has the durability to withstand swimming or showering as it is waterproof up to 1 meter of water.
When using the accompanying app, users have access to pre-loaded workouts and exercising options. But it already comes with 14 different sports and activity settings for quick start-up use. However, this tracker is not able to provide in-depth analytics with sports, such as cadence, ground contact, or oscillation.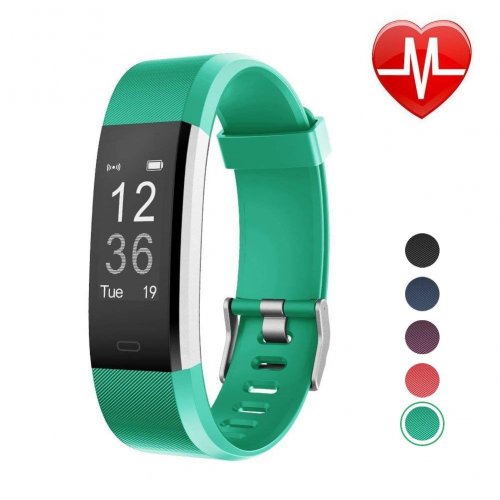 Waterproof up to 3 ft
12 Month Warranty
14 Sports Settings
Cordless Charging
The LetsCom Fitness Tracker is another great option for super affordable and easy to use devices. It is a basic tracker, covering 14 sports, heart rate, steps, and calories available in fun bright colors.
Read more
LetsCom is a great basic tracker that is comfortable enough to wear for everyday use with its soft stylish band. It features all the basic tracker needs, smartphone connectivity and a wide range of device compatibility, comprehensive sleep monitoring, GPS options, and text and call alerts with vibrations or prompts on its color screen.
It is also a convenient fitness tracker for traveling and those on the go often, as there it's cordless and there is no hassle with charging. Simply attach the device directly to a USB plug for easy charging anywhere.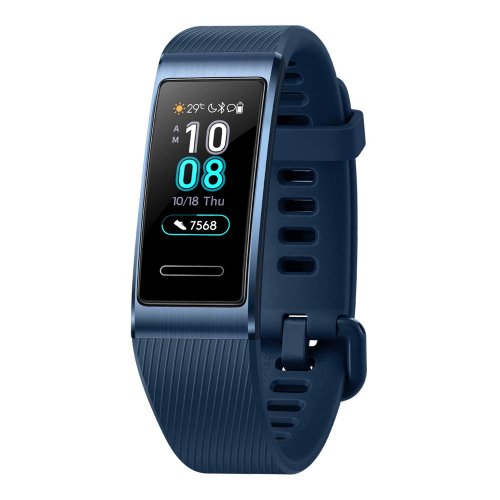 Built-In GPS
Waterproof up to 50 meters
12 day Battery Life
Find iPhone Feature
Not as comfortable as others
The Huawei Band 3 is a more high-end fitness tracker, and the price is high end as well. While offering all the basics, it is also a great waterproof fitness tracker rating and helpful additions like iPhone finder and camera shutter capability.
Read more
The Huawei Band 3 provides a built-in GPS along with a full-color touch screen that allows for adjustable brightness.
IT is a great choice for swimmers, but not just for its impressive waterproof rating of 50 meters. Also because it tracks the style of stroke, how many strokes, and how many laps, along with the calorie content for the swim workouts.
It also features other multiple sports tracking capabilities and keeps track of heart rate in true time 24/7.
The sleep sensor is great o this tracker, as it was designed alongside Harvard med school to track true sleep, identify the top common issue with sleep, and even provides the user with better sleep help.
And with it doubling as a remote for your smartphone's camera, you can improve your selfie game and even take shots of yourself at a distance without needing an external remote to keep up with on the go.
7

. TicBand Fitness Tracker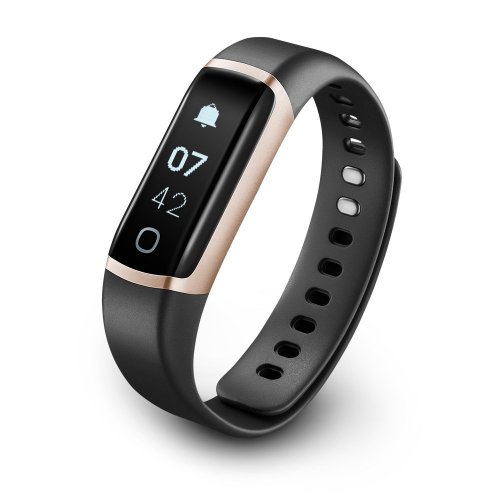 All-day heart rate monitoring
Personalized Cardio Information
Sleep Tracking
5-day battery life
Possibility for issues with battery over time
The TicBand is a simple device with all your basic tracking features. It is super easy to use and has a nice slim band less cumbersome than other trackers.
Read more
The TicBand Fitness Tracker supplies you with all the tools you need to have a more in-depth understanding of where you are with your level of fitness in order to help you create realistic goals with the device. It provides a custom cardio rating, along with a consistent sensor for heart rate monitoring.
It also provides simple sleep monitoring with options for a silent alarm that vibrates to wake you up more peacefully. It syncs to your smartphone, offers an interactive and vivid display of your daily progress in numbers.
This device provides the user with about five days of decent battery life, even with the heart rate sensor on all day every day. But, it can last up to a full month if the display is off. The TicBand is light with a sleek design to be extra comfortable for full time non stop wear.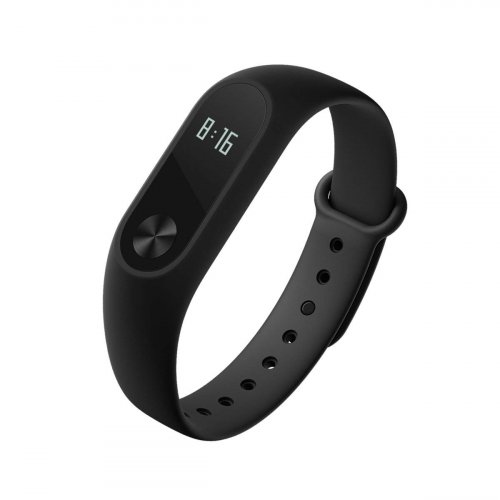 12 Month Warranty
Comfort Grip Band
Easy to Use Screen
Waterproof to 50 Meters
The Mi Fitness Tracker from Xiaomi is a good entry-level fitness tracker with a high level of comfortability and ease of use.
Read more
This tracker proves that you don't need to pay a high price for a decent fitness device. It comes with all the basics of a fitness tracker, plus smartphone connectivity for on-screen notifications for messages and social media. It's also incredibly comfortable and stays put gently on the wrist even with a hardcore dose of movement.
It provides steps and calories, but also deeper statistics like unnecessary movements sensor. It allows for easy time telling by a simple movement of the wrist to turn the bright led screen on.
It's also available in great colors and bands can be purchased separately to interchange for matching and style coordination. It is lightweight and thin, making it a great fitness tracker for women to wear on their naturally more slender wrists.
This product comes with a full year of warranty with access to a 24/7 support team.
9

. Toobur Activity Tracker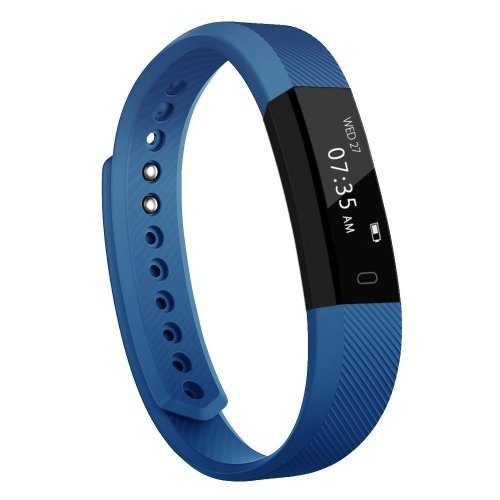 Thin Comfortable Design
3-7 Day Battery Life
Affordable Price Point
Cordless Charging
The Toobur Activity Tracker is about as basic as it gets, without taking the screen away, making it a great fitness tracking device for non-tech savvy folks, those wanting just basic needs, and even those wanting it to stay healthier while traveling.
Read more
This slim design enhances comfort for any wrist and is very lightweight weighing 18g. It is even comfortable to wear by kids.
It features the very basics of steps, caloric burn, sleep tracking, and distance, and this info is easy to access right on the screen. However, it can be connected to an app as well to see the statistics on your phone's screen for people with limited visibility. And through the smartphone connection, it can be synced to send alerts for various messages, and even just reminders for daily to-do lists.
Along with the 60-day full refund policy, it also features a lifetime of customer service support through their 24hr technical support system.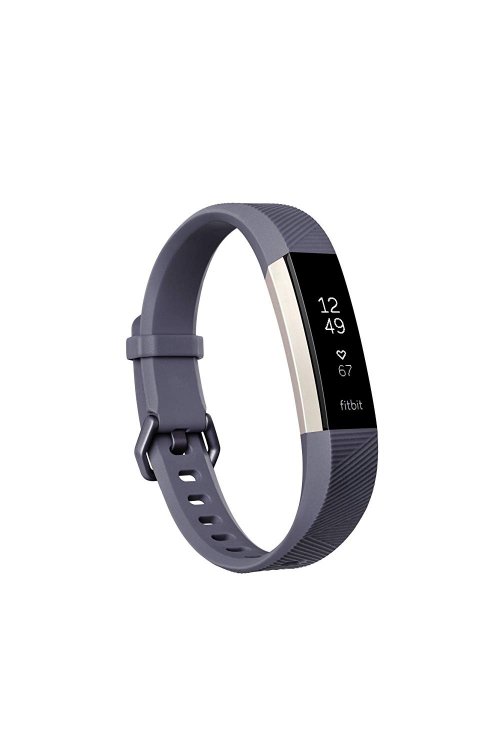 7 Day Battery Life
Community Interaction Through App
Enhanced Sleep Tracking
Very High Price
Only Water Resistant
The Alta is the thinnest and sleekest fitness tracker currently available by FitBit. The FitBit name means quality technology but at a high price.
Read more
The Alta by FitBit really is a great fitness tracker, available at just below the $100 mark. It provides you with everything you'd expect from FitBit, superior comfort and dependability. But the high price tag doesn't provide anything impressively different from the others on this list, it just comes from a well-trusted company with good customer service.
Track your overall calories, 24/7 heart rate monitoring, and even workout statistics like levels of intensity and periods of inactivity.
The sleep feature does provide information on your sleep habits for different levels of sleep; light sleep, deep phase, and REM. This is to help notice any irregularities in your cycle to make sure you get better rest.
One fun feature is that it allows users to interact with friends and other users via the smartphone app. And it keeps all of your important notifications coming in no matter what activity you're doing.
The FitBit Alta, despite the high price, is not a good choice for those need a waterproof device. It is only water-resistant for hand washing and light rain.
Criteria Used for Evaluation

Battery Life
Battery life improves device usability
For a device such as a fitness tracker, it is really important to choose one with a battery that can keep up with an active lifestyle. Most fitness trackers on the market have a rechargeable battery, although some offer regular watch batteries. Typically those with watch batteries far outlast the rechargeable batteries. But the rechargeable batteries provide the advantage of not needing to buy and replace a battery.
Some trackers also feature cordless charging to enhance the charging experience. Not having to carry around an extra cord is a great advantage for those on the go.
So we considered the overall battery life from a full charge, how long the charge takes, what kind of battery, and the ease of charging when scoring.

Comfort
Comfort improves the wearer's experience
How comfortable fitness trackers depend on many factors. It depends on how easy it is to put on, adjust and take off. It also depends on how the tracker feels on the wrist. From materials to the security of fit, and even product weight and size, the comfortability of each product was assessed in depth.

Ease of Use
Ease of use increases a device's accessibility
Fitness trackers are all the craze and for good reason. They help enhance overall health and fitness on many levels. But if a device is not very easy to use, it drastically reduces its effectiveness and user satisfaction and even has the potential to produce inaccurate results due to complications with use.
Whether or not the device has a touch or display screen, smartphone syncing, quick statistic accessibility, charging procedure, and feature simplicity, were all a major factor in considering the ease of use for a fitness tracker.

Features
Features provide more options to users
Some people prefer simple easy to use fitness trackers for simple daily step and activity monitoring. Others need a device that can offer an athlete detailed information about their training. The number of features and their complexity determine which tracker will be useful for an individual's needs.
We looked at how many features a device had, the level of details each provided, and the overall versatility of a tracker's activity monitoring in order to score a product's features rating. Those with higher scores offer more and more in-depth sports or exercise choices, and also more details for each one.

Value
Value gives users more nag for their buck
Fitness trackers are intricate little devices, but they don't have to cost a fortune. So for this list specifically, we wanted to gather the ten best fitness trackers for under $100 in order to provide customers with a budget-friendly option that doesn't skimp on quality. Within that window of price range however, we scored a device based on its price point and if the relation of all the scores above to determine its overall value.
Expert Interviews & Opinions
Most Important Criteria
(According to our experts opinion)
Experts Opinion
Editors Opinion
Users Opinion
By Default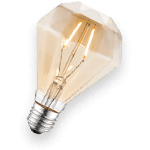 Accuracy
Overall accuracy of a fitness tracker is important for effective use. Read reviews on a product your interested in. See what other users are saying about the accuracy of its features, specifically the heart rate sensor. The heart rate sensor is generally a good indicator for how accurate its other sensors and readings will be. And it's always a good idea to read up on the different levels of technological sensors, to see which one most appeals to your lifestyle and preferences.
Durability
Waterproof ratings are critical in order to match a consumer's durability needs with the right fitness tracker. But it's not the only criteria that make a device durable. Also check for the quality of materials, if an extra band is included with the initial purchase, and if not if bands are easily accessible should a replacement be needed. In addition, it's always worth checking to see if a product is backed by any sort of guarantee or comes with access to customer or tech support.
Frequently Asked Questions
q:

What is the difference between a fitness tracker and fitness watch?

a:

A fitness tracker is the more basic version of a fitness watch. A fitness watch does all the same things as a fitness tracker, but it also typically provides many more features like trail mapping, compass, tides, more niche sport activity settings, and built-in ability to respond to incoming alerts. They are also usually designed in the style of a watch- typically bigger, more durable, and heavier. Whereas fitness trackers are designed to be slimmer, less cumbersome, and lighter.
q:

Are fitness trackers waterproof?

a:

Yes and No. All are water-resistant to a certain degree, but not all are waterproof.
Waterproof means that the device is designed for withstanding total submersion in water, up to a certain depth. Water-resistant means that the device is not built to withstand submersion, and therefore is limited to handle only moderate exposure to moisture like sweating and hand washing. Waterproof fitness trackers are great for swimming, whereas water-resistant trackers are not.
q:

Does a fitness tracker have to be connected to a smartphone to work?

a:

A fitness tracker does not need to be synced to a smartphone to work. Although some require connectivity for smartphones for use of more detailed statistics and for things like GPS or workout guides. Almost all of them are perfectly capable of working independent of smartphones, so even those who have not entered the world of smartphones can still gain the benefits of using a fitness tracker.
Subscribe to our newsletter