Top 10 Chest Strap Heart Rate Monitors
last updated:
Feb 12, 2020
If your goal is to get fit, improve your CO2 max to train in the fat-burning zone, then you need an accurate record of your heart rate while you are training. However, most of the pulse monitors that are built into cardiovascular exercise machines are notoriously inaccurate. So, too, are fitness tracking devices. We tested the best chest strap heart rate monitor options available on the market. We were able to assess and rank them from best to worst. Coming in at #1 is the Polar H7 Bluetooth Heart Rate Sensor and Fitness Tracker, which proved to be the most accurate and comfortable. It had the longest battery life, and it even counts calories. After the H7 came the Garmin Premium.
In a hurry? The test winner after ten hours of research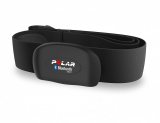 Polar H7 Bluetooth Heart Rate Sensor
Why is it better?
Very accurate
Bluetooth enabled to connect to a smartphone
Comfortable chest strap
Long battery life
30-meter transmission range
45
Researched Sources
8k
Reviews Considered
17
Hours Researching
15
Products Evaluated
Accuracy
Battery Life
Band
Comfort
Portability
By Default
10 Best Chest Strap Heart Rate Monitors
1

. Polar H7 Bluetooth Heart Rate Sensor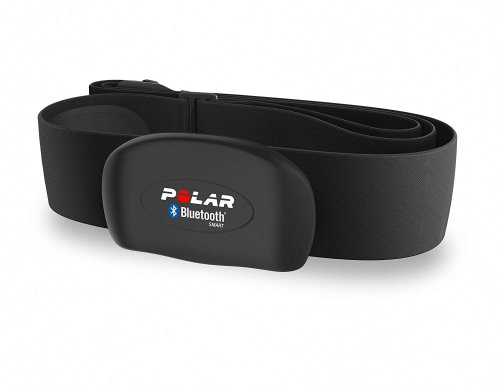 Very accurate
Bluetooth enabled to connect to a smartphone
Comfortable chest strap
Long battery life
30-meter transmission range
Some of the advanced features take a bit to learn
One of the most accurate devices we tested, the Polar H7 can connect to virtually any smart device.
Read more
The Polar H7 gives you extremely accurate tracking of your pulse rate on your mobile device. In fact, this was the most accurate chest strap heart rate monitor that we tested. It makes use of low energy Bluetooth smart technology and T31 coded 5.4 kHz transmission, enabling you to connect with the majority of training devices.
We were impressed with the comfort of the strap on the H7. A lot of people are put off from wearing chest strap monitors because they find them to be too uncomfortable. You will not have that problem with this device - in fact, you will probably forget that you are even wearing it.
The H7 has a long transmission range of up to 10 meters, giving you plenty of freedom to work out without being attached to your chest strap heart rate monitor. The long-lasting battery is another plus.
2

. Garmin Premium Heart Rate Monitor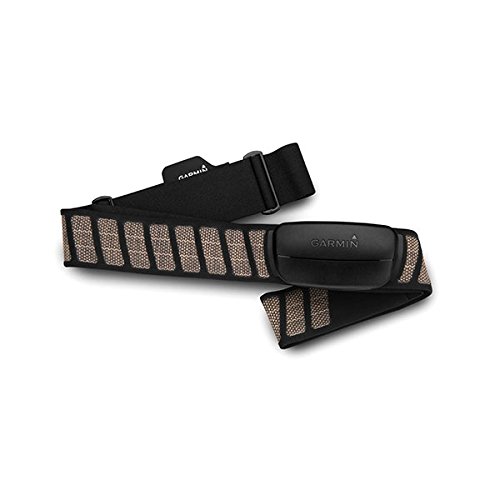 Accurate
Comfortable
Pair once and then forget
Adjustable straps
Some users have reported reliability issues
Not quite as accurate as of the H7, this second-place contender will still be more than enough for most fitness enthusiasts.
Read more
The Garmin Premium Heart Rate Monitor provides you with a very similar experience as the Polar H7. The main reason that it didn't reach the top spot is that it is not quite as accurate as the H7. We also found that the H7 was a little more comfortable and provided a freer range of movement when performing plyometric training movements.
In the plus column, the Garmin Premium does have a very comfortable soft elastic strap which will fit all body shapes as the chest strap is completely adjustable. After pairing the chest strap heart rate monitor with your compatible device, you never have it do it again.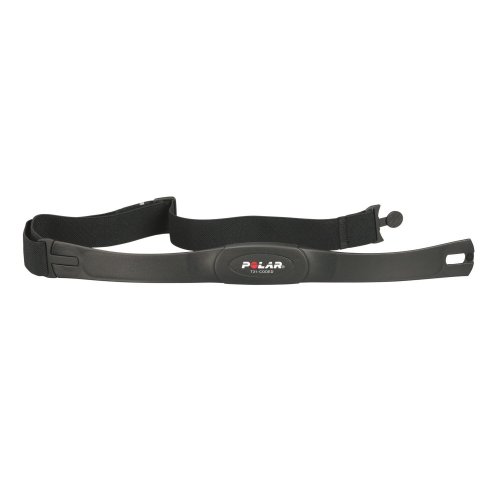 Slimline design
Range of color options
Coded transmitter to avoid cross-contamination
Economical
Can pair with most equipment
The battery cannot be replaced-have to buy a new unit
The slim and lightweight design of this heart rate monitor makes it comfortable to wear.
Read more
Polar made this model waterproof. You can wear it during swim workouts and still get accurate readings, and the water will not damage the mechanisms. This feature also means the T31 will repel sweat. Even the most intense workouts will leave the screen readable and the circuitry dry. The T31 will work with nearly any enabled elliptical, stair stepper, stationary bike or other pieces of cardio equipment, we found in our research.
Elastic straps on this unit are individually coded, meaning they will only pick up and transmit your pulse rate to a nearby Polar chest strap heart rate monitor or compatible gym equipment. In the past, many similar units picked up signals from others and caused cross-talk between the devices. The long-lasting battery gives you 2500 hours of service.
Unfortunately, the battery is not user-replaceable. You have to throw the unit away or recycle it, and get a new one when the battery dies. However, some users report the unit battery lasting up to five years. Also, no battery means a more comfortable ride because there is not a piece sticking out for the battery compartment.
4

. Polar H1 Heart Rate Sensor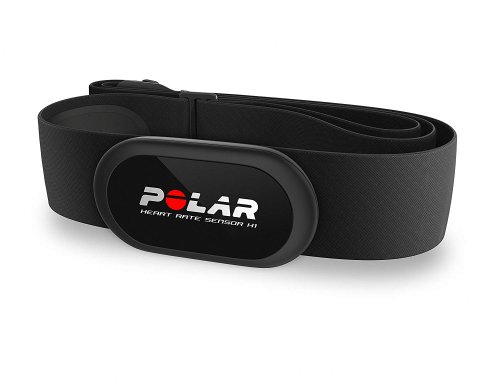 Soft and adjustable strap
Replacement batteries available
Very comfortable
Water-resistant
Minimal interference with other transmitters
Some users have reported reliability issues
If you are worried about restricted movement or discomfort while wearing the chest strap heart rate monitor, the Polar H1 features a soft strap that will adjust to the contours of your body.
Read more
Polar went with the idea that comfort is the most important thing in fitness equipment design. The strap is made of textile material, with enhanced electrodes and silicone dots to help stop slipping. An easy to operate buckle attached to the belt holds everything firmly in place. The strap's slim, streamlined connector, will prevent poking or nudging while you work out.
The battery is replaceable, so the unit can be used for many years and will give reliable, consistent service. A 5 kHz transmission frequency means a greatly reduced likelihood of interference from other frequencies, so you can focus on your workout and not on fixing whatever is wrong with the transmitter.
By the way, the Polar H1 can be worn in the pool, but that seems like just icing on the cake considering all the comfort features the chest strap heart rate monitor has.
5

. Polar H6 Heart Rate Sensor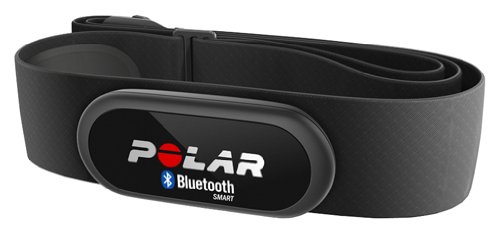 Soft strap
300 hours of battery life
Paints with most fitness apps
Fastens securely, pain-free
Requires Polar Beat or a third-party app to transmit data.
Like with other Polar heart rate monitors, the soft adjustable strap of the H6 is one of its biggest selling points.
Read more
The Polar H6 provides up to 300 hours on its single disposable coin cell battery. It does not transmit heart rate data to Polar heart rate monitors. However, it will transmit to the company's Polar Beat app. Nearly all smartphones or smartwatches will be compatible with the H6, so it can pair with any of the available free fitness apps in order to send and store accurate data. Although the battery can be replaced, it cannot be recharged as a lithium-ion battery could.
The Polar H6 will give accurate readings, even during vigorous movements. It will stay in place, and athletes who prefer a tight fit can have one without the straps cutting into their skin. Users reported that the strap to sensor connection was sturdy, and they had no concerns about the sensor coming loose.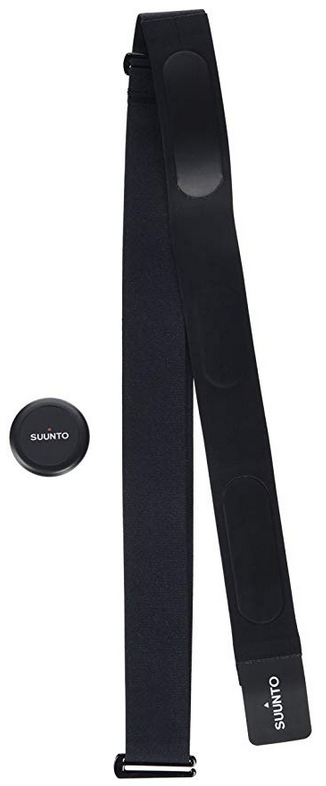 Super Small
Strap Can Be Independent
Stable Bluetooth Connectivity
Suunto Movescount App
The Suunto Smart Sensor has got to be the smallest chest strap heart rate monitor we reviewed. The small size makes it very portable, and virtually undetectable once you strap it around your body. This also makes it quite comfy, since there won't be a chunky box digging into your skin.
Read more
The strap is made out of textiles, while the device itself is protected by a hard plastic shell. The smart sensor will have a stable Bluetooth connection with your computer, phone or armband, whatever you decide. It's waterproof, so you can wear it while you swim as well. When you pair this chest strap heart rate monitor with the Suunto Movescount app, you will be able to analyze, share and relive your proudest moments. If you have Movesense compatible devices, then the heart rate belt can be used independently with these devices.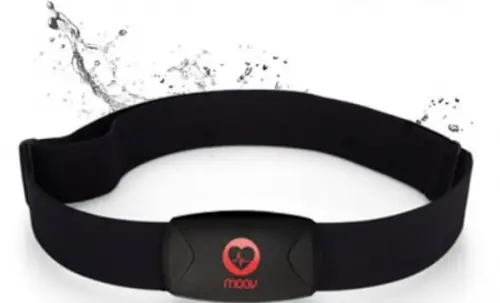 New Suction Technology
Bluetooth Chest Strap
A.I. Coach
Customizable Programs
The Moov HR burn has redesigned the standard chest strap, equipping it with new suction technology that keeps the device in place while you exercise worry-free. The Moov HR can work with almost every fitness app out there, but it works the best when connected to the Moov App. This is because you will then gain access to an A.I. coach, that will guide you through the motions based on your heart rate.
Read more
The Moov HR is lightweight and sits around your chest comfortably. It's small enough to not bother you while you sweat it out at the gym. The real-time audio coaching will keep you motivated to reach your goals and will keep you updated about your progress at all times. The coach will keep your heart rate in an effective zone, making your workouts effective and powerful. There is a variety of workouts you can try, and customizable programs that will keep you on edge. The app will track your progress and heart rate and will keep you updated about your progress at all times.
8

. Garmin Forerunner 920 XT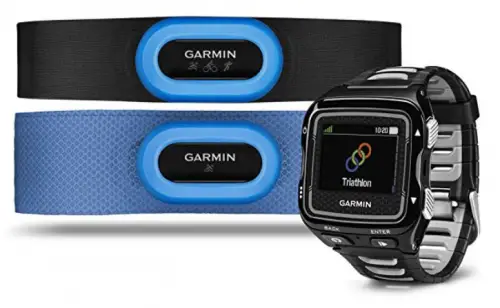 Multisport GPS Watch
V02 Max Estimate
Recovery Advice
Smart Notifications
Automatic App Uploads
The Garmin Forerunner 920XT is actually a multi-sport GPS watch, but it comes with a chest strap and many other features that make it a respectable heart rate monitor. This heart rate monitor is ideal for running since it can offer you insight into your cadence, oscillations and ground contact time.
Read more
This monitor will do its best to estimate your V02 max and will predict how fast you're going. It will also give you advice on how to recover fast. If you like to go swimming, you can again rely on this monitor to keep you well informed. It will capture the distance you swam, what your pace was, the stroke type and count, and everything else that comes in between. There are smart notifications that will let you know whether you received a call or text message. You can even share your results on social media!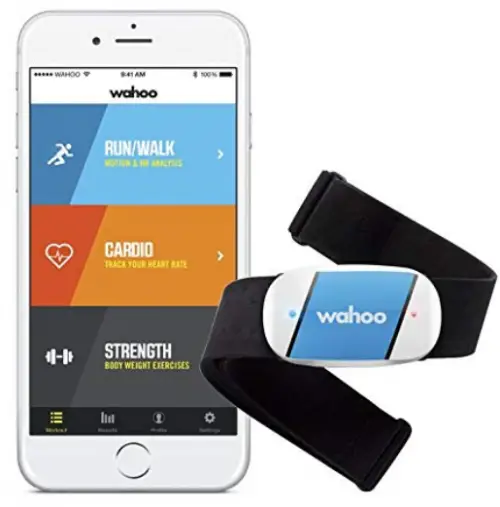 Monitors Exercises Thoroughly
Dual-Band Technology
LED Indicators
Coin Cell Battery
Water And Sweat Proof
Sensors Lose Connectivity
The Wahoo TICKR will not only monitor your heart rate, but your calories burned, exercise duration, distance crossed and your pace, if you use it with a smartphone that has any of the popular fitness tracking apps. This band has dual-band technology ( both Bluetooth and ANT+) that works with Apple watches, GPS devices and almost every smartphone out there.
Read more
There are two LED indicators that inform you about the connection of the device, and whether it's tracking your heart rate or not. It can be connected to over 50 fitness apps, making it a very versatile tool. The band is also waterproof, and sweatproof, with an IPX 7 rating. The battery is a coin cell, and it can be replaced when it's drained, usually after twelve months or so.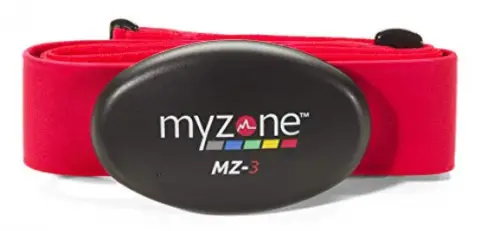 Real-Time Feedback
MYZONE Effort Points
Good Internal Memory
MyZone Social Network
The MYZONE MZ-3 is a very versatile heart rate monitor. It can connect to many devices using Bluetooth, ANT+ and Analog technology to inform you about your progress in real-time.
Read more
The MZ-3 has inbuilt memory, so any session that you can't record right away will be remembered, and you will be able to see how you did as soon as you connect a device to it. The Myzone social network will keep you connected with all of your friends, where you can share your progress and great moments together.
Criteria Used for Evaluation

Accuracy
Getting the numbers right the first time takes less energy than correcting them later.
Accuracy. What does it bring to mind for you? For some, it may be an arrow flying through the air to meet its target, or maybe an eagle scouting for its next meal. Others may see a car engine, needing to be tuned up for fuel efficiency and consistent performance. Still, others may remember the last dress they bought online, and how it did not fit even though the description said it was their size.
No matter what anyone thinks of when someone else says "accuracy," all would agree that anything affecting our health has to be 100% accurate, or as close as it can possibly get to 100%. So for this top five review, we went after the most accurate chest strap heart rate monitor we could find. And we read what other users of the equipment had to say, not just the manufacturer. One customer reported experiencing a heart arrhythmia during a workout. He saw the spikes on his monitor and thought they were unusual. Because of the device's accuracy, the man was able to go see a doctor. He may not have noticed the arrhythmia if he had been wearing a less accurate heart rate monitor.
Accuracy also means completeness. So we strive to cover all the relevant specs in all our reviews. We get input from experts and research a variety of sources. Our aim at Garage Gym Builder is to bring you correct factual information that you can use to make an informed decision.

Battery Life
The battery life of your heart rate monitor is something you should definitely consider before buying it. You don't want your chest strap heart rate monitor to shut off when you start tracking your heart rate!
Your chest strap heart rate monitor probably has removable batteries. This means that you will need to replace them after a while, and it's important that you test your chest monitor before actually heading off to the gym because there is no way to know whether your monitor is low or battery or not (unless there is an on-screen indicator). Make sure that you purchased durable, quality batteries and you'll be able to use your monitor for a long time without worrying about it dying in the middle of your session. The other option is a Li-ion battery, or something similar, that can be charged just like a phone. These batteries can last a very long time, sometimes even more than a few weeks, if you don't use your monitor that often. These batteries are always a better option since they save money, the environment, and they are much more convenient. The chest strap heart rate monitor will charge in a matter of an hour or so, and you'll be ready for action in no time!

Band
It doesn't matter if the readings are accurate if you can't read it because the whole monitor fell off while you were doing squats.
The band on a heart rate monitor is important aesthetically. Bands may be a solid color, matching the color of the sensor. They may be textile, elastic, or be made of other materials. They may have a large buckle or a more discreet one. Choosing the style of the band you want is mostly a matter of personal preference.
However, when shopping around for a heart rate monitor, there are some questions you can ask on this topic.
Will the band close tightly and not move around during my workout? This can cause poor readings, and it is also just a general nuisance to have to stop and readjust your chest strap heart rate monitor.
How will the band respond to getting wet? Typically heart rate monitors, including the strap part can stand up to a swimming workout. But for anything deeper in the water, where you will be submerged for long periods of time, definitely find out how far the waterproof guarantee goes before you buy.
How tight do I like my heart rate monitor? You may prefer to tighten down the chest strap heart rate monitor, so it presses slightly into your skin. Or maybe you want something a bit loose, so you won't feel constricted. Either way, you want to make sure the monitor will stay in place and give accurate readings throughout your session.

Comfort
Fitness should challenge you, but it shouldn't feel bad.
We saw in our reviews that Polar, in particular, put a great emphasis on comfort in their heart rate products. Companies usually do things in response to customer feedback, because the customers keep the company in business. So if a successful company like Polar went out of its way to make its products comfortable, that means it is important to a lot of athletes.
Think about it. You are in the middle of an intense workout, and you just know your heart rate is up in your target zone. You think about stopping to check the monitor, but decide to wait. As you get into position for another burpee, the very edge of your heart rate monitor pokes into your chest. It isn't the most painful thing you can imagine, but it affects your focus and now you have to stop, readjust the chest strap heart rate monitor, and maybe even undo and refasten the strap before you can get going again.
It is not an ideal experience. You may even be reluctant to use that chest strap heart rate monitor again because you don't know when it will poke you like it already did. It's also unlikely that you'll tell your friends how awesome the product is. Too many dissatisfied customers, like you, will impact any business's bottom line.
Comfort is not just about making people feel good. That part is important, but manufacturers also focus on comfort in order to keep customers coming back and avoid any negative feedback associated with the company name. All this means that you can now tailor your comfort experience by looking around for the one chest strap heart rate monitor that you find perfect.

Portability
Carrying your monitor around shouldn't be a workout.
Heart rate monitors used to be bigger and bulkier than they are now. Advances in technology made them smaller and easier to handle, while also improving their accuracy. It isn't true to say you'd never notice you were wearing one, but certainly, today's monitors let you focus on the working out and not on whether or not your chest strap heart rate monitor will fall off.
How portable something it doesn't just depend on its size. Whether a particular heart rate monitor is portable, for you, depends on your standards. Will it fit in your gym bag? Did the manufacturer provide a small carry bag, something that will protect the monitor from your shoes and other gear? You would also want to look at how durable and impact resistant the chest strap heart rate monitor is. This may make the difference between tossing it in your bag or carrying it separately. Having to carry two things, instead of just one, is never convenient.
The weight of the monitor, too, will make a difference in portability. It isn't likely that the monitor will be so heavy you can't lift it by yourself, but cutting extra weight can be important.
While portability may seem secondary for what amounts to a portable computer, it is still worth looking at so that, again, you can find the monitor that is perfect for you.
Expert Interviews & Opinions
Most Important Criteria
(According to our experts opinion)
Experts Opinion
Editors Opinion
Users Opinion
By Default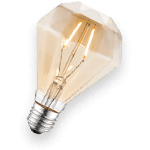 Accuracy
Your heart rate monitor is equally useful on recovery days and on days of intense workouts.
A lot of us, like athletes or fitness buffs, are very intense about our goals and think we should be pushing ourselves all the time. Enthusiasm is a good thing, but doing easy workouts in between more intense activity is important, too. It can keep you from getting injured and, if you are so active that you get exhausted, you can get injured more easily and suffer a serious setback. A heart rate monitor will help you avoid that if you can remember to keep the heart rate, on easy days, not too far above your resting heart rate.
Portability
Your heart rate monitor isn't just for working out. You should wear it a few days in a row while you are just eating breakfast, going to work, or even sleeping. This will give you a more accurate picture of your resting heart rate, and help you plan your workouts to hit your target zone.
Once that is established, you can get in the habit of pushing yourself above the resting heart rate, or staying close to it for recovery or less intense day. Over time, you can even notice trends and adjust your strategy according to them. You may find that you are stuck in a rut on the treadmill, unable to get your heart rate up to where it will be effective for making gains. It may be time to get off the treadmill and try something new that will get you using different muscle groups and exerting yourself in new ways.
Other Factors to Consider

Compatibility
Most any chest strap heart rate monitor that you buy new will be compatible with a huge range of fitness machines. This includes smartphones, whether they are Android, iPhone, or anything else. However, you should still check the manufacturer's notes or the owner's manual when deciding which unit to get. This is especially true if you are buying an older secondhand chest strap heart rate monitor.

Water Capacity
You need to know how much water a unit can take, and at how deep a depth, before the water causes permanent damage. Water, here, can refer to rain, sweat, or even spilled drinks of water as well. If you do a lot of swimming, you will want to do your research on how waterproof or water-resistant the unit is. Water-resistant is not the same as waterproof. Water resistant means the unit can resist water up to a certain point. For many manufacturers, this point is pool swimming. The amount of moisture you expose the unit to while swimming should not damage the unit. Waterproof, on the other hand, means the unit is completely unaffected by water. None of the best chest strap heart rate monitor we reviewed the claim to be waterproof.

Bottom Line
A chest rate monitor is a very helpful tool. It will let you know just how well your heart is doing throughout your whole workout and will let you know if you have any kind of health problem. You can also easily deduce what kind of exercise you are doing at the moment, be it aerobic, anaerobic or even HIIT, just based on your heartbeat. Calculating calorie loss will be an easy task, so a chest rate monitor is a worthy companion. We hope our guide has helped you understand them better, and that you managed to find what you are looking for!
Frequently Asked Questions
q:

Will my heart rate monitor need a lot of maintenance?

a:

It shouldn't. You will need to change the battery, of course, if the unit has a replaceable battery. If you ever notice the unit giving inaccurate readings, you should return it to the manufacturer or take it to a repair shop. The straps are designed not to fray or tear over time, but if you do notice any damage beyond normal wear, call the manufacturer or the shop where you bought the unit.
q:

How long will my heart rate monitor last?

a:

You should refer to the manufacturers' specs to estimate how long your unit will last. Some monitors, as we saw, are designed to be thrown away once the battery is used up. Others come with warranties, and of course, the unit should last far beyond the warranty end date.

How long your unit lasts, too, depends on how often you use it and for how long. If you have a unit with a 5000-hour battery, but you only use the monitor for two or three hours a week, the battery will last longer than if you work out every day while wearing the monitor. And of course, just because a monitor's battery needs changing doesn't mean the unit itself is done.

One more thing to remember: technology changes. The best chest heart rate monitor that connects up to a smartphone today, and gives a good performance, may have issues down the road. This is another thing you can ask the manufacturer or shop about before you pay for the heart rate monitor.
q:

Is there a way to clean my heart rate monitor?

a:

Yes, there is, and keeping the unit clean is important. It could even prevent the monitor from breaking down.

Use a dry, lint-free, soft cloth to wipe down the transmitter portion. Never use water, cleaning spray, rubbing alcohol or anything similar on the transmitter. A clean dry rag is more than enough.

You can place the strap in a solution of warm water with a small amount of mild detergent or soap. Let it soak for 15 minutes or so, then wring the strap out and leave it somewhere away from the sun to let it dry.
q:

How accurate are chest strap heart rate monitors?

a:

The chest heart rate monitor is, without a doubt, the most accurate device you can find on the market today. It will not be thrown off by sweat, wrist position, odd movements, or even skin pigmentation. The monitor will track your heart rate with the same effect throughout your whole session, and provide you with super-accurate results. The results are actually super close to the ones you can get when you hook yourself up on the EKG!
q:

How does a chest heart rate monitor work?

a:

A heart rate monitor has two parts that make it so accurate - a transmitter that sits on a belt, which is strapped around the chest, and a receiver that hugs your wrists.

In order for your heart to beat properly, an electrical signal has to be transmitted through the heart muscle to make it contract. This electrical signal can be detected through your skin. The transmitter, strapped around your chest, sits as close to your heart as possible and actually picks up this signal. This data is then transferred to the receiver on your wrist, which shows you your heart rate measured with the chest strap heart rate monitor.
Subscribe to our newsletter