Best Free Standing Punching Bags Reviewed
last updated
Oct 11, 2019
Punching bags are a popular option for home gym users. They are also popular for fitness classes because of their smaller size and portability.
Their ease of setup means that you don't have to worry about putting holes in the ceiling or contacting your landlord for permission to hang a chain. Freestanding bags also provide a greater striking surface than chain-hung bags, making them better for low strike training.
In this article, we zoom in on the seven best free standing punching bags on the current market. And we based our research on five specific areas of focus; adjustability, durability, materials, stability, and value.
In a Hurry? The test winner after 21 hrs of research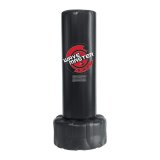 WaveMaster XXL Free Standing Punching Bag
Why is it better?
Large striking surface
High-density foam filler
Choice of colors
In a
Hurry? Editors choice: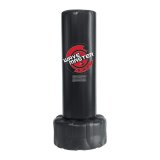 Test Winner: WaveMaster XXL Free Standing Punching Bag

37
Researched Sources
14
Reviews Considered
21
Hours Researching
16
Products Evaluated
Adjustability
Durability
Materials
Stability
Value
By Default
Best Freestanding Punching Bags
1

. WaveMaster XXL Free Standing Punching Bag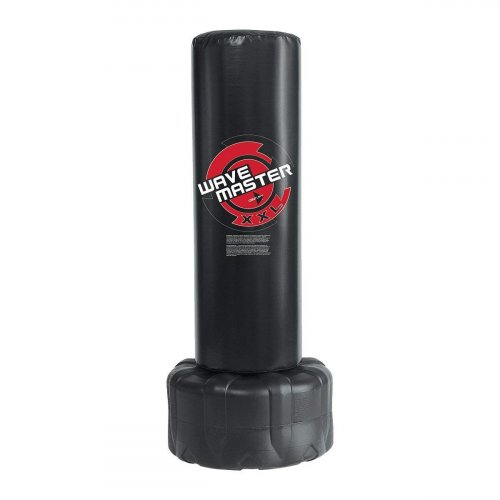 Large striking surface
High-density foam filler
Choice of colors
The Century Wavemaster XXL is a free standing bag that stands at 69 inches in height and has an 18-inch diameter.
Read more
Living up to its name, its size makes this bag the one with the largest surface striking area of any free standing punching bag on the current market - a key factor in our ranking it as Number One. This bag is filled with high-density foam filler which is excellent at absorbing impact and has a very good bounce back. The difference in responsiveness can be felt. In addition, this material will not sink the way that cloth filler tends to do. The exterior cover of the bag is made from hardy tear-resistant vinyl for a durable and strong synthetic surface. This bag makes a great companion to other strength training exercises too.
You have the option of choosing your Century Wavemaster XXL in either red, black or blue. The black base is very heavy, giving you confidence that it won't budge.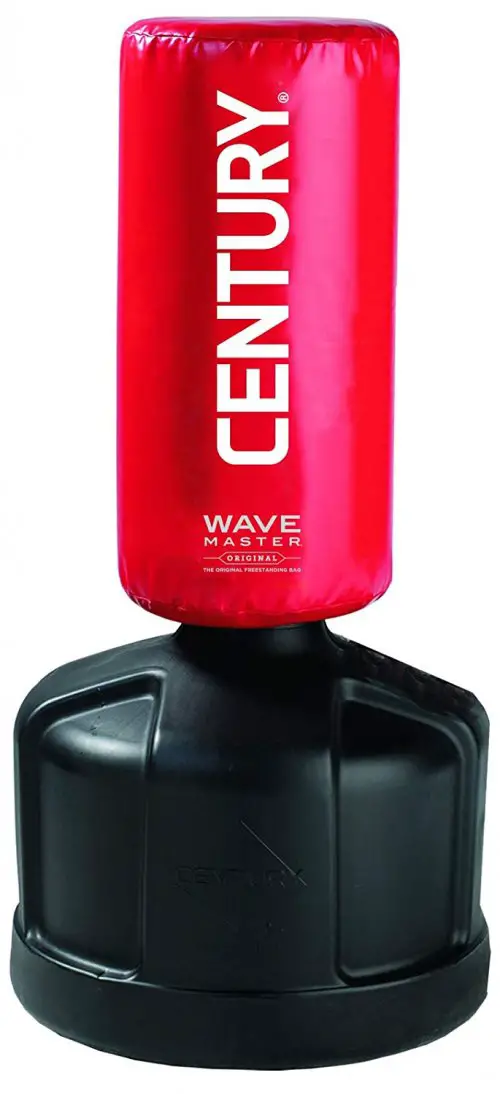 High-density foam
Height adjustable
Color options
The original Century Wavemaster is a pared-down version of the XXL version, however, it still provides you with a decent striking area.
Read more
Just like the XXL, it is filled with high-density foam which is very reflexive and impact absorbing. It feels much better against the hands than other filler materials. You get the ability to adjust the height on this unit, ranging from 47 to 68 inches. This makes it customizable to your specific height requirement as well as being adjustable for different class needs.
The Century Wavemaster Original also gives you the three color options of red, blue or black. The vinyl cover is strong and durable, but pretty tough on the skin. For this reason, you should wear gloves and footwear when training on this bag. There is not as much padding in this bag as many others on the market, so you really don't want to be hitting it with a cocked wrist, which you should never do anyway. So this bag is great for improving your form and technique.
This bag is not as big as others and is most ideal for shorter adults and children.
3

. Wavemaster Powerline Free Standing Punching Bag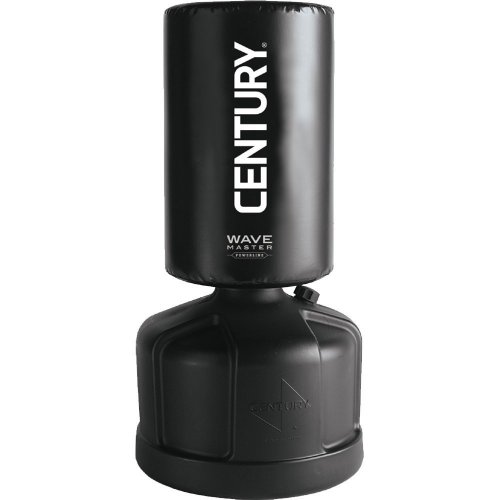 More internal padding than Original Wavemaster
Adjustable height
Large diameter
No wheels for portability
The Wavemaster Powerline is very similar to the original Wavemaster. The big difference is that the Powerline features a greater degree of the internal padding.
Read more
The powerline has a bigger diameter, which is 17.5 inches, compared to just 13 inches for the Original. Just like the original, the Powerline is adjustable, with a range of between 47 and 68 inches. It comes with a durable vinyl cover and high-density foam inner padding as well. This bag is ideal for people with strong kicks and punches, in order to take that force with more bounce back and less resistance. The added padding makes it a little easier on those new to boxing as well. Overall it makes a great addition to your at-home gym equipment.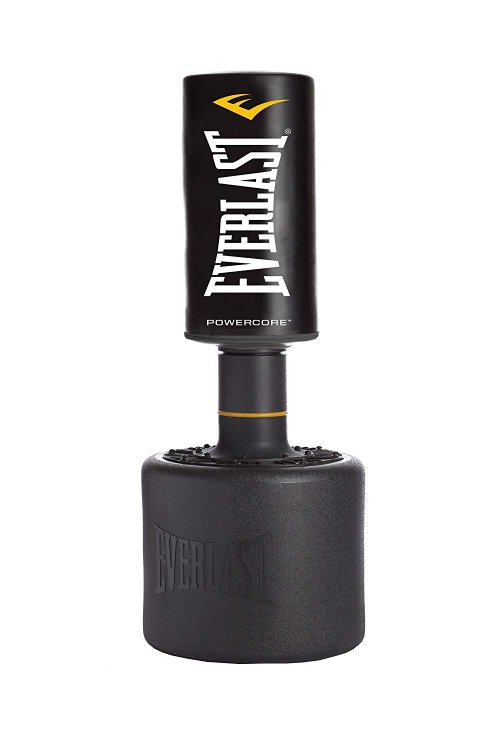 Great for all levels
Compact Base
Easily Portable
The Everlast Power Core is a heavier bag but designed to be easily moved around thanks to its nice compact base.
Read more
This bag is great for all levels of skill. The slim size of the base increases its portability, making it a good choice to use in gyms for fitness classes like kickboxing. This also makes it great for at-home use, so users can roll it away and out sight after working out.
The Power Core is filled with a tri-disc foam that offers boxers an increased dispersion of energy. The collars are power transfer rings, and they provide maximum hit absorption. So even the heaviest hitters can feel the recoil.
This is also a durable bag, thanks to the Everlast steel plate technology.
5

. Wavemaster Aerobic Free Standing Punching Bag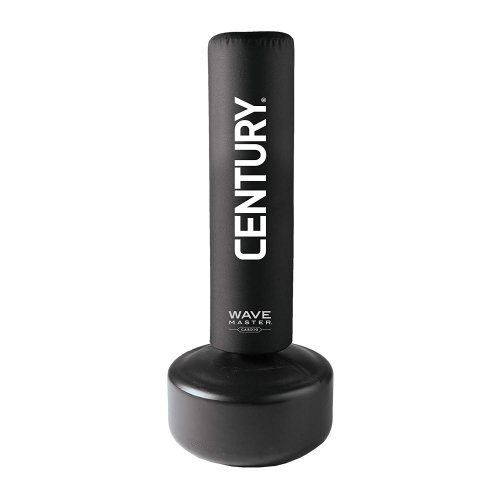 Great for speed training and cardio
Longer bag for more surface area
The rounded base for rolling
Not good for heavy-hitting
The Wavemaster Aerobic is another great bag by Century with a little longer bag that adjusts from 53.5" to 65.5".
Read more
This is an overall longer bag and lighter bag. The longer bag is ideal for a lower surface area to use for kicks and uppercuts. And the lightweight narrower shape is better for speed practice, accuracy training, and cardio workouts rather than absorbing the brute force of heavyweight hitting in your home gym.
The Aerobic also has a somewhat compact base to help with portability and ease of relocation. It's filled with high-density foam covered in a polyester case.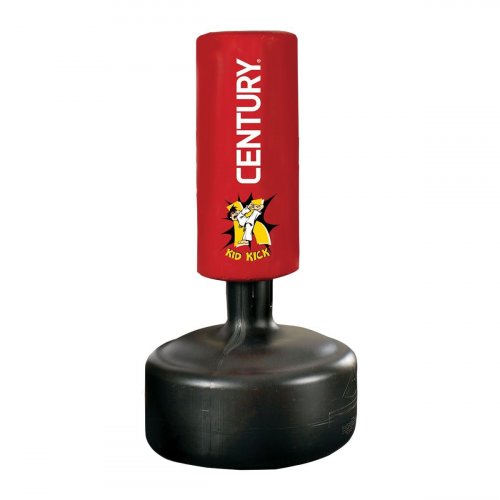 Specifically for kids
Adjustable from 37-52 inches
Low profile rounded base
A little noisy
Can't take too much strength
The Kid Kick Wavemaster is a free standing punching bag that is specifically designed for use by children. And it is the best kids' bag we found.
Read more
This is a great option for introducing children to martial arts and boxing. And to teach them basic self-defense and give them an outlet for all their energy.
The kid kick is an adjustable bag with four height settings, ranging from 37 to 52 inches, allowing it to grow with your child.
The weight of the bag is 170 pounds, making it hardy enough to take what the majority of kids can dish out. This bag has a durable, vinyl cover. The low profile rounded base will give you all the stability that you need. The low base is good for low kicks and those kids who are not very tall.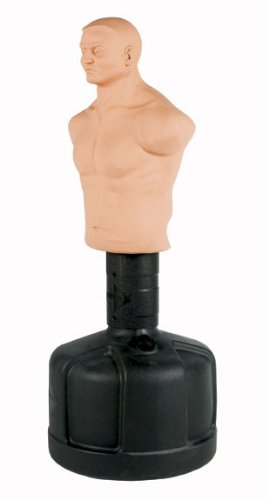 Human torso form
Height adjustable
Very durable
The Century Bob Body Opponent Training Bag is a unique human upper body form free standing punching bag. It is made from very durable plastisol and filled with high-density urethane foam.
Read more
You get a male torso and head so that you can pin-point your punches and kicks against a realistic target. This provides for more accurate hit placement and real-life boxing training. It also gives the user the benefit of having a human form target is that you are able to focus on the body's soft spots and pressure points.
This unit stands at a max height of 79 inches, making it one of the tallest, and weighs in at 270 pounds. The height settings are adjustable so you customize to your requirements. The base can be filled with either sand or water.
The body screws onto a plastic sleeve that fits over the base post.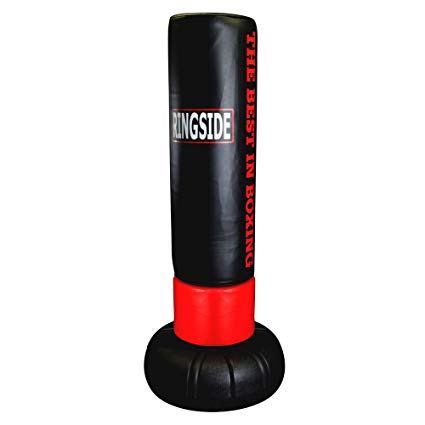 Great for opponent training
Easily portable
Smaller Size
Not a lot of surface area
The Tornado is a smaller sized bag from Ringside. The result is a faster bag in the free standing genre and a staple for any at home boxing gym.
Read more
The sheer size and design provide for a very real feel when it comes to more realistic opponent practice. And the unique coiled base gives it enough recoil to even feel more realistic for real opponent bounceback. It is created out of a solid core of foam covered in a durable synthetic case. The combination of solid foam and the outer fabric offers a great balance between shock absorption and resistance.
The base conveniently fills with water or sand for excellent stability.
9

. Versys Fight Simulator



Smaller base
Increased striking surface
Doubles as a grappling dummy
Too light for heavy punching and kicking
The Century Versys Fight Simulator has a much smaller base than most other free standing punching bags. This provides a much larger striking surface, especially when it comes to the lower portion of the bag.
Read more
This makes it ideal for low kicks as well as knee and elbow strikes. This bag weighs only 110 pounds, which is considerably lighter than most other free standing bags. That makes it less able to handle heavy power workouts. But rather, it is designed with a focus on cardio and speed workouts to compliment a CrossFit routine. This bag doubles as a grappling dummy. The lighter weight means it can be tossed and the floor and used for practicing your pounding technique. It is made from thick foam and has an 18.75-inch diameter. Easy to move around, and easy to store.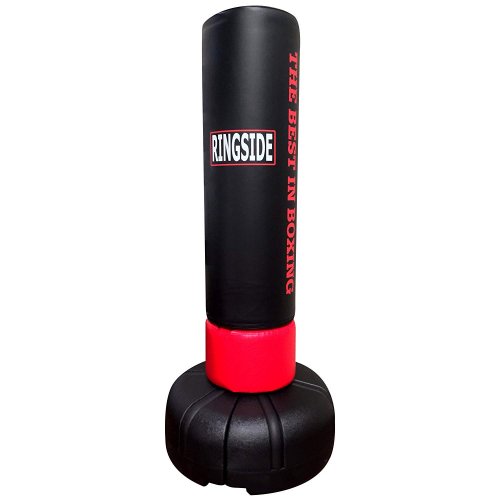 Great for tall users
Solid base
Large surface area
The Ringside Elite free standing punching bag is a taller bag that is not adjustable. It's great for taller users and martial artists and fighters with exceptionally high kick ranges.
Read more
This bag stands at 6' 4" in height, making it the highest. The outer layer is made of high quality of synthetic leather that will withstand the punishment of heavy training. The base is very solid and can be filled with up to 270 pounds of water or sand. This ensures that the bag will remain stable during your boxing workout. This is an affordable, versatile bag that can be used for all boxing and MMA training purposes. However, it's the sheer size and weight make it the least friendly for portability.
Criteria Used for Evaluation


Adjustability
Adjustability provides the user with customizable training
Free standing punching bags are often set sizes, weights, and heights. But free standing punching bags should be set to a similar proportional height to the user. This allows for more accurate precision and a variation in technique with boxing practice. Some are fixed and not adjustable but have longer surface areas so users have a surface area suitable for their various heights. But many come adjustable for height, and some even offer adjustability with bag fill density weight.


Durability
Durability extends the lifetime of a product
Punching bags literally take a beating. So it is especially important for these pieces of equipment to be well made since they take so much constant stress. When researching these products for their level of durability, we looked at the strength of materials, quality of construction, and how well and long it holds up with wear and tear.


Materials
Materials improve product quality
We investigated the quality of materials for each product in-depth. The strength of the bag fabric, how well it deals with moisture, and how the fabric feels for the user when they hit it, are equally important for punching bags. The quality of the material being used to fill the bag is also important for both durability and how well it absorbs shock. And finally, the base of the punching bag should be made out of thick heavy-duty material to withstand the intensity of impact.


Stability
Stability enhances the overall performance of a free standing punching bag
The best free standing punching bags must have a high level of stability in order to be effective for their training purpose. They need to be stable to keep from falling over and stable enough not to move around on the floor with each hit. The initial base weight will have an effect, the weight of the bag itself, and also how much sand or water can be added to the base to keep it weighed down from moving.


Value
Value helps consumers save money
As with most at-home gym products, expensive doesn't always equal product quality. So a higher price tag doesn't mean it is the best.
When considering the overall value of the punching bags researched, we looked at the price of the product and how long the product is expected to last and hold up. With that information, we were able to arrive at a general expectation of how much use the consumer would get out of the product before it began to wear. And that's how we determined the value of each bag on the list.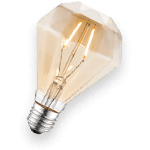 Bag and Base Weight
You need to get a good balance between the weight of the bag and the base. If one of them is too light, the whole thing may fall over, which will be very annoying when you are trying to get a fluidity going in your workout. On the other hand, if it is too heavy, the bag will not provide you with the reflex and bounce back that you need.
Your bag should weigh about half of your body weight. So, if you weigh 180 pounds, you should look for a bag that weighs 90 pounds.
Portability
A great advantage of the free standing punching bag is that is can be moved around. IT can be moved into place for use, and then moved back into a corner or closet for storage so as not to be in the way of space. For that reason, you should look for a freestanding bag that allows for ease of movement. That means that it should have transport wheels so that you can easily move it out of the way when you are finished with your workout.
Frequently Asked Questions
q:

Is there a benefit to a freestanding bag compared to a hanging bag?

a:

A major advantage of the freestanding punching bag is that you do not have to go to the trouble of setting it up. No need to put up a chain and hook up the bag to it. No need to find a good ceiling and the heavy-duty hardware wall to install it. You simply roll it into place, fill the base with sand or water and you're ready to go. A lot of people do not have access to an overhead beam to hang a bag from. Others are in rented accommodation and are not permitted to make holes in the ceiling. For these situations, the freestanding punching bag is the answer.

And the freestanding punching bag has space benefits over the hanging bag, largely because of its ability to be moved. A hanging bag is there for the duration, whereas a freestanding one can be used and then stored away. That being said, there is quite a space requirement for this bag. You will need an area of around 6-7 feet to operate effectively.

You will also save money in the long run if you opt for a free-standing punching bag because you will not have to pay for mounting hardware.
q:

What are the best materials for punching bags?

a:

The ideal exterior material for a punching bag is leather, but this is cost-prohibitive for most people. The next best option is synthetic leather or durable vinyl. The least favored material type is canvas which tends to sweat and is the roughest on your hands and feet. Canvas can also tend to punch up and produce soft and heavy spots on the bag, which you do not want.

There are all manner of interior fillings for punching bags, ranging from clothes to cotton and high-density foam. High-density foam is preferred as it will have the best shock absorbency. You will also want to look for a bag that has a zipper on the top that allows you to add or take away filling to suit your requirements.
q:

What is a freestanding bag used for?

a:

The freestanding punching bag is a longer bag than the traditional chain hung bag. This allows for more versatile training. It's great to use while training for Muay Thai, JiuJitsu, and other martial arts disciplines. It's also an excellent choice to use for traditional boxing training, by yourself or with others. These are also great to use in kickboxing classes. The freestanding punching bag is also a more versatile cardio training tool because you can make better use of your legs.
q:

What is the ideal height for a freestanding punching bag?

a:

Ideally, you will want your free standing punching bag to be adjustable in terms of height. This will allow you to customize it for your specific requirements. Beyond that, it will allow the bag to be used by all of the members of your family. If it's not adjustable, it's suggested to make sure the bag is no more than head high for traditional boxing practice.
q:

How do freestanding punching bags stay in place?

a:

Some bags come pre-filled but others need to be filled when you get them. That means that you will need to put either sand or water into the base before you can use the punching bag. The weight of the water or sand keeps the punching bag base secure. Even with the most intense impact, they are designed to literally take a beating without moving. They will have a small opening at some point on the base to accommodate the fill. Check reviews to see how easy this fill process is.