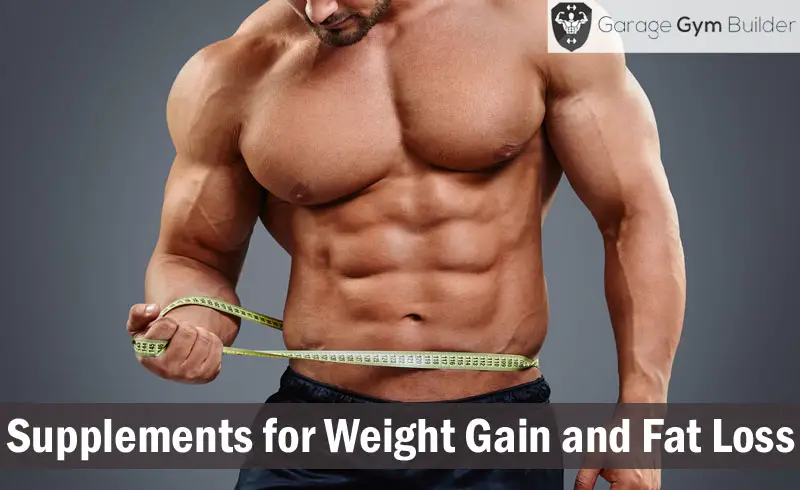 Best Supplements for Weight Gain and Fat Loss 2018
Gaining muscle mass and losing fat at the same time is hard work. As well as training heavy and eating smart, you have to get your supplementation plan on point. Yet, finding the best supplements for muscle gain and fat loss is tricky. In this article, we review the 10 top supplements on the 2018 market to build muscle while burning fat.
The Top 10 at a Glance

The best supplement for weight loss and lean muscle gain is Labrada Nutrition Lean Body Protein Shake, with its 40 grams of protein, zero sugars and more than 20 vitamins and minerals. The second best fat loss muscle supplement is RARI Nutrition Lean Genes, which delivers a jitter free fat loss experience by way of such ingredients as bitter orange. Our third favorite weight loss and muscle gain pill is Primal Muscle Primal Ripped, which is a powerful metabolism booster that delivers a great energy surge.
To make it easier for you to compare the best supplements for cutting fat and building muscle, we have rated the top 10 on the basis of price and effectiveness and then given an overall rating for each product out of 5. In the next section, we provide an in depth review of each supplement.
Labrada Nutrition Lean Body Protein Shake provides a great combination of fat loss and weight gain. It provides a massive 40 grams of quality whey protein to build lean muscle mass. There is zero sugar to go with that protein, so you don't have to worry about gaining fat with your muscle gains. This RTD product tastes like a frothy milkshake and comes in a range of great flavors.
Labrada's Lean Body Protein Shake is fortified with 22 vitamins and minerals, providing you with a complete meal in a shake. With increasing protein levels being a great way to shed body fat, this product is the ideal muscle gain / fat loss solution. There is zero gluten and lactose in this product.
40 grams of protein
Zero sugar
22 vitamins and minerals
RARI Nutrition Lean Genes contains 100% natural thermogenic aids to boost your body's ability to burn fat and boost the metabolism. It will also suppress the appetite. A big difference between Lean Genes and many competing brands is that you don't get the jitters or shakes due to overuse of stimulant type ingredients in the product. This product includes special blends designed to enhance your mood and mental focus.
RARI Nutrition Lean Genes contains such scientifically proven ingredients as citrus aurantium (bitter orange), garcinia cambogia, caffeine anhydrous as well as vitamins B-6 and B-12 for enhanced energy levels. The product is manufactured in the USA in a GMP certified facilities. It comes with a 100% money back guarantee.
No jitters
Bitter Orange
Made in USA
A little light on caffeine
Primal Muscle Primal Ripped is a premium fat burning supplement that allows you to get ripped while maintaining muscle mass. It energizes your metabolism and boosts your energy levels, while suppressing the appetite. Primal Ripped can give you the added power surge to push you past your fat loss barriers to take your physique to the next level. It targets that stubborn body fat around the belly and your love handles.
Primal Muscle Primal Ripped uses a safe, but extremely powerful combination of caffeine, green tea extract, and lipogenics to prime your body for fat loss while preserving muscle mass. The energy boost that you'll get pre workout will fuel you through a high powered training session to help you getting leaner and bigger faster.
Powerful metabolism booster
Lipogenics
Energy booster
Label contains cancer warning
Sheer Thermo Thermogenic fat burner is a powerful fat loss stimulant that uses clinically effective doses of 7 proven ingredients. The synergistic combination of the ingredients work together to burn fat naturally. It works with the body's metabolic processes to enhance lipolysis. All ingredients are completely natural, including green tea catechins that attack stubborn belly fat while reducing food cravings. Yohimbine increases energy for exercise naturally, while also boosting your sex drive.
Sheer Thermo Thermogenic fat burner is boosted with Forskolin, which will protect your precious muscle mass as you are stripping off excess body fat. Hordenine will help to maintain your adrenaline levels as you work out. It will also reduce appetite and decrease cravings. This product is made in the United States.
7 scientific ingredients
Boosts sex drive
Decreases cravings
Fat Burner Thermo + is a powerful thermogenic fat destroying supplement that is designed to get you as ripped as possible while preserving your muscle mass. This product contains no mysterious proprietary blends, with all ingredients being scientifically validated. L-Carnitine is included to preserve muscle mass while boosting energy and fat loss. Green tea extract is a proven fat booster and, when combined with bitter orange extract, gives you the extra weight loss results you need.
Fat Burner Thermo + provides a full 60 servings per container, with each serving coming in at under a dollar. That makes it great value. You even get a full 90 day guarantee. It works equally well for both men and women.
L-Carnitine
60 servings per bottle
90 day guarantee
Legion Forge is a fat burner that targets the stubborn fat around your belly and love handles. This product is specifically designed to accelerate fat loss while exercising in a fasted state. Legion Forge will maximise the fat burn while preserving your muscle mass. In addition, Forge delivers an energy surge that will power you through your workouts. There is no caffeine in this product, so you don't have to worry about any jittery response.
Legion Forge contains clinically dosed levels of scientific ingredients. These include Yohimbine to burn fat faster by blocking the activity of alpha receptors. Brain function is boosted by way of CDP-Choline which improves the functioning of the brain. It is naturally sweetened and flavored.
Designed for fasted state training
Preserves muscle mass
Boosts brain functioning
Body Fortress Super Advanced Whey is a super protein supplement that delivers a whopping 60 grams of protein to allow you to build lean mass. Upping your protein is a smart move when you want to lose fat and this fat free supplement will allow you to burn fat while building muscle. Each serving contains 8 grams of branch chain amino acids, to fast track essential amino acids to your training muscles.
Body Fortress Super Advanced Whey uses 100% whey protein powder to deliver the protein to your working muscles in the fastest way possible. This product is manufactured in the USA in a GMP authorized facility. It mixes easily in water or milk and comes in a tasty chocolate flavor.
60 grams of protein per serve
8 grams of BCAAs
100% whey protein
Melt Thermogenic Fat Burner is a fat burning capsule that delivers a powerful thermogenic effect on your body that will boost your metabolism and stimulate your energy for faster fat burning. Unlike many competing products, there are no jittery after effects with this product. It is GMP certified and manufactured by an FDA regulated facility in the United States.
Melt Thermogenic Fat Burner acts as a fat burner, a metabolism booster, an appetite suppressant and an energy booster all in one. The appetite suppressant nature of this product allows you to lose weight without suffering from extreme hunger. You'll also enjoy a natural, sustained surge of energy to power you through your workouts when you take Melt Thermogenic Fat Burner.
Excess skin after weight loss is big problem. Find the solution with our Best Skin Tightening Supplements to Help Get Rid of Excess Skin After Weight Loss Review 2018 mega article.
Powerful thermogenic effect
No jittery effects
Energy booster
El Diablo Energy Gold is a premium energy and cognitive enhancement fat loss product. It delivers a powerful surge to your metabolism and will stimulate your energy levels without the unnatural jittery effects that you get with other products. This product is packed with antioxidants, as well as B vitamins and cognitive supporting amino acids. All of the ingredients are clinically dosed and scientifically supported to boost fat burn while maintaining muscle mass.
El Diablo Energy Gold's ingredient profile includes l-glutamine, green tea extract, black tea extract, raspberry ketones, cinnamon bark extract, bitter orange extract, caffeine anhydrous, conjugated linoleic acid (CLA), l-arginine, l-tyrosine and 5-HTP. The product is manufactured in a Fortune 500 lab within the United States and comes with a money back guarantee.
Discover the best Pre-Workout Supplements on the market with our Best Pre-Workout Supplements Review 2018 - we've rated the best of the best.
Jitter free stimulant effect
Antioxidants
Glutamine
Old School Labs Vintage Burn is a muscle preserving fat burner designed for both men and women. It contains a unique blend of scientifically proven ingredients that are designed to boost fat loss while preserving muscle tissue. It will also enhance mental focus and provide you with a huge energy surge for your workouts. The natural and safe ingredients contained in Vintage Burn have been hand selected for their purity and potency.
Old School Labs Vintage Burn has been especially formulated to spare muscle and strength while burning fat. This product also contains a special blend designed to enhance your cognitive ability, so that you can focus like a laser on the workouts that will get you super shredded.
Find the best workout supplements across all categories with our Best Exercise Supplement Reviews 2018 super feature.
Great energy boost
Mental focus enhanced
Preserves muscle
Does not suppress appetite
---