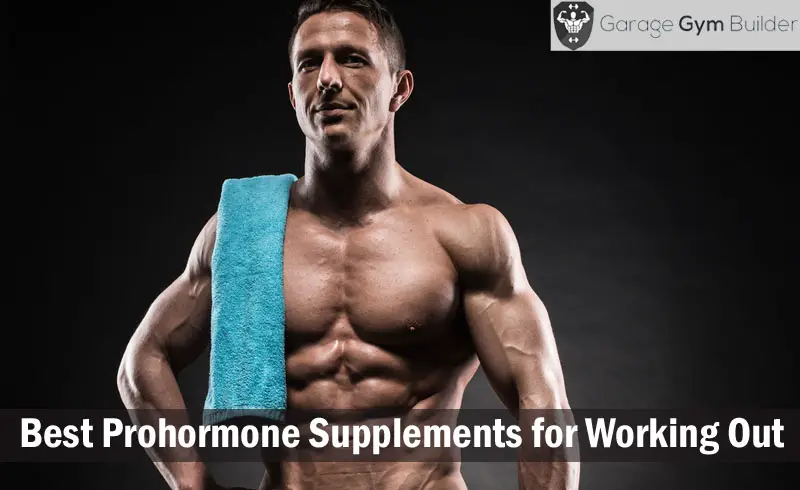 Best Prohormone Supplements for Working Out Review 2018
Updated December 13, 2018
Prohormones are chemicals that have the ability to turn into hormones in the body and that promote muscle growth. Many prohormones are illegal in the United States. Unfortunately, those that are still available don't contain the powerful testosterone precursors that were contained in now banned substances. We've researched the market to discover the top 9 muscle building prohormones on the 2018 market.
Top 9 Pro Hormone Supplements at a Glance
PCT Power is a 3-in-1 post cycle therapy formula that will help you to maintain your post cycle gains by restoring your testosterone levels to normal, normalize your hormones and rejuvenate your liver. It will also reduce estrogen levels. This all-natural compound is the perfect complement to your cycle, allowing you to quality muscle without increasing estrogen levels. It also includes a liver support formula.
Estro control
Test booster
Liver support
MRM Micronized DHEA is a testosterone boosting supplement that contains Dehydroepiandrosterone (DHEA). DHEA is a hormone that converts into testosterone in the body.
Boosting your levels has proven to be a potent muscle building aid. MRM Micronized DHEA product contains no artificial ingredients. It is micronized for faster absorption into the bloodstream.
Boosts testosterone levels
Enhances anabolic effect
Micronized
Angry Supps Test Booster is a powerful testosterone and growth hormone booster, estrogen blocker and anabolic enhancer. Each capsule bottle contains a powerful blend of such ingredients as fenugreek, d-aspartic acid, inc and magnesium. It acts to increase protein synthesis leading to increased muscle mass and strength gains. As well as boosting anabolic potential and circulating levels of free testosterone, this product will also increase workout pump and vascularity.
Boosts growth hormone
Promotes vascularity
Highly anabolic
Increases protein synthesis
Real Muscle 7-in-1 is a powerful blend of amino acids, vitamins and prohormones designed to work through a number of mechanisms to boost muscle growth. The synergistic blend of ingredients combine to boost levels of nitric oxide, improve vascularity and increase muscle size and strength.
Real Muscle 7-in-1 also includes arginase inhibitors. This one product contains everything you need to have an awesome workout and then to recover, rebuild and grow effectively post workout.
Boosts N.O. levels
Improves vascularity
Arginase inhibitor
Pump T testosterone Booster will provide you with an immediate explosive power surge. Extracted from a South American plant, this compound will keep your body in a constant anabolic state. You'll get a noticeable boost to your strength, endurance and testosterone levels. This product will also give you a great training pump.
Boosts "T" levels
Lowers estrogen
Enhances strength
T6 Testosterone Booster contains alpha muscle testosterone booster pills. It contains epicatechin to build strength, ksm-66 and ashwagandha to reduce stress and laxosterone to increase stamina. It also contains magnesium and epicatechin. This is a scientifically muscle builder for men.
Boosts testosterone
Builds strength
Increases endurance
Iron Labs Cycle Support is a blend of key ingredients designed to boost your body's muscle building potential. It includes a range of prohormones, vitamins, and herbal extracts that combine to produce a powerful anabolic effect. These ingredients include N-Acetyl-L-Cystenine, Milk Thistle, Hawthorn Berry, Saw Palmetto, Celery Seed Extract, Grape Seed Extract and Vitamin C.
Discover the best supps across all categories with our All In One Workout Enhancers 2018 super feature.
Includes herbal extracts
N-Acetyl-L-Cystenine
Powerful anabolic effect
Dosages of ingredients lower than previous version
DHEA Superior Labs is a pure dehydroepiandrosterone product that is designed to boost the levels of free testosterone circulating throughout your body. As we age our natural production of DHEA, along with testosterone, diminishes. Taking DHEA Support will allow you to lift the levels of both back to what they were in your early 20's. As well as reversing this muscle diminishing effect of aging, this product will improve cognitive functioning, and boost the immune system.
Get stronger in the gym by taking the right supps. Check out our Best Supplements for Muscle Strength Review 2018 feature article.
DHEA booster
Improves Testosterone levels
Boosts immunity
House of Muscle DHEA is the most powerful DHEA product we have found, containing 300 mg per serve. This is the clinically recommended dosage for optimal benefits. It will allow you to replenish your age diminished levels of both DHEA and testosterone. This will restore your hormonal balance and provide a strong anabolic environment from which to build muscle.
300 ng of DHEA per serve
Boosts testosterone levels
Builds muscle
Conclusion
The premiere prohormone on the current market is PCT Power, providing a potent anabolic effect while limiting estrogen activity. A great DHEA supp is MRM Micronized DHEA, which boosts testosterone levels and is micronized for faster delivery. Our favorite growth hormone booster is Angry Supps Test Booster, which boosts growth hormone and testosterone while also promoting vascularity
---