Jump Rope for Cardio: Everything you should know
last updated:
Jan 17, 2020
There are a whole lot of different options when it comes to getting in a great cardio workout. Some of them can cost quite a lot of money. One of the most effective happens to be among the cheapest – jumping rope.
You would think there is not much to think about when buying a jump rope to enhance cardio. But you would be wrong. There are inferior ropes on the market you want to avoid. They are not only likely to prove pretty useless functionally, but they are also potentially dangerous. In this article, we will discuss our ten best choices for quality and more information about choosing the best jumping rope.
This is the best product on our list that is currently in stock: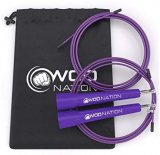 WOD Nation Speed
Why is it better?
4 ball bearings in each handle
Steel cable
Tapered handles
In a
Hurry? Editors choice: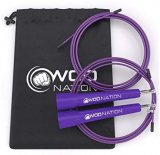 Test Winner: WOD Nation Speed

22
Researched Sources
10k
Reviews Considered
26
Hours Researching
14
Products Evaluated
Features
Effectiveness
Durability
Ease of Use
Portability
By Default
10 Best Jump Ropes For Cardio
Criteria Used for Evaluation

Features
When it comes to features for jump ropes, we are not talking about the kind the kids use on the playground. These ropes are specifically designed to enhance your workout.
The 'rope' is actually often a cable. They are steel cables which are coated with durable softer material. They are specifically designed not to tangle while you are using them. They are also designed to be adjustable so you can make it the perfect length to go with your body height.
The handles are specialized too. They need to be wide enough to fit your hand. Some are tapered to help you keep your grip. They are ergonomic to fit your hand and cushioned with foam to help keep your hands comfortable during a long, intense workout.
These ropes also have ball bearings which help the rope to spin with the handles so you can smooth movement when you are speed jumping or working on your Double Unders.
Most of them come with a carrying case so you can bring the rope with you. Many of them come with instruction videos to help you with your techniques or show you new exercises. They also come in many different colors whether you want something basic like black or something brighter and more fun. These are not the playground jump ropes you remember.

Effectiveness
Jump ropes are effective in so many different ways. They give you a fantastic cardio workout and help improve your coordination and focus. It is a fantastic aerobic exercise and will help you burn calories faster than most exercises.
These ropes have some special features which make them effective. They are designed to fit your body by having handles which are specifically designed to keep your hands comfortable during a lengthy workout. The cables are designed to be tangle-free and able to be adjusted to the perfect length so you can get the best workout.
Many of these jumping ropes come with instruction manuals or even training videos which will help you to learn techniques and exercises to get the most out of your workout.

Durability
You need a jumping rope for your workout which is durable, one which is stand up to your intense workouts as you work to improve your health.
The handles are durable, made of materials like nylon resin which will last. They are covered with durable foam to protect your hands. This foam should be high density and affixed to the handle firmly so it will last.
The cables are sturdy steel and coated with a durable material like nylon or PVC which will stand up to years of use. It should also be designed not to bend or twist easily. A lot of this is done with ball bearings which should also be durable, even encased to keep them protected and able to last through years of workouts.

Ease of Use
These jump ropes are designed to be easier to use. The handles are specially designed to be easy on your hands with memory foam handles and ergonomic designs which help to keep your hands comfortable which you are exercising.
The cables are designed to be easily adjustable so you can use the length which is perfect for your body height. They are constructed in a way which will keep them from tangling or twisting which interrupts your workout and causes frustration.
The bearings in the handles make the cable turn easily so you can have a smooth workout, even when you are speed jumping. You can be confident that your jump rope is going to work with your body movements and let you focus on your cardio and exercise instead of fighting with it.
Most of these jump ropes also come with instructions and training videos which will help you learn the right techniques and exercises to get the results you are working towards.

Portability
Jump ropes are, by their general nature, portable but you still want to take a look at your choices. If you plan to take your rope with you to the gym or to your office, you need one which is not going to get kinked or twisted out of shape when you put it in your gym bag. It also needs to be designed so that once it is rolled up, it will come easily unrolled when you are ready to use it and not have issues keeping its shape.
Many of these ropes come with handy carrying bags as well which is very convenient because you put it in the bag, you slip that into your gym bag, and you do not have to worry about the rope getting all tangled up in your other belongings in the gym bag. That is very handy.
Expert Interviews & Opinions
Most Important Criteria
(According to our experts opinion)
Experts Opinion
Editors Opinion
Users Opinion
By Default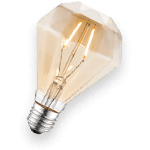 Learning How To Jump
In order to get the most out of your aerobic exercise, it is important to make sure you are jumping properly. You do not want to injure yourself or develop stress fractures. When you are jumping, you should be sure to propel yourself with your hips, knees, calves, and ankles. Push the balls of your feet down into the floor as you jump, with your toes down when you leave the ground. When you are landing back on the floor, the goal is to land softly and make only brief contact with the ground. Focus on dispersing the shock through your legs. Your heels should not even touch the ground.
Working On Double Unders
The first mistake an athlete makes when they are trying to learn how to tackle Double Unders is they swing their entire arms in a circle like a giant windmill. Using your whole arm is an inefficient technique which is just going to exhaust you quicker. Make sure that you are using a speed rope and remember, the best technique is in using the wrists. You should also start out by jumping a little bit higher than you think you need to so that you know that you can clear the rope without tripping. You will not want to get into this kind of habit, but it will help you to get a good feel for how to swing the rope so it goes under you twice. You will quickly discover it's not nearly as hard as you might think.
Other Factors to Consider

Adjustability
There are not too many things to talk about when it comes to adjustability. What is adjustable on the jump ropes is the length. You are able to adjust the length of the rope so that it is perfect for a user which is your height. You just pull it to the right length, tighten it down and cut off the excess. They make it very simple.
If you have a rope which is used by multiple users, like exercise partners or family members you might want to look for one which is continuously adjustable. You measure it for the right length, tighten it down and then tuck the excess into the handle. Then the next person can repeat the process for their size.

Materials
The materials used for these jumping ropes are designed for durability. Some of the handles are made of nylon resin which is constructed into the perfect shape to fit your hand and be ergonomic. There are other materials like thermoplastic polyurethane and other types of plastic which are strong to withstand your workouts as well as being durable to last a long time.
Most of the "ropes" are actually made of a steel cable which is coated with nylon or PVC. This makes them durable and also gives a good weight so the swing will be smooth when you are jumping. The other thing which makes the rope swing smoothly and evenly are the ball bearings at the ends of the cable. These are made of smooth liquid steel or other sturdy material and are often encased for extra protection.
Frequently Asked Questions
q:

What are the benefits of jumping rope?

a:

There are so many benefits it would be hard to list them all. Jumping rope will help you burn calories, about 14 calories a minute in fact. It will also help the EPOC effect kick in, which basically means your metabolism will speed up for around 24 hours after your workout is over. A jump rope is the ultimate in portable workouts. It is so easy to bring with you. It fits in great with weight training and so many other workouts. It will also improve your coordination, balance, and sense of bodily awareness.
q:

Are weighted ropes better than regular ropes?

a:

Weighted ropes are especially good for beginners. A light rope might cause a lot more trip-ups and mistakes which will get you frustrated and make you feel uncoordinated. A heavier rope will help you slow down on your rotations and it will become much easier to time your jumps. If you use a heavier rope you will also amplify all of the fitness benefits you are getting. Your body will work harder to swing the rope and more muscles will be engaged. You will also end up burning more calories.
q:

How can I add jump roping to my fitness routine?

a:

You can use jump roping as your warm-up before you get ready to exercise. You could also use it at the end of your routine as your finisher. You can use a light rope to work on your weight loss goals or use your heavy rope to work on strength goals.
q:

Is rope jumping cardio?

a:

Yes, it is definitely a great cardio exercise. The boxers in the old days knew what they were doing. If you jump rope for just ten minutes, you will get that heart pumping and you will burn as many calories as you would if you were jogging at a good pace.
q:

Is skipping good for burning fat?

a:

When you jump rope you are working out your whole body, so you will burn plenty of calories in a short amount of time. It will not necessarily burn fat in itself, but with a good diet and as part of a healthy exercise program, it will definitely help.
Subscribe to our newsletter