Top 10 Balance Boards Reviewed and Rated
last updated:
Feb 11, 2020
Fitness experts have known for decades how important balance is to overall health and body wellness. From board sports to fitness, to injury rehabilitation, people everywhere are becoming increasingly aware of the benefits of including exercises and tools to improve balance and overall awareness of the body's position in space. To meet the need, balance boards have begun flooding the market. Some have been around for a long time, while others are innovative additions to the balance board market. This list gives you an in-depth breakdown of the best balance boards out there. We factored in value, ease of use, versatility, durability, and portability.
In a Hurry? The test winner after 16 hrs of research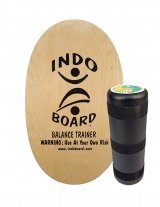 Indo Board Original
Why is it better?
Easy to use and simple design
Largest deck platform
Includes an instructional video
Durable and superior craftsmanship
Can be used on many different surfaces in a variety of ways
Great for all levels of balance training
44
Researched Sources
8k
Reviews Considered
16
Hours Researching
14
Products Evaluated
Durability
Ease of Use
Portability
Value
Versatility
By Default
10 Best Balance Boards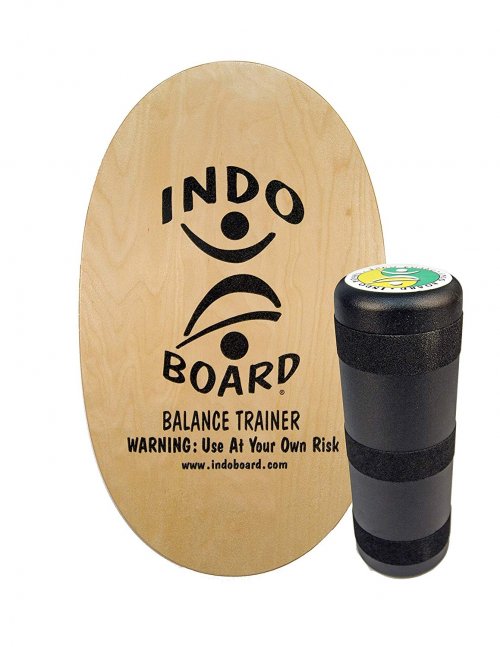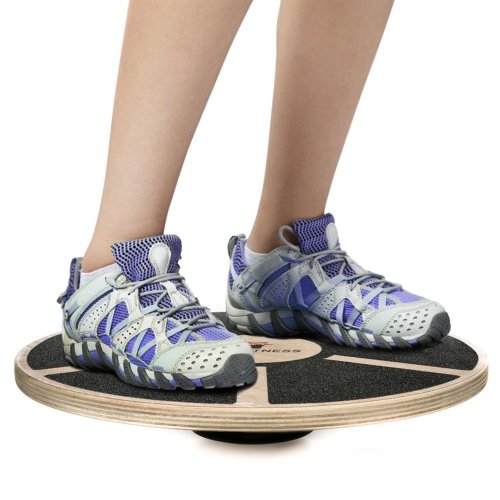 Easy to use and simple design
Largest deck platform
Includes an instructional video
Durable and superior craftsmanship
Can be used on many different surfaces in a variety of ways
Great for all levels of balance training
Expensive price point
Not easy to transport
The Indo Board is the leading market brand of balance boards. The deck is 30 inches by 18 inches and comes with a 6.5-inch plastic cylindrical roller.
Read more
The Indo Board was originally designed for surfers to train outside of the water. But it was quickly recognized for its versatility and wide range of training uses. In addition to being the leading board for balancing exercises, it is also a great leg strengthener, core stabilizer, and fun addition to use as a prop for working out. It provides a step up in challenge when it comes to balancing.
The challenge element comes from the size of the board in comparison to the base and because the base is not attached. The user balances on the deck by distributing the weight from side to side of the roller. As the user moves, the base moves as well. It is great for beginners, but even the most advanced users can explore more challenging exercises with it as well. This makes it one of the best balance boards for all levels.
The deck of the Indo Board mimics the shape of a surfboard. It has the most surface area of all the other balancer boards on this list. Unlike other models, the roller on the Indo Board works equally well on a variety surface.
The Balance board is an extremely durable board that will be able to handle all sorts of rough treatment. The hardwood deck carries a non-slip coating and the plastic roller is nearly indestructible.
The Indo has a range of price points on their boards, but the Original is the most cost-effective. It is among the most expensive board out there, but it comes from the most established and renowned company in the Balance Board market. That's why action and board sport enthusiasts everywhere have trusted this brand for decades.
2

. Thera-Band Rocker Board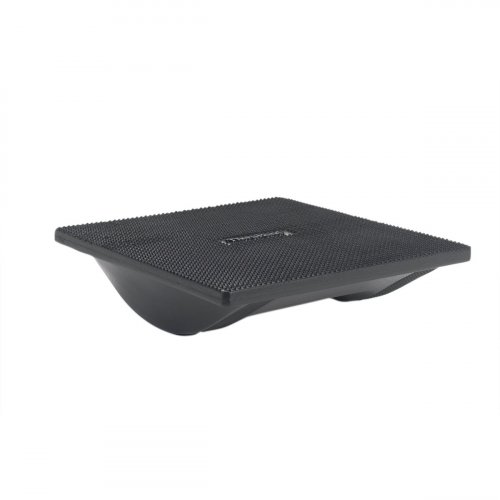 Sturdy and durable construction
Great balancer for beginners and injury rehab
Affordable entry-level balancer
Limited use for advanced balancing exercises
The ridged surface can be uncomfortable for hands
The Theraband Rocker Board is a 3.5" flat based square board with a connected rocker base. It provides the user with a 30-degree angle of deflection in either direction. It is made from heavy-duty molded plastic and comes with a tactile surface to add underfoot comfort.
Read more
The Therabrand Rocker board is targeted towards use within fitness and rehabilitation environments. The small size is ideal for using to intensify many exercises like push-ups, calisthenics, or hand balancing. It can also be used for those rehabbing from injury as simple to use the device for regaining balance and mobility.
It is a great option for beginners as it allows you to work out through a single plane of instability at a time. But it can be limiting for those who are more advanced with their balancing regime.
It is crafted out of extremely rugged polyethylene, making it one solid and durable unit. The surface features a molded and ridged surface allowing for optimal grip even without shoes. A slight disadvantage to this, however, is that the grooves on the surface make hand placement on moves such as push-ups a little uncomfortable.
3

. Yes4All Wobble Balance Board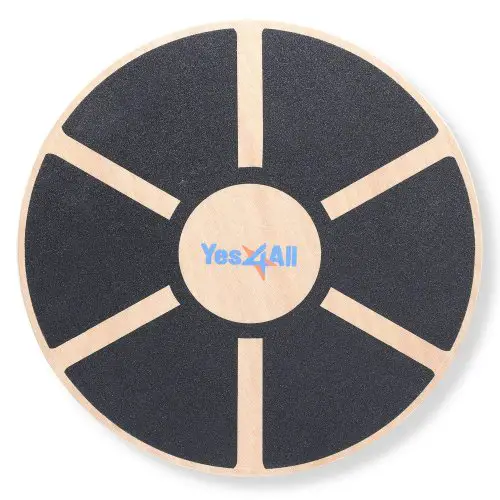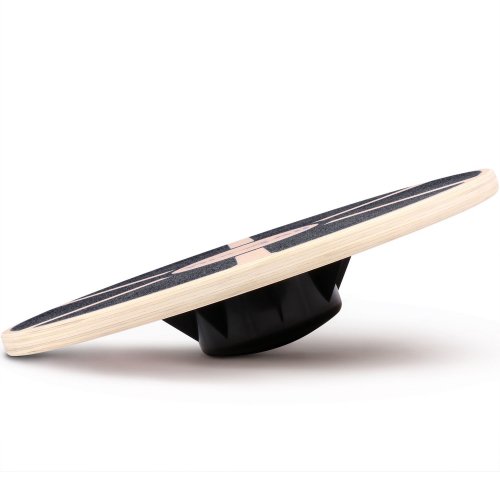 Great for beginners and intermediate users
360 degrees of rotation
Small size for ease of travel
Doesn't provide enough challenge for advanced users
The Yes4All Wobble Balance Board is a durable and simple choice for beginners and intermediate users.
Read more
The Yes4All Wobble Balance Board is made of a 15.75" in diameter deck crafted from very durable plywood with soft grip tape on the surface for added traction. It has a maximum user weight of 300 pounds and tilts to a maximum of 15 degrees in all directions. Unlike most other balance boards on the market that only tilt from side to side, the Yes4All actually rotates all the way around for 360 degrees of training potential.
The board is also among the best-priced balance boards on the market and easy to travel with. The Yes4All balance board is a great option for getting good value for money.
4

. Fitter First 20" Wobble Board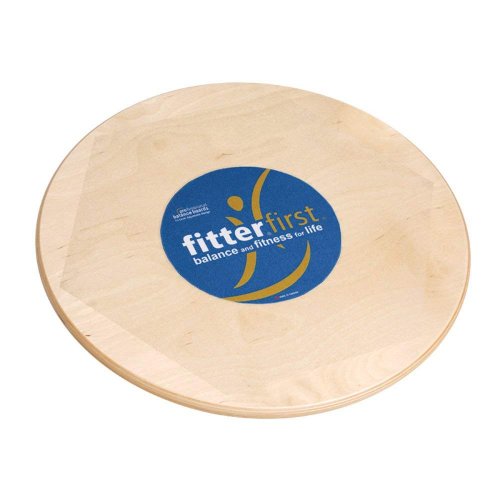 Great for beginners and injury rehab
Adjustable base
Small enough to easily transport
Not challenging for those with advanced balancing
The base of the Fitter First Wobble Board twenty inches in diameter and is made of hardwood birch with a three quarter inch thickness. This wooden base is attached to a fulcrum constructed from a heavy-duty plastic polyethylene material that can be adjusted.
Read more
The Fitter First Wobble Board makes for a great entry-level balancer for a variety of people. Whether the user is a fitness professional, athlete, physical therapist, workout enthusiasts, senior, or someone rehabilitating an injury, the Fitter First Wobble Board can be a useful tool for increasing balance, strengthen the lower body, and enhance coordination. It provides the user with three possible angles of instability, by adjusting the base.
The angles are 10, 12, and 15 degrees. And unlike most other balance boards, this one doesn't just move side to side, it has 360 degrees of rotation and can be used to balance in any direction. This is great for beginner to intermediate users as they are able to work their way up the progression ladder as their balance increases.
This Fitter First Board sits at about the mid-point price range of the balance boards market. But experienced users will simply not find this balancer board to be challenging or of benefit to advancing their skills.
5

. Revolution 101 Balance Board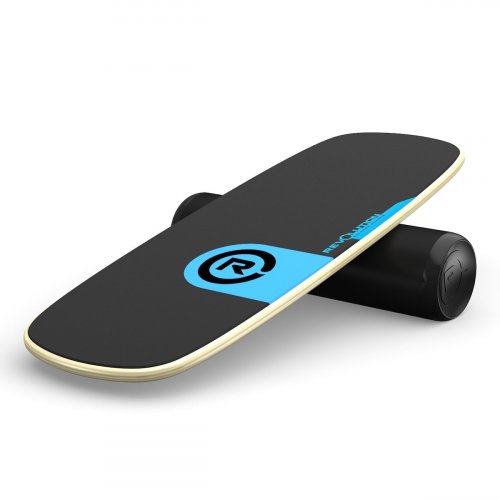 Easy to use
Made of durable materials
Has stoppers on the underside to help with motion control
Doesn't provide the degree of difficulty to challenge experienced users
Not easily portable
The Revolution 101 Balance Board is a mid-range balance board targeted towards board sports athletes and enthusiasts but with a much smaller deck of different shape and the addition of rubber stoppers on the underside of the deck.
Read more
The Revolution 101 Balance Board is comprised of a base made from an 11-ply hardwood composite material. The top of the deck features a dura soft-grip surface to keep your feet secure even when you are training in bare feet, and the underside features rubber stoppers on either side to help control movement. The deck sits on a roller base made from hard-wearing plastic.
This Balance Board is a great choice for those who are ready to advance from a beginner board to an intermediate board. However, its smaller deck size and the stoppers on the underside of the deck still do not allow for the degree of difficulty that more advanced users will demand.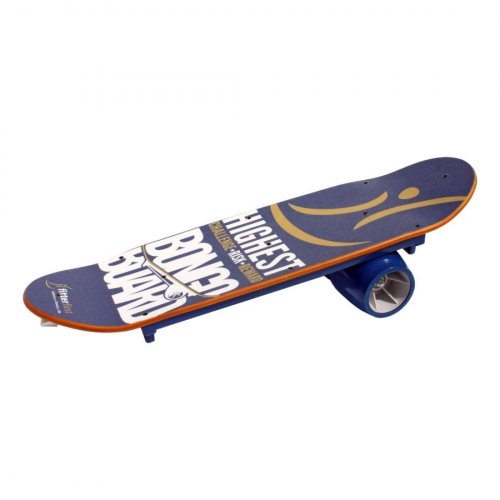 Skateboard shaped deck
Strong urethane roller
Safety bungee cord
Tapered edges
Not good board for advanced users
The Bongo Balance Board is a retro throwback to the bongo balance boards that were all the rage back in the '60s. It is a modern take on a classic geared more toward skateboard training and fitness workouts.
Read more
The Bongo Board has a deck crafted from Maple plywood that makes it hardy but with a little bit of flexibility. The base has tapered edges which makes balancing a little more challenging. It features a two-part base made from durable polypropylene and metal rod. Upon first look, it may look like just another balance board geared towards board sports, but upon further looking underneath, it is much different.
There is a rubber bungee cord attached to stoppers on each end of the deck's underside. This cord runs through space in between the two bases to keep the board stable and to control its total range of movement. While this is great for controlling its total range of movement, it limits movement for advanced users. It has a 300-pound capacity and is good for beginner to intermediate users.
7

. Aduro Sport Fitness Rocker Board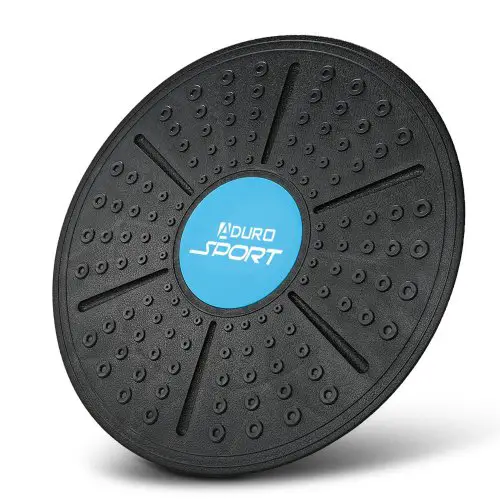 Ease of portability
Lightweight construction
Textured non-slip surface
The Aduro Sport Fitness Rocker Board consists of a 14-inch diameter wobble board with a half-circle base to provide the ideal of instability to allow you to work on your balance and proprioception.
Read more
It is made from thick reinforced plastic and features nodules on the surface to enhance your comfort, grip, and footing. This board has a smaller diameter of 14" which is great for portability but limits versatility. It has a 16-degree angle and can handle a maximum user weight of 300 pounds. It is compact and lightweight enough to easily fit into your carry bag to be used wherever you happen to be. Weighing in at a little under two pounds, it is a great option for a balancing board you need to travel with.
This fitness balance rocker board provides a stable work rehab and physical therapy for anyone who is working their way back from an injury. The board is competitively priced and comes with a full no-hassle guarantee.
8

. StrongBoard Balance Board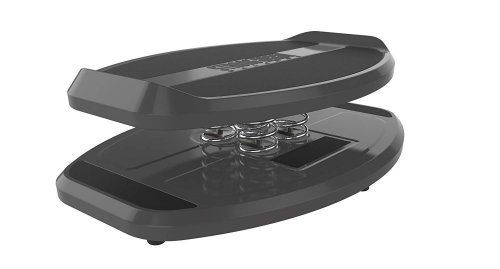 Offers exercise through a unique range of motion
Ideal for resistance training
Incorporates bodyweight resistance
Not as challenging as most balance boards
Limited movement options
The Strongboard balance board is a unique board that has revolutionized the industry by adding a spring component to balance work.
Read more
The Strongboard balance board consists of an oblong platform that sits atop quadruple compression springs. The top and bottom portions of the board are constructed from sturdy plastic propylene. The spring action effectively mimics a surging motion. It is an ideal balance board for basic balancing for injury rehab, but also for incorporating into resistance training. The board comes fully assembled and ready to go. But it is the most expensive board on our list of the best balance boards.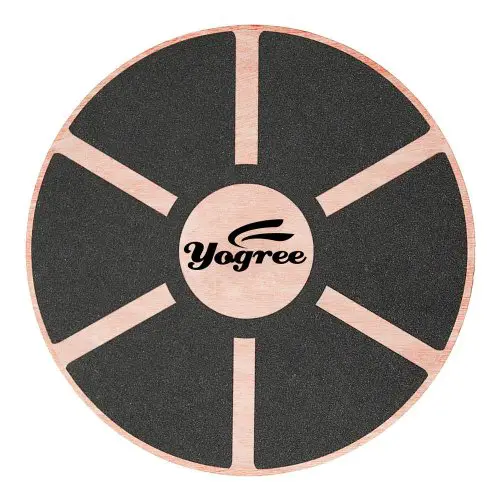 Large base
Anti-skid surface
Not suitable for slippery floors
The Yogree Balance board is a standard balance board, measuring 15.5 inches in diameter, and made from durable hardwood.
Read more
The deck of the Yogree balance board features a non-slip surface and the base is made from hardened plastic. The anti-skid surface provides grip stability but is a little uncomfortable when doing moves that place your hands on the surface. The hard, smooth base of this board also makes it a little tricky to keep stationary on a smooth surface. Your best bet is to use the PI Fitness Balance Board on the carpet. It's reasonably priced, and a good option to incorporate in movement practices like yoga or aerobics.
10

. Pro Fitness Balance Board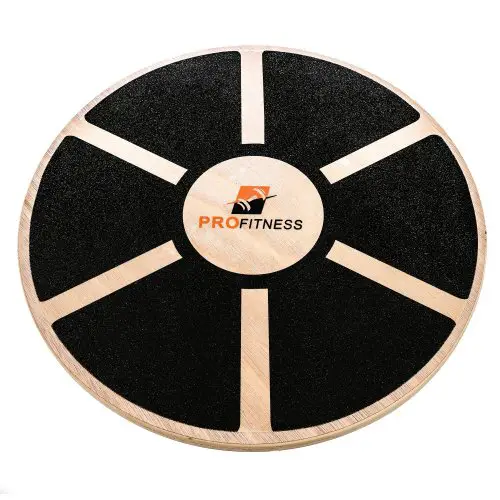 30 Day Guarantee
Well priced
Durable construction
Non-slip coating
The Pro Fitness Balance Board is a circular based board that is made from durable hardwood and features a plastic base.
Read more
Another good basic balancing board, the Pro Fitness features a slightly flatter base. This provides for more control when moving to make a good choice for mobility exercises and rehabilitation. The flat base, however, also makes movements a little rigid and less fluid, creating a less organic feel.
A layer of rubber on the surface of the board prevents the user's feet from slipping. At a diameter of 15.5 inches, there is plenty of room to move on this board. It comes at a very good price point and is another good balance board choice for portability.
Criteria Used for Evaluation

Ease of Use
Ease of Use gives efficiency
Whether or not a product is user-friendly helps with scoring their ease of use. We looked at how easy it was to use right away if an assembly was needed, and if it was a suitable product for beginners and those needing more gentle needs to start using.
We made a list of gym equipment names for beginners to learn what machines they are using when visiting the gym.

Durability
Durability is an important category for balancing boards. We took serious consideration of product materials, overall construction, and whether or not any sort of warranty to further back the product is included when deciding how to rank a board's durability.

Portability
The portability of the balance boards is assessed by how easy it is to transport or travel with. We used overall size and dimensions, along with weight, and complexity of components to determine just how easy it would be to travel with it.

Value
When considering the overall value of the balance boards, we factored in the price of the product along with how long it should last and if the price included a warranty. In addition, we also considered if a product was suitable for all levels of users. If a board can progress with a user's advancements, it has more value by eliminating the need for the user to get a more advanced balance board later down their balancing journey.

Versatility
Versatility gives more options
The versatility of the balance boards is determined by how many different ways it can be used, its variety of applications, and how many different user levels it is appropriate for.
Expert Interviews & Opinions
Most Important Criteria
(According to our experts opinion)
Experts Opinion
Editors Opinion
Users Opinion
By Default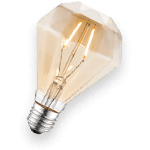 Materials
The best materials mean a good level of performance and quality of the balance boards and avoid any potential accidents.
Stay with a trusted brand, they have researched the right materials to use in building the product. Brand makers are very aware that customers expect quality and performance. When you choose your product, go for a design that fulfills your needs, you can research via online buying guide reviews to get an extensive understanding of the balance boards of what is available and what will work for you.
Look closely at reviews by customers online who have already tried any product which you are interested in. This type of feedback will put you on track for choosing the best.
Features
Even with the balance boards, you may well see extra features designed into it to extend your range of exercise options, if these features work for you then this is good but if you just want the standard benefits gained from using a board, just stay with the standard designs, you will pay a little less and get exactly what you need.
Frequently Asked Questions
q:

What are balance boards good for?

a:

Balance boards are great to use for a very wide range of activities and training purposes. But especially useful for any board sport such as snowboarding, skateboarding, surfing, wakeboarding, stand up paddleboarding, and skimboarding. Aside from board sports balance boards are also exceptionally great for rehabilitation of injuries, increasing range of motion to joints, and being used as a prop during fitness workouts to increase intensity.
q:

Is it better to use a balance board barefoot or with shoes?

a:

This depends on user preferences and needs. If a surfer is using a balance board to train with out of the water, they would benefit from using the board barefoot since they also surf barefoot. If someone is just using the balance boards to work out or for rehabilitation, they would likely benefit by using shoes for added stability. But again it just depends on individual preferences.
q:

Can all ages use balance boards?

a:

While balance boards wouldn't be a great toy for babies, anyone, child, adult, or senior, that has the ability to stand and balance on their own would be suitable to use them. It is always best to read instructions carefully looking out for individual balance boards as instructions and limitations.
q:

Can balance boards be used on any surface?

a:

Some balance boards have very specific directions for what flooring suits them best. For example, balance boards with slick plastic bases aren't great for use on slick surfaces as they often slip. It also depends on the durability of the floor surface, as some boards or bases might damage surfaces with use.
q:

Is there a weight restriction for balance boards.

a:

Absolutely there are weight restrictions for balance boards. Generally speaking, the average weight capacity is 300lbs, but each product varies so read the product details carefully.
Subscribe to our newsletter