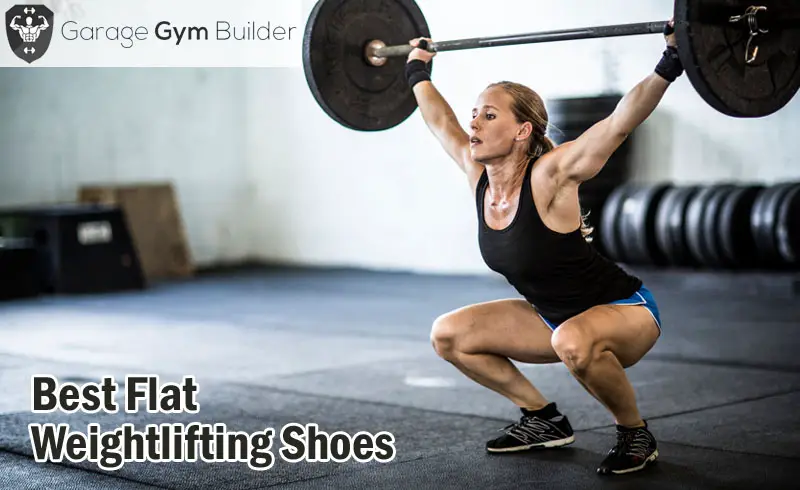 2019 Review of the Best Flat Weightlifting Shoes
Flat soled shoes are much prized by powerlifters who crave a natural relationship between foot and lifting surface. While in the past many lifters would simply go barefoot, today the benefits of having a well built, flat soled shoe to aid in lateral and ankle support are well known and appreciated. For this review we'll look at three of the best flat shoes available and then select one as our choice for best overall value.
Best Flat Weightlifting Shoes of Today
Since powerlifters prefer their shoes with flat soles it should come as no surprise that some of the best flat sole weightlifting shoes are also some of the most popular powerlifting shoes as well.
While Sabo's flat sole deadlift shoe is among the best on the market for that particular type of lifting it's also one of the best flat soled weightlifting shoes period and is even finding converts among CrossFitters. The shoe provides excellent projection of downward force, is remarkably comfortable and the ankle strap is a welcome feature for any lifter requiring a bit more support there. The Sabo will also leave you with a few bucks in your pocket for other things, like food. Key features include:
Dual strap system for rock solid stability
Breathable, high density mesh upper
Razor thin 2mm soles
Extreme durability
---
Metal is a Finnish company that's been in business for nearly 20 years. While their flat soled shoe doesn't get a lot of press that doesn't mean it's not an excellent product. The Metal Squat shoe helps you achieve proper alignment putting all the right muscles to work on the job at hand. Metal shoes are also one of the best looking flat shoes for lifting on the market today and just how they've managed to squeeze so much style out of so few design elements is something of a modern mystery. Key features include:
Zero lateral drift
Excellent grip on all surfaces
Wider toe box than previous versions
Metatarsal strap lacking in some other flat sole shoes
Metal squat shoes are not so well known but extremely well regarded by lifters everywhere.
---
Though Chuck Taylors have not evolved along with our knowledge of physiology they remain immensely popular for their bare-bones, no-nonsense profile and their wallet friendly price point. While they won't win many converts in the CrossFit box they remain favorite flat powerlifting shoes for bar-bending weights and don't look like they're going away any time soon.
Key features of the CTs include:
Good grip on a variety of surfaces
Overall high build quality
Excellent lateral stability
Price that can't be beat
Our Favorite Best All Around Flat Shoes for Weightlifting…
This one was really close because the Metal Squat shoe is just as good an overall flat sole shoe as the Sabo. The Metal's superior looks almost swayed us in that direction but were offset by Sabo's ankle strap, which is something long overdue in lifting shoe design. In the end the deciding factor was the price since the Metal will set you back nearly 50% more than the comparable Sabo Deadlift Shoe. So Sabo wins the value battle and emerges as our pick for best flat weightlifting shoes.
Vibram also make several models of flat sole athletic shoes that can be used for weightlifting though they were not perhaps designed specifically for that purpose. Among their best is the Five Finger KSO Trainer. The Nike Free is another flat sole shoe you may want to consider and of course you can't go wrong with Nike's build quality.
That said, for a closer look at our favorite flat weightlifting shoe, the Sabo Deadlift Shoe, watch this video:
Flat soled shoes for lifting provide a stable, effective platform from which to execute a range of Olympic style lifts. While we've chosen the Sabo Deadlift Shoe as best value in flat lifting shoes that is not in any way a commentary on the effectiveness of the other shoes highlighted here, which are both quality shoes that get the job done.
For additional information on the hundreds of other types of weightlifting shoes, check out this guide. For knowing the benefits of Crossfit shoes, click here. I hope those articles wil give you some insights before deciding.

We've also written up a handy guide for one of our favorite weightlifting shoe brands- Wei-Ru. Check out our Wei Ru weightlifting shoes review in that article. These guys have some super high quality shoes that are definitely worth checking out.​
My name is Jim Roose. I'm a former competitive power lifter and gym owner. I've bought millions of dollars of fitness equipment over the last 20 years. This site is my way of giving back to the fitness community that's done so much for me. Every article on here is carefully researched and written by me. Leave a comment if you have any questions.