Top 10 Plyo Boxes and Jump Boxes in 2023
last updated:
Jan 07, 2021
Have you ever wanted to jump high without feeling like you need to use every muscle in your body, along with some help of a higher ground level? This is where the plyo box comes in! Plyometric boxes are an excellent way for you to gain some genuinely explosive strength while increasing your jump height.
​In this article, we'll uncover the best plyometric boxes on the current market so that you can confidently equip your home gym with the gear you need to get a great plyometric workout. We'll also discover why plyometrics is such a beneficial form of exercise and show you how to do the perfect box jump. Be sure to check out all the great information about the best jump boxes we have here for you!
This is the best product on our list currently in stock: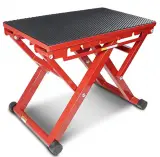 Titan Fitness X Plyo Box
Why is it better?
4 Height Adjustment Settings
Solid Steel Platform
Non-slip Surface
Heavy-duty Steel Construction
42
Researched Sources
15.5k
Reviews Considered
12
Hours Researching
14
Products Evaluated
Use
Effectiveness
Adjustability
Durability
Weight
By Default
10 Best Plyo Boxes
1

. GarageFit Wood Plyo Box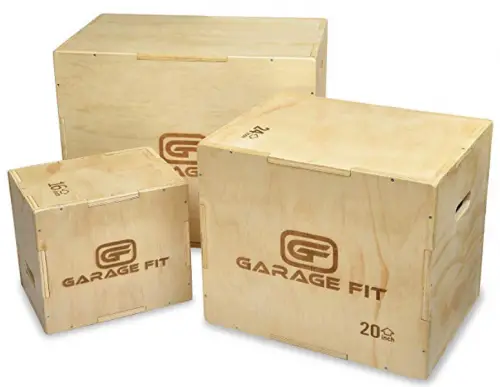 Rounded Edges
Thick Plywood
Can Withstand 400 pounds
Three Different Sizes
Pre-glued, Ships Flat
Some Holes Not Drilled In
The GarageFit Wood Plyo gives you three-box heights for the price of one - 20" x 24" x 30" / 24" x 20" x 16" and 16" x 14" x 12". You can start exercising on this box as soon as it arrives. The box is pre-glued and screwed. It features rock-solid inner cleat construction and has dulled box edges for enhanced safety.
Read more
The rounded wood plyometric box corners ensure that you can jump in total safety. The plywood is 3/4" thick and is connected with puzzle joints and extra bracing. All of this combined means that the boxes can easily withstand up to 400 pounds slamming on them at full speed, so you can jump on them as much as you'd like! The rounded corners don't affect the integrity of the plyometric box either, so you're safe and sound in every way. This jump box will ship flat, so you will have to assemble it by yourself with just a simple screwdriver quickly!
2

. Rep 3 in 1 Wood Plyo Box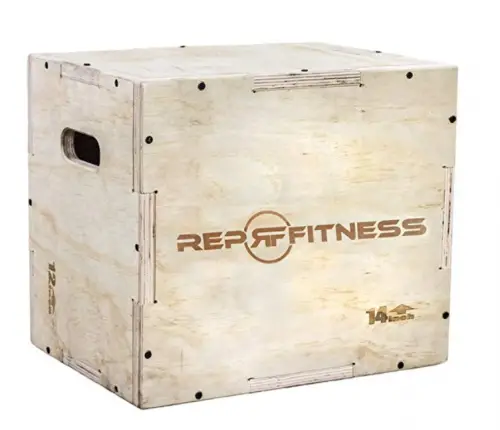 Three In One
Safe And Stable
Easy Assembly
Every Side Can Be Used
Handles For Portability
The Rep 3 in 1 Wood Plyometric box by Iron Edge is a basic but reliable tool. It is perfect for use as part of a Crossfit routine. It has a solid middle support structure. It comes in two sizes; 20" x 24" x 30 and 24" x 20" x 16".
The plyometric jump box is CNC machined for a precision finish. It also has smooth, sanded edges. Some simple assembly is required when you receive your box.
Read more
The 3 in 1 Wood Plyo Box has a solid plywood construction with internal bracing. It gives the user three different jumping heights to choose from 20", 24" and 30" on the larger plyo box.
The 3 in 1 Wood Plyometric Box arrives flat packed which saves you some money on shipping costs. All the holes are pre-drilled, and it comes with screws and instructions.
The 3 in 1 is very easy to use. Pushover the plyo box to the side height that you want. The plyometric box has complete sides. It is important. Some boxes out there do not have covered by sides. On these boxes, there is a likelihood that you will catch your shins if you don't make the jump. On the 3 in 1, though, if you don't complete the jump, your feet will slide down the outside of the plyometric jump box.
3

. Titan Fitness X Plyo Box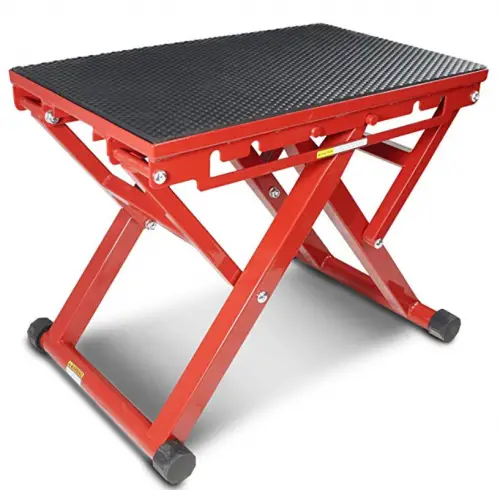 4 Height Adjustment Settings
Solid Steel Platform
Non-slip Surface
Heavy-duty Steel Construction
The Titan Fitness X steel construction plyometric box is an adjustable jumping platform. There are four different heights, providing you with a jumping platform of 12, inches, 16 inches, 20 inches, and 24 inches. The plyo box has a rated weight capacity of 300 pounds.
Read more
The Titan Fitness X Plyo Box is unique in that it is constructed from solid steel rather than wood. It makes for a more durable and robust jumping platform. It is also one of the few boxes you will find that provides you with four jumping height options. To adjust the height, you adjust a lever. The top of this platform is covered with a slip-resistant cover to ensure that your landing is safe and secure. This platform is a little heavier than other, at 50 pounds, but it is one of the most solid plyo boxes that you will come across.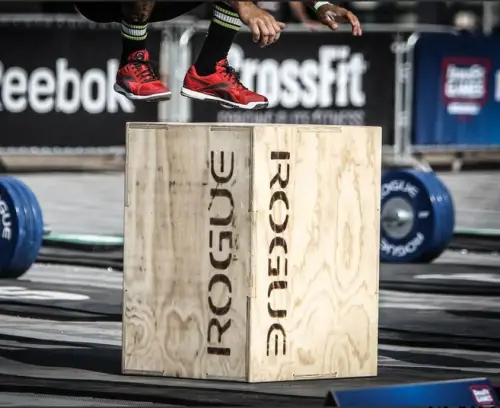 Utilized In CrossFit Competitions
American-made
CNC-Machining
Rounded Edges
One-year Warranty
A Plyo Box comes ready to assemble with machine-cut timber, basic, effective, and designed on the original concept, these jump box styles are available from many makers and are set at a basic price. It fits together quickly with no hassles. You should use wood glue to secure the box (not provided). The assembled box is excellent.
Read more
These Wood Plyo Boxes measures around 19" x 19" square top with a slightly wider base. The plyo box has a beveled top edge for extra safety.
Sizes can vary and these strong wooden plyometric boxes come in four sizes; 12", 18", 20" and 24".
This is the plyometric jump box that is used at the CrossFit Games.
Rogue is a popular brand but nearly all makes will offer a basic wood design box.
5

. Synergee 3 in 1 Plyometric Box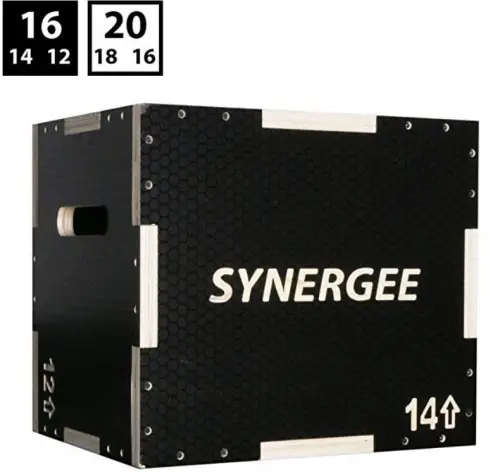 Three Different Materials
Versatile
Hexagonal Pattern
Anti-Slip
Coated With PVC
Lack Of Assembly Instructions
Synergee offers you a myriad of wooden (and soft) plyo boxes to choose from, all just right for building your endurance and strength. The regular wooden boxes come in four different sizes, the black faceted ones come in two sizes, and the soft foam ones also come in two different sizes. Flip the boxes around to change their hight and decrease or increase the difficulty setting!
Read more
All of their jump boxes are non-slip, providing you with a safe surface to stand on once you make the jump. The PVC coat is what makes them non-slip and easy to clean and maintain. The hexagonal patterns divert sweat and water away from where your feet land, essentially saving you from a bad fall. The regular wooden ones can withstand up to 450 pounds, and so can the black ones with hexagonal patterns. The soft plyometric box has a cushy outer layer that protects you from cuts and bruises, while the dense foam core gives you a sturdy surface to stand on.
6

. Bound 3-in-1 Plyometric Jump Box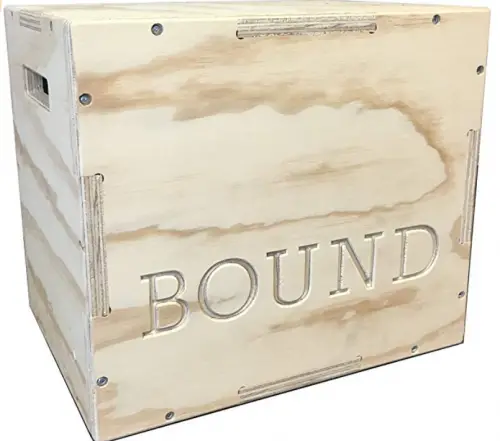 Budget-Friendly
Assembly Bits included
Countersunk Holes
Edges Sanded Down
Needs Better Instructions
The Bound 3-in-1 wooden plyo box comes in 3 sizes - 30/24/20 - 24/20/16 - 20/18/16 - 16/14/12 inches. That means that you are able to get the ideal jumping challenge for your fitness level. It is made from ¾ inch thick plyo board and comes as a flat-pack. Assembly is straight forward as the puzzle piece design makes it impossible to put it together incorrectly.
Read more
All holes are pre-drilled and countersunk. The timber has been CNC machined for a great fit. The edges have also been sanded down to prevent scrapes and scratches if you miss your jump. The tight-fitting design will require a rubber mallet to put this plyometric box together. However, this will make for a very strong plyometric jump box.
7

. j/fit Plyometric Jump Boxes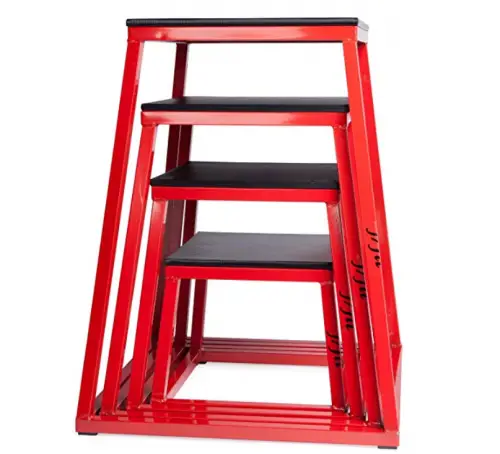 Stackable And Compact
Instructional Videos
Tapered Surface For Stability
Sturdy Steel Construction
J/Fit Plyo boxes can be found in reputable gyms all over the world. These are stackable boxes that come in sets of four. Four people can use one set at the same time. They are stackable for easy storage feature a safe, non-slip surface and come in a powder-coated steel finish.
Read more
The plyometric jump boxes are made out of heavy-duty steel, ensuring their durability and long life. There are rubber stoppers on the bottom to prevent them from sliding away from you and causing you to miss them and injure yourself as a result. The non-slip surface is tapered, giving you safety and even more stability when you jump. There are instructional videos you will have access to that will explain how you can get started with using boxes for plyometrics!
8

. Stamina X Adjustable Plyo Box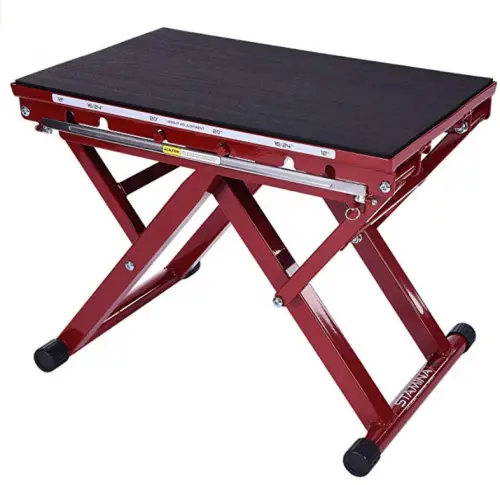 Very Sturdy
Durable Non-slip Surface
Adjustable Height
Workout Guide
Supports Up To 300 Pounds
You can quickly and easily adjust the platform of the Stamina X Adjustable Plyo Box to the height you need to get in the best workout. It features heavy-duty steel construction and comes with four pre-set heights. The plyometric box features heavy-duty steel construction with a simple adjustment between the four box heights. The adjustable heights are 12 inches, 16 inches, 20 inches, and 24 inches.
Read more
​The Stamina X Plyo Box will arrive at your house fully assembled and ready to go. It is collapsible for ease of storage. The surface which prevents you from slipping around is durable, and it will not tear and give in no matter how much you jump on it. In case you don't know where to begin, there is a workout guide included to help you along the way.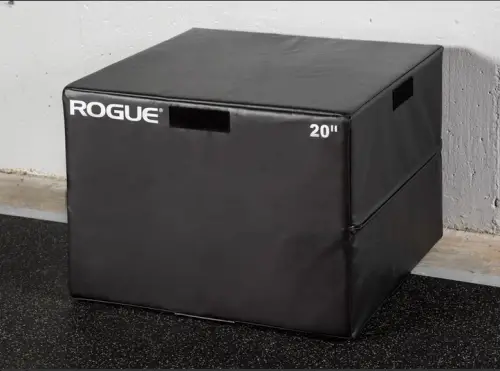 Ultra-Dense Foam Core
Heavy Duty Vinyl Cover
Large Hook And Loop Strips
Customizable Height
Injury is a very real issue when doing plyometric box jumps, especially for new users. The Foam Plyo Box range virtually eliminates the fear of injury. They have the perfect balance between firmness for a solid jumping surface and softness to prevent injury to the shins if you don't make your jump height.
Read more
The plyometric jump box features an ultra-dense foam core with a much softer layer of outer foam on all sides. Large hook and loop strips on all four sides ensure that the boxes will not slip when stacked.
​The Foam Plyo Box comes in 6", 12", 20" and 24" sizes.
Check the different models on the market, and you will see that they all have similar functions, features, and materials, all you need to do is to choose which box appeals to you.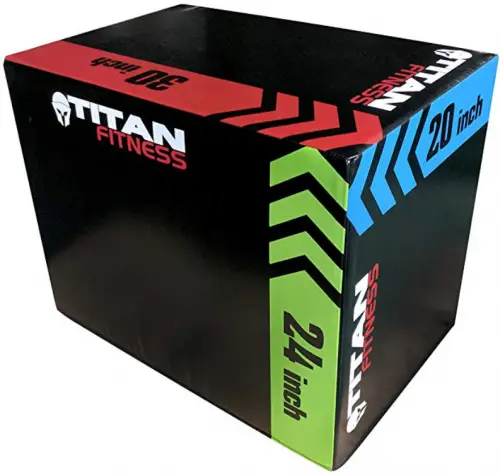 Soft Yet Firm
No Assembly Required
Slip-proof
Solid Foam Platform
Space Saving
Titan Fitness gives you the chance to become stronger with this very versatile foam plyo box. This box is constructed out of pro-duty firm foam, making it both sturdy and soft at the same time. The softness of the outer layer keeps you safe from injuries, like bruises and cuts often seen when working with wooden plyometric boxes.
Read more
You might be put off by foam boxes, thinking you'd easily slip, but this plyometric jump box is equipped with a non-slip surface to keep you safe when you jump up and down. There is no need to assemble this plyo box - after all, it is squishy, and it just needs to pop back into its original shape when you unbox it! The stable foam platform will support athletes of all shapes and sizes. If you want to give yourself a more challenging workout, flip the box around, and test your limits!
Criteria Used for Evaluation

Use
Plyometric workouts are sessions of truly intense and powerful movements that are done in a fast and effective way. Athletes swear by plyometrics because they help them work on their sports performance to make it even better than before. Nowadays, they have become increasingly popular to help people who want to stay in shape and tone up. Plyometrics is an isometric exercise technique that will help you to jump higher, run faster, throw further, and hit harder. Examples of plyometrics exercises are burpees, power jumps, ladder drills and reach jumps.
Box jump exercises are one of the best plyometric exercises. This deceptively simple exercise involves jumping up and down on a box with a double foot jump. Plyo jumps emphasized lower-body plyometrics. For a super full version, check out the Plyo X workout option from P90X.
When first starting plyo jumps, it's essential that you start with a box height that you are comfortable with. You don't have to start super-advanced at 50 inches. Start low and progressively increase the height as you go. Starting with 12 inches will ensure that you won't fall and twist your ankle as your body and mind get used to the box jump movement.
Buying an adjustable box makes it easy for you to progressively change the height of your plyo box over time without needing to go out and buy another box. An adjustable box is also a great way to save some space in your home gym.
​When you are readying yourself to jump onto the box, you should slightly dip your body. Either you can use your arms to swing through and provide momentum, or you can place your hands behind your head. You should experiment to see which hand position is most comfortable for you. Though you want a slight bend in the knee as you dip down in preparation for the jump, you don't want to squat too low. Use the power of your momentum to jump, landing on the box with a slight bend at the knee.
​Do not jump off the box to come down. Doing so could potentially damage your joints. Step down with one foot at a time.
​As far as sets and repetitions go, beginners should start with 4 sets of 6-8 jumps. If your goal is to develop jumping height and speed and explosiveness, then you don't want to do too many box jumps. If you do, you will lose form and explosiveness. However, if your goal is to burn fat and to tone up your body, then you should go for high reps and sets.
Plyo Box Jump Tips:
Build up to performing box jumps by starting with jumping in place. Hold your hands out at chest level and then dip down to load your body before springing up. Try to bring your knees up to touch your hands.
Try to maintain a consistent distance from the box. You don't want to be too close or your hands are likely to hit the box on the swing through. Neither, though, do you want to be too far away, or you will lose height on your jump. 12 inches is a reasonable distance. If you can, use some tape to ensure that you are consistently jumping from the same distance.
When performing step box exercises, you should land with legs at the same angle as when you started the jump. Don't bring your butt down too low when you jump on the box.
Rather than advancing your jumping height beyond 60 inches, make the exercise more challenging by wearing a weighted vest.

Effectiveness
If you never tried out plyometrics before, the benefits they provide us with might seem unbelievable at first. How can just jumping and moving around very fast do something for us, besides burning off fat? Well, believe us when we say that plyometrics can challenge you and your fitness level, and bring about a whole new meaning to being physically fit!
One thing to keep in mind when it comes to plyometrics is that you must keep it safe and effective; in other words, you must utilize proper form and reps. Otherwise, you are just paving the way for an injury. Plyometrics is just a different way to say jump training, and jumping is not so friendly towards our joints, but if you do it properly, you won't even feel the potential high-impact of these exercises. Plyometrics are a great way to work on your power and agility. And thankfully, there's a lot of new research surfacing that showcases plyometrics as a safe way to become faster and stronger.
You won't see so much muscle development when you do plyometrics unless you combine them with weights, but you will most definitely see power and speed improvements. When using plyometric boxes, you will gradually lower the amount of time it takes you to jump onto a platform, and as even more time goes by, that speed and even the height of the platform will increase. You will generate more power when you jump up, and as a result, you will jump faster, while the muscles that work together to propel you onto the box will grow. So, plyometric boxes are a super-effective way to work on your lower body, and your core to some degree, but if you want a full-body workout, you will either want to incorporate free weights or do two different exercises!

Adjustability
What many plyo box manufacturers like to take pride in is the adjustability of their boxes. Making an adjustable plyo box is quite simple - all you need to do is reinforce every side of the box, and then you get a 3-in-1 product that can be flipped around every way so that the height changes, effectively changing the difficulty of your exercises. Every box we mentioned in this guide is very adjustable, and the steel plyo boxes either have a slider that makes adjusting the height possible, or they do not come alone - you get a set of various box heights which are stackable, so they take up as much room as regular plyo boxes do.
Now let's see why an adjustable plyometric box is essential in the first place. Compare plyometrics with regular strength training - you need to increase the strength gradually if you want to see change, right? The same thing is true with plyometric boxes. As you get better and better at jumping, and as your ligaments, tendons, and muscles become bendier yet stronger with every jump, there will come a time when you need to increase the height to improve further. It is why having just one simple box that does all of this is great, just like with adjustable dumbbells!

Durability
You will repeatedly jump onto your box, that much is true. This repeated jumping can be quite hard on any surface, even more so if you weigh more. So what you need to consider is how durable the box you will purchase is going to be. The durability will be dictated by how well the box was constructed, what the box was built out of, and of course, by how much you use the box.
Plyo boxes can be made out of three things - wood, foam, and steel. Wood plyo boxes are traditional and are quite simple. The smaller boxes are just made out of plywood, which is usually 3/4-inches thick, and that alone is enough to support up to 400 pounds. The bigger boxes have an inner construction that keeps the boxes sturdy. Foam boxes have a softer shell surrounding the edges since the most common complaint with wooden boxes is the sharp edges that can cause bruises and cuts. The super-dense foam core keeps the box sturdy, no matter which way it faces. Steel boxes are not boxes - they are more like a platform help up by a durable steel frame, X shaped or simply vertical. Steel boxes are the sturdiest, but they can't be flipped around, and the edges can hurt you here as well. The second thing to consider is how well all of these parts we mentioned here are brought together. Most of the time, you will be the one doing the assembly, so how long your box lasts will depend on how well you put it together. Foam boxes, and wooden and steel boxes with a non-slip surface, have a vinyl cover (or a PVC coating), that prevents you from slipping down and losing your support. But if this cover is not sturdy enough, it can tear and rip, rendering the whole slip-free surface almost entirely useless. Keep these things in mind before buying (or making) your new box, and you will end up with a high-quality, durable box!

Weight
Since you're probably building a home gym, the weight of your plyometric box is something you should probably take into consideration, along with the weight capacity of your box. No two boxes were made the same way, and how much weight your box has and how much weight it can handle will depend on how well the box was constructed, what it was made out of, and how much you weight in the first place.
Usually, the wooden and foam boxes have the same weight capacity. Their weight capacity is around 400 pounds, although some can withstand much more. Steel boxes can withstand much more, but they will also be heavier, so that's something to think about. Wooden boxes are not so heavy, but the more significant the box is, the heavier it will be!
Expert Interviews & Opinions
Most Important Criteria
(According to our experts opinion)
Experts Opinion
Editors Opinion
Users Opinion
By Default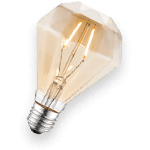 Size
Plyo boxes have a great range of sizes, and this is because they need to remain challenging. Luckily, one box can provide you with three different heights so that you will have a challenge here, no matter what. If you got a smaller box though, the chances are that you will still outgrow the box and that you will need to go for a bigger one. The size of the box also matters if you lack space. A bigger box will take a lot of room, and you can't exactly fold it and store it away. If you are someone that doesn't have plenty of room, your best option is the steel boxes, since they are stackable, and you can easily store those away. The steel boxes will always be challenging, and as your strength grows, so will their height!
DIY
​If you aren't inclined to fork out your hard-earned cash for a box to jump on, you can make your plyo box. Check out our full instructions on how to do it here, but we will summarize the gist of it here. All you need is 30 bucks, and of course some time on your hands, and the proper tools. The tools you need are a saw, a measuring tape, some plywood, 8′ x 4′ piece that's 3/4″ thick, a pencil, a drill, gorilla glue, and wood screws. You will need to cut the wood in six rectangles, with three pairs of matching sizes. Before you glue and screw these together, check to see whether their edges match and if anything else needs to be fixed, since you can't go back on this step! Once you've screwed everything together, apply the glue everywhere the wood touches, just in case. And that's it; you've got your plyo box!
Other Factors to Consider

Stability
You're going to be jumping on these boxes, a lot, and they need to be stable! Just imagine jumping onto an unstable surface and toppling down - not only will it hurt, but it will also set back your progress. So make sure that your box is stable, and that it has a non-slip surface. Stability is either ensured by using a heavier box, or by applying little rubber squares to the bottom of the boxes to keep them from sliding away. A non-slip surface is achieved with a vinyl cover, PVC coating, rubber coating, or everything else in between that has slip-proof properties. Make sure that you're wearing proper footwear as well! A non-slip surface can't help you much if you don't have the proper shoes on.

Portability
Some plyometric boxes are small; others are quite big. The size you end up choosing will depend on how to fit you are, and how high you need the box to be - after all, the bigger the box is, the higher it will be! Luckily, these boxes are not so heavy, and you don't need a lot of strength to move them around. You can't exactly carry them with you wherever you are, but the holes acting like handles, or the steel construction, can serve just fine as a convenient spot to grab the boxes and move them out of the way.

Materials
What your box is made out of says a lot about it, but the materials affect the criteria we already covered so that we will keep this section brief. Wooden boxes are affordable and are also quite easy to make. Wood boxes are also generally the safest option, simply because all of their sides are sturdy. The only issue with wooden boxes in the room they take up, since you can't fold them away, and they need to be stacked on top of each other. Steel boxes are great when you lack space since they can be stacked underneath each other. But steel boxes aren't boxes - instead, they're just a platform supported by a steel frame, and you can easily catch your legs on the underside of this platform, which can result in nasty falls! Foam plyo boxes are the best of both worlds - they are stable enough for you to land on, yet soft enough to soften any damage that might occur. But foam boxes are pricey, and not a lot of people want to pay over 100 bucks for a foam rectangle!
Bottom Line
Plyometric exercise has become increasingly popular with the massive upsurge of CrossFit style training programs. Plyometrics is the best and fastest route to jumping higher, running faster, being more explosive, and toning your entire body. The number one plyometric exercise is undoubtedly the plyometric box jump workout.
Looking for a plyo box to provide you with a reliable, safe, progressive, and challenging jump workout means you need to be a discerning buyer. You can't just grab any cheap box and expect to get the results you want. Unless you choose your boxes for box jumps with extreme care, you may be investing in a potential injury hazard. Stick to the plyo box brands we've reviewed here, and you'll be able to perform your explosive plyometrics jump training with confidence.
Frequently Asked Questions
q:

What should my plyometric box be made out of?

a:

Well, every box material has its pros and cons. Wood boxes are the most common boxes, and they are generally the best option. They are cheap, sturdy, and they can be used for ages thanks to the varying heights. But wood boxes are chunky, and if you lack room you might have trouble with storing them away. Steel boxes solve this since they are stackable. They are also affordable, but the lack of sides makes it easy for you to snag your foot on them and hurt yourself. Foam boxes solve both of these issues, but they are quite pricey - in the end, you have to decide which of these three things you value the most and then base your decision on that!
q:

How high should my box be?

a:

The height of your box is determined by nothing more than your fitness level and goals. The boxes can range anywhere from six-inches, to just over two feet! You won't need boxes this high, though unless you're a professional athlete. There's a huge variety of jumps you can perform on these boxes, including single-leg jumps, double leg jumps and much more. And the height is what dictates what you can and can't do! Make sure that you have mastered the height you're working on right now before you move onto higher boxes. With plyo boxes, it's essential to take it nice and slow, unless you want to hurt yourself!
q:

Can a beginner use plyometric boxes?

a:

Everyone can use these boxes! All you have to do is be familiar with your actual fitness level and then choose the correct height. If you're a beginner, do not go higher than say, six-inches. If this seems like an easy task for you, you can go higher, but make sure that you're truly comfortable with using the height you're currently at. Everyone knows how to jump, and no matter the height, you will get a particularly hard exercise session with this deceivingly simple motion!
q:

Can I just jump on steppers or regular stairs?

a:

Sure, why not! The principle is the same; all you have to do is jump. But, plyometric boxes were made specifically for this task, and their construction and shape ensures the safest session. Stairs are convenient since their height changes, but if you snag your feet on the edges and fall on the stairs, be sure that you will hurt yourself! The stepper brings a different dimension of problems, like stability and construction. So, you can use these to do plyometrics, but the boxes are your safest bet!
q:

Do I need to wear shoes when jumping on plyometric jump boxes?

a:

Well, yes. Although you can try jumping barefoot (see the benefits of barefoot workouts), the chances are that your joints and feet will not like this, and you will end up with bruised skin and aching joints. There are shoes specially designed for Crossfit and HIIT, and they will guard your joints and feet from every problem associated with plyometrics while making your feet even grippier, so you don't fall over when you jump on a plyo box. You will be safest if you go wearing shoes!
Subscribe to our newsletter