Best Weighted Vests for Any Type of Workout
last updated:
Feb 12, 2020
When you're ready to take your workout to the next level, weighted vests provide all the extra challenge you need. They offer a hands-free way of adding extra resistance, allowing more results from the same amount of work.
Adding the extra resistance to your routine is a sure-fire way to increase calories burned and muscle built. In this article, I've written an in-depth best-weighted vest review to help with your shopping.
Whether you're making bodyweight moves like dips, hardcore weight exercises such as power clean or running on the treadmill; a weighted jacket pushes you harder to make you better.
This article provides in-depth reviews of the best-weighted vests on the current market so that you can make the right buying decision.
In a Hurry? The test winner after 16 hrs of research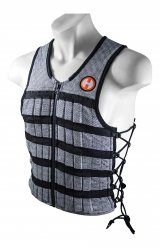 HyperWear Hyper Vest
Why is it better?
Lightweight, stretch fabric
10 pounds of resistance
Unisex design
Full zipper
Adjustable side lacing
Very comfortable fit
44
Researched Sources
9k
Reviews Considered
16
Hours Researching
14
Products Evaluated
Adjustability
Breathability
Comfort
Durability
Ease of Use
By Default
10 Best Weighted Vests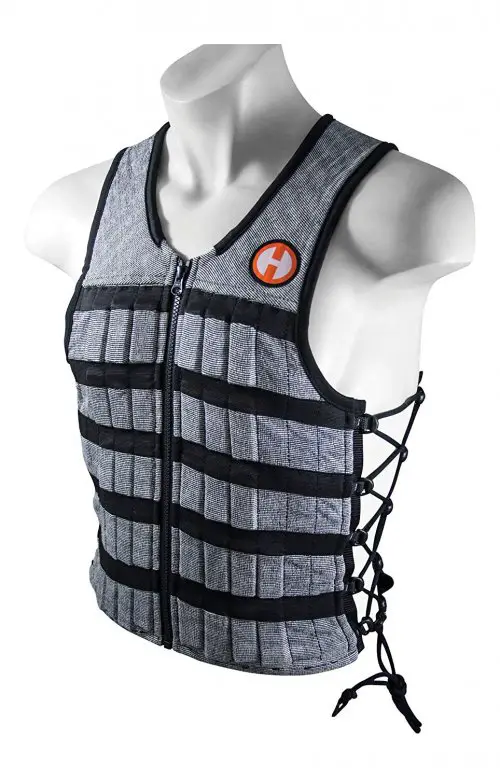 Lightweight, stretch fabric
10 pounds of resistance
Unisex design
Full zipper
Adjustable side lacing
Very comfortable fit
Some users report that weights break through the jacket after a few months
The Hyperwear Hyper Vest is made from a unique stretch fabric that wicks sweat away from the body as it provides a ventilated, lightweight piece of clothing and the shoulder pads have extra padding
Read more
The jacket is packed with 10 pounds of evenly distributed weight. The weights are housed in thin rubber casings and even distributed about the jacket. The thin profile, with its side lacing, allows for a full range of motion as you're exercising. It features an extremely slimline design that is both comfortable and functional.
The Hyper Vest is odor resistant and sweat resistant. The Hyper Vest is designed as a unisex jacket, allowing for custom fitting for bodies of all shapes and sizes, by way of the side lacing. The compressive nature of the fabric allows the jacket to hug to the chest as you're working out.
Additional booster packs can be purchased to increase the weight of the jacket. It has a full zipper for easy placement on and off. It will not cause any irritation to the skin such as chafing or itchiness.
The fabric has excellent breathability so that you will not get a heat buildup that could lead to a rash. Unlike many competitors, the Hyperwear Hypervest SXY is completely machine washable, making it undoubtedly one of the best-weighted vests at the moment.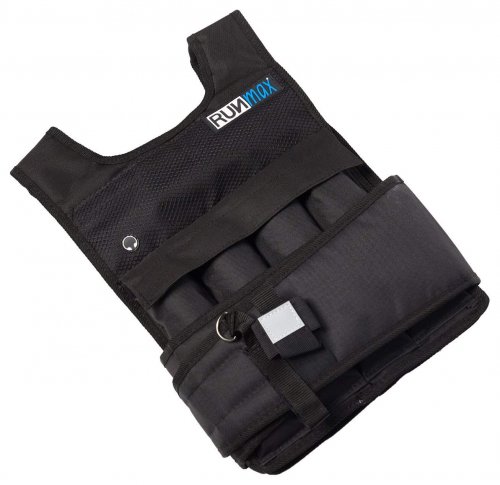 Weight adjustable
Middle belt for extra sturdiness
One size fits all
The RUNmax Runfast weighted vest is an entirely adjustable weighted jacket made from neoprene fabric, with a weight range that has a maximum weight of 12 pounds.
Read more
The RUNmax Runfast is a very effective way to add extra resistance to your run or calisthenics workout. It fits securely and will not shift around when you are training. However, it doesn't do an excellent job of keeping the heat away.
Weights can be taken out or added to the pockets that are evenly distributed around the jacket. Extra weights can be purchased at a later date to fill empty pockets as a user progresses and builds stamina. A large belt around the middle ensures that the RUNmax vest stays securely in place even when you are exercising vigorously. This jacket is one size fits all and has a decent amount of adjustability for different body types. When fully weighted, it can feel a little bulky.
3

. ZFOsports Weighted Vest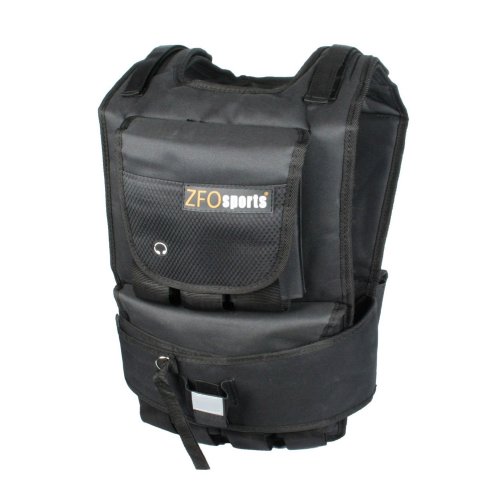 Adjustable resistance from 4 to 60 pounds
Contoured, snug fit
One size fits all
Durable quality seam stitching
Total body coverage gets hot
The ZFOsports weighted vest provides a massive range of adjustable resistance from 4 to 60 pounds (lbs). The weights come in 4-pound increments, so your options are virtually endless, making this a tremendous progressive resistance exercise tool.
Read more
The jacket is designed to contour around your body, hugging your chest in a tight, secure fit. But it isn't so tight that it is ever uncomfortable. The ZFOsports vest is secured by a velcro strap, making it a one size fits all design. It is breathable and lightweight, allowing for a very comfortable fit.
The seam stitching is top quality, adding to the strength of this impressive unit. This is the top-selling weighted jacket on Amazon and is available at a very good price point.
4

. Cross 101 Adjustable Weighted Vest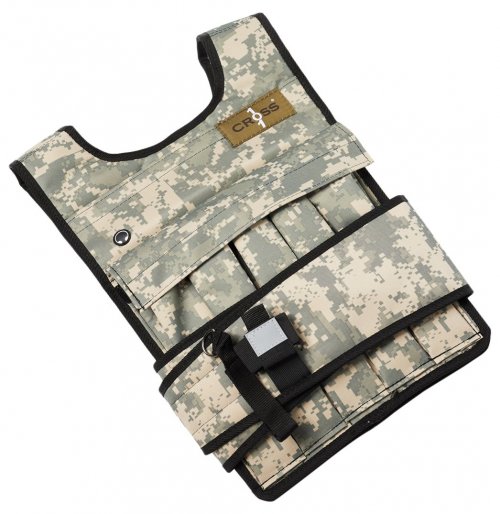 Compact design
Camo design
10 x 4-pound weights
Velcro locking system
The Cross 101 Adjustable Weighted Vest is impressively compact, with measurements of 15 inches in length from the shoulder pads near the collarbone down and 13 inches in width. It comes in a cool camo design and features a number of pockets to place added resistance.
Read more
It comes with 10 pieces of 4-pound iron weight, allowing you to use progressive resistance to build up your weighted jacket strength. Cross 101 has a one-piece design with a belt attachment that has a Velcro locking system. This makes it super easy to put the jacket on and to customize your fit. As a result, one size fits all users.
The heavyweight fabric of this breath restricts airflow, which makes the user get hot during use. It doesn't have sufficient breathability to allow the user's sweat and body heat to freely move through.
Cross 101 comes with a full manufacturer's warranty.
5

. Empower Womens Weighted Fitness Vest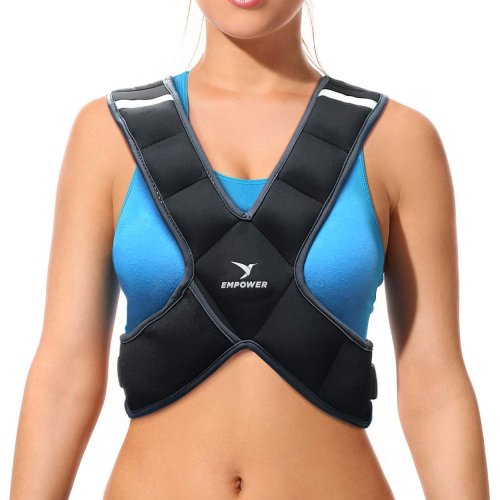 Neoprene fabric construction
'X' shaped design
Even weight distribution
Pocket for iPod or cell phone
8 pounds of resistance
Weights are sewn into the fabric
No option to increase resistance
Gets very hot
The Empower Women's Weighted Fitness Vest is constructed from soft, ultra-flexible neoprene fabric. It makes it very light and forms fitting. The jacket has a unique 'X' shaped design to allow it to fit comfortably on any woman's body.
Read more
The quick on and off buckle system allows you to be ready to work out in seconds, while the weights are evenly distributed throughout the jacket to provide a balanced workload. The Empower Fitness Vest features a convenient pocket to house your iPod or cell phone.
It has clips that keep the vest rigid and secure while you are working out. With 8 pounds of extra resistance, this jacket will add a high level of challenge to any lady's workout, while providing a comfortable experience that will not aggravate the lower back, making it a favorite for the ladies.
It sits very comfortably on the torso and will not come loose or change position in the middle of your session. The weights are provided as sand pockets sewn into the fabric, making them very secure, and less bulky than other vests. However, built-in vests mean it's not possible to add weight.
6

. Tone Fitness Weighted Vest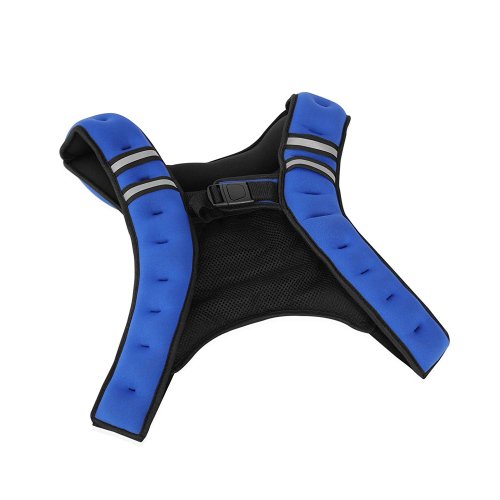 Made from soft, lightweight neoprene
Rugged and durable
Pocket for MP3 or Cell Phone
Sweat removal system
Slimline design
Places some strain on the lower back
Not very breathable
The Tone Fitness Weighted Vest is a slimline buckle up jacket that provides an extra 12 pounds of weight to your workout. It is a weighted running vest constructed of soft, lightweight neoprene material.
Read more
The neoprene fabric makes the jacket extremely lightweight, yet incredibly rugged and durable. It is a one size fits all unit that comes in an attractive blue and black design. High quality stitching on the seams ensures strength while carrying the weight.
The Tone Fitness weighted vest comes with a pocket to hold your MP3 player or cell phone. It also features reflective strips to keep you safe while jogging in the dark. The design of this jacket is temperature-controlled, providing the most comfortable experience during hot conditions. The wicking nature of neoprene will remove sweat build-up and keep the jacket odor-free.
It is a very effective training tool to add extra resistance to your HIIT training and running workouts. Again, weights are built-in, making them more evenly distributed, but eliminating the option to add any weight.
7

. Zeyo Sports Fitness Weighted Vest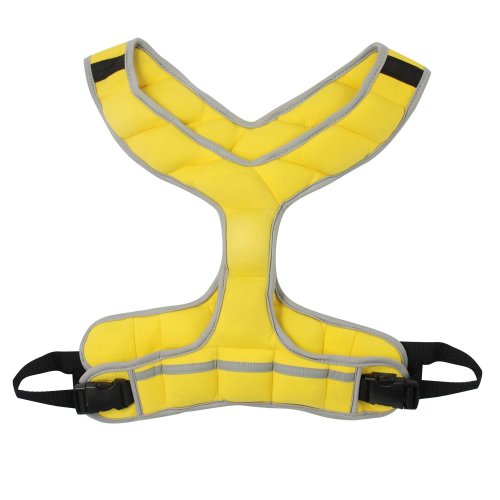 'X' shape design
8 pounds of evenly distributed resistance
Made from synthetic rubber
Reflective strip
Quick-release side buckles
Moves around with movement exercising
The Zeyu Sports Walking Fitness Weighted Vest is an 'X' shaped vest with a minimalist design, especially for women. It comes in stylish pink and grey and has a form-fitting design. 8 pounds of resistance are evenly distributed around the jacket to allow for balanced movement.
Read more
The jacket is constructed from synthetic rubber to provide a durable yet lightweight fabric. The Zeyu vest for CrossFit is one of the best weighted vests for walking and gym exercising. However, it will bounce around a little when you are running.
It is fully adjustable to suit any user and comes with a quick-release buckle in case of an emergency. This jacket will not unduly strain the lower back or pull the shoulders forward.
Quick-release side buckles make this jacket simple to put on and ensures that it is adjustable to any body shape. It has a reflective strip along the bottom to keep you safe at night, as well as a pocket to house your cell phone.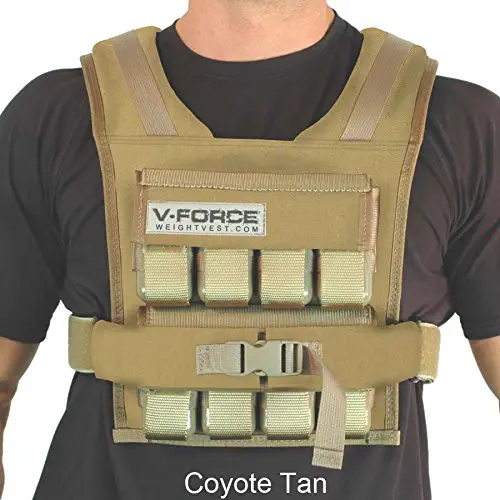 Interskeletal webbing
Secure velcro straps
Very durable
Uncomfortable for running or extended use
The VForce weighted training vest is a short torso vest that keeps the weight off the stomach. It features reinforced pockets, adjustment straps, and high density, mildew resistant crushproof and protected foam.
Read more
The Velcro straps hold it in place securely, while allowing for a custom fit. This jacket sits firmly on your chest, without any annoying slipping. It is very comfortable to wear and will not in any way restrict your breathing. The VForce features nearly invisible seams and stitching, which are very strong, making the jacket very durable. It sits comfortably on the shoulders with no sliding making it one of the best weighted vests available at the moment. Inter-skeletal webbing reinforces the pockets and shoulders to maintain the shape of the jacket year after year.
The VForce weighted vest has a maximum weight load of 45lbs, making it one of the best for weight capacity.
9

. Everlast Weighted Vest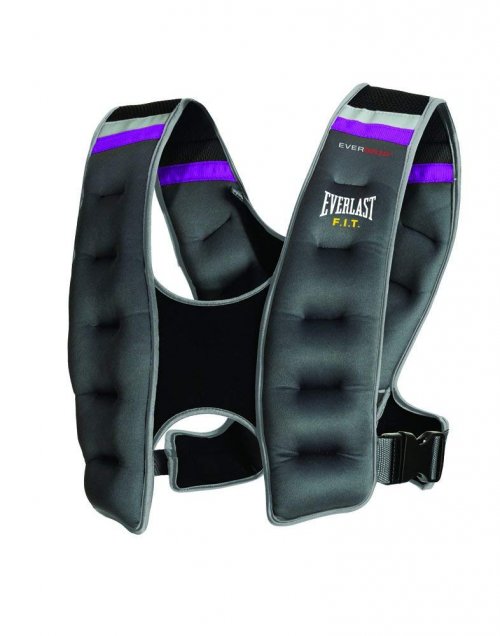 Made from neoprene fabric
Hugs securely to the body
Adjustable shoulder straps
Absorbs sweat
Very breathable and comfortable to wear
Some users have reported leaking sand granules
The Everlast Weighted Vest for running is a minimalistic neoprene jacket that is one of the best breathable and comfortable vests with weights. It makes use of patented Evergrip technology to hold the shoulder straps securely in place.
Read more
The Everlast weighted jacket is slimline enough to be worn throughout the day without being noticed by others. It uses weighted beads and sand for resistance. It is well made with durable seams and quality stitching.
The textured panels on the underside of the vest hug the jacket to the wearer's body, minimizing any lateral movement while working out. The shoulder straps are fully adjustable to allow for a custom fit.
The neoprene fabric does an excellent job of absorbing sweat while you're running with a weighted vest. Adjustable side buckles provide a quick on and off mechanism as well as providing for customized fitting for any body shape or size. Everlast provides a 120-day warranty with this product.
10

. MIR Womens Adjustable Weighted Vest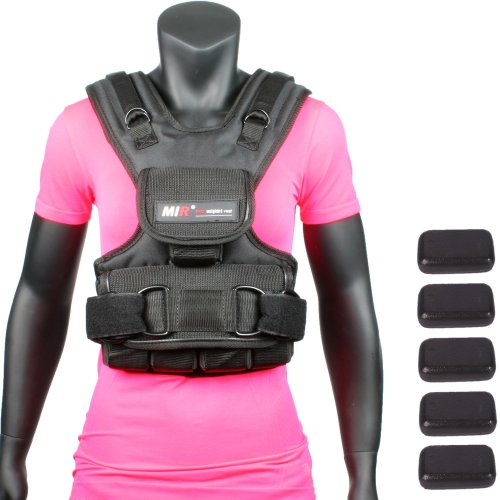 Form hugging fit
'X' design with side buckles
Weights equally balanced
Cell phone pocket
Shoulder straps uncomfortable
The MIR Women's adjustable vest is made from 1200-D nylon, providing an extremely rugged but snug and comfortable fit. It has an 'X' design with side buckles to allow for a custom fit to any body shape or size.
Read more
The weights are removable so you can adjust to your preference and add more weight as you gain stamina. The 10-pound vest comes with 3 three-pound weights, with the jacket itself weighing a pound.
The weights are made of metal and positioned equally around the torso to provide the best balance. The MIR vest offers a form hugging fit that will not cause chaffing nor move around when you are exercising. It also has a pocket for your cell phone.
Criteria Used for Evaluation

Adjustability
Adjustability is essential for these vests to get a custom and comfortable fit for different body shapes and sizes. Good adjustability comes with adjustable shoulder and torso straps and the ability to adjust weight placement on the vest to suit the individual's training needs and preferences. Adjustability is important to consider if increasing weight is of high priority, as some vests have built-in only weights that can't be adjusted.

Breathability
Because these vests are typically used in fitness environments, it is essential for the fabric of the vest to allow for ease of breathability. As an individual intensifies their workout, they build body heat and sweat. If the body heat and sweat don't have a way to escape under the weighted vest, it could leave the wearer uncomfortable, too hot, and muggy. And that could ultimately lead to a less efficient workout and burnout. We ranked these vests in breathability based on effective the fabric allowing air to flow freely and how quickly it wicked away moisture.

Comfort
Making sure a weighted vest is comfortable is crucial to overall safety and enjoyment when using it. Somethings that may contribute to the decrease in comfortability are the rigidity of materials, lack of breathability, restriction of movement, uneven distribution of weight that results in pulling of the shoulders or straining low back, and heavyweights. Somethings that typically improve the comfortability of a weighted vest are efficient airflow and moisture-wicking properties, streamlined and more compact weight system, variety of adjustability, soft, elastic fabrics, and how secure and form-fitting the vest is. We took careful consideration of this category as we believe it is quite possibly the essential aspect of a vest.

Durability
Durability is a straightforward category, that takes fabric materials, vest construction, and ability to withstand wear and tear into consideration. More heavy-duty and impermeable fabrics can usually withstand more stress and will typically last longer before wearing out. How well the vest is constructed is another essential factor. Quality seam strength, strap thickness, and weight pouch durability give a vest more overall durability. And of course, if a product comes with any guarantee, it increases the durability of use as well.

Ease of Use
Ease of use is considered to be a branch off of a weighted vest's adjustability, both with weighting the vest and with adjusting the vest's size. Another thing that enhances a vests ease of use is how quickly and effortlessly it can be put on and secured in place, and taken off. Vests that have weight built-in generally have higher ease of use since there are no weights to fumble around with as you insert and take them out of weight pockets. We also looked at the level of stretch and adjustability with side torso clips when determining how easily a vest can be adjusted to fit an individual specific body type.
Expert Interviews & Opinions
Most Important Criteria
(According to our experts opinion)
Experts Opinion
Editors Opinion
Users Opinion
By Default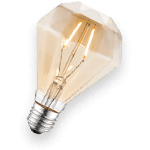 Durability
Durability is a crucial point for choosing a running vest.
A vest will receive a lot of stress and movement due to the nature of running; the more regular you run, the more you want to be sure you choose a product with durability.
Check the seams to ensure that the stitching is robust and strong, examine the materials to ensure that the vest is constructed with a strong, durable weave which still allows breathability and a healthy amount of body flex. Examine the pouch or pouches, look carefully for how securely these are stitched to the main body of the vest.
Ease of Use
Choose a vest that can easily be put on and taken off. You should also look for where the vest is weighted so that you will know if the weight is securely placed and not inclined to swing or bump against the body.
You may want to consider a vest with designed in weights because this means you do not have to give time for stacking weights in pouches. Another critical feature to look for is designed in functions that will allow you to adjust the vest for a comfortable and secure FIT.
Frequently Asked Questions
q:

Should weighted vests be worn on top or underneath clothes?

a:

There isn't a right or wrong here, as weighted vests can be worn either way. Some people prefer to wear weighted vests without clothing underneath, mainly to keep cool when working out in hot environments, or when doing simple activities like walking on a treadmill. Others prefer to wear a weighted vest on top of clothes, especially when working out in colder environments or to avoid friction on the skin when doing more intense movements and to exercise. So it depends mainly on personal preference, and the activity and the environment.
q:

How do you clean a weighted vest?

a:

It's always best to read the care instructions for each product, as materials vary. But because weighted vests with built-in weights are bulky, it is not recommended to put them in a washing machine, as they could do some severe damage. And vests that don't have any built-in weights, but removable weights, can be washed in a machine once all weights have been removed. But the general standard for washing any weighted vest is to only handwash it or allow it to soak in the tub for a couple of hours, rinse, and let air dry somewhere warm or in the sun with good airflow. Good airflow for drying is especially critical for vests that have built-in weights made from sand because if the sand stays wet by not frying efficiently, it could mold. The same goes for heavyweight fabrics too.
q:

What are weighted vests used for?

a:

Weighted vests have a wide variety of applications. The two most popular reasons people use weighted vests are to increase strength during bodyweight exercises and to increase the effectiveness of cardio. When performing cardio workouts, having a weighted vest on encourages your body to work harder than usual, which increases the number of calories burned and adds the benefit of getting a light strength training during your cardio. Using a weighted vest during calisthenics or other movement exercises, it increases resistance, which helps build strength.

In addition to being used in the realm of fitness, weighted vests have also been reported to be beneficial in therapeutic applications as well. Especially for people who may have movement disorders such as Parkinson's or Cerebral palsy or sensory processing disorders like autism or ADHD. For these users, it is strongly encouraged to speak to healthcare providers to discuss whether or not a weighted vest is a right choice, and if so, which one would be best suited for the individual.
q:

What are the safety precautions for using weighted vests?

a:

Running and training with a weight vest has its dangers, and it's essential to keep that in mind. Never overload your adjustable weight vest and never push yourself too hard with one.

To err on the side of caution, increase weight in your vest slowly, and pay attention to your body's response during your fitness regimen. If your posture or your form weakens quickly, or if you begin to experience pain in the low back, you're likely using too much weight. Adding more weight than you can handle, and adding it too fast, is a recipe for disaster. It is the best way to increases the likelihood of injury and discomfort.

It is also generally not recommended to wear a weighted vest for long-distance running, or for any other high impact endurance exercising, as the added weight could potentially wreak havoc on your joints.
Subscribe to our newsletter