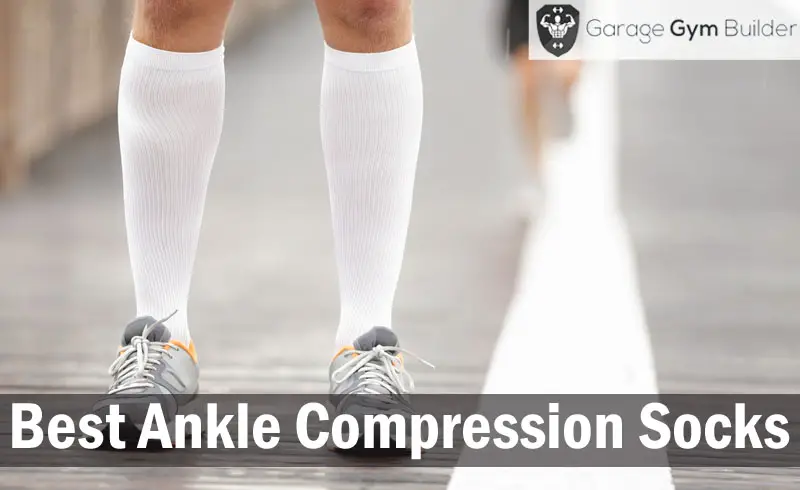 Best Ankle Compression Socks Review 2018
When you're on your feet for an extended period of time, it's the ankles that take the brunt of the pressure. Same thing when you're playing sport - all that twisting, turning and sudden stop motion is putting the ankle joint under tremendous pressure. That's why it's vital that you wear socks that will support and protect your vulnerable ankles all day long. In this, article we focus in on the top ankle compression socks on the 2018 market.
The Best Ankle Compression Socks At a Glance

The best ankle support socks on the market are ZaTech Plantar Fasciitis ankle socks, which provide you with breathable mesh zones, targeted compression and a seamless toe enclosure. Our next favorite is the Sockwell Women's Incline Quarter Moderate, featuring graduated compression, Acufit spandex and extra arch support. Rounding out our top 3 is the CX Craft Health is Wealth ankle compression sock, which has an open toe design, high level of compression and strong moisture wicking property.
To make it easier for you to contrast the top market players, we've rated each sock on the basis of price and effectiveness and then given an overall rating out of 5. In the next section, we provide an in-depth review of each sock.
ZaTech Plantar Fasciitis ankle socks make use of targeted compression to pin-point key areas of the ankle and heel that need extra protection. This sock is especially good for the treatment and relief of plantar fasciitis. Breathable mesh zones are included to heighten the level of breathability and airiness of this sock. This gives it a high moisture wicking property. It is also quick drying and odor resistant. A seamless toe enclosure avoids abrasion against the skin.
The high level of compression provided by the ZaTech compression sock brings immediate relief by increasing blood flow, which removes lactic acid and brings more oxygen and nutrients to the area. This will alleviate swelling and discomfort. The sock is made from 85% polyamide and 15% spandex.
Targeted compression
Breathable mesh zones
Seamless toe enclosure
The Sockwell Women's quarter moderate sock is an ankle sock that is constructed from a merino wool blend. It offers graduated compression, ranging from 15-20 mmHg, with an emphasis on the ankle. It features a low profile design which makes the sock extremely user friendly, working in seamlessly with any shoe option. It is fitted with Acufit spandex throughout. This ensures that the sock loses none of its flexibility and responsiveness throughout the day.
The Sockwell Women's quarter moderate sock features an extremely light cushioned sole to provide support from the dynamic impact of foot strike. This sock also features extra arch support, turn welt top and a reinforced toe and heel box. This sock is made in the USA under high quality control.
Graduated compression
Acufit spandex
Extra arch support
A little too tight at the ankle
The CX Craft Health is Wealth ankle compression sock provides a high level of compressive stability to help keep your ankle properly aligned as you run and walk. The sock uniquely features an open toe design, which greatly increases blood flow and breathability. This gives the sock a higher level of moisture wicking ability. Advanced Recovery Technology provides enhanced compression to get rid of lactic acid and increase oxygen supply.
The CX Craft Health is Wealth ankle compression sock is constructed from a special blend of eco-friendly nylon, spandex, and elastic. This is claimed to deliver twice the compression of competing brands while maintaining flexibility and responsiveness. Your purchase is supported by a 100% money back guarantee.
Open toe design
High compression level
Moisture wicking
Bands may loosen when washing the sock
The GO2 SOCKS is designed to provide relief against plantar fasciitis. The high level of compression that is centered around the ankle speeds up recovery by fast tracking nutrients to the painful area. At the same time it does a good job of removing lactic acid. The toes less design makes this a very comfortable, free feeling sock that adds a high degree of range of motion and breathability.
The GO2 SOCKS compression sock delivers added ankle and heel support to help reduce the effects of foot strike. It also features built in anti odor technology, so you won't have to put up with smelly socks issues. These socks have been tested by sports professionals with outstanding results.
Ankle centred compression
Toe less design
Added ankle and heel support
The BLUEMAPLE are dedicated to making compression sports socks look cool and hip. They are made from an anti-odor and anti-static material which stops the growth of bacteria and fungus. At the same time it wicks away moisture and sweat away from your feet. It will deodorize and keep your feet dry even with prolonged use.
The socks come in four different color combinations so you can wear them in any setting. The sock comes with thicker padding at the heel in order to provide enhanced comfort for people who stand for extended periods of time. This sock will not slip or bunch up. The seamless design adds to your comfort eliminating irritability.
Graduated compression
Anti-odor and anti static
Moisture wicking
Thick heel padding
Sizing chart is inaccurate
The 1st Elite Plantar Fasciitis ankle sock is a graduated compression sock that delivers targeted tension around the ankle. This delivers a high level of enhanced blood circulation for speedier nutrient supply and removal of lactic acid. The low profile of this sock makes it the perfect complement for any shoe design. The lightweight fabric delivers a very breathable sock that neither over heats, nor gets filled with sweat.
The Merax 2 in 1 bike has a max user weight of 250 pounds. The centrally located computer monitor provides you with readouts of your key performance indicators, including calorie burned, speed, distance, and time. The LCD display is large and clear.
Graduated compression
Low profile
Toe less design
The Compressionz Plantar Fasciitis ankle compression sock targets plantar fasciitis issues, along with achilles tendon pain, stress fractures and edemas. It features a graduated compression to allow you to get rid of lactic acid build up, providing immediate relief. Your oxygen circulation will also be enhanced with the high level of compression provided. Your comfort is assured with anti odor and anti static properties built into the sock.
The Compressionz Plantar Fasciitis has been anatomically contoured to fit the shape of your foot. It will retain its shape even after much wear and washing. You can also be assured that these socks will stay up, won't bunch up or slip while you're wearing them. You get a full guarantee with this product.
Graduated compression
Anatomically contoured
Anti odor and anti static
The SB Sox Sport compression sock is made from a unique fabric called dry silver drystock. This provides a high level of moisture wicking, along with anti odor and anti static properties. It has also been infused with silver in order to prevent the growth of fungus and bacteria. This sock provides a high level of compression to get rid of lactic build-up and increase oxygen and nutrient supply.
The SB Sox Sport low profile ankle compression sock is made in Italy, under stringent manufacturing conditions. It has been tested by leading athletes around the world. It has been pre-washed using a chemical free softener. A deep heel cup prevents the sock from slipping down.
High level of compression
Moisture wicking
Dep heel cup
The Copper Compression Recovery Foot Sleeve is a copper infused compression sleeve that brings immediate relief to ankle issues. Unlike many imitators, these socks have a very high level of copper infusion. The compression is built around the ankle, providing relief by getting rid of lactic acid and bringing in nutrients and oxygen. You get a high level of compressive tension without compromising range of motion with this sock.
The Copper Compression Recovery Foot Sleeve comes in a highly responsive and comfortable fabric. It is highly breathable and has built in odor and static protection. You won't have to worry about bunching up or slippage when wearing these socks.
Your purchase is supported with a money back guarantee.
Copper infused
High compression level
Odor and static protection
CEP are a top player in the compression sock market. Discover the best in their range with our CEP Compression Socks Review 2018 article feature - we review and compare their top offerings.
Top 3 Ankle Compression Socks