Top 10 Volleyball Ankle Braces Reviewed and Rated
last updated:
Feb 04, 2020
Volleyball, soccer, basketball, and football can all do a number on your ankle. But volleyball players, who often play on the sand or soft dirt, are especially at risk.
Running, jumping, twisting, pivoting, often sinking your-all into a crucial shot-it is too easy to roll your ankle. Besides the pain and inconvenience, a severe enough ankle injury can keep you off the court for weeks.
But those ankle pains are treatable. It may take a while to get you back in action, but strains and sprains heal. They usually require you to brace your ankle, sometimes even when you sleep, to keep it from moving while swelling goes down, blood flows again, and tendons or joints heal in response to medical treatment.
Not getting injured in the first place is better than surgery or sidelining. We reviewed the best volleyball ankle braces here for both corrective and preventive purposes.
In a hurry? The Test winner after 20 hours of research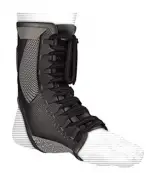 Shock Doctor 849
Why is it better?
One brace fits either foot
Reasonable price for so many features
For temporary relief or long term injury recovery
Comes in two colors
Tight lacing and closure system
Adjustability
Breathability
Comfort
Compression
Effectiveness
By Default
10 Best Volleyball Ankle Braces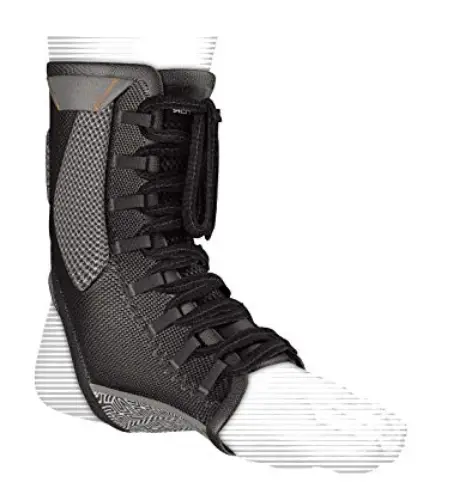 One brace fits either foot
Reasonable price for so many features
For temporary relief or long term injury recovery
Comes in two colors
Tight lacing and closure system
Some athletes might prefer a closed heel
Shock Doctor is a brand you can depend on to make quality braces that will ensure your comfort and keep you moving while you heal from an injury. The 849 is a performance level 3 model that provides comforting heat through gentle compression.
Read more
Comfort features include ample gel pads lining the foot areas, and a tongue-shaped like the natural curve of your ankle and foot. The brace keeps everything aligned without any pinching or cramping.
Performance level 3, according to our research, means the 849 gives medium support and stability for sprained ligaments, strained muscles, and shaky joints from the moderate to the major range. You can wear this volleyball brace for temporary pain or for short to long term recovery from a medically treated injury. Either way, you will feel less pain and be protected from any re-injury.
There are not heating pads or elements inside the brace, but the laces and uppers work together to provide natural warming via compression. The heat and compression will encourage your muscles to mend. An open heel allows air to circulate, stopping foul odors and bacteria growth along with the antimicrobial liners.
The brace comes in either black or white if you are into matching volleyball braces with your gym sneakers. Perhaps the best thing about the Shock Doctor 849 is that it fits either foot, so you only need to buy one instead of a matching pair.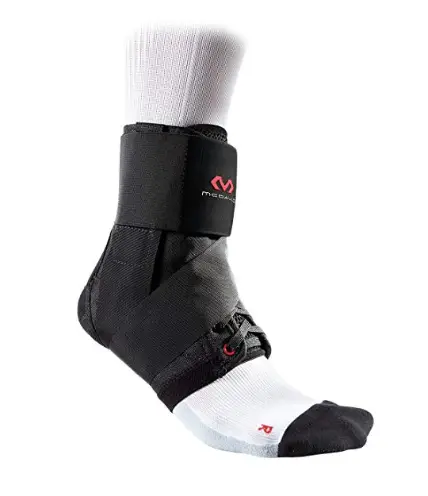 Proven effective by university study
Extra compression via the top strap
Breathable material
Made to emulate athletic tape
Be careful with sizes-fit is unusually snug
This is another level 3 brace that will both heal your sports injuries and help you avoid future ones.
Read more
Athletic tape has long been a standby of any well-equipped locker room. It helps hold everything in place while muscles heal. McDavid's brace cleverly replicates athletic tape placement with its built-in figure 6 pattern. The added top strap gives you increased compression.
You can also adjust this brace without having to take your shoes. This would come in handy if you need, say, a position change or less compression during an outside walk. The tongue is ventilated to let your ankles breathe and inhibit both odors and bacteria. Generous liner padding lends even more stability while also making for a tighter, firmer fit.
Perhaps best of all, McDavid's claims of a favorable research study and true and verifiable. In 2010 the University of Wisconsin, Madison, study showed that the school's basketball players suffered fewer injuries over a season when they wore McDavid brand braces. If you want to know more about this and several other studies, we've linked McDavid's study page in the sources at the end of this buying guide.
3

. Bracoo Neoprene Ankle Sleeve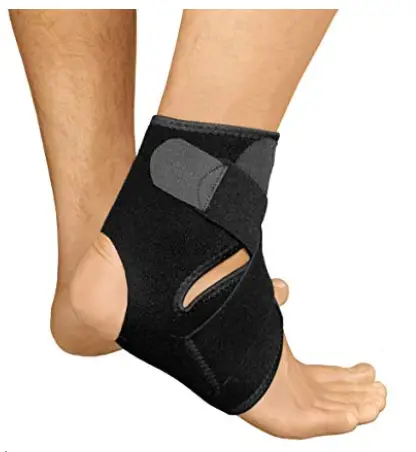 Neoprene is durable, tear-proof
S, M, L, XL sizes
Injury recovery and prevention
Freeform strap
Some athletes may prefer a sleeve with laces
One hundred percent neoprene construction on the ankle and heel outer coverings make a tear and crack resistant ankle sleeve that will mold and compress to your body from the time you put it on.
Read more
Although anyone playing an ankle intense sport can benefit from the Bracoo, it is specifically engineered for injury recovery. If you suffer from a muscle strain, sprained ligament, or compromised joints after ankle or leg surgery, you will get a lot of mileage out of this sleeve. It is ideal for people with arthritis, too.
The brace has an open heel design to let you move freely and participate in your favorite activities. You get protection for your Achilles tendon, plantar flexion, and. of course, the ankle joint. Straps are a crisscross pattern. They don't have anchor points, meaning you can stick them anywhere on the neoprene.
This sleeve also fits either foot and will accommodate an arch of up to 10 inches.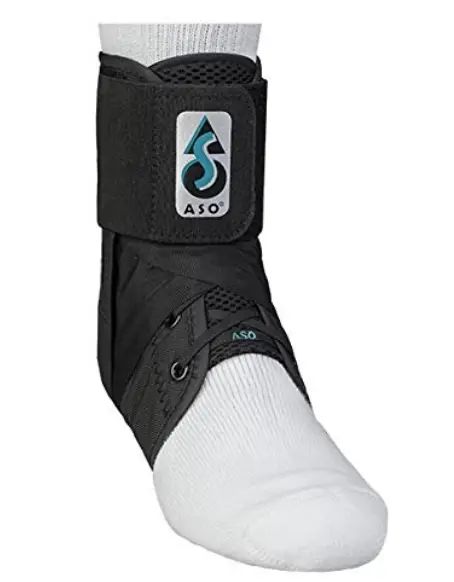 Extra secure closure system
Comes in sizes up to 3X
Nylon is especially durable
Can be machine washed
Fit may be a bit too snug for some
This super versatile sleeve comes in sizes from XX-small up 3X large, so it can adapt to feet of any size. It has a low profile, too, so it will fit comfortably with any of your shoes.
Read more
The crisscrossing straps form a figure eight, ending behind the single massive velcro ankle strap. Making the ASO even more formidable, the open heel features laces to give you the tightest fit possible. This is a snug sleeve that will not come loose or cause problems.
The sleeve is made of nylon, and Med Spec (the makers of the ASO) promise it is ballistic grade. Just in case those laces think of coming loose, the cuff closure has an elastic lining as a final means of holding everything together. The sleeve will fit either your left or right foot.
The Med Spec ASO is safe to wash in the machine on the gentle setting. It cannot go in the drier. To get the best fit, Med Spec suggests measuring the circumference of your ankle close to the heel.
5

. Bioskin Wrap-around ankle brace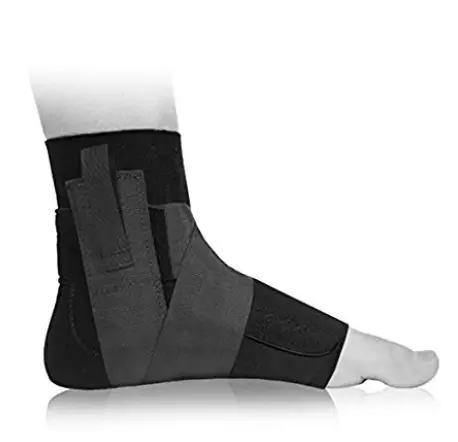 Silicone pads in the lining
Excellent swelling control
Tight, secure closure
Wide range of adjustments
This brace is sturdy and solid enough to be recommended by some podiatrists for post-injury recovery.
Read more
The hallmark of the wrap-around features is its ability to control swelling. Sprained ankles, as well as ankle surgery, are often the culprits behind swollen ankles. This sleeve makes the swelling less painful and more manageable with silicone gel pads that surround your ankle. This is an exceptionally stable brace.
It is also easy to adjust, thanks to front and lateral straps that open like car doors to grip the feet according to your comfort level. The design is aimed at tightening the fit as swelling decreases. An additional bottom strap, or stirrup, provides additional immobilizing properties. The unusual closure system, which looks nothing like our other picks, is specifically for pain-free application to freshly injured ankles.
This is really on par with a medical device, and may actually be overkill for the casual volleyball player. The price reflects this. Still, for a sleeve that will grow and shrink along with your injury and recovery, the Bioskin wrap-around model is tough to beat.
6

. Aircast A60 Ankle Brace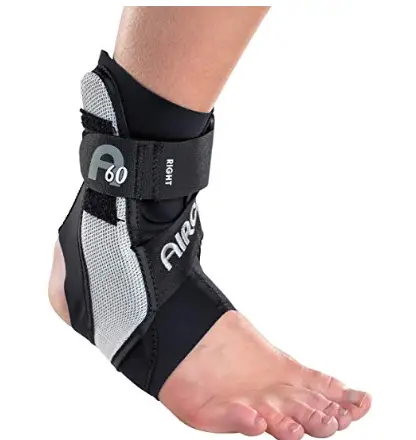 Great for everyday wear
Affordable
Lets you bend your feet
Stirrup style
Left and right sold separately
The gentle support provided by the A60 is best for injury prevention or recovery from non-emergency injuries. It is not well suited to sprain or surgical aftercare.
Read more
Athletes with long histories of troubled ankles will appreciate the extra support and strength the A60 grants. It has an open heel but wraps all the way around the bottom of the foot in a stirrup style. This means more stability and safety.
Another interesting feature is the side stabilizers. They sit with the ankle between them. The stabilizers are molded at 60-degree angles and help prevent both rolled ankles and sprains. Aircast made the sleeve light enough that you get a full restriction-free range of movement, so your ankle and foot can bend while you play and move.
This is the first on our list that only has one strap. There are no crisscrosses, figure 8s, or old school laces. The one ankle strap holds everything in place. Those seeking the heaviest possible stability and immobilization will want to try something else.
7

. Zamst A2-DX Strong Support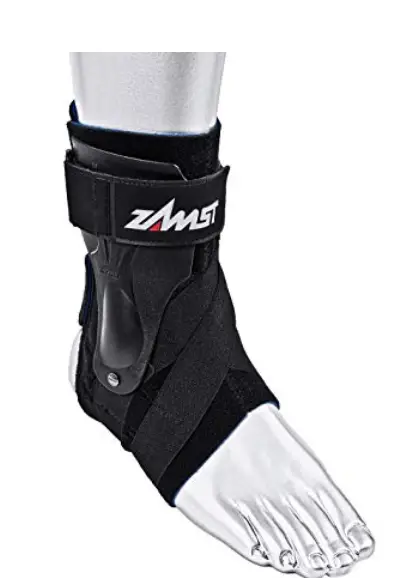 Prevents ankle from moving, with extra stabilizers
X shape strap pattern for security
Aids in upper ankle sprain prevention
Zamst is an excellent company
May be too rigid for some athletes
This offering, from established maker Zamst, has built right into the name. We think it fits, and after you see some of the features, we believe you will, too.
Read more
Zamst, a Japanese company, makes its bread and butter with medical devices. Turning their eyes to consumer braces, they've made one to exacting specs. The patented Exo-Grid inner liner material features rigid stabilizers to prevent rolling, with the outer synthetic material keeping the skin from making contact with skin.
In addition, Zamst uses a technology called Grip Tech in its lining that prevents the brace from moving or sliding around once it is strapped on. This reduces friction and keeps you from having to stop and readjust the sleeve during a game. Zamst even says the sleeve keeps your two lower leg bones closer together where they join the ankle. This means no sprains high on the ankle.
Grip tech is located on the underside of the two lower straps. The two straps form an X on top of your foot. It's a secure design, further helped out by the not-too-huge ankle cuff with the Zmask logo.
8

. Mueller Sport Care 4-Way Stretch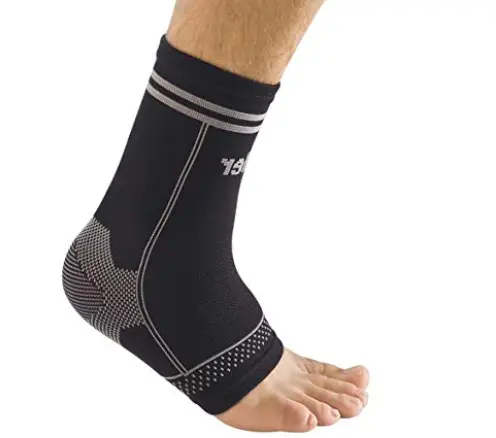 Lightweight material
Form-fitting on your feet
Extra compression thanks to the stitching
Soft fit during wear, won't poke the skin
Extra compression in this brace is courtesy of Mueller's circular stitching pattern.
Read more
The stitching means you get both vertical and horizontal compression for maximum swelling control, gentle therapeutic hear, and immobilization as you heal from your sprain. The brace prevents new injuries, too. This is one of those braces that is gentle enough to wear most of the time, even if you do not currently have an injured ankle.
Some braces, like compression shorts, will leave red marks or indentations on the skin. These are inconvenient and may even be painful, especially after a day in the sun. So Mueller used soft material that will not bite into the skin. You'll be trouble-free all day, and your feet will stay healthy thanks to the breathable design and antimicrobial material built into the fabric.
The 4-Way features extra length to better fit your ankle and is also shaped and sewn in such a way that it conforms to the natural shape of a foot.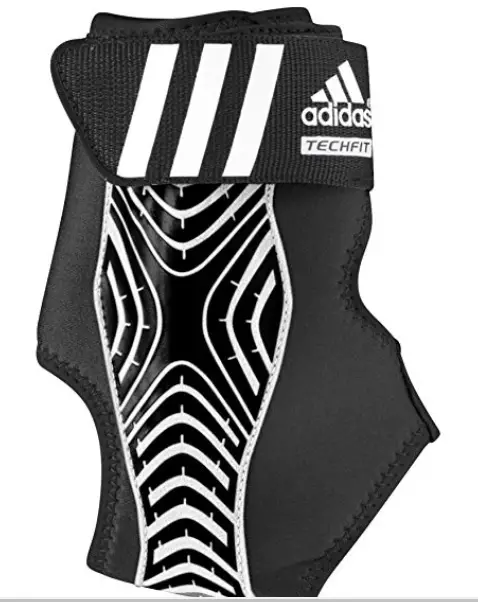 Easy to get on and off
Lightweight, unobtrusive while you wear
Side stabilizers
Stylish athletic look
Although far more minimalist than the others on the list, the Adidas Adizero is a wrap you can put on in a hurry and never realize it's there until your game is over.
Read more
Adidas says its stylish, stripey little wrap is stronger than sports tape, up to three times stronger. It goes on tight, so make sure you are ready for something so snug. Non-slip material, especially on the bottom piece, keeps you on your feet and also somewhat improves buoyancy. You will actually feel a bit lighter with this brace on.
Fabric is moisture-wicking, which also helps with rubbing and friction. Sturdy, physical therapy style side stabilizers make sure you won't roll your ankle. The Adizero is super versatile, too--it fits men's shoe sizes 4 through 18, or women's 6 through 20. The wraps are labeled small all the way to XX-large, with three shoe sizes for each letter size.
The one drawback to the Adizero that we found is that it isn't sold in pairs, and isn't interchangeable. You'd have to buy a left wrap and the right one if you wanted to protect both ankles.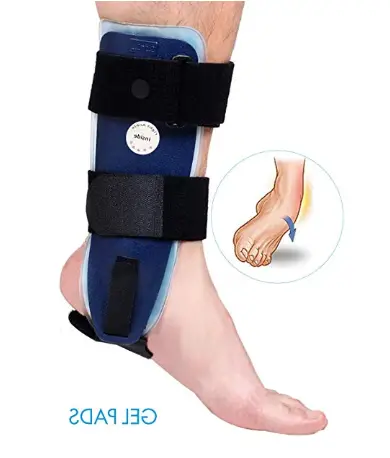 Inexpensive for such a strong brace
Extra compression
Bottom strap
Money-back guarantee
Does not cover the top part of the foot
This is another stirrup style brace that envelops your whole foot for stabilization and injury healing.
Read more
Quality manufacturing provides whole ankle support and gentle compression. The brace is rated for ligament tears, rollover prevention, and active sprain healing. Velpeau also promises to manage swelling, and give you a faster recovery by powering up your blood circulation.
Tough plastic stabilizers act as splints on either side of the brace. They are comfortable and won't cause you inconvenience, because the splints are designed to match your anatomy. There is a heel strap to adjust the fit, and you also get both a high and low ankle strap for serious stability. The inside is lined with gel and foam pads for a form-fitting experience.
The brace isn't exactly invisible, but it has a low profile so you can wear it with regular clothing if you'd like. Velpeau offers a six-month money-back guarantee when you buy the brace.
Criteria Used for Evaluation

Adjustability
Ankle braces are not one size fits all.
The best volleyball ankle braces have several options for ensuring a snug fit. That nice, snug feel, without being too tight, is what compresses the injured area. The compression helps bring down swelling, increases blood flow, and promotes healing over time.
So the straps, laces, and stabilizing splints are important. We gave priority to the more rigid ankle braces because those are the ones that best hold the foot still. But some volleyball braces act almost like wraps and let you have a bit looser feel. Those braces need to be adjustable, too. A loose brace is ineffective, but it can also cause chafing and friction, creating a new problem instead of solving the one that causes your injury in the first place.

Breathability
Breathability is about more than just keeping you comfortable.
Comfort is important, of course, but volleyball braces, like shoes, have to have circulating air to prevent bacteria from growing. That's what happens inside of your shoe when you sweat. Even with socks on, the bacteria can affect your feet, giving you a rash or worse. And often, we don't wear socks with braces because they chafe and cause overheating.
It is important that ankle braces be made of breathable material. They may also have vent holes, including the lace eyelets. We gave the most breathable ankle braces top priority in our list, especially because volleyball is such a fast-paced sport and you can sweat easily. That will cause discomfort and slow you down.
For that reason, we would advise you on taking a look at the best socks for volleyball we reviewed and rated.

Comfort
Anything you wear for most of your waking hours, for days or weeks at a time, has to be comfortable.
In the case of braces, a nice tight fit is more comfortable than having legroom. That's because, of course, the brace's job is to isolate and immobilize the affected area. A brace that's too loose may actually be worse than no brace at all.
Comfort can increase with the addition of extra straps and closures, as long as they are not heavy or constrictive. Laces, too, should be tight but also easy to tie. The lightweight material is good, as long as it's not too pliable. The best volleyball brace will wrap around your ankle snugly, but become almost unnoticeable when you wear it.

Compression
Compression creates heat, and the right amount of heat promotes healing.
We say the right amount of heat because overheating causes problems of its own. Excess sweating and bacteria growth are not the solutions to anyone's rolled ankle. Nearly all the volleyball ankle braces on this list offer targeted and consistent compression.
Some braces use special stitching for vertical and horizontal compression. Others rely on extra closures, laces, or even strapping patterns that emulate kinesiology tape. The letter X configuration is also popular. Some braces have a stirrup strap, for whole foot compression. Others have rigid side and front stabilizers to fit the foot like a cage.
Unless you have a brace that your doctor or physical therapist provided, you have some freedom in which compression style you want. We took a look at the ten on this list, and have tried to give you the knowledge you need so you can decide what kind of compression will be the most comfortable for you.

Effectiveness
A brace that doesn't work will aggravate injuries and create new ones.
For a brace to be effective, it has to promote healing and prevent further injury.
All braces have these general purposes, but some are less heavy-duty than others. Some of the ankle braces for volleyball on this list are not made to heal injuries, and that is just fine. You can wear them if you are sore, or worried about rolling an ankle or getting a strain or sprain. We want to make sure you know, though, what each brace can and can't do. A lightweight wrap is effective at getting you through a game, but it won't promote healing, and of course, the difference is something you must know.
Expert Interviews & Opinions
Most Important Criteria
(According to our experts opinion)
Experts Opinion
Editors Opinion
Users Opinion
By Default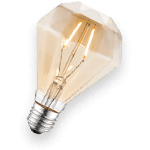 Different Types of Braces
With all these reviews and specs, it is a good time to review the basic types of braces. Everything on this list will fit into one of these categories, with a bit of overlap on some products.
The most basic kind of ankle brace, and often the cheapest, is called the lace-up brace. They are flexible, but not too flexible, usually being made of nylon or vinyl. The flexibility is the main point because you can tighten the laces to your comfort level and stop. These are the braces you use for protection from an injury, not recovery.
Post-injury braces are more expensive than the lace-ups, usually seen at medical supply houses. These braces will have air or gel padding and contoured lateral braces. A post-injury brace manages swelling. Typically you won't be able to do all your normal activities in a post-injury brace.
Rigid braces allow for a bit more freedom than the post-injury braces. Some rigid braces even have lace closures, and there may also be stirrups. They provide a lot of protection, and promote healing, but still allow your ankle to move back and forth. This is a transitional brace you can wear when your injury has healed enough that immobilization is no longer needed.
Tight, But Not Too Tight
Compression does wonders for blood circulation, of course. But too much compression means reduced circulation, which causes more problems. So the key is to find your comfort zone somewhere in the middle.
Your ankle should remain still, for the best chance of brace effectiveness. Braces are engineered to lock the foot in without causing tightness or pain. Of course, it is possible to tighten the brace too tight. So always exercise caution. If you have to stop and readjust a brace the first time you wear it, even during a game, that is perfectly fine.
Remember, too, that physical therapy or medical brace will always feel tighter than a wrap or simple lace-up brace. The tightness and security are part of healing.
Other Factors to Consider

Protection
Protection refers to the brace's ability to protect you from injury or relapse, but it also means the volleyball ankle brace has to protect itself from the elements and from your hardest activity, day after day if need be.
The most well-protected braces will be the post-injury ones. These have to lock your feet in place and maintain their shape and structure, for weeks or months sometimes. So they are made of the toughest and least flexible materials.
The materials in the side stabilizers are important, too, both for your protection and for the survival of the brace over time. Straps, too, regardless of placement or style, keep both you and your ankle brace safe even during heavy activity.

Upper
If we compare them to shoes, an ankle brace is essentially nothing but an upper. Some will have extended tops for extra protection. They can also have open or closed foot coverings. Usually, the open or closed foot will be determined by the purpose of the brace. There are some heavy-duty stabilizing braces for volleyball that have open heels because the rods on the side are enough to keep your ankle still.
Frequently Asked Questions
q:

Is neoprene better than nylon?

a:

In some ways, yes.

Most wearers report that neoprene is more comfortable. Nylon can shift a bit more than neoprene does, and usually is not as quick to mold to your foot. Nylon doesn't cause pain, but the difference is noticeable.

Neoprene is also lighter than nylon, and you can feel the difference during wear. The neoprene provides a snug fit.

However, neoprene is typically more expensive than nylon. It also may not breathe as well as nylon and can make you more prone to overheating.
q:

Do antimicrobial linings work?

a:

Yes, according to several studies we were able to look up, antimicrobial linings make a big difference. They aren't perfect, of course. You still need to wash your brace, by hand or machine according to the directions. But your chances of getting a rash or something similar from a brace is much lower than they were just twenty years ago.
q:

Can I wear my sister's old prescription brace?

a:

No, we absolutely do not recommend that. The volleyball brace may not fit properly, and your sister's time wearing it may have caused wear and tear. If you are in enough pain to need an ankle brace for your volleyball match, your best bet is to go to the closest emergency room.
q:

I wasn't wearing a brace, and I rolled my ankle. What do I do now?

a:

The old RICE method is still pretty good advice for ankle injuries.

Rest. Don't put any weight on the sprain or strain. You may need help from friends to get to a doctor. Usually, after treatment, you will be able to get back to some exercise. But when you first get hurt, assume the injury is serious enough to sideline you.

Ice. Even if you can't get ice, the coldest water you have access to will help. You may have to use a plastic bag or other found item until you can get to an ER. Ideally, you'd want to put ice to the ankle as many as eight times daily, for around 15 minutes.

Compress. Ankle sleeves are great for this, of course. But you can also use an ace bandage or even a dishcloth in an emergency. Just don't compress your ankle too much, because you can cut off circulation.

Elevate. Try to keep the ankle above the level of your heart. You can prop it up on pillows when you rest in bed or on the couch.
q:

Aren't stabilizing braces painful?

a:

We wouldn't really call them painful as much as restrictive. But that inability to move your foot is what's going to help you heal. A heavy-duty brace will take some getting used to, but if it causes you pain, especially after breaking in, you should see your doctor.
Subscribe to our newsletter