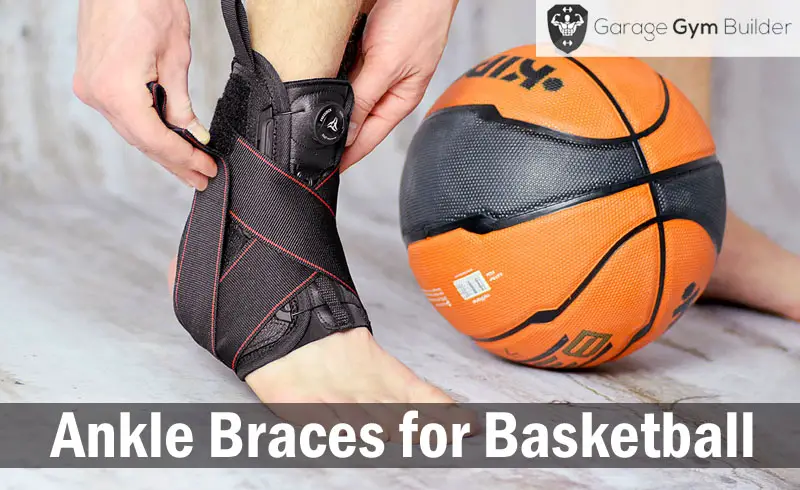 Best Ankle Braces for Basketball Review 2018
Basketball is a sport that is extremely taxing on your joints. After ice hockey, it is the fastest land sport. Your legs are propelling you up and down the court very rapidly, pivoting on a dime, jumping and side stepping continuously. It's no surprise, then, that a lot of basketballers suffer ankle problems. In this article, we zoom in on the 9 best ankle braces to support and protect your ankles and heels while playing basketball.
The Top 9 at a Glance

The top ankle brace for basketball is the ASO Ankle Stabilizer, which features non stretch stabilizing straps, and ballistic nylon construction in a low profile design . We are also very impressed with the basketball ankle support provided by the McDavid 195, with its single layer of polyester fabric, compression comfort top strap and breathable tongue.
Our third favorite ankle guard for basketball is the Sleeve Star Plantar Fasciitis brace, which delivers compression support, an extra compression strap and a soft inner lining.
To make it easier for you to compare and contrast the premiere basketball ankle supports, we have rated each one on the basis of price and effectiveness, then given an overall rating out of 5. In the following section, we provide an in depth review of each product.
The ASO Ankle Stabilizer is a lightweight ballistic nylon boot that provides maximum support for injured and recovering ankles without restricting range of movement. No stretch stabilizing strap applies the same amount of pressure as wrapping tape but without the hassles of applying and taking the tape off. You get an exceptional level of heel lock with this brace. This brace has been made to allow you to reconfigure the strap without having to take off your shoe, which is a great aid for basketballers.
The bilateral design of the ASO Ankle Stabilizer means you can use it on either foot. This is a low profile support which easily fits in with your training footwear. It has moisture wicking properties that prevent sweat build up.
Non stretch stabilizing straps
Ballistic nylon construction
Low profile design
The McDavid 195 ankle brace is a secure, mobile brace that allows for the lateral movement needed for fast break play, while still providing structural integrity. It features a very robust Figure 8 wrapping system, along with padded lining for enhanced comfort. The integrity of this brace is ensured with reinforcing on all closures and eye-lits. It also features an adjustable top strap that allows you to control the level of tension applied to the area.
The McDavid 195 is a very lightweight, responsive brace. It works easily with any type of basketball shoe and is very easy to take on and off. A secure lacing system ensures that the brace will fit securely without the risk of slipping or bunching up.
Single layer of polyester fabric
Compression comfort top strap
Breathable tongue
The Sleeve Star Plantar Fasciitis brace puts focus on the plantar fasciitis. It offers a high level of protection for basketball players who have either suffered an injury already or who are looking to prevent one. It provides an extra compression strap to provide enhanced stability and compression. This allows for boosted oxygenation and blood circulation, speeding up the healing process. The top quality fabric features a soft inner lining that wicks away sweat while providing maximum comfort.
The Sleeve Star Plantar Fasciitis brace offers a good level of protection without compromising the range of movement you need to perform at your best on the basketball court. It has a low, slimline profile that allows it to easily fit into your training shoe, without any danger of bunching up.
Compression support
Extra compression strap
Soft inner lining
Has a strong smell of petroleum
The Bracoo Breathable Neoprene ankle brace is constructed from a lightweight, flexible neoprene material that allows you to pivot, jump and move laterally with full agility, despite your ankle injury. This brace features a contoured design which hugs to the shape of your foot, allowing the support to easily work in with your basketball socks and shoes. This is a bi-lateral design, so can be worn on either the left or right foot.
The Bracoo Breathable has advanced moisture wicking properties that removes sweat build up. The lightweight fabric prevents overheating, bunching up or slipping down. The open heel design further enhances the airiness of this support, while also boosting it's range of lateral mobility.
Open heel design
Very breathable
Bi-lateral design
May be too tight for larger feet
The Ultra Ankle Ultra Zoom is a low profile, lightweight support that provides a high level of support to allow basketballers to play on while also protecting an injured ankle. It is designed for mild to moderate ankle instability. Your explosive cuts and vertical power will be assured when you wear this very flexible, responsive brace.
The Ultra Ankle Ultra Zoom features a Performathane shell which provides rigidity while ensuring structural integrity. Unlike other hard braces, you can have total confidence that this one will not crack over time. A unique custom fit technology uses body heat to form fit to the ankle for the best possible fit. Bidirectional fit means you can use it on either the right or left foot.
Performathane shell
Low profile
Custom fit technology
Will not fit swollen ankles
The Shock Doctor 851 ankle brace is a great choice for basketball players who are suffering from mild to severe ligament problems. It features easy pull tabs that allow you to get a very secure, tight fit. This provides a superior level of compression and stability through the heel and ankle. The fully adjustable strap is multi directional, putting you in full control of the level of tension applied.
The Shock Doctor 851 has a unique non slip silicone gripper on the sole. This enhances your ability to move laterally when on the court, giving you greater confidence in you ability to perform. This brace easily slips on under your basketball shoes and is quick to take on and off.
Low profile
Latex free
Non slip silicone gripper
Velcro needs to be more robust
The Mueller Sport Care 4-Way Stretch brace provides support to the entire lower leg, up to the mid calf area. This provides an excellent level of graduated compression, providing enhanced blood circulation and oxygenation to fast track the healing process. At the same time, this support is light and flexible enough to provide full range of movement, allowing you to still give your best on the court.
The Mueller Sport Care 4-Way Stretch is constructed from a lightweight, nylon / spandex blend that is very easy to work with. This completely latex free material slips on easily and feels very comfortable against your skin. The 4 way stretch nature of the material means that it won't bunch up, slip down or pinch your skin.
Active Ankles ankle braces are among the most supportive on the current market. Check out their top performers with our Active Ankle Braces Ankle Brace Review 2018, where we review their best products.
Full length ankle sleeve
360 degree compression
Nylon / spandex material
A little too tight around the ball of the foot.
The Liomor Ankle Support is an open heel ankle support fitted with criss cross reinforcement straps. It provides the flexibility and range of motion you need to pivot and move laterally while also supplying the strength and rigidity to protect the ankle and heel during play. It is constructed from high elastic and moisture wicking material, which has built-in anti odor protection and moisture wicking properties.
A perforated design inter layer with built-in perforation provides very good oxygenation. Premium velcro construction means that you won't have any problem with fluffing, or loss of strength. The straps on this brace are completely adjustable, so you can control the level of tension and compression applied to the ankle. It comes in a one size fits all design.
Shock Doctor have made a huge impact in the sports protection market in recent years. Find out what all the buzz is about with our Shock Doctor Ankle Brace Review 2018 feature article.
Open heel for enhanced mobility
Built-in odor protection
Moisture wicking
Starts to pinch over time
The Adidas Adizero is an extremely lightweight ankle brace that is very popular among basketball players. It will prevent roll over when pivoting on a fast break, which is a very common cause of injury. Studies have shown that players have a 30% reduced incidence of injury when wearing the Adidas Adizero ankle support. This brace has an anti microbial treated lining to provide maximum bacterial protection. It also has ador preventive and moisture wicking properties.
The Adidas Adizero has an open heel design and is double stitched for enhanced durability. The result is a brace that is both stronger and more mobile. It has a minimalistic design which allows it to fit seamlessly into your basketball shoe.
Want an overview of the best ankle braces across all categories? Don't miss our Ankle Support Reviews 2018 mega feature which breaks down the top performers on the market.
Very lightweight
Open heel design
Anti microbial treatment
Bottom on sole doesn't line up correctly
Conclusion
The top performing ankle brace for basketball players on the 2018 market is the ASO Ankle Stabilizer. It offers superior stabilization, flexibility and range of motion in a low profile design that easily slips into any training shoe. Our second top performer is the McDavid 195, which features a single layer of polyester for enhanced movability and a compression comfort top strap.
Rounding out our top 3 is the Sleeve Star Plantar Fasciitis brace, which gives the best level of compression of any of the braces we reviewed.
---