Top 10 Basketball Ankle Braces Reviewed and Rated
last updated:
May 19, 2020
Basketball is hard on a player's joints. It is the second-fastest land sport after ice hockey. A player's legs must propel them up and down the court at a breakneck pace as the player pivots on a dime, jumps, and side steps nonstop.
All that motion means basketball players frequently suffer from ankle problems. If you are a basketball player, chances are you have, too. We are here to help. So in this article, we will zoom in on the 10 best ankle braces to support and protect your ankles and heels while playing basketball.
In a Hurry? The test winner after 20 hours of research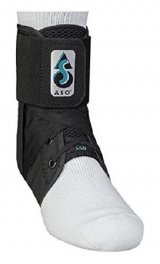 ASO Ankle Stabilizer
Why is it better?
Non-stretch stabilizing straps
Ballistic nylon construction
Low profile design
Moisture-wicking material
30
Researched Sources
8k
Reviews Considered
10
Hours Researching
10
Products Evaluated
Breathability
Comfort
Stability
Support
Value
By Default
10 Best Basketball Ankle Braces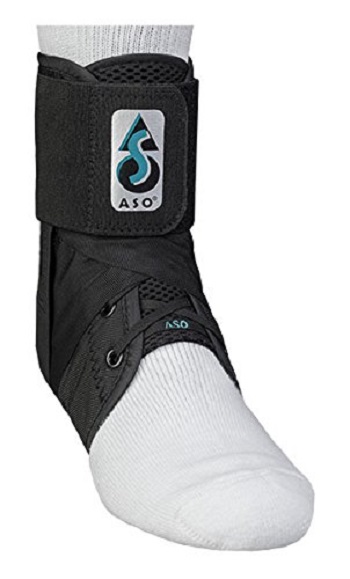 Non-stretch stabilizing straps
Ballistic nylon construction
Low profile design
Moisture-wicking material
The ASO Ankle Stabilizer is a lightweight ballistic nylon boot that provides maximum support for injured and recovering ankles without restricting the range of movement.
No stretch stabilizing strap applies the same amount of pressure as wrapping tape but without the hassles of applying and taking the tape off.
Read more
You get an exceptional level of heel lock with this brace. This brace has been made to allow you to reconfigure the strap without having to take off your shoe, which is a great aid for basketballers.
The bilateral design of the ASO Ankle Stabilizer means you can use it on either foot. This is low profile support which easily fits in with your training footwear. It has moisture-wicking properties that prevent sweat build up.
This is an ideal reliable brace that will give a good amount of relief and support when it is needed.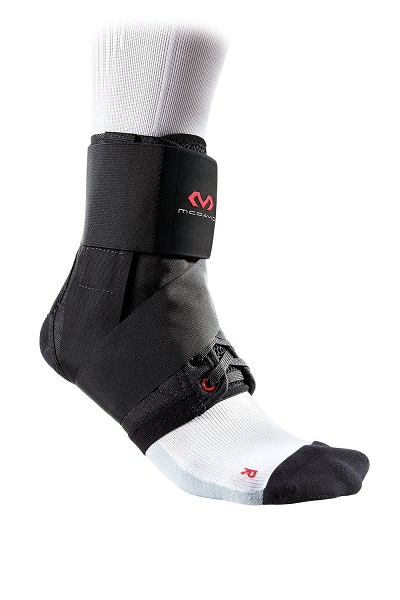 A single layer of polyester fabric
Compression comfort top strap
Breathable tongue
Company is great about returns
Good tradeoff--lightweight for a supportive brace
A little bulky
Can take some getting used to
Sizing can be tough
The McDavid 195 ankle brace is a secure mobile brace. It allows for the lateral movement needed for fast break play, while still providing structural integrity.
It features a very robust Figure 8 wrapping system, along with padded lining for enhanced comfort.
Read more
The integrity of this brace is ensured by reinforcing all closures and eyelets. It also features an adjustable top strap that allows you to control the level of tension applied to the area.
The McDavid ankle brace is a lightweight, responsive brace. It works with any type of basketball shoe and is easy to take on and off. A secure lacing system ensures that the brace will fit securely without the risk of slipping or bunching up.
You get latex-free Neoprene for comfort, in a long calf sleeve finished with durable nylon-facings. This means warm comfortable compression, lots of support for those with a problematic leg injury. The brace can be used for either leg.
3

. Sleeve Star Plantar Fasciitis Brace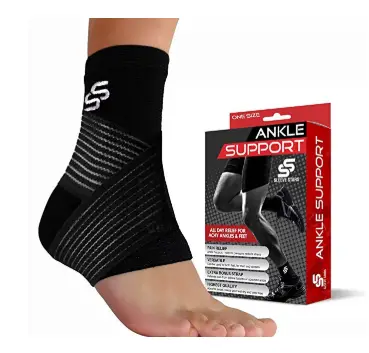 Compression support
Extra compression strap
Soft inner lining
Hand washable
Budget-priced
May not offer adequate support close to bones of the ankle
May stretch out from being pulled over the heel
The Pure Support Plantar Fasciitis brace is designed to combat plantar fasciitis. It offers a high level of protection for basketball players who have either suffered an injury already or who are looking to prevent one.
It provides an extra compression strap to provide enhanced stability and compression.
Read more
The Plantar Fasciitis brace offers a good level of protection without compromising the range of movement you need to perform at your best on the basketball court. It has a low, slimline profile that allows it to easily fit into your training shoe, without any danger of bunching up.
The brace uses graduated compression, meaning the level of compression slowly lessens over the length of the brace. This allows for boosted oxygenation and blood circulation, speeding up the healing process. The top quality fabric features a soft inner lining that wicks away sweat while providing maximum comfort.
4

. Gonnic Professional Foot Sleeve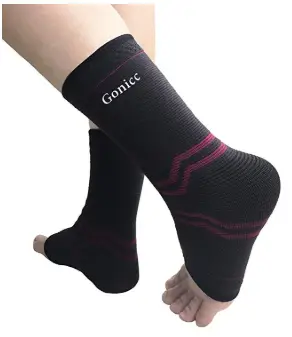 Superior ankle compression
Lightweight
Breathable
Unobtrusive
The Gonnic Professional Foot Sleeve offers instant relief from painful injuries and can also help your muscles recover more quickly.
Read more
The Gonicc Professional Foot Sleeve features a compression wrap support to increase blood circulation to the ankle and fast track the supply of nourishing nutrients and oxygen. The brace is lightweight and breathable, providing superior sweat-wicking and anti-odor protection. It is made from soft materials and is an extremely unobtrusive brace, allowing for it to be inconspicuously worn under any footwear. These basketball ankle braces are made from 60% nylon, 10% polyester, and 30% latex.
Your Gonicc Professional Foot Sleeves come in sets of two. They are suitable for women, men, and children. Your purchase includes two ankle braces and two compression straps.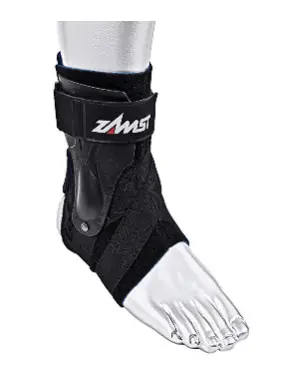 Dual exterior molded support
Grip tech anti-migration technology
Ankle strap
Variable compression
The Zamst ankle brace features exo-grid external, which is a dual exterior molded support structure with grip-tech anti-migration technology built-in.
Read more
Theis exo-grid will prevent the ankle from rolling inward or outward as you perform on the court. This is coupled with an ankle strap which gives protection against high ankle sprains by reducing the separation between the two lower leg bones where the ankle meets.
Located underneath the foot of the Zamst ankle brace are foot strap stabilizers that protect the foot from shifting forward. The iFit open panel design of these basketball ankle braces makes for a comfortable and highly breathable product. It provides variable compression levels to enhance the recovery of your injured ankle.
6

. Shock Doctor Ankle Stabilizer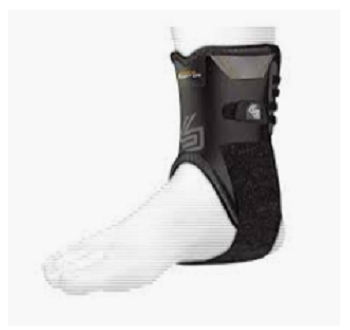 Low profile
Latex-free
Non-slip silicone gripper
Velcro needs to be more robust
The Shock Doctor 851 ankle brace is a great choice for basketball players who are suffering from mild to severe ligament problems.
Read more
It features easy pull tabs that allow you to get a very secure, tight fit. This provides a superior level of compression and stability through the heel and ankle. The fully adjustable strap is multi-directional, putting you in full control of the level of tension applied.
The Shock Doctor 851 has a unique non-slip silicone gripper on the sole. This enhances your ability to move laterally when on the court, giving you greater confidence in your ability to perform. These basketball ankle braces easily slip on under your basketball shoes and are quick to take on and off.
7

. Mueller Sports Care 4-Way Stretch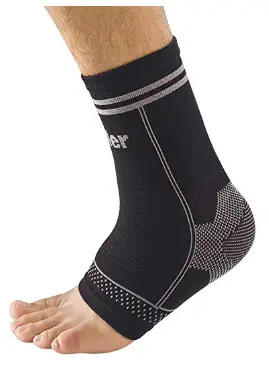 Full-length ankle sleeve
360-degree compression
Nylon / spandex material
Nice stretchy material, snug fit
A little too tight around the ball of the foot.
The Mueller Sport Care 4-Way Stretch brace provides support to the entire lower leg, up to the mid-calf area.
Read more
That extra support provides an excellent level of graduated compression, providing enhanced blood circulation and oxygenation to fast track the healing process. At the same time, this support is light and flexible enough to provide a full range of movement, allowing you to still give your best on the court.
The Mueller Sport Care 4-Way Stretch is constructed from a lightweight, nylon/spandex blend that is very easy to work with. This completely latex-free material slips on easily and feels very comfortable against your skin. The 4-way stretch nature of the material means that it won't bunch up, slip down, or pinch your skin.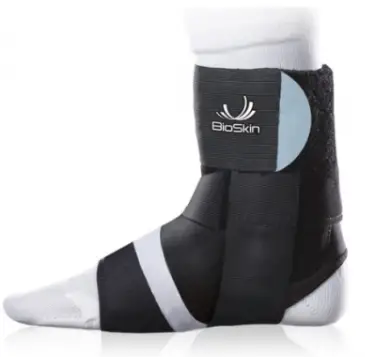 Ultima material
Graduated compression
Foot lock strap
Universal fitting
Latex-free
The Trilok Ankle brace makes use of Ultima material to create an incredibly responsive base sleeve which is also ultra-comfortable against the skin.
Read more
The graduated compression that is built into this brace allows for more effective removal of waste products from the injured ankle. The patented foot lock strap of the Triloc acts as external ligaments making use of leverage to protect the weak or vulnerable ligaments around your ankle. The foot lock wraps around the midfoot and then attaches to the ankle. The foot lock straps are completely adjustable and stirrup straps to add even more security.
The Trilok's foot lock system lifts the arch, relieving pain by preventing over-pronation and restoring the foot to its natural position. The brace is universal so it will fit either foot. It is also suitable for men, women, and children.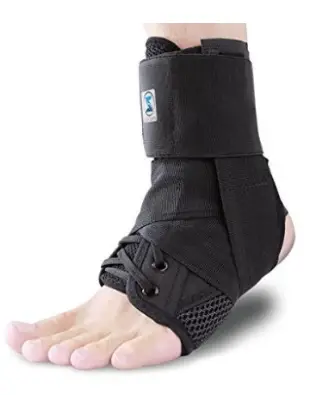 Lightweight
Open heel
Double-stitched
Breathable
No latex
Velcro on the straps not strong enough
The Zenith Ankle Brace is made from quality neoprene and nylon materials to provide you with a very lightweight, responsive brace that is comfortable to wear and easy to wear footwear on top of.
Read more
The material is breathable and moisture-wicking so you don't have to contend with the sweat build-up and brace slippage. The brace features graduated compression to allow for the faster supply of nutrients and removal of waste products from the affected area. The Zenith Ankle Brace has an open heel design and is double stitched for enhanced durability. The result is a brace that is both stronger and more mobile. It has a minimalist design that allows it to fit seamlessly into your basketball shoe.
10

. Cramer Active Ankle T1 Rigid Ankle Brace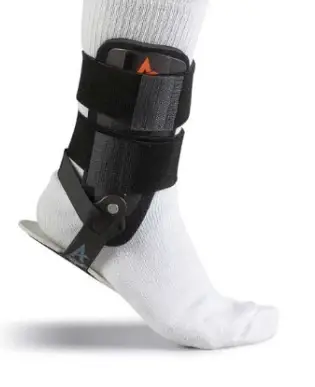 Provides some of the most stable support
Comfortable for long term wear
Breathable and moisture-wicking
One of the most supportive of the market
Can seem to restrict the range of motion at first
Cramer markets this brace as being ideal for athletes recovering from an injury. It features rigid plastic sides to immobilize the ankle while it heals.
Read more
There is a guide piece on the bottom for the foot to sit in. It is strapped securely around the foot, and to the top piece, by one durable stainless steel strap. The secure and stationary closures give the brace a robotic look and feel, but the level of comfort and healing this brace provides will make humans glad. Side to side motion is inhibited, while the wearer is still able to walk and move about freely.
Neoprene lining of all the components means they are protected from the elements while also being breathable and repelling moisture. Neoprene is not waterproof, but it is moisture-wicking and will cut down on excessive sweat that can encourage bacteria to grow. Finally, Neoprene is soft and will adapt to the curves and lines of the wearer's body. It is similar to Memory Foam in that area.
The TI, though designed to promote healing from injury, is versatile and can be worn by players without current injuries. An example would be a player learning new advanced movements or straining themselves past what they are used to. The TI will prevent hyperextension so that most injuries do not happen in the first place. The TI is sturdy and will not give to allow an unnatural movement or flexion.
Criteria Used for Evaluation

Breathability
Let that sweat evaporate!
If you play sports, or if you live with someone who does, you know how equipment can smell after someone sweats in it for a while. Breathability refers to a fabric or product's ability to transfer sweat. A breathable ankle brace means your ankles sweat less, making it less likely for bacteria to develop.
Believe it or not, there is a science behind breathability. Outdoor clothing manufacturers invented it so their customers could purchase cold weather or waterproof gear to match the conditions they would be going outside in. It measures the volume of water vapor that can pass through a square meter of fabric over the course of one day. Outdoor jackets are rated both in terms of breathability and waterproofing.
The basketball ankle braces are often treated with a chemical called polyurethane. Polyurethane is a coating that helps the brace repel water. Also, the synthetic materials used to make the surface of the brace have large pores that allow water vapor to escape. Nylon is a common material used to make basketball ankle braces. As you shop around, pay attention to the materials used to make a brace. The less expensive braces may be less breathable and will cause problems.

Comfort
Who doesn't want to feel good?
Comfort is one of the most basic factors in nearly every clothing purchase decision. Ankle braces aren't exactly clothing, but you do wear them. Make sure your basketball ankle braces allow movement, does not pinch or restrict your feet and stays on once it is wrapped. The friction from a brace sliding off is never comfortable.

Stability
Ankle injuries in basketball are caused by hyperextension during sudden movements. So you need a brace that won't allow your joints to go past their prescribed limits. If the brace is not stable, you risk injuring yourself again. This is why good fit and secure closures are so important.
You may not think about it, but increased stability will help your game as well. Athletes may be unable to avoid injury, but part of training is learning to get injured less and to move deliberately and efficiently on the court. The increased stability of a well made leg brace can give you an advantage.
And although stability and balance are two different things, they go hand in hand. Confidence in your movements will help you to keep your equilibrium, no matter what conditions you are playing under. These physical conditions can really help your mental game, meaning you can play better and not have to worry about the injury as much.

Support
Lend us your support, please.
Support goes hand in hand with stability. In addition to a brace that prevents excess movement, you want one that strengthens your ankles and feet when they wrap around. A supportive ankle brace is just as important as supportive footwear.
One thing that makes support so crucial is all the work your arches have to do. On the bottom of your feet, they take on an entire load of walking, running, stooping, bending, jumping, and carrying heavy loads. That's a lot to ask of such a small body part! Amazingly, your arches take on between 200,000 and 300,000 pounds of pressure for every mile you walk.
If walking is that much of a strain on your arches, imagine what running up and down the court will do, even for just one game. Make sure your brace helps those arches do their job and takes a bit of stress off them. Weak arches can, of course, lead to ankle and leg injuries.

Value
Bargains are good, quality is better.
Value refers to how much bang you get for your buck, the level of quality versus the price. You can always find good deals on basketball ankle braces and other equipment if you look around, but make sure you aren't purchasing an inferior product just to save a buck. This can end up costing more in the long run, because of missed games and doctor visits.
Think about it. You can get an off-brand brace at a retail chain for 18 dollars or even less. Most of the ones we reviewed start at thirty. It's never fun to spend extra money, but why pay less now if your brace will need to be replaced sooner and may not even have the features to fully protect you?
There is an old saying: poor quality will be remembered far longer than a cheap price. This is true of just about any product or service you could name--airline tickets, musical instruments, tattoos. It's true of athletic equipment, too. Don't be tempted by the quick fix or the cut-rate salesperson. Do your research and stick to your guns. You will thank yourself later.
Expert Interviews & Opinions
Most Important Criteria
(According to our experts opinion)
Experts Opinion
Editors Opinion
Users Opinion
By Default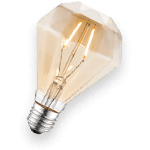 Keep That Brace Clean!
Dirty braces can cause a lot of health problems besides just smelling bad. They can grow ringworm or, sometimes, a staph infection. That's why regular cleaning and also visual inspection are so important.
Be careful about wearing your brace all the time. This drives up your body heat, creating sweat and moisture. The moisture can irritate skin and cause it to flake off. Unless your doctor tells you otherwise, you should take the brace off when you are resting.
Will the Brace Keep You Safe?
Research shows that wearing a brace will lessen an athlete's chances of getting an ankle injury, but it will not make an injury less serious when it happens. Wearing a brace before something happens is a good thing to do, but the brace should not be seen as something that will save you or keep you from getting hurt. Warming up, drinking plenty of fluids, cooling down, and doing strength training for your lower legs and ankles are all still important.
Other Factors to Consider

Weight
If you get the opportunity to go into a retail location and try on some different braces, go for it. Sporting goods stores are one of the best places to do this.
Why? Because, while buying online is convenient, it is no substitute for picking up the brace, trying it on, or walking a couple of laps in it before you commit. One of the big qualities you cannot really tell from the product description: weight. If the brace is too heavy and you feel like you are dragging it around like you are supporting the brace instead of the other way around, you will probably have to return it.
You can avoid this whole scenario by trying out the brace you want (the one you found online) at a local brick and mortar store. The employees won't mind if you do this with two or three basketball ankle braces, even if you don't buy anything.
Then if you are satisfied with the weight and aren't having to work overtime to move the brace around, you can order it online. Even if you decide not to get the brace you wanted, you will have something important-the ability to estimate how a brace will feel based on weight, even if you can't find that same brace in person. Reading that a brace weighs 12.5 ounces is great, but even greater is being able to say "oh yeah, that's not bad at all, I tried on a 13.7 ouncer and it was comfortable."
Frequently Asked Questions
q:

Are ankle braces sold in pairs?

a:

Ankle braces are sold singly and not in pairs. There are instances of some brands offering pairs though most Brands tend to offer an option in the form of a brace that can be used for either ankle. Be aware that if you buy a brace and you use it a lot for one ankle, and eventually the ankle recovers. Then later you need it for your other ankle, check the brace has retained material integrity, and still offer good support. A brace used a lot over a long time might lose some of its integrity.
q:

Can I wear a brace to prevent injury?

a:

Yes, you can. Be sure to check the manufacturer's directions to make sure your brace will help prevent injury.

Carry out some research for which types of injury you want to prevent. Then find out which brand brace will meet your needs, ankle braces come in many versions, cheap basic models, medium models and upmarket costly version which are expensive but very good.
q:

Can I wear an ankle brace all the time, even when I sleep?

a:

If you are injured, you may have to wear one all the time to promote healing. But as you get stronger and rehab your ankle, you should be able to break the habit.

Also, consider how long you will wear the brace, then check out your options, look for products that offer advice saying the product can be worn for long periods, especially sleeping. It is good to do this because the manufacturers will have factored longevity for wearing into the design features and the brace materials.
q:

How do I clean or wash my ankle brace?

a:

This is a very important question! Your ankle brace gets just as close to your sweaty skin as your clothing does. The brace has more folds and padding for bacteria or even fungus to grow in, too. Bacteria are what causes both shoes and ankle braces to have a foul smell after a while.

The best thing to do is to check the manufacturer's directions. As you comparison shop, you can even contact the makers or sellers of the brace and ask what they recommend. Also, before you buy, make sure the seller can provide an owner's manual with the brace. If they can't, you may want to buy from someone else. You may be able to find the manual online, though.

Generally speaking, ankle braces should only be washed by hand. To do that, you would use a gentle soap or detergent and cold water. You should never put a brace in the dryer unless the manufacturer says it's okay.

Instead, let your brace air-dry overnight. Since the brace accumulates so much sweat during play, you will want to spray it with a disinfectant before leaving it to air dry.

This procedure will work for most of the ankle braces out there. If your doctor prescribes a brace, be sure to ask the doctor about any special cleaning instructions. If you play regularly, you should wash the brace every three or four days.
q:

Will I ever have to replace my brace?

a:

Yes. Just like with shoes, ankle braces are under constant strain and will need replacing at some point. But how often you have to buy a new brace depends on a lot of factors.

If you wear the brace all the time or play in games several times a week, it will have to be replaced sooner. If you only need it when you experience ankle strain, it may sit for months between uses, meaning it will last longer.

Check your brace often for fraying, splits or cracks torn straps, or split seams. These are all indicators that the brace has run its course. Check the fit of the brace, too, every time you put it on. If you find it is loose, or that tightening the straps does not make a difference, replace the brace.
Subscribe to our newsletter