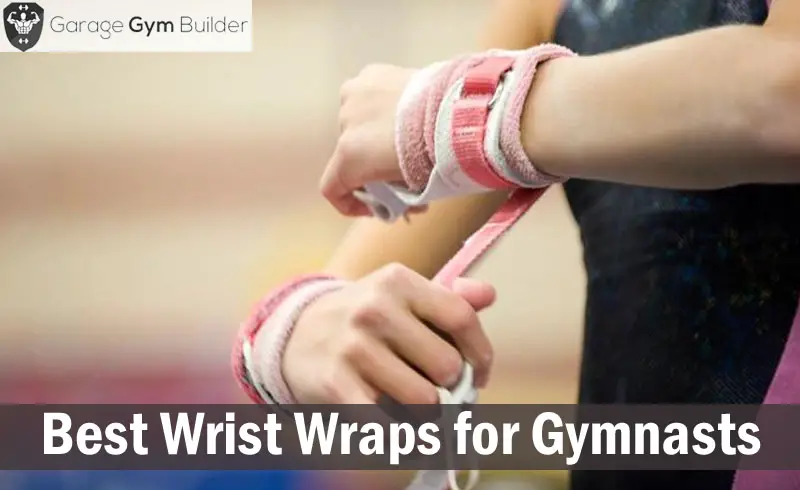 Best Wrist Wraps for Gymnasts Review 2018
As a gymnast you know that your wrists are your weak link. They form the connection between the bar and your body, coming under tremendous pressure every time you mount the bar. In order to complete your routine, and prevent wrist injury, you need to give them the proper protection. That means using specialized gymnastic straps. In this article, we'll go in depth on the best wrist wraps for gymnasts on the current market.
A Quick Overview of the Top Wrist Wraps for Gymnasts
Our favorite wrist wraps for gymnasts are the Rip Toned Wrist Wraps. These wrist protectors give gymnasts a very secure yet comfortable fit at a fantastic price point. They are extremely durable being made from high quality nylon and thick velcro. We were also extremely impressed with the Rogue RooGrip, made from genuine American leather and top quality manufacture.
Our third favorite gymnastic wrap is the Bear Komplex 3 hole hand grips by Bear Komplex. These straps are made from durahide leather and feature a unique quick release wrap around, fingerless design.
We've given each of our ten favorite gymnastic wraps a rating out of five on 3 factors; price, durability and an overall quality score. This will help you to compare the best of the best. In the following section, we provide a detailed review of each product.​
The Top 10 In-Depth
The Rip Toned wrist wrap is a fantastic all round grip that is great for gymnasts. It features a contoured ridge design that provides more comfort and a greater level of grip security than any other strap we came across. These 18 inch straps have premium stitching and high end durable extra wide velcro.
Rip Toned gymnastic wraps are made out of very high quality nylon material and feature thick, resilient Velcro. Unlike many imitators the Velcro will not peel. Double cross stitching ensures that these straps will do the job over and over. These gymnastic wrist protectors also have a moisture wicking ability. To top it off, they are machine washable.
High quality nylon construction
Moisture wicking capability
Contoured ridge design
Gets a little heated under the wrap
The Rogue Roo Grip features textured kangaroo leather on both sides for an extremely soft, comfortable gripping experience. This hard wearing leather will also eliminate any slippage problems so you can train with absolute confidence. The hook and loop strap system is simple to put on and will secure itself tightly to give you the confidence you need when performing.
Rogue RooGrip come in a stylish dark texture and are embossed with the Roo logo. As with all Rogue products, the V2 straps are made in the USA under Rogue's stringent manufacturing conditions, so you can be assured of top quality. They are available in small, medium and large sizes and come with Rogue's money back guarantee.
Textured kangaroo leather

Hook and loop strap system

High quality construction in the USA

Strap material is a little abrasive
Bear Komplex 3 hole hand grips provide you with a level of customization which you don't get from most competitors. The genuine leather grips feature a custom wrist strap and are designed not to dig into your wrist, unlike some competitors.
The Bear Komplex grips come in 2 hole or 3 hole options, to protect your hands and and palms as you work out. The leather grip is very soft and comfortable while durable triple stitching ensures full support and stability. The wrist wrap is very secure, providing the support you need when grabbing the bar for an extended time period.
Genuine leather

Triple stitching

2 hole or 3 hole option

Blue dye may get on hands
Tiger Paws Gymnastic wrist supports by Z-Athletic are made from leather and provide you with a superior level of grip to enable you to hold on for longer. They come with a pair of replaceable foam pad supports to increase your level of hand support. You also get a couple of plastic stays that allows you to adjust the support to meet your individual needs.
These Tiger Paw grips come in small and medium sizes. They are durable, with quality stitching throughout and provide you with the ability to flex your hand while supporting it. This easy on-off support is a very convenient alternative to wrapping your hand. These are a great choice for child gymnasts.
Replaceable foam pad supports

Very durable

Good level of flexibility
Hot and sweaty around the wrists
The Jeyzy Leather Grips are made from genuine double leather that is amazingly durable, as well as being water resistant and slip resistant. This provides you with an ultra soft, streamlined grip that is both comfortable and functional. These grips also provide a very good level of ventilation, allowing for breathability and moisture wicking.
Jeyzy Leather Grips are latex free so you will have no allergy problems. They are ergonomically designed to fit the palm of your hand and provide a three hole finger design for maximum freedom of movement.
Genuine double leather

Soft, comfortable grip

Latex free adhesive

Doesn't absorb sweat very well

Suede Tiger Paws by Snowflake Designs are made from a very soft suede leather which is very comfortable to wear, almost feeling like a second skin. They come with a pair of rigid plastic stays to allow you to customize each grip to your specific requirements. They are available in a range of cool colors and come in a range of sizes, based on weight, with a maximum of 210 pounds.
These suede gymnastic supports are an excellent choice for children as well as adults. They feature quality stitching to ensure a long life and give you a firm wrist support that also provides the flexibility you need to perform. They come with a money back guarantee.
Soft suede leather

Quality stitching

Firm yet flexible
Pheral Fit Natural Leather Grips with wrist wraps are an integrated strap that combines gloves with velcro wrist wraps. This gives you both maximum grip and rigid wrist support. It is made from a rugged leather material that is very easy to put on and provides you with the flexibility you need to perform at your best. The two hole finger design provides you with the highest level of freedom of movement.
The Pheral Fit Natural Leather Grips are designed to adapt to the demands of your gymnastic training. They offer you the flexibility to go hard on the bar and then be more wrist flexible on the mat. This is something you don't get with the overly rigid wraps put out by many competitors.
Rugged leather material

Two finger hole design

Rigid yet flexible

The Gibson Rainbow grips are very durable and extremely comfortable to wear. These are minimalist grips that have been primarily designed for gymnastics training. They provide you with two finger hole gaps at the base of the fingers. As a result, you get a great deal of freedom of movement and an extremely natural grip. These grips are made in the USA from US tanned leather with all imperfection removed.
Very comfortable

Two finger holes

Us tanned leather

Finger holes not big enough
Aeolos Leather Grips feature premium leather and nylon to provide a very durable, yet comfortable fitting wrist protection. By using the best quality leather, Aeolos are able to give you a softer fit while also enhancing the grip and tightness of the fit. The double leather structure is put together with triple stitching to make it super tough.
Aeoles Leather Grips have a velcro closure that allows you to get a very secure and reliably tight enclosure around your wrists. The latest version of these straps feature a new palm design with extra level to give you even more comfort. The wrist wrap is larger than normal to give you the maximum support when you're gripping the bar.
Premium leather and nylon construction

Extra leather padding on palm

Very tight wrist enclosure
To get the most benefit from your new gymnastics wrist straps, you've got to break them in. So how do you do that? Check out this informative clip to find out . . .
Bear Komplex 2 grips are constructed from highest grade genuine leather with custom wrist straps under the buckle. This provides a strong grip without the need for an overly long wrap. The overall feel of these straps is thick, durable and stable. They also provide a measure of elasticity, giving you the flexibility you need to perform both neutral and pronated wrist position moves.
The velcro used is larger than you'll find on many competing brands, making it easier for you to adjust the straps mid workout. Bear Komplex 2 feature triple stitching for maximum support and stability.
High grade leather

Custom wrist straps

Triple stitching

Conclusion
The best gymnastic wrist wrap that we found was the Rip Toned Wrist Wraps, which combine the key features of strength, durability, flexibility and comfort into a very user friendly design that looks great. It also comes in at a fantastic price point. We were also impressed with the Rogue RooGrip, made from the best quality American leather under Rogue's exacting standards. The result is a durable, comfortable and rigid strap that does the business.
Our third favorite gymnastic straps is the Bear Komplex 3 hole hand grips manufactured by Bear Komplex. We loved the quick release fingerless grip of these leather wraps and the strong support that they gave to the wrists.
My name is Jim Roose. I'm a former competitive power lifter and gym owner. I've bought millions of dollars of fitness equipment over the last 20 years. This site is my way of giving back to the fitness community that's done so much for me. Every article on here is carefully researched and written by me. Leave a comment if you have any questions.