Best Gymnastics Wrist Supports Review 2023
last updated:
Jan 07, 2021
As a gymnast, you know that your wrists are your weak link. They form the connection between the bar and your body, coming under tremendous pressure every time you mount the bar. In order to complete your routine, and prevent wrist injury, you need to give them the proper protection. That means using specialized gymnastics wrist supports. In this article, we'll go in depth on the best gymnastics wrist supports on the current market.
In a Hurry? The test winner after 16 hrs of research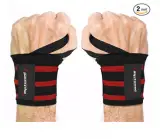 Rip Toned Wrist Wraps
Why is it better?
High-quality nylon construction
Moisture-wicking capability
Contoured ridge design
35
Researched Sources
8k
Reviews Considered
16
Hours Researching
15
Products Evaluated
Effectiveness
Stability
Support
Value
By Default
10 Best Gymnastics Wrist Supports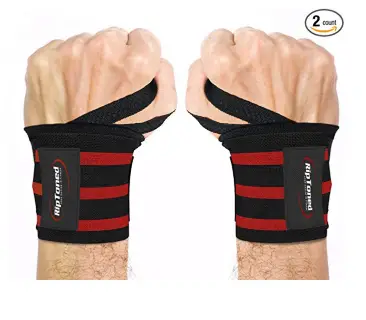 High-quality nylon construction
Moisture-wicking capability
Contoured ridge design
Gets a little heated under the wrap
Rip Toned Wrist Wraps are very impressive, they work as well as a weightlifters belt for real support, but these support the wrists.
The Rip Toned wrist wrap is a fantastic all-round grip that is great for gymnasts. It features a contoured ridge design that provides more comfort and a greater level of grip security than any other strap we came across.
Read more
These 18-inch straps have premium stitching and high end durable extra wide velcro.
Rip Toned gymnastic wraps are made out of very high-quality nylon material and feature thick, resilient Velcro. Unlike many imitators, the Velcro will not peel.
Double cross stitching ensures that these straps will do the job over and over. This gymnastics wrist supports also have a moisture wicking ability. To top it off, they are machine washable.
2

. Bear Komplex 3 hole hand grips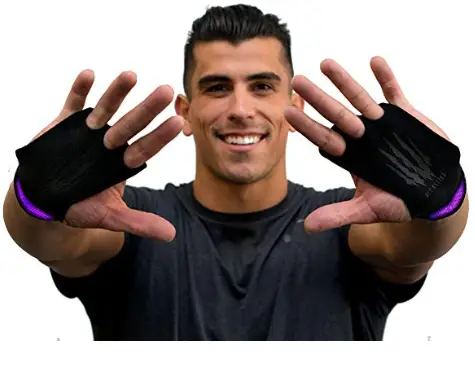 Genuine leather
Triple stitching
2 hole or 3 hole option
Blue dye may get on hands
Bear Komplex 3 hole hand grips provide you with a level of customization which you don't get from most competitors.
The genuine leather grips feature a custom wrist strap and are designed not to dig into your wrist, unlike some competitors.
Read more
If you are looking for quality materials which support and grip, a style which appeals, performance and reliability, you will get that with these.
The Bear Komplex grips come in 2 holes or 3 hole options, to protect your hands and palms as you work out.
The leather grip is very soft and comfortable while durable triple stitching ensures full support and stability. The gymnastics wrist supports are very secure, providing the support you need when grabbing the bar for an extended time period.
3

. Tiger Paws Gymnastics Wrist Supports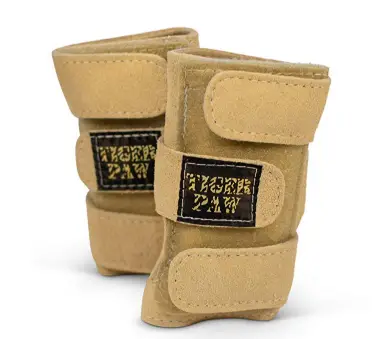 Replaceable foam pad supports
Very durable
Good level of flexibility
Hot and sweaty around the wrists
Tiger Paws Gymnastic wrist supports by Z-Athletic are made from leather and provide you with a superior level of grip to enable you to hold on for longer.
High quality, superb design, features to ensure comfort and a secure grip, these are proving very popular among gymnasts and other sports people.
Read more
They come with a pair of replaceable foam pad supports to increase your level of hand support. You also get a couple of plastic stays that allows you to adjust the support to meet your individual needs.
These Tiger Paw grips come in small and medium sizes. They are durable, with quality stitching throughout and provide you with the ability to flex your hand while providing the gymnastics wrist supports.
This easy on-off support is a very convenient alternative to wrapping your hand. These are a great choice for child gymnasts.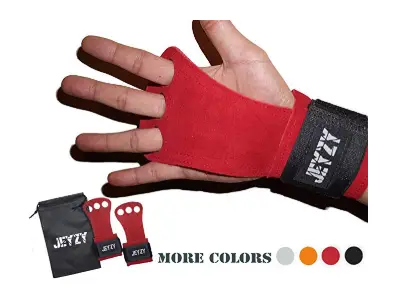 Genuine double leather
Soft, comfortable grip
Latex-free adhesive
Doesn't absorb sweat very well
The Jeyzy Leather Grips are made from genuine double leather that is amazingly durable, as well as being water resistant and slip resistant.
This provides you with an ultra-soft, streamlined grip that is both comfortable and functional. The grip level is highly reliable and a great confidence booster while training.
Good choices are available for children, teenagers, and adults in a nice choice of colors.
Read more
. These grips also provide a very good level of ventilation, allowing for breathability and moisture wicking.
Jeyzy Leather Grips are latex free so you will have no allergy problems. They are ergonomically designed to fit the palm of your hand and provide a three-hole finger design for maximum freedom of movement.
Wearing these you will physically feel the comfort for FIt and when you grip a bar the grip factor is highly reliable. The quality material does not retain sweat moisture, so your hands retain a dry level of comfort while you work on the gymnast bars.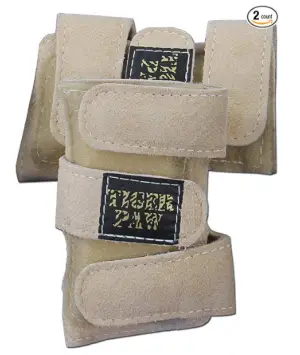 Soft suede leather
Quality stitching
Firm yet flexible
Suede Tiger Paws by Snowflake Designs are made from a very soft suede leather which is very comfortable to wear, almost feeling like a second skin.
They come with a pair of rigid plastic stays to allow you to customize each grip to your specific requirements.
Read more
They are available in a range of cool colors and come in a range of sizes, based on weight, with a maximum of 210 pounds.
These suede gymnastics wrist supports are an excellent choice for children as well as adults. They feature quality stitching to ensure long life and give you firm gymnastics wrist supports that also provides the flexibility you need to perform.
Suede is an excellent material for ensuring a firm group because the surface of suede has a natural grip ability on bars.
They come with a money back guarantee.
6

. Pheral Fit Natural Leather Grips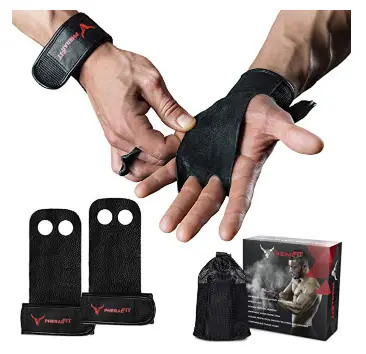 Rugged leather material
Two finger hole design
Rigid yet flexible
Pheral Fit Natural Leather Grips with wrist wraps are an integrated strap that combines gloves with velcro wrist wraps. This gives you both maximum grip and rigid wrist support.
The two hole finger design provides you with the highest level of freedom of movement.
Read more
It is made from a rugged leather material that is very easy to put on and provides you with the flexibility you need to perform at your best.
The Pheral Fit Natural Leather Grips are designed to adapt to the demands of your gymnastic training. They offer you the gymnastics wrist supports to go hard on the bar and then be more wrist flexible on the mat.
This is something you don't get with the overly rigid wraps put out by many competitors.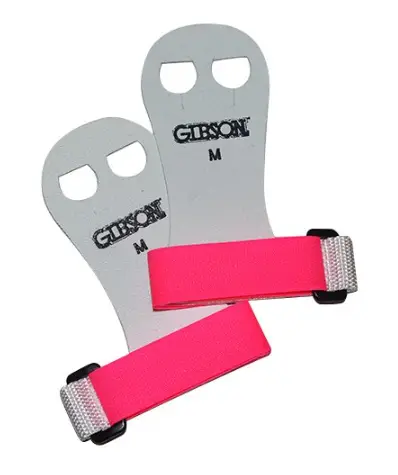 Very comfortable
Two finger holes
Us tanned leather
Finger holes not big enough
The Gibson Rainbow grips are very durable and extremely comfortable to wear. These are minimalist gymnastics wrist supports that have been primarily designed for gymnastics training.
With these, you cut down on the potential of blisters, rip's, skin tears and unsightly build-up of callouses. The gymnastics wrist supports are currently available in three different colors and for gymnasts of all ages.
Though the design looks rather different, customer reviews are positive.
Read more
They provide you with two finger hole gaps at the base of the fingers. As a result, you get a great deal of freedom of movement and an extremely natural grip.
There is something about the design-style which makes these appear sparse but according to customer reviews, The performance from these gymnastics wrist supports is good and because they are leather, they give very good protection from blistering and other gymnast related skin problems.
These gymnastics wrist supports are made in the USA from US tanned leather with all imperfection removed.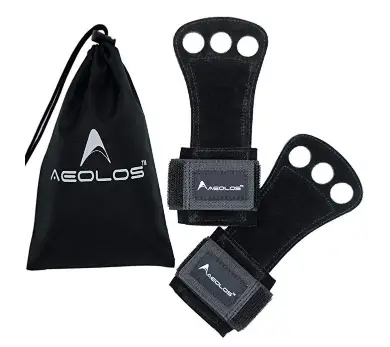 Premium leather and nylon construction
Extra leather padding on the palm
Very tight wrist enclosure
Aeolos Leather Grips feature premium leather and nylon to provide a very durable, yet comfortable fitting wrist protection.
By using the best quality leather, Aeolos is able to give you a softer fit while also enhancing the grip and tightness of the fit.
Read more
The double leather structure is put together with triple stitching to make it super tough.
Aeoles Leather Grips have a velcro closure that allows you to get a very secure and reliably tight enclosure around your wrists.
The latest version of these gymnastics wrist supports features a new palm design with extra level to give you even more comfort.
The wrist wrap is larger than normal to give you the maximum support when you're gripping the bar.
9

. Fit Vikings Gymnast and CrossFit Gloves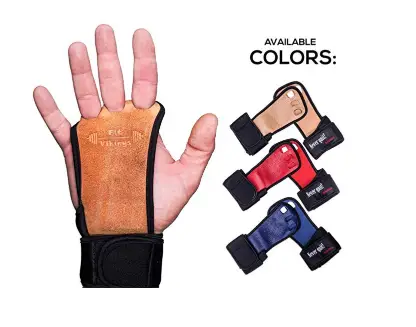 Support for wrists
Leather for grip
Comfort
Durability
Superb protection for hands and very good support. These CrossFit Gloves work for basic gymnastic bar work and also for weightlifters when they grip weight or pull up bars.
The super grip capability gives a natural feeling while protecting the hands and giving support. The gloves are supple and comfortable from the word go so there is no need to break these in, the soft cow leather is protective and flexible.
The three-finger designs enable a lot of flexible and safe grip ability and the level of wrist support is consistent and supportive.
Read more
The use of supple good quality leather means comfort, support, and protection mixed together with safe support. This means top durability, leather lasts well and these have very solid stitching.
The wrist band doubles up to give very good support while also acting as a sweat deterrent to ensure hands and palms are free from moisture, this means even more safety.
The wrist band is closed via a velcro strap so there is no possible distraction that a gymnast can get with a buckle style closure your skin.
When not wearing the gymnastics wrist supports, the product comes with a good quality glove bag to store them safely.
10

. WOD Nation Leather Barbell Gymnastics Grips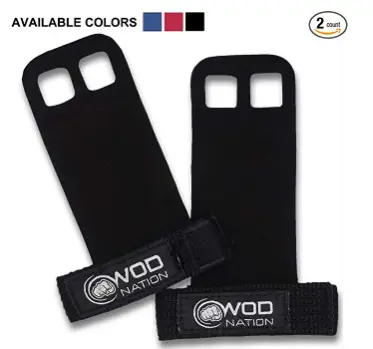 Very good grip
Quality leather
Nice wrist support
Protective
Two finger style
Some prefer three finger gloves
Forget skin damage, these will give great protection from callouses, painful blisters, skin tears, if you get these problems, you will be sidelined away from your sport.
For reliable protection, you can trust these, and apart from gymnastics, they are also good for pull-ups, powerlifting, in fact, all activities which require a firm safe grip on a steel bar.
Prevention from injury is sensible and these offer a lot of protection while also ensuring the right type of support when you have to grip firmly.
Read more
With durable and comfortable nylon wrist supports-straps and good quality leather for the glove palm to ensure superb grip, these are very impressive. All stitching is triple so secure seams are certain.
These gymnastics wrist supports are designed to cover a range of sports where a safe grip is very essential for safety. Barbell training, bar work for gymnastics, kettlebell work-outs or just pull-ups bars, the wrist support is very consistent and the leather palm grip gives a level of grip which means no accidents.
Very stylish and very functional and for variety, these gymnastics wrist supports come in a choice of three colors.
Criteria Used for Evaluation

Effectiveness
Effectiveness is a prime need for gymnasts
Our criteria to pin down how good these gloves are was very focused on effectiveness and this is how we came to select our top ten choices and the three top choices which are gold, silver, and bronze.
The best gymnastics wrist supports that we found was the Rip Toned Wrist Wraps, which combine the key features of strength, durability, flexibility, and comfort into a very user-friendly design that looks great. It also comes in at a fantastic price point.
We were also impressed with the Rogue RooGrip, made from the best quality American leather under Rogue's exacting standards. The result is a durable, comfortable and rigid strap that does the business.
Our third favorite gymnastics wrist supports are the Bear Komplex 3 hole hand grips manufactured by Bear Komplex. We loved the quick release fingerless grip of these leather wraps and the strong support that they gave to the wrists.

Stability
Stability matters for gymnasts during active bar work-outs
We looked at the level of stability provided via these gloves and we were impressed.
It was clear that brand makers have carried out in-depth research to find the best combination of reliable and safe materials. The grip is a huge factor-criteria because during a work-out if grip fails, an accident can happen.
Leather is perfect for the palm area, the surface of a quality leather has a tendency to securely latch on or grip onto smooth steel bar surfaces. Natural friction occurs during contact and the leather does not slip or slide, though we noted that a rough surface leather is, of course, better than a smooth or polished leather surface.
Gymnasts do cover fast movements on bars and at speed, this can cause skin friction, blistering, skin rips and these will incapacitate a gymnast. Leather is perfect not only for grip but it will provide a very good level of protection to prevent skin being damaged.
The rule here for gymnasts is that if the hand grip is sure and secure, then stability will follow, therefore our selection of products are chosen with the thought of ensuring stabilizing grip.

Support
Support for the wrists is vital.
Support is a criterion which we used during our comparative assessment in order to select a good variable choice of products.
For gymnasts, during their bar routines, a lot of focused pressure is directed toward the wrists during movement. Therefore any level of support is helpful, the more support the safer.
We looked at the design of wrist support incorporated into these products, we noted that though the design does vary slightly, the principle and concept for support do remain true to purpose. The materials in the wrist support section of these gloves are very different from the leather used for grip in the palm area.
The use of rigid synthetic materials is paramount because the required benefits are achievable this way. Wrist supports often doubled up for functionality, giving support and also diverting or preventing sweat from reaching the palms of the hands.
Using the criteria for support, we have chosen ten gymnastics wrist supports all of which offer varying approaches via design to ensure good wrist support.
Value
Value can cover so much, not just the price, the value reflects the use and product performance.
We looked at the value in terms of performance, the quality of materials used, innovative design for grip and wrist support, and price.
Do you get what you pay for?
Therefore value was equated against the criteria for effectiveness, stability, and support.
There are so many options available on the market but be aware that some products do not meet the needed standards, yes they are a budget price but to achieve this they have cut down on material quality and innovative design. In short, the product looks up to purpose but they cannot perform to the high standards needed by gymnasts.
When presented with a low-cost deal offering value, you must do some research to look closely at the materials used to make the product, low-cost products may well achieve a bargain price because they focus on appearance more than quality materials and functional design.
We believe our selection offer value for the price, value for performance and value for quality materials, all capped off with the innovative design.
Expert Interviews & Opinions
Most Important Criteria
(According to our experts opinion)
Experts Opinion
Editors Opinion
Users Opinion
By Default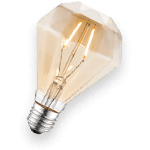 Grip
These gloves are primarily about grip so the need to look closely at the palm area and ensure that material has been used which naturally grips to a smooth steel style bar.
Leather is among the best though there are synthetic products which also offer grip. For a gymnast, a firm grip can make the difference between success or an accident. When leather has been used, you want a type of leather which is protective but supple enough to bend to the contour of a smooth bar and give a firm hold.
Go online, look at your product options, read customer reviews via online sports sites-stores and this will steer you towards a good choice.
Durability
Durability for gymnasts gloves is obviously important, nobody wants a pair of gloves which fail mid-way through swinging on a bar above normal ground level.
The favored material for the palm grip area is leather, but keep in mind that leather comes in graded levels, you should look for high-quality leather, cow leather tends to be tested and trusted by many users.
Just half an hours online research checking a few websites which sell these types of gymnast gloves, check out the options for sale, take a read through the reviews from customers who have purchased and tried out the gloves on offer. This will most certainly point you towards chosing the best product for your use in the gym.
Frequently Asked Questions
q:

Which material is best for grip in the palm area?

a:

The favored material is leather, it has a long historical use with success.

Leather will when a slightly rough surface naturally grips onto a smooth stell rounded surface, much more so than other natural materials. The additional benefit for leather in the palm area is that leather is highly protective as a barrier between skin and other surfaces.
q:

Is wrist support reliable via these gymnastic gloves?

a:

Wrist support tends to be reliable if you choose a tried and tested brand product.

Brand makers have a reputation to maintain and this means they do carry out research into design, materials, and performance. Therefore, a good level of wrist support is given from established gymnastic glove makers, but, it has to be said, though the support is good, nothing is 100% percent certain. It is still worthwhile taking time out to do exercise routines to strengthen wrists.
q:

Are budget gloves a good option?

a:

When taking part in gymnastics, precision, performance, and safety are very important.

Investing in a product which is cheap, has no history of success for performance does seem like a risk. When a product is at a budget price it is often the case (but not always) that the price reflects cheap production and cheaper materials.

The risk factor for gymnasts is high and I believe it is worth investing in a product which meets the broader concept of value, quality, high-quality materials, good design, and reliable performance.
q:

Two or three finger gloves, which is better?

a:

This is debatable, it really does boil down to personal preference. Some people will prefer one to the other and they can cite reasons for personal performance. There is not a clear answer to this question. Trying out both options will be better for a user to decide which best works for them as an individual.
q:

Will cross-fit gloves work for gymnasts?

a:

In many cases, YEs, though you need to read about and research the glove.

Check if the makers actually state that the glove will work safely and effectively for gymnasts. Weight lifting gloves do have the same palm features and materials to ensure grip, and also have similar designs for gymnastics wrist supports.

If you are interested in cross-training gloves, just carry out a reasonable amount of research to find out if the glove will work for gymnasts.
Subscribe to our newsletter