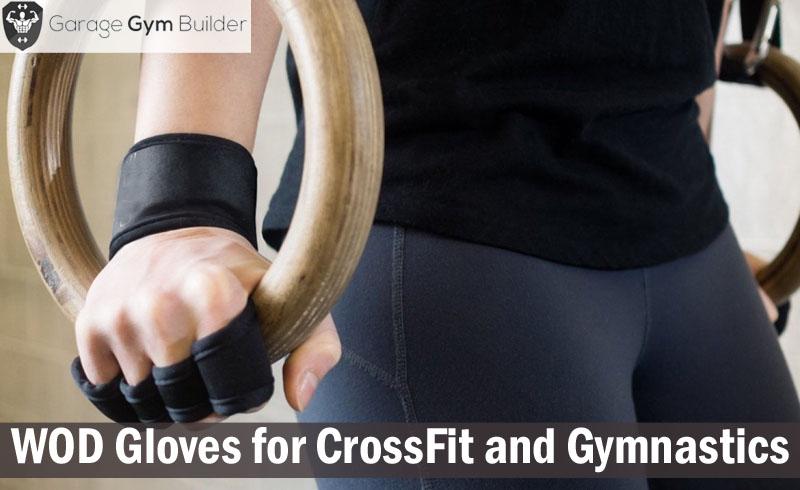 The Best WOD Gloves for CrossFit and Gymnastics Review 2018
Your CrossFit workout succeeds or fails on the strength of your grip. When your hands give out, your WOD is over, leaving you feeling short changed and frustrated. The right WOD gloves will give you the strength of grip and comfort to take your workout to the next level. In this article, we review the top 10 workout gloves for Crossfit and gymnastics on the current market.
A Quick Snapshot of the Top 10

The best WOD grips on the current market are Emerge Fitness Pullup Gloves that provide a comfortable layer of padding with breathable wrist and grip wraps. Our second favourite is the Gibson Rainbow athletic palm grips, featuring very comfy suede leather, a very secure hook and loop system and some snazzy colors. We also loved the Ginnasta Power Cuff grips, giving you very quick break-in time, and a soft, leather stretch free material.
Another good choice is the FX4 Spartan Grip, featuring silicone injected pads, 3 inch wrist wraps and a high level of breathability.
To allow you to easily compare the best WOD gloves, we've rated the Top 10 on the basis of price and durability, and then given an overall rating out of 5 for each one. In the next section, we provide in depth reviews of each product.
Emerge Fitness Pull Up Grips are very robust, yet lightweight and minimalist, grips that provide you with the support and comfort that your hands deserve. The built-in wrist wrap is 2 inches thick and 15 inches long, giving you the best wrist support of any grip that we have come across. The palm grip is made of cushioned leather, has a generous coverage area and provides the right mix between functionality and comfort.
​Emerge Fitness Pull Up Grips give you the open air breathability to keep your palms and fingers from overheating. As a result, you will have no problems with sweat causing the grips to slip across your hands. The Emerge Pull Up grips are very easy to slip on and off. They are the proven best option when it comes to doing your work on the pull up bar. On top of all of its benefits, the Emerge Fitness Pull Up Grip comes in at a great price point, and is supported by a 100% money back guarantee.
Very strong wrist support
Extremely breathable
Great price
The Gibson Rainbow athletic palm grips are made from a soft suede material to provide you with an ultra comfortable grip while performing your WOD. The flat surface that the grip provides also makes this perfect for gymnasts. It features brightly colored hook and loop closures to give you a very secure locking mechanism. The eye catching neon straps add style on uniqueness to these high quality performers.
Gibson gymnastic grips features two finger tabs to give you a secure hold while also allowing for flexibility of movement. It is available in red, blue, pink, purple, white and black. This product is made in the USA and comes with a full 12 month manufacturer's warranty.
Soft suede material
Secure hook and loop fastening
Range of colors
The Ginnasta Power Cuff grip is made from soft, supple leather. This gives you the ultimate in strength, style and comfort. Unlike many competing brands, the leather used here will not stretch, so you know that your grips won't get warped over time. The leather is soft and supple, providing a great feel against the skin. The machine sewn dowel stitching is double the weight of the industry standard.
The Ginnasta gymnastic grip provides you with flexible, free moving hand and finger motion. It only takes 30 minutes to break these grips and then they are ready to perform the moment you put them on. When you buy the correct size, you can be confident that it will stay true to that sizing.
Soft leather material
Will not stretch
30 minutes break in time
Not suitable for heavy weightlifting
The FX4 Spartan grip is a workout grip, wrist guard and callus protector all in one. It is made from lycra, cabretta leather, silicone and high grade poly reinforced elastic. Silicone has been injected into key contact areas around the palm to enhance comfort while training. The gloves provides a good level of compression, and has an airy, breathable design. This aids moisture and prevents sweat slippage.
The FX4 grip comes with a 3 inch wide wrist wrap, which is expandable to give your wrists the support they need when you're lifting heavy. The hexagonal silicone implants will give you an iron like grip so you can push out those extra reps. This product comes with a 12 month warranty.
Silicone injected
Breathable
12 month warranty
Velcro tab may dig into wrist
Bailie Dowel Double Buckle Grips are a great general purpose grip. However, they are especially useful for gymnasts who are beginning to train with dowel. Being smaller and narrower than the standard grip, it is ideal for people with small hands. The buckle strap ensures that you get a secure fit on the wrist. This grip is made from genuine soft leather. It breaks in quickly and provides a very comfortable feel on the skin.
The Bailie gymnastics grip is also available with a hook and loop strap. It comes with two finger holes so that you get a secure hold without restricting your freedom of finger movement. This product comes with a full 12 month manufacturers warranty.
Buckle strap
Great for new gymnasts
Genuine soft leather
The Bear Komplex 3 hole grip is made from genuine soft leather and comes with wrist straps under the buckle for extra support. Unlike most grips, you get three finger holes with this Bear Komplex model. This provides you with a greater degree of grip control when doing moves like pull ups and kettlebell swings. The rugged durability of this grip is ensured by way of triple strength stitching.
The soft, suede leather of the Bear Komplex grip gives a comfortable feel against the skin while preventing sweat slippage. The leather takes next to no time to break in. It will then conform to the bar, strengthening the integrity of your grip. The buckle has been positioned so it will not dig into your skin.
Genuine soft leather
3 finger holes
Triple strength stitching
WOD Nation gymnastic grips are made from the highest quality soft leather, supplemented with a nylon wrist strap. This provides you with a very secure wrist along with a durable yet comfortable hand grip. The lather has been triple stitched to the wrist strap to give you ultimate confidence that it will stay intact over the long term. These grips have been designed by athletes specifically for the needs of crossfitters, gymnasts and weightlifters.
WOD Nation grips come in 3 cool colors along with 3 sizing options. The high quality Velcro on the wrist strap does a great job of keeping the strap nice and tight. This product comes with a convenient carry bag.
Soft Leather
Wrist strap
Strong Velcro fastening
Finger holes are a little large
FitActive Sports grip pads are made from 60% neoprene and 40% rubber. The unique palm design features rubber, which gives you an extremely strong gripping ability. The patented design leaves the rest of the hand open, giving you a superior level of breathability and moisture resistance. It also eliminates odor problems.
FitActive Sports Grip Pads are the easiest of all hand supports that we've ever seen to slip on and off. Extra padding on the palm protectors give you greater gripping strength and an easy slide ability that enhances your workout performance. These grips are built to last, with a very durable neoprene fabric construction. They come with a 100% money back guarantee.
Rubber palm protectors
Easy on / off
Open hand
WODies 2 in 1 workout grips are designed for a dual function –to reduce hand tears, calluses and rips and to increase vital wrist support. These grips are hand made in the United States and are constructed from the highest quality hypo-allergenic latex free woven elastic. This effectively gives an extra barrier to keep you safe as it adds comfort to your lift.
The WODies 2 in 1 grip provides you with a natural glide while training that effectively absorbs friction. This grip has also been ergonomically designed to lay flat rather than bunching up in the middle of a set. WODies grips will absorb training chalk along with sweat to keep you dry and slip free.
Provides both hand and and wrist support
Latex free woven elastic
Lays flat in palm
MAVA Sports workout gloves are made from neoprene and reinforced with split leather. They also feature silicone padding in key areas of contact with the bar. Integrated wrist wraps provide you with a high level of wrist protection during training. These gloves feature a unique palm design which has been engineered to enhance the gripping ability.
Secure Velcro enclosures on the MAVA glove helps you to adjust the straps to just the right level of comfort and rigidity to suit your workout needs. The neoprene material of the glove also does a good job of wicking away sweat, keeping your hands slip free. On addition, the fabric provides a comfortable and breathable feel that allows your hands to breathe during your workout.
Silicone padding
Integrated wrist wraps
Very breathable
Hands slip when doing pull ups
Conclusion
The best handgrips for crossfit and gymnastics are the Emerge Fitness Pullup Gloves that give essential wrist support you need when going heavy. The second best hand protection for crossfit comes from the Gibson Rainbow athletic palm grips, with their soft suede construction material, secure hook and loop fasteners and cool color range. Third place is the Ginnasta Power Cuff grip, which provides you with almost instant break in time, is stretch free and is made from soft, leather material.
The FX4 Spartan grip, which has silicone injected pads and is very breathable and lightweight, is also a good alternative.
Related:
---