Top 10 WOD Grips for CrossFit and Gymnastics Reviewed
last updated:
Feb 12, 2020
Your CrossFit workout succeeds or fails on the strength of your grip. When your hands give out, your WOD is over, leaving you feeling shortchanged and frustrated. The right WOD glove will give you the strength of grip and comfort to take your workout to the next level. In this article, we review the best WOD grips for Crossfit and gymnastics on the current market.
In a Hurry? The test winner after 10 hours of research: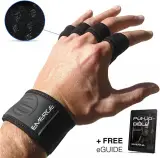 Emerge Fitness Pullup Gloves
Why is it better?
Strong Wrist Support
Extremely Breathable
Great Price
Reinforced Palms
11
Researched Sources
17k
Reviews Considered
11
Hours Researching
13
Products Evaluated
Use
Fit
Comfort
Materials
Effectiveness
By Default
Best 10 WOD Grips for Crossfit and Gymnastics
1

. Emerge Fitness Pullup Gloves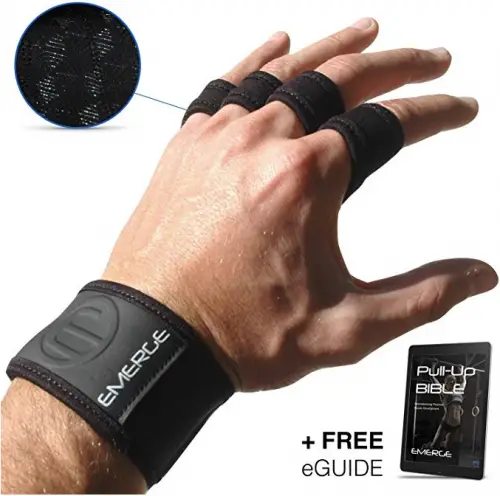 Strong Wrist Support
Extremely Breathable
Great Price
Reinforced Palms
Emerge Fitness Pull Up Grips are very robust, yet lightweight and minimalist, grips that provide you with the support and comfort that your hands deserve. The built-in wrist wrap is 2 inches thick and 15 inches long, giving you the best wrist support of any grip that we have come across. The palm grip is made of cushioned leather, has a generous coverage area and provides the right mix between functionality and comfort.
Read more
​Emerge Fitness Pull Up Grips give you the open-air breathability to keep your palms and fingers from overheating. As a result, you will have no problems with sweat causing the grips to slip across your hands. The Emerge Pull Up grips are very easy to slip on and off. They are the proven best option when it comes to doing your work on the pull-up bar. On top of all of its benefits, the Emerge Fitness Pull Up Grip comes in at a great price point and is supported by a 100% money-back guarantee.
2

. Gibson Rainbow Athletic Palm Grips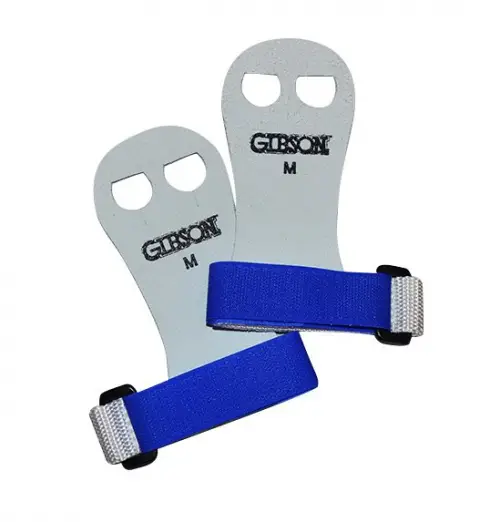 Soft Suede
Secure Hook-and-Loop Fastening
Range Of Colors
Finger Holes Are Adjustable
Gibson gymnastic grips feature two-finger tabs to give you a secure hold while also allowing for flexibility of movement. It is available in red, blue, pink, purple, white and black. This product is made in the USA and comes with a full 12-month manufacturer's warranty.
Read more
The Gibson Rainbow athletic palm grips are made from soft suede material to provide you with an ultra-comfortable grip while performing your WOD. The flat surface that the grip provides also makes this perfect for gymnasts. It features brightly colored hook and loop closures to give you a very secure locking mechanism. The eye-catching neon straps add style on uniqueness to these high-quality performers.
3

. Ginnasta Gymnastic Grips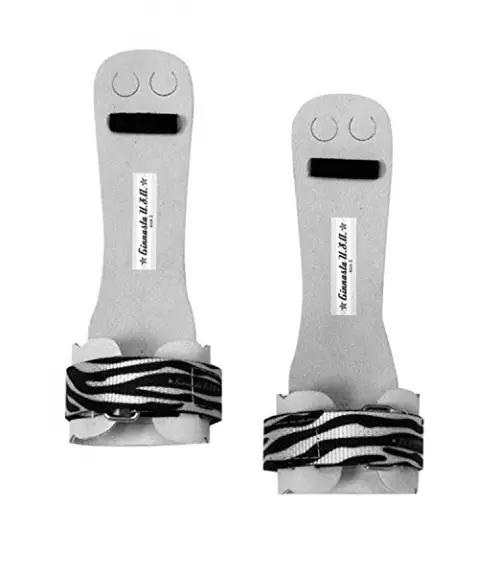 Soft Leather
Does Not Stretch
Short Break-in Period
Comfy Width
The Ginnasta gymnastic grip provides you with flexible, free-moving hand and finger motion. It only takes 30 minutes to break these grips and then they are ready to perform the moment you put them on. When you buy the correct size, you can be confident that it will stay true to that sizing.
Read more
The Ginnasta Power Cuff grip is made from soft, supple leather. This gives you the ultimate in strength, style, and comfort. Unlike many competing brands, the leather used here will not stretch, so you know that your grips won't get warped over time. The leather is soft and supple, providing a great feel against the skin. The machine-sewn dowel stitching is double the weight of the industry standard.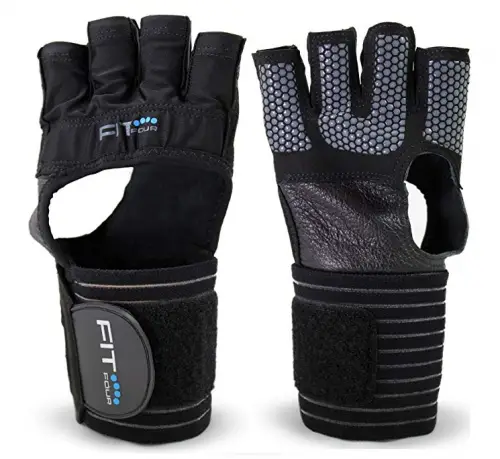 Silicone Injected
Breathable
12-month Warranty
Compressive
Velcro Tab Digs Into Skin
The FX4 grip comes with a 3-inch wide wrist wrap, which is expandable to give your wrists the support they need when you're lifting heavy. The hexagonal silicone implants will give you an iron-like grip so you can push out those extra reps. This product comes with a 12-month warranty.
Read more
The FX4 Spartan grip is a workout grip, wrist guard and callus protector all in one. It is made from lycra, Cabretta leather, silicone and high-grade poly reinforced elastic. Silicone has been injected into key contact areas around the palm to enhance comfort while training. The gloves provide a good level of compression and have an airy, breathable design. This adds moisture and prevents sweat slippage.
5

. Bailie Dowel Double Buckle Grips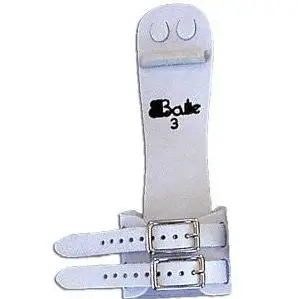 Buckle Strap
Great For Beginners
Genuine Soft Leather
Two Finger Holes
The Bailie gymnastics grip is also available with a hook and loop strap. It comes with two finger holes so that you get a secure hold without restricting your freedom of finger movement. This product comes with a full 12-month manufacturer's warranty.
Read more
Bailie Dowel Double Buckle Grips are a great general purpose grip. However, they are especially useful for gymnasts who are beginning to train with a dowel. Being smaller and narrower than the standard grip, it is ideal for people with small hands. The buckle strap ensures that you get a secure fit on the wrist. This grip is made from genuine soft leather. It breaks in quickly and provides a very comfortable feel on the skin.
6

. Bear Komplex 3 Hole Grips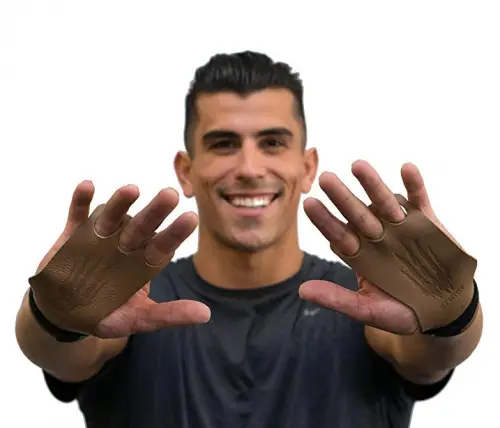 Soft Leather
Three Finger Holes
Triple Strength Stitching
Cool Color Options
The soft, suede leather of the Bear Komplex grip gives a comfortable feel against the skin while preventing sweat slippage. The leather takes next to no time to break in. It will then conform to the bar, strengthening the integrity of your grip. The buckle has been positioned so it will not dig into your skin.
Read more
The Bear Komplex 3 hole grip is made from genuine soft leather and comes with wrist straps under the buckle for extra support. Unlike most grips, you get three finger holes with this Bear Komplex model. This provides you with a greater degree of grip control when doing moves like pull-ups and kettlebell swings. The rugged durability of this grip is ensured by way of triple strength stitching.
7

. WOD Nation Leather Grips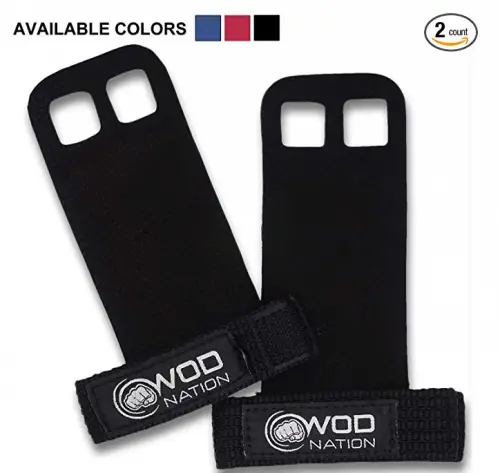 Wrist Wrap
Strong Velcro Fastening
Leather And Nylon
Form Fitting
WOD Nation grips come in 3 cool colors along with 3 sizing options. The high-quality Velcro on the wrist strap does a great job of keeping the strap nice and tight. This product comes with a convenient carry bag.
Read more
WOD Nation gymnastic grips are made from the highest quality soft leather, supplemented with a nylon wrist strap. This provides you with a very secure wrist along with a durable yet comfortable hand grip. The lather has been triple stitched to the wrist strap to give you ultimate confidence that it will stay intact over the long term. These grips have been designed by athletes specifically for the needs of CrossFitters, gymnasts, and weightlifters.
8

. FitActive Sports Grip Pads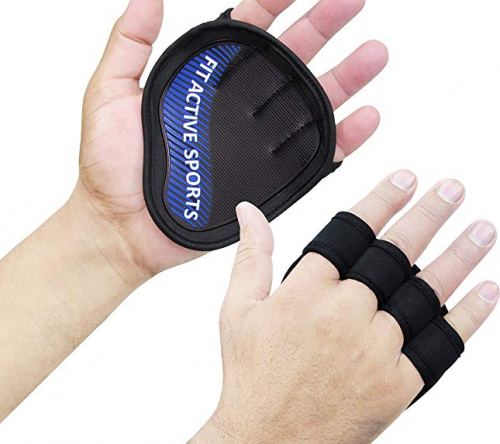 Rubber Palm Protectors
Easy On/Off
Open Hand
Breathable
FitActive Sports grip pads are made from 60% neoprene and 40% rubber. The unique palm design features rubber, which gives you an extremely strong gripping ability. The patented design leaves the rest of the hand open, giving you a superior level of breathability and moisture resistance. It also eliminates odor problems.
Read more
FitActive Sports Grip Pads are the easiest of all hand supports that we've ever seen to slip on and off. Extra padding on the palm protectors gives you greater gripping strength and an easy slide ability that enhances your workout performance. These grips are built to last, with a very durable neoprene fabric construction. They come with a 100% money-back guarantee.
9

. WODies 2 in 1 Workout Grips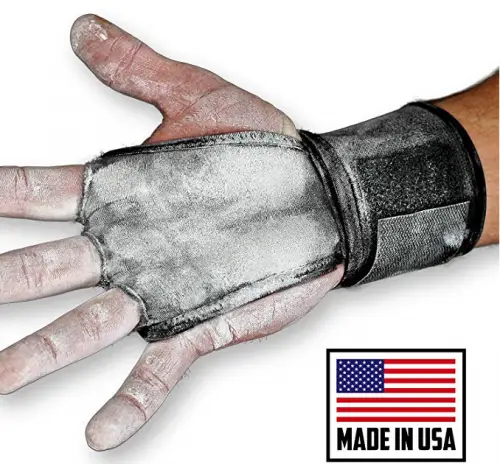 Hand And Wrist Support
Latex-Free Woven Elastic
Lays Flat In Palm
Made In America
The WODies 2 in 1 grip provides you with a natural glide while training that effectively absorbs friction. This grip has also been ergonomically designed to lay flat rather than bunching up in the middle of a set. WODies grips will absorb training chalk along with sweat to keep you dry and slip-free.
Read more
WODies 2 in 1 workout grips are designed for a dual function –to reduce hand tears, calluses, and rips and to increase vital wrist support. These grips are hand made in the United States and are constructed from the highest quality hypo-allergenic latex-free woven elastic. This effectively gives an extra barrier to keep you safe as it adds comfort to your lift.
10

. MAVA Sports WOD Gloves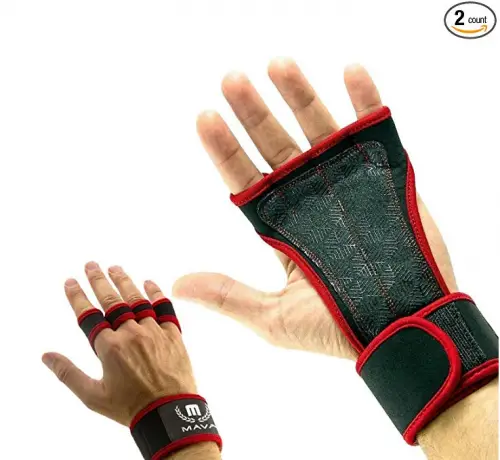 Silicone Padding
Integrated Wrist Wraps
Very Breathable
Hook And Loop Closure
MAVA Sports workout gloves are made from neoprene and reinforced with split leather. They also feature silicone padding in key areas of contact with the bar. Integrated wrist wraps provide you with a high level of wrist protection during training. These gloves feature a unique palm design that has been engineered to enhance the gripping ability.
Read more
Secure Velcro enclosures on the MAVA glove helps you to adjust the straps to just the right level of comfort and rigidity to suit your workout needs. The neoprene material of the glove also does a good job of wicking away sweat, keeping your hands slip-free. In addition, the fabric provides a comfortable and breathable feel that allows your hands to breathe during your workout.
Criteria Used for Evaluation

Use
Using gloves when going to the gym might seem like a weird idea if you've never done it before, but a lot of people do it for many reasons, and yet others avoid them like the plague, claiming they are of no help at all. If you're a seasoned lifter, then you know what going barehanded can do to your hands, and Crossfitters know the perils of blisters and corns just as well.
Gloves help strengthen your grip when you lift weights and improve it so you can lift more. When you lift weights, combined with WOD which is very intense, you will definitely sweat, and sweat can make holding a lot of weight up a very dangerous situation. The gloves will absorb that sweat and let it dissipate, and they will also keep your hands in a safe position, as opposed to letting your fingers slide around due to increased moisture.
If you lift a lot, or if you work where you really need your grip all the time, then you're familiar with blisters and calluses. Blisters can be very painful, and they can pop and bleed and become infected, making them even more painful and dangerous. The pain won't let you use exercise normally, and your progress will be hindered. These pesky things develop because you constantly adjust your hands around the bars, and the increased friction combined with the moisture really hurts your skin, which is where gloves come in handy. Gloves mask all of these problems and give you a very secure grip.
Gloves also give your wrists much needed support when you exercise. The material your gloves are made out of also faces a lot of damage, as it's their job to give you this support. When you perform, your wrists do a lot of work, and they bend in unnatural angles which can cause a lot of pain, and even tearing or twisting of the ligaments. The gloves also improve the amount of pressure you can withstand, increasing the amount of weight you can lift. The gloves distribute the weight and pressure evenly, as opposed to letting it concentrate on only one spot. You might have your reasons why you oppose gloves, but give them a try and see why they are so praised!

Fit
Your gloves should be glued to your hands. If they slide or move around too much, they will be of no help at all, only creating problems they were meant to fix. This is not true for grips, however, as they are supposed to be loose around your palms, and tight around your fingers. The reason why is very simple - grips are used for pull-ups and gymnastic routines, where you need to wrap your hands around a curved surface. The extra flimsy surface material will wrap itself around that bar, giving you nothing but security and stability. Regular gloves need to fit you well though, so read on to discover how you can recognize if the fit is good.
Plenty of gloves are actually fingerless. This happens because your fingers need their range of motion and flexibility to actually grip something. If everything is wrapped into a stiff material, you won't be able to use your hands at all, rendering the gloves completely useless. Plus, your skin won't be able to breathe and you will sweat like crazy! Make sure that your gloves keep their shape for a long time. If they don't, the perfect fit you once had before breaking-in the gloves will be loose after a few sessions in the gym, and you'll be left with useless gloves.
The way your gloves are closed also affects the fit. When gloves were first brought into existence, we still didn't discover velcro or elastane. So the gloves back then had a drawstring closure. If you ever had anything on you that utilized this, you know how complicated it can be. The string digs into your skin limiting your range of movement and loosens up quite fast. A lot of people realized this, and so they searched for a solution. This is when elastic closures were brought into the game. They were much more adjustable, and they were easy to adapt to your own shape and size. This created a more individual fit, but elastic loses its properties after a while, and thus buckle closures and velcro were the new idols, and it's been that way ever since then.

Comfort
Your gloves need to be comfortable. If they're not, it's likely that you will only think about how annoyed you are by that one part biting your skin or the closure that's digging into your tendons, instead of focusing at exercising. If your gloves lack sufficient padding, you can end up with a lot of problems that the gloves are meant to prevent - blisters and calluses, and those are truly not comfortable at all!
The foam was the number one choice for padding at the beginning. Foma is very pliable and comfortable, but a lot of layers need to sit between you and the bar if you seek sufficient protection. These multiple layers worked for a little while, but they got worn down very fast because friction was a big problem for it. Once those layers broke down, you were left with nothing but a strip of fabric that created discomfort instead of comfort. This is why manufacturers today choose either gel or silicone as their padding option.
Gel pads seem to be a very popular choice. They're not only good as pads but as insulators too, keeping you warm and cushy when the weather gets cold. The gel absorbs shock very well, easing the pressure on your joints and surrounding tissues. This makes them ideal for Crossfit and gymnastics, but if you're looking for gloves made for lifting, you might need to skip gel gloves since there's not a lot of shock there to be absorbed in the first place. The gel reduces a lot of friction too, but silicone takes the cake there.
Silicone is very soft and elastic, and it makes friction almost non-existent when you lift or do any difficult motions related to Crossfit. Silicone is also sticky, so your grip will be improved even more. But silicone does get worn down faster then gel does, so weight down what you consider to be the most important aspect and choose your padding according to that!

Materials
What your gloves are made out of says a lot about them. The very first workout gloves were made out of leather. Leather is a great material, and many shoe producers know this, which is why the best shoes are made out of leather. It can withstand years and years of wear and tear damage, rising from the ashes better than it was before. This all happens thanks to the oil secreted by our skin. When you exercise, you sweat, and that sweat, along with the oil, gets absorbed by the leather of the gloves. This makes the leather soft and supple as a result. Leather also stretches very fast, and it takes on the shape of your hands, fitting you to the tee.
A lot of time went by, and leather was slowly losing its popularity. Leather is amazing, but it degrades over time. Leather also isn't all that breathable, and it traps in heat and moisture, creating the perfect environment for bacteria to develop. But technology advanced fast, and a lot of new players were brought into the game. This is when neoprene and nylon gloves made an appearance. Both their strength and durability were better, but nylon didn't last all that long though. It was also very slippery, so that was a new problem fitness enthusiast had to tackle.
This is why today we see a lot of gloves made out of neoprene. Grips are still made out of leather or suede though because leather is simply unparalleled when it comes to softness and grip, hence the name. Neoprene is synthetic though, and we're all used to seeing it on wetsuits. Neoprene almost acts like cling foil, adjusting to the shape of your hands perfectly. Neoprene also tends to be thick, and this thickness acts as padding all by itself. Neoprene also wicks away moisture and frees you from any moisture trapped inside. It can't do this alone though, and nylon or leather, or even mesh need to be somewhere in the material blend. The best gloves are made out of a combination of materials that improve each other and give you the best possible experience you could have asked for!

Effectiveness
Weightlifting gloves and fitness gloves, in general, are a source of controversy in the fitness community. There is a reason why this is happening, and we will tell you everything about what a fitness glove can and can't do so you can decide whether you want them for yourself or not.
The very first reason why a lot of people avoid gloves is that they can't exactly feel what they're gripping. This doesn't allow the brain to process your location or your movements, causing imbalance and creating unnecessary risks of injuries. The extra material layer clouds your judgment, and you might even think that you can lift more than you're actually ready to take on, causing even more risks. You might think that you have a mighty strong grip, which is simply not true if you're just starting out. Your grip strength needs to develop all by itself, which is why a lot of people are against wearing gloves until your grip is developed enough naturally.
A lot of people worry about blisters and calluses, and gloves do protect you against them very effectively. But there are people who love to wear them like pride marks, that show people how strong and mighty they are. Calluses, as opposed to blisters, can actually be helpful, provided that they do not cause any pain or burning. If you suck it up and let them develop, you will have something like your very own natural gloves - think of people walking barefoot all their life and how callused their feet are and then think about how they can walk on thorns like it's the softest carpet in the world. The same thing rings true for calluses developed on our hands! Your nerve endings sort of die out, and your hands toughen up, so you lose the need for gloves in the first place.
All in all, gloves are very effective tools, provided that you get the right model for your preferred sports choice, and if they fit you well. If you worry about your grip strength, work without gloves for a while until you are comfortable with gripping heavyweights. You probably won't even need the gloves until you get to lift some serious weight, but if you need them to spin or grab onto something, it's better to go for grips!
Expert Interviews & Opinions
Most Important Criteria
(According to our experts opinion)
Experts Opinion
Editors Opinion
Users Opinion
By Default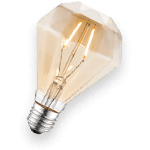 Support
Not every glove out there will give you the same amount of support. Some offer us almost no support at all, while others have plenty to give. The ones that lack support are not bad - they are simply made for sports where you just need the protection, like cyclists do, as an example. If there's a piece of material wrapped tightly around their wrists, they won't be able to move them, which is a very bad thing for them. Gymnasts also need to be able to move their wrists fully, but they also need support, so their gloves need to be balanced. Your wrists need all the support you can get when you lift heavyweights. You can sometimes adjust the amount of support you get by loosening or tightening the wrist wraps - they tighter they are, the more support you'll get!
Breathability
Look for gloves that are breathable. You will definitely sweat when you exercise intensely, and that sweat needs to escape somehow. If it can't escape, you will start to smell, and the bacteria causing this odor will thrive. The fungus may also begin to grow, and you don't really need a pesky fungus infection in your life. Gloves will be breathable if they are made out of the right material blend. Mesh is super breathable, and look for mesh inserts around the palms, where we tend to sweat a lot. The less material your gloves have, the more breathable they will be, of course, and grips are the most breathable option out there!
Other Factors to Consider

Bottom Line
The best WOD grips for CrossFit and gymnastics are the Emerge Fitness Pullup Gloves that give essential wrist support you need when going heavy. The second best hand protection for CrossFit comes from the Gibson Rainbow athletic palm grips, with their soft suede construction material, secure hook and loop fasteners, and cool color range. Third place is the Ginnasta Power Cuff grip, which provides you with an almost instant break-in time, is stretch free and is made from soft, leather material.
The FX4 Spartan grip, which has silicone injected pads and is very breathable and lightweight, is also a good alternative.
Frequently Asked Questions
q:

Why are some gloves fingerless?

a:

Most, if not all, gloves for working out will be fingerless. The reason why is very simple, actually - if you have full finger gloves, you wouldn't be able to move your fingers naturally! This prevents you from gripping bars and battle ropes and whatever you need to grip properly. Your fingers are very sensitive, and there are a lot of nerves there that gauge your surroundings. If they cannot do that, you end up with rigid fingers that do not know what they're doing, which is the last thing you need when you exercise!
q:

What are the parts of workout gloves?

a:

Fitness gloves are not made the same way, but there are some parts that are the same no matter what kind of glove you look at. The palm side is that cushy area that protects your skin from blisters or corns, and it can either be padded or made out of just one strip of leather. Some palm areas have grippy textures made out of silicone or rubber to help you grip better. Some gloves have a backside, and some gloves, like grips, do not. The finger stalls are where your fingers go through, while the wrist wrap secures the joints.
q:

Do I really need gloves, or can I just use chalk powder instead?

a:

Chalk can be either in liquid or solid form, and it's used by gym lovers all around the world, either in combination with gloves or all by itself. A lot of people consider chalk to be the best option out there for improving your grip, because it does not interfere with any natural movements, nor does it cause any problems gloves do. Chalk is spent very fast though, and you will need to replenish your resources very fast, which can all add up pretty fast. Decide what you like more, just remember to stay protected!
q:

How many kinds of workout gloves are out there?

a:

As you can already see from this guide, there are a lot of different fitness gloves out there. The half fingered glove is what we're all used to seeing. They are not all that breathable, but they do offer a lot of support. They are cushy too and insulate you very well. Fingerless gloves leave your whole finger bare and protect nothing but your palms. They are much more breathable, but not as supportive. Grips are just a strip of material over your palm, some wrist support, and two or three finger holes through which you guide your fingers. Grips simply protect your palms and support your wrists while not affecting any other aspect, and they are great for Crossfit and gymnastics!
q:

How do I wash my workout gloves?

a:

You must wash your gloves, no matter what. They will absorb a lot of your sweat, and that sweat needs to be washed out. If it's not, bacteria will thrive, causing bad odors and infection risks. You can either wash the gloves by hand or in the machine or only scrub them or protect them with sprays if they are leather. The manufacturer will tell you what's the best way to wash the gloves, and you must make sure to follow along with what they said. You certainly should avoid putting the gloves in the dryer, as that will make the gloves shrink. Avoid the sun for the very same reason!
Subscribe to our newsletter