Top 10 Grip Strengtheners/Exercisers Reviewed
last updated:
Feb 11, 2020
When you're serious about your training, the strength of your grip is vital to getting a good workout. Your grip, dictated by the strength in your forearms and wrists, is the lever that connects the weight to your body.
When you're working with heavy dumbbells, barbells, and kettlebells in moves such as the deadlift or shrugs, you need a powerful grip to ensure that you don't drop the weight before your working muscle is exhausted and can't perform another rep. In this article, we have brought together a list of the best grip strengtheners available to help you strengthen your grip.
This is the best product on our list that is currently in stock: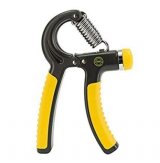 TNT Pro Hand Gripper
Why is it better?
A sturdy spring hinge
Aluminum handles with a knurled barbell grip
Removable full-length foam rubber grips
42
Researched Sources
11k
Reviews Considered
14
Hours Researching
14
Products Evaluated
Ease of Use
Durability
Comfort
Portability
Materials
By Default
10 Best Hand Grip Strengtheners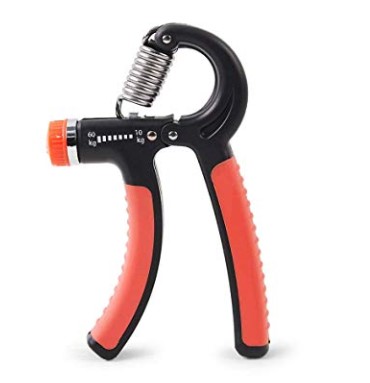 Ergonomic design fits all sizes perfectly
Simple dial adjustment to increase resistance
Utilizes a heavy-duty steel spring
Some users found the gripper was a little too tight
The ACF Grip Strengthener is ergonomically designed to fit into a person's hands smoothly as if they were holding a trigger grip. It comes with an easily adjustable dial and a wide range of tensions to provide a workout for all levels, from those who are suffering from joint problems through to the seasoned athlete.
The ACF gripper is constructed of quality materials, including molded foam handles and a durable spring that is built to last.
Read more
The ACF Grip Strengthener has a comfortable ergonomic design and adjustable resistance for the best hand exercises. It is perfect for any age or hand size and will work for standard exercise or rehabilitation. Use it for tendonitis, arthritis or carpal tunnel.
These grippers are easy to carry with you so you can exercise any time you have a free moment. They are made with non-slip rubber handles that are comfortable on your hands and they have stainless steel extension springs.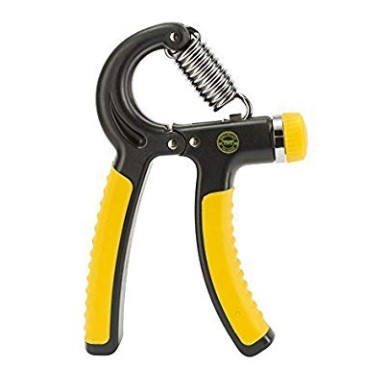 A sturdy spring hinge
Aluminum handles with a knurled barbell grip
Removable full-length foam rubber grips
Some users found the gripper was a little too tight
The familiar-looking TNT Pro Hand Gripper is a super affordable grip strengthener that allows you to work on forearm exercises to improve your grip strength anytime, even while watching TV. This hand gripper provides between 20 and 90 lb of resistance, which can be adjusted with a dial. It provides a knurled grip to simulate what you will find in the gym.
Read more
The TNT Pro makes it easy to give your grip a good workout. It has a tension dial which lets you set your resistance level anywhere from 20-90 pounds. Use this gripper to help with arthritis, carpal tunnel or other hand and arm injuries.
These strengtheners work great for rehabilitation. It is built with the sturdiest materials and is guaranteed to last a lifetime. It also has a coating that is rustproof to make it last even longer. This hand squeezer will help you improve your strength by doing exercises geared towards grip, fingers, forearms, and wrists. It will also help build your endurance.
3

. NSD Power Autostart Spinner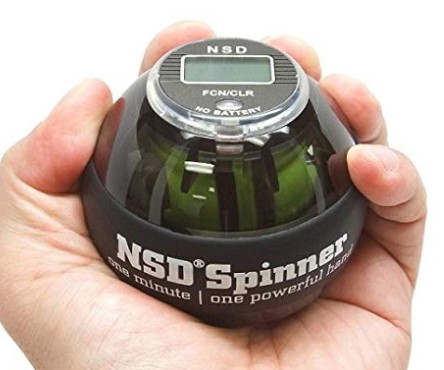 Auto start with internal pre-tensioner
Computer balanced inner gyroscope
Digital LCD counter
Some users report that, after a few months of use, the rotor appears to lose its mojo, with the resistance not being as strong as at the start.
The NSD Power Autostart Spinner is an innovative, hi-tech take on forearm, wrist and grip strength improvement. It utilizes a pre-tensioner located inside a gyroscope that allows for a simple roll back in order to spin the gyro.
You work the muscles of your wrist and forearms by synchronizing your wrist rotation to the momentum of the gyroscope. The slower the rotor spins, the more of a workout your wrist and forearms will be getting.
Read more
The handheld NSD Power Spinner is a compact exercise you can do anywhere to give your wrist a forearm a good workout. The AutoStart Feature is an internal tensioner that allows you to start or stop the device whenever you want. You just roll the rotor back the other way.
This device has a battery-free display that keeps track of information about your workout including your top speed to help you set higher goals. The spinner is impact resistant made with a military-grade strong plastic shell and inner tracks that are reversible for extra-long life.
4

. HomeGym 4U Rubber Ring Strengthener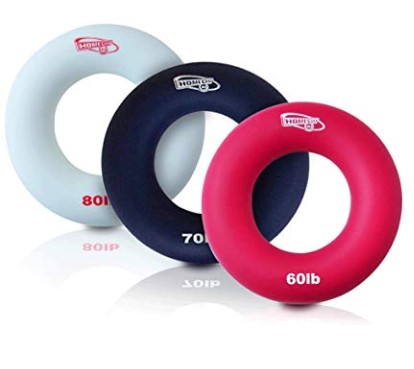 100% silicone rubber construction
Provides a variety of movement
A noiseless workout option
Grips available in a range of resistances
Difficult for small hands
The HomeGym 4U Rubber Rings come in a set of three and are the ultimate for strengthening your hand grip and strength in your forearm. It will help with all four types of hand training including pinching, crushing, extending and supporting. People see results even after only using them a couple of times a week.
Read more
These heavy-duty rubber rings are constructed of 100% silicone. They will provide you with the means of exercising all four of the grip modalities - crushing, pinching, supporting, extending. The movement involves completely natural manipulation of the rubber rings, so there is no endless squeezing of a spring, hand cramps or repetitive squeaking.
With the Rubber Rings, you can move from one workout to the next without having to readjust your grip. The silicone construction provides the ideal non-slip grip that is both comfortable and practical.
5

. Marci Wrist and Forearm Developer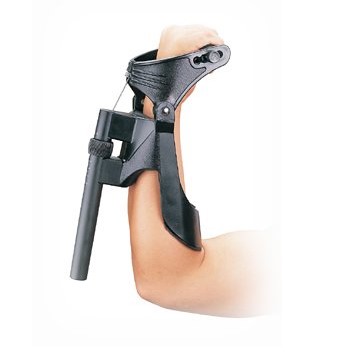 Develops the flexor and extensor muscles
Provides forearm and wrist support
Variable resistance
Adjustable grip to fit all sizes
Has to be held up with the other arm when using
The Marci Wrist and Forearm Developer looks like a piece of medieval armor. It is, in fact, a very effective builder of flexor and extensor muscles to improve grip strength. It provides variable resistance to allow you to make the movement harder as you get stronger and to monitor your progress.
The adjustability of the Marci Wrist and Forearm Developer makes it ideal for all shapes and sizes. When wearing the developer, all you have to do is to rock your hand back and forth in order to improve your strength as well as your functional ability in ball handling sports.
Read more
The Marci Wrist and Forearm Developer helps to target your forearms and wrists which works the flexor and extensors in your arms. It also helps to strengthen your fingers and increase your grip. The grip is adjustable and lets you create the perfect fit.
The strengthener is a little over a foot long and is very compact so you can conveniently store it and not take up too much space.
6

. MummyFit Grip Strengthener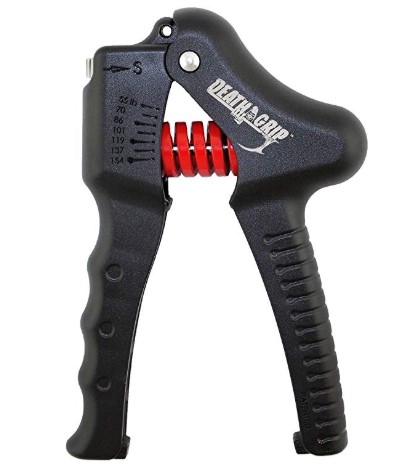 Works completely silent
Made of durable materials
Adjustable resistance
Needs more range for bigger hands
The MummyFit Grip Strengthener is nice and silent when compressed. It has a nice wide resistance range which can challenge beginners or more accomplished users. The levels of resistance will help you make dramatic improvements.
Read more
This workout machine is quiet and perfect for people on the go. You can do your exercises anywhere since it is light enough to take anywhere. It is made of strong materials to be almost indestructible. Even the wheel is solid steel.
This equipment comes with a lifetime guarantee. It is also adjustable so you can adjust up or down depending on your needs. You start at the perfect level for you and then slowly increase it as you get stronger.
7

. Gripmaster Hand Exerciser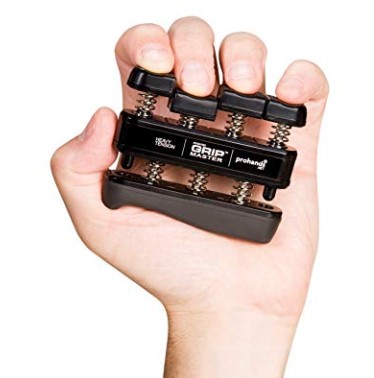 Comes in 5 colors and tension levels
Graduated resistance
Spring-loaded finger pressure
Fingertip pads need improvement
The Gripmaster Hand Exerciser is fantastic for developing your wrist, hand and forearm strength. It is one of the few which will help to strengthen your fingers individually. This is critical for many kinds of activities, like climbers for example.
Read more
The Gripmaster is a patented hand exerciser that not only helps strengthens your hands and wrists but it is specially designed to strengthen each individual finger. Having stronger fingers can improve your hitting, mountain climbing, throwing, or playing a musical instrument.
The gripper will challenge your fingers individually using a piston technology. It comes in five different colors and resistance levels. The base which is ergonomic helps with comfort and stability.
8

. The Friendly Swede Hand Grip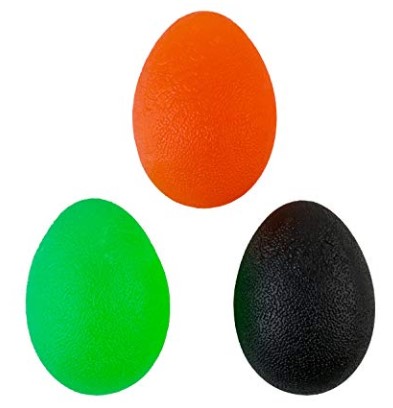 Come in 3 different sizes
The shape fits comfortably into your hand
Made of skin-safe rubber
Everything sticks to them
The Friendly Swede Egg Shaped Hand Grippers will help you exercise your fingers and hands whenever you want. They are great for stretching out after a long day of work at the computer or even just as a way to relieve stress. Train your hand grip and forearms with very simple exercises.
Read more
These little eggs are a fantastic stress reliever while helping you strengthen your hands and fingers. They come in fun colors with three levels of progression.
The design fits comfortably into your hands. It is made of rubber which will not irritate your skin. They come in three different size options and are easy to clean.
9

. Edisalute E-smartinlife Hand Grip Strengthener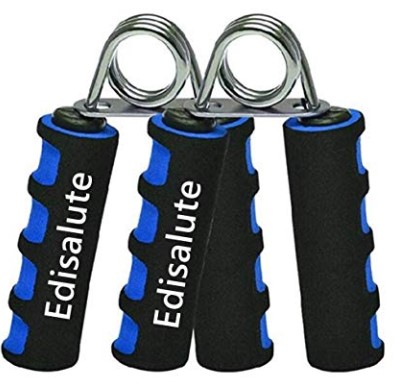 Comes in a set of two
Uses a high-quality foam and handles
Pocket-sized
Too small for larger hands
The Edisalute will help you rehabilitate your hand from tendonitis, arthritis, carpal tunnel, or even tennis elbow. You can regain your strength using this tool to keep your muscles active. Enjoy the compact design you can take anywhere with you.
Read more
The Edisalute strengtheners come as a set and will help you with strength and stamina in your hands, fingers, and forearms. It is scientifically proven to help with stress as well. They use the best in quality foam to make sure your hands are protected as well.
This grip strengthener is compact enough to fit in your pocket or handbag so you can exercise your hands anytime you think about it.
Criteria Used for Evaluation

Ease of Use
Ease of use is important because it leads to encouraging use. To be able to develop your grip and hand strength, you need a tool that will fit easily and comfortably into your hand. It is nice to have something which you can adjust easily as well.

Durability
Since this is a piece of equipment you are going to be carrying with you and using probably multiple times a day, you want something which is going to stand up to all of the use. You need solid construction and also padding which will stay in place use after use.

Comfort
Comfort is so important when you are working with your hands. You do not want to risk cramping or injury. You want a gripper that will fit comfortably into your hand and be well-padded while you are using it. It needs to be ergonomic and the right size so you can use it easily.

Portability
You want a grip strengthener that will fit easily into your pocket or purse. It helps to have it handy so you can work on your hands and fingers anytime you have a free moment. This also has the added benefit of being nearby to help you with stress.

Materials
Take special note of the materials used to make your hand gripper. This feature goes along with comfort and durability. The strong construction with steel or some other durable material will make sure the device does not break while you are using it. Using the highest quality foam padding makes sure you have the best comfort. Materials are important.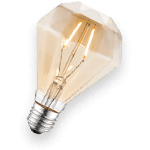 Don't forget to warm up
You should train your hand like you train any other part of your body. Use low reps only a couple times a week. And as with every other body part, do not forget to warm up your muscles and stretch out your hand.
Use different exercises to target different muscles
Using squeezing exercises will help you build strength in large forearm muscles. These generate a big part of your grip strength. Using reverse-squeeze exercises will help forearm extensor and hand muscles.
Frequently Asked Questions
q:

Do hand strengtheners really work?

a:

In short, yes they do. They will help you build a stronger grip and more strength in your fingers. They will help you improve dexterity and also improve endurance. You will also increase your forearm muscle.
q:

Are hand grips good for arthritis?

a:

Arthritis in your hands causes pain and swelling in your joints making them feel weak and hard to move. Regularly warmly up those joints and strengthening them will help with some of the symptoms.
q:

How do I know when to move to the next level of resistance?

a:

We have found that a good standard to measure by is when you can complete 10 to 12 consecutive full reps on one level, you should be ready to move to the next one.
q:

What should I do if I get stuck on a level?

a:

The best idea if you get stuck on a level is to try switching up your sets and reps. Change your number of training days or even try a different tool to add some variety with different muscles. It might even be as easy as holding the gripper upside down. varying your sets, reps, and number of training days, or attack your grip with another training tool. It might even help to do something as simple as holding your tool upside down.
q:

Are there any warnings I should be aware of?

a:

Mostly just common sense stuff. When you are using the gripper be sure to keep the spring away from your hands and face so you will not pinch yourself. You also want to avoid training too much. Train 2 or 3 times a week. If you hurt, take a week off.
Subscribe to our newsletter